There's no getting around the fact that concrete represents the most durable and one of the strongest construction materials that we know of today.
And if you treat concrete in the right way, you can be certain that it won't get cracked for an extremely long time. Obviously, that's something we all want as durability greatly matters in construction.
Conversely, if you fail to install concrete properly — you can be damn sure that cracks will begin showing up after a short while.
And there are plenty of construction mistakes that can easily lead to this; for example, when people use more water than needed while mixing concrete, its strength will be severely diminished in the long run.
Also, the concrete will contract and widen depending on temperature — another cause of cracks. The same is true for the ground found below the concrete, which will obviously have an impact on the concrete itself. Thus, there are some factors that you simply can't change.
If the ground beneath your concrete experiences sizable shifts, you can expect surface cracks in the concrete layer as well. Plus, there is a limit to the weight that concrete can bear, regardless of its imposing strengths. If any extremely heavy items or objects hit a surface made out of concrete, chances are that a crack will appear.
But, one of the great things about concrete is the fact that it is more prone to repairs than some other materials used for construction.
For instance, metal and wood can't be repaired as easily. On the other hand, concrete can be restored and repaired to near-mint condition.
If you notice that wood is beginning to rot, there's practically nothing that you can do about it except to find a replacement for that part. And when you see a metal element starting to corrode, you just have to replace it. But what about cracks in concrete?
Of course, no-one likes seeing cracks in their concrete driveway or walls — even if it's not a problem that represents a deep structural issue. In your foundations, walls, etc. — it simply doesn't look aesthetically pleasing.
That's why solving concrete cracks is something everyone wants to do as soon as they notice some appearing. And don't worry — there are solutions that can solve cracks in your concrete surfaces, such as floors or walls. These are used everywhere from construction sites to offices and homes.
In the guide below, we will showcase some of the best caulk for concrete cracks. But apart from that, we'll also give you some basic instructions on how to use these, and how to pick the very best caulk from a wide variety of choices.
So, what is caulk anyway?
This is a compound that's not that elastic but it is adhesive and dry — when applied, it seals any concrete cracks with a lot of success. Some people call these caulks sealants — though you should remember that there are differences between these two materials.
Namely, in the fact that sealants are more flexible materials, along the lines of silicone. On the other hand, caulk is always more rigid and dry.
You should use silicone for problems that occur because of contraction and widening due to temperature. Most other cases require the use of caulk. Also, bear in mind that sealants need a certain degree of time to be effective — while the caulk is dried almost instantly.
In the article below, we will give you a rundown of the best caulk for concrete cracks — but we'll also dispel any mysteries and questions you might have regarding the use of this wondrous tool for fixing concrete!
Our Pick
Once it's sealed — the caulk is completely immune to any kind of harsh weather and elemental conditions. You won't have to think about the blistering cold or scorching heat with a type of caulk; there's nothing short of an earthquake that can loosen it or make cracks reappear.
When you're looking for the best caulk for concrete cracks, you want something that was designed by the best possible engineers in the industry. And that's why the first pick that we'll give you is simultaneously the very best and top of the range.
Before we even get into the details about why this product is among the best of its kind, we'll establish the credentials of its manufacturers.
Know that the line of adhesives and sealants produced by General Electric actually stems from the silicone sealants that were designed by NASA for use in outer space. Astronauts use these to seal their spacesuits and their boots. As you can see, this makes GE a renowned household name when it comes to sealants.
With their experience and ingenuity, GE has designed plenty of sealants for the construction industry as well. And among them, General Electric GE5020 is definitely among the very finest.
Seeing as it performs more than admirably, we'd be remiss not putting it at the very top of our list of caulks for concrete cracks.
What we liked about General Electric Caulk
One of the main reasons why we've included it as our premier choice is that this caulk has a unique trait that most other industry peers don't have.
Namely, we're talking about the fact that cracks sealed with this can be exposed to water in a matter of hours after you apply the caulk. This means that such caulk can be used to seal cracks even in rainy weather — you won't have to delay your home or construction projects based on the forecast.
Indeed, one of the biggest advantages of this caulk is the fact that you can apply it to every occasion and situation. All you have to do is to make sure that the surface and the material that you're applying it to will remain dry for three hours after the application. After that, no amount of water will be a problem.
Compared to other types of caulk, this is simply too big of an advantage to ignore. Bear in mind that most other products will take an entire 24-hour day to completely dry and cement itself. You won't have to deal with nearly as much waiting time with the GE 5020.
With that in mind, this kind of caulk is perfect for people who are worried about their caulk sealant unreasonably expanding or shrinking; or for someone who's using it in damp conditions where there is lots of humidity.
Speaking of which — the GE5020 will provide ample protection from mold. This caulk product doesn't leave any room for air to seep in; making it impossible for mold to appear or spread out.
With that in mind, you can easily use this to improve the insulation of your household in places where you think it's lacking. You will find your energy and heating bills being significantly reduced.
What we didn't like
Naturally, no product is perfect — and we can say as much for the GE 5020 caulk as well. One of the few major issues with it is the looks.
The caulk doesn't look too shabby itself, and the gray color fits neatly with plenty of pavements and driveways. However, this caulk product is not paintable; meaning that you'll have to live with the same gray color wherever you apply it.
If your surroundings where you're using the caulk has a starkly different color, you may not appreciate the aesthetic that the GE 5020 brings.
Also, the strong nature of this caulk is one of this item's biggest downsides. Namely, once you allow the caulk to set in and dry, there's practically no way to remove it without busting up the surrounding surface.
On top of that, some people who don't have experience with construction materials and DIY jobs won't find it easy to apply this caulk quickly. Considering that, it's not meant for beginners.
How we chose the best caulk for concrete cracks
When it comes to making a specific choice for a specific surface, you can choose between epoxy, acrylic and polyurethane sealers.
Epoxy sealers represent a popular pick among people who value aesthetics because you can easily repaint them in the color of your choosing. Many people use them on garage floors because you can add anti-slipping properties to them.
However, epoxy is mostly used indoors because light and UV rays can stain them over longer time periods. On the other hand, acrylic caulks give the concrete a somewhat glossy surface. While acrylic caulk can be resistant to UV rays, it becomes yellow after a while.
Finally, we've got polyurethane sealers that are used on all kinds of horizontal surfaces — they're the most resistant, and widely used for high-traffic places like countertops and floors. These sealers won't alter your surface's color or appearance.
Now that you know our choice of the best caulk for concrete cracks, we'll give you a couple of runner-up products below.
The best alternatives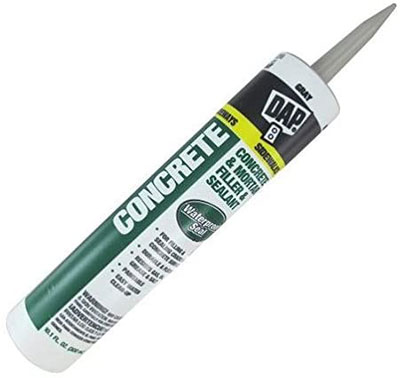 The caulk has a neutral gray color that will easily fit into most sidewalks and concrete surfaces as you fix the cracks found within. Luckily, though — you aren't limited to the original color of the caulk. Unlike our top pick, this is a more versatile option in terms of aesthetics — seeing as it's re-paintable.
When we consider what the best caulk for concrete cracks is, there are a number of different factors that we've already discussed in detail. Among these, one of the most important ones was the ease of use.
However, that's a catch-all term that can include all sorts of things; after all, people have different skills when it comes to DIY projects — among all of the things that you do while applying concrete sealants, you might find something easy and something impossible.
For instance, plenty of people have trouble with achieving a level surface area above the crack when they apply caulk into it. Leveling is not easy if you're not experienced with this type of stuff; plus, you need to do it quickly before everything dries off.
More often than you might think, people end up with lumpy surfaces and uneven terrain; quite an annoying byproduct of sealing up a crack.
If you're a beginner, however — one of the solutions for this is not just getting better at caulking. Simultaneously, you can find a concrete filler better suited for your needs.
DAP has one of the best solutions in the market when it comes to this niche, which is why it wins a strong second place on our list.
It's worth pointing out that DAP is an incredibly established name in the world of caulk manufacturing. Over the years, they've created many useful products in all sorts of niches related to the fixing of concrete cracks.
All of them solve very specific issues for users — and one of them is the problem with leveling.
Considering this, the DAP Self-Leveling Concrete Sealant is pretty much the perfect caulk for concrete cracks if you're a beginner in need of a quick fix.
The entire industry has been in awe of the ease of use of this product compared to its peers. But how does it actually work?
What we liked about Dap Concrete Sealant
First of all, you should know that the DAP sealant is manufactured using premium-quality rubber and silicone, enabling it to achieve an impressive level of durability.
You apply it from a tube you can squeeze; however, we should mention that this caulk is slightly heavier than other, at above 13 ounces.
One of the best parts about the DAP caulk is that it's utterly resistant to any weather conditions. It doesn't matter what kind of environment you want to use it in; this caulk won't contract or expand as a result of heat or moisture.
When you apply it, this caulk will pretty much stay where it is, except for its single most noticeable feature; it has a self-leveling design, meaning that you won't have to worry about accidentally creating lumps in your concrete surface. Once you're done with the application, this caulk will automatically level off and leave a uniform surface.
Furthermore, this company uses revolutionary technology for quick drying. When you use this caulk for concrete cracks, you won't have to wait more than three hours before it can be exposed to water and moisture.
On the other hand, a majority of these products require up to 36 hours of dryness to properly set in.
Once this product is used, it will remain waterproof for as long as the structure or surface stands; meaning that you won't have to worry about build-ups of mold or other bacteria.
If you're going to use it near a kitchen or bathroom area, this is going to turn out as the perfect product for you.
What we didn't like
This is definitely a high-quality product, with only one serious flaw — you can't use it on vertical surfaces. Seeing as it's only intended to be used horizontally, it limits the range of surfaces you can apply it on.
But if you need to seal a superficial crack on a horizontal surface — it's still one of the best products out there. Unfortunately, its partly liquid state means that it will run down any vertical cracks you'd apply it on.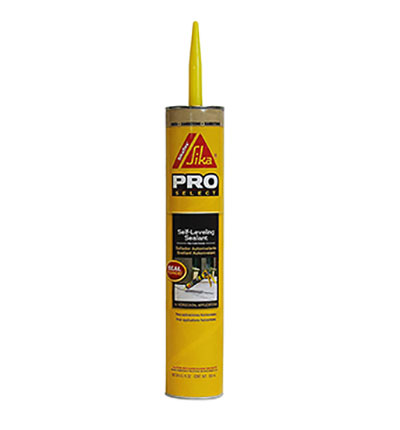 The adhesive properties of this product are truly astounding. It's got one of the most far-reaching filler capabilities we've seen here because it can bridge a concrete crack that's 2 inches wide without any additional compounds.
Next up, we've got another sealant that's designed to be used across a variety of situations and industries — the Sikaflex self-leveling sealant.
This is another reputable company that has catered to the needs of a variety of different industries.
Such a chemical company is more than poised to create an effective concrete sealant — and that's precisely what they've managed to do with this product.
What we liked about Sikaflex Sealant
When it comes to choosing the best caulk for concrete cracks, it's not all about picking the most effective product. Depending on your budget, you may also need to consider its price.
With that in mind, you will be pleasantly surprised with the level of quality provided by the Sikaflex company — at least in this price range. This is one of the finest caulks that you can find for such an affordable price.
The packaging is quite sturdy — though if you want to ensure the smooth application of the liquid within, you will have to use a caulk gun.
There are three different product variants, each one differing only in quantity. If you only need to seal a small crack, the 10-ounce bottle will suffice.
Anything more than that and we recommend getting the 29-ounce one. Plus, you may need it for later use as well — and the packaging perfectly preserves the caulk inside so you don't have to worry about it getting spoiled over time.
Unlike many other ones that only allow you to buy a gray sealant, Sika allows you to pick from a variety of different colors. There's a basic grey variant and a sandstone one — but even if these don't suit the aesthetics of your surroundings, you can still easily repaint the sealant using any color you want.
The paint won't last forever on this compound but it is definitely more long-term than on other sealants that fade out after just a couple of months.
Also, the process of applying this caulk isn't that difficult; but contrary to what the advertisement for this product says, you will almost definitely have to use a caulk gun to do everything properly. While the application is smooth and easy, you won't be able to be precise enough without a caulk tool.
And we do have to mention that while this isn't a perfect product and it certainly has its downsides; it's still one of the best choices out there when it comes to filling vertical concrete cracks.
What we didn't like
When you start using this caulk, you will immediately notice that its viscosity is quite low. On the one hand, this makes the compound more fluid — allowing you to apply it quickly into any crack.
Conversely, the downside of this is that you need to wait a long time for the crack to dry off completely.
As a result of this, the Sikaflex compound for concrete cracks isn't one of those that you can expose to moisture immediately after application.
Instead, you need to be patient for a while for everything to dry off, making it less versatile in certain weather conditions.
Seeing as it's susceptible to being washed off in bad weather for hours upon usage, this means that you can't expect it to be in a usable form whenever you want. That's one of the main reasons why it's not at a better spot on our list.
Still, when you wait for it to dry, you can be sure that it will be able to withstand any kind of weather afterward. So, it's high-quality and sturdy, but not very adaptable.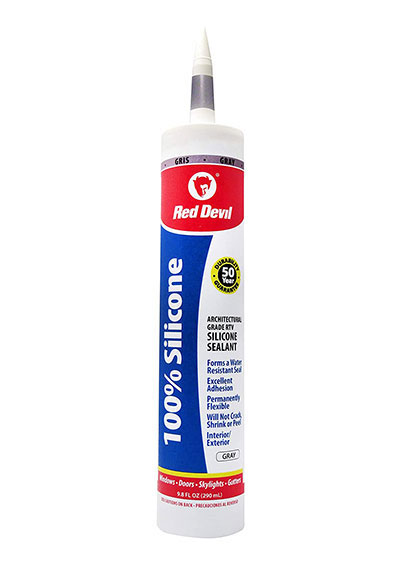 Even after a long while, this caulk does not begin to crack, shift, or peel away — it simply stays in the state in which you applied it.
For our final pick among the best caulk for concrete cracks, we'll explore a product by a company that's been in this business longer than most.
Indeed the Red Devil company has been operating in the business of creating caulk sealants since the late 19th century. As a result, you won't find this company producing many revolutionary caulk models — but their stuff is of an impressive degree of quality.
They haven't made a splash in the world of concrete caulks for a long while — but that changed with this particular silicone sealant. It has definitely earned its place on our list of the most established products for filling concrete cracks.
First and foremost, we need to point out that you'll need to use a caulk gun with this one as well. Within a single shipment from Red Devil, you will find twelve cartridges that each holds 300ml of the sealant.
What we liked about Red Devil Caulk
Unlike many of the others on this list, the Red Devil Silicone Sealant is 100% silicone. As a result, you will find that it retains elasticity and stability regardless of the temperatures that you use it.
In fact, this product is guaranteed to work in below-zero temperatures and still retain the properties that allow it to seal concrete cracks.
Also, we have to praise the composition of this Architectural Grade Caulk Sealant because it's pretty unique compared to other market peers. As a result, you will find that it is more durable in extreme weather and moist conditions than most others.
Interestingly enough, the manufacturers guarantee this themselves, seeing as they leave you with a half-century warranty after you make a purchase.
What we didn't like
First of all, one of the biggest downsides of this product is that it is not re-paintable.
However, the manufacturers mitigate this aesthetics issue by providing you with five different choices of colors — black, bronze, clear, white, and gray. Also, you get a solvent for proper clean-up.
Furthermore, another downside is that this silicone sealant doesn't have self-leveling properties — meaning you'll have to take care of the leveling and unevenness yourself.
And that's not always easy, considering the fact that it dries off surprisingly quickly.
Things to consider before buying caulk
Now that you know our choice of the best caulk for concrete cracks, we'll give you a couple of points on everything that you need to keep in mind if you want to choose among other products yourself.
The Crack Width
First and foremost, you need to determine how wide your crack is before you start choosing your concrete filler. There are different products that can be used for wide, deep, and superficial hairline cracks.
Depending on the kind of crack that you're about to repair, you'll want to use filler that has different density and consistency. Also, you will find that the containers in which these caulk products are sold also vary according to the dimensions of the crack.
This is only natural, seeing as this is what application depends upon. The caulk that you use to fill in narrow and small hairline cracks comes in bottles or tubes that end with extremely thin nozzles for easy application.
Curing Time
Next up, you need to consider the curing and drying time for different caulk products. And it's not always about selecting the caulk that dries up the quickest.
Sometimes, quick-sealing caulk can have a bit lower binding quality; there are always trade-offs that depend on the specific formulation of an individual product.
Ease of Application
When we've talked about the differences in the products used for concrete sealing, there is another factor that you should take into account while making your choice — and that's the ease of application.
If you're someone who's used to working in construction, any kind of sealant shouldn't be a problem.
But, if you want a quick and easy product that you can apply without too much experience, that's going to be more difficult. While there are some caulks that can do a marvelous job, many of them have an arduous preparation process; including heating and mixing
And if you don't use the right proportion while mixing, you could end up with a shoddy caulk that can't be used for any long-term repairs.
Your best bet would be to find a tubed caulk. And if that is not an option, there are some pre-mixed sets that would be easier to use.
Temperature Issues
As we've already talked about extensively, concrete tends to contract and expand in different extreme temperatures. And that won't change once you use even the best caulk for concrete cracks; the surrounding concrete will continue to shift according to the ground below and the elements around it.
With that in mind, you need to choose a type of filler that can be flexible enough, if these weather conditions are something you need to think about in your surroundings.
Luckily, many of the caulks and fillers that we'll talk about here can mimic the movement of the concrete around it; ensuring that this concrete crack that you're trying to solve remains sealed.
Different Kinds of Fillers
People use all kinds of different fillers to deal with cracks in concrete.
In order for you to understand what the best caulk for concrete cracks is, we're going to explore some of the different kinds of fillers you can find for this purpose.
Concrete Sealant
These sealants for concrete cracks are manufactured with a very specific purpose — to repair and fill small, think cracks. We're talking about those that aren't bigger than a half of one inch.
As we've mentioned above, knowing the consistency of any concrete sealant that you use is important.
With that in mind, know that these superficial crack sealants are only intended to be used horizontally. In other words, they can repair cracks in driveways, floors of garages, and concrete patios — but we don't believe that they'd be of much use when it comes to vertical walls.
Generally, these sealants come in bottles that end in a thin pinpoint tip. That way, you can apply this to your crack straight from the packaging without doing any mixing or making a mess in the surrounding area.
Know that these bottled horizontal sealants level out by themselves once you apply them; they will fill the crack and you won't have to smooth anything out.
When you apply this kind of sealant, don't forget to shake the sealant bottle before doing so. If you want to use this with deeper cracks, you'd probably be better off using another kind of filler; in the absence of that option, fill the concrete crack using sand first before topping it off with the sealant.
Repair Caulk
The following type of concrete filler is pretty similar to generic caulk; you also apply it via a gun.
However, this is manufactured using a latex-based formula and you can put multiple layers of this sealant; the only thing you need to remember is to make sure that every single layer dries off before you start with the next one.
Obviously, this is the biggest difference compared to the application of regular caulk.
Much like the superficial concrete sealants that we've talked about above, some brands of repair caulk come in tubes; allowing you to perform direct application from the packaging.
Though the principle remains the same — this is only to be used in the case of narrow cracks. Also, this kind of sealant tends to blend in with the surrounding concrete better.
Apart from that, one of the biggest advantages that repair caulk has compared to crack sealant is the fact that you can use it on vertical surfaces as well; unlike the horizontal-only crack sealant.
Quick-Setting Cement
When it comes to filling concrete cracks, there's also quick-setting cement. This is a type of filler mainly used for smaller cracks, those one inch wide at most.
We should point out that this option is more affordable than most of the ones above, but its application is also more complex.
Unlike the caulk guns that can dispense concrete filler immediately, you need to mix this cement with water in order to create a paste. Then, you proceed to apply this paste to fill the crack via a small putty knife.
This type of cement is also sometimes with additional bonding liquids in order to make the curing process sturdier and slower; allowing this repair to be more long-term. Generally, this cement is used to repair chipped concrete pieces, like curbs, stairs, and slabs.
Hydraulic Cement
Next up, we've got hydraulic cement that has a more specific use. This kind of filler is used for damp areas and concrete cracks that stem from water leaks somewhere within the structure.
This hydraulic cement sets in with incredible quickness, meaning that any leaking holes can be plugged in pretty quickly. In general, you get this filler in the form of a powder, which is then mixed into a dough with water.
You then pressed this dough into a concrete crack yourself, preferably by hand. It will set in a matter of minutes, and you can proceed to scrape off any dough that remains as excess. Hydraulic cement is used for horizontal and vertical areas alike.
Patching Compounds
Finally, there are also patching compounds that come in two forms — a powder of dry cement, and premixed patching compounds.
If you're going to use pre-mixed patching compounds, know that these are made from a polymer of cement and different bonding agents.
On the other hand, the powder option has to be additionally mixed with a bonding liquid or water, depending on what brand you're going to use.
These patching compounds are powerful but come in smaller packages, and they can add immense durability to the cracked area.
Still, they're used in the case of shallow cracks — deeper ones will require fillers that come in bigger amounts. When it comes to the application process, it's not that different from plain cement.
You take a trowel and push as much of it into the cracked area as possible, before smoothing the surface area.
Frequently Asked Questions
Now that we've taken a look at some of the best caulk for concrete cracks, we'll take a look at the most frequently asked questions regarding the process of caulking on concrete!
Can you caulk concrete?
We'll give you the straight and short answer right away — yes, it's absolutely possible to caulk concrete. In fact, this is one of the best materials for repair via caulking that we can think of.
If you find that metal or wooden surfaces are damaged, there's pretty much nothing that you can do to repair them. On the other hand, concrete is both durable and prone to caulking repairs — making it the perfect construction material.
Just make sure that you use backer rods to ensure that you're not overfilling the concrete crack when doing so. On top of that, you can run a nice and even layer of caulk. This will prevent your gaps from turning into uneven mounds of caulk once everything is done.
Also, make sure that you're using a concrete caulk that's specifically formulated, mixed, and designed with concrete in mind; there are other kinds out there that won't work nearly as well with a concrete surface.
How do you caulk cracks in concrete?
It is important to take care of cracks in concrete as soon as they appear, especially in your household. That's because cracks in your home may lead to water seeping in — and making these cracks bigger as time goes on.
And if this happens in the foundation of your home, know that it may allow water to get in and create a host of other problems.
That's why we recommend using silicone or urethane caulk to seal off any cracks in your household on a yearly basis. This will allow you to prevent any issues before they become too big for you to deal with on your own. Don't worry, we'll provide a step by step guide.
First of all, obtaining this caulk is not difficult; any supply store for contractors has an abundance of choices, along with bigger hardware stores and home centers.
Now, if you're dealing with joints and cracks that are bigger than a quarter of an inch — we recommend using backer rods made from foam. Seeing as you need these rods to fit perfectly within the joints, we recommend getting some that are bigger than the crack.
Then, make sure that you've got the proper equipment for the job. You mustn't allow this caulk to touch your clothes and bare hands, seeing as it will be almost impossible to get it off.
Logically, this is some of the stickiest materials you'll ever have the chance to touch. That's why we recommend getting a pair of disposable gloves and throwing them out afterward.
Also, grab a cloth and damp it in some paint thinner — have it handy in case some of this material touches your skin, so you can wipe it off immediately. Then, you can begin setting the foam backer rods. Use your fingers to push them into the gap.
Once that is done, proceed to fill the crack with the caulk — just like you would in your driveway or anywhere else. If you're using a tubed sealant, place the tube at about 30-degrees from the gap.
Then, move with an even and smooth motion and fill the concrete crack by squeezing the tube. Take something with which you'll smooth over the caulk and make sure that it's even.
How do you fill large concrete cracks?
If you're dealing with a particularly large concrete crack, we thoroughly recommend using a patching compound like the one we've described above.
On the other hand, hairline cracks that are smaller than half an inch could be dealt with using liquid filler of standard concrete crack.
However, bigger cracks will require the use of patching compounds. These are mixed up with water before you can use a trowel to apply them. Their texture will remind you of grout, but you can smooth them over as needed for them to reach the texture of the surrounding area.
However, bear in mind that this patch will seem discolored compared to the old concrete — logically, it will seem like a fresh concrete slab. That's why you'll have to use concrete paint if you want it to resemble the old one perfectly.
Before worrying about aesthetics, however — you will have to actually fix the cracks within the concrete. And with wide cracks, that's not very easy.
However, there's a simple secret that can help you do this with ease. Namely, you need to undercut the crack from both sides and make it look like an upside-down "V" letter. This will allow your filler material to get into the concrete crack easily.
Also, there will be both a chemical and a mechanical bond between your concrete and the patch — ensuring long-term stability.
What you need to do first is to use a chisel and a hammer to give the crack a wider base. This will also ensure that any material that's been dislodged from your old concrete will be loosened about.
Then, you can start to take away any debris that's surrounding the crack — you need to be certain that the crack is clean before filling it. If you've got a pressure washer handy, feel free to use it. If not, a simple garden hose will do a satisfactory job.
When you finish with that, dry the area off and use a brush or a vacuum to make sure that there's nothing there; including grit, dust, or moisture. Sure, you don't have to wait for the surface to dry off completely — but you don't want any visible pools of water.
Then, take a look at the instructions for the mixing of the patching compound that is provided by the manufacturer. Once you do that, start using a trowel to push the compound for patching into the concrete crack.
Use the trowel to stab down as well and ensure that there are no pockets of air that could lead to further cracks down the line.
Once you've filled everything in, use the trowel to smooth over the surface. Feather some of the compound around the surrounding area to make it fit in better with the rest of the concrete. Then, if you want the surface to have a particular texture, brush it over.
Finally, leave everything to be cured as need be per the manufacturer's instructions. After that, you can paint over the patched surface if you want.
How big a gap can caulk fill?
Before you can proceed to fill up a concrete crack with caulk, you need to do something else — measure the gap's size. After all, this will determine if you can use the caulk to fill the gap or not.
Know that a single bead or layer of generic caulk is usable for cracks that are no wider than a quarter of an inch.
If your concrete crack is bigger than this, you will have to use backer rods or additional caulk layers. Just make sure that any layer of caulk that you've applied is completely dry before applying another one.
And if the crack is far bigger than a quarter of an inch, there's a chance you may need to use different materials to fill it up and fix it for good.
What causes hairline cracks in new concrete?
There are many things that can cause concrete to crack, especially if it's brand new. Though, you may be wondering what can cause small, hairline cracks — seeing as the bigger ones usually have a very distinct and visible culprit.
First of all, if you find a bunch of surface cracks that are very shallow and spread out — akin to broken glass or a spider web, you're dealing with hairline cracks that have happened due to bad drying.
If a slab of concrete is devoid of moisture quicker than it should be, these kinds of crazing cracks are more than likely to happen. And while these aren't pretty to look at, don't worry — they're not a structural issue by any stretch of the imagination.
Next up, we've got crusting cracks. These aren't something that you can deal with as an end-user. They appear because concrete slabs are sometimes badly stamped; usually, while some kind of pattern or texture is added to them.
If this work is being done on a particularly windy or sunny day, the concrete slab won't dry off evenly. As a result, the bottom of the slab will be wetter than the top; causing cracks to appear. Just like the previous ones, these aren't exactly something that you need to be concerned about.
There are also hairline cracks that appear due to temperature changes. On the coldest days of winter, even the ground itself is frozen in some areas.
And when it starts thawing, it may lift itself off due to excess water while settling in. Such movement is a huge contributor to cracked concrete.
Depending on how well the slab of concrete was inserted into the ground, it may not have the freedom to shift with the land around it. As a result, it will start cracking on the surface.
One of the biggest issues of this sort are cracks that appear due to tree roots growing out and spreading below.
These start by being hairline surface cracks, but as the roots spread more and more below the surface you will find this becoming a problem that can endanger the entire slab.
How do you stop concrete from shrinking?
At the end of the day, you need to remember that concrete is just a mixture of water and cement. And when it begins drying off, the water and the cement are actually bonding and creating an immensely hardened material.
When shrinkage cracks in concrete happen, they actually happen because the excess water that you've mixed in is evaporating as your concrete becomes drier and drier.
If you want your concrete to be mixed properly, generally you need to think about putting in more water than it is needed for a specific reaction; this can be almost twice as much.
But if you don't want to deal with shrinkage cracks, you need to think about ways to minimize the shrinkage that happens while your concrete dries.
The most obvious solution here is to just mix a smaller amount of water as you pour in the cement. But this can lead to a host of other issues — you could end up making concrete that's just too stiff to easily manipulate and work with.
Also, it will interact more rigidly with reinforced steel and other frameworks. Using a mix with less water means having to vibrate it more in order to make sure it's still usable afterward.
Also, you will find that there are plenty of different additives that can be used with a concrete mix; especially if you want the fluidity of your mix to remain at the same level while you use less water.
Apart from that, experienced contractors also make use of control joints to prevent too much drying shrinkage. These control joints are intentionally cut into an individual concrete slab by a contractor.
The idea here is to control how your concrete will crack by providing it with space to do so — and thereby avoiding any actual structural damage.
Can you pour concrete over cracked concrete?
You can pour concrete over already cracked concrete, but you need to add an additional step here — a priming coat. This thin overlay will have to be used to prime the old concrete surface for the bearing weight of the new layer.
These primers contain powerful bonding chemicals that make the two different layers come together firmly as one and ensure there is no long-term structural damage to speak of.
Should I worry about cracks in the garage floor?
If you don't think that these have appeared as a result of water getting into the foundation, there is not much to worry about.
However, we still recommend having an experienced home contractor take a look at this.
Final Thoughts
As you can see, the matter of choosing the best caulk for concrete cracks isn't just about picking the best product on the market; you need to know a lot about concrete itself and how the caulk is applied before making the right choice.
We hope you've learned something new today about what makes the best caulk for concrete cracks and that you feel more confident about making the big purchase.
Make sure you are staying safe in these times we are all going through and have a good one, guys!