When you start doing some landscaping in your home, you'll realize one important fact — if you want everything to look its best, you will have to invest quite a lot of money, time, and valuable energy.
There are countless things you need to take care of; especially if your DIY project includes a more significant change, such as paving a new walkway for yourself. There's a lot to think about when you start working on your paver walkway.
Considering this, it's quite natural that you want this walkway to last you as long as possible. After all, imagine if all of your hard work went down the drain after a couple of seasons! To prevent that, you need to use the best water-based paver sealer.
However, choosing this product is more complex than it first seems. On the one hand, this sealer needs to ensure that your paver will have resiliency for a good couple of years; but also, it needs to look beautiful.
Luckily for you, if you find the right sealer for your needs — you will find that these sealers improve the resistance of your stonework to the elements, using chemical bonds of immense strength that provide ample protection.
Yes, the best water-based paver sealer will make sure that your stones are locked firmly into place; there will be far less erosion in any present joints, and staining won't be that big of an issue.
All in all, your paved walkways will look (and feel) their best. But there's a lot to think about while picking them; for instance, sealers can be cured with varied finishes — all depending on the precise aesthetic that you're trying to achieve.
You could have stain, matte, wet…the possibilities are truly limitless. And apart from that, your paver sealer will also go deep between the cracks and fill up any crevice or pore that could otherwise be an issue. The brick or stone will be free of any kind of debris — including insects or dirt.
Don't worry about making the right choice, though — we know precisely how complex choosing a single paver sealer can be. With that in mind, we'll present you with all of the data and knowledge you'll need to come up with a truly informed choice.
Also, you'll find a shortlist of our top picks among water-based paver sealer solutions. Without any further ado, let's dive right into it!
Our Pick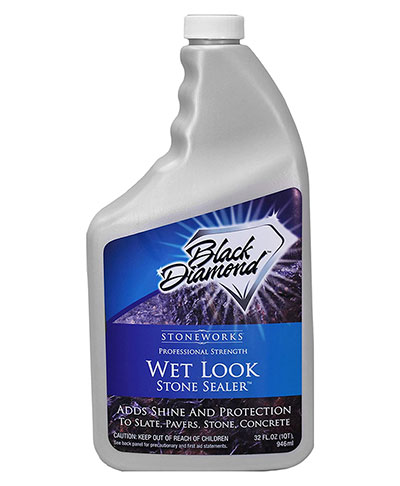 Luckily, this Black Diamond product can be cured within a single day — you won't need more than twenty-four hours regardless of how many coats you apply. You'll be able to perform lighter traffic on foot after no more than eight hours!
Now that we've explored some of the basic information that you need to know while picking your best water-based paver sealer — we're going to present you with our top pick among such products — and that's the Black Diamond Wet Look Stone Sealer.
Generally, regardless of what you're buying — brand value is important. That's not to say that lesser-known brands can't produce a gem; but when you're buying a paver sealer, you need to get it from someone who has a lot of experience with producing such chemicals and materials.
With that in mind, Black Diamond is one of your best choices among sealer brands. They've got more than an established reputation on the market; with a varied product range that does more than providing you with everything you need for quality stonework.
You'll find finishes and materials for all kinds of flooring, including laminate and tile. However — their water-based stone sealers are their flagship product.
What we liked about Black Diamond Wet Look Sealer
Now, one of the biggest reasons why we believe that this Black Diamond product is your best pick on the market of water-based paver sealers is, simply put — its versatility.
Once you begin looking among different sealers and browsing the market, you'll find that plenty of them only work with a specific kind of stone. However, this wet look stone sealer will work with any kind of stone pavement out there.
That means that not only will you get a valuable sealer for your current DIY project, but any excess material that remains will be freely used for other future projects. Some say that this versatility has the downside of not being specifically good for any type of stone, but most users agree that it does perfectly well in most conditions.
Now, another great thing about this water-based paver sealer is that it can be used for indoor projects as well. And in this regard, we need to give you a small pro-tip; technically, every single sealer brand out there will freely claim that you can use their product indoors as well as outside. But in practice, some are far more usable than others.
The catch is that, while all of these sealers can technically be used both outside and inside; many of them have a long curing and preparation process. If you're treating a surface in an area where you also live, this timespan can make the DIY project simply untenable.
If you're going to use the sealer somewhere inside of your household, you'll be able to complete the project within a single day, and thus without any disruption of your everyday life. That's particularly important if you live with kids because they can also make indoors projects more difficult.
What we didn't like
There aren't many downsides to having this product, as it is truly one of the best water-based paver sealers out there.
However, you need to be prepared for the fact that it will appear white while you're applying it than it really is.
And once you're done with the application, you'll see that the stone is significantly darker. So, choose your aesthetics carefully before applying this, and any other kind of paver sealer.
Best alternatives
Its specs are more than cost-effective — the efficiency and excellent (400sq) coverage area make this one of the best choices on our list, at least in terms of value for your money.
Our next pick comes from Dominator. While this sounds like a separate company, we're talking about one of the subsidiaries of Black Diamond; as you can see, this coating company pretty much has the coating market cornered with high-quality products.
But while their Black Diamond brand is intended to be used by everyday people, the Dominator brand is more closely marketed at professional contractors that need something more industrial than commercial.
However, that doesn't mean that you can't use it as an effective product for your household project if you truly know what you're doing! Of course, you will also have to expect something of a steeper price compared to other brands of paver sealers.
Luckily, the product gives you more than enough value for your money, seeing as it's miles ahead in quality but only moderately more expensive than its price peers. Let's talk about the pros and cons now.
What we liked about DOMINATOR SG+ Paver Sealer
One of the most important things about the Dominator paver sealer is that it's quite excellent for professional use.
And as any contractor will tell you, the three basic things they keep in mind while planning a project is how difficult it would be to apply a sealer brand, where it can be successfully applied, and how long the curing and drying will take.
And the Dominator SG+ comes out on top compared to similar products in all of these categories! The application process is pretty straightforward, and it's not anything more complex than with other water-based sealers; all you need to do is to clean the surface thoroughly first and you're good to go.
However, what's good is that it has none of the strong odors and fumes that you can expect from different paver sealant brands. This is important for a variety of reasons — not just because of potential discomfort.
Low-VOC sealer formulas are excellent because of potential ecological restrictions in your municipality, or because of sensitive household occupants with asthma or other health-related issues.
Plus, the Dominator SG sealer cures after just two whole days — an astounding speed that allows you to perform DIY projects as efficiently as possible.
Of course, the actual coverage area will also depend on how porous your surface is — as we've discussed above already. But still, even with the most porous surfaces, the coverage for this sealer doesn't go below 250 feet.
On top of that, it's quite durable as well — according to the manufacturer, it can last up to five years with proper maintenance!
As for the finish, it's a semi-gloss one, but don't worry — it's not slippery at all. And yet, it manages to provide ample protection against a garage or household chemicals, as well as anything ranging from mildew to common kitchen oil spills.
What we didn't like
While the coverage area of this product could be better, all in all, that would be nitpicking.
The only true issue with the Dominator sealer is that it's the most costly water-based paver sealer on our list — and thus, definitely not for everyone's pocket.
However, if you can afford this industry-grade sealer —- you'll find that it's more than worth your time and money.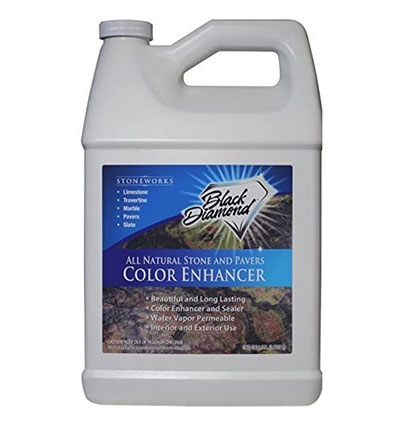 Not only can you be certain that the product will seal all of the stonework close together — it improves the vibrancy of the colors as well, providing a significant boost to the aesthetics.
The penultimate product on our list is another one from the now-famous Black Diamond brand. It's an interesting one because it's a sealer that's also a color enhancer — making it perfect for surfaces such as limestone.
And while this means that the product is not usable for every situation and household — it's probably the best indoors sealer that we've taken a look at here.
What we liked about Black Diamond Color Enhancer
Even the top pick that we've reviewed here can't compare with this sealant in terms of indoor application. And we're talking about the same Black Diamond brand.
However, this particular product improves on all of the others in a very particular way. Namely, there is no other sealer that emits fewer odors than this one — even among water-based sealers that are generally low in toxicity.
So, if you're conducting your project in an area with enough ventilation — you don't even have to wear a mask.
Apart from this, it's important to note that this Black Diamond sealer has other aspects that make it an excellent product for indoor use. There's also the fact that it provides more aesthetic appeal than the average sealer.
What we didn't like
We do have to mention that this product while being excellent in terms of aesthetics, can't offer nearly the same level of durability as the other ones on the list.
If you're looking for extensive outdoor projects, know that you should probably take a look at some of the other options; we've talked about the suitable ones right here.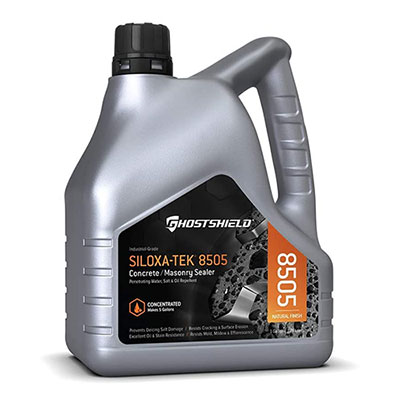 The Siloxa-Tek sealer doesn't create a film on top, as most penetrating sealers don't; instead, it goes deep inside the concrete and makes effective protection against both UV rays and many different liquids.
For our final pick here, we'll mention the best paver sealer that you can use if you're going to deal with a concrete surface. Pure and simple, there's just no product out there among water-based sealers that will get the job done better.
And sure, it's among the costlier ones that we've reviewed — but it's still more than worth your investment because of its excellent performance and features.
This is a good product that is certainly worth your attention. Let's sum things up now with a run through the pros and cons, shall we?
What we liked about Siloxa-Tek 8505
This is an extremely effective water-based sealer for concrete. There are a couple of reasons for that; not the least of which is the fact that it can create a barrier in the concrete micropores due to its extremely small molecule structure.
Once you apply a couple of coatings, you won't have to worry about the state of your concrete pavement for a long while.
It's definitely among the better sealers when it comes to porous concrete — you'll find that it's hugely effective when it comes to preventing any kind of moisture from staying inside the concrete structure. And chloride ions won't be an issue either if you use this product.
And, just like the other water-based solutions here — it's quite eco-friendly. You won't have to worry about using it both outdoors and indoors.
The fact that it's great for preventing moisture also means that you won't have to think about mildew or mold forming within your concrete and causing cracks after a short while.
You also won't need to hire any professionals to help you apply this sealer — pretty much everyone can do it on their own by simply following the manufacturer's instructions. And in the end, your walkway or driveway will have a perfectly natural look — just like before!
What we didn't like
While this product is extremely effective, it does have one issue that may be a deal-breaker for some people — especially those that want to use it indoors.
That's because this sealer takes quite a long time to dry completely.
What should you look for when buying a paver sealer?
So, you know what the best product among water-based paver sealers is, at least in our opinion. However, you do need to bear in mind that there are plenty of options out there on the market.
Now that you know everything that's needed to take your pick among the best water-based paver sealers — we'll give you a couple of more suggestions regarding the feature of the product.
And you've got quite a few choices, even when we consider out top pick.
That's why we're going to tell you everything that you need to know about making your own choice among any number of water-based paver sealers.
Regardless of what specific products you've got lined up in front of you, there's no confusion after going through our guide.
The Finish
We're already talked quite a bit about the different finishes on varied water-based paver sealers. But if you're not familiar with this type of work in general, it's worth taking a look at finishes in more detail.
Generally, this term refers to how your pavement will look on the surface once you cure and apply your paver sealer of choice.
Now, there are plenty of different categories that we can differentiate sealers into according to their finishes; there are satin, wet-look, high-gloss, low-gloss, natural, and matte finishes.
There are plenty of people that don't want their finishes to add any kind of additional aesthetic to the surface. So, if you want to achieve that natural look, we recommend the more penetrating sealers.
These, once applied, run deep inside your masonry or stonework. Once they penetrate below the surface, they will start triggering chemical reactions that bind the stone molecules closer together.
But, the important thing in terms of aesthetics is the fact that these are one of those non-film sealers — so you don't have to worry about what kind of appearance you'll have after the curing process.
Non-slip
There are plenty of sealers that do their job of protecting the surface well — but in the process, rendering it more slippery than it previously was. While there are uses for slippery surfaces, generally this is something you want to avoid in a household environment.
With that in mind, you probably want to make sure that your water-based paver sealer won't have the same undesired effect.
This depends on the specific sealer that you use; generally, the wet-look and high-gloss sealers tend to be more slippery. If you find that a sealer is often used for high-traffic areas and places like the vicinity of pools; chances are that they're more breathable and less slippery.
On the other hand, retaining walls and other areas with low traffic and more visual appeal usually get treated with glossier sealants.
Though, remember that the appearance of a paver sealer finish doesn't have to immediately mean anything about how slippery it is.
There are plenty of sealers these days that have the slippery look but they're quite dry and non-slip. Usually, these are sealers that have non-slip additives fused with their slippery chemicals.
Expenses
Naturally, regardless of what product you're buying — one of the single biggest things to keep in mind for a pros and cons list is its cost.
And the process of purchasing the best water-based paver sealer is no different. But, the catch here is — to determine how expensive this work will be, you need to keep a couple of specifics in mind.
First and foremost — you need to think about the square footage of the entire area that you'll be treating with this sealer. Next up, you also have to think about how easy this area is to access, and where your paver stones are.
Also, the specific kind of paver that you'll use will impact your expenses. While the Black Diamond product that we've mentioned can be used with a wide variety of materials; generally, some pavers have to be used with specific kinds of sealant.
Also, the level of absorbency in your paver material will have a direct impact on how much sealer you need. Naturally, highly porous stones will require the usage of more sealant materials than those that aren't as absorbent — on the same square footage.
How Long It Will Last
As we've said in the very beginning — when you're treating your pavement with a water-based sealer, you don't want to do this every couple of months; it's supposed to be a long-lasting project if you do it right.
To be more specific — if you use high-quality water-based paver sealers, you can expect them to last three years at the least and five years at most before you need to repeat the process.
Naturally, this is just a rough estimate solely based on the sealer itself. There are plenty of other factors that will impact the longevity of your sealant; ranging from the weather to traffic and the quality of your maintenance. All of them can have a detrimental effect on the lifespan of your paver.
If you don't want the wear and tear on your sealers to be readily apparent — a film-forming product would be the best option.
While the non-film sealants last longer overall, they can be aesthetically worn out after a short while. All of the signs of the paver's aging will be more readily apparent.
Also, if your stone color changes over time, that will probably be due to the rain; if you live in rainy areas, rain can slowly but surely thin out your sealant.
Drying Process
We've already talked about some of the ways in which the local weather may affect your paver sealer. One of these is also the fact that the overall climate in your area will affect your sealer's average drying time.
In general, the high-quality sealers can dry up completely in the span of a single 24 hour day. And there are also special kinds of sealers that can be mostly dry in just six to eight hours.
However, drying is not the only thing that you have to think about while planning out the time of your DIY project. There's also the process called curing — this is what happens when the solvents found in the sealer fully fuse with any oxygen contained in the surrounding air.
Once this is done, you can be completely sure that your paver sealer is fully usable and hardened. That's pretty much the final stage of the application process, even though it's pretty passive and you don't have to do anything in that period yourself.
You just need to know that this can take quite a while. Sure, sealers will dry after a single day — but curing is something that will take anything from a single week to four weeks.
Different kinds of paver sealers
Now that we got into the details on the best water-based paver sealers, we have to cover some basics regarding this product in general.
Namely, you should know that paver sealers are there to make sure that your paver stones stand the test of time and seem brand new for a long while.
This product has plenty of other benefits that come with that. For instance, it will prevent any biological material from loosening the joints in your walkways, such as grass, weeds, moss, and some small insects.
Plus, you won't have to worry about your joints losing sand — or gasoline and grease staining the blocks on the surface. If you choose the right paver sealer, you'll be able to enjoy the full protection against any sort of deterioration and unattractiveness that comes with time.
However, it's also quite important to note that there are plenty of different paver sealers out there.
They come in a variety of product lines and there are a couple of different ways of differentiating them. For instance, we can divide them by whether they're film-forming or not. You choose between these two depending on why you're sealing the surface that you're working with.
Firstly, non-film paver sealers also offer quite a substantial degree of protection. And actually, they tend to last longer than their film-based cousins.
Non-film sealers have a matte finish when cured. On the other hand, film-forming sealers give you better protection while they last; though they don't last as long.
This is because they (as the name suggests) form a film, and thus give you an additional surface barrier against any external damage.
Their finishes are also more varied because you can get them in semi-gloss, gloss, and satin; though you will need to reapply the finish more often.
What sealers have in common
Moving on, we've got another main point of differentiation — and that's whether your paver sealer is water-based (the ones that we will mainly focus on here today) or solvent-based.
However, even though we'll give more attention to the former, it's also necessary to understand the latter. After all, if you want to dabble in paving yourself — you pretty much need to understand everything about the process and know your way around all of the different products that are on offer here.
With that in mind — know that both kinds of sealers will do a wonderful job of protecting your pavement against any surface wear that happens in the outdoors no matter where you are.
These days, most kinds of paver sealers are resistant to stains and ultraviolet radiation — meaning that the surface that you treat won't get cracked up under the sun. Also, they're all simple to apply.
Solvent-based sealers
Now that we've established what you can expect from all of these sealers, it's time to see how the solvent-based ones are different from the water-based sealers.
Namely, you need to know that solvent-based sealers are created using blends of polymer and acrylic. They give you a nice thickness and an impressive coating level; though the latter will vary in regards to the percentage of solids found in the specific sealer.
Still, all of the solvent-based sealers will provide your surface with an appearance that's glossier than what you get with water-based ones. This is neither better nor worse in and of itself — it's a matter of personal preference.
It's also important to note that solvent-based sealers, and their wet finishes, create a stronger odor compared to the unnoticeable water-based ones; making cleanup more difficult after you're done with your work.
Plus, if you have any sealer remaining once you're done, you need to put it back into its canister that it came with and reseal the container. Also, you may want to add some xylene to any solvent-based sealer that you have left, seeing as it will dissolve any excess compounds.
Finally, take a look at your local regulations on waste management, so that you learn how you can dispose of extra solvent and any rags or other contaminated materials that you've used in the pavement process.
Water-based sealers
Next up, we've got the main type of product that we'll talk about in this article — water-based paver sealers. These kinds of pavement sealers can also be made using polymers and acrylic, however, they boast one crucial difference — the polymers in question have a dispersion using water molecules.
And once you apply a water-based sealer to your pavers, heat will cause the molecules of water to evaporate and bind the sealant polymers together. Once this process is underway, after a short while, the polymers will completely fuse — leaving you with a strong protective barrier for your surface and the stones beneath.
While you apply water-based sealers, you will find that they may seem white or even milky; this is due to how visible light interacts with polymer particles. When everything dries off, you will find that the finish is completely clear.
And another big advantage of water-based sealers is that they're far more eco-friendly; apart from being low in VOCs, they also aren't flammable so you don't have to worry about disposal as much after finishing the job.
Plus, they don't emit anything more than a slight odor. That makes them quite easy to apply and perform clean-up later.
Breathability
Once you start reading about the breathability of different the best water-based paver sealers, know that this isn't anything complex.
That simply refers to how well the sealer allows for the stonework to "breathe"; in other words, how much moisture can vaporize out of the stonework after you apply the sealer.
And make no mistake, you do want a breathable paver sealer — this allows you to avoid any moisture remaining trapped beneath the surface levels of your pavement. In turn, that means not worrying about any biological buildups that ruin your stonework.
Acrylics
We've already mentioned that all paver sealers can be made with both polymers and acrylics; that goes for both water-based and solvent-based sealers. However, we're mainly going to look through acrylics among water-based sealers.
The reason for that is simple — these kinds of sealers give you the best possible ultraviolet resistance.
Now when it comes to breathability, that trait can vary wildly in acrylics. Naturally, you can judge what kind of breathability you can expect from the solid content in the specific product.
For instance, if you see a sealer with 30% of solid content — know that it's far less breathable than the one with 15 percent.
Also, matte-finish acrylic sealers are more breathable because, as we've already mentioned, they don't form any kind of film on the surface upon application.
This additional layer of protection makes the walkway safer from external elements and the sun, but the stonework below will be rendered less breathable in the process as a result.
Wet Look
If you hear this term while exploring the world of the best water-based paver sealers, know that it simply means a type of finish; it's the one that will make your pavement have a darker shade. Imagine it looks like it has rained not long ago.
If you want to have this type of look on your walkway, you can achieve it using denser acrylic concentrations. It's an easy rule of thumb — if your concentration is higher, the finish will seem wetter.
Applying the sealer
If you learn the basics of applying paving sealer, you will be able to do one of the most important landscaping tasks in your home without anyone's help. To prepare for this process, there are a couple of things you need to do first.
Primarily — your pavement needs to be completely clean, for obvious reasons. There must be no visible algae, moss, dirt, weeds, or any other kind of debris once you start applying this sealer.
Remember — if you don't clean the surface well first, chances are that the debris or dirt will be sealed with the rest of the pavement and it will be permanently dirty and damaged.
Once you have done everything required to clean up your pavement, give it a couple of days of dry weather to be completely devoid of moisture. That's incredibly important — you must have no efflorescence visible on this surface before you apply the sealant.
So, if you have washed the pavement — give it more than enough time. If you don't, you just risk excess moisture being trapped along with the pavement once the sealant is applied; somewhat defeating the purpose of the sealer in the first place.
Final Thoughts
As you can see, applying the water-based paver sealer is more than an arduous task — at least if you don't approach the task in the right way.
However, if you do your best to learn everything about the different kinds of paver sealer; chances are that you'll be well-informed enough to make the right choice of the product that you need for your DIY task.
On top of that, there's also the fact that you need to make the right preparations when you've bought your water-based sealer.
Still, if you do all of this and finish the project on time — you'll have a completely protected surface for years to come! We hope that this guide was useful to you and that you've learned something new on what makes the best water-based paver sealer.
We also hope that you feel more confident about making the purchase and getting down to business. Make sure you are staying safe in these times we are all going through and have a good one, guys!