For most of us, there isn't any other food-stuff or drink we consume as much as the water coming from the household taps.
Consequently, water quality will leave its mark on our health over time, no matter which other precautions we might take for a long and carefree life.
Although modern filtration methods and treatments made tap water safer to drink than in any other period of history, millions of Americans still have real reasons to doubt the quality of the stuff flowing from their faucets. 
A number of solutions are available to mitigate this problem, from drinking only bottled water to installing a simple point-of-use filter.
However, the safest alternative is a whole house water filter, which will purify the water you will be using for drinking, as well as cooking, or cleaning. 
Our Pick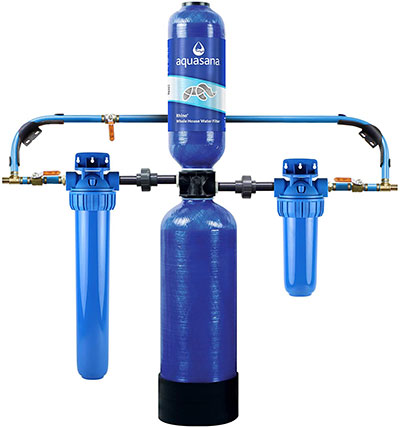 The carbon filter on this has a remarkably long service life, of around ten years or 1,000,000 gallons. 
This Aquasana won us over because it does everything you would want from a water filter bar eliminating bacteria, and it does so over a very long amount of time.
The main activated charcoal filter medium should last for a decade, or 1,000,000 gallons, which is near the best you might expect from a device of this type right now.
Its other specifications aren't equally impressive but it does its job very well with few complaints from the many people who bought it.
For example, the manufacturer specifies it removes 97% of all chlorine, which is more than enough to neutralize the taste, while other companies cite figures as implausible as 99,999%. Call us suspicious of the competition, but we prefer Aquasana's honesty over dubious claims.
It also removes sediment with both a pre and post filter, lead, mercury, pesticides, PFAS substances, and the infamous volatile organic (VOC) compounds of Flint, Michigan "fame".
It comes both with fittings for 1-inch and ¾- inches piping and it's reportedly very easy to install, so most of us won't have to fork over some extra cash for a specialist.
This is all the better, as this filter is relatively pricey, but we believe it more than makes up for this through service life.
What we like:
Carbon & KDF filtration media can effectively remove nearly all organic and inorganic water contaminants as well as some bacteria. The list includes all sorts of sediment, heavy metals like lead, mercury, agricultural chemicals, PFAS compounds, and VOCs.
People who bought it claim it is very straightforward to install and comes with everything you need for this operation in the box. Highly versatile, it has fittings for both ¾-inches piping and 1-inch.
The manufacturer claims it doesn't remove healthy minerals from the water, which is a big plus as water that is too pure can ironically damage your health over time. Judging by customer reviews, this assertion seems to be correct. 
What we don't:
It's not the cheapest unit out there but it should make up for it in service life, offering clean water at an estimate of 1 cent per gallon for the full length of service. 
How we picked the best whole house water filter
Given the important job these devices are meant to fulfill — supplying you and your family with clean, fresh drinking water — finding the very best whole house water filter for your needs is a task that shouldn't be taken lightly.
However, the sheer number of products of this type currently available on the market will have you sink hours upon hours of your time into finding the right one.
To spare you this arduous endeavor, we've made some of the research for you. We've looked at nearly all (admittedly, we might have missed a few) whole house water filters available on retail sites, and highlighting just a handful of really good ones.
Our initial selection contained some two dozen items, selected based on marks received, consumer reviews, as well as accreditation from official bodies like the NSF (National Sanitation Foundation) or WQA (Water Quality Association). 
We further narrowed down the list by checking how these products were rated by professional testers and reviewers working with the best review sites on the Internet.
Finally, we considered that filters in our selection should cover the widest variety of needs, so as many people as possible could find their ideal choice among the items below. 
This offers remarkably good performance, with a maximum flow rate of 10 gpm and a maximum operating pressure for the whole system of 125 psi.
The main selling point of 3M's Aqua-Pure line of filters is its convenience, as you won't need to bother with a specialized wrench in order to change the cartridge. It simply screws and unscrews pretty much like a lighting bulb in an operation that shouldn't take any member of the household more than a minute. 
The particular model we've looked at only has a sediment filter and an activated carbon layer. The sediment mesh goes down to 5 microns, which should be more than enough for most needs and the activated carbon has certain substances incorporated for reducing scale in water.
In short, it should be enough to service most household needs in urban or rural environments by removing chlorine and the whole list of intoxicants that activated carbon absorbs: dioxin, pesticides, pharmaceuticals, PFAS substances, volatile organic compounds and many, many more. 
It also does this at a very reasonable price, so families shouldn't put up buying a water filter because of a lack of cash. Additionally, it is very easy to install on 1-inch piping with a stainless steel fitting or adapt to work with ¾-inches systems. Flow rate is also good, at 20-gallons per minute, more than most families would need. 
What we like:
Extremely easy to service, simply unscrew the cartridge like you would a light bulb and slide in another filtration mass. 
With 25-inches of height the activated carbon layer should last for a fair amount of time under normal conditions, without taking in too much space in your basement or garage. 
It comes from a well-trusted American manufacturer, which is coincidentally the same firm that produced some of the PFAS substances the activated carbon on this device can help reduce. 
Although otherwise it's pretty basic, it can also reduce scale in water, which should be good news for your electrical appliances.
What we don't:
Like we mentioned, it's pretty basic. It doesn't remove most heavy metals, bacteria or sulphur, but you shouldn't really be expecting it to do more at this price.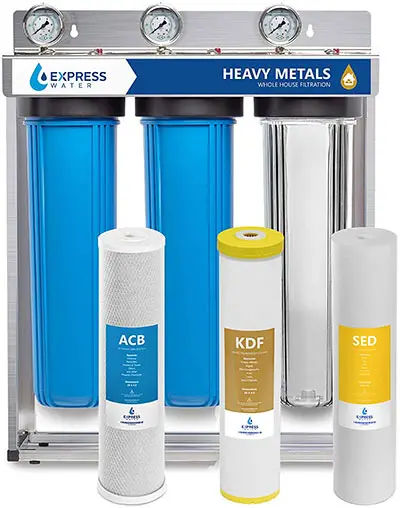 With three filtration stages, sediment, carbon, and heavy metals, this system can handle everything you throw at it except for most bacteria.
This Express Water model can be seen as a more affordable alternative to the Aquasana which should make it very attractive for those shopping on a budget. This doesn't mean it doesn't do its job very well, as most people who commented on it seem extremely satisfied.
It is reported to be very effective at removing rust and dissolved iron, thanks to its KDF stage, as well as sulphur smell, and, of course, chlorine. 
This makes it a popular choice for well water if clearing out bacteria isn't an issue. As it has both granular carbon and carbon block stages, the WH300 is also effective at removing some of the scale, so that your appliances don't develop calcium deposits over time. 
The list of things this partially or entirely eliminates is indeed long: heavy metals, chlorine, chloramine, rust, dirt, lead, pesticides, turbidity, silt, sulphur, iron, herbicides, industrial solvents (VOCs), pharmaceuticals, and "cloudiness". 
A filter set should last for around 100,000 gallons, or 6 to 12 months, depending on the quality of the incoming water. It has large, 1-inch connectors to allow for a high flow and works under 45 to 80 psi of water pressure, and under temperatures ranging from 40 to 100 degrees F. 
What we like:
Although in any case not cheap, it is a more affordable alternative to other systems that offer a similar degree of functionality.
With a flow rate of around 20 gallons per minute (the manufacturer specifies 0.25 gallons per second)it should be fast enough to handle peak consumption for a family of four.
Many satisfied customers praise its ability to purify well water and many reliable review sites recommend it as their pick for that purpose.
What we don't:
Not many things wrong with this model, some people noted that it is somewhat heavy, so the WH300 might be a handful to install. However, after this is set and done, changing cartridges isn't particularly difficult. 
It uses a UV lamp, extremely effective at removing most viruses and bacteria, including but not limited to legionella, salmonella, cholera, e-coli, and micro-organisms that can cause dysentery.
If UV water treatment is what you're after then look no further than the Vitapur VUV-S645B. This is a nifty little system that can be installed either on its own or as an additional stage to a more generalist filter you might already be having.
It has adapters for both ¾-inches and 1-inch outlets so it shouldn't be much of a problem setting it up. It is very unlikely to decrease water pressure in any significant way, as the 12.3 gpm flow is enough to meet the consumption of a family of four in peak conditions. 
It also has some additional features, like an audible and visible lamp failure indicator and a lamp replacement reminder. A relatively new product, not many people reviewed it, but it seems to have won over most professional testers.
It also enjoys an NSF/ANSI certification for UV filters, so you can rest assured it will do its job well in removing most bacteria and viruses.
Among the many microorganisms, it can inactivate we mention salmonella, legionella, e-coli, and cholera, all extremely dangerous water contaminants. 
What we like:
At just under 10 pounds and coming with both ¾ and 1-inch fittings this filter will be very easy to install. You can either place it on its own or after a more broad-spectrum filter so that you are protected against all water contaminants out there.
This filter has an NSF-55 Class B certification, as a testament to its high quality and effectiveness. The accreditation doesn't come cheap and you can be sure that if the manufacturer wasn't convinced its product does a stellar job it wouldn't have paid to obtain it.   
It comes with many safety/convenience features that you will be sure to appreciate, such as an audible and visible lamp failure indicator and lamp replacement reminder so you will know just when to service it.
The 12.3 GPM flow is not the highest on the market but it should fit the needs of most full family households.
What we don't:
There are relatively few consumer reports for this product but the Vitapus seems very popular with the reviewer crowd.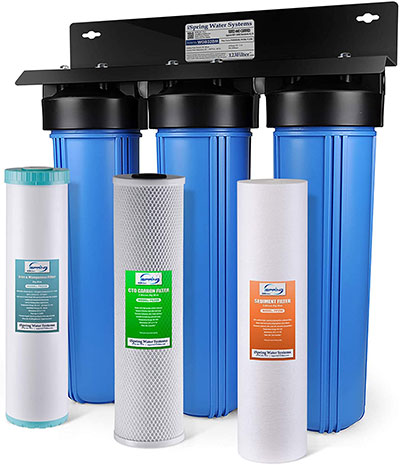 Considered by many professional reviewers the best choice for well water, this product also won great marks from the general public.
This iSpring three-stage filter is an ever-popular choice for removing chlorine from urban water sources and unwanted metals from well water.
The first stage consists of a 5-micron sediment mesh to strain out all but the smallest of solids while the second is a multi-purpose coconut shell carbon that can absorb up to 95% of all chlorine, rust, pesticides, industrial solvents, volatile organic compounds, pharmaceuticals, and much more. 
Its main asset, however, is a highly effective iron filter that will remove all heavy metals such as lead and manganese, as well as ferrous iron, leaving your well water tasting fresh and your towels free of rust stains.
Somewhat unusual for an item of this type, both the pre-filter and the activated carbon one will last for the same time, namely around a year under regular consumption, or around 100,000 gallons. This is particularly attractive if you find changing filter cartridges an annoying chore. 
While not the greatest in the business, the flow rate of 15 gpm should provide sufficient water for a family of four during peak consumption. 
To top it off, iSpring went through the trouble of acquiring NSF/ANSI certification, so you can be sure this filter meets the official standards US agencies place on these devices.
What we like:
It is one of the more convenient and easy to live with filters you can buy, because the sediment filter only requires changing once a year.  
This product has been independently tested to meet NSF/ANSI standards, which is always a mark of quality.
What we don't:
The iron filter might not be 100% reliable, as some customers reported that theirs stopped working after just a few weeks. However, this appears to be fixed by simply shaking the cartridge, and iSpring will send you a free replacement in any case.   
Why opt for a whole house water filter? 
All water filters are supposed to improve the quality of your water in one or more ways. Most people living in urban areas and connected to municipal water supplies turn to this solution mainly for "aesthetic" reasons, namely to remove the unpleasant taste of chlorine from their water. 
Chlorine's disinfectant properties are beyond dispute, and it does a very good job at removing dangerous bacteria as well as some viruses.
However, recent research has cast doubts over whether chlorine in the concentrations found in tap water is safe to drink for all people. Some doctors even recommend patients with severe kidney dysfunctions to stay away from chlorinated water. 
When washing is concerned, chlorine can dry the skin and give the hair a dull aspect, so a whole house filtration system might present an additional benefit over one connecting directly to a drinking faucet. 
Most water filters use active charcoal to effectively eliminate chlorine, which often makes for a dramatic improvement in the taste of the water. Charcoal can also be effective in removing another nuisance common in urban environments, namely rust from old piping. 
Recent decades have seen the introduction of a number of new water contaminants, mainly pharmaceuticals, PFC substances, and pesticides: 
The rampant use of birth control pills is responsible for high concentrations of the female hormone estrogen in everyday drinking water. Besides constituting a serious existential threat for a number of amphibian species, this can also have harmful effects for human children. 
PFC or PFAS substances, which have been used in firefighting foam since the late 60s, can rise to dangerous concentrations in drinking water and be responsible for developmental birth defects, a number of cancers, and kidney disease.
The herbicide glyphosate has made the news lately as a potential carcinogen, but is just one of the many chemicals that can contaminate water supplies as a result of intense agricultural activity. 
As a broad spectrum filtration solution, active charcoal can reduce the concentration of all the above to some extent. 
Although less of a problem in urban environments, heavy metals, and harmful bacteria are common intoxicants found in water wells. In fact, if your water comes from a well or cistern, most experts agree that a filtration system is a must. 
Last but not least, some filters can soften hard water, potentially adding years to the life of your appliances if the scale is a particular problem for water in your region.
The water you use might not have any fault that can be picked up via the senses — such as unpleasant odor, taste, or macroscopic sediment — but still require treatment. There are several home test kits that you may buy to ascertain water quality, and some laboratories accept residential water samples for analysis. 
Whole house water filters vs. other solutions
The main competitors of whole house water filters are point-of-use filters, which are meant to serve a single faucet, showerhead, or washing machine inlet.
As a result these are usually cheaper — although top-of-the-line models might take you back more than whole house systems — and easier to install.
This makes them a convenient solution if you only need to improve the taste of drinking water, in which case, a point-of-entry device might be overkill. 
Point-of-use filters offer another, less obvious advantage for residences where the internal plumbing is made of plastic. A whole-house system will remove the chlorine before the water enters the residential line, which will allow for bacteria to grow if the water simmers for long inside the plastic pipes. 
This won't be a problem with relatively sterile copper piping, and water consumption around most homes is high enough to prevent this from occurring regardless, but it's something to consider in exceptional instances. 
Needless to say, always let one or more faucets run for some minutes after you've returned from a long trip to let the potentially foul water in the piping drain. 
Both filtration systems come on top when compared to drinking bottled water. The initial purchasing costs will be covered in significantly less time than the overall lifespan of the systems, even when considering regular replacement of the filtration mass.   
Types of whole house water filters and what they do
All whole house water filters, or point-of-entry filters have one thing in common; they connect to the main water line entering the house, thus servicing all water dispensers you may be using.
Whole house filters can even provide clean water for irrigation if the point where the mainline separates into house and garden branches is easily accessible and allows for installation. 
Filtration mass
It is never a good idea to settle for an "affordable" product when the health of your family is concerned, so in issues of quality, aiming for the best should be a golden rule.
This doesn't mean there's no space to save money when making your choice.
Whole house water filters use a variety of filtration stages, some broad-spectrum, other targeting specific contaminants, and choosing just what you need will decrease your expenditure. 
Sediment filters
These usually make up the first stage of a filter and are used to mechanically strain small, sometimes visible solids in the water. This can be sand, dust, dirt, rust, sediment, and micro-organisms; like the crustacean commonly found in New York drinking water. 
The sediment filter is basically a very fine strain, with perforations that are measured in the thousands of a millimeter (microns). Values range from ten or twenty microns, to 0.35 for the best whole house water filters out there. 
Some sediment filters are made up of multiple layers, getting progressively finer as the water passes through.
This is done to prevent clogging in cases where a particularly high number of solids are present, such is often the case with private wells. In these instances, looking for a washable sediment filter might be a good idea. 
In most urban conditions, solid particles in the water are removed at the municipal waste plant, so a one or two-layered fine filter should be enough to take care of what's left, unless rust on the line leading to your home is a problem.  
Sediment filters also handle the important task of keeping the following stages of the filtration device debris-free. This translates into a higher life expectancy, less need for servicing, and fewer money spent on replacements for carbon filters, UV filters etc. 
Activated charcoal filters
Sometimes called "carbon filters" in parts of Canada and Europe, these make up the core of most water filtration systems, effectively removing or reducing an impressive 81 common contaminants.
They work because of the unique properties of activated charcoal, one of the most porous materials known to man, with an incredibly large surface area. This gives most particles a lot of space to adhere to through electromagnetism. 
As stated previously, activated carbon filters are commonly used to eliminate the taste of chlorine from the water, but they are also highly effective against benzene, herbicide, and pesticide, trihalomethanes, pharmaceuticals, and moderately so against long-chain PFAS substances.
However, activated charcoal is mostly ineffective against inorganic contaminants, like dissolved metals, minerals and solids (e.g. iron, calcium, manganese), lead, mercury, as well as most viral and bacterial contaminants. As we shall see, there are specialist filtration stages for all of those. 
Certain manufacturers try to alleviate some of these downsides by adding small quantities of silver to act against bacteria. 
To conclude, activated charcoal is an almost universal filtration medium, and it does its job without adding any chemicals to the water. 
Iron filters
Dissolved iron, also known as ferrous iron, is a common contaminant in well water but can also be found in some municipal water supplies.
The surest way to know if the water you're consuming contains iron is to look for tell-tale signs of its reddish-brown oxide in the sink, bathtub, toilet or washing machine. 
Iron oxide can also deposit on clothes, so a point-of-entry filtration system is recommended over a countertop one if you don't want to ruin your whites. 
The iron filters have some versatility, being somewhat effective against what's left of the chlorine after passing through the activated charcoal stage, as well as a number of bacteria and other microorganisms. 
Water softeners
The iron filter does an adequate job at removing some of the scale from the water, but if this is a serious contaminant in your region, you might consider opting for a device that includes a dedicated stage just for softening water.
Most softening filters use a process called ion-exchange to achieve this, which entails replacing the calcium and magnesium particles with sodium ions.
As we may remember from grade school chemistry, sodium is more or less salt, so most softeners will give the water a slightly salty taste. However, some manufacturers recently introduced salt-free options which don't influence the water's taste. 
UV filters
These are used to eliminate bacteria out of the water, and should be seriously considered if you are using a well or an above-ground source.
Microorganisms in water can carry some of the nastiest diseases, like cholera, typhoid, Giardia, and dysentery so we don't recommend sparing this expense if water in your area isn't chlorinated.   
As the name suggests, these employ ultraviolet light to inactivate viruses or bacteria, which makes it impossible for them to reproduce and spread infection.
One of the most effective methods to combat these invisible threats, it is not for nothing that doctors recommend natural lighting for rooms since the Sun also emits UV radiation. 
Much like softeners, UV filters can also be installed on their own, which is particularly useful considering that a lot of the people who would require this device don't need to remove any chlorine from water. (Although an activated carbon filter combats such a broad spectrum of contaminant, we wouldn't really recommend you skip it.)
Post-filters
Post-filters are basically extremely fine sediment filters, placed as a final stage to prevent clogging.
Since a 1 to 0,35-micron mesh isn't exactly cheap you can see the rationale behind trying to "protect" this filter by only exposing it to the cleaner water.
Other types of filters
Some other filters are suited for highly specific tasks, like sulfur filters or catalytic carbon filters.
Sulfur is responsible for giving the water a rotten egg smell, and is effectively removed by exposure to oxygen. Catalytic carbon filters are used for removing chloramine, a more potent disinfectant than chlorine used by some municipalities. 
In rare instances, reverse osmosis filters are employed as point-of-entry devices. 
Specifications and how they matter
Flow rate
Measured in gallons per minute (GPM), this determines the amount of water available at any given time to run your utilities.
You can calculate your requirements by checking the demand ratings from the user manual that comes with most appliances (for faucets and shower heads it should be specified on the box.)
Generally, toilets require a flow of 5 gpm, showers somewhat between 2.5 and 5 gpm, a dishwasher 3gpm, and a faucet around the same value.
Depending on the size of your home and family, this should add up to around 15 to 40 gallons per minute. For reference, a typical American family of two adults and two children will require something in the region of 20 gpm at peak use.
For small apartments and two people, 10 gpm should be enough, but less than that is not really recommended, as it would radically decrease the filter's lifespan.
Cheaper models with a low capacity might even end up costing more than the best whole house water filters out there, as they would require more frequent changes.
Size
The filter's size directly correlates with its longevity, which is sensical if you consider that the larger the filtration mass is, the more stuff it can hold.
For example, the activated charcoal in a 46-inch canister should be expected to be replaced every 10 years, while relatively cheap 1-year filters tend to be around 28-inches high.
Port size
Port size is the primary consideration in determining flow rate. Needless to say, the port shouldn't have a smaller diameter than the piping, as this would create a bottleneck, drastically reducing your flow.  
The ideal port size for a full family's needs is considered to be 1 inch. This should be opted for even if your house uses ¾ inches piping, as it can be easily adapted.
Longevity 
Depending on type, filters will need to be replaced every six months to ten years.
The first stage mesh material will be the one to require changing most often, with few sediment filters lasting for more than a year under regular usage.
Conversely, a good carbon filter can last up to 10 years, although most of them are only viable for five years. 
Most manufacturers offer filters with different lifespans for the same system so the user can balance between peak efficiency and service intervals. 
Lifespan is also expressed in the number of gallons that can pass through a filter before it loses effectiveness, with 100,000 to 150,000 gallons being roughly equivalent to one year in use with an average American family. 
Installing a whole house water filter
There are many guides on how to install a water filter on the internet and we recommend checking at least a couple of them out before attempting to set up the device yourself.
Some models might require additional procedures for which you should consult your user's manual, but for most whole house water filters you can follow the steps below. 
Goes without saying, but the water supply and drain systems should be turned off before attempting any plumbing operation.
Mark the location of your new filter, preferably with chalk, to get a good idea of how it will look in place. This is important, because it will need to be easily accessible for regular maintenance. 
Use a pipe cutter to cut the main pipe leading into your house.
First things you will be actually installing are the compression nut or brass fittings. Check the manufacturer's instructions on how it's done and don't forget to always use water-repellant Teflon tape for the fittings.
Always pay attention that the in and out ports on the filter are facing the right direction. It might seem trivial but you will be surprised at how many people get this wrong.
Check for leaks with the filter's inlet valve turned off before allowing water to get into the system. 
Remember to always turn the inlet valve off before changing the cartridge filter during regular maintenance. Some manufacturers will provide you with a specialized wrench just for this while a small number of filters have common enough fittings to use regular tools. 
Changing the filter cartridges 
Changing cartridges on a whole house water filter is a relatively straightforward process, but as mentioned above, you should still check out some online guides on how to change a whole house water filter for useful tips.
In 99% of the time, you will only require the special wrench that came with the filter, and possibly a bucket or two. 
Some filters are easier to change than others, with certain manufacturers emphasizing serviceability as a selling point, but in most instances you'll be required to do the following:
As stated above, never forget to turn out the water inlet valve before starting the operation.
Place the bucket underneath the cartridge you will be changing and unscrew it with the wrench. 
After removing the filtration mass, wipe the inside of the housing with a clean, dry cloth. Some handymen recommend using isopropyl alcohol as disinfectant. 
Insert the new filter 
Filter changing is also a good time to inspect the O-ring for damage. Keep in mind that fittings on a whole house water filter are required to put up with quite a deal of pressure, so even apparently small defects can leave serious consequences.
Ideally, the O-ring should also be lubed before screwing back the cartridge. Since most filter housings are made of plastic, NEVER use petroleum-based lubricants. Silicone-based ones are considered to work the best while cooking oil and olive oil will do a fine enough job in a pinch.
Screw back the cartridge by hand and don't be afraid to make it tight; most filters are made out of resistant plastic and the threads should hold quite well.
Turn the inlet valve on, and always remember to check for leaks after you're done.   
Conslusion
If you are after reliable three stage filters that can remove chlorine as well as clean well water of metals, then both the iSpring WGB32BM and Express Water WH300SCKS are good bets. 
However, for those willing to fork over a little extra, the Aquasana EQ 1000 might make for a preferable alternative, as it has an additional post-filter that removes the smallest sediment as well as some microorganisms.
For bacteria and viruses, the Vitapur VUV-S645B should do the trick.
Finally, the 3M Aqua-Pure AP902 is our pick for a basic, affordable carbon filter and de-scaler. If you don't need any heavy metals removed, this should do a sufficient job.