Are you searching for cameras that can record the surroundings without anybody saying "oh, look at there! There is a CCTV camera recording us"?
Well, good news for you as we have listed out some of the best spy cameras you can get your hands on in the market.
Further, these cameras will allow you to see what's going on without being obvious. Also, you surely might have seen in movies how spies and detectives use fascinating cameras, right? I assure you our list of spy cameras won't be any less than that.
Nevertheless, spy cameras come in all shapes and sizes. Above all, they also come in replicating the structures of other gadgets such as pens, sunglasses, speakers, or whatever device you name.
And if a spy camera isn't hidden, can we even consider it a spy camera?
Therefore, we have listed a total of 4 spy cameras in today's article that replicate other electronic gadgets. Whereas, our last product is a mini camera that's hard to detect but follows the traditional style.
Certainly, you aren't here to just chat about what spy cameras are, right? So here is the list of spy cameras that we think might satisfy your needs starting from our best pick.
Our Pick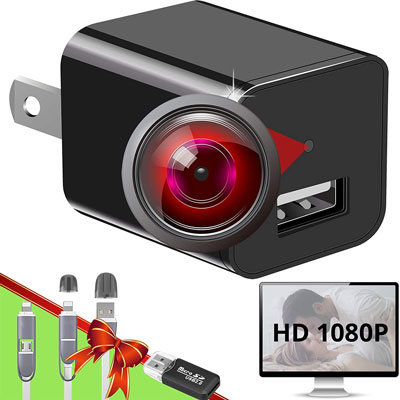 Allows you to easily record indoors and can be used to charge phones. So, you don't need to worry about any suspicions raised towards it.
It's the 21st century where everyone uses smartphones. As a result, we all have chargers at our homes. Similarly, Alpha Tech's iQCharger has a hidden camera embedded in an actual charger.
The sole reason iQCharger is our best pick is because it can be used charge your phone as well as keep an eye on the environment at the same time. So if any outsider were to look at this spy camera, they would only see a regular charger.
However, little will they know that the charger is recording at 1080p resolution with a 120° wide angle of view.
What we liked about Alpha Tech's iQCharger?
First of all, iQCharger is a budget-friendly spy camera with a 2-year manufacturer warranty. And, Alpha Tech makes sure to keep their product secure by not mentioning anything about spy cameras on their packaging.
Whereas, the best thing about iQCharger is that it doesn't get hot while charging. Because many reviewers criticize charger spy cameras for getting hot while charging.
What we disliked about Alpha Tech's iQCharger?
As we never use chargers in open areas, iQCharger can only be used indoors. Well, you might think if we were to plug it in an outdoor electric port, it would work.
However, it can be risky as we can only use it in dry weather. That means iQCharger is not waterproof and water can easily damage it entirely.
Perfect for outdoors as you can easily pick it up and put it down anywhere to monitor the surroundings for a short period.
Certainly, you might just want a simple spy camera that allows you to take short videos just when you want to. And, what better than a portable key fob that also has a spy camera?
Hence, we have included LawMate's fake key fob that comes with a 32GB SD card. As a result, you can take videos at 1080p resolution for over 60 minutes.
What we liked about LawMate Fake Key Fob?
The best thing about this spy camera is its portability. In fact, you can carry it in the palm of your hands. And, you can easily hook it up with any smart device.
All you need to do is install the "PV Cam Viewer" app to easily control the camera remotely. In addition to its easy and quick setup, it also comes with a 1-year warranty.
What we disliked about LawMate Fake Key Fob?
As we have talked about before, LawMate's fake key fob has a small storage capacity. Therefore, it would be impossible for you to record long hours of videos.
Whereas, there have been many reports about the on and off buttons being too sensitive. Consequently, it can be pressed easily by accident. Lastly, although the gadget functions as advertised, it still lacks durability as it can stop working before its warranty.
Note: Spy cameras that sell on Amazon don't have any audio capability or function due to legal issues such as The Wire and Communications Act under 18 United States Code §§ 2510-2522.
Portable camera that can be easily fitted anywhere as the bottom is set with magnets. Also, perfect for dark places as the night vision automatically turns on when needed.
One of the biggest differentiating factors for Jametin's Smart Camera is its simplicity. Moreover, you might not always want spy cameras embedded in other gadgets, right?
In the same way, this camera doesn't try to hide the fact that it's a camera. Instead, it has lightweight and can fit right inside the palm of your hand. So, it's really easy to set it up by attaching it to any metal surface.
What we liked about Jametin's Smart Camera?
If you are searching for a spy camera that can record for a long time without having to recharge, Jametin's Smart Camera might be your best option.
Further, the camera automatically keeps recording and overwriting the prior file if the storage gets full. Whereas, it also has excellent night vision and motion sensing.
Likewise, the product itself comes with a bunch of accessories. And, you can insert the SD card of your choice as storage. Lastly, its mini size makes it hard to detect.
What we disliked about Jametin's Smart Camera?
The product's official description mentions that the camera releases heat when in use. While most users have faced no problem using this camera, many have reported different errors such as grainy videos with a buzzing sound.
Spy camera looking like a speaker perfect for all-day surveillance. Features unique identifier and QR code for quick and simple setup.
Most importantly, having a spy camera that can also be used as a Bluetooth speaker makes a huge difference. For instance, nobody suspects a Bluetooth speaker that works might be a spy camera.
Similarly, the Lawmate's Spycam Bluetooth Speaker is like any other Lawmate product that can be easily controlled using the "PVCam Viewer App". And unlike any other product we have listed above, this can be used all day long.
What we liked about Lawmate's Spycam Bluetooth Speaker?
This spy camera features excellent battery life that can easily record videos of over 500 minutes duration. And, it's your choice at which resolution you want to record the videos.
Meanwhile, the camera can be accessed using Bluetooth or its IP address. And if you care about security, this camera is impossible to hack as it records directly into the SD card.
What we disliked about Lawmate's Spycam Bluetooth Speaker?
Since this spy camera can also be used to play music, the recording degrades while using its Bluetooth speaker feature. So, consider not using its speaker feature if you want to record a clear video.
Also, one of its biggest back draws is its overly expensive price. Hence this might not be the spy camera you want if you are looking for cheap ones.
This spy camera features up to 8 days of standby battery life making for minimal charging with plenty of storage to get the job done.
Ever wanted to record your office or living room without having to set up anything? Well, Lawmate's TV Remove Camera is a spy camera embedded in a remote that can be put anywhere to do the work.
Nevertheless, the battery life of this camera is outstanding as it can last over a week. And, the motion sensor allows the camera to record only what's important.
What we liked about Lawmate's TV Remote Camera?
As we have mentioned a couple of times already, this spy camera is perfect for you if you don't like to keep on charging it every day.
Therefore, you can expect the camera to record over a week worth of video at 1080p resolution. And, its lightweight allows you to easily hook it up anywhere and record the surroundings.
What we disliked about Lawmate's TV Remote Control?
The Lawmate's TV Remote Camera doesn't have night vision. As a result, the camera is useless when there is low light.
With all the features it provides, the spy camera is overpriced and has a small field of view. So, you can only record small corners if you were to use this camera.
Conclusion
Unlike other electronic gadgets, spy cameras come in all different shapes, and sizes, and are even embedded in other gadgets. Hence, it's all your preference and the surroundings you are in that decides what kind of spy camera you should get.
So before buying a spy camera, make sure it fulfills your needs first. Afterward, focus on its specifications such as the quality of videos it can record or its battery life. As a result, you will be able to easily capture the surroundings while you aren't there.
Lastly, we hope our article has been helpful in your search for spy cameras. Great day!