The digital age has brought us plenty of amazing technologies. In the 21st century, we've got an unprecedented level of access to all kinds of multimedia content.
And if you compare this situation to just a few decades ago; you have no choice but to stand in amazement at just how much technology has managed to progress.
For instance — just two or three decades ago, cassette players and cassette tapes were some of the most dominant formats for music consumption on the entire planet. And these days, you'd have a lot of difficulties finding either; they've been rendered completely obsolete.
Even CDs and DVDs have pretty much fallen out of use, thanks to the existence of omnipresent Internet connections and many streaming services.
But what if you've got a lot of cassette tapes in your house like most of us had at some point? Sure, most of the commercial songs and recordings that you had on them can be cheaply found elsewhere online.
On the other hand — many of us used them for personal recordings; stuff that you can't find online. Will you be forced to use a cassette player to listen to these, or is there some other, more hassle-free way? This is where the best cassette to MP3 converter comes in to save the day!
Our Pick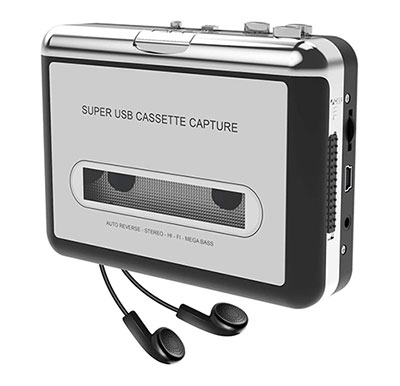 You get the ability to copy music and other audio found on any cassette tape — while also being able to listen to it on the device itself.
The best cassette to MP3 converter that we can recommend to you comes from DigitNow; a company that's known for producing gateway products that ease the transfer from one format to the next without any difficulties.
And their DigitNow Cassette converter is certainly our premier pick, for a wide variety of reasons!
What we liked about DigitNow
First of all, we have to mention that this cassette player and converter has all of the traits that define what's good about cassette tapes as a format.
This product is quite compact and lightweight; you won't have to worry about its portability. Furthermore, it's also extremely easy to use — so you won't have to think about whether you're up to the challenge.
Also, we do have to mention that, while these devices aren't that expensive in general; DigitNow's converter packs the biggest punch for the lowest amount of money, for sure. You can find it cheaper than 30 bucks — making it an opportunity that you simply can't miss.
And while its build quality doesn't stand out all that much from other price peers — we can tell you that the level of fidelity that you'll get with this audio conversion will be amazing for such a low price point.
There's no hassle with this product, seeing as you get the USB cable that you will need to plug it into a computer and transfer the files after conversion. Furthermore, it's compatible with both Mac and PC devices — making it one of the more versatile options out there.
Apart from diverse compatibility, you should also know that DigitNow's converter comes with a handy instruction manual — though you're not likely to need one, seeing as it's not a difficult device to use.
In case your PC does not have the necessary USB drivers for the use of this device, you'll find them included with the software CD.
While the included software that you can find here is somewhat difficult to use with the newest versions of the Mac and Windows OS, free alternatives like Audacity work perfectly with this hardware. Furthermore, you will receive a pair of earbuds that can easily be used if you haven't got one of your own.
As for power, you've got plenty of options here. If you want to use this device as a Walkman, you can use a couple of AA batteries to provide sufficient power — but a DC connection will also charge it if you've got one. Though, neither of these options is found in the kit that you get.
The downsides
While this is certainly the best cassette to MP3 converter, it should be noted that it's not exactly perfect. First of all, plenty of users report that there's a certain amount of audio hissing to be heard with the basic earbuds that you get with the device — this is only logical, seeing as they're not really of high quality.
And while the rest of the device is somewhat cheaply manufactured as well — we have to take into account that you can get it for as low as $30.
Now let's have a look at the best alternatives.
Best Cassette to MP3 Converter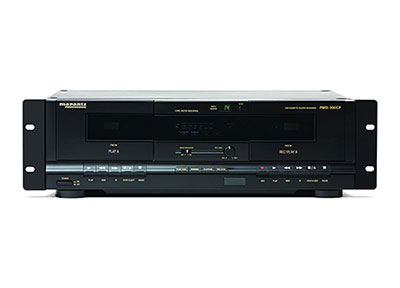 You can use it as a recorder for both high-speed and normal dubbing — there's even a feature for analog noise reduction if you want to improve the sound quality of your audio recording.
Compared to the first pick on our list, this is a far more professional device. In fact, this is something audiophiles would use instead of other, more portable options.
And if you think that you're deadly serious about how high-quality your converted audio will be — then this is the choice for you.
However, bear in mind that the Marantz Professional PMD-300CP model will set you back more than any portable model — quite a lot more, to be precise. While you can find it for about $150, know that you'll get one of the most versatile and reliable devices out there.
What we liked about Marantz
Seeing as this product requires you to pay such a hefty price, you're probably not sure as to what you get for that amount of money. Well, the important thing here is that you can use this Marantz model for pretty much anything you want to and can do with the average cassette tape, apart from untangling it.
Sure, having a portable Walkman-style recorder and converter is all well and good — but none can compare with this in terms of quality. You won't need any additional software to alter and clean the sound — this device does it for you.
Plus, you can use it with separate speakers, meaning it's also a cassette music player for your household. If you need duplicate tapes of any recording, you can make them with this device as well.
The downsides
The biggest downside of this device is that it's pretty much a home utility — you can't bring it outside with ease. Also, it doesn't have an autoreverse feature, and the ability to record in both of your tape decks simultaneously — however, these aren't exactly essentials.
If you're not looking for something necessarily portable — this is your top choice for sure.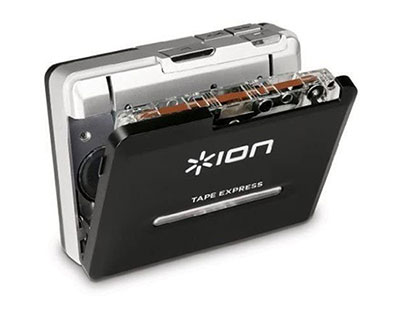 If you want the ability to play tapes while you're moving around as well — it's certainly not a device that you'll go wrong with.
Our next pick is another portable audio conversion device — the Ion Tape Express Plus. The name itself speaks to its high efficiency — mainly evident from the portable functioning.
However, we should note that you won't get many high-quality audio outputs better than this. Only our DigitNow top pick can rival it among portable cassette to MP3 converters.
What we liked about Ion Tape
Apart from high audio quality, another excellent feature of this device is the fact that it's quite sturdy — it will sustain quite a lot of wear and tear before you need to get a new one.
Although that doesn't come without the other side of the coin — it's somewhat more expensive than DigitNow, though not prohibitively so; we're still well in the range of affordable budget gadgets with this device.
The copying quality is second to only a couple of other market peers — though we do recommend using Audacity instead of stock software for this as well.
Most importantly — this unit is easy to carry around, and it's incredibly simple to use. If you only need a converter, though — DigitNow may be a better pick.
The downsides
While this is a high-quality device, it does lack some features present in other competing recorders — such as a feature for noise removal.
Though, if we're being fair — this is something more frequently found in stationary cassette tape devices, rather than in small portable ones.
Things to consider before buying cassette to MP3 converter
We've already talked about the main factors that we've considered while choosing the best cassette to MP3 converters and putting together our list.
When you're buying one for yourself, you need to make a quick but honest review of your own prowess when it comes to technology. Also, you need to decide what the primary use for this device will be.
If you're something of a hipster who values the ability to listen to your tapes outside — then a Walkman-ish portable converter is definitely what you need.
On the other hand, if you're someone who needs this for a specific conversion purpose — for instance, salvaging old family recordings and similar archival content, you just need to think about what kind of tech complexity you're prepared to handle.
While DigitNow's model is a great one for sure, we should take into account the fact that you simply might want to buy something different — which is why we'll include other choices among the best cassette to MP3 converters found on the market today.
However, while choosing one of these — or among any other models — there are certain criteria that you should keep in mind.
These are the things that we've considered while choosing the best cassette to MP3 converter as well. We're talking about build quality, ease of use, output quality, additional features, and connectivity. Naturally, we'll explore each of these factors below.
Ease of Use
As we've already mentioned, a cassette to an MP3 player isn't the most complex piece of technology out there. Considering that, if you want to buy one for yourself, even if you're tech-savvy — the best products on the market will be fairly easy to use for the average person.
So, we've reviewed analog devices — those that work without an Internet connection. If you just want to play the tapes instead of converting — you won't even need a PC connection to do so. If you are going to require an MP3 output, most of the picks on our list require nothing more than a simple USB cable for the job.
Also, the software that accompanies our choices on this list is straightforward and simple to navigate and understand. While more professional converters do need relatively advanced tech knowledge, you will find that most are of the plug and play variety.
Output quality
Naturally, you want to achieve the highest possible level of audio quality in your MP3 audio files that you get from the conversion. Considering this, the ideal thing would be the same level of quality as the analog tapes — but that's just not how conversion works.
You should be prepared for a slight reduction in audio quality; however, the best converters out there can ensure that it's absolutely minimal.
While a lot of this depends on the converter in question, bear in mind that the quality of the tapes that you've used for the original recording and their state will also have a major impact on the output quality.
Additional features
This part depends on your specific needs — if you just need a converter, then you can pretty much ignore this section. However, if you have additional needs apart from this — you will need to think about them.
For instance, if you want to use the converter as a recorder and a playback device as well — there are combined models out there as well.
Also, if that's the case — that you might require a converter that's portable and easy to transport, along the lines of a Walkman. Don't worry, though — most of the choices that we've listed here are portable.
Connectivity
Finally, you need to think about all of the different controls and ports that are available on your cassette converter. These will directly inform what the scope of its functions is.
For instance — if your converter contains a 3.5mm jack — that means that it can be used with any AUX port, with headphones, or speakers.
Also, the presence of a USB port is pretty much a necessity, seeing as it allows your converter to be connected to a computer where you'll perform the digital part of the conversion and keep your files; at least in the first couple of minutes after conversion.
Cassette Handling Tips
When it comes to handling your cassette tape, there are a couple of considerations to make — for instance, you want your hands to be as clean as possible; particularly from sweat or any grease.
Furthermore, choose the area in which you handle the tapes well — avoid areas that are dust-heavy. And never touch the actual surface of the tape — only use outer plastic casings while handling the tapes.
If you're going to handle the original recording of a very important tape, using gloves isn't out of the question either. And we'll repeat the most important thing once more — you can't use tapes near any kind of high vibration or magnetic field under any circumstances
When you're cleaning the surface of your tape, always opt for specialized tape cleaning fabrics. These are capable of completely cleaning the surface of the tape and pick up any unwanted debris without damaging the audio within.
Also, the rest of the equipment and casing around the tape should be cleaned using cotton swabs and rubbing alcohol.
As for other precautions — you should strive never to reuse already recorded tapes. Also, before you record on a new one as well, fast forward and go back; this will relieve any stress on the tapes.
Once you've finished recording, push the small square lugs in the corners to make sure your material won't be taped over by you, or anyone else. If you don't use the tapes frequently, remember to check on their state every couple of years at least
When it comes to tape recorders and converters, you want to keep their components in pristine condition as well. Try to keep them out of sunlight as well, and clean the tape heads on a weekly basis if you don't use them often.
And after the recorder has been used for 1000 hours, take it to someone for more thorough maintenance — a mechanic will want to check for worn heads and guides.
Finally, we urge you to make two copies when you record anything. This is the best thing you can do, seeing as you will have a master copy that you'll only use for copying other stuff, and another copy for listening.
Cassette to MP3 Converter 101
As you'll soon see, there are plenty of products that can help you achieve this kind of conversion — and we'll be happy to tell you all about this, and how you can do it!
Now that we got into our recommendations on the best cassette to MP3 converter, as well as our assorted buying advice; we have to see what this device represents.
You may have already surmised as much from the name — but your average cassette to MP3 converter takes the audio from your cassette tape and provides you the recording in an MP3 format. However, before you buy one of these in the nearest hardware store; there are plenty of considerations to make first.
Among these, the premier one would be — just how tech-savvy are you? Do you have the needed level of technical knowledge to easily operate one of these? What kind of relationship do you have with modern hardware and software?
If the mainstream gadgets such as your computer's OS and smartphones give you headaches — that will influence what kind of converter you need.
Having trouble with technology is nothing to be ashamed of — after all, the pace at which hardware and software have developed just in the previous decade is nothing short of astounding. With all of the different things that we need to take care of in our lives, it can be difficult to keep up for sure.
However — that may mean that more advanced cassette to MP3 converters will simply be too complex for you. The good news here is twofold; firstly, you may not even require a complicated and advanced converter for your basic needs. And second, there are more than a few easy-to-use options on the market, as you'll see from our selection below.
On the other hand, if you have an operational understanding of modern tech; you will find that most cassette to MP3 converters in your average store won't baffle you. Also, it's worth noting that these devices can have more than one use.
For example, almost every cassette to MP3 converter can double as a cassette player; so you can also use them to listen to old recordings without performing any conversions in the first place. Plus, that's a good option to have when you need to see if the tracks that you want to convert are of good quality in the first place.
Also, we should point out that a majority of the converters used for these purposes won't be a huge strain on your household budget; most of them have pretty reasonable prices.
If the price is not an issue for you, you may also want to consider getting a converter that includes a pair of headphones. That way, you won't need to spend any additional money on a headset that you'll use to listen to your cassette tapes.
But the main thing to keep in mind is that there are more than a few plug and play cassette to MP3 converters in the market. What this means is that there are models with a level of user-friendliness that's sizable enough to let anyone use the device without previous experience.
If you get one of these, you won't have to perform any installation of drivers or additional software. Such models require you only to facilitate the transfer of MP3 files that you convert to another drive.
And even the more complex models don't require additional hardware, beyond a computer and an average USB cable; that's something pretty much everyone has in their households.
MP3 Format and Cassette Tapes
Now we'll take a look at the two formats that you'll be converting between using your cassette to MP3 converter. Now, you may be surprised to learn just how old the technology behind cassette tapes is.
In reality, the basics of this tech date back a hundred years ago — the first rudimentary cassette tapes that operated on magnetic principles were created in 1928.
Naturally, these were nothing like the portable and handy cassette tapes that we know from the 70s and onwards. The first ones were huge, cumbersome, and incredibly expensive — which is something every piece of technology goes through.
Naturally, the tapes needed to become more easily transportable before the general consumer public could use them. And once the compact cassettes that we all know and love were born — the stage was set for this audio format to take the world by storm.
Interestingly enough, these audio formats are the perfect example of how quickly technology has progressed. For instance, cassette tapes for the predominant audio format for an amazingly long amount of time — almost half a century. In comparison, the CD/DVD format which supplanted them didn't last for more than a decade or two.
Still, if there's something we find ubiquitous for the modern world of audio consumption — it's the fact that MP3 is still the most widely used digital format for audio.
There are a couple of obvious reasons for this — storage is not an issue with the MP3 format because it doesn't require more than a couple of megabytes for the average song.
And yet, it's capable of retaining an excellent level of quality compared to bigger formats — making it the most convenient option in the digital realm.
Now that the Internet is pretty much a basic human utility, the sharing of MP3 files is more widespread than ever before — which is why you may want to think about converting your old cassette tapes and their content to this modern format.
And there are more reasons for this than pure convenience. Remember — as long as you have backups of your MP3 files to ensure that they're not lost due to some sort of hardware failure; they can pretty much last you forever.
Conversely, even the best cassette tapes have a fairly limited shelf life. To be more precise — you shouldn't expect cassette tapes to last you more than a decade or two.
And sure, that seems like a long time — but time goes by before you know it, and you'll soon be faced with the fading and deteriorating of your cassette tape recordings. Not to mention the fact that your tapes could also be broken, lost, cracked, etc.
Once your cassette tape sustains enough damage, you will have no chance of recovering the audio content that you had there. Plus, ironically — the more you play a tape, the more worn out it will be.
So, the stuff that you like listening to the most is the stuff that has the biggest chances of being lost. Even if you don't want to stop using your cassette tape player permanently — you may want to have a digital backup, in case something happens to the cassettes.
Indeed, these tapes can run into all manners of trouble that you simply can't predict. As an example — if you recall the beginning of our guide, you'll remember that cassette tapes work based on magnets.
And just like any other magnet-based tech; if you expose your cassette tapes to a powerful magnet accidentally, the entirety of your audio collection found on them will be irrevocably lost.
All of this can be easily solved with the best cassette to MP3 converter. If you use the physical audio recording that you have on the cassette and convert it to MP3 — the entire issue of misuse and shelf life completely goes away.
You can go a step further than keeping the MP3 backups on your computer — there are plenty of free cloud storage services where you can upload these. If you upload the recordings there, you've pretty much assured that you'll have access to them forever; regardless of what happens to the hard copies found on the cassette tapes.
Frequently Asked Questions
How to convert old cassette tapes to MP3?

This is a process that differs for each cassette converter. However, in most cases, we're talking about a cassette player that comes with a USB jack; allowing you to connect it to your computer.

Once you've got a tape that you want to convert to MP3, put it in the appropriate slot in your cassette player. After that, you need to make sure that you've got the right conversion software on your computer.

Sometimes, you get the software with your cassette converter device — but there are also better free options that you can download online.

Once the software is set up as well, you can proceed to simultaneously use the Play option on your cassette tape converter, and the record option on your PC software.
That's pretty much all there is to it — apart from that, you simply need to check if the audio quality is sufficient and if it has been successfully transferred in its entirety.
Do cassette tapes go bad?

As we have already talked about in our guide — cassette tapes are certainly not permanently reliable audio recording formats. Even if you properly use and maintain them, they will simply start failing after being worn out for a while.

Plus, if you've ever used a cassette player in any kind of extensive capacity, you probably know that these devices can "eat" and wrinkle tapes all of the time. Everyone has encountered a hopelessly jammed and ruined cassette; these are pretty much impossible to repair. If your tape starts jamming or sticking in the player, you can expect it to go bad pretty soon.

Of course, this may not be due to the cassette tape itself, but also due to malfunctions and other issues with the cassette player as well. If the latter has a weak motor or a tape belt that's slipping, it could also ruin cassettes — but the final result is the same for you.

Plus, even if you do everything right — there's a big chance that your cassettes will go bad. As many audio experts will confirm, improper storage is a big part of this — if you keep cassettes in badly ventilated areas with a lot of heat or moisture, they're bound to go bad far more quickly — the same goes for extremely cold areas.

However, one thing is certain — even if you keep them in pristinely maintained storage, they will simply start breaking down after a while. That's the main reason to convert to MP3.
How do I know if my cassette is worn?

This depends on the kind of cassette tape that we're talking about — remember, there are video cassette tapes as well.

That being said, if we're talking about audio cassette tapes — the magnetic tape that this format uses contains an emulsion, whose density on your tape is the main factor in the audio quality and its longevity. As long as you listen to the tapes, again and again, you will wear this material out.

Now, the problems with the tape will be readily apparent — the only question will be whether the tape itself is worn out, or if there is a mechanical issue with the tape and the playback machine.

In the case of a mechanical failure, the tape will be too loose on the machine's spindles; it will either fail to rewind or it will produce a plastic crackling when played. On the other hand, if the tape is worn out — you will hear missing parts of the audio, dropouts, and distortion.
How do you store old cassette tapes?

There are several ways to ensure that your cassette tapes last you as long as possible. First of all, if you're trying to preserve a newly recorded cassette — the maintenance process starts with the recording itself.

You need to make sure that you're using high-quality tapes. Instead of cheaply welded tapes, we recommend cassettes that have been tightly screwed together.

Also, we don't recommend using chromium oxide ones — they won't last you nearly as much. Plus, if you've got tapes to spare — don't record on both sides. That will stop any potential of the sound of one side becoming imprinted on the other side. And when you label the tapes, use water-based permanent markers — these will do the least damage.

When it comes to storage, you need to be certain that the tapes have been smoothly and evenly wound before you even store them. So, each time before you put them back into storage, we recommend rewinding them to the beginning. Then, use acid-free containers or boxes for storage. Furthermore, store each tape vertically.

Also, it's imperative that you keep in mind the temperature of your storage area. You don't want the tapes to be colder than 70F. Then, the relative humidity should be at twenty to forty percent at most. Finally, we don't recommend using wood shelving, or attic and basement spaces.

There must be no excess moisture in the environment, and it should be dry and relatively cool — in the conditions that we've described above. But apart from that, you also need to take care of the cassettes to not be exposed to direct sunlight — or any direct fluorescent light, for that matter.

Try to avoid storing them in the vicinity of any potential combustibles — mainly meaning cardboard and wood. And if the tapes do need to be taken from one environment to the next — don't make them go through huge changes in temperature too quickly. Before you play them, they will need at least a couple of hours of acclimatization.
How do you fix a wrinkled cassette?

One of the main reasons why people use the best cassette to MP3 converters is the fact that fixing a piece of wrinkled tape is pretty much impossible.

If you're particularly savvy, there's a chance you could slice it and preserve at least a part of a precious recording; but that's an incredibly arduous process that only major cassette aficionados opt to go through. No amount of flattening will help here.
Conclusion
If you're an audiophile who does have a lot of personal audio tapes in your home collection — digitizing them via an MP3 conversion is definitely the way to go.
Making an investment into the best cassette to MP3 converter doesn't require too much money — but it will ensure that any material that you've recorded stays safely preserved for a long time, in a much more dependable format.
We hope that our guide has helped you find the perfect converter for the job and that you have learned something new today. Make sure that you are staying safe in these times were are going through and have a good one, guys!