Many cars don't have Bluetooth connectivity. It's the simplest way of playing your favorite music and making calls on the go, so it can be annoying if your car doesn't. Thankfully, you can get the best Bluetooth speaker for car and solve those issues.
Getting the best portable Bluetooth speaker for your car means taking many different factors into account. You want it to have the right compatibility, be loud enough for your needs and be easy to use, among many other factors.
It can be hard to find the best models out there but that's where we can help.
We've found the 4 best Bluetooth speakers for your car and have completed in-depth reviews on each of them. We've also written a buying guide to give you all the info you need.
Let's get started!
Our Pick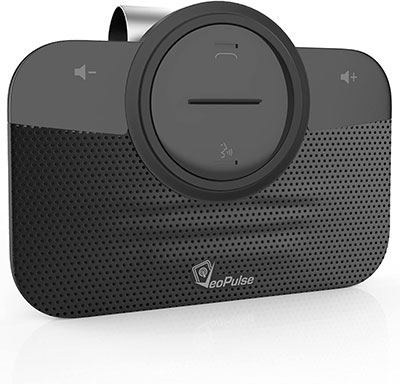 The long battery life means that it will be fixed to your car visor for weeks without needing to be charged.
The VeoPulse Car Speakerphone was the best in-car Bluetooth speaker on the market today. It will work with any Bluetooth device and has a wide range of compatibility. It's also easy to set up so you'll be connected in no time at all.
It makes being hands-free as easy as possible. As with all of the speakers on this list, it connects to your car's visor and the fit is going to be highly secure. That's despite the speaker being fairly wider than many of its rivals.
The features here are going to giving you plenty of safety and allow you to use your phone easily while driving. Part of the reason for that is due to voice commands. This will work with your phone's existing technology to allow it to be completely hands free.
The speaker comes with two different charging cables, a USB one that can be used anywhere and also an in-car charger. On top of this, it comes with a 30-day guarantee if you're not happy with it. It's a guarantee that you won't need as it has a long list of impressive features.
What we like:
There are several reasons to love this Bluetooth speaker. One of them is the fact that it will automatically turn on and off when you enter/exit the car. It does this via vibrations which make connecting it even easier.
When it the battery run low, it will charge very quickly. You can connect it to the in-car charger while it's still in use.
The connectivity with your phone is very good. It will show you how much battery is remaining and can connect to its voice controls. The overall quality is very good and you'll have no issues with the volume level and being able to make calls.
What we don't:
Before buying this speaker, it's worth checking that it's going to be compatible with your car. It's quite a large speaker which is great for sound quality but can make fitting an issue on the smallest visors. Aside from that minor issue, this is a brilliant speaker.
How we chose the best Bluetooth speaker for car
When looking for the best Bluetooth speaker, there is a lot to think about. When looking at the top models we analyzed all of the key features. This includes their functionality, and performance in a moving vehicle.
Setup was the first thing we looked at as you want the connectivity to be straight-forward.
We did this by taking into account additional features such as automatic switch on. Voice assistance is another useful feature we see on some models.
The basic specifications were also important such as size and volume.
Other vital considerations were looking at the sound quality to ensure it will be up to your standard. Finally, we wanted to check that all of these speakers were representing good value for money.
Best Bluetooth speaker for cars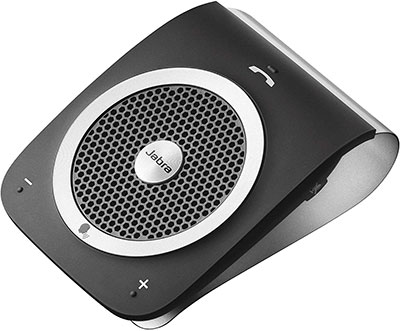 The design is fairly stylish and it'll fit securely into your visor for whenever you need it.
Jabra has also been able to make a brilliant Bluetooth speaker and one that is a little more compact than the VeoPulse model. This gives it a high level of compatibility with many different visor types so fitting it shouldn't be an issue.
The audio quality is very good and you'll easily be able to play music and listen to GPS instructions, as well as receiving calls. It has a noise canceling technology which adds to the usability and makes the most of its 20 hour talk time.
Despite having more compact dimensions, the speaker is still fairly large and can deliver clear sound. The setup is going to be very simple and should only take a couple of minutes. Once you do, then it will automatically work whenever you enter the car.
It's a little more expensive than some of the others on this list but you can feel the level of quality it has. That also gives it a high level of durability.
What we like:
The Jabra Tour has everything you want from an in-car Bluetooth speaker. One thing you notice is the level of sound quality. When making calls you don't have that reverberating sound that you get when using the speakerphone on your cell.
You can use the voice assistance on your phone and this will connect it to your Bluetooth speakers. The buttons are large for easy usage but this means you can use your phone without using your hands at all. It gives it exceptional usability.
The overall quality is very high and you can easily use this out of the car if you wanted to. Pairing with your phone is very easy and it has a wide range of compatibility. It also looks great and combines that with long battery life.
What we don't:
While it has a decent enough level of quality, the microphone isn't as crystal clear as some of its rivals. Also, due to this speaker being slightly smaller than some others, it isn't able to offer quite the same level of volume.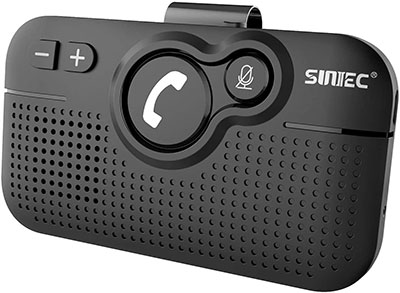 The Bluetooth speaker is excellent for navigation while also working perfectly for music and calls.
SUNITEC uses the latest Bluetooth technology to give you the strongest possible connection. That connection is easy to set up and once you do you'll be able to enjoy all of the advantages such as the innovative voice control feature.
It's another speaker that will automatically turn on once you enter the car. In terms of battery life, the speaker is going to offer you 22 hours of talk time with an incredible 1,000 hours of standby time. Once you do need it to charge, it's only going to take two hours.
That charging can be done via the in-car charger or the USB cable. It makes the speaker very easy to use as it will require minimal effort. It will work silently in the background until you need it for music, phone calls or GPS.
An innovative feature of this speaker is that it can connect to two devices at the same time. This is perfect for couples who share a car or those who have both a personal and business phone. It's easy to do and adds to the long list of qualities.
What we like:
The first thing we love about this Bluetooth speaker is that it gives you exceptional value for money. It has a very competitive price point while still being able to give you a full range of features. There is very little drop off in quality either.
If you do need to press your speaker while driving, you want it to be as easy as possible to do so. That's helped here by the very large buttons which give a high level of safety. This works well, especially if you don't have a voice assistant on your phone.
The playback function gives it a high level of functionality and there are other great features such as noise reduction.
What we don't:
This speaker is a little bulkier than some of its rivals so you'll want to check it's suitable for your car.
Added to that, the instructions that come with it aren't the best. Thankfully it's easy to set up so it shouldn't really matter.
It offers a premium level Bluetooth connection and you won't ever have to worry about it dropping.
A wonderful feature of this model is that it has dual speakers that give it an impressive volume level. You won't have any trouble hearing a phone call or GPS instructions. It makes it an ideal speaker for playing music too.
As with the other three Bluetooth speaker son this list, it will work automatically once you enter/exit into the car which can save a lot of battery. It has a multi-link connection which means it can connect to more than just one phone.
Hearing everything isn't going to be an issue with the noise canceling technology and the speaker is also easy to use.
The speaker is very easy to clip to your visor and it will also slide off easily if you wanted to take it with you. The runtime of the battery is around 20 hours which is impressive and it can be quickly recharged with the in-car device.
What we like:
What strikes you immediately with the speaker is the price. It represents phenomenal value and it competes very well with much more expensive models. This especially true considering the level of features it has.
The large buttons on the front of the device make it very easy to use. It's perhaps not the most stylish design but it doesn't look bad either. The voice command technology is great and it can work with your phone to be completely hands free.
Battery life is great and you'll get an immense amount of use from it between charges. It comes with all the accessories that you need to get started. It's the perfect option for those who aren't sure about buying a premium model.
What we don't:
With it being cheaper, it doesn't quite have that elite sound quality that you may want but it's more than good enough the majority of the time.
It doesn't quite feel high quality when you have it in your hand but we've got no complaints about its durability.
Why you should get a Bluetooth speaker for car
If you don't have Bluetooth pre-installed in your car, a Bluetooth speaker will be the safest way of taking calls in your car. Most importantly, it will keep your hands free so you can keep your eyes and attention focused on the road.
Many people take Bluetooth calls via a headset. This can be good but closes your ears off to the outside world and makes it harder to listen out for dangers or know if something is wrong with your car. A Bluetooth speaker allows you to have clear and safe conversations.
Having a large speaker will mean that the audio is much clearer than just using your phone. These devices also are very easy to set up with all of the models here automatically connecting. They'll also securely attach to your visor for simple installation.
The good:
Hands free
Clearer sound
Hearing not closed off
Secure installation
The bad:
Can be a distraction
Not required if internal Bluetooth
Things to consider before buying a Bluetooth speaker
Compatibility
Compatibility is very unlikely to be an issue with your speaker. Bluetooth is a universal technology that will be able to connect to a wide range of devices.
The same speaker would, for example, be able to connect to both an Android or iOS device.
All you'd need for these devices is the ability to connect via Bluetooth.
As all modern phones have this ability, it's not going to be an issue. All of the Bluetooth speakers we've looked at here are fully compatible with any type of smartphone.
Setup
The setup of these Bluetooth speakers is going to be very simple. It's usually a simple case of turning your Bluetooth device on and then going to the Bluetooth settings on your phone. You then search for devices, find your new Bluetooth speaker and then connect to it.
You will then be able to connect to the speaker to your phone whenever you have the device and your Bluetooth switched on.
Some even offer greater connectivity than that. All the phones that we have looked at here have an automatic connection.
They will be on standby when sitting in your car then the vibrations of you entering the car will power them up. It means you can start using the Bluetooth speaker without even thinking about it. This may not wok 100% of the time so it is a good idea to check.
Volume
A vital aspect of Bluetooth speakers is the volume. They have to be able to cut across that outside noise along with any other distractions that may be in the car. Especially if you're traveling quite fast, the background noise can be quite significant.
This is why a small Bluetooth speaker wouldn't be suitable. The Besign BK06 Bluetooth 5.0 in Car Speakerphone is a good example of a speaker with good volume. It has a dual speaker that can easily be heard at all times.
The positioning of these speakers is also a significant factor. As they are close to your head it allows you to hear them a lot more clearly than other speakers. A device that was on the windscreen or loose in the car would be much more difficult.
Size
There are not many things more annoying than being excited about getting a product then finding out you can't use it. For this reason, you'll want to double-check that your Bluetooth speaker is going to be compatible.
All these Bluetooth speakers we've looked at are designed to clip to a car's sun visor. You don't want to take it for granted that you'll be able to do that. You should check the design of your sun visor and also how big it is.
Once you do that, you should have a clear idea on whether or not your Bluetooth speaker of choice is going to fit. We wouldn't anticipate any issues but it's always a good idea to check on these things so you don't get any nasty surprises.
Battery
With these speakers being a near-permanent feature of your car, you'll want them to have a long battery life. This is usually broken down into two figures. The first is talk time and the second will be the stand by time.
The talk time refers to the battery capacity while the speaker is going used. If it has a 20-hour talk time, as with the Jabra Tour Bluetooth In-Car Speakerphone, then this means it can be used continuously for 20 hours without needing it to be recharged.
The standby time refers to when the speaker is switched on and connected but not actively being used.
The SUNITEC Hands Free Bluetooth for Cell Phone Car Kit has a standby time of 1,000 hours so it could stay on for 41 days non-stop. When you're out of the car, however, it will be switched off and using no battery.
What does this mean in practical terms? Let's use an example of you only using it for around 60-minutes of calls per week. If this is true then you'd have the potential to only need to charge your speaker once every four months.
If you're using the speaker for calls, GPS and music then this figure is going to be lower but you'll get plenty of use from a 20-hour talk time. All of these speakers here have a similar battery level and will be able to go a long time between charges.
Charging
Whether it's a phone, flashlight or speaker, we've all been there impatiently waiting for something to charge. As well as a long battery life you want your devices to be able to recharge quickly so you have minimal downtime.
You should look for a speaker that can recharge in around 2 hours. That will allow you to get back to suing your device very quickly. To avoid having the problem of a dead battery, a useful feature is for your phone to show the battery status and how much you have remaining.
You can also take a look at the charging options. Many of these devices will come with an in-car charger that allows you to power it up while you're on the go but you'll have to unclip it from the visor. Many also come with a USB charger should you be near an outlet.
Voice assistance
With many Bluetooth speakers, you can set them up to be completely hands free. It's important to point out, however, that it can be a little confusing what the product descriptions mean when it states that they have voice control.
Instead of their own voice activation technology, they will utilize what you already have on your phone. Most modern smartphones will have some form of voice assistance. You'll need to set this up so that you can accept or reject calls using your voice commands.
If you have this set up then it will work perfectly with your Bluetooth speaker. Your phone will listen to your commands and then play them through the speaker. The two will combine to give you a truly hands free experience for the highest levels of safety.
Range
The range is usually an important consideration when it comes to Bluetooth devices. There will be a limit on how far your phone can be from the device. For most Bluetooth connections this will be around 10 meters but can be affected by obstructions such as walls.
As you can imagine, this is rarely going to be an issue in this situation as your phone is going to be very close to the speaker.
If, however, you want to use your speaker for multiple different reasons then it may be worth considering just how far the signal can reach.
Sound quality
The importance of sound quality will depend on how you are using your speaker. If you're using it for music then it's not going to give you the same elite quality of a stereo system. Due to the size of the speaker the bass and high/low range frequencies aren't going to deliver.
That being said, they can clear and don't perform badly by any means.
Most people don't use these speakers for music but they are good enough if you want to use them for that. These speakers will be mostly used for making calls and GPS navigation.
Portability
There are many types of portable Bluetooth speakers on the market. These are perfect for those who like to listen to music on the go or in different areas of their home.
While these Bluetooth speakers are ideal for being used in the car, you can also use them in different areas.
If you want to move them around a lot then they'll need to have a high enough build quality to deal with that. Also, the sound quality should be at a high enough level to cope with other types of challenging environments.
You may also be interested in using one of these devices in multiple vehicles. If that's the case then you want the clip to be high-quality and able to cope with repeated usage. If portability is important to you then make sure to look out for these extra features.
Durability
As with any product, it's a good idea to look at the overall build quality. These speakers should last for a good number of years with no issues.
As it's impossible to know long-term build quality by looking at pictures, it's a good idea to use other methods.
These include getting products from reputable brands or ones that have been highly recommended.
While we've looked at some budget options here, all the speakers we've looked at have a great level of quality and will be able to last for a long time.
Design
The design of Bluetooth speakers for cars is important for usability but also for safety.
One of the first things to consider is how they are going to be secured to your car. The easiest solution can be found in a strong visor clip as this is a near-universal feature in all cars.
Another important feature is the buttons on the speaker. They should be large and easy to use. With the setup of these buttons, you'll be able to use them without taking your eyes off the road.
The Besign BK06 Bluetooth 5.0 in Car Speakerphone is a great example of this as you'll quickly learn how to use it without looking.
Budget
Budget is always going to be an important consideration when it comes to any product. The four speakers that we've looked at here today all represent excellent value for money.
At the top end, you can expect to pay around $60 for a speaker with impressive build and sound quality.
If that's too much for you then there are a few great options around the $30 mark. They don't have the same level of build quality but are still more than good enough for most users. Regardless of your budget, it's always a good idea to get a highly rated speaker.
What people ask
Which one is the loudest portable Bluetooth speaker?
Volume is a common problem with Bluetooth speakers as they struggle to reach the heights of a regular stereo system.
All of the speakers that we've looked at here are more than good enough for your car and will be able to cut through that outside noise.
The VeoPulse Car Speakerphone offers a great level of volume from its large speaker, along with all the other qualities it has.
The Besign BK06 Bluetooth 5.0 in Car Speakerphone is also brilliant with its dual speaker system that works very efficiently in any car.
Why should I get a Bluetooth speaker instead of car stereo?
Bluetooth speakers can give you a lot more functionality in certain areas. They are perfect for being able to make calls due to their simple connectivity and large buttons. They are also ideal for GPS directions due to the loud and clear audio.
Getting a new car stereo can also be much more expensive, especially if you have to change to the whole system.
Getting a car stereo can be a better idea if it's just for music purposes but there are many reasons to get a Bluetooth speaker, such as the increased portability.
How to set up Bluetooth speaker in your car?
Setting up a Bluetooth speaker in your car is fairly simple.
Firstly turn on your Bluetooth speaker so that it can be found by your phone
Once this is done, you can go to the settings on your phone
You need to ensure that your Bluetooth is switched on so that it can pair with devices
Click on the option that allows you to search for devices
All Bluetooth-enabled devices in your vicinity will show up
Click on your speaker and then the two devices will be paired
This process is pretty much the same regardless of what type of phone you have. When you've found devices, your speaker will probably be a random product number and if you're unsure, you can connect to them by trial and error.
Once you have gone through this process, then you won't have to do it again. As long as both devices are switched on and Bluetooth-enabled, then they will connect automatically. All of the devices we've looked
Where is the best position for a car Bluetooth speaker?
The problem with Bluetooth speakers is that you can struggle to find a place to put them in your car.
It's why larger speakers aren't a great idea and you can't attach them to anything. The best solution comes in the form of attaching the speaker to your visor.
All of these speakers have a fairly low profile and can be securely clipped to the visor just above your head. The visors on vehicles are usually a very common shape which means compatibility isn't going to be an issue.
There are many benefits to this. The speaker being close to your head means that you can clearly hear it at all times. You also have easy access to the buttons. There's no better place for a Bluetooth speaker in your car.
Another option is using a speaker with a suction cup. This isn't great as the speaker is going to block too much of your windscreen.
Having a speaker loose in your car is going to be too dangerous and is likely to move around too much.
What is best Bluetooth speaker for car for iPhone?
As we have discussed already, compatibility is rarely going to be an issue when it comes to a Bluetooth speaker. Both Android and iOS smartphones have the same Bluetooth technology and will be able to connect to the same device.
All of the four devices that we've looked at here will be able to connect to an iPhone.
With the VeoPulse Car Speakerphone being our top pick, this is the one we would recommend. If you want to use any Bluetooth speaker with your iPhone then you're not going to have any issues.
What should I look for when buying a Bluetooth speaker?
It's important to get a speaker that is suitable for your needs, the first thing that you need to think about its compatibility.
This includes making sure that the speaker has the right size and dimensions for your car. Secondly, ensure the speaker is going to be compatible with your phone.
Once you know that it's the right fit for you then you can move on to checking the quality. You'll want to have both a high level of sound and build quality. It's not going to be worth getting if you can't hear anything that is being said.
After that, you can move on to what features you want such as voice assistance, automatic functionality and overall design. Everyone is different and therefore you'll want to choose the features that are most suitable for your needs.
What is the best Bluetooth speaker for car?
Any of the four speakers that we've looked at here could have a reasonable claim to being the best Bluetooth speaker for car. They all share similar qualities of being a high-quality speaker while having the full range of features.
If we were forced to choose one then it would be the VeoPulse Car Speakerphone. The speakers on it are excellent and can be easily used for GPS, music or calls. Added to this, it has a high level of usability and functionality. It makes using a speaker in your car easier than ever.
Can you use a Bluetooth speaker in your car?
There are a wide variety of different Bluetooth speakers out there. Not all of them are going to be suitable for your car.
Most portable Bluetooth speakers don't have any means of sticking them to anything and are instead designed to be placed down on a flat surface.
You get other types of speakers such as shower speakers which are small, have suckers on them and don't have the same level of quality. Due to this, it's a good idea to get a speaker that has been specifically designed for use in a car.
The speakers we've featured here have been designed to be securely clipped to the visor.
They have also been designed for that challenging environment in your car where there is a lot of background noise. Other types of Bluetooth speakers won't be able to cope with these demands.
Which brand speaker is best?
There are many famous brands of speakers out there. In the world of Bluetooth speakers, you will commonly see the likes of Sonos, JBL, Anker and Bose. Just because these are the most common, however, it doesn't mean that they are going to be the best.
An important thing to consider is that a Bluetooth speaker for car is a fairly niche product and you don't have the same level of choice that you would do with other types of speaker.
That's why it's a better idea instead to look at the qualities a speaker has and how highly rated it is. The added benefit is that you can often get better value for money away from the most famous brands.
Conclusion
When looking for the best portable speakers for cars, there are clearly a few brilliant options out there.
The VeoPulse Car Speakerphone was our top pick for a wide range of reasons. We loved its overall build quality while it also has a wide range of features. To automatic functionality, voice control and simple set up all make it very easy to use.
The Jabra Tour Bluetooth In-Car Speakerphone also had many of the similar qualities while coming in a more compact package that may be more suitable for smaller vehicles. It has a stylish design and would be a great addition to any vehicle.
If you're looking for value for money they the SUNITEC Hands Free Bluetooth for Cell Phone Car Kit is fantastic and able to give you all the functionality you need. Even cheaper than that is the Besign BK06 Bluetooth 5.0 in Car Speakerphone which is another exceptional option.
All of the Bluetooth speakers we've looked at here can give you high performance. It's important you choose the right one for you and that's about looking at the features and seeing which one is most suitable for you.
Once you've chosen and bought your favorite then you'll enjoy being able to make calls, follow GPS and listen to music easier than ever before.