Many people enjoy riding motorcycles, whether that's on their daily commute for work or simply just for fun. While they can provide a great thrill, you don't have some of the same comforts you can have with a vehicle.
This is why we wanted to find the best motorcycle Bluetooth headset for music.
What is the best motorcycle Bluetooth headset for music? Well, that's what we wanted to find out. The best models will allow you to easily listen to whatever you want without sacrificing anything in terms of safety. Many of them also have intercom functionality.
Here you will find the best options available for Bluetooth headsets as we've come up with four incredible models.
We've also written a buying guide and answered some FAQs to help you in your buying decision. Let's get started!
Our Pick
The SENA 30K has dual processors, allowing both the mesh intercom system and Bluetooth to be active simultaneously. Meaning you can talk through both channels at the same time. For example, you can talk on the phone through Bluetooth while listening to your group on the intercom.
Using the innovative and patented SENA mesh intercom technology, this Bluetooth headset will allow you incredibly fast pairing. With just one button, the SENA 30K will automatically connect to any headset nearby using the same Mesh system.
It's perfect for traveling in a large group of riders as it will keep everyone connected. It connects any new rider as effortlessly as it reconnects any rider fallen out of range. The 30K Mesh system has two main modes: the public one and the private one.
The open public mode allows the connection to a nearly unlimited number of riders within one mile. While in a private group, up to 16 riders can connect within 5 miles.
This headset also has an advanced audio multitasking system, paired with perfect noise control. You can pair it to your phone via Bluetooth and listen to music, navigation, FM radio, or take phone calls without disruption.
What we liked about SENA 30K
The noise cancellation works perfectly, even if you or your companions ride a motorcycle with a loud, modified exhaust system. You will be able to talk to each other without screaming, despite not having silencers.
It has a lot of different little features that can be helpful in different situations. For example, if you prefer to use it for communication instead of music, use the audio boost function, which lowers your base quality while increasing the volume.
The group function makes the connection to other riders nearly seamless, and their communication doesn't disrupt the people in the group who listen to music.
Even if you are a single rider with a passenger, you can easily concentrate on navigation, and in the meantime, the passenger can listen to music.
Unlike similar products, you can use this headset in a half helmet too, just buy ear covers to wear with them for speaker placement.
The downsides
The battery won't last long enough for longer trips, especially if both systems are in use. Speaking of which, many users experienced problems while listening to music and trying to communicate through the intercom at the same time.
The headset is slightly larger than rival models, making it harder to place on the helmet, plus it doesn't fare the best in wet weather.
How we chose the best motorcycle Bluetooth headset
There are a couple of deciding factors when opting for a specific Bluetooth headset for motorcycle helmets. One of them is obviously the budget as the price goes up with the quality and the number of functions the device has.
The two main areas we focused on were usability and music quality. We wanted to find headsets that were easy to set up and allow you to quickly control them without getting distracted from the road. The sound quality is another huge factor as there's no point listened to music if it has terrible audio quality.
There are plenty of other features we looked at too such as size, design, durability and functionality. To aid you in the quest of finding the perfect motorcycle Bluetooth headset for your music, we have chosen those products that offer the best qualities in these categories.
Now, let's have a look at the alternatives.
Best motorcycle Bluetooth headset for music
The microphone of this motorcycle Bluetooth headset has a specifically designed CSR chip. You won't be bothered by any annoying ambient noise such as wind or the engine, even at high speed, neither will be the voice quality be affected.
Equipped with Bluetooth 4.1, this headset has high compatibility to ensure the connection with all the devices you need while riding a motorcycle. This connection remains stable no matter the obstacles, such as buildings or bending roads.
With M1S headsets, you can ensure a convenient way to listen to music, retrieve GPS routes, and receive voice commands via Bluetooth, all while enjoying your ride. It has high definition and clear sound quality, especially if you a high-quality bass reproduction.
M1-S Pro has an optional hands-free function, although the factory settings are set to manual answering by default. To switch to automatic answering calls, press and hold the intercom button and volume button at the same time for 3 seconds in standby mode.
Besides listening to awesome music, the headset has an intercom system for effective communication. When used within a group, the maximum distance for an uninterrupted conversation between the members is about a mile, while between two riders, this distance is around 0.3 miles.
What we liked about Fodsports M1S Pro
One of the deciding factors for this headset is probably its price. For it, you will get an excellent quality sound reproduction. Users have found the volume more than adequate, especially for music purposes. The bass in the music is enhanced, and this the most enjoyable while riding at a slower speed.
Pairing to smartphones also seems to work pretty seamlessly both with music and calls, while the installation of the headset to the helmet is pretty straightforward with one clip. The battery life is superior when compared to headsets in a similar price range.
As the microphone is not part of the headset unit, there are several mounting options for the microphone and speakers. Their lack of attachment to the headset comes in handy if you want to ensure that you have understandable communication via the intercom or calls.
The downsides
The switch between the music and the intercom is a bit more complicated than with some other devices. As expected with the lower price point, the overall quality also isn't quite as high as some of its more expensive rivals.
Added to this, control buttons are hard to use while riding, especially in motorcycle gloves.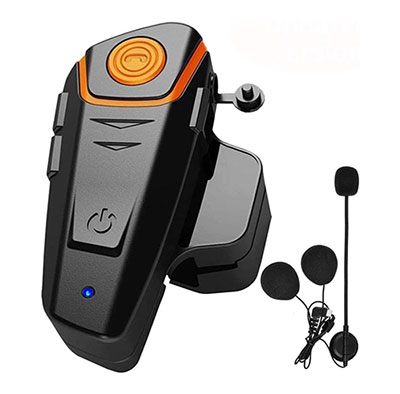 Besides the music playback control, it also supports answering, rejecting incoming calls, redialing, and FM radio in an ultra-wideband station search.
This Bluetooth headset uses a CSR Bluetooth Chip, which is a full-duplex intercom with a great range. This system supports three riders to pair and two riders speaking through the intercom at the same time.
The Bluetooth system connects as easily to smartphones as intercom, with a simple switch between your music or navigation and communication.
It provides hands-free and wireless music streaming for you to have a more relaxed and enjoyable riding experience.
Not only convenient but it also has excellent compatibility with any full-face helmet and most half-face helmets, which can cover ears or have a possibility for an additional earpad placement.
The compatibility extends to Bluetooth as well, so you can pair it with almost any smartphone and BT-S series Bluetooth Headset.
The headset's design allows buttons to be easy to operate even if you are wearing thick leather gloves. The buckle type connection between the headset and the fixture makes it super easy to install on any helmet.
What we liked about HuanGou BT-S2
If you need a headset that's in a lower price range and has a straightforward setup and control process, this might be the right choice for you.
This Bluetooth headset is one of the easiest to set up with phones or with other headsets. The battery charging is convenient, with the recharged battery lasting at least 8 hours, depending on the use.
It has a lightweight design and is quite simple to place the headset on the helmet outside, the same being true for the speakers inside. Although the provided instructions seem to be pretty concise, you can count on the seller's customer service to help you resolve any problem.
Another plus is the rubbery and waterproof outside material, which will protect your headset from rain or dirt, as well as from scratches.
Excellent when riding motorcycles in wet conditions, not to mention snowmobiles. Furthermore, the rubber makes the headset more comfortable to wear on half helmets.
The downsides
This headset might be an excellent bargain, but you shouldn't get it if it's to be used at a higher speed because the sound quality becomes just too poor.
Although the headset itself fits all helmet types, the speaker's ear pad has an oval shape instead of the standard round shape. You might have difficulty placing it inside your helmet. You should double-check the fit before buying.
The communication systems function well for high-speed rides, thanks to the advanced noise cancellation technology.
Specifically designed for motorcycles, the LX-B4FM motorcycle Bluetooth headset provides easy hands-free communications for you while riding. When connected to a smartphone, it allows you access to iPhone and android voice commands.
This way, you can make or receive calls, listen to the best Hi-Fi stereo music, FM radio, or GPS guidance. Because of its universal pairing feature, the headset is compatible with many Bluetooth headsets and earpieces.
You can enjoy a conference conversation with up to 4 riders at a time with a long intercom range. And the Lithium-Ion battery will provide you with up to 15 hours of listening to music, 8 hours of talk time, and 120 hours of standby.
Not only that, the headset has two interchangeable microphones, and you can choose the right one according to your helmet. A boom microphone is perfect for open face or modular helmets, while the button microphone is more compatible with full-face helmets.
Both microphones are made of durable materials, as is the headset, whose waterproof exterior can withstand wet and cold conditions.
What we liked about LEXIN B4FM
It takes about 20 minutes to install the headset, most of the time spent on placing the microphones. Once in the helmet, pairing with any iPhone or Android phone is as simple as any Bluetooth device.
All riders connected can listen to whatever they want independently. When they need to chat, they can do that with a quick button tap. After a period of silence, the chat mode ends, and they go back to what they listened to previously.
The headsets sound is good quality while being loud and clear enough to hear over the engines. They also don't shift or fall out of place while riding on uneven terrain, as can happen with other headsets. Not to mention how incredibly well the headset endures cold, snowy weather conditions where it can be a lifesaver.
If you need a durable motorcycle Bluetooth headset that also has a long-lasting battery life then you'll love this headset. It truly delivers a lot of value for its price and you won't be disappointed.
The downsides
One of the largest complaints is against the small buttons. When riding with thick gloves, it's nearly impossible to identify each button, which can be frustrating.
Another complaint is the depth of the speakers. If you are using a helmet with its own speaker pockets, your ears might end up being cramped.
Why you should get the motorcycle Bluetooth headset
A hands-free Bluetooth headset is a great asset to have, especially on longer rides or traveling in a group. Not only will you able to listen to your favorite music or answer phone calls, but you can also as effortlessly follow GPS and talk to your fellow riders.
The intercom feature is a must when traveling in a group, as useful information can be shared you're your fellow riders, without the need to stop. And at the same time, if someone doesn't want to join the conversation, they can listen to whatever they want.
Although they are plenty of headset types available for rides, not all of them have the desired features you'll be looking for. If you are already investing in a hands-free Bluetooth headset for your helmet, you might as well get one that has all the features you want.
The good:
Effortless communication with connected riders
You can listen to whatever you want on your phone
Reduces the need for unnecessary stops while riding
The bad:
Not always the clearest audio
Things to consider before buying a Bluetooth headset for motorcycle
Range
The signal range mostly depends on the Bluetooth version used in the headset. The longer your headset's Bluetooth range is, the better the connectivity will be, so make sure to get the headset with the latest version of Bluetooth possible.
Ideally, your phone needs to have a similar version of Bluetooth as well. The pairing will still work even if they aren't the same, but you might miss some features.
The absolute minimum acceptable range for traveling with a passenger or just a smaller group of other bikes is 0.3 miles. Don't even consider less or you might as well use regular wireless headphones.
However, if you plan to ride with larger groups, you need to increase that distance to reach a mile, as this group will spread out through a larger area. Although some quality headsets have both an intercom system and Bluetooth, the former covers the required range for communication in a group.
Whether the intercom system can support these ranges, they function best when traveling in open terrain. You will need to keep in mind that certain factors such as tall buildings, mountainous terrain, and wooded areas may affect the intercom range.
Before buying a headset, think about where or how you wish to use the Bluetooth motorcycle headset and choose accordingly.
Not every motorcycle Bluetooth headset manufacturers offer a signal range of a mile. Headsets with this range are more expensive, but they are more durable and of higher-quality.
Some of these headsets also have a solution for reconnecting riders fallen out of range. Obviously, for that to function effectively, all riders need to use the same system.
Battery capacity
A headsets battery capacity also plays a significant role in finding the perfect motorcycle helmet Bluetooth headset for you. Some have higher battery capacity, and you can use them for several long trips before they need charging.
Some will empty in a short time if used for both communicating a listening to music or navigation. Which one you choose will depend on how long you plan to use your headset in one sitting.
If you are a regular rider and use Bluetooth most of the time, then a device with high battery capacity is a better choice for you. That way, you won't face a dilemma of an unexpected stop to charge the battery.
Since most bikes don't have chargers, you won't be able to recharge your headset while traveling. The charging time of a single motorcycle Bluetooth headset is optimally around 2.5 hours, and 4 hours for the dual Bluetooth headset.
The battery capacity of a Bluetooth headset largely depends on the talk time or mode. The battery will drain more quickly if you use the device mostly to talk or chat with another person and even more used within a group. As opposed to that, listening to music, FM radio, or a navigation app will require less battery usage.
Generally, the battery of a motorcycle Bluetooth headset can be used for talk for 8-10 hours continuously, double for listening to music, and 30-100 days on standby. As with most lithium-ion batteries, the maximum number of times they can empty and charge is 500, lasting about two years.
The larger number of charging cycles your battery has, its ability to continue to charge is getting smaller. If you needed one more reason to buy a motorcycle headset with a bigger battery capacity, this is a good one.
Durability
Since motorcycle Bluetooth headsets are used on bikes while sometimes riding in less than ideal conditions, these headsets need to be highly durable. If you often replace your Bluetooth device due to cracking or breaking, you might want to invest in a higher quality model.
When buying a headset, check the material quality in advance if you don't want to end up with a low-grade product that you can throw away after just a couple of uses.
A headset or the whole helmet can fall even without a riding accident, and your headset can suffer damages. Some Bluetooth device manufacturers use compounds, such as rubber, that have better shock-absorbing capacity than regular plastics. There are specially designed Bluetooth helmet headsets for off-road or dirt bike riding.
Besides preventing the breaking of your device, a rubber coating will often act as a water repellent too. You will be grateful for that when you ride your bike in the heavy rain next time.
This characteristic can also come in handy if you intend to wear your headset riding snowmobiles. The rubber coating will shield the unit from the snow and the cold.
The clip that secures the unit onto the helmet needs to be durable as well, so it wouldn't break or slide off, making you lose the headset while riding.
The durability of the microphone and the speakers can affect your experience too. If you use them in a helmet with protective pockets designed for this purpose, you will elongate their lifespan.
Price
As with any other product that you are buying, the price of a motorcycle Bluetooth headset will determine its quality and some other factors too. A budget may be a limiting factor, but it's good to keep an open mind, as a slightly bigger investment can get you a headset with a much longer lifespan.
To stay competitive, motorcycle headset manufacturers are coming up with more advanced designs and features with each passing year. Depending on how you intend to use your device, these features can be optional or necessary.
For example, if you ride alone and only use the Bluetooth connection with your phone, you won't need an intercom system. However, for riders in a large group and leaders or instructors, a headset without an intercom for communication is unimaginable.
One of the other differences between a cheap headset and a pricier one is sealing. Cheaper ones are sealed by cheap plastic, which water and dust have no trouble getting by.
More expensive headsets use rubber seals and precise fitting, which eliminates dirt from entering the unit. With a quality headset, you can use it for multiple seasons in any weather condition.
Even if you don't want your headset to have any extra features, you still have to look at the performance. There are some headsets in the medium price range that don't differ in performance from the higher range models.
You don't always get what you pay for which is why it's good to look at reviews and user comments.
Audio quality
If you are a lone rider who loves to takes longer trips with a motorcycle, the ride can sometimes be a little boring. You're going to be riding for an extended period without anyone to keep you company.
Helmet Bluetooth headsets with speakers are an excellent remedy to that, as long as you choose one with acceptable audio quality.
Listening to music while riding will not only improve your mood but many riders have actually found themselves to be a lot more alert while enjoying their favorite tunes.
The road, however, gives plenty of challenges to audio quality, especially if there is significant wind or you're on a poor road surface.
You need a level of audio quality that can cut through those disturbances. This can be even more important if you're listening to GPS navigation.
When traveling in a group, you probably also require high-quality audio for intercom communication, besides the music and the GPS. The audio quality of the intercom depends on the range and on its ability to overcome obstacles.
Some headsets won't have the same sound quality at the end of their range that they have at the beginning. For these reasons, it's recommended that you opt for a Bluetooth headset with an adequate volume and a good noise cancellation ability.
Ease of use
When it comes to design, one of the things that bother many motorcycle headset users is their inability to control the unit buttons in riding gloves.
For headsets without a voice command, everything you do with the device, such as answering or rejecting calls, music control, and intercom communication, is done by the user's hand via buttons.
If your headset has tiny buttons, you probably won't be able to switch from music to calls effectively. To do that, you need to stop, take off your gloves and then push the buttons.
The other design factor is the mode of attachment to the helmet. There are two options for mounting as one is using a clamp and the other one is taping it on.
Although, most people prefer and recommend the clamp mount because it is more secure. The clamp needs to be tight enough, so it doesn't shake off mid-ride, yet simple to mount. It won't matter how many functions one Bluetooth headset has if they are impossibly difficult to use.
You need to be able to connect via Bluetooth to your phone, audio device, and other headsets in the simplest way possible. Some headsets can do that with only one push of a button, without any issues. You turn them on, and they automatically connect to any Bluetooth device in the range.
Switching from music or navigation to calls is quite a significant feature to a lot of users. If you are one of them, get a headset that has an option for an automatic switch to calls and back.
Hands-free control
The most seamless way to use and control your Bluetooth headset is if it's voice-activated. Nowadays, many of the top motorcycle intercoms come with natural voice operation, which means you can control the entire system without ever having to press a single button.
All you have to do is say the pre-programmed command word, and the device will be activated, doing the rest for you. These headsets are more higher-end devices, although a bit more user-friendly and convenient on the road. They are a perfect choice for those who enjoy taking long and frequent tours.
Not only does this feature make these motorcycle headset models easy to use, but the voice operation also provides safety to the rider. Eliminating the need to take your hands off the handlebars to control your device means you will be less likely to get distracted and get into an accident.
There is even a solution for situations when you don't want your voice command intercom to be open. Some headsets have a dual control mode, meaning you can turn off the voice command and direct your headset with the buttons.
When receiving a phone call, just push a button to override the voice control, and it won't bother you during the call.
Warranty
Most of the motorcycle Bluetooth headsets will come with a warranty of at least 12 months. Don't buy any headset with less (or no) warranty period, as these products are usually low quality. The warranty period often increases with the price of a product, as do the number of objects and services included.
With the Bluetooth headsets, the warranty usually includes the speakers and the microphone, but rarely a charger or the battery. Higher-end manufacturers and some third-party sellers offer a 12-24 month warranty period for the whole unit.
Shipping, including the original products, service, or spare parts, may or may not be included in your warranty. These costs again depend on the manufacturer or a seller that handles customer service.
In any case, be informed about the warranty period and all the parts included well before you opt for purchasing a product.
Frequently Asked Questions
What is the best motorcycle Bluetooth headset?

It depends on what function you expect from your headset. Maybe you only listen to music or navigation. In that case, you need one without an intercom. However, if you ride in groups, headsets with intercoms are a way to go.

For using it while riding off-road, or a snowmobile, you definitely need a durable, waterproof headset. Preferably with good quality speakers and microphones as well.

If you want as few distractions from your headsets as possible, there are excellent ones with a voice command. The more function a headset has, the price will be higher so the choice will ultimately come down to your budget.
Is Cardo better than Sena?

Both of them are great and you can't really go wrong with either but they do have their difference. For example, while both Cardo and Sena have their mesh technologies for connectivity, the Sena, communication is possible for an extra 0.2 mile over the mile Cardo provides.

All the popular Cardo devices are waterproof to the extent that they can be submerged into water. Sena has not advertised their devices as waterproof but water-resistant, meaning a little rain won't affect them, but falling into a puddle probably isn't the best idea.

Lastly, Sena focuses on adding more and more features to their headsets, increasing functionality, while Cardo focuses on making their devices more practical and more manageable to control. It comes down to which features you prefer.
Can you listen to music with Bluetooth motorcycle helmets?

Yes, you can. And it's actually one of the most effective and safest ways to listen to music while riding.

These are helmets have built-in speakers connecting to your phone or MP3 player, and you don't have to worry about the wiring inside your helmet or anything falling out of place.

Bluetooth helmets have external buttons you can push for volume control and skipping songs, which might be hard to do in gloves.

What do bikers use to talk to each other?

Bluetooth is the most popular technology used in motorcycle intercoms. These systems communicate wireless from rider to passenger or from bike to bike.

Although with Bluetooth, the maximum signal range is 1.2 miles, riders usually ride in a tight group, so this isn't a huge problem.
What is the best Sena Bluetooth headphone?

Sena uses an advanced Bluetooth technology called Mesh-Network that allows users to connect to a virtually limitless number of riders. It also offers a more flexible connection as riders can come or go and automatically reconnect to the group.

You can pair with any Sena Bluetooth headset or helmet, automatically allowing them to join an Open-Mesh intercom group. We think the best option is the SENA 30K-01 Motorcycle Bluetooth Headset as it has brilliant features along with excellent quality.
Is riding with headphones illegal on a motorcycle?

Not universally, but in several states in the U.S. is illegal to use these devices while operating any vehicle, whether that be a motorcycle, a car, or any self-operated mode of transportation.
Headphones and headsets could deprive a rider of some of their senses while riding or distract them. This is where voice-activated technology can be even more useful.
Is it dangerous to listen to music while riding a motorbike?

It can certainly be dangerous if you use helmet inserts with wiring or headphones with earbuds. These can come apart, cause discomfort, and cause unneeded distractions.

Don't listen to your music so loudly that you can't hear anything else, as this is also distracting and dangerous because you need your awareness while riding. Not to mention that it can damage your hearing as well.

Music does cause a slight distraction but that can be balanced by it keeping your attention focused on long rides. As long as you're sensible with it then you will be fine.

Can you wear AirPods with a motorcycle helmet?

AirPods don't have distracting wiring, yet they are not recommended for use while riding motorcycles, as they go into your ears.

They usually cancel the traffic noise dramatically but also aren't loud enough for music or phone calls.
How do you mount Bluetooth on a motorcycle helmet?

Find the best position to put the speakers, so the helmet fits the similar way as it did before the speakers. You may have to cut out the foam liner and clean out the pocket area. Peel back the paper out of the Velcro of the speaker, then press it to the place.

The microphone needs to line with the mouth of the rider. Install microphone by keeping microphone amplifier to the side, followed by the amplifier then press wires to the liner. Clamp or tape on the outside Bluetooth unit and do a test pairing with other Bluetooth devices.
Final Thoughts
Your preference for any specific Bluetooth headset depends on your budget and the functions headsets offer within that budget. You can find pretty inexpensive headsets with fewer functions or you may want one that has everything possible included.
We liked all of the headsets we looked at here, the SENA 30K-01 Headset is our top pick. We think this has the best balance between brilliant connectivity, impressive sound quality and high usability. It was a close contest between that and the Fodsports M1S Pro as both of them are brilliant and excellent value for money.
If you wanted to have something a little more compact then you'll probably love the HuanGou BT-S2. It gives you strong audio and allows you to enjoy your music with plenty of clarity. It also has excellent waterproofing and you can rely on its durability.
If you wanted the use of a high-quality intercom alongside your music, then you'll most likely love the LEXIN B4FM. It's perfect for small groups of up to four riders or you can simply head out on your own and enjoy your favorite tunes.
In truth, any of these four models could have easily been our top pick as we loved them all. It's important that you read our buying guide to see which one is most suitable for you. All you need to do now is choose the best motorcycle Bluetooth headset for music for you.