The precious memories of many families are held on VHS videotapes. Unfortunately, VHS tapes not only degrade over time but the devices on which to play them are becoming very rare.
The answer is to turn them into digital copies, and you can do that with the best VHS to digital converter.
These devices can transform those old tapes into a digital format of your choice. You can then burn them into a DVD or keep them on a USB stick. There is, however, plenty of factors that go into choosing the best converter.
That's where we can help. We've found the best VHS to digital converters on the market and completed in-depth reviews on each of them.
We've also developed a buying guide with FAQs to give you all the information you need. Let's get started!
Our Pick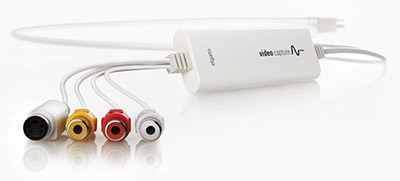 You get everything that you need to get started and convert those old tapes into something a lot more permanent and easy to manage.
Elgato is seen by many as the best video capture software and we'd be inclined to agree. It works extremely well and is compatible with both Mac or Windows. It's also very easy to use, even for those who aren't computer savvy.
It comes with all the software required to capture the video and all you'll need with it is a VHS player. It will be able to guide you every step of the way and the result will be quality that will match what you were getting from the VHS tape.
The Elgato software will automatically convert the videos into the universal H.264 digital format which will give you plenty of flexibility on how you can play the digital file. Those files also aren't going to be too big and are quite easy to manage.
Along with the software, you'll get a composite to SCART adapter along with a composite video/RCA stereo cable.
What we like
We loved the level of video quality that you get here as it will replicate what you see on your VCR. Remember that these converters aren't going to magically improve a VHS tape that has terrible quality but this does a good job of making the transfer as well as possible.
An important factor in the quality here is that you're not going to get any audio lag. It results in an extremely high success rate and you'll make these old tapes digital with ease. You can have a lot of confidence in the Elgato technology.
Usability on the converter is also very high. The steps to take are fairly simple and the software it comes with has an amazing interface that is easy to navigate. For many people, this is the perfect solution that makes converting those old tapes as simple as possible.
What we don't
While most people are happy to leave their tapes as they were originally recorded, others would like to edit their videos into something new.
That's not an option with their software but it's easy to download this type of video editor from other sources.
How we chose the best digital converter
When looking at the best digital converter, you need to take all of the key features into account.
The first thing that you need to do is check which cables you need. These are usually fairly standard but a few of these converters come with more than one connection type.
Once you have the connection, you want to see what type of software is offered. You want that transition from VHS to digital to be as simple as possible. You also want to see what type of features the software has.
After that, there are other features you'll want to take into account such as the video file formats available, picture quality and conversion speed.
To choose the best digital converter we took all of these features and used them to rate each converter. In the end, we came up with the four top models available today.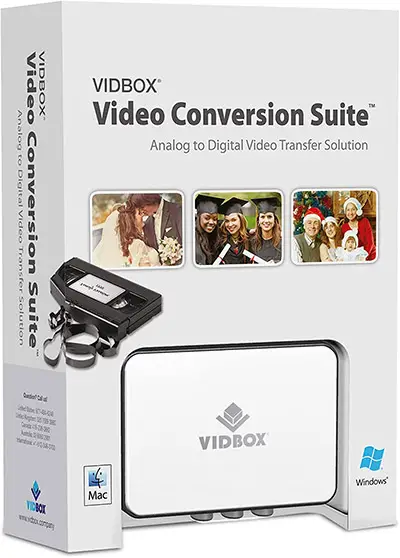 The success rate with this converter is extremely high and the quality you'll get at the other end is very good.
Like with Elgato, this is a highly regarded video converter. It provides you with everything you need to make high-quality digital copies. This version supports both PC and Mac so you'll never have an issue with compatibility.
It's an ideal converter for complete novices due to how simple it is. The download links for the software are given inside along with the product key. All you'll need to do is play those tapes and let the software record the video in the highest quality you can.
Along with the USB video capture device, you also get a USB cable, RA AV cable, quick start guides and the software download cards. Some may see it as a little expensive but that's going to be worth it considering how much you can rely on it.
There are several output formats available as you can convert the video into DVD or perhaps MP4. It allows you to store your new digital files wherever you want. The whole setup has a professional level of quality while having extremely high usability.
What we like
A part of what makes this converter is the step-by-step pictorial instructions that come with it. It allows you to follow the process every step of the way. Trying to convert a VHS may seem a little daunting to some but not with this brilliant model.
An area that lets down many of these converters is that they don't work every time and it can be highly frustrating.
This can be a little more expensive than some other types of converter but we think it's worth it for that extra bit of quality. It's highly rated by almost everyone that has used it and it's easy to see why. We loved it and think that you will too.
What we don't
As with the Elgato software, the video editing here is fairly basic editing and you're not going to be able to do much to change the video.
We'd also mention that we don't like the price but we still think it gives you good value for money.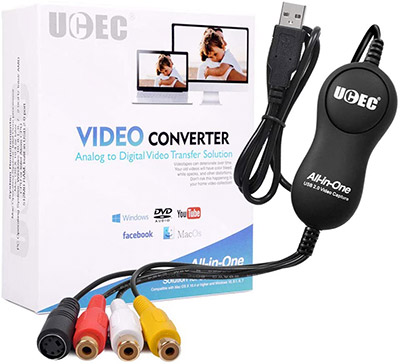 This one comes on a CD-rom and it will take you through all the steps that you need to get started and convert those old tapes.
For those looking for a cheaper VHS to digital converter, this would be an ideal solution. It still gives you everything you need to at around half the cost of more professional models. It gives you a USB link and the option of either an RCA or S-Video connector.
It's a plug in and play device that is very easy to use. It's going to support all video formats and give you a great level of versatility in how you watch your media. It's windows compatible and will be converted into the universal H.264 format.
In the package you'll get the video capture device, a user manual, a disc that contains the software required and also the composite connection. The connection is long and that makes it easy to install on any type of PC.
The compatibility is excellent as you'll be able to use it with both Windows and Mac. The compact device will be able to be used time and time again. It doesn't quite have the consistency of other options but it offers great value for money.
What we like
The installation of the digital converter is going to be very quick and you'll be able to start using it in no time at all. Once you do, the device will give you the option of using it with a DVD burner and you can turn that VHS collection of family videos into a DVD collection.
As with the other two models that we've looked at here, the converter will have your own software that you can use.
If you do get stuck then you'll have the added benefit of 24 hour support should you need it. We loved the price point and is ideal for those on a budget. It's simple to use and is going to produce great results that you're going to be happy with.
What we don't
While being very good, it doesn't quite have the elite level of quality as the other two options. Some users have complained that the video can come out in black and white, and there can also be some flickering. They are rare issues but can occur.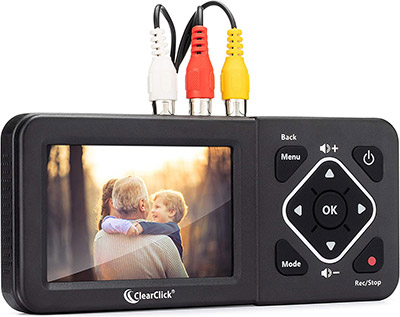 We loved the fact this allows you to make those recordings more conveniently without crowding up your computer.
Do you want to avoid the step of having to record these tapes on your computer? With this converter, you're not going to need either a computer or dedicated software. That's because you'll be using a device that will do it all for you.
It can be all done via the touch of a button and means that you're not talking up time and space on your computer while you're recording. You can then either decide to record your videos to an SD card or even a USB stick for maximum convenience.
It has the RCA inputs you need that will allow you to easily connect to your VCR player. Everything you do will be shown on its screen which allows you to clearly control the whole process while analyzing the quality of the video.
The recording device was an S-video input and RCA AV inputs to make connections as simple as possible. Along with that are an HDMI slot, SD card slot, and USB flash drive port. It ensures that you'll easily be able to work it with whatever technology you have.
What we like
It doesn't matter what type of operating system you have as you'll have these digital files on a universal SD card or USB stick.
You can also monitor the video quality of the recording as it's playing. The high functionality also allows you to pause the video and control it with a simple menu. It also offers other unique features such as the auto shut off function.
The build quality is excellent and to back that up the converter has a one-year warranty should something go wrong. Along with that warranty, you also get a good level of tech support. It's a fantastic device and one many people are going to love.
What we don't
With you buying the device and not just a cable with some software, it is going to be a little more expensive. It's not ideal for those who are on a budget. If you can afford it, then we think you'll find that it's well worth the money.
Why you should get a VHS to digital converter
There are many great reasons to get a VHS to digital converter. One of the main reasons is that it is much cheaper than using a company to do it for you. This is especially true if you have a large number of VHS tapes that need to be converted.
Completing the conversion process by yourself will also be much more rewarding as you'll be able to watch those memories while you're recording. You also don't have to fear doing it as the process is going to be relatively simple.
With the right software, converting these tapes is also very simple and you'll be able to complete them in only a few clicks. These converters are also going to you an array of digital storage options that allow you to have the copies wherever you want.
The good
Cheaper to do it yourself
Relieve memories
Easy to do
Digital storage options
The bad
Things you should keep in mind before buying
Software
To convert your VHS to a digital file you need more than just a converter. You'll need to have software installed that is going to be able to record the tape for you. Each converter should come with its own software if you're using a computer.
The quality of this software is going to vary from one company to the next. Most of them are fairly simple to use and have easy instructions for you to follow. They are, however, usually quite basic and won't offer advanced editing.
Many people won't be bothered by this as they don't have any intention of changing the original tape.
If you do want edits, then there is a large number of video editing software available with many of them being free. You can then easily open up your new digital software in one of these programs and edit them there.
VCR
It's important to know that in order to record a VHS tape, you need something to play it on. This means you'll either have to use your existing VCR machine or acquire a new one. They are still available from many online retailers and you can also look at resale sites.
If you're only going to need on for a short time to convert a handful of tapes then it may be a good idea to see if any friends have one that you can borrow. This can either be just a VCR machine or one that is part of a TV.
It's also worth noting that many of these converters will also work with a camcorder which can be good if you only have these types of tapes. This is a step you can't avoid so make sure you have a VHS player along with your converter.
Cables
As well as getting a VCR player, you should also know what types of cables it is compatible with. It's very likely that it will have slots for either S-video or RCA cables and there is a good chance it has both. That's why the digital converters we've looked at here come with both types of cable.
If for any reason it doesn't have these connections then you may need a SCART adapter instead and the Elgato Video Capture package comes with this. You don't want to be excited to make the conversion only to find out you don't have the right cables.
Picture quality
Once the conversation quality is complete, you want the picture quality to be as high as possible. This is where a lot of the cheaper converters can fall down as the picture isn't going to be as clear as it could have been with higher-quality devices.
It's important to remember that these devices aren't going to be a miracle worker. If the video quality is terrible already then it won't improve it. VHS tapes degrade over time and if the quality is already poor then you'll have to put up with that.
If, however, the quality of the tapes remains high you'll want them to be transferred that way into digital files. All of the four converters we've looked at today will do a great job of doing just that.
Audio lag
This can be another huge problem with low-quality converters.
The audio quality is simply not going to be good enough and often the picture and the audio aren't going to match up.
With software such as the VIDBOX Video Conversion Suite, you won't have to worry about this.
Video File Formats
You need to think about what the end product is going to be. Do you just want your video to sit on a computer, a portable hard drive, SD card or DVD? To get the results you want, you should know what type of video file format you need.
Many of these will turn your videos into a H.264 file before converting them into your video file format of choice, such as an MP4.
It's likely that all of these converters will be able to take your preferred file format but it's a good idea to double-check and know how you intend to store your digital file. 
Conversion Speed
If you were hoping for a rapid digital converter, then you're just about to get some bad news. The software of these devices is going to be recording what's on the tape. That means they will only work as fast as the tape plays.
There is no shortcut to this unfortunately. If you have a two-hour tape then your converter is going to spend two hours converting it. It's therefore not a consideration that you need to have as they will all offer the same thing.
FAQs
What is the best VHS to digital converter?
We think the Elgato Video Capture is the best digital converter available today with the VIDBOX Video Conversion Suite being a close second. Both of them have exceptional qualities and will allow you to record those old VHS tapes in confidence.
It could be, however, that you're looking for something a little different.
The ClearClick Video to Digital Converter 2.0 provides a shortcut as you don't need to worry about a computer or the related software which would be the ideal solution for many people.
How can I convert VHS to digital without VCR?
It's very likely that you'll need a VCR. The reason is that you need something to play the tapes in real-time and there is no shortcut in doing that.
Thankfully VCR machines can be picked up for quite cheap on resale sites and then you can sell them on once you've finished.
The only other solution is by using something else that can play VHS tapes such as a video camera.
These are harder to find as most camcorders at the time used much smaller tapes. If you have these smaller tapes, then many converters will also work directly from a camcorder.
How long does it take to transfer VHS to DVD?
The initial conversion process to a digital file is going to take as long as the VHS tape is. This can be a lengthy process if it's a long tape but it can't be avoided. Once you've done that then you'll need to get it onto a blank DVD.
This process is going to be much shorter and will often take around 15 minutes depending on the length of the video and the type of software that you have.
This is better than recording directly to DVD because as well as the DVD (which also degrade) you'll have the digital file.
Can you still buy a VCR player?
It's going to be hard to find a VCR player in a shop now as VHS tapes have long since been replaced. There are still quite a few online retailers that have them but it can be expensive to squire a new one and there aren't many options.
It means that the best option can be to get one second-hand. Websites such as eBay have plenty on offer and it's likely you'll find one local to you.
Once you've converted all of your tapes, you can then sell it on for someone else to do the same.
What do I need to convert VHS to DVD?
There are four components that you'll generally need to do this: a VCR player, a converter with software, a computer with a DVD slot and a blank DVD.
There were some machines made that can play both DVD and VHS tapes at the same time but these are now very hard to find.
It's important to check that you have everything before starting the process.
Not every PC or laptop is going to have a DVD player and you have to make sure that everything connects together. Blank DVD's can be easily sourced online or from a local store.
What is the best way to convert VHS tapes to digital?
The best way is to use one of these converters as they will make the process as easy as possible. The other way would be to pay a company to do it for you.
The downside to this is that it can be much more expensive and you won't be in control of the process.
They will often charge per VHS tape and will then also charge extra for each DVD copy you want along with other types of digital storage such as a USB drive. If you have a VHS collection, this can end up costing you many hundreds of dollars.
How to convert VHS to DVD/digital? Step-by-step guide
Here are the steps you need to take to convert that VHS to digital with the most common type of converter.
Get a VCR player – As we've mentioned, you need a device to play your VHS tapes. The easiest and cheapest way to do that is by buying a VCR player but you can also record directly from a video camera that can play VHS tapes or a camcorder with smaller tapes.
Purchase your VHS to digital converter – We've looked at some great options that can do this easily for you. Choose the one that most closely matches your needs.
Install the software on your computer – A converter will come with software and they will either give you a link to get this online with the use of a product key or you'll get a CD with the software on. Installation should be a simple process.
Connect everything together – Connect your VCR player to the converter using the cables attached then connect that to your computer. The connection to the computer is usually via USB and all modern computers have at least one of these slots.
Follow the manufacturer's instructions – All converters will have slightly different software. It's therefore important to consult the user guide to do this as easily as possible. It will also help you to troubleshoot any issues.
Record your VHS tape – You can press to record your VHS tape and decide which type of video format you want it in. Once it has finished recording, you'll then have your digital file that you can either store or burn onto a DVD.
Insert a blank DVD and burn a copy – Blank DVD's are easy to buy and relatively inexpensive. Some converters allow you to burn straight to DVD and or you may require another program to do this. There is plenty of free software to do this and you may already have it on your computer.
It's important to know that the ClearClick Video to Digital Converter 2.0 cuts out many of these steps as it will record the VHS straight to a USB stick or SD card and you won't need a computer or the software that comes with it for the conversion.
You can then use your USB/SD and plug it into a computer to go through the stages of burning a DVD.
Conclusion
You should now have all the information you need to make the right choice on the best VHS to digital converter for you. The four options here all have exceptional qualities.
If we were to choose a favorite, it would have to be the Elgato Video Capture due to the remarkable consistency it has in producing high-quality files. A strong contender with very similar qualities is the VIDBOX Video Conversion Suite which you'll also be able to rely on to get the results you want.
Looking for something a little cheaper? If so, the UCEC USB 2.0 Video Capture Card Device would be perfect. While not at the elite level of the other two, you do get all the features you want along with high-quality software.
Want to skip the requirement of using a computer with software? The ClearClick Video to Digital Converter 2.0 is the answer. We loved this device and the fact it makes converting to USB or SD card easier than ever before.
As you can see, all four models are brilliant in their own way. It's important to choose the one that most closely matches your needs. If you're still unsure then have a quick read over the buying guide once again.
Once you have your perfect converter then you'll be able to enjoy those old videos in a much easier to watch format.