Once you start doing any kind of work with recording, you'll find that getting the best Micro SD card for 4K video is more than a necessity.
After all, there are countless memory cards that you can utilize in all manners of hardware — from game consoles to drones, smartphones, and cameras.
Of course, the point of getting a high-quality microSD card is greatly expanding the storage possibilities on your hardware. But while there are memory cards with all kinds of memory capacities (these days, up to TB) — it's not as simple as buying the card with the most storage available.
If you're going to use these cards to store and move big files from one device to another — you will need to think about plenty of different characteristics that these cards have.
Most notably — you want something with enough speed to make constant interaction with significantly large file sizes sustainable. And when you're recording 4K videos — that means writing and storing a huge amount of data.
Many devices use microSD cards for just this intent. Plus, even devices that only have slots for regular SD cards can be combined with adapters to make use of microSD variants.
We'll take a look at all kinds of microSD cards here, with a specific focus on models that are most often used for recording devices (such as cameras) that produce burst photo sequences or 4K (and beyond) resolutions. That means that writing speed is going to be a big influence on our choices here.
And make no mistake — beyond usual cameras, there are plenty of devices that can hugely benefit from a lightning-fast micro SD card.
For instance, action cameras that capture high-resolution footage such as the GoPro and some high-end phones all make use of such cards.
However, there are different types of memory cards — and knowing the basics about all of them is crucial if you want to pick the best MicroSD card for 4K video.
Let's dive right into it, shall we?
Our Pick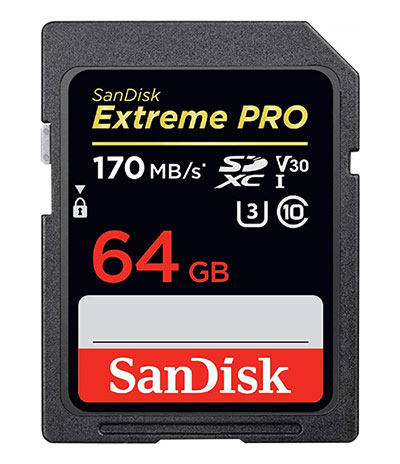 It's unassuming and nothing flashy, and yet it continues to be one of the best selling models out there.
Now that we've examined what kinds of SD card (and other) formats you can find out there — we'll take a look at the best microSD card for 4K video you can find nowadays — the SanDisk Extreme Pro SDXC.
There are a couple of different variants of this card, but the biggest one has 512GB of storage — meaning you've got more than enough room for all of your memory needs.
The write and read speeds are also more than competitive, making this an excellent candidate for any kind of video or photography; in 4K resolutions and beyond.
What we liked about SanDisk Extreme Pro SDXC
Plenty of people who are passionate photo and video enthusiasts sing praises of this SanDisk card. You can't really go wrong with this speedy SDXC card. There are a couple of different capacities that you may choose from — the basic one is the 32GB.
Perhaps the single biggest upside of this impressive card is the fact that its write speeds cap at an astounding 90MB per second — meaning that your camera will be able to create impressive 4K videos or rapid-shoot RAW and JPEG formats easily.
Plus, the fact that its read speeds are 170MB/s means that you'll be able to work as quickly as you want to once you take it out and start browsing.
In terms of data storage space, this is one of the finest choices you can make among the microSD card formats.
What we didn't like
There aren't many downsides to this card — sure, there are faster models out there, but this is the most reliable one. Also, you may be turned away by the fact that it's a bit pricier than the competition.
However, for those who can afford to invest a couple of extra bucks into their card — you'll find it brings more than enough value for the money.
How we picked the best MicroSD card for 4K video
There are plenty of factors that we have taken into consideration while choosing the best microSD card for 4K video.
As you will see, while microSD storage cards do not have many different characteristics, the traits that you need to focus on while picking your card largely depends on what you're going to use it for.
When it comes to 4K video specifically, we have mostly focused on the reliability of the cards — the manufacturing quality is important because professional cameramen and editors need to be sure that the card won't fail mid-session; even if you've got spares, you could risk ruining a great take or section of the video.
Apart from that, we have also put great heed in write speeds — 4K videos are incredibly demanding in terms of writing volume, so while read speeds aren't so essential, you will find that an excellent write speed is essential.
Finally, we have also considered the storage capacity of different cards — even a couple of minutes of 4K video can take an extraordinary amount of space, so that is important. With all of that in mind, we'll go into further details below.
Best alternatives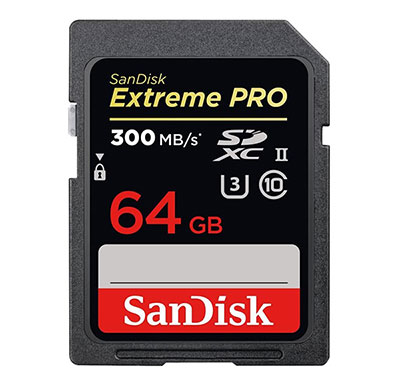 Memory card designed for professionals.
After showing you how we've determined what the best MicroSD card for 4K video is — we'll give you a couple of other pointers for cards that we deem to be great choices.
Among them, here's another model from SanDisk — the Extreme Pro SD UHS-II
What we liked about SanDisk Extreme Pro SD UHS-II
This is definitely one of the best cards on this list. And while it's not the winner in terms of capacity for sure – seeing as it only provides a maximum of 128GB — it can get you where you need to go in terms of writing speeds.
The read speeds of this card reach an amazing 300 megabytes per second — while the write speed is also an impressive 260MB/s. As you can see, this soundly beats our first choice among the best microSD cards.
This is what makes it an excellent choice for anyone who's shooting in 4K resolutions. Plus, you'll find that it's more than reliable over extended use.
What we didn't like
The only real problem with this card, and the thing that stops it from being our top choice — is the lack of storage capacity.
Though, we have to mention that this isn't anything necessarily bad; you just have to be someone who values speed over storage capacity to appreciate it.
But if the devices that you use and the nature of your work are in line with the advantages of this card — you're in for a treat.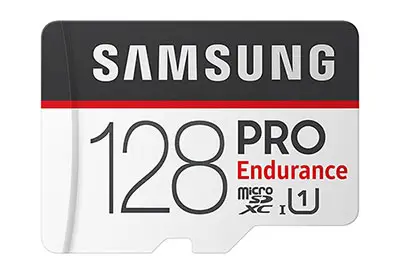 At the lower resolution levels, it can supposedly support over 40,000 hours of continuous footage — though obviously far less if you use it at 4K resolutions.
Our penultimate choice on this list is a card that's more than worth your time if you're someone who appreciates an excellent SD card for cameras — the Samsung PRO Endurance.
Pure and simple, this is the best card that you can get for a 4K video camera if you're looking for something specific for those types of devices.
Generally, this is a card that was purposefully designed for cameras — from security cameras and dashcams to action cameras.
What we liked about Samsung Pro Endurance
Now, apart from the obvious advantages that this card bears, including its decent specifications and the design quality one, can expect from Samsung — it should also be noted that there's a reason why this product series has the "Endurance" tag.
This card was designed to be the most resilient in any kind of harsh environment, and it supposedly has a longer lifespan than other microSD cards.
What we didn't like
This card is definitely a costly one — another thing that comes with its brand.
However, if you're not looking for the most resilient card out there (which you might not be, seeing as you won't use it for security footage); it's not always clear if it's worth the money for 4K video recording, at least compared to competitors like the SanDisk models that may give you more value for money.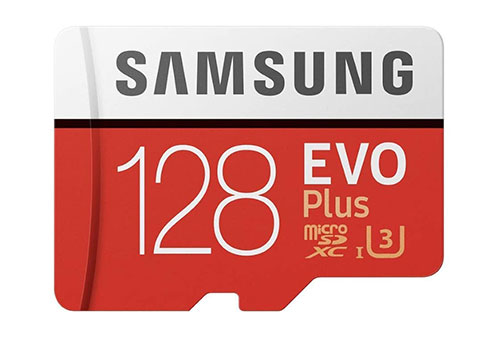 Samsung EVO Plus is great value for the money.
Our final recommendation is the finest budget card that you can find on the market — specifically for people that don't (or can't) invest a lot of money while they buy their microSD card.
So, without further ado — let's take a look at the Samsung EVO Plus!
What we liked about Samsung EVO Plus
Generally, this is an all-around great card. You can find it in four different storage capacities — ranging from 32GB up to 256GB. Generally, this is great even for someone who's going to perform 4K video recordings.
Plus, we should point out that this card comes with a handy SD adapter; meaning that even cameras that are only equipped with regular SD slots will be able to make use of these.
While the read and write speeds are a bit modest compared to the competition above — the price tag is also adequately more approachable.
And that's especially true for the smallest 32GB variety of the card. Plus, you get a nifty 10-year warranty on the card, so you can be certain that you've got peace of mind even with such a small investment.
Also, this card solves a design flaw of many other SD cards that are incredibly easy to lose — their color. Namely, Samsung makes some of its microSD cards bright red, meaning you won't have to look for it too hard if it's misplaced.
What we didn't like
The only thing that you might find wrong with this card is that its performance is not on par with the other choices that we've presented here.
However, if you disregard that — you will find that this is an excellent card for people that don't require the maximum possible performance specs in their mobile storage.
Things you should look for when buying a MicroSD card
Now that we've presented you with some of our top picks for microSD cards, we'll give you an in-depth guide on buying and selecting the very best cards out there.
First of all, regardless of what you're using your microSD card for — know that we don't recommend looking at any card that holds less than 4GB of storage.
At that level, the price that you'll wind up paying for it, no matter what the specific card is, simply won't be worth your time and money. If you get something with more capacity, you'll be getting more bang for your buck.
Also, if you're ordering the card online — take a look at the delivery price before finalizing your order. Sometimes cards are affordable in and of themselves, but the delivery price on the low-cost models can drive the overall price up significantly.
Before you pick a model that has a large storage capacity (meaning 32GB or upwards), know that these are all SDXC cards. With that in mind, check to see if the device that you plan on using them with is compatible with that specific format.
If your work depends on using portable devices and moving data from microSD cards to them, don't trouble yourself with inserting the cards into these devices constantly.
Instead, make the small investment into a microSD card reader that will make the process far easier.
Once you start browsing online vendors and card manufacturers, only settle for recognizable brand names. Many people make the mistake of finding lesser-known card brands that boast impressive specifications — but at prices that are far more affordable than those of name brands.
However, in reality, the manufacturing quality of these cards is pretty shoddy.
That's why we only recommend buying from widely renowned vendors, like the ones that we've reviewed on this list.
If you spend less money on a card that's nominally of a higher quality — you will find it working erratically or just breaking down after a short while; certainly not something worth your investment.
Also, regardless of the brand — you will find that 128GB cards are generally more affordable than you might think. This is no vendor trick, but simply supply and demand.
In most cases, people don't buy cards with more capacity than 64GB. Thus, the demand for 128GB ones is lower, and vendors drop prices to make them more approachable.
Apart from that, there's another thing that you should know about the market — microSD cards bundled with an adequate adaptor will generally run cheaper than an SD card of the same size. That's another reason why we've focused on them in this article.
Now, when you first buy an SD card — you might be disappointed to see that its size is slightly (and sometimes more than slightly) lower than the one that was advertised.
That's not any fluke of misfortune either — it's simply because the advertised capacities are those that the cards have before formatting. After you format the card, it loses some of its storage space, though usually not enough to make a noticeable difference.
You should also bear in mind that there are different classes of cards. For instance, Class 10 is supposed to be faster than 10MB per second, while Class 3 is supposed to give you a minimum of 30MB per second.
Lastly, investing in an SD card is a great idea — but only if you're doing it for the right reasons. The last thing you want is to buy an SD card if you're not sure how and why they're used.
For instance, if you need one for a high-volume camera that produces a lot of storage-demanding 4K footage — get one.
But if you're planning on using it just for simple data storage — it's just a bad idea. If you opt for memory sticks, you'll find them to be a much better option for these purposes — they're just far more robust and affordable for people who need storage and not mobility.
We'll examine some of the things that you should consider in order to choose the best possible card if you're looking at different models on your own.
MicroSD Card Speed
In plenty of different devices, the speed of your micro SD card isn't all that important. However, there are also certain devices where this specification matters greatly.
For instance, video cameras and action cams (such as the GoPro) require a speedy micro SD card to be efficient and usable.
And make no mistake — if your card isn't fast enough, certain features of your camera won't be usable at 4K (or these days, even 8K) video settings.
You could encounter unpredicted stopping and lag in your videos — and sometimes these might not be noticeable until you've seen and processed the videos; thus being too late for additional shooting.
So, how different are speeds with these cards? Well, that's something micro SD shares with CompactFlash and their bigger SD cousins — the speed of the card can vary wildly.
If you're not tech-savvy, you might not even understand the different standards by which the manufacturers denominate card speeds.
Sure, organizations such as the SD Association strive to provide uniform standards for measuring — but even these aren't always reliable. We've already mentioned numbered classes (Class 6, Class 10, etc).
However, the problem is that these classes often don't keep up with the times. For instance, sure — a Class 10 card is guaranteed to be faster than 10 MBps.
But for 4K cameras in 2020, that's just a laughable number — they require cards much faster than that.
With that in mind — if you want to be certain that a card is worth your time, we recommend taking a closer look at the writing and reading speeds.
Among them, your camera relies most heavily on write speed. In other words, this specification is crucial because it tells you precisely how quickly data will be transferred to the card.
Naturally, this metric isn't important for GPS devices or microSD cards in smartphones. But when you want to shoot high-res 4K videos, that's going to be the metric that you need to look at if you want to know if the card will suit you.
Conversely, there's also the read speed. Sometimes, people in advertising refer to this as the "transfer speed". In other words, this shows you how fast the data can be copied or moved off your microSD card.
For 4K video purposes, this is a metric that only tells you how you'll be able to copy large files off the card.
Still, relying on industry standards or the names of the cards isn't always the way to go. It certainly doesn't help that most manufacturers name their cards stuff like "Elite", "Power", or "Ultimate".
So, you may realize why a speedy SD card is important now. The current cameras (especially 4K ones) that are available on the market have some capabilities that can put a lot of strain on your memory card.
For instance, a Sony RX0 is able to create recordings at incredibly fast-paced bitrates. If you want to save all of that data to your camera, you will need an SD card that's fast enough to receive all of the data that your video camera starts sending.
When you have an inadequate microSD card for a high-performance camera, you encounter issues such as recording stuttering, freezing. In fact, the entire device might overheat as well.
Other Factors
Of course, speed is not necessarily the only thing you should keep in mind while searching for the best microSD card for 4K videos. After all, the market conditions are important as well — such as availability and pricing.
Plus, you should see if your camera is even able to take complete advantage of truly powerful card speeds. As you might assume, you won't be doing your camera any harm if you put a fast card in a slow camera — but you won't enjoy the full performance of the card either, as it adapts to the camera.
So, if you want to use a UHS-II card, you should first buy a camera that's fully compatible with that format.
Seeing as cards are manufactured with backward compatibility in mind, they will also work — but the speeds will be hampered by the camera.
Reliability
When you take a look at a speed test of different microSD cards, you may be tempted to think that simply choosing the fastest one will mean that you've made the best choice.
But in reality, it's not that simple. This is the case because the reliability of a card is not represented in such tests.
For instance, flash memory is considered to be extremely resilient and stable in and of itself — mostly because they contain no moving parts that are able to fail randomly.
However, you should always live with the idea that your memory card might fail. This is something that happens even with the best card out there.
With that in mind, as we've already said — you should take care to choose only cards made by established brands. This will reduce the chance of putting down your hard-earned money on a shoddy card that will fail a couple of months — or even weeks — into the first use.
Though, when you're preparing for a crucial shot that's supposed to produce valuable footage — we recommend that you always have one or two spare memory cards, even with the best manufacturers.
And as we've shown you above, the well-known brands like Samsung have offers for cards that are more resilient and built with endurance in mind.
Sure, these don't rank highest when it comes to speed — but at least you can rely on them not to fail for a long while, even after many write cycles.
General Recommendations
Before we move onto the FAQ sections where we answer some of your most often posed questions — we'll give you a couple of final general tips that you should keep in mind while buying microSD cards.
First of all, the small size of the card means that it's difficult to spot whether you're dealing with a fake card. That's something tech counterfeiters take great advantage of, creating small fake cards that are nothing more than pieces of plastic.
Keep that in mind, and only buy cards from vendors that you trust — that goes double if you're thinking of making the purchase online.
Also, bear in mind what we've talked about above. MicroSD cards are complex and tiny electronic products, but they're also mass-produced.
Considering that, you need to expect that even a Samsung or a SanDisk product can end up being faulty from the very moment you take it out of its packaging.
That's why you should always do a practice run with your card before using it in a way that's critical for your work. And yes — having spares is also important.
Never forget that memory cards (no pun intended) aren't supposed to be used for long-term storage of anything — especially not important 4K videos or photos.
As soon as you're able to, you should back your data up and keep it in more secure storage. A microSD card is only supposed to be used for immediate storage.
One final thought — we recommend formatting your microSD cards in the same camera that you will use them with. And if you can't do that, we recommend doing the formatting using your computer.
Still, make sure you read up on formatting and use high-quality software for that purpose. The last thing you want is to ruin a perfectly good SD card by formatting it badly!
Types of memory cards
First of all, it's important to mention that, in most cases, you won't have to choose between alternate types of memory cards.
In most cases, when you've got a single device — its design pretty much tells you what kind of card you need to use. So, if you've got a camera that has a slot for SD media — it won't be possible to insert CompactFlash cards in there.
Still — if you're going to pick the best card in every category, knowing their differences and similarities will be important.
Also, if you're already accustomed to using one kind of card and have a bunch of them at your disposal — this can be a determining factor when it comes to buying new cameras or recording devices.
SD
We'll take a look at the most widely used kind of card in most detail in this article — SD. Though, it should be mentioned that the variants of this type (SDXC and SDHC) are the ones that are in wide use today.
The original SD cards aren't in circulation anymore, as they're not manufactured due to being outdated. Sure, the ones that do exist can be used in some newer devices too, but you won't them providing you with the same level of capacity or performance.
On the other hand, the SDHC models are the higher-capacity cards that you can buy nowadays. These are generally cards that provide capacity up to 32GB.
This means that they're an excellent choice for everyday use and some lower-level devices. But, if you want to use DSLRs or mirrorless cameras to capture 4K video, they may not provide enough capacity.
That's where SDXC comes in — these are cards that have more than 64GB of capacity, and they were specifically designed to be used with devices that hold large-volume media — including 4K video.
The same goes for any other type of application that is sensitive to large volumes of data. These cards generally offer enough space, but you should keep in mind picking one doesn't just depend on volume, but on other factors as well.
Finally, we've got the micro variants of SDXC and SDHC — these days most commonly known by their short handle, microSD.
These cards can give you roughly the same level of performance as you'd find in regular SD cards, but they're far more compact.
And that's because they were manufactured for devices that are smaller as well, such as phones — though some conventional cameras and portable models are compatible with them as well.
CompactFlash
The next type of card that you should know about is the CompactFlash — these are the choice format for many manufacturers of DSLR cameras.
While plenty of camera manufacturers include slots for CompactFlash on their devices as well, the performance of SD cards has simply proven to be superior enough to make CompactFlash unneeded.
CFast
This card type is similar to CompactFlash if we consider shape and size, but their slots aren't compatible.
Unlike CompactFlash, CFast is not obsolete — it's still used in plenty of video camera kits and professional stills.
XQD
The XQD card format is perhaps the most niche one out of all that we've described above.
As of now, these cards are compatible only with Nikon and Sony DSLR camera models — and not all of them either.
When it comes to performance, they're on par with SD cards — but their shape and size is more similar to CompactFlash, though a tad smaller.
CFexpress Cards
This is an evolution of the previously mentioned XQD model.
This is another type of card that's speedy enough to be competitive with the SD format, but only a select few high-end models of cameras actually use them as of 2020. These are mostly Panasonic, Nikon, and Canon models.
Frequently Asked Questions
Which is better: SD SDHC or SDXC?

As we've explained above, SDHC and SDXC cards don't really have any different functions, and they're not physically different formats. They simply have different storage capacities.

So, with that in mind, know that this entirely depends on your personal preferences and needs.

If you require a larger storage capacity from your MicroSD card, you will definitely want to go with the SDXC — the former is only capable of storing a maximum of 32GB. Though, this can also be enough for high-res photography — but not as easily for 4K videos.
How big is a 1 hour 4K video?

This is a complicated question to answer — certainly more complicated and less straightforward than you might think at first. The answer depends on a variety of factors.

For one, there's how long your material will be in terms of running time. Then, your format of choice — and finally, how many cameras we're talking about.

So, bear in mind that shooting videos in 4K will take up a huge amount of space — that's the main reason these cameras require a lot of microSD storage in the first place. For instance, a ProRes file (4K resolution) that's only a minute long takes a little over five gigabytes of space.

With this in mind, you can see just how much space you'll need to shoot footage with such astounding data rates. Also, simple math leads us to the conclusion that an hour of raw 4K footage will require almost 320GB of storage space.

Which micro SD card is the fastest?

These days, consumer electronics in the recording industry are producing images that are less and less compressed and at higher and higher resolutions.

Thus, manufacturers of storage hardware have answered this demand by producing memory cards with some truly incredible speed characteristics.

If you take a memory card that's used for 4K video recording, you'll find that some of the fastest ones on the market can proudly be compared to SSD drives; something unimaginable just a couple of years ago.

And if you're looking to get the fastest cards possible, only buy ones with the UHS-II classification. That moniker is something only cards that can reach 312MBps speeds possess.
Which is better: UHS 1 or UHS 3?

As we've just explained above, UHS 1 means that a card can reach a lower maximum speed than a UHS 3 card. However, this is far from the only metric that you need to think about while buying an SD card.

If speed was the only thing to keep in mind, choosing the best microSD card for 4K video would be easy. However, apart from thinking about how fast your card needs to be — you also need to think about its reliability and quality of manufacturing.
Does the SD card affect video quality?

When you pick an SD card, you should know that it bears no direct effect on the quality of any video you record. After all, the look and quality of the video depend solely on the specifications of your camera.

If the camera is capable of producing 4K videos — you will be able to expect an output in that resolution.

That being said, there are lots of ways an SD card can affect the quality of your work, if not the resolution of the imagery itself.

Remember that a 4K video requires not only an excellent camera but an appropriately high-end and fast-paced SD card. If you fail to pick the right one, you may encounter stuttering and recording failure because your camera output can't be received by your SD card properly.

And if you buy shoddy cards from unreliable manufacturers — you'll be facing the constant risk of general equipment failure.
How do I choose a micro SD card?

We have provided you with plenty of different factors that you should consider while picking the best possible SD card for your needs.

In this specific case, those needs were the shooting of 4K videos. But as we have pointed out before, your intended use can differ — and with that, different metrics related to your SD card will be more important.
Final Thoughts
As you can see, choosing the best MicroSD card for your 4K video can be an interesting, but tedious process. Once you enter the realm of 4K video recording, you'll find that not knowing the intricacies of different storage options for your camera can be a serious downside.
Namely, because there are a lot of different storage formats that you might need to differentiate from.
Plus, SD cards aren't the only format out there — as we've already broken down above. However, these are the most widespread temporary storage options for 4K cameras.
ust make sure that your video camera is one of those compatible with SD formats — and you're good to go. We hope that this guide was useful to you, that you have learned something new on what makes the best micro SD card for 4K video, and that you feel more confident about making the purchase. Stay safe, guys, and have a good one!