These days, having a great security camera is a must for any business — and it's becoming increasingly important for residential households as well.
And there's a wide range of choices among cameras available, but that only makes things more difficult when you have to settle on a single one. You have all kinds of different requirements to think about — and the camera also needs to fit into your budget.
Because of this, there are plenty of factors which you'll need to carefully consider; regardless of whether you're choosing the camera for your home or your place of business.
But don't worry — we're here to make it as easy as possible!
You won't need to spend hours upon hours going through endless online reviews and feature explanations to make an informed opinion. Instead, you can rely on our in-depth guide to help you choose the best possible 4K security camera system in 2021!
With the cameras that we've included here, you won't have to deal with costly and complicated installations — and while different customers have different needs, we believe that we've created a list of products that provides something useful for any kind of buyer.
Our Pick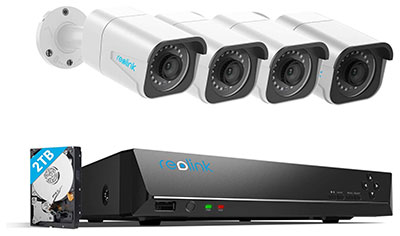 Reolink product doesn't lag behind in video quality either, or else it wouldn't rank so high on our list. Considering this, you'll find true 4K capabilities, with ultra HD imagery in a glorious 3840 x 2160 video resolution. You won't have to painstakingly zoom in to see what's happening on the recordings, and then squint at it for hours — everything is clearly visible.
The first among the best 4K security camera systems in 2021 that we'll take a look at is simultaneously our favorite pick — the Reolink 4K system!
This is one of the best products in this niche that you can find on the market; providing your household or business with the around-the-clock security that you need.
What we liked about Reolink 4K PoE
As we've already talked about, there are more than a few things to keep in mind when you're choosing this kind of camera system. And one of the main things that we've taken into account (and that we've noticed as a positive here) is the versatility of the products.
You can see that in this camera system as well because it's got both great video and audio capabilities. If you use the "record audio" function, you'll be able to get a high-quality audio stream from your security cameras as well.
Another thing we appreciate when it comes to this camera system is its ease of use — which begins with an incredibly simple installation process.
Many high-quality camera systems require you to have an intricate knowledge of electricity and the operation of these devices — but that's not the case with Reolink! Even someone with no clue about the inner workings of such cameras can easily set up this home security system.
In fact, the audio, video, and power go through just one PoE cable; meaning that the installation is as quick and simple as you'd want it to be. There are no concerns about being confused with multiple entangled cables; everything is surprisingly easy to install.
Of course, the installation is only a small part of your time with any security system. If you truly want to make sure that you won't have any difficulties — it needs to be user-friendly over the long term as well.
And that's something that Reolink manages as well, with an amazingly responsive app; notifying you of any disturbances detected by your camera system.
And not only do you get a push notification on your phone, but you also get an email alert; if there's something that requires immediate action and leaves no place for delays, Reolink won't disappoint you by becoming a bottleneck in your home or office security. As soon as anything happens, you'll know instantly.
Finally, we do have to mention that one of the main reasons we've gone with this product as our top choice is its ability to cope with any kind of weather conditions.
This is important, as almost all home security cameras are placed on your home's exterior; the last thing you want is the camera becoming rusty or run down after a short while; luckily, it's not something you need to worry about with Reolink!
The downsides
Seeing as this is our top choice, you've probably realized that it doesn't have many downsides by now.
That being said, we have to notice that Reolink's motion detection technology in this model is not the latest cutting-edge stuff — though it still gets the job done.
How we picked
As you'll see below, all of the 4K camera systems that we've included on our list are high-quality products; there's no sense in showcasing the bad stuff.
However, that's precisely where the problem lies — the devil is in the details, and it's not easy choosing among a couple of objectively good, yet similar products.
That's why we'll tell you how we settled on our top pick right away. Sure, there are a lot of different factors to consider when you're buying this kind of security system, and we'll describe them in more detail in our buying guide below.
But when push comes to shove, you need to balance out image quality, additional features — and the camera's price.
Naturally, high-end products are always better; but the trick is finding something mid-range that suits your purposes without emptying your wallet. And that's why the Reolink product was our top pick!
Best alternatives
Its motion-sensing technology allows you to select specific zones that need a more sensitive treatment than others; as well as zones that the camera should disregard.
Next up, we've got another excellent 4K security camera system to buy in 2021 — the SMONET Wired Security Camera System.
And we can't say that it's of any lesser quality than our first pick above; the only two things that separate them are ease of use and DVR versus NVR. That being said, SMONET holds its own with any of the other great home security systems.
It's got four great cameras, a high-quality and responsive DVR — and recording capabilities that give you the ability to have a clear overview of your surroundings, regardless of whether it's nighttime or daytime!
What we liked about SMONET
One of the best things that we've noticed about the SMONET device is its astoundingly modern motion detection system.
You can forget about worrying if your camera will alert you to any intruders that might be malicious actors or animal pests; this camera will readily provide you with real-time information of any movement in your yard.
After all, there are plenty of homes where a security camera might overlook busy stress; so getting a push notification every time a car speeds by wouldn't be very practical.
Luckily, the SMONET camera system successfully helps you avoid any such troubles. And you can practically use it in any way you want; considering you've got the option to turn off all motion detection altogether.
Furthermore, the cameras are some of the sturdiest you'll find in any market — with IP66 weatherproofing allowing it to neatly function in even the most severe weather conditions.
There's no need to think about what snow, wind, or rain are doing to your security system; if you go with SMONET, it'll be impervious to all of that.
Plus, you'll find that this security system contains a hefty built-in hard drive, allowing you to keep all of the recent records pertaining to your surroundings for as long as you need them.
With SMONET, you get 1TB of hard drive space — more than enough for a lot of manual recording, video, and motion detection information.
So, if anything happens and you want to go back and check the tapes for movement or suspicious sights, you can do it whenever you want with complete ease. Furthermore,
This immense ease of use is further elevated by easy remote access — regardless of which device you want to use to check on your SMONET security camera systems, you can do it quickly from their app and dashboard.
Monitoring is as easy as clicking on the app and immediately having a look at what's going on in your garden.
Finally, we have to mention that most users have reported that the SMONET customer support service was incredibly helpful, with quick and useful replies to any user issues.
The downsides
When it comes to downsides, there aren't many to SMONET — once you get it up and running. However, while ease of use is a staple of their products when you install them, the installation process itself leaves something to be desired; which is why it doesn't take the top spot on our list.
Still, as we've said, the customer support is pretty helpful — so even if you have some big issue, they'll be happy to sort it out for you.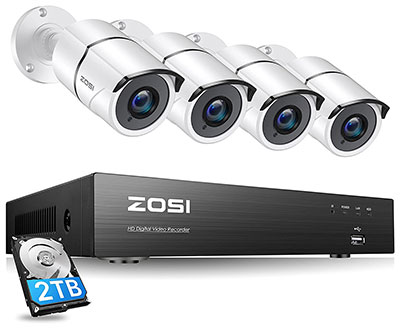 With its CMOS sensor, the image quality is noticeably different across the board — with better low-light performance, contrast, and more vibrant colors.
Our third choice is one of the highest-quality cameras you'll find in any security system — the ZOSI 4K Ultra HD!
While the installation of this product is complex, you'll find that it pretty much cements the fulfillment of all of your needs when it comes to home security.
What we liked about ZOSI
One of the things where the ZOSI system wins out compared to other options on this list is the image quality.
While many others are also at 4 times the 1080p resolution which you expect from 4K — the ZOSI system contains a special CMOS image sensor, providing its cameras with the ability to capture more light than others.
You'll be able to capture everything that goes on in your home with an amazing level of visual clarity; not only are the details sharp enough, but you can digitally zoom as much as you want without much of a loss in quality.
In fact, the camera is capable of capturing clear images up to 200 ft during daytime and 150ft of distance during the night; an impressive feat considering how good the image quality is. But the part where the camera system shines is the storage space.
On the one hand, the ZOSI system gives you 2TB of storage space for your recordings; which is a huge amount even when you consider that you're recording 4K videos.
But on the other hand, the storage space you need is also smaller because ZOSI uses one of the most advanced video compression methods we've encountered.
The smaller data footprint that their videos have also allows you to keep recordings for much longer than on other security systems.
As you'd expect from such a high-level security camera, there's also a smartphone app that you use as a security dashboard for your home — the Zosi Smart App.
It's free, and it comes with the hardware. Once you set it up, all you'll need is an internet connection, and you'll be good to go. You can stream any previously recorded footage that you've kept via DVR, or even see live footage from the cameras on your phone.
The motion detection doesn't leave much to be desired, with quick alerts for any unexpected movements on your premises. Plus, the motion detectors are wirelessly connected to your Zosi Smart App; so you'll get notifications instantly.
And false alarms are kept to a bare minimum with the advanced detection zone settings that you can tinker with and shut off high-traffic areas from being detected.
The downsides
While the 4K imagery of the camera system is even better than with other 4K security camera systems that boast the same resolution — you won't notice the difference unless you use a 4K TV or monitor to look at the recordings in their native resolution.
Also, while the system has all the necessary features that you expect; the installation is quite complex, with a lot of different cables. It's not likely something you can manage without professional help if you're not well-versed in electronics.
That being said, you may want to sacrifice an easy installation for more advanced features later on. If that's the case, the only remaining thing to contend with is the price — with all of the quality-of-life stuff that the camera system brings, you can expect a steeper price.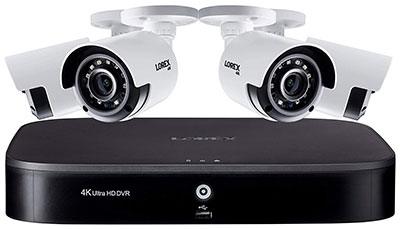 The robust construction of each cam is capable of enduring even the harshest of weather conditions and can withstand a fair share of physical punishment.
Our final pick of the day is Lorex's Weatherproof 4K camera system.
Although not as versatile as some of our top choices, it's a dependable, easy-to-use system that offers 4K footage, a variety of selectable modes, and compatibility with most of your smart devices.
Wha we liked about Lorex
First and foremost, the Lorex system is comprised of four sturdy bullet cameras.
Each camera offers a remarkably wide FOV, all the while providing numerous mounting options. Furthermore, the night vision mode allows the cameras to capture vivid, clear footage up to roughly 90 feet even in pitch-black conditions. The range of the NV goes up to approximately 120 feet under poorly lit conditions.
Another huge benefit that Lorex's weatherproof camera system offers is smart compatibility. All of the cameras are fully compatible with Amazon Alexa, as well as Google's Voice Control feature.
Now, most home camera systems can be used from practically anywhere through proprietary apps, but what makes Lorex different from the rest is the fact that their app is substantially more intuitive and dependable.
With a simple UI and largely automated features, you'll be able to access the majority of the system's settings regardless of where you may find yourself at the time.
Additionally, you'll get a full terabyte on the HDD that is built into your DVR, allowing you to store and review any footage that the cameras have taken.
Finally, Lorex's system packs also pack a motion detection feature, which will automatically send notifications whenever either a person or a vehicle has been detected.
The downsides
There are but a few drawbacks to the Lorex 4K security camera system.
The first and most notable one is the sharpness, or better said, the relatively poor accuracy of the motion detection feature; namely, it's so 'strong' that it will also inform you that someone is in the vicinity even if the bushes are blowing out due to strong winds.
Secondly, it's not exactly affordable. It's just a tad cheaper than Reolink, the latter which comes supplied with unarguably better features and technologies.
Things to consider before buying 4K security camera
If you've started browsing the many different options you've got available when it comes to the best security camera systems in 2021 — you're likely to be overwhelmed by the immense array of choices.
Believe us, though; finding the best possible camera doesn't have to be as hard as it first seems.
After all, this kind of wide selection is one of your advantages as a buyer — at least once you learn everything you need to know about security camera systems.
And that's why we're here! You won't need to endlessly go through the internet searching for dozens of different guides — we'll condense all of the stuff you need to know right here.
So, where do we begin?
As you might assume, we'll take a look at some of the most important tech and features that most cameras provide, and try to narrow down our priorities to a couple of important things we don't compromise on.
And to do that, you need to ask a series of questions about the app — like how weatherproof it is, how easy it is to install, how its night vision detection functions, and so on.
The answers will vary, of course — and the quality of the features which you've prioritized the most will help you pick the worthiest camera. With that in mind — let's get into the individual features!
Fast Motion Detection
One of the main things that you should consider while choosing the best camera system is its motion detector quality.
As you may notice, all of the cameras that we've talked about here have automatic motion detection sensors; it doesn't make much sense to use any kind of camera without such capabilities in 2021.
And with that in mind, you need a motion sensor that's quick and agile; on a camera that quickly reacts to any movement without hesitation.
Depending on the type of camera that you buy, you may notice that the reaction time depends on your WiFi strength or the quality of your cable connections.
But regardless of that — a high-quality camera will still "wake up" and react to any movement; the only thing that depends on your Internet quality is how quickly you'll get a phone alert.
In this regard, you don't want to make compromises — you want lightning-fast performance. And if you find that some of these cameras offer lower-res videos but better reaction times; we recommend that you think long and hard about which of these you prefer.
Sure, 4K video is great — but 720p resolutions still give you a decent overview of the situation, while also taxing your WiFi bandwidth a lot less to transmit the footage; the chance of your local network being overloaded is far smaller.
With that in mind, don't underestimate the motion response features and their importance — particularly in multi-camera systems.
Video Resolution
Most of the best 4K security camera systems in 2021 will make a big deal out of their huge video resolutions — and with good reason.
After all, it's important for your security cameras to have a high video resolution so that they're able to capture any important events in your surroundings with a sufficient degree of quality.
However, you need to approach the matter of video resolutions realistically. While this is an important factor, you should know that a great resolution isn't the only thing that affects your image quality.
For instance, you need to have the right device to view 4K footage. In practice, most phones and monitors aren't capable of providing you with this; converting the footage into the (still great) 1080p resolution.
Plus, there are other factors too — like the strength of your WiFi signal. If the signal becomes too weak, most streaming algorithms will just switch to a lower resolution; rendering your 4K capabilities useless.
In fact, many people will tell you that they don't even manage to get 1080p quality on a daily basis in practice with their HD cameras.
And all of this doesn't mean that 4K is useless; on the contrary, it can be pretty great when you want to identify someone on the footage, or simply want to capture an event in detail.
Just be more observant about the other things that will affect your image quality — resolution is crucial, but it's far from the only thing that you need to take into account.
And yes, all of the cameras on our list support 4K; but it's up to you to pair this with devices that are capable of viewing this footage and a great Internet connection.
Ideally, if you're looking for a camera-based on its resolution — find one with a fluid or flexible resolution. These provide the least fluctuations when it comes to changing conditions that require your cameras to display lower resolutions.
Night Vision
In most cases today, security cameras serve as crime deterrents as much as they serve to catch the perpetrators of already committed crimes.
But in both cases, there's one important factor to consider — most break-ins and similar crimes happen at night. The reasoning here is pretty obvious; criminals assume that almost no one will notice them skulking around during the night.
But that's where your awesome security camera comes in to catch them in the act — as long as it has adequate night vision capabilities, of course.
And that's why night vision image quality is one of the fundamental building blocks of any security system. If you can't clearly record what's going on at night in your surroundings, the camera is pretty much no good in one of its most applicable situations.
That's why we recommend picking a camera that can both record nighttime imagery clearly — and at long ranges. Anything below 100ft is pretty useless for 4K cameras; so make sure that you've got something that's usable for that kind of price range.
If you can find some test images of the night vision footage from a camera before you buy it, that would be ideal. When it comes to the actual functioning of the night vision, most standard cameras use infrared night vision; though there are some niche alternatives as well.
Two-Way Audio
Now, here's a feature that you'll notice we haven't talked much about in our reviews of specific camera models — two-way audio.
In the past couple of years, this has become a staple of home security systems. Indeed, even some of the cheapest models out there contain such features.
However, there are a couple of reasons why we don't specifically consider this feature to be of major importance.
First, the two-way audio quality in most cameras is pretty subpar; while they can decently record audio along with video recordings, the microphone speaker system is often laggy, with a lot of background noise as well.
Plus, while having the ability to communicate with anyone who arrives at your door is neat — we don't specifically think that it adds a lot of security value to the system; it's mostly just used as a gimmick feature to justify higher prices.
While some of the cameras we've reviewed here do have two-way audio, it's not a top priority if you ask us.
Still, there are upsides to this — many people believe that this can also be used as a crime deterrent; scaring away any burglars with the voice of the owner ringing through the speakers.
Also, some people use it as a home intercom system — calling the kids to dinner while they're in the yard, for example. But at the end of the day — there are more effective ways to communicate.
Video Storage
Naturally, all of that stuff that you're recording has to go somewhere. Considering that, you need to think about storage space as an equally important component of a great security camera.
These days, many people make the mistake of buying an incredibly powerful camera that's surprisingly affordable; only to discover that they've made an unwilling compromise on storage space.
With wide viewing angles and a clear night vision view, ultra-HD videos can take up quite a bit of space; particularly if you decide to save them in the original 4K resolution.
That's why storage is an important asset for 4K cameras; without a lot of free space, you'll likely be deleting your recordings every other day. And yet, you don't want to spend half of your budget on storage either — so you need to maintain a tight balance while picking the specific model.
There are plenty of things that influence your decision here. For instance, a lot of it rides on how much you intend to meticulously look through camera footage.
If you aim for more security, you will likely leave your cameras to record around the clock; however, if you're prepared to rely on the camera's motion-triggered sensors, you can just set most of them to record only when they detect a movement.
Using the latter option is a good idea if you don't want to pay more upfront for a sizable hard drive, or if you don't want to pay a monthly subscription for cloud storage with NVRs.
There are also cameras that support microSD cards for storage, but this is a better option if you won't be recording all the time — even with the most sizable cards, the microSD format isn't likely to give you all of the storage you need.
Field of View
Of course, it's not all about how much recording quality your camera has — it's also about what it records. And this means that you should choose this equipment based on the area of coverage that it supports.
Professionally, the term used for this is the "field of view". In layman's terms, that's the angle found between the two edges (horizontal) of the display of your camera.
In most cases, a narrow lens will mean a more "specified" target area and a smaller field of view. If you find that the camera specifications on a security system don't mention the field of view, chances are that they're trying to suppress the fact that it's not impressive.
So, consider this — what kind of field of view are you looking for?
Well, 110 degrees is pretty much average when it comes to indoor cameras — but that kind of coverage will serve for outdoor cameras as well, depending on how you place them.
Still, if you want to monitor the entire garden and not just your entrance, we do recommend going with a 180-degree view if you can afford it.
Frequently Asked Questions
Are 4K security cameras worth it?
The short answer here is yes — absolutely. You just need to remember what your 4K security camera system is there to preserve.

After all, you're getting the system to prevent any potential break-ins, robberies, or other malicious activities around your home. And each of these can result in significant danger for both you and your family; along with thousands of dollars in stolen goods and property damage.

Compared to all of this, even a more expensive security system that sets you back upwards of $500 is worth it in the long run — giving you all of the long-term security that you need.
Is 5MP or 4K better?
Now, this is primarily a question of image quality. As we've mentioned above — if you have a higher-resolution camera, you will get clearer and more usable security footage; with more vivid details.

With that in mind, a 4K camera is better — it is bound to give you clearer and sharper images compared to a 5MP security camera.

If you're handling trespassers who were using a car, your camera might have captured their car's license plate numbers. However, the image quality of your camera will determine if the full plate number can be read from the footage.

Depending on the distance, a 5MP camera will still probably provide you with a shot that's good enough to yield actionable information; but 4K is a surer bet in this regard.
Which brand of security cameras is the best?
There are plenty of factors that go into choosing a security camera that's going to be a good fit for your household.

Considering that, there's no one brand that we can point to and say that they're the best with certainty — it all depends on what model you're looking at, and what your priorities are.

Of course, all of the brands that we've reviewed here are held in high renown among security consultants; you just need to pick the best one yourself.
Which is better Lorex or Swann?
Swann and Lorex are both well-regarded brands when it comes to 4K security camera systems. That being said, Swann is a better option if you don't want to spend too much money on your home security.

The average Swann camera gives you some smartphone integration capabilities and basic criminal deterrence features for under a hundred bucks.

Conversely, most Lorex models are far more expensive, particularly if you don't just want a real-time alert system but also want NVR or DVR capabilities. That being said, Lorex wins out in regards to the variety of options you have.

Their range of cameras is far more varied, with resolutions ranging from 720p to the high-end 4K models. And while Swann does have an impressive collection as well, Lorex is simply more diverse.
What is the highest resolution security camera available?
Each one of the cameras that we've reviewed here today has the highest possible resolution available on the market today — and that's 4K.

This is just about 4 times the resolution of any decent 1080p camera; meaning that you can expect to have the best possible image clarity that's commercially available to you today.
Wrapping Up
As you can see, there are plenty of different options when it comes to choosing the best 4K security camera system in 2021.
The good news is that 4K technology has become far more marketable in the past couple of years, allowing people to get the highest image resolutions for far cheaper prices than before.
That being said, you shouldn't simply chase for a bargain. Consider all of the features that we've discussed above, and you'll be able to choose from any of the many models out there; not just the great ones that we've reviewed here!