These days, all of us use plenty of different interconnected devices in our household. And sometimes, you have one trouble — they're just not compatible.
For instance — what if you've got a perfectly fine older TV or monitor that still works, but it doesn't have any HDMI inputs?
What if you wanted to make a home media center out of it, using your DVD player, streaming device, or even a modern game console?
This lack of connectivity would be a major issue. Don't worry, though — there are ways to solve this.
If you buy an HDMI converter box, you'll be able to go from an HDMI signal to a signal that's compatible with your other components with no issues at all.
This component signal can easily be used with any older projector, monitor, or TV. In no time at all, you'll be able to display everything that you wanted.
And the best HDMI to component converters can be useful for newer devices as well. There are plenty of situations where HDMI inputs on newer devices stop functioning; such as power outages and surges, or a particularly difficult storm.
If your television is damaged and you can't fix it right away — this converter may salvage it as a stopgap solution.
Using an HDMI converter means that you can take an HDMI signal and transfer it to a wide variety of formats. Of course, the precise converter that you need will depend on what kind of output you want.
And most importantly, any device that's non-HDMI compatible may make use of this. It's not just about monitors — you can use both video and audio devices.
Plus, if you've got a high-quality HDMI to component converter, there's no doubt about the fact that you'll be able to achieve excellent performance and a decent HD signal; even if you're using an older device.
In fact, there's no issue with converting old analog VGA signals to bigger HD resolutions. And don't worry if you've got a jam-packed room with a lot of different devices; as you'll see, these converter boxes are highly efficient and incredibly compact.
All you need to do is to buy the right one — and that's something that we'll help you with.
Our Pick
Easycel converter is a great solution that can rectify any connectivity issues.
Our top pick on this list is an extremely durable converter that can boast an incredibly robust design from EASYCELL. This product also has a handy audio scaler capability.
You can use it to convert an HDMI signal into component video and audio, giving you an incredibly multimedia home experience.
You can freely enjoy all of your signals from video and audio inputs in glorious high definition; whether you want to watch something on television, projector, or monitor that has a more traditional connectivity option.
Why Easycel is our top pick
First of all, it comes with a built-in scaler engine, allowing you to change the scale of HDMI signal resolutions exactly according to the needs of various component signals.
In other words — it doesn't matter what kind of device or screen you intend to use, you will be able to enjoy an optimal video and audio experience.
And it doesn't only give you an optimal solution to any display problems; you can also use this if the resolution from your video source is higher than the maximum output resolution. Plus, you can select the HDMI resolution of your choice to get the most satisfactory results.
This kit comes equipped with an HDMI cable, a power adapter, and the component cable that you'll need — in other words, it's a full package.
The buyer experience seems to indicate that this device offers high performance and impressive build quality. There's a lot of well-built connectors, buttons, and a decent matte finish. You can expect a decent picture quality, and you get all of the cables that you need right out of the box.
Most people who buy this product use it for connecting VHS devices to their television sets or PC monitors. And the scalar function is more than excellent for fine-tuning your display results for the optimal signal.
Even if you're not tech-savvy, you'll be able to use it with ease due to its extremely handy level of usability.
The downsides
There aren't many downsides to this as it's definitely one of the best HDMI to component converters, other than a relatively low level of technical support for the product.
How we picked the best HDMI to component converters
When it comes to picking the best HDMI to component converters, we have used a variety of factors that have led us to the ones that we've presented to you here.
First of all, we should mention that the specific converter you need depends on your device setup and the required connectivity options; there is no universally best solution across the board.
That being said, we've looked at devices that have video scaling options — excellent feature to have if you're going to connect these with older devices.
Apart from that, manufacturing durability is also important — don't get cheaply made devices regardless of their advertised features, seeing as you're likely to need new ones quickly enough.
Best HDMI to Component Converters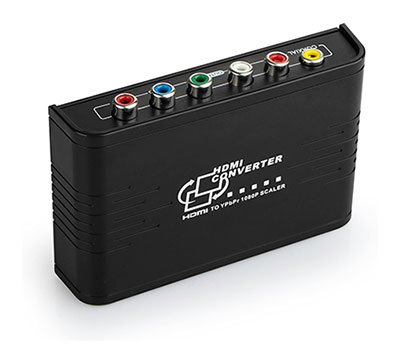 This is a universal connector that anyone can use. It has plenty of benefits, such as decent picture quality, versatile device compatibility, handy ease of use, and great video streaming options.
Our next pick of the draft is the Musou HDMI to component video scaler converter — it's a smooth converter that allows you to go from an HDMI signal into an analog one without any issues whatsoever.
It also contains an output slot for coaxial audio signals, seeing as your analog video output can't transfer audio signals by itself. But the audio quality that you can achieve with this is amazing, seeing as it supports left and right stereo signals.
Plus, it's incredibly easy to install and use; you won't need more than a couple of minutes to set it up. The device is incredibly user-friendly, as it requires no additional set-up up beyond the initial plugging in.
What we liked about Musou converter
First and foremost, this device is excellent because it has a neat resolution button; one that allows you to quickly reach the output resolution that you desire.
Beyond that, it fully supports the upscaling and downscaling of your HDMI signal across different channels. Plus, there's a display screen neatly laying out input and output resolutions.
One of the main reasons why we've added this device to our list of the best HDMI to component converters is the fact that it's got an incredibly high level of usage versatility. In other words, you'll be able to use it with all kinds of output devices.
It has support for both 1.2 and 1.3 HDMI, DVI connections, as well as PlayStation devices, notebook laptops, Apple TVs, blu-ray video players, and plenty of other devices. You can pretty much connect anything using just this converter.
Most of the buyers that have used this device report that it works splendidly. The handy resolution button works flawlessly, allowing anyone to set the resolution that they want for the optimal viewing experience.
And the connectivity with all kinds of audio and video devices functions as advertised, both for gaming and movies and TV shows.
The downsides
There are two downsides to this device that stop it from ranking at the top spot on our list of the best HDMI to component converters. For one, it doesn't work the other way around — you can't use it as a component to HDMI converter.
Also, there's a lot left to be desired when it comes to the quality of the RCA jacks.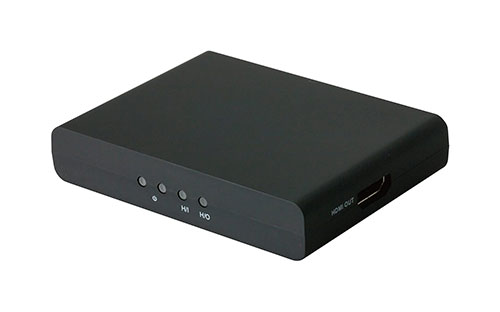 Not only does it give you impeccable options for streaming, but it also has an excellent connectivity between HDMI input devices and your component output.
The next product that we'll review here is a simple and decently built HDMI to component converter.
It lets you transfer a signal from an HDMI input into any kind of YPbPr analog video, producing amazing display results each time you use it.
Many people report that it's great at video streaming from all types of HDMI sources.
What we liked about Frontier Factory
No users ever have any troubles or hassles while making use of this. Plus, it has handy indicator lights; meaning you can clearly see how and when the device is operational.
It's also perfect for saving energy because it can enter sleep mode while you're not using it without being completely turned off. It also has its own power supply in the form of a mini-USB connector.
Most users report that the setup for this connector is incredibly easy. You can take any kind of HDMI output and connect it to any kind of analog output using this device for an uninterrupted streaming experience.
This makes it ideal if you're looking to get a high-quality converter, even though it's a bit pricier compared to the competition.
The downsides
As we've just said, the product is somewhat more expensive compared to its peers; plus, you don't get a component cable within the kit, which is a big minus when you take a look at the other choices on this list that fully equip you when you buy them.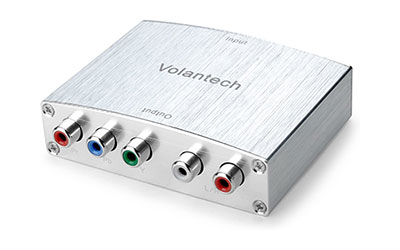 It has an R/L audio jack, so you can fully transmit the content that you want from your HDMI devices to older, more analog ones.
Our last choice is not the least, considering the extreme level of quality that you expect from this Volantech HDMI to component converter.
The design of this device is among the richer ones, and it has a neat scaler that assists you in flawlessly converting any digital HDMI or DVI (video only) signal to the appropriate analog component signal.
One of the reasons why we've included it here is that it has a high operating frequency and great bandwidth, making sure that you can obtain high-quality video that's sharp, detailer, and crystal clear.
What we liked about Volantech
As we've mentioned just now, one of the main selling points of this device is the fact that it has support for right and left stereo; letting users obtain a full multimedia experience regardless of their output and input devices.
And depending on the content and the devices in question, there are appropriate resolution scaling mechanisms that let you fine-tune your viewing experience.
Most users report that it's easy to install and surprisingly durable for its low price. If picture quality is something that matters to you greatly but you don't really care about the quality of your audio signal, this device will take care of all of your needs.
There aren't even any complicated instructions that you need to follow to get it up and running; all that you have to do is to plug in the appropriate devices into the input and output slots.
The downsides
While the video quality is certainly great, you need to keep in mind that it doesn't work with the newest HDMI standards.
It's a little outdated in this regard; the maximum standard that it supports is HDMI 1.3, while the newest one is 2.1.
So, if you want to use it with the newest devices, you may experience some connectivity issues.
HDMI To Component Converters 101
People that aren't exactly tech-savvy may not have the first idea about what an HDMI to component converter is — let alone which one is the best and what kind they need to buy.
First and foremost, you may not know that, depending on the store and the manufacturer; there are plenty of different devices that may technically fall into the category of an HDMI converter.
Basically, any device that converts a signal between two formats using a physical connection is an HDMI converter.
However, you'll find that there are devices that only consist of a two-way cable with this label. In most cases, this is not what you will need for HDMI conversion; box converters are almost always the way to go.
Different Types of HDMI converters
As we've mentioned before, if you've got a non-HDMI input and an HDMI output — you will need a converter to bridge that gap. Just think of the signal as a river current that's guided by your converter into a suitable line.
But how do HDMI signals work in general? For instance, your DVD player uses an HDMI signal to broadcast video content to your TV. Or, an HDMI source may connect to a VGA display; all of this is possible if you've got one of the best HDMI to component converters, but you can't do it with just the devices alone.
The reason for that is that older and newer devices with different signal compatibilities just don't "interact" using the same "language". You need to give them a "translator" of sorts, and this is what the converter is for.
Of course, it's a bit more complex than that, but for the average layman, this is pretty much everything that you need to know to actually use the devices. And don't worry — we'll go through every type of converter and explain what they're for.
VGA to HDMI
The first type on our list is a VGA to HDMI converter. These are generally used to bridge the connectivity gap between a newer television (in other words, a device that has an HDMI slot) and an older device (such as a gaming console or DVD player) that uses an analog VGA signal.
Also, a lot of these VGA to HDMI converters contain an audio input which they combine in the HDMI output signal; seeing as this format can contain both video and audio. Conversely, a VGA signal can only transfer video data.
USB to HDMI
Next up, we've got the USB to HDMI converter. This type of signal adapter serves to connect a computer or laptop that has a USB port and an HDMI-compatible external device.
In essence, you use this type of adapter for older computers that don't have HDMI slots and newer monitors that only use HDMI cables.
Or, on the other hand, you can use this to create a multi-monitor setup with laptops that often have only a single HDMI slot. That's a great way to add additional monitor capabilities.
DVI to HDMI
Also, there's a DVI to HDMI adapter. Essentially, a DVI signal is nothing more than the video signal of an HDMI, but without the audio signal that an HDMI transmitter can carry as well.
So, if you're only going to be transferring video from one device to another, you can just use a DVI to HDMI adapter and you won't need anything else; in that case, a cable adapter will be enough.
On the other hand, if you want to use a DVI source that's transmitting audio as well, you will require a box converter that can combine these two signals into a single HDMI output as well.
Composite to HDMI
There are also composite to HDMI converters. Usually, this is used for specific devices such as old game consoles or ancient DVD players that were manufactured before the HDMI format was even a thing.
Composite is just another type of analog video signal, much akin to a VGA one. To use devices with such capabilities with newer monitor or TV models, you will need to convert their output to a digital signal. In this case, a simple cable won't be enough.
HDMI to DVI
As we have already mentioned while talking about the DVI to HDMI converter, these two formats essentially use the same kind of video signal for transferring displays.
In other words, if you're just going to need the video component from an output, an HDMI to DVI cable will be quite enough. On the other hand, if you need the audio that's being transferred via the HDMI, you will need an active converter; one that can make two disparate audio and video signals and send them using the appropriate outputs.
HDMI to VGA
Now we're arriving at the possibly most difficult conversion on this list — HDMI to VGA. While we won't get too technical with details, suffice to say that HDMI signals use a protection system dubbed HDCP.
The sole purpose of this is to stop HDMI signals from being transferred to analog signals with insufficient protection — such as VGA. While there are some products that let you convert an HDMI signal to an older VGA one — they aren't numerous.
Component Cables
Generally, it's easy to confuse component cables and composite cables — both linguistically and visually. Plus, both of them serve to transfer analog signals. Still, it's important to note the differences.
For one, component cables are manufactured as a more modern version of older composite cables; the former support HD, unlike the latter that cannot deal with high definition signals.
Many people also refer to composite cables as RCA cables; on the other hand, component cables are called YPbPr cables. Both references stem from how their individual connectors are named.
And as we've already stated, you will need separate audio cables — these are only capable of transferring video signals.
It's also important to note that, while component cables have a newer interface compared to composite ones; both types are slowly made obsolete because of HDMI.
This is mainly because they can't support resolutions as high as HDMI signals can. For instance, 1080p is the maximum that a component cable can support, which means that 4K display devices won't be able to reach their full potential with these.
So, if you're in that rare situation where you have an Ultra HD device without a working HDMI port, the YPbPr port won't be able to transfer the full resolution via component cables.
Still, that's pretty rare, seeing as most devices that support such high resolutions were manufactured after the HDMI signal was already an industry standard.
Things to consider before buying the HDMI to component converter
As you have noticed by now, even if you didn't know it already — HDMI converters are incredibly handy connectivity auxiliaries, allowing you to convert both audio and video (in most cases) for appropriate digital and analog devices.
However, while all of these products may seem identical to the untrained eye; there are a lot of differences that you need to keep in mind if you want to choose the best device for yourself.
Types
Even among HDMI cables, there's a wide variety of cable standards that you can choose from. So, it's important to see what kind of HDMI functionality you're dealing with on your devices before you decide on a converter.
For instance, there are standard cables, cables with Ethernet, and high-speed cables; all of them are compatible with different converters.
Compatibility
Speaking of compatibility, it's important to note that you'll probably be buying your HDMI to component converter to solve a specific connectivity issue; most people don't just buy these out of the blue.
However, that being said, you shouldn't expect to buy different converters each time you need to connect an HDMI device to an older analog one.
With that in mind, before you purchase one; check if it is compatible with other devices you have in your household, or with devices that you intend to buy in the near future. If you plan your purchase carefully, you'll end up saving money by not having to get different converters in the future.
Connectivity
All of these converters have a wide variety of connectivity options.
Plenty of them have different ports which increase their levels of usability, but there's no reason to get a more expensive converter with ports that you won't use.
See what kind of devices it can connect to before you buy one.
Cables
Many people disregard the day-to-day practicalities of their tech devices; such as the length of the cables that you'll be using.
But remember — if you don't have a lot of flexibility in terms of where you'll be placing your devices, this is an important distinction to make.
So, find a converter that comes with longer cables; though not too long, seeing as you risk your home media setup being messy and cluttered as a result
Scaling
Almost all of the devices that we've reviewed here have scaling options for higher and lower resolutions.
This is important because you want such capabilities for a variety of output monitors; as we've mentioned, you never know what device you'll use this converter with in the future, even if you don't need such features for your specific device setup right now.
Signal Processing
Newer converter models contain more advanced functionalities in terms of signal processing. While this may not be something you're intricately familiar with, we recommend looking at the devices that have this feature; this means that you'll be able to achieve more precise transmissions of various signals.
In turn, your operation will be smoother and less prone to hassles around the converter.
Durability
These aren't devices that you want to buy every other week or month.
Once you decide on the best HDMI to component converter, you will want to pick something that can serve you for a long while, instead of something that can break apart easily.
Customer Support
At the end of the day, there can be different issues with all kinds of devices — including these converters. So, you aren't looking for a device that's guaranteed not to experience issues; you need to look for a device whose manufacturers offer decent customer support.
That way, even if you do have some problems, your overall user experience will be smooth and streamlined.
Game Emulation and Composite Converters
There are plenty of things people use composite and component converters for. There are instances where people that use video game emulators between different consoles need these converters to achieve the perfect video and audio resolutions.
The scaler features are important in this regard because emulators automatically scale the video to 480i; on most modern monitors, this translates to a poor gaming experience.
On the other hand, VGA to composite converters are perfect for these purposes, because they don't perform any sort of automatic scaling.
However, it should be noted that you won't be able to get an excellent visual experience unless you have a SCART input on your RGB support.
While this is certainly a way you can achieve an optimal experience, you will need to do some optimization on your video card's VGA output; a fiddly process, especially when we take the assorted drivers into account.
Home Improvement and Component Cables
Many people who deal with home improvement projects have issues running components and other cables through their interior walls, crawlspaces, and exterior walls to connect projectors in their living rooms without having a jungle of wires hanging everywhere.
For these purposes, a flex conduit would be needed to pass through the exterior wall —only if your junction box for power outlets is nearby.
So, all in all — you will have to plan on cutting through your drywall if you want to mount such an ambitious project.
S-video and picture quality
Many people wonder if using S-video cables with a component converter will result in a decent picture quality or any kind of quality improvement.
Generally, you shouldn't expect any kind of enhancements in picture quality with this.
Chromecast to RCA
Seeing as Chromecast devices have HDMI slots, many people wonder if it's possible to use a component converter with a Chromecast to achieve an RCA output.
Generally, there's no theoretical reason why this shouldn't work. There are reports of DIY people who have done the same. Though, while you may be satisfied with the picture quality on RCA outputs that do work with this — bear in mind that such compatibility isn't certain when all devices are concerned.
So, if you want to use an older computer monitor, for instance; you may see nothing more than color bars.
More Complex Setups
You'd be amazed at the level of complexity which you can achieve with HDMI to component converter setups. Many people use converter boxes in conjunction with selector switches, allowing them to freely toggle device inputs for HDMI on and off.
This can be connected to a power control panel that gives you remote control over your entire setup; though we recommend using a cooling fan to prevent overheating.
For example, there are situations where you want to use an older television set with a newer Blu-Ray player that simply doesn't have this sort of connectivity built-in because it lacks the needed input slots.
This is a situation perfect for an HDMI to component converter used in concert with these two devices. Also, as we've already talked about, plenty of users of component converters find that they first needed one to complete a game setup.
Using a gaming console with a projector is a great idea, for instance; but many of the older projectors lack the required connection compatibility.
With that in mind, using an HDMI to component converter can allow you to achieve the needed communication between the older projector connection and the newer gaming console.
Naturally, you shouldn't expect that the output resolution is always the highest possible and the picture to be as clear as the original one.
But, if you need a temporary fix in the case of TV sets incompatible with HDMI inputs (or vice versa), hooking these up via the converters that we've mentioned is an excellent solution.
At the end of the day, if you're not satisfied with the picture quality, you can always buy a more compatible appliance; but this is a great temporary solution.
Frequently Asked Questions
Now that we've gone over the factors that you need to consider while buying these kinds of devices, we'll take a closer look at some of the frequently asked questions regarding the best HDMI to component converters.
How do HDMI to component converters work?

These are generally inexpensive and small devices, with a single purpose — it's designed to make a digital signal readable and transmittable to analog devices as well.

Plus, they also serve to enable the upscaling and downscaling of resolutions depending on the input and output devices and their capabilities.
Can you get 1080p with component cables?

As we have talked about above, component cables are slowly becoming outdated solutions.

That being said, the 1080p resolution is their maximum operating resolution, so you can technically stream video content from HDMI sources in that resolution without any loss of quality.
Is the quality of the component video as good as HDMI?

Generally, component cables are technically capable of transmitting the full bandwidth which your 1080p HDMI input signal has to offer.

However, these cables are not as high-quality and modern as HDMI cables. That means that you simply can't expect a perfect transmission, because there is no such thing — you're bound to run into some tiny interferences from time to time.

Plus, the CEA does not recognize component video as a certified standard.
What's the maximum component video resolution?

Digital component video sources use single cables, with connector pins or signal lines that transmit the required signal.

Now, the color values that you can expect from these are transmitted on 1080p, 720, 567p, and 480p resolutions. So, the 1080p is the maximum resolution, and component cables don't support something like 4K video.
Does gold plated HDMI guarantee a better level of performance?

This depends on your home setup. Generally, there's no tangible difference between standards cables and those HDMI ones with gold plating.

However, if you use cables that are longer than 10 feet, the story is a little different. Namely, without gold plating, you may experience deteriorating signal and picture quality. In such a situation, you'll want to use gold plated HDMI cables.
Which are the fastest HDMI cables?

The speed of any single HDMI cable can be recognized via its logo — the packaging for your cable should contain the speed specification.

The cable itself has no indication of this, so make sure to save the original packaging or check it out first before throwing it out; at least if you want to see this specification.
How do I connect component cables to my TV?

If you want to hook up a newer HDMI-compatible television to a device that only has component cables — this is a perfect example of what these converters are used for.

Just check out the appropriate slots for all devices on your converter, see if you have the needed cables, and use the converter as a signal translator between the two devices.
Final Thoughts
As you can see, an HDMI to component converter is an excellent piece of technology to have around the house. Whenever you find a new use for older devices, monitors, or television sets — these converters will allow you to make your vision a reality.
Plus, they're generally quite affordable — even the higher-priced ones on our list. The only thing that you need to think about is how you're going to choose the right device for your precise needs.
With that in mind, we recommend referring to our reviews and buying guide above! We hope that you have found this article useful and that you've learned something new when it comes to finding the best HDMI to component converters.
Make sure you are staying safe out there and have a good one, folks!