Your kitchen isn't the most obvious place to put a TV but it can be a great addition. You may want another TV in the house to watch sports, something to watch while you're preparing your meals or to catch up on the news over breakfast. Whatever your reasons, you'll want to get the best TV available.
As space is usually limited, that often means looking for the best small TV for kitchen. As well as size, there is plenty of other factors to take into account such as picture quality, screen type and functionality.
To help you out we've found the top 4 models available today and completed in-depth reviews on each of them. Along with that, we've also developed a buying guide to give you all the info you need.
Our Pick
Insignia NS comes with a decent base but the unit can easily be wall mounted. You wouldn't have to get an expensive bracket with how small and light the TV is.
This has all the qualities that you'd want in a small kitchen TV. It is 24″ in size which is small but still big enough to give you a bright and clear image. It has a resolution of 720p which may not sound like a lot but on the smaller screen, it looks great and you'll have no complaints.
A key feature of this LED model is the smart TV technology. It will give you access to a wide range of streaming platforms including Amazon Prime Video, Netflix, Disney + and more. It's all ran through the integrated WiFi which works seamlessly.
Added to that smart TV technology is the Alexa voice control. It's brilliant for those times when your hands are full or you're busy cooking. You will be able to launch apps, play music or even switch around your inputs.
Speaking of inputs, there are 3 HDMI slots along with antenna, composite video, USB and ethernet ports. For outputs, there is digital optical audio, headphone jack and analog audio ports. This added to the WiFi means you can be highly flexible in how you use this impressive TV.
What we liked about Insignia NS-24
The functionality is the most impressive aspect here. You can make sure that this TV works for you with the smart TV aspects and also the voice control. It's ideal for those busy kitchen times or when those hands are dirty.
Installation and set up are fairly straight-forward and you'll be watching your favorite shows in no time at all.
Another noticeable feature of this TV is the speed at which you can search and navigate with ease. You'll have no complaints with the picture and sound quality, especially at the low price point. Overall, we think this is the best small smart TV for kitchen.  
What we didn't like
While we thought it was brilliant for the price, the picture quality isn't at the elite level but you're not going to get 4K quality with a TV this size.
Also, the TV is a little chunky when compared to other types but is only an issue if you absolutely need a low-profile unit for your space.
How we chose the best small TV for kitchen
There's plenty to think about before you get a regular TV but when looking at getting a TV for the kitchen, there are even more considerations due to the space and environment. We looked at a combination of all the key features to build up a clear view of the best small TV for kitchen.
Firstly, we wanted to check that the picture on the screen is going to be high enough quality to be clearly viewed in the kitchen. You don't expect a huge resolution on a small TV but you can expect the image to be sharp.
After that, other aspects are important such as functionality, portability, inputs and screen technology. Additional features can also be of interest such as voice control, bracket compatibility, the remote control and warranty. When choosing the best small TV for kitchen we took all of this information into account to give you the best possible choices.
Best alternatives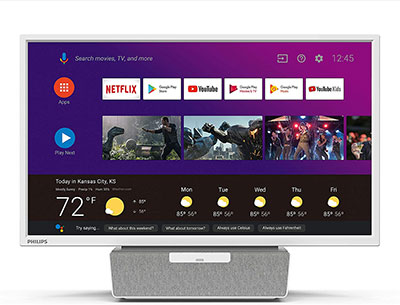 You'll be able to see a sharp image wherever you are in the kitchen and the sound is better than on most similar sized TV's.
Phillips has also been able to make a kitchen TV with voice control technology. This time it uses Google Assistant instead of Alexa with both of them being excellent options. The Phillips 6000 also has Smart TV functionality for a range of viewing options.
The TV is 24" wide and the screen is HD quality with a picture resolution of 720p. That screen is an LED display which is more than good enough for any kitchen. The input/outputs available on the TV are two HDMI slots, LAN, digital audio, antenna and USB.
A unique feature of this TV is the base, which works as a large speaker. It makes it highly portable and you also have the benefit of having exceptional sound quality at a high volume. The downside to that is it can't be wall mounted.
You get a wide range of functions on the Android TV and there are shortcut buttons on the remote to both YouTube and Netflix.
You can also use the voice control to tune your TV, ask for recommendations but also the standard Google functionality such as dimming your lights.
What we liked about Philips 6000
One of the first things you'll notice with this TV is just how simple it is to set up. After you get it out of the secure packaging, you will breeze through the installation which is aided by the voice control. It also makes searching through those wide range of features very easy.
As well as the smart TV functionality, you also get other impressive features such as its casting ability and Bluetooth capability. It makes using it very simple and all of it can be controlled via either voice control or the remote which both have a quick response time.
All of this is added to excellent picture and sound quality. It's an excellent option and one that has plenty of portability if you wanted to move it around.
What we didn't like
One factor which may put off some is that inability to wall mount it which may be a deal-breaker for some. That being said, it's light enough to place it on a shelf. There are also some apps which you'd want to have that are missing such as Amazon Prime Video.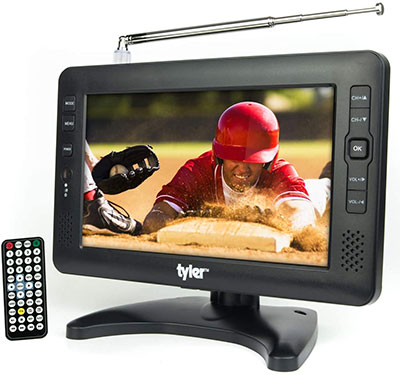 It's perfect for those who move around the kitchen and always want the TV in front of them.
For those looking for a portable TV, this is perfect. You can place it wherever in the kitchen that you're working to always have it right in front of you. The 9-inch screen means you can take it anywhere and it has an adjustable stand to get the perfect angle.
It's very simple to use with a large antenna that allows you to get the perfect picture wherever you are. The full band digital TV tuner will give you a wide range of channels and there is a USB slot if you wanted to add more functionality through an Amazon Firestick, for example.
A great feature of this TV is that you can use it in a lot more than the kitchen. Whether it's in the bath, a tent on a camping trip or in your car, you'll get plenty of use from it. The screen may be small but the picture is clear and the sound is powerful.
There is plenty inside the box. You get chargers, two external antennas, a converter for RCA input, a removable base and the remote control. It gives you plenty of flexibility on where you can place this TV and how you can use it. 
What we liked about Tyler TTV704
There is no doubt that the headline feature of this TV is the portability. The added bonus here is that you can also use it in many places outside of the kitchen.
You don't have to make any sacrifices in terms of picture quality as the images are sharp. It also excels when you don't have access to power with the internal battery. Set up of the TV is very simple and you'll be watching your favorite shows in no time at all.
It offers great value for money and the build quality is very impressive. Using it is also simple as it has a range of buttons on the side but a remote control too. The ability to put any music or movies on a USB stick adds another reason you should get this brilliant portable TV.
What we didn't like
Some users have reported trouble with getting reception. Most users seem happy with it and you can connect it with a more powerful antenna if you wish. The stand can also be a little tricky to connect but this is only a minor issue.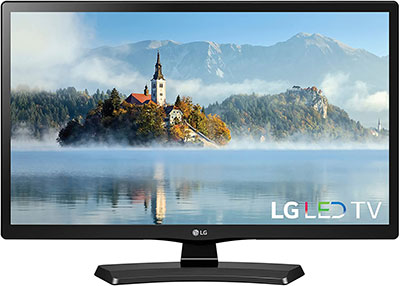 This model can deliver the type of exceptional picture you only usually get on larger TV's.
This is just a straight-up excellent TV with very few thrills. It's 22" in size and perfect for being wall-mounted in your kitchen. The resolution is 1080p and therefore you'll enjoy a sharp image while you're watching your favorite shows.
There is no smart functionality here and it also doesn't have built-in WiFi. It's a TV that is ideal for connecting with your favorite TV box and getting all your channels through that. It does have other USB and HDMI ports.
The image quality is the exceptional feature here and the best of the TV's we've looked at in this list. It has a deep selection of cools with the natural color expression, the contrast is deep and you'll enjoy watching movies with the LED backlighting.
It's a great TV for the money with the sound quality being fantastic to go along with that picture. The small footprint and thin shape of the TV give you plenty of flexibility about where to place it. Overall, it has the quality you'd expect from LG.
What we liked about LG 22LJ4540
With getting a smaller TV, you often feel as though picture quality can suffer. It doesn't have the highest resolution but the internal technology makes up for it.
Set-up is exceptionally easy and there are plenty of customizable options available. It's also lightweight which makes wall installation even easier. The sound is also very clear and can cope with high volumes without any cracking.
It's a TV that will last for a long time and works very well as a secondary unit in the kitchen. All of this comes at a very reasonable price. It's a perfect option for anyone looking for a basic TV that they can set up with their cable or satellite TV.
What we didn't like
We'd put the like of smart TV functionality in this section but you know what you're buying. A big negative is the lack of inputs with only one HDMI port and one coaxial cable port. It means you may need to get splitters for extra functionality.
Why you should get a small TV for kitchen
Many people will use a phone or tablet to watch TV in their kitchen but that can be quite awkward to place it, eats up a lot of battery and only provides you with a small screen. Using a purpose-built TV will get rid of all of these issues.
Cooking can be a little boring, especially when you're preparing food. Having a mini TV for kitchen makes cooking a lot more enjoyable as you can keep up with your favorite shows. The permanent set-up will also make it easier to use.
The functionality on most of these TV's is a lot higher than you'd get with the likes of a tablet. Finding a place to put a TV can be difficult but that's where the compact size comes into play. It's a great addition to the kitchen and one the whole family can enjoy.
The good:
Prevents boredom
High quality image
Permanent set-up
High functionality
The bad:
Placement can be difficult
What should you look for when buying a TV for the kitchen
Size
Perhaps the biggest factor when it comes to buying a TV for the kitchen is size. Before looking at which TV you should get, it's a good idea to know where you plan on putting it before you purchase.
There may be an obvious place to put it or a choice between a few different spots.
It's good to look at the actual dimensions of the TV rather than the headline figure. If a TV is described as 24″ then that means the screen measures 24 inches from one corner to the other. That number doesn't take into account the surrounding casing of the TV which can often be an extra inch or two.
Once you have the actual dimensions then you can check whether or not it will fit in the space you have. The TV's that we've looked at here are around 22-24" in screen size. That represents a good figure of being large enough to get a great picture while still being relatively compact.
If you don't have the space for that then we've also looked at the portable 9" option. It's important to get a size suitable for the room you have.
Installation
When it comes to placement and installation of your TV you'll have two basic options of either using the stand or mounting it on a wall. It's likely that you'll already have a clear idea of where you want to put it and you need to get a model that matches that.
If you wanted a wall-mounted TV then you need to check that the wall will be strong enough to hold it. You'll also need to buy a bracket separately that will be compatible with your TV. With the size of these TVs, weight shouldn't be much of an issue.
There are several types of brackets available. Some will keep your TV flat to the wall whereas others will allow it to swivel or tilt. The brackets that can be moved will often take up more space but can be perfect for the likes of corner installation.
Other considerations need to be made too. Where is the TV going to be plugged in and what are you going to be connecting to it? If it's not close to a power outlet then you may need to think about an extension to get the set up you need.
Smart functionality
Smart TV's have become very popular in recent years due to the increase in people streaming their favorite shows. For people who like to watch the likes of Netflix, a smart TV can be all they need as it will access the internet to stream these shows directly.
When getting a 'smart' TV you want to know exactly what it features. Does it have all the streaming services you like? What type of apps does it support? It would be annoying to get a TV which doesn't have what you're looking for.
Of course, not everyone needs a smart TV. Some like to simply use an aerial or connect a third party device such as a Roku or a set top box. Other devices such as games consoles can also give you all the functionality of a smart TV so for some people, it may be an unwanted feature
Portability
If portability is going to be important to you then you'll need to choose a TV that is easy to move around. The 9″ Tyler model that we looked at here can be taken anywhere, especially considering it has an internal battery.
TV's with smart functionality are also very easy to move around. You can simply plug them in, wait for them to connect to the internet and watch whatever you want. This can be ideal for those who always want the TV in front of them while they are in the kitchen.
For many others, portability isn't an important feature at all and would simply prefer a high-quality TV. Thankfully we've got that covered here too.
Inputs
What do you plan on connecting to your TV? If you're only using online streaming services then you may not have use of any inputs at all. If you're connecting numerous devices then input may be very important.
Set top boxes will often connect via a HDMI port and so do game consoles. You'll see that most modern TV's have at least two of these slots. USB connectivity can also be important and an aerial cable will come as standard on most models.
Even if your TV doesn't have the required level of inputs, there are always splitters available that can increase functionality. Other types of inputs include VGA, component, S-Video, composite, PCA and VGA but most of these are rarely used, especially on smaller TV's
Screen technology
It can be hard to know the difference between LCD, LED, OLED, QLED and Plasma but this becomes less important when we're looking at smaller TVs. Al the larger models that we've looked at here are LED and that is by far the most common on the market today.
The reason for that is they are affordable while still giving you high picture quality. They are usually quite slim, are energy efficient and have long-term durability. The likes of OLED and QLED are higher-end versions of this which have better picture quality but a large increase in price.
The 9" Tryer model is the only exception as this is LCD. This was the most popular but LED came along and still has its place today with the smaller TV's as it's the cheapest method. All three models here have excellent displays for their size.
Picture resolution
If you were to get a new main 50"+ TV for your living room then it will probably come with a resolution for 4K or more. This usually means that there will be 3,840 pixels horizontally and 2,160 vertically which adds up to over 8 million in total.
For smaller TV's, this resolution simply isn't needed. Having 8 million pixels on a 22″ screen may sound great but the difference in picture quality to a 1080p TV is going to be fairly minimal. This is why you hardly ever see TV's of that size with that resolution.
For small TVs, you don't need anything more than 1080p, which is still over 2 million pixels. It's also worth mentioning that there is a lot more to TV quality than just resolution. The likes of contrast ratio and color depth with be vitally important.
Sound
It may seem like an obvious question but how are you going to listen to your TV? If you want to get a TV to watch while you're cooking then you need to consider the noise. Kitchens can get loud and you may not be able to hear the TV. For some, this could mean using subtitles but others may look at other sound options.
All the TV's that we've looked at here can get quite loud and should be able to cut through that noise but ultimately, they won't have the sound quality of dedicated speakers. Soundbars have become very popular and are a good choice but if you're wall-mounting your TV, you have to think about where you're going to put it. Another option is surround sound speakers or even desktop speakers. This can really boost the volume while being easy to set up.
The best solution for you, however, maybe in a pair of headphones. The Philips 6000 Series 24″ Android Kitchen TV has Bluetooth capability meaning you can connect wirelessly. This will cut through any noise and allow you to keep up with what they're saying on TV.
Additional features
Here we take a quick look at some extra features to look out for:
Voice control: This can be a great feature for any TV but especially for the kitchen. Your hands may be busy and voice control stops you from needing to clean them to change any settings on your TV. Different TVs will have different voice controls and we've seen here that you can have the choice between Amazon's Alexa or Google Assistant. Both of them are great but if you already use one, you'll probably want to get a match.
Remote control: All TVs should come with a remote control and even the small portable model we featured has one. It's important to take a look at the remote and see what functionality it has. Some people prefer a simple and elegant solution whereas others may prefer it to have shortcuts and extra features.
Aerials: If you want to connect to local stations then you'll need an aerial. You can either connect to an external aerial or but an internal aerial. If you're connecting to a set top box then this may not matter. The 9" Tyler model comes with extra external aerials that allow you to get a signal anywhere.
Warranty: It's always good to know a product will be protected should something go wrong. If you wanted to have that peace of mind then it's a good idea to check what type of guarantee you're getting. You want to be able to return the TV if it's defective and this shouldn't be an issue.
Frequently Asked Questions
Should you have a TV in the kitchen?

The decision is up to you but we think that it's a great idea. It works as a great entertainment option in the kitchen whether you are cooking, eating, or even socializing. These TV's don't take up much room and will make cooking a lot more enjoyable.

There are no reasons that it would be a bad idea. Sometimes the kitchen can get a little hot and steamy so you would need to be mindful of that. It's best to not put it right next to a heat source and away from other appliances.
What is the best size TV for a kitchen?

Some people are fortunate to have a huge kitchen where they could place a 50″ TV with no problems. For most other people, that isn't an option. There is no defined size but for most kitchens, we felt the idea size was around 22-24″.

Anything above that can't really be counted as a small TV but maybe you have space for something a little bigger. We also appreciate that 22" may still be too big for some which is why we also looked at the portable 9" option.
How do I install a TV in my kitchen?

This is generally dependent on the space you have. All of the TVs we've looked at here have a base which allows you to stand it up wherever you want. This adds to the portability as you can then place the TV wherever it's needed.

The other option is to wall mount your TV. Not all TV's can be wall-mounted and it's a good idea to check this before you buy one. When looking at a wall bracket you need to check it can handle the size and weight of your TV.
Can I put my TV on top of my fridge?

Whether you're looking for the best under cabinet mount TV for kitchen or to place it on top of the fridge, some people like to get creative about where to place the kitchen TV due to the lack of space available.

You can put a TV on top of your fridge but you have to consider the ventilation. Both the TV and the fridge will get warm that the back. As long as both are getting enough air then it should be fine. If they block each other then your fridge's compressor would have to work harder and your TV may overheat.
What size TV for kitchen wall?

If you plan on getting a regular or smart TV for kitchen wall then it can be a good idea to measure out a template of what size you think would be best. This can give you an excellent feel of the best size for your kitchen. 

Before this, it's good to check if the wall is capable of holding a TV. If it's not a load-bearing wall then a 50" TV, for example, may be way too heavy.
What is the best small TV to buy?
Everyone is different and there isn't one TV that is perfect for everyone's circumstances. It's a good idea to know what types of specifications you're looking for. Then you can look at the different features and see which TV is most suitable for you.

All the four TV's that we've looked at here are high-quality and could be considered the best in their own way. Whichever you choose, you'll surely be happy with it.
Is 32 inch TV small?

While others may disagree, we don't think so. A 32" inch TV will generally sit in the middle range and is where you start seeing the higher resolution and extra features. Some may see it as small but at 32" it's still going to take up a lot of space.

Whether or not it will fit in your kitchen will depend on the space you have available. The 22-24" range is a good figure as it's large enough to give you a great picture while will being relatively compact. Anything larger than that would be a little too big for most people.
Is 720p a bad resolution?

It's important to know that resolution is a little more complicated than just being good or bad. The picture quality will depend on the size of the screen and the technology behind it. You can have a high resolution picture which isn't very good.

That being said a 720p resolution on a 60" screen isn't going to show up too well as the pixels will be too large to make a sharp image. On a 22" screen, however, a 720p resolution can look brilliant as the pixels will be smaller and therefore the image will be sharper.

In short, 720p isn't a bad resolution for a small TV. 1080p would be a better option but there are still some impressive TVs out there with the lower resolution.
What type of TV screen is best?

At the moment, OLED screens are probably leading the way with their technology. This is because they can be light, thin, provide excellent viewing angles and are also energy efficient. This is added to the incredible picture quality that you get.

LED screens are still the most popular as they are still much cheaper without much drop off in quality. With a smaller TV, the difference in screen technologies becomes less apparent which means an OLED TV is rarely a worthwhile investment.

LCD gives the 'worst' quality picture but is even cheaper still. On very small screens it can still be the best option such as with the Tyler 9" TV.
What should I look for when buying a new TV?

There isn't one golden rule when looking for the best TV. It may have the right size but not the right inputs. It may have the right inputs but not have voice control. It may have voice control but can't be wall-mounted.

You should look for all the features that are non-negotiable such as suitability for wall-mounting, smart technology or a 24″ screen. Once you do that that you'll know which TVs are suitable and you can be persuaded by any additional features they have.
What is the most reliable TV brand?

It's always tempting to only ever get products from a famous brand. With TVs that is the likes Samsung, LG and Sony. You know with these companies that you're getting high-quality but also that you may be paying a premium for that famous brand name.

A lot of the time it's a great idea to look beyond the name and see what the long-term users are saying about the TV. The four TV's that we've looked at here are from a range of different brands but are all very highly rated by those who have used them.
Final Thoughts
Hopefully, you now have a clear idea of what the best kitchen TV is for you. All four we looked at here have their own advantages and it's about working out what is right for you.
The Insignia NS-24DF311SE21 24-inch Smart HD TV was our top pick for a few important reasons. The picture quality is brilliant, the functionality is vast and there is also flexibility about where it can be placed. If smart technology is not important to you and you're just looking for a TV with fantastic picture quality then it would have to be the LG 22LJ4540 TV, 22-Inch 1080p IPS LED.
We also love the Philips 6000 Series 24″ Android Kitchen TV. A base helps to give it exceptional sound quality and you get the benefits of that voice control. It's another that has smart functionality and is portable enough to place it wherever it's needed.
If portability was vital for you then you'd love the Tyler TTV704-9 LCD TV – AC/DC 9-inch Television. You can take it anywhere and get a high quality picture. It's dynamic and you'll get plenty of use out of it. You can have a TV screen directly in front of you wherever you are in the kitchen.
All the four models we've looked at here are brilliant and it's about choosing the right one for you. If you have any doubts then check over the buying guide again which should have all the info you need. Once you've made your choice then you'll enjoy all the benefits of having a TV in your kitchen.