Charging cables can be a constant source of frustration. They break easily, scratch up your phone and are hard to connect in dark spaces such as a bedroom. Getting the best magnetic cable is going to solve many of those issues.
What makes the best magnetic phone charger?
It firstly needs to be compatible with your phone then you can look at key features such as charging speeds, build quality and magnet strength. We've taken these factors into account and a lot more.
To find the best magnetic charging cables we've searched high and wide to come up with the top 4 models out there. We've also written a buying guide to give you all the info you need.
All you need to do is read on and choose your favorite magnetic charging cable. Let's go!
Our Pick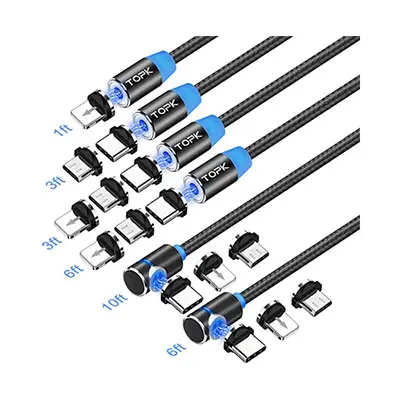 The cable is very easy to use, even in the dark. That's due to it having an LED light on it and you can easily use it one-handed.
Out of all the magnetic charging cables that we looked at, we ranked this one as the highest. It is a truly brilliant charging cable with all of the advantages of magnetism but without the downsides that you see with other models.
One of those downsides is that the charging speeds can often be slow. You're not going to get that issue here as it supports quick charging with overheating protection.
The charging speeds are helped by the strong magnet that isn't going to come away easily when you're holding your phone. Compatibility isn't going to be an issue here as it has connections for Type C, Micro USB, and 8-P cables.
You get plenty for your money here too with 6 cables included in the back with two 3 and 6 feet cables along with a short 1ft cable and a much longer 10ft option. Two of those cables are also L-shaped which makes using your phone in landscape mode very easy.
Durability is also his here with the braided nylon cable that has been stress-tested with an 8,000+ bending test and 10,000+ plugging and unplugging test.
What we like:
There are many things to love about this magnetic charging cable. The first thing to note is that it simply works very well. You'll get a strong level of charging capability without any downsides. We were very impressed with the performance.
With getting six cables, you're never going to be left without a charging. You can have charging cables in multiple rooms, in your car and at work. You also don't have to worry about plugging in a cable as soon as you get the magnet close, it will connect straight-away.
While it's a little more expensive than other models, everything that you get included makes it great value for money. That's also due to the immense durability. You're not going to worry about any splitting as these cables will keep going for years.
What we don't:
The LED light can be seen as positive and negative. It's a useful feature but others may find it distracting that it stays on all of the time.
Also, there is a lack of buying options as you can only get the six cables in their varying sizes.
How we chose the best magnetic charging cable
There are many factors we took into account when choosing these charger capabilities.
The first thing that we checked was that it was a good charger with good charging speeds. Compatibility was also important and all of these cables cater to a wide range of phones.
Build quality played an important role in both the charging point but also the cable too. After that, we looked at what you get in the package such as the number of cables you get and their various lengths. This played an important role in determining the value for money.
After the most important features, we also looked at everything else such as the shape, packaging, magnet strength, how easy it is to connect and whether or not it can transfer date.
In the end, we were left with four options which are all slightly different but all have brilliant qualities. 
The best alternatives
We loved the durability here as it seems like it will take many years of repetitive charging. That's helped by the braided nylon but also the overall build quality.
Terasako has made this excellent set of four charging cables. You get a 1ft and 3ft cord along with two 6ft options to give you plenty of versatility. One of those 6ft cables has an L-shape that helps to make using your phone while charging very easy.
One of the main complaints about traditional charging cables is that they split easily which not only ruins them but it's also dangerous. Along with all of the cables we've looked at here, these have a braided nylon cable which gives them immense durability.
You get a 360-degree rotation of the charger here which makes using it very simple but doesn't allow for data transfer. It can also offer near-universal compatibility as you get the three main types of charging points that cover almost all modern phones.
All of this comes with an 18-month warranty so you can be confident in the level of build quality. These are versatile charging cables that are very easy to use. If you do have any issues then you can rely on their customer service team to solve any queries.
What we like:
The value for money is great here, especially considering you get four high-quality cables that allow you to have multiple options for charging. Usability is also high which is helped by the tips glowing blue when you plug them in.
The fact it comes with multiple tips means that the whole household can use the chargers and interchange them whenever you need. Alternatively, it allows you to charge different devices with different charging points such as your phones, tablets, game controllers and headphones.
The cable lengths are very useful and you'll find these cables make your life much easier.
What we don't:
While there was a lot to love about this charger, sometimes you don't quite get the speeds that you'd want and it doesn't always trigger rapid charging.
It's also worth pointing out that this cable isn't able to transfer data but that is common with the models that have the 360-degree design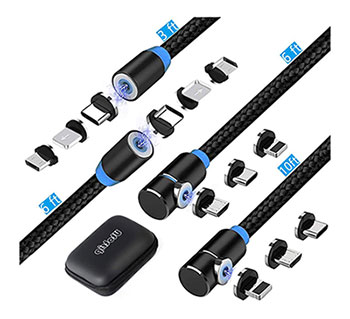 The magnets on this cable are very strong. You don't need to worry about placing your phone down and the charger popping off.
Here we see another set of four high-quality charging cables. These, however, have slightly different lengths with two 6ft options but a 3ft cable and a larger 10ft cable. It's another model that comes with a nylon braided cable.
The magnets are also strong enough that you can use your phone while it's still charging. They find a good balance as they aren't too difficult to remove once you've finished.
One of the 6ft cables and the 10ft cable have an L-shaped fitting on the end for extra versatility. Along with that, all four cables can be used in 360-degrees. It makes it very easy to connect but also easy to use your phone.
It's extremely easy to connect while you're driving or even in the dark while in bed due to that strong magnet and also the LED lighting. It comes with the three main types of connectors but also a case to make storage as simple as possible.
What we like:
The selection of cables you get here is fantastic, especially if you wanted the longer 10ft type. It's great for the bedroom as you won't feel limited by it. The shorter one is ideal for using in the car and the 6ft options have good versatility.
As mentioned, those magnets find that perfect balance between a secure connection and not being too difficult to remove. The LED light is a useful feature and if you don't mind it at night, it gives the room a nice glow.
The whole kit here is impressive with a perfect selection of cables and adapters, with four of each type of adapter. It allows you to connect to a wide range of devices without the need to swap over adapters from one device to the next.
What we don't:
The braiding around the cord on these cables isn't quite a thick as some other options but we still think that it will hold up well.
You also get those common issues with these types of chargers of not having rapid charging and also the lack of data transfer.
The standout feature of this charging cable is the qualities of being able to accept data transfer and rapid charging capabilities. It adds an extra level of functionality that you don't get with many other types of magnetic cable.
Have you looked at the three options we've looked at and bemoaned the lack of data transfer capabilities? If so, then this is the cable for you. It's able to provide a data sync speed of up to 480Mbps so it's a great option for those who need that capability.
Another upside of that secure connection is that it's able to deliver rapid charging capabilities while having overheating protection. The only downside to that is you don't get the 360-connectivity but it's still very easy to plug-in and use.
The product comes in a pack of three with a 1.6ft, 3.3ft and a 6.6ft cable. You get the three common adapter types, with three of each one included. Along with the standard black cable, you do get the option of getting it in red too.
We only chose cables in this list that had a very high level of durability and we see that here with the reinforced cables. It's been stress tested with over 5,000 bends which shows that this is a cable you'll most likely be using for years to come.
What we like:
A problem with some durable cables is that they can be too stiff but this is still able to give you plenty of flexibility.
This cable is going to be very easy to use and as soon as you move the cable near the magnet, the two are going to quickly connect.
Versatility is impressive here as, for example, you can have the one charger in your car and everyone would be able to use it when required if they had their own adapter in. You get three of each type included so you shouldn't be short of options.
What we don't:
Due to the need for a more secure data transfer, it is slightly more difficult to connect but it's still much easier than non-magnetic chargers.
You also have to be careful about how you pull out the charging cable as you may take the adapter with it, but you quickly get used to this.
Why you should get a magnetic charging cable
Charging cables are able to make your life a whole lot easier. They are simply extremely easy to use as you don't have to worry about perfectly aligning up your charging cable. This can be ideal for the likes of charging in your bedroom or other dark spaces.
As we've seen here, you usually also get a wide variety of charging cables in the pack. This allows you to have charging points throughout your home that everyone can use.
Two people with two different phones can also use the same charger at different times of the day as they'll have their own adapter.
Due to their build quality and connection type, you also enjoy the benefits of less damage to the charging slot of your phone.
Due to their build quality, there will also be less damage to the cable and they tend to have durability far beyond regular cables. 
The good:
Ease of use
Variety of cables
Versatility
Less damage to cable and phone
The bad:
Key features of a magnetic charging cable
Connection types
The most important step is to know that the charging cable is going to be compatible with your device. Many are different so here we'll talk through the main types that are offered.
All of the charging cables here support three types of connection, which are the Micro USB, USB-C and Lightning. We'll look at why they only cover those types, which devices they cover, and which ones they don't
Micro USB
This was an incredibly common type of connection that came as standard on many Android devices until the advent of new technology. It's still used widely today for a wide variety of different reasons.
It was around 2015 when the change happened so if you have a phone or device from before this time; it's likely to have this connection. It's still used on some other types of electronics and there's a good chance you need a charger for it.
The USB port needs to be plugged in the right way and is susceptible to damage due to incorrect connections. An example of this can be found on older Sony, Samsung and Huawei phones among others on models such as the Galaxy S7.
Type C
This is now the standard connection of choice for Android devices as it was a step-up in technology. It was able to offer much quicker charging and more power than its predecessor which is why it became so widely used.
A big feature of the USB-C cable was that you didn't have to plug it in one particular way as it worked upside-down. This cut down those instances where you'd struggle to get it into the right port to reduce damage and scratches.
Almost all Android phones now use this type of connection whether that is Samsung, Sony, LG, Huawei or Google as well as many others. If you have a relatively new phone from one of these companies then it'll most likely work from USB-C. There are some newer Apple products that have started to use USB-C too
Lightning
Apple always tries to be a little different which is why we also have the lightning connector. This cable was used on all phoned from 2012 onwards while also being used in a wide variety of iPads and other Apple products.
It's another reversible charger but with USB-C having that capability, it lost its main advantage. With USB-C having faster charging capabilities, it made sense that Apple would move to the superior cable. While that is true, the vast majority of Apple phones in existence still have the lightning cable.
If you have a phone made before 2019, then it's likely that you still need this type of connector. Thankfully all the four options we've looked at here come with those options along with the other main types of charging connectors.
Other types
What we've looked at here covers almost all modern phones, tablets and other devices. It's worth noting that there are other types of cable to look out for.
USB-A connectors are extremely common but are usually on the other side of the cable. This is where power will be fed through rather than connecting to a smaller device, and this USB type is never found on phones or tablets as it's just too big.
USB-B cables are also still used but mainly for much larger electronic devices such as printers and scanners. You won't need a magnetic charging cable for this as it's used for devices that are usually permanently (or rarely) plugged in.
The one you need to look out for is Mini-USB. These were very rarely used on phones and tablets but were common on the likes of cameras, MP3 players, game controllers and speakers.
Your magnetic charging cable won't be able to replace these as it's not really suited for magnetic charging as they aren't devices you'll be constantly charging and uncharging.
Compatibility
To surmise the information above, if you have any type of phone or tablet from the last 8 years then they are almost certainly going to be covered by those three main options. Due to that, the compatibility of all four products we've looked at here is fantastic.
The only warning is that is you were hoping for a magnetic charging cable for a Mini-USB connection as you're not going to find one.
The magnetic technology here has minimal benefits so the demand isn't there. If you still have one of these devices, you'll need to continue to use your regular charger.
Charging speed
You can find cheap cables that simply don't give you the level of charging speed that you're looking for. That's going to be largely down to the amount of current that the charging cable is able to carry through it.
Due to the strength of these connections, there is often going to be a slight drop-off in terms of speed. For a high-quality magnetic cable, this is going to hardly be noticeable. Your charging speeds may also be affected by other factors.
As we've looked at already, the different types of connection types will have different levels of charging speed with the USB-C giving you the most rapid charging. If you wanted the fastest level of magnetic charging then the A.S Magnetic USB Cable is going to be a great idea.
Connector quality
It's a good idea to check the quality of the connectors as this is going to play a significant role in the overall durability of the cable. This not only includes the connector but also the adapter that will be plugged into your device.
One of the great aspects of a magnetic charging cable is that this area is going to go through a lot less wear than a regular cable. This is was you won't constantly be removing the adapter from your phone as it can always stay in there.
We ensured that we only looked at charging cables that had durable construction and were able to stand the test of time. These are high-quality cables that can easily cope with thousands of connections time and time again.
Cable quality
If you ask people what their major concern is with charging cables then many of them are going to say it's the cables breaking. We've all had it where these cables start to get frayed and you have to delicately adjust them into position to get any charge.
You're not going to get that issue with any of the charging cables here. That's because they all have a braided nylon body instead. This allows it to bend and flex without any breaking and is a lot more durable than most chargers.
It makes paying for one of these chargers and even easier decision as you know they are going to last. Underneath that nylon is a TPE casing and a metal casing to give it brilliant strength but is design in a way to keep it flexible.
Shape design
It may seem odd to talk about the shape of a charger as all standard models are now the same. In the past, you used to have all different types of chargers that came in all shapes and sizes but thankfully there is now a common ground with most of them plugging straight up into the phone.
This can be an issue, however, when you want to use your phone in landscape mode while it's still being charged.
To get around this issue, many of these magnetic cables will give you L-shaped cables. These allow the wire to go straight down when using it in that way to the wire doesn't get caught between your fingers.
This may not ideal for using all the time which is why some of these models come with an array of cables. The TOPK Magnetic Charging Cable, for example, comes in a back of six with two of those cables being L-shaped which we thought was a good balance.
Length
The length of the cable is going to be important depending on where you are. I know many people have been there when they have their phone plugged in while in bed, go to turn around with their phone only to find that the cable flies out.
For places like this, it's great to have a 10ft cable as you get with the Utotrip Magnetic Charging Cable. This allows you much more flexibility but there are other instances when this cable would be far too big. One of those instances would be in a car.
In the car, you'd want your cable to be much shorter so that it doesn't get in the way. In most other places, you'll be happy to use a medium-sized cable.
Many of these options come in four different lengths as you can see with the Terasako Store Magnetic Charging Cable. This gives you a great level of flexibility about where you can put them.
Number of cables
You'll also want to check the number of cables that you get. Some of them have six, others have four and we also have the Terasako set which has three. It's good to think about exactly where you want to have charging points.
It's worth remembering that every cable is going to need its own USB charging point. If you've only got one charger plug, for example, then it will be fairly pointless having six cables. Most people will have more than one but it's good to check.
Many like these cables as they can place a few in their home, one at work and one in their car, for example. If you wanted to have more charging points then it may also worth investing in some USB wall chargers.
Magnet strength
One fear that many people have with a magnetic charging cable is that it's not going to be strong enough. There is no doubt that some of the cheaper options on the market can be endlessly frustrating as the magnet keeps sliding off.
We specifically looked for charging cables that didn't have that issue. All of the four options here tick that box so you won't have any worries about constantly needing to reconnect the charger.
In fact, with these cables, you'll be able to hold your phone upside down with the charger still connected.
Number of adapters
Your magnetic cable set is going to come with a certain number of adapters. As we've mentioned previously, all of the four options here come with the three main types of adapters which are the USB-C, Micro USB and Lightning cables.
The number of adapters you need will depend on what you want the charger for. It may be that you only need one adapter as you just need to charge up your phone. If this sounds like you then you don't have to worry about what you're getting with your cable.
Other situations may be more nuanced. You may have a new Android phone, your partner has an old iPhone and you have an old Android tablet.
All three may need different adapters but if you get a large set then everyone is going to be accommodated. Before you choose your magnetic charging cables, it's good to think of anything else you may want to charge with them.
Rotation area
A unique aspect of many magnetic charging cables is that they can be connected at any 360-degree angle as all you'll need is the magnetic connection. Many of them have a ring and therefore you don't need to line them up as you would do with traditional chargers.
There is one big downside to this as it limits the cable to just charging ability. In reality, most people will only ever use their cables for charging so this isn't an issue.
This type of connection allows you to connect your cable in complete darkness. As soon as you start to feel that magnetic connection, the two will guide together.
Data transfer
One of the biggest downsides to the 360-degree cable is that they don't allow for data transfer. To have this you need a specific line for the date to travel through.
If you need your cable for data transfer then you need to double-check you're getting a version capable of that.
The A.S Magnetic USB Cable is a great example of one that provides excellent data transfer. It's able to do so at rates of up to 480Mbps which is fairly fast.
This does mean it's not quite as easy to connect but the strength of the magnet means that you can't go wrong here either.
Warranty
Having some sort of warranty on any type of product is a good idea. This will give you plenty of confidence that it will stand the test of time.
It's always important though to look at exactly what is being offered with the warranty as they're not all the same.
The TOPK cables have a very solid warranty as here you'll get a replacement within the first 12 months of owning the charger. This includes any defeated cables or damaged connectors.
Case
You get many pieces included in your kit, especially when you are getting a lot of spare adapters.
Having a case can be a good way of storing it all to ensure nothing is lost. This is going to be especially useful for those who travel a lot.
Budget
How much do you want to spend on your magnetic cable? You can pick up a regular charger for around $10 but that will just be one cable and not have any of the features that we've looked at here. Some other chargers are even a lot more expensive than that.
The four options we've looked at here offer exceptional value for money as you get multiple cables and adapters within the kit.
While buying 6 individual cables may cost over $60, you n get a pack of six magnetic cables for less than a third of that. They also offer high build quality and durability,
LED lighting
A feature of many of these magnetic charging cables is that they have an LED light on them that lets you know there is power running through them and also makes connecting it to the adapter even easier as it's going to let off a warm glow.
For many people, this light can be a great additional feature whereas, for others, they don't like it. As we mentioned there, people like it for the advantages it brings. It makes your cable easy to spot in dark places such as a bedroom or car.
The reason some people don't like it is that they can find the light to be a little distracting. This can be especially the case in a bedroom. With all of the other lights shut off, it can be quite bright. It's down to personal preference whether you'd like this or not.
FAQs
Are magnetic charging cables any good?
Magnetic charging cables have plenty of impressive properties. That includes a much easier connection when compared to traditional chargers. This ease of connection can reduce phone damage and increase the life of your phone.
In terms of performance, there is minimal difference between them and a regular cable.
As with any product, if you're getting a cheap and badly rated product then it's not going to perform very well. The high-quality magnetic cables we've been here are brilliant and will perform very well.
Which is the best charging cable?
When buying anything, it's always a good idea to do your research to find the highest rated products out there. The good news is that we've done all the hard work for you.
We've chosen only four chargers here as we thought they stood out above the rest and were all brilliant.
If we had to choose the best charging cable then it would have to be the TOPK Magnetic Charging Cable.
It combines all the vital features of being easy to use, having a high level of performance while also having long-term durability. It's a fantastic charger and one that won't let you down.
Are magnetic chargers safe iPhone?
With the strength of magnets and knowing there are metal components in a phone, it's reasonable to ask whether or not it will be safe for you. A magnetic charger is not going to have any noticeable negative effects on your phone. 
You can have confidence that you can use your charger every day and your phone will remain unaffected.
While it may be a concern, there is no way these chargers would be as popular as they are if they caused any issues with the iPhone or any other type of device.
Do magnetic chargers charge faster?
How quickly your cable charges your phone is going to depend on a wide range of different factors. With two directly comparable cables, you're not going to see much of a difference in charging ability and the magnetic cable may even be slightly slower.
Your situation, however, may be a little different as your existing charger may not have the highest level of quality.
If you were to replace an older cable with a high-quality magnetic cable then you may be able to get higher charging speeds.
Slightly slower
Is 2.4 A fast charging?
Modern-day phones can charge very quickly. A current of 2.4A is going to allow for quick charging but getting to that level depends on a few different factors.
Firstly, you'll need a power source capable of giving you that power. Charging your phone through a laptop USB port, for example, is going to limit the charging capabilities.
You then also have to consider the charging circuit within your phone was it needs to be capable of handling higher amperage. If you want the highest levels of charging then you can look for a device that would be able to accept 3A or more.
Do magnets ruin phone batteries?
Magnets aren't going to ruin your phone. Even a magnet much more powerful than the one you'd find on a charger would have minimal impact.
You can use your magnetic charger in good conscience that it won't be doing any lasting damage.
If a phone does come into contact with a powerful battery then your phone may have to work a little harder than usual.
This isn't going to damage it though so it's not something you need to worry about as the magnetic charger will be adding charge, not taking it away.
Does charging cable make a difference?
The charging cable will make a big difference to the charging capabilities of your device. The reason for that is due to the internal wiring.
These cables will often have up to four different wires and the size and quality of these wires can affect speed and transfer.
A low quality simply isn't going to have the same capability. There can also be a difference between the durability. You don't want to be constantly replacing your cables and therefore it's a good idea to get a tough cable that is built to last.
Are all USB C cables the same?
As we referred to earlier, there can be a significant difference between cables and this includes different types of USB-C cables. Each one is going to have different types of protocol and offer various transfer speeds.
You also have to consider the other end of the cable too as not all of them will have the same adapters.
It's important to know which type of magnetic charging cable you need. All of the four options here are high-quality cables that have a USB-C adapter.
What kind of charging cable does Android use?
The Android operating system came out in 2008 and for a long time, the Micro USB connector was used. This became standard but started to seem outdated as it was harder to plug-in and it wasn't very quick.
Due to that, in recent years Android phones made the switch to USB-C. This type of connector can be plugging in any way and offers rapid charging and data transfer.
If you have a modern Android phone, it will use one of these types of charging able. All of the cables here have an adapter for each type.
Will magnets ruin your phone?
The only thing to consider with magnets and your phone is that they may affect the internal compass.
When you have your phone charged in, however, it's unlikely that your phone will be needed for this reason.
Also, this magnet will be situated at the bottom of the phone and away from other components.
Do fast charging cables work?
Yes, they do but you need to use them in conjunction with a suitable power source and a charging circuit that can cope with the increase in power.
Without all three components, you won't be able to get the charging results you're looking for.
Are expensive USB cables worth it?
There are a few important things to consider when answering this question. You have to ask yourself what you need.
These magnetic charging cables can provide you with a unique charging solution throughout your home. It can give you multiple charging ports so you'll always be able to juice up that battery.
That type of set-up isn't available if you're just using the one phone charger which makes getting multiple cables highly worth it. You also need to consider the long-term durability of not only the cable to also your charging port.
You may, for example, have a child with a tablet who yanks out the charging cable every time and is ruining the port.
Or perhaps you have a habit of scratching up your phone as you try and connect it. A high-quality charging cable can also protect your devices in this way.
It will ultimately be up to you whether or not you think these charging cables are a good idea or not. It's also important to note that they aren't a significant investment.
They are highly affordable so you don't need to worry about paying too much money.
What are the 3 types of connectors?
The three main types of connectors for phones are Micro USB, USB-C and Lightning.
Other types of devices, however, may have different types of connectors so it's a good idea to double-check that you're getting the right one.
Conclusion
By now you should have all of the information that you need to choose the best magnetic charging cable for you. Any of the four you choose here would be fantastic; however, there may be one that is going to be more suited to your needs.
While all four were great, we loved the TOPK Magnetic Charging Cable as our top pick due to the high level of quality throughout. It works perfectly and has a great range of features.
Not far behind is the Terasako Store Magnetic Charging Cable which has a great level of versatility while also being compatible with almost all modern phones.
The Utotrip Magnetic Charging Cable is also another great option, especially for those on the go with the compact case that comes with it.
The cable, as with all the options here, has a durable construction to give you the longevity you often don't get with charging cables.
What those other three lack is the ability to provide data transfer. If that is one of your requirements then the A.S 3 in 1 Magnetic USB Cable would be your best bet. This is very easy to use while also having the ability for your device to be rapidly charged.
Whatever type of phone you have, any of these four chargers are going to work perfectly.
While they are all similar, they have key differences so it's important to work out which one is going to be perfect for you. Once you've picked your favorite, you'll love all the advantages you get from a magnetic charging cable.