There aren't many parts of any household that are more diverse and versatile than a kitchen. From a certain point of view, we could argue that a kitchen is essentially a workspace.
Think about it — most of us tend to start our days right there in the kitchen, and that's also where we have our final midnight snack before going to sleep. With that in mind — every aspect of the kitchen experience has to be perfect; starting with the lighting.
Seeing as plenty of us are early risers, it's important to have the perfect shade of lighting in your kitchen. That ensures that you're alert enough when you get up in the early morning, but not so striking that the light would make you dizzy or disoriented.
Still, it needs to be bright enough to enable you to quickly prepare your breakfast.
Those who have kitchen tables also require an overhead lighting fixture; preferably dimmable, and with a reasonably warm color hue. That would allow you to create the perfect ambiance along with other kitchen ceiling lights and any other lighting you have over your counters.
But as you can see, this is where things have already become complicated — namely because there are so many options for kitchen lighting to choose from.
Now, for several reasons that we'll go into more detail below — you will probably want to have LED lighting in your kitchen, and elsewhere as well.
But what are the best LED lights for your kitchen ceiling? How big should your wattage be? While there are plenty of options online, we'll take a look at some of the top ones right here, and show you what to keep in mind while you make your choice!
Our Pick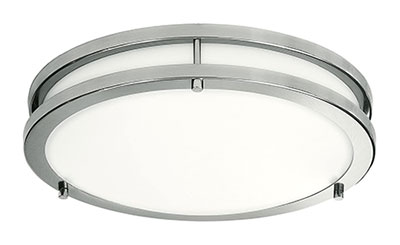 In terms of style, this is a contemporary light fixture for your ceiling, and one of the best LED lights for kitchen ceilings. It's a flush mount model, and it's pretty much made to seem like it was always a part of your ceiling to begin with.
Our top pick is this excellent ceiling light that comes in a couple of varieties and sizes — there's a round style with two different diameters (the bigger one is 16 inches) and a 32 inch one in the shape of an oval.
It's important to know that the smallest round one won't require more power than 15 watts. Indeed, this is an Energy Star rated LED ceiling light, meaning that it's one of the most energy-efficient choices on this list.
What we liked about LB72119 LED Ceiling Light
When it comes to the kinds of light that you want from this fixture, you will find a variety of styles and colors on the market — the two most notable ones are the natural daylight glow and the soft white glow.
Now, the version with daylight glow light will give you the biggest luminosity among all of the varieties — it's the brightest one you can find for this model.
Basically, it resembles the light of the sun. If you want to use it as ambient lighting, you will find that the soft white is probably the best shade; while the cool white is better for focused, area-specific lighting.
This light holds its ground regardless of which area of the home you put it in — though it's probably best used in the kitchen in the role of a task or ambient lighting.
The fixture's dome protrudes downwards. There's always the option of spacing out different fixtures and creating a ceiling filled with light.
The downsides
The luminosity of individual fixtures isn't that great, so if you want stronger ambiance lighting you will need to install quite a few of these.
How we chose the best LED lights for kitchen ceiling
Now, before we get into the myriad other lights that qualify as the best LED lights for your kitchen ceiling, we'll give you a quick guide as to what factors we kept in mind while we chose our top lighting fixture.
While there are more than a couple of characteristics here, the ones that we focused on are — the type of mounting, luminosity, and design.
In the case of kitchen ceiling lights, there are two types of mounting — semi-flush and flush. If you're looking into flush mounts, these are lighting fixtures that leave no discernible gap between your kitchen ceiling and the lighting fixture; adding to the sense of minimalism and utility.
This makes maintenance of the area easier as well, seeing as you don't have to do a lot of cleaning when it comes to these lighting fixtures.
Conversely, semi-flush mounts have a small gap between the ceiling and the fixture. Generally, rooms with higher ceilings use the semi-flush mounts, while the flush mounts are reserved for slightly lower-hanging kitchen ceilings.
Next up, there's the luminosity of your LED lights. Now, when it comes to traditional lighting, you may want to look at the number of watts that your lighting fixtures use.
However, in the case of LED lighting, the lumens are a much more important metric. These directly show how bright your light bulbs will be.
So, how does this translate in practice? A LED light bulb that has about 800 lumens will give off an amount of light that's comparable to a 60W traditional Edison bulb. Beyond this, you simply need to think about the size of your kitchen and the intensity of light that you want to achieve in different areas.
Finally, there's the design — at the end of the day, the aesthetic appeal of your kitchen is just as important as its usability; even more important, to some people. Considering that, you don't want to install and purchase anything that won't fit in perfectly with your kitchen.
And as you'll see while we continue with our list, there are all sorts of sizes and shapes of LED lights; whatever the style of your kitchen is, you will easily find something that suits you perfectly.
Now, let's have a look at some of the best alternatives.
Best LED Lights for Kitchen Ceiling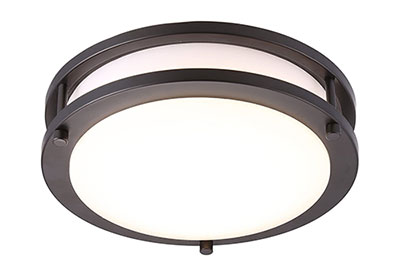 Cloudy Bay LED produces a more accurate and vivid lighting than other lighting alternatives.
Next up, we've got another one of the best LED lights for kitchen ceilings that are great for any indoor environment, but they're specifically great for kitchens — the Cloudy Bay LED ceiling lights.
There's also a light dimmer made by the same manufacturer that you probably might want to add as well, seeing as it works perfectly in conjunction with their lights.
Now, it's important to mention that you'd do well to put in a couple of these models on your ceiling — especially if you want more luminosity.
What we liked about Cloudy Bay
We've mentioned that these LED lights can successfully be combined with any kind of light dimmer — you don't have to use the Cloudy Bay one, though that would be preferable.
Apart from that, you should know that dimmers can help you adjust this light however you want — down to just a tenth of its maximum output, depending on your preferences.
Generally, this is one of the better lights that we've had the pleasure to review. It's not that good as an ambiance light, at least as a single fixture — but it's excellent as a focus light for specific objects or countertop areas.
You will get a vivid view with more distinctive colors than you would with natural lighting. That's because these lights are CRI90+ certified, meaning that their rendition of object colors is much closer to reality than with other lighting.
The fixture has a diameter of ten inches, and it has a finish made of brushed nickel. There are a couple of styles to choose from, though the most dominant one is the warm white glow.
If you want your kitchen to ooze a warm and cozy atmosphere, that's a great choice for you.
The downsides
As we've mentioned, these are small fixtures — if you only want to buy a single one, this won't be a satisfactory solution for a large kitchen area. For such purposes, you're going to need multiple fixtures, due to their small diameter.
Also, while there are different styles, there are plenty of other LED lights that allow you to choose a bigger variety of colors.
So, if you're serious about ambiance — this isn't a bad choice, but it's not an optimal one, seeing as it's better suited to be a focus light.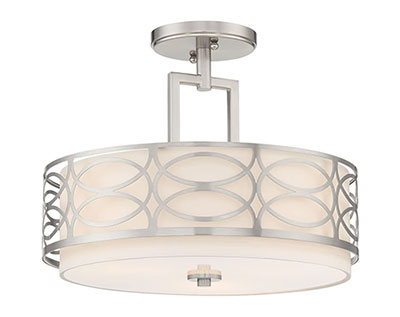 This product has UL certification, meaning it's quite safe to use in potentially damp areas as well — further ensuring your safety.
Our following choice is an excellent semi-flush mount light fixture. So yes, this is one of those fixtures that hang from your ceiling instead of being completely attached to its surface.
That way, you get a nice shade below that accentuates the somewhat chandelier-esque appearance of this fixture.
What we liked about Kira
One of the biggest upsides of this light fixture is its fancy design — at least for people who like that sort of thing. Indeed, the fixture is made with a metal shade that contains a pretty distinctive lattice design.
Somehow, it manages to be simultaneously stylish and modern — providing your kitchen with some flair and decor sophistication.
This is one of those fixtures that are usable in plenty of different home areas — though we do have to mention our stance that it's most suitable for dining room and kitchen areas. If you want a gorgeous primary light fixture that covers a huge area below, this is the right choice.
And contrary to its grand design, you may be surprised to learn that it's quite compatible with several different dimmer switches. So, you can easily switch up the atmosphere of the room from grandiose to romantic and cordial whenever you feel like it by dimming down your lights.
There's also a neat offering of different styles and colors available; most notably, brushed nickel, chrome, and oiled bronze. That way, you can pick and choose which style you want according to the rest of your kitchen's decor.
Also, you can make it look like a chandelier even more, by using the metal tubes that come with the fixture. These ensure that the fixture hangs lower than the default, making it an even bigger presence in your interior.
The downsides
We do have to note that, while this is technically a superb LED light fixture, it's got a very specific aesthetic — for better and for worse. This means that the fixture doesn't fit in with every kind of interior design.
If you're looking for something minimalistic and unnoticeable, this isn't the choice you want to go with, as it tends to stand out in every room; particularly if you lower it even more than the default height.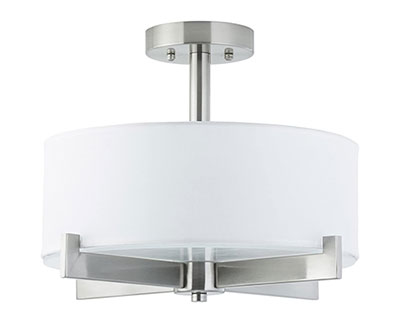 If you're looking for something similar to our previous choice, but a bit more minimalistic — then this Allegro semi-flush ceiling light will be an excellent option.
This is a drum-style fixture that's compatible with many different bulbs. And while we recommend going with LED, you can also use halogen, CFL, and good old incandescent bulbs as well. That being said, you'll be limited to 60-watt bulbs — regardless of the specific bulb model that you pick.
But if you go with a dimmable bulb such as the LED ones, you can always combine this with a light dimmer to achieve the specific atmosphere that you want; though no light dimmer is included with the Allegro fixture.
Still, the fact that these fixtures have E26 sockets means that they are compatible with the widest variety of bulbs.
There are two distinct styles to pick from — the brushed nickel and the metropolitan bronze. Bear in mind that the latter is the better choice for rooms that are already bright by nature, seeing as it gives you a neat degree of deepness.
Conversely, darker rooms will benefit from the brushed nickel model, as they'll be simply lit up by the design. Still, you can pick which design you'll use where freely — we're just giving you a couple of friendly suggestions.
What we liked about Allegro
One of the best things about this light fixture is the air of modernity and sophistication that it brings — an excellent way to brighten up any kind of room.
And while plenty of people use it in their living rooms, corridors, and even entryways — it's an excellent choice for kitchens as well. The shade of the fixture is manufactured from quality fabric, while the rest is made of metal.
The downsides
There isn't a wide variety of styles to pick from when it comes to this light fixture.
So, while the two basic styles do a neat job of fitting into most interiors, we do feel the need to point out that you won't be able to pick from a lot of different versions of the basic models.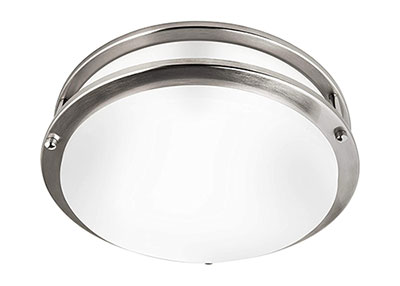 The design of this fixture is quite simple, but that's one of its biggest upsides — because of that, it always remains at home regardless of how the rest of your kitchen is styled.
One of the best things about flush mounts in general, and about this specific product, is the fact that you can easily attach them to your ceiling without leaving any kind of gap that requires further dusting and cleaning.
Thus, having this type of fixture in your kitchen is beneficial seeing as it's never in the way. And if you want a flush mount ceiling light that sets a high standard for the best LED lights for kitchen ceilings, we recommend the Hyperikon LED ceiling light.
This is not only a top-rated flush mount fixture but also an incredibly affordable option for your household. You will find that it's one of those models that offer you a variety of options in terms of size and style — there are a couple of different diameters to choose from, between ten and fourteen inches.
What we liked about Hyperikon
There's an incredible lighting design in these units, providing you edge-to-edge light — there's not a single inch of space wasted on the surface of this fixture; the illumination is strong and constant.
So, if you're looking for someone to provide the maximum possible amount of light for larger kitchens — this can be your lighting centerpiece!
And the fixture's compatibility with a variety of light dimmers means that it's perfectly functional as an ambiance light as well.
The downsides
While this kitchen light is quite lightweight and simple to install, some people report that the design is somewhat flimsier than the top counterparts that we've reviewed here.
However, that's somewhat understandable, seeing as this is one of the more affordable options for the best LED lights for kitchen ceilings on our list.
Buying Guide for Kitchen Ceiling Light
Now that we've taken a look at some of the best LED lights for kitchen ceilings that you can buy online, it's time to discuss this type of product in more detail.
Namely, we'll give you all of the information on LED lights that you need to truly be capable of making an informed choice. After all, not every home is the same — and neither is every kitchen.
And that's quite a lot of thinking to do even before getting into the details on all the different types of lighting and LED lighting options out there.
Make no mistake — light matters. Just like the Sun's rays give us energy and allow nature to exist on Earth; artificial interior lighting is crucial for our wellbeing as well.
For instance, light bulbs that radiate blue light waves also trigger serotonin production in the human body; allowing us to be more alert, awake, and focused.
And bulbs that don't radiate this type of light, conversely, affect melatonin production — giving us the relaxation we need to be drowsy enough to become sound asleep.
As you can see, each room in your household deserves its own due considerations before you install a certain kind of light fixture and bulb inside it.
Just remember that bulbs that radiate at lower temperatures will produce a warmer shade of white — something akin to a fire, while hotter bulbs result in a more neutral-looking white. Finally, the highest-temperature light bulbs produce the light that's most similar to natural daylight.
Also, remember something that we've already mentioned — watts aren't the main metric you should be thinking about, especially when LED lights are concerned.
This is merely the measurement of the energy expenditure of your light bulbs — the actual brightness that they produce is measured with lumens.
Kitchen Lighting Guide
Much like the meals that you prepare in your kitchen — it too requires a decent amount of balance if you want to have the best possible lighting.
As we all know, the things that all of us do in our kitchens are incredibly varied. Apart from prepping and cooking meals, everything from homework to remote work on laptops is also sometimes done here.
If you create the perfect mix of under-cabinet, pendant, and recessed lighting — you can create a space that's usable for all of these varied tasks.
Three Types of Lighting
Basically, all interior lighting in your kitchen can be divided into three distinct categories — ambient lighting, task lighting, and accent lighting.
Ambient lighting is pretty much the main light source in any room; depending on how much natural light you've got in your kitchen, it's either there as an additive to the natural light or simply there to replace it.
If you want your room to be as brightly lit as possible while still looking natural, you want this light to come from your ceiling. There are plenty of options here — flush mounts (that we've most often recommended here), recessed lighting, pendant lights, and chandeliers.
On the other hand, you've also got task lighting to think about. As we have already talked about, this type of lighting is meant to allow you to navigate easily through your dining and kitchen areas.
Though this lighting always leaves a lot of shadows around it because it's smaller, so it can't be a replacement for ambient lighting — it can only act as a supplement.
Finally, there's accent lighting — these are flourishing for your other types of lighting. They're the smallest lighting sources that serve more as aesthetic additions than anything truly practical; such as cabinet and under-cabinet lighting.
How to Choose Ambient Lighting
Now, the type of ambient lighting sources that you'll choose pretty much depends on how you've set up the rest of your kitchen.
For instance, if you've got a kitchen island that's task-oriented — like those with cooktops, it will require a different sort of lighting than one that's meant for people to hang out around.
The islands that are more cooking-oriented are ideal for a healthy mixture of hanging and recessed lighting. On the other hand, kitchen islands with a social purpose don't need much more than mini-pendants over them.
Accents and Tasks
Apart from the main light sources that we've described above, you also need to think about accent and task lighting. As we've said, regardless of which task lighting you pick — you'll probably see that your task lighting makes shadows around it; these are gaps that you need to fill.
And that's what accent lighting is for — if you don't want to have shadows under your kitchen cabinets, for instance, under-cabinet accent lighting is the way to go.
This is especially important if you keep all kinds of different spices and ingredients in your cabinets and shelves; you may need this accent lighting to clearly see what you're keeping where.
The most common types of accent lighting are puck lights and strip lights. Strip lights represent an excellent way to illuminate the interior of your kitchen cabinet; that goes double for low cabinets that don't see the benefits of ambient lighting.
Apart from that, you've also got puck lights — these are oval and round, and they're excellent for creating a decent mood while simultaneously lighting up a space for practical use.
How Many Lights for Your Kitchen?
While we discussed the many different best LED lights for the kitchen ceiling, we've frequently mentioned that sometimes you need more, rather than a single fixture for your kitchen ceiling.
This number isn't constant, and it's not the same for everyone — it depends on how your kitchen is decorated, and on what you're going to do in it.
For a majority of people, regardless of the size of the kitchen — one source of ambient lighting is enough, along with no more than three focused fixtures for specific tasks, and the same amount of sources of accent lighting.
Your fixture that provides ambient light will be the most prominent one — these are usually somewhere in the middle of the kitchen, and they appear to be the most decorative; those are the chandelier-like models that we've reviewed.
If you have a combined dining room and kitchen area, you might need two of these — one that will be situated in the middle of the kitchen space, while the other is directly above the large table in your dining room. Don't hesitate to pick a chandelier that will go above the table and a very bright centerpiece above the kitchen area.
Apart from that, you will have to think about the specific tasks that you perform in the kitchen as well.
For instance, your countertops for food preparation, your stove, and your dishwashing area will all probably require additional focused lighting sources — you want to be able to see clearly there. Otherwise, you may risk not washing your dishes properly, or even burning and/or cutting yourself.
Where to Put Ceiling Lights
As you might know already, interior design isn't so much of a science as it is an art. Thus, there are no specific rules about lighting placement that you necessarily have to follow; all you need to do is to create a setup that suits you and your needs the best.
That being said — strategic placement of task lights is extremely important in any kitchen area, as it allows people to have complete visibility while doing stuff around the kitchen. As we've outlined above, preparing and cutting food requires you to have the utmost lighting to avoid cutting yourself — and also for just making a tasty meal.
So, the task lights are in all of the designated areas where you always do very specific tasks; ambient lights go somewhere around the center of the room, and this lets the light reach all of the corners. Though, they're naturally almost always darker than the center of the room.
Finally, accent lights are used when you want the eye of the observer to catch specific appliances. That's what you use if you have a painting or other decorations that you want to become more noticeable.
Installing Kitchen Ceiling Lights
Depending on what kind of lighting setup you're going for, installing the lights can be both complicated and simple. Still, however, you do this — bear in mind that you'll require a couple of different tools.
For most of the fixtures that we've showcased here, you're going to need a junction box, wire connectors, the fixture itself, wire cutters, and a screwdriver.
There are certain fixtures that have a junction box when you buy them; though most just make use of the one that you've already got in your household.
And if there isn't one in your kitchen area, don't attempt to install it on your own — this is something a trained electrician needs to do expertly; you don't want to wire your household on your own.
Now, as for the fixtures themselves — most of them come with installation instructions that you might be capable of following.
However, plenty of the more complex fixtures come with a specific warning not to handle the installation yourself, and call a professional instead. This is something you should absolutely do.
Also, if you decide to handle the installation on your own — make sure that it's working correctly before finishing up. That means no sparks or clear signs of potential electric mishaps coming from your fixture or the nearby wiring.
Also, if the light is flickering instead of being consistent — something is wrong. We don't advise fixing these issues on your own — an experienced electrician is a better option in this case.
LED Lighting 101
Before answering a couple of more frequently asked questions and concluding our guide, we'll take a look at the world of LED lighting in general.
Now, you should know that LED is the best type of lighting when it comes to conserving energy. In fact, the average residential LED lighting spends three quarters less than the average incandescent light bulb. As a result, it also lasts a whopping 25 times longer!
It's estimated that LED lighting will become the predominant type of residential lighting in the United Stated by 2028. That could save an enormous amount of energy every year — something to the tune of over 40 electric power plants and their output. This also means saving tens of billions of dollars in energy expenditure.
Different LED Products
Many people don't realize just how much of their current lighting they could switch out for an energy-saving LED counterpart.
Luckily, the list of lighting products that support LED light is growing every single day. As LED technology development has become more and more widespread and cheaper to work with, more product chains have developed as well.
Commercial Lighting
As you might assume, LED has become huge when it comes to industrial and commercial needs for lighting. This is due to their directional nature and extremely high efficiency; immensely cutting costs in every single way imaginable.
Because of this, you'll find LED light is often used for task lighting, modular lighting, outdoor areas, parking garages, and even street lights.
Residential Lighting
The focused and directional nature of these lights has also made them a huge hit when it comes to lighting for kitchen cabinets and countertops. This is because task-specific areas that are found in abundance in every kitchen can hugely benefit from this type of lighting.
Heck, there are even LED decorative and holiday lights these days — seeing as they don't require anywhere near the amounts of electricity needed for incandescent Christmas lighting, they're great for making your home the most festive on the block!
Frequently Asked Questions
How bright should kitchen lights be?

Of course, it's not just important to pick the right lights for your kitchen in terms of aesthetics — you want to hit the right level of brightness as well. And that's not always easy, seeing as it's something that differs from room to room.

However, bear in mind that you want your kitchen lights to be quite bright; particularly the task-specific lights in your kitchen area.

If you're working with cooking materials and utensils (including knives) you want maximum possible brightness. Though, if you want your kitchen to have an overall dark aesthetic, 100 watts should be enough. For kitchens that have natural light that doesn't depend on artificial lighting, 80 watts.
How many lumens should a kitchen have?

We've already mentioned that lumens are the primary metric for the brightness of any light bulb. And that's because it's a measure of light — though, the most basic light metric is the self-explanatory foot-candle.

So, if you've got a kitchen that's got a hundred square feet — you'd need 10 foot-candles, and an equivalent of a thousand lumens.
What is the best lighting for low ceilings?

Now, the quality of your lighting will also depend on the architectural look and feel of your kitchen; if we're talking about ceiling lights, then logically, the height of the ceiling will play a major role.

And if you're dealing with a particularly low ceiling — we recommend recessed lights. This is the type of lighting that we've already mentioned a couple of times; fixtures that you actually build into your ceiling instead of letting them hang from it.

That way, they won't take up any more vertical space that is already sparse in low-ceiling rooms.
What is the best LED color temperature for the kitchen?

The color temperature of your room isn't something that's a fixed value for all kitchen areas — it depends on the amount of brightness that you've installed with your light fixtures, as well as the general aesthetic of the area.

However, if you've got 4,000 lumens, a good rule of thumb would be that your color temperature shouldn't exceed 3000K.
How do I choose a kitchen light?

At the end of the day, the finest light for your kitchen ceiling is the one that will meet your specific requirements — and if you don't want to involve additional electricians, you want one that's not difficult to install either.

Naturally, with the options that we've outlined above, you have more than a wide range of choices.
Final Thoughts
Amid all of the different types of lighting that you can get today, the LED (light-emitting diode) lighting is definitely your best option.
Not only is this technology developing quite rapidly, but it's also incredibly efficient in terms of your household's energy expenditure.
If you buy the right fixture with the proper LED bulbs, you'll find that they provide a far more dependable and durable source of light than any other kind.