Plenty of people don't even realize that there's still a market for outdoor TV antennas.
However, while people living in cities with great signals haven't thought about antennas in years; living in more rural areas means having to rely on one of these due to low signal strength.
If you want the biggest possible range of free TV channels, getting the best outdoor antenna for rural areas is an absolute must.
However, choosing the best model among many is far from easy. You'll need to consider more than a few factors if you're going to do this right and make a smart investment.
With that in mind, we're going to remove a lot of the complexity that comes with researching all of the aspects of outdoor TV antennas on your own.
We've created a top list of our favorite antennas available on Amazon, and we've reviewed them in meticulous detail.
Also, apart from this list, we'll give you an extensive look into the factors that you should consider while choosing your own outdoor antenna! 
Our Pick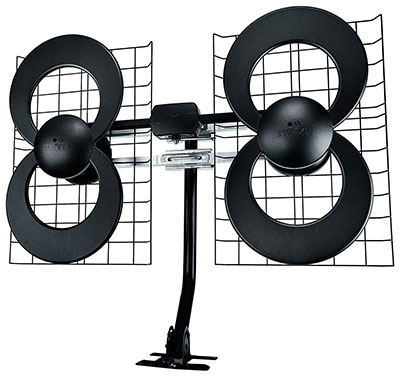 Most notably, its incoming signal capacity won't be thwarted by heavy foliage or thicker roofing — and that's pretty much the main reason why we've chosen it as our top pick. 
Our top pick is the Clearstream 4TV Antenna! There's a number of reasons why we've selected this as our premier choice, but the chief among them is the amazing range that this antenna can achieve.
In fact, it's capable of operating at a 70+ mile range — which means that you don't need to have a broadcast tower nearer than 70 miles from your home to get a clear signal.
What we liked about Direct Clearstream
As you might have already noticed, this great range is excellent for rural areas, where broadcast towers are scattered far and wide. But apart from that, the antenna also manages to impress with its other rural-friendly features.
Depending on your terrain, getting a great signal can be challenging — and having an antenna that is impervious to foliage is a great for people who live in woodlands.
Also, the Clearstream manufacturers have patented a distinct loop design, created to pick up a larger number of frequencies. 
It's also hassle-free due to its beam angle, which eliminates the need to rotate or turn the antenna. Plus, the reflector will increase the available range by focusing the antenna's power while also providing protection against any multipath interference. 
You can pretty much place this antenna anywhere and still achieve great results — you can keep it outdoors, in the attic, or even indoors, and your signal will still be great.
Also, it comes with all the necessary instructions and mounting hardware, meaning you probably won't have to hire someone else to install it for you. 
The downsides
There are only a couple of minor gripes we have with this model — most notably the fact that it doesn't come with a lock washer, and that its wingnuts go directly onto its busbar.
How we chose
As you'll see once we get into our other picks below, there are plenty of factors that go into choosing the best outdoor TV antenna for rural areas.
And that's why we thought you'd like to know why we chose the Clearstream antenna above the others; even though the rest of our choices were also quite good. 
Namely, we looked at a couple of primary factors — and then we saw which of the antennas was the best in all of them on average. And that's where Clearstream won out.
While making our pick, we thought about the price — though most TV antennas aren't that much of an investment, especially considering the money you save in the long run by cutting your cable.
But there are other important things we took into account. Among others, the coaxial cable length was important — the longer that cable is, the more versatility you've got in terms of connecting the antenna anywhere in your home.
Also, the quality of the signal amplifiers was important; we wanted to make sure that the terrain you're surrounded by had the least possible impact on your viewing quality, which is another reason why Clearstream took the top position. 
Finally, we also wanted to make sure that the antenna is not difficult to install; after all, the last thing someone living in a remote area wants is to rely on someone else to deal with their antenna installation for them.
And while Clearstream was arguably the best choice in all of these categories, feel free to take a look at some of our other picks below; all of them have a lot to offer as well! 
Now, let's have a look at the best alternatives.
Best outdoor TV antenna for rural areas
It comes with a 15db amplifier that's tightly integrated into the overall structure, providing both a premium-quality performance and almost unmatched aesthetics. 
Next up, we've got another great runner-up — the Mohu Sky 60 TV Antenna! This is another model that will vastly improve on what you consider a standard rooftop antenna experience.
First of all, its range is also great — 75 miles, bringing it pretty much on par without first pick. 
What we liked about Mohu Sky 60 TV Antenna
The biggest upside of this antenna is that you don't need to be anywhere near your broadcast tower to enjoy decent TV signal — and that's certainly a feat, considering the smaller size of this particular antenna compared to our other choices on this list.
Also, it's a multidirectional antenna; meaning you won't have to make any periodical adjustments to ensure optimal signal strength.
The installation is also quite easy — you get a mounting bracket in the package, and there's also a 30-foot cable that makes connecting devices in your household easy business.
If you've got a home cable network, you will easily be able to connect it to the antenna. All in all, the signal quality and performance are pretty much all you could ask for from such a device. 
As with most other models, you connect one end of the coaxial cable to the television, and the other to the antenna — and you're pretty much good to go!
Also, we have to point out that this specific antenna has a great filtering technology, designed to filter out FM and cellular signals. The end result is far less noise, and clearer HD channels and a nicer picture. 
The downsides
While this is certainly a high-quality outdoor TV antenna for rural areas, you should also keep in mind that it doesn't come with great foliage deflection; meaning that its performance is far more dependent on your particular home terrain than with our top pick.
That's pretty much the only reason why this antenna has earned second place instead of being first.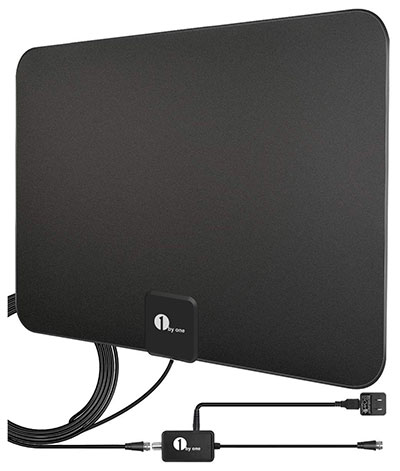 The antenna boasts impressive insulation when it comes to FM and cellular frequencies, bringing down any interference to the absolute minimum and resulting in clear imagery. 
Our third pick primarily functions as a digital indoor antenna — but it's got all of the features you'd otherwise look for in your best outdoor TV antenna for rural areas.
First of all, its 80-mile radius is certainly impressive — making it quite convenient to use regardless of your location. And the benefits don't end there!
What we liked about 1byone Digital HDTV Antenna
Not only does this antenna have an awesome signal, but it's also got an integrated circuit chip — resulting in powerful signal amplification.
Also, the antenna has a 10-foot coaxial cable that could be longer, but it's still decent enough in terms of allowing you to choose where you'll specifically place the antenna in your home.
The quality of the cable and its durable manufacturing will also give you enough protection against EM interference. In the end, all of this amounts to predictable and consistent performance, as well as great picture quality.
You can use the antenna to watch any over-the-air broadcasts quite easily with this model. 
Just remember to retune your TV if you want to get all of the available channels.
And don't worry, the antenna doesn't require you to do much fiddling — the design is paper-thin and yet durable, meaning it's easy to install wherever you want in your household. And you get a lag-free, zero-delay experience. 
The downsides
Seeing as this is a digital antenna, anyone watching an older TV might require an additional digital converter box.
Furthermore, there are instances of static depending on the outside weather, though it's nothing too extreme.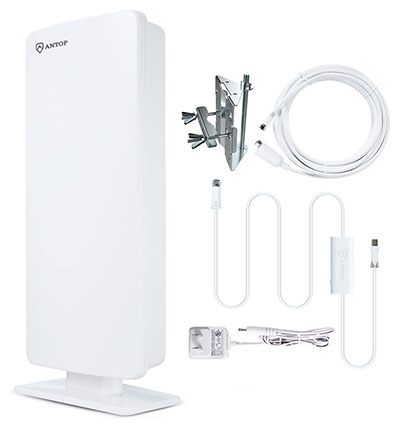 The 80-mile radius of the antenna will let you experience the convenience of excellent signals regardless of your distance.
Our final pick on this list is another premium-quality antenna, with plenty of channels you can select from if you want to have the widest range of available content without satellite or cable fees.
This is one of those models that you won't go wrong with if you want to do some cable cutting and reduce your monthly costs.
What we liked about Antop HDTV Antenna
This is a rare antenna in terms of versatility; namely, due to the fact that it works both indoors and outdoors. It also comes with a digital smartpass amplifier, always working to increase your signal in situations where you'd otherwise have disruptions.
One of the other ways in which the antenna ensures an easy-to-use experience is its 40-foot long coaxial cable. As you might have noticed, this is one of the longest cables on our list — giving you all the freedom you need to install the antenna in any way you'd like. 
Furthermore, you can choose between a black and a white cable; this is far from an important feature, but some people who like to take the time to choose every aspect of their home aesthetics will appreciate this.
Of course, this isn't a priority — but the functionality of the antenna is. With that in mind, you'll be happy to learn that the range of frequencies that the antenna receives is quite varied — including VHF and UHF.
The grain quality of the signal is simply incredible, and the antenna is quite simple to install. You won't need any additional tools that don't come with the antenna itself, and you probably won't need any outside help.
The antenna's cable comes with excellent anti-interference insulation, and it's also anti-UV and waterproof. If you're looking for a sturdy outdoor antenna, this is going to pleasantly surprise you.
As we've already mentioned, the antenna itself is quite protected from all exterior elements — mostly due to its sturdy ABS plastic casing. 
The downsides
Unfortunately, the antenna is not perfect — for one, its channel reception greatly depends on your terrain and specific geographical location.
And there are plenty of cable channels that you don't get on the free broadcasts; though the latter is a problem for pretty much any outdoor TV antenna. 
Things to consider before buying an outdoor TV antenna
When you're looking for the best outdoor TV antenna for rural areas, you've got quite a lot of things to consider.
Sure, getting the strongest possible signal strength is your top priority — but there are plenty of factors that decide just how well this antenna will work; especially in a rural living setup.
With that in mind, we'll take a look at the various things that affect your viewing pleasure! 
Price
Okay, this is not the most practical of features — but it's still on the top of most people's minds when they buy pretty much anything, including outdoor TV antennas.
Now, the market for these is such that you don't have to spend a fortune to get a high-quality model. Most of the picks we've presented here don't go far above fifty bucks, though you could easily find high-end models with more premium perks and a fancier design.
Still, the important takeaway here is that you've got a model for every kind of budget, so it doesn't matter how much money you want to spend to get a great antenna.
That being said, you should decide on a specific price range before you begin browsing the various options available on the market.
This will not only assist you in narrowing down the abundance of available choices — but you will also stop yourself from getting upsold on models that are far too expensive and you don't need. 
Channels
Now, one of the things people ask about most often is how many different channels they can get with their antenna.
While you may think that this depends solely on the antenna's power — unfortunately, this is not the only factor. In reality, even the best outdoor antenna does not guarantee access to all channels in rural areas. 
It all depends on what broadcast towers are nearby, and what kind of TV stations you can get.
Luckily, there are online tools that you can use to check precisely what stations you'll get within your area.
For instance, the Federal Communications Commission provides you with a useful interactive map — one that can display the exact TV channels and broadcast towers you have access to, depending on your zip code.
And depending on where you are, some channels might require you to invest in antennas with longer ranges, which can muster enough signal strength. 
Range
Speaking of which — the range is an important part of your experience with the best outdoor TV antennas for rural areas.
Generally, we haven't reviewed any antennas with ranges lower than 50 miles; for rural parts of the country, anything below simply won't give you enough bang for your buck. 
In this case, range is crucial to gaining access to the largest possible number of channels. An antenna that has a 100-mile range will do a far better job out in the countryside than an antenna with a 50-mile range; though the latter is our bare minimum. 
This becomes an even more important factor if there's no standard cable available in your current living area. And while that's unimaginable to some, plenty of rural areas exist within that realm of possibility.
So, consider how near you are to a broadcasting tower. If you don't know of any in your closest vicinity, you could even look into a 200-mile antenna for the optimal reception quality. And if there's a tower near you, 70 miles will be more than enough. 
Now, we'll talk about signal amplifiers below — but bear in mind that these aren't actually equipped to change the reception of your antenna.
Their main purpose is to remove any loss in quality that happens on the signal's route from your antenna to your television. If that's your main problem, then an amplifier will do the trick. But it's not designed to increase your range. 
Frequency
We haven't spent much time talking about antenna frequencies up until now — but while this might be a secondary concern for most people, it's something you want to familiarize yourself with. 
Namely, TV channels are wirelessly broadcasted over very high frequencies (VHF) and ultra-high ones (UHF). And if you want to increase the chances of getting all the channels you want, you should pick an antenna that works with both VHF and UHF channels.
Most of the ones that we've recommended above work over both frequencies, but make sure to check this before making a purchase. 
As a general rule of thumb, the cheapest antennas out there are also the least versatile in terms of frequencies — so you can expect them to have only UHF or VHF channels. 
Omnidirectional
You may have noticed us mentioning "multidirectional" or "omnidirectional" antennas above, and you may not immediately know what this refers to. Generally, an omnidirectional antenna is a better choice than a single-directional one.
The thinking here is fairly simple — if you've ever seen people in older movies constantly trying to set their TV antennas in a position that ensures the clearest possible picture, you were looking at a single-directional antenna. 
These can only gather signals from the precise direction in which they're aimed. On the other hand, multi-directional antennas require far less fiddling — because they can simultaneously pick up TV signals from all kinds of directions. 
In practice, this extra coverage that you get with multidirectional antennas means that you have a stronger, better signal; one that's less reliant on the physical position of the antenna, and one that doesn't succumb to signal disturbances as easily. 
As you may have gathered, omnidirectional antennas are a bit more expensive compared to single-directional ones; but that's largely due to the fact that the latter are severely outdated by now. 
Preamplifier
Living in a rural area requires a great antenna —but not all rural areas are created equal. More often than not, some areas are more remote than others.
So, if you live in an extremely rural area, even an expensive multidirectional antenna with an extremely long-range might not do the trick; your signal could still be weak due to the terrain.
Luckily, there are solutions to this. You can simply buy a new preamplifier for your antenna and ensure a stronger signal — or you could get an outdoor antenna that's got a built-in amplifier right from the start, and eliminate any additional fiddling.
This is the most convenient solution, so we recommend looking at antennas that have such a feature.
Splitter
Generally, people rarely have just a single TV in their house these days. And that's especially true if you live in a more spacious rural home out in the country.
So, do you want to have a separate antenna for each of your TVs? That's not the ideal solution — both from the perspective of practicality and of finances.
With that in mind, you should aim to split the signal from a single outdoor antenna to multiple televisions in your household. However, this presents problems of its own — quite logically, splitting the signal means that it becomes weaker.
So, when you split the incoming antenna broadcast into 2, you get two streams with half the quality. And the same goes when you split into quarters, and so on.
Luckily, there are solutions for this issue — the main one being a distribution amplifier. These allow you to split your signal without harming its strength as much as you would with a traditional splitter, which is why we recommend buying one when you get your best outdoor antenna for rural areas. 
Antenna Placement
We've already talked a bunch about the proper placement for your antenna — but this is something important enough to take into consideration on its own. That's why we're going to tackle some basic tips on antenna placement right here.
First of all, we recommend that you place your antenna in a position that's as high as possible. This will ensure that you can pick up a decent signal while also minimizing any landscape interference.
In other words, placing the antenna above the surrounding treeline will go a long way towards improving your signal. 
That's why people place them in elevated spaces, like the attic or the higher points of their rooftops. If you need help with achieving the required extra height, you can always use a mounting pole. 
With that in mind, you should take care to see what installation options are available to you from different antenna manufacturers before buying.
Ideally, you want antennas with additional installation and mounting accessories. Stuff like mounting poles will ensure that you can install the antenna in great positions on your roof more easily. 
On the other hand, there are still some great antenna manufacturers that don't include this stuff but still provide you with a high-quality product.
We're not saying that you should immediately disregard anyone who doesn't give you such accessories; only that they're worth considering.
Apart from that, you should also make sure that your antenna has all the features required for prolonged outdoor use. Among these, a weatherproof design is your most important one — the last thing you want is for the antenna to become rundown, or for it to suffer a weaker signal thanks to bad weather. 
That's why having a weatherproof antenna is absolutely essential; you need to make sure that you've got the most durable unit available because the last thing you want is to exchange the unit for a new one every couple of months, or even years.
So, check if the antenna is capable of functioning in spite of strong winds, thunderstorms, or any other harsh weather conditions specific to your rural area.
Some antennas have particular protection from lightning strikes, which is also important if you live in a stormy area. 
Installation
Next up, we've got ease of use as an important factor. Or, rather, because your antennas are pretty passive devices — ease of installation.
And while this process varies from brand to brand, generally you want something that's not difficult to set up.
That's another reason why we've recommended looking at the brand's offered mounting accessories — having all the materials you need for installation right from the start will make the entire process far easier. 
HD Capability 
This isn't something that's an utmost priority for everyone — but in reality, most people like to enjoy HD television in this day and age.
That's why you should ensure that your TV antenna manufacturer stays true to their word if they claim their products have such capabilities. 
And that's easy to see these days, seeing as pretty much all broadcasting signals are digital — meaning that, if your antenna supports HD signals, you're almost sure to get them in all of their glory.
And if you have poor reception, you're more likely to be greeted with a "no signal" error than a fuzzy picture. So, if you're getting a digital low-res signal, that's likely due to your antenna not supporting HDTV. 
Antenna Size
When you begin looking for your best outdoor TV antenna for rural areas, make sure not to disregard their physical capabilities — their height and size are important to receiving the best possible signal strength from nearby broadcasting towers. 
Physicality is important because of the big obstructions we've talked about before — such as tall buildings, trees, mountains, hills, etc. Having bad reception is likely due to something blocking the way between the broadcasting tower and your home. 
With that in mind, you should go for an antenna that's high enough — or try to increase its height with additional installation accessories.
If you live in a valley, this becomes even more important because you're more likely to have something taller between a broadcasting source and the antenna. 
Frequently Asked Questions
Now that we've tackled the issue of choosing the best outdoor TV antennas and provided you with some of the best choices that we have — we're going to answer some of the most frequently asked questions on this topic! 
What is the best outdoor tv antenna for rural areas?
We've offered you quite a few choices on our list, but we're still sticking to the first — we firmly believe that the Direct Clearstream 4TV Antenna is your ideal solution, at least among the currently available products.

One of the reasons for this choice is that the particular model offers a strong signal capability that's crucial for getting the biggest variety of channels in rural areas. 

Plus, its variety of frequencies ensures that you'll get all the signals you need from any nearby sources. Also, we're talking about a multidirectional antenna — meaning you won't have to fiddle around with it to find different optimal positions all the time.

And as such, it has a quick and painless installation process — you won't have to spend much time identifying its ideal position in your household. 
Do HDTV antennas work around rural areas?

This largely depends on the area, and on the signal strength of the antenna in question. Generally, HDTV antennas provide a signal range of around 60 miles.

This means that you'll be able to pick up on a variety of channels in a decent quality — as long as you've got great sources nearby. 

This kind of antenna is fairly easy to install, and you can also control its specific position with a remote on newer models.

As long as you set it atop your roof, you shouldn't have any issues getting a great signal. That's a plus for rural homes, though you can easily find antennas with bigger ranges. 
How can I get better TV reception?

When it comes to getting the best possible TV reception in a rural area, the selection of a great antenna is pretty much your most important step on that route.

Inform yourself through our article and other info available online, and buy the best possible model for your surroundings.

After that, you need to choose the best spot for the antenna around your home. As you've probably gathered by now, this involves finding a high point — one that's free from tall buildings and tall trees around the house.

Also, if you bought a single-directional antenna — take care to point it in the most suitable direction that will net you the best signal coverage.
Can I boost my signal strength?
There are ways of making sure that you've got better signal strength than the initial one you're getting with your antenna.
The first thing you should do is provide the antenna with the most adequate location in your home; preferably the highest point that's practical for installation and one that's on the exterior of your home (if you're dealing with an outdoor antenna). 

When it comes to indoor antennas, you should pretty much ensure that all of its connections are working properly and that it's been installed as per instructions — that's all you'll need for a decent signal strength. 

Once you're done with this, you should try retuning and changing the aim of your outdoor antenna — there's a good chance that its
current direction is harming the signal. 
Why is my antenna not picking up channels?
When it comes to what specific channels and programs your antenna will pick up, there are a couple of factors this depends on.

First, you need to check if you've properly installed the antenna without any errors. Then, you need to rescan for channels on the television. 

If your TV is still not receiving all the local channels that you think you should have, check to see if you haven't placed the antenna in the wrong direction.

If it's facing away from the strongest broadcasting towers, this is probably the issue that's plaguing you. Though, unfortunately — it could be something that's entirely unrelated to your specific antenna.

At the end of the day, the input from TV antennas depends on the signal coverage and broadcasting towers you have in your area. 

If these are subpar, there's pretty much nothing that you can do to fix that.
What is the most powerful outdoor TV antenna?
As we've mentioned above, there are plenty of higher-end antennas that aren't on our list. For instance, if you're living in a particularly rural area and you need something powerful — you can check out this FiveStar model.

It's truly an astounding antenna, featuring auto gain control between 15 and 35db, as well as a cutting-edge tech for adjusting your signal reception performance automatically. 

As we've mentioned above, there are plenty of higher-end antennas that aren't on our list. For instance, if you're living in a particularly rural area and you need something powerful — you can check out this FiveStar model.

It's truly an astounding antenna, featuring auto gain control between 15 and 35db, as well as a cutting-edge tech for adjusting your signal reception performance automatically. 

Most importantly, it's got a brand new LTE filter that deals with any 4G signal interference, allowing you to view noise-free TV.
And when it comes to power, you'll be pleased to learn that it's got an amazing 200 miles of range — with a price tag that's appropriate for such a model. 
Does aluminum foil boost antenna signal?
Many people are aware of the fact that wrapping your antenna in aluminum foil supposedly boosts its signal. Now, this is true — but only with a particular kind of model.

If you've got a wire, skinny antenna — those have a narrow bandwidth due to their small surface area, and they only resonate at a single frequency.

Any other frequencies in your area won't be a good match, thus lowering the overall quality of your reception.

However, widening its receptive surface area increases its bandwidth — ultimately boosting your signal as well. And a wide piece of aluminum foil will do just that, increasing the antenna's aperture and capturing more of the incoming radiation — including TV signals.

And as luck would have it, TV signals are particularly sensitive to a great bandwidth because of their digital signals, meaning any amplitude and phase disturbances can result in an unwatchable and garbled signal.
Conclusion
As you can see, buying an outdoor TV antenna for rural areas can be a great choice if you're living somewhere where other sources aren't an option — or you're simply a prospective cable cutter that doesn't want to rely on anything other than an antenna and their streaming services. 
The ability to enjoy an abundance of free channels is an enticing one. That's precisely why you should look for the very best TV antenna for your initial investment; if you get a durable and reliable one, you won't have to think about your source of TV content for years to come! And we hope our guide will be helpful in that task.