Under-cabinet lights can change the look and feel of your kitchen. Whether you are looking for extra lighting for cooking preparation or to add ambiance, they can be a wonderful addition. They are also a cheap and easy way to get the exact results you're looking for.
What makes the best wireless under cabinet lighting? Well, we looked at the different types available, how easy they are to use, their level of brightness, and size.
We also looked at all the additional features these brilliant little lights have and how they can work for you.
To find the best under cabinet lights for you, we've reviewed the top 4 models available right now. Along with our in-depth reviews, we've also completed a buying guide to give you all the information you need. Let's find your perfect under cabinet lights!
Our Pick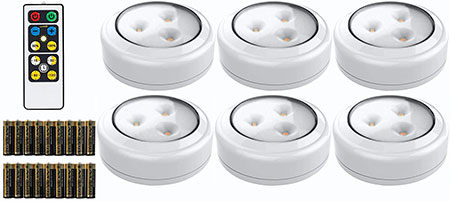 The brightness is going to be perfect for most people, especially those looking for mood lighting rather than practical light for cooking.
This is the perfect solution for anyone looking for under cabinet lighting. It comes in a pack of six which gives you plenty of flexibility on where they are going to be placed. They'll give off a white warm glow and make any kitchen look fantastic.
As with all of the lights in this guide, they are LED which gives them superior durability and quality. The brightness here is quite good at 55 lumens and you have two light options at either 50% or 100% while also giving you four different timer options.
The wireless remote here make them very easy to use and can control them all at the same time. It has a range of 15ft so you'll have no problems with the signal. The usability is very high and these are stress-free lights that you won't have any issues with.
Each puck is run by 3 AA batteries and 18 of them are included with this set. Those batteries should give it a runtime of around 100 hours which is good when compared to its rivals. Those batteries are very simple to replace and only take a few seconds.
What we like:
The first thing you'll notice about these lights is just how easy they are to install. You'll have them set up in no time at all. You can fix them with either double-sided tape or with screws. Both of them come included when you buy the lights.
All of the lights can then easily be adjusted with the remote and you'll have no complaints about how simple they are to operate.
Another important feature is durability, these lights are built to last and have solid construction. All of this adds up to brilliant under cabinet lighting. If you like the idea of having wireless puck lights, then you won't find anything better than this.
What we don't:
While we thought the brightness was a good level for mood lighting, some may find it a little too dim for the likes of food preparation. Also, if you have other types of wireless lighting then the remote control may interfere with them.
How we chose the best wireless under cabinet lighting
There is plenty to think about when it comes to the best wireless under cabinet lights. One of those is how they are going to be powered by either replaceable or rechargeable batteries. Each has their advantages and have an impact on the running time.
Size and installation are always important specifications, as is weight and we took these into consideration. We also know that value for money is important so we only looked at lights which are worth the price you'll pay.
Once we checked the basics, we looked at any additional features such as a dimmer, timer, motion sensor, adjustability, remote control, and color range.
We took all of these features into account before choosing the best under cabinet lighting. We finalized on four that are all a little different but all have exceptional quality.
Best wireless under cabinet lighting (alternatives)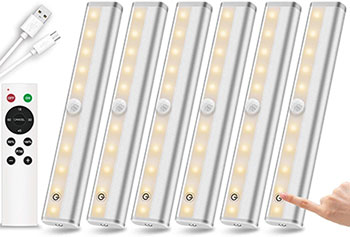 Due to these qualities, don't be surprised if you get another set of these lights for a completely different reason such as up the stairs or in cupboards.
If you don't want puck lights and were instead looking for longer strips of lighting then this would be perfect for you. It allows you to place those strips all around your cabinets to give you a surround effect throughout your kitchen.
There is a timing option on these lights as you can set them to go off in either 15, 30, 45, or 60 minutes. You also have the option to choose either cool or warm white light, which allows you to set whatever type of mood you want.
Another adjustable feature of these lights is that they can be set to either 50% or 100% of their brightness level. You can set the lights by either the remote control included or there is also touch switches on them.
One great selling point is that these have rechargeable batteries which can save you money on needing to constantly replace them. It takes about 2-3 hours to charge and then you can place them back into their holders. 3 USB cables are included to charge multiple lights at the same time.
What we like:
The build quality of these lights was very impressive. They have a strong aluminum body and you can be confident in their longevity. It also gives them a beautiful finish and you won't mind if these are on show and not hidden under the cabinets, especially considering their low profile design.
Installation is fairly straight-forward using the magnetic strips, with three extra strips given just in case.
Perhaps what we loved the most, however, was those batteries. It's a great alternative to buying batteries, especially if you use the lights often. The battery life is also quite impressive so it won't seem as though you constantly have them on charge.
What we don't:
It's only a minor annoyance, but you do have to remember to buy batteries for the remote control as they aren't included. It's also worth noting that these lights aren't intensely bright and are better for use in addition to the main light, or for mood lighting.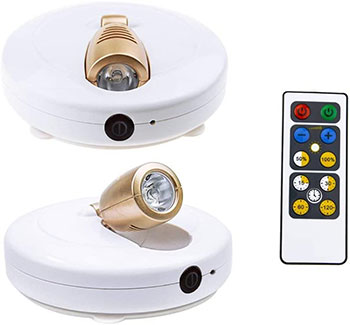 The adjustability of these lights is unique as you can get them in the exact position.
Honwell has also been able to make some brilliant puck light but these take on a much different look with their adjustable spotlight. It makes them stand out and they'll look great under and cabinet to really improve the look of your kitchen.
The brightness here is more intense than with many other under cabinet lighting sources. It's able to shine at 100 lumens on the highest setting. If that's too bright for you then you would be able to turn it down to the lower setting.
There is a timer feature here with four different options available. All of this can be adjusted with the remote control, which is very responsive. The overall level of adjustability is what makes these lights stand out from many of its rivals.
The lights themselves take three AA batteries and they come in a pack of two. That gives you plenty of flexibility to get exactly as many as you need. The runtime is an acceptable 50 hours so you shouldn't need to change the batteries too often.
What we like:
What you notice immediately with these lights is the style. They don't need to be hidden under a cabinet and instead can be proudly displayed. You can also have them for plenty of other areas in your home to show off the likes of artwork if you wish.
Installation is very simple and you have two options of either double-sided tape or screws. You'll have them in place in no time at all and battery changes will also be simple. The battery life is good and the overall build quality is impressive.
They are great for ambiance but also for practical use such as increasing the light in a preparation area. Controlling that adjustability is easy so you'll get exactly the effect you want.
What we don't:
Many people like their under cabinet lighting to be low profile and discreet, so it's worth noting that these lights are definitely not that. Also, they are a pricer option than the likes of standard puck lights so it's worth factoring that in.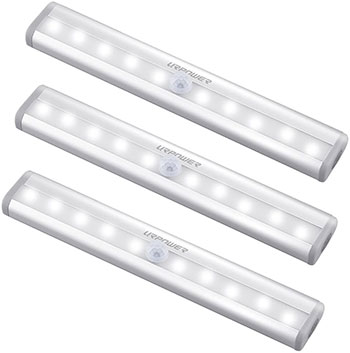 They'll sit perfectly under your cabinets and only come on when required.
If you like the idea of having under cabinet lighting that works via motion sensor then these lights could be exactly what you're looking for. This is a pack of three lights that come in elongated strips that sit perfectly under most cabinets.
They work perfectly and will stay on for as long as there is movement in the room. They work via 4 AAA batteries ad have a good runtime. To save on that battery, the lights aren't going to come on unless the rest of the room is dark.
Installation is going to be very simple with their magnetic strips and the ability to stick to anywhere you want to put them. No tools are going to be required and once they're switched on, you'll love their level of brightness which is warm without startling you.
These lights work perfectly in terms of mood-setting when you're socializing but also are great for late at night when you need to grab something from the kitchen. You can also use them in other areas of your home to prevent you from ever having to stumble around in the dark.
What we like:
When done badly, motion sensors can be very annoying. They'll come on when you don't want them to and not come on when you do. Thankfully, the motion-sensing on these lights is fantastic and they work exactly as they should for perfect results.
The lights are very good quality and quite bright too. Added to that, they also have all of the other features that you like to have with this sort of lighting such as easy installation.
They do take quite a lot of batteries with four AAA being required for each unit but they do last for a very long time. With motion sensing, you also know that you won't be wasting any energy. Once they do run out, replacing the battery is going to be very simple
What we don't:
While many will see it as a good feature, the tape used is extremely sticky and it is very hard to remove if you did want to take it off. Also for some, they turn off too quickly but we didn't find this to be an issue.
Why you should get wireless under cabinet lighting
There are many great reasons for you to get under cabinet lighting. One of the main ones is that it simply looks fantastic. It will improve the look of any kitchen and help it to have a classy and elegant ambiance once the sun goes down.
They are very easy to install and you should have them up in no time at all. Most of them come with the option of either using sticky tape or screws. A wireless option also means you don't have to worry about finding any wires and finding an outlet.
Other benefits include reducing shadows, which can make it easy to use your surfaces. All of this generally comes at a highly affordable price and a lot cheaper than other types of light fittings. It's a low-cost and easy way to give a big improvement to your kitchen.
The good:
Simple installation
Value for money
Adds style
Reduces shadows
The bad:
Key features of wireless under cabinet lighting
Bulb type
You may have noticed that all four options that we've looked at here use LED bulbs for their lighting. It's becoming increasingly common for modern lighting options to work via LED and there are a number of different reasons for that.
One of the main ones is simply the lifespan. LED bulbs can last for a lot longer than traditional incandescent bulbs. The average expectancy is around 50,000 hours which is vastly superior to many of its rivals.
Another reason is that LED's consume a lot less power. This allows them to be battery-operated and not run out after a few hours. This allows you to cut down ongoing costs and why it's a good idea to change all of your regular bulbs over to LED.
These bulbs can also be much smaller and have a low profile, which makes them ideal for placing under a cabinet as they don't take up too much space.
Another feature that makes them ideal for cabinets is the clarity of the light which looks much better than other types of bulbs. They also have the ability to give you a range of color options.
The great qualities don't stop there either as these light have more design flexibility, are safer to use, are better for the environment, only require a very low voltage, or can work well in all temperature ranges.
As you can see, there are many reasons why LED should be you're under cabinet lighting bulb of choice. They are going to be much more reliable which is why we exclusively chose them here. Other types of bulbs are still available but they are getting rarer as they simply aren't as good.
Light type
When looking for under cabinet lighting, there are three main types of lights and they are puck lights, strip lights, and tape/rope light.
Puck lights – These are so-called because they look like big hockey pucks. They are popular because their small size makes them very easy to place and installation only takes a few seconds. This makes them ideal for areas where wiring isn't really an option and also for more cramped spaces. The ease of installation also makes them ideal for rental units.
Strip lights – Puck lights are almost always battery-operated whereas strip lights can be either wired or wireless. They can often be much brighter than puck lights and that makes them ideal for tasks. They come in different shapes and sizes and also with different types of bulbs. The two strip lights we looked at here are both wireless, easy to install, and have LED bulbs. Strip lights are ideal for poorly lit areas and for those who want extra lighting for practical reasons. 
Tape/Rope lights – There are a long strip of lights that either come on an adhesive strip or on a long rope of lights. They can be ideal for unusually shaped spaces and to add accent lighting. It's very rare, however, that they are going to be wireless which makes installation more difficult. 
Size and placement
The size and placement of your lights are also going to be a vital consideration. This will often depend on the dimensions of your kitchen and what type of cabinets you have. This will also simply depend on your personal preference.
Many people like to use puck lights as they are small and discreet. You can easily place them under your cabinets and you can place several around the kitchen. Due to their size, it's also easy to make them symmetrical and get even lighting throughout your kitchen.
Strips lights can be popular as they give you a more elongated light which may look better in your kitchen. It's important to measure here as you don't want them to be too long for the space that you have under your cabinet. This is rarely going to be an issue but it's always worth double-checking it to make sure.
Whatever type of lights you have, it's also a good idea to think about what's underneath them. You don't want your lights to be under an intense heat source unless they specifically have the build quality to cope with it.
Another factor to take into account is the thickness of the lights. Do you want them to be hidden under the cabinet or perhaps you don't mind if they protrude a little bit. If you wanted more discreet lighting then ensure you're buying lights that have a low profile.
Power source
All of the lights that we've looked at here are battery-powered. The benefits of that are going to be very clear as have the benefits of not needing to hide any wiring and also you don't have to use up any of the power outlets in the kitchen.
With wireless lights, your choice is then between disposable batteries or rechargeable batteries. Both of them have their advantages and the best one for you will depend on which type you're going to find the easiest to use.
Rechargeable batteries are a great bet as you don't have to worry about any ongoing cost of buying replacement batteries. All you'll need to do is take the light out of its mount and charge it up.
This will usually take around 2-3 hours and you can do it in the day when the lights aren't needed. For this reason, many people find them to be more convenient as all you'll need is a power cable.
The problem here, however, is that if your lights go off when you're using them then you'll have to wait until they are recharged. With disposable batteries, you're not going to have this downtime. Once they run out, you can simply replace them and you'll be able to enjoy your lights again.
Another advantage is that disposable batteries often last a lot longer on a single charge and therefore you'll be able to go longer between worrying about the power source. You also don't have to worry about the battery degrading over time.
As you see, there are clear advantages to both. If you don't mind paying for batteries then disposable ones can be more convenient. The cost can be quite significant though, especially if you're changing 18 batteries at a time if you have to put three in each puck, for example.
Style
The importance of style is going to relate to what we talked about previously with the size and placement of the lights. If you want a discreet light that has a low profile then you're not really going to care about how they look, as long as they work.
This may not suit your situation though. You may have cabinets without a lip over the bottom which would make the lights clearly visible. You may also simply wish to get attractive lights that you are happy to show off.
The Brilliant Evolution LED Puck Lights are an example of under cabinet lighting which is mostly functional. They are quite thin and unlikely to be seen when placed under a cabinet. They aren't unattractive but don't have the same level of design detail as others.
In contrast, the Honwell LED Spotlights are a little different as they are designed to be seen. The base is fairly simple but then you have the elegant golden light protruding from that which is a more pointed spotlight. This is ideal for those with high cabinets that are happy for their lights to be on show.
The two strip lights that we've reviewed here take on a similar look. They have quite a low profile so are therefore great for those looking for a discreet option. They do, however, have quite an attractive aluminum body and can be proudly put on display if you wanted to.
It's a good idea to have a look at your cabinets and see where your lights are going to be placed. If they are going to be clearly visible then style would be more of a consideration. If not, then you can simply get the most functional lights for you.
Dimmer
A dimmer can be a very useful addition to any light. It allows you to get the right level of brightness for your kitchen. This can give you greater flexibility such as making your kitchen brighter when you're preparing food or perhaps having more ambient lighting when socializing.
While for some this may be a useful feature, for others this may be a useless addition. There's no point looking out for a feature if you're not going to use it but there are some advantages to a dimmer which we look at here.
One great additional benefit is that it is going to save energy. Not having them on full power is going to extend the life of the lights. While this is good for wired lights, it's brilliant for wireless lights as you won't need to be changing/recharging the battery as often.
Not using as much power will also extend the life of your lights. Not as much stress is going to be placed on the bulb and therefore there are less likely to break. This is less important with LED bulbs as they have such high reliability anyway.
Perhaps the main reason to use a dimmer switch is for that versatility. You'll be able to set the mood for any occasion whether that is as a cooking aide or simply to make your kitchen look as impressive as possible.
While this is all important information, it's also good to know that not all dimmers are going to be the same. Some will be able to give you very close control over the amount of light whereas others will have set percentages of brightness.
We see with many of these under cabinet lights that they only have two different brightness options of either 50% or 100%. While this can still be extremely useful, it's not the complete control that some may associate with dimmer lights. If the lights you're looking at have dimmer functionality then it's a good idea to see exactly what is offered.
Motion sensor
Only a few under cabinet lights are going to have motion sensing. It's a feature that only some people want but there are some great potential benefits to it. The only lights we looked at with motion sensors what the Urpower Wireless Motion Nightlight and here we'll look at the advantages and disadvantages.
A great aspect of motion sensors is how they are going to extend your battery life. The light is going to go out after you leave the room so you don't have to worry about constantly switching it off and on. This is great for those who can forget about their lights and means you won't be constantly changing or charging the batteries.
Perhaps the best reason to have motion sensors is simply that they are automatic which makes your life a lot easier. You know that as soon as you walk in the room, the lights are going to switch on and give you the effect that you're looking for.
There are a few other great benefits to motion-sensing lights too. They are good for nighttime safety as you don't have to worry about searching for the light switch in the middle of the night. They also have security benefits as they can act as a deterrent to any intruder.
What people don't like about motion sensing is that you have less control over how they operate. This can lead to them switching off then you don't want them too or not coming on as easily as they should. Thankfully these are issues that can be solved by a high-quality motion sensor.
Most people are probably happy to not have motion sensing included on their lights to have more control, for others, it may be perfect. You may even decide to get the Urpower Wireless Motion Nightlight for other areas instead such as the stairs.
Timer
Motion sensors can control how your lights operate but timers can be another great way to do it. You can set them to turn off when you want them too which will prevent you from accidentally keeping them on for a whole night.
The timers that we see on most of these models aren't going to be very complex. You won't, for example, be able to set them to turn on and then turn off at specific times in the day. They are more simple timers that allow you to decide when they should turn off.
A lot of these models have four different timing options and we see this on the Brilliant Evolution LED Puck Lights, Szokled Store Remote Control Light, and the Honwell LED Puck Lights.
Where they can differ is the amount of time that you can set them for. The Szokled model can be set to turn off in either 15, 30, 45, or 60 minutes. The other two sets of lights can be set for a little longer with timing options of 15, 30, 60, or 120 minutes, which gives you an extra bit of breathing space. 
All of this will be operated via your remote control. It will help to conserve the battery but others may not feel they need to have this feature if they are happy switching off the lights themselves. It is a good feature for a safety late at night as you can navigate around your kitchen and leave the room without needing to be in the dark, knowing that the lights will turn off when you set them too.
Functionality
All of these features lead to one key question of what do you want the lights for? This can have a big impact on your decision. Here we look at common reasons for getting wireless under cabinet lighting and what you should be looking for.
Cooking – A common reason to use this type of lighting is to help with cooking and meal preparation. A benefit of under cabinet lighting is that it helps to reduce shadows. If you want them for this reason then you'd want them to be very bright and positioned precisely where you need them.
Aesthetics – You may wish to get this lighting to improve the look of your kitchen. There are two considerations here. You can either get discreet lighting that will be hidden underneath the cabinet or you can opt for something that is stylish and there to be seen.
Socializing – If you wanted to have your lights for socializing then you'll be more interested in the mood that they can create. For this setting, it's good to look for warm lighting and lighting that can be used with a dimmer.
Safety – Another reason to use wireless lighting is for safety reasons and to be able to navigate around your home when it's dark. When looking at the light for these reasons, it's a good idea to look at motion sensing to ensure your lights come on as soon as there is movement.
Adjustability
Adjustability generally isn't a great feature of under cabinet lighting. Once you install the lights, they will shine directly downwards and illuminate the surface below. This is going to be perfectly fine for most people but others may wish for a little more flexibility.
Your kitchen may be particularly awkward for this type of light installation. This will be important if you wanted to have wireless under cabinet lighting to be able to complete tasks as you'll want to have the light exactly where you need it.
If this is going to be important to you then perhaps the Honwell LED Spotlight would be the best option for you. These are puck lights but ones that allow you to adjust the angle as desired. They also have the added benefit of looking great too.
Brand
As with any type of product, there are great brands out there and others that don't have the same level of quality. It's always important to take steps to ensure that you're not wasting your money by getting lights that aren't up to the standards required.
There are a few ways that you can do that. Firstly, you should get your lights from a reputable source. Secondly, it's always a good idea to get a product that has been positively reviewed. If they check these two boxes then you can be confident that you're getting a brilliant set of wireless under cabinet lights.
Remote control
Remote control can make your lights much easier to use and add to their versatility. Most of the remotes are fairly simple but there are some features that you can look for beyond them simply having an on/off switch.
There are two main features they should have with one of them being how you can change the brightness. The best models will have both a plus and minus symbol to gradually make those lights brighter or darker.
Along with the brightness adjustment will be the timer. These remote controls will usually indicate all the different times they have until it turns off such as 15, 30, 45, and 60. This makes setting the timer extremely easy and anyone will be able to work the remote.
Along with the remote control, you also want to check what manual switches it features in case anything happens to your control. It's also worth noting that motion-sensing lights often don't have a remote control as it's not really required.
Installation
Wired under cabinet lights can be difficult to install. If you truly want to hide all of the wires then this can involve drilling holes into your cabinets in order to feed the wires through. This can be messy which is why wireless lights are often preferred.
There are two main installation methods with these lights and these are either with screws or sticky tape. Many manufactures will give you both options so you can choose which one is going to be the best fit for your kitchen.
Screwing your mounts into place is going to give you a more secure fit. This can be ideal for those who don't have to worry about what a landlord may think and want more security. Even though it's not as easy as tape, putting these screws in place is still fairly straight-forward.
Tape is a great option for rental properties and those who want a simpler method of installation. You do run the risk of the tape becoming loose over time but this is rarely going to be an issue. If it does happen, then you can just stick it back up.
Running time
This is a vital consideration for your lights. If you have a short running time then it's going to be very frustrating and will cost you a lot in batteries. The Brilliant Evolution LED Puck Light has a maximum runtime of 100 hours but it's important to see how that relates to real life.
That's only just over 4 days of continuous light but, of course, your lights aren't going to be on for anywhere near this long. If you're using them for practical reasons, then you may only have them on for an hour at a time 5 days a week.
In this instance, your lights may last for around 20 weeks. If you're using them for socializing for a couple of hours on the weekend, then they may even last up to a year.
Of course, these are only rough examples but they do show how a 100 hour running time can be stretched out to a significant period. It's also worth considering the other big factor that goes into the running time and that is the quality of the batteries.
If you're buying batteries from the dollar store then they simply aren't going to last for as long. You do get the benefit of them being much cheaper than the famous battery brands but it can be more convenient to spend that little extra to prevent changing your batteries all the time.
Brightness
We see with most wireless under cabinet lights that they hover in the 50-100 lumen region with puck lights usually being on the lower end of the scale and strip lights being on the higher end of the scale. These lights don't need to be super-bright but their lumen level can be important.
If you're using the lights to complete tasks then it's beneficial for them to be a little brighter. You can use these in conjunction with your main lights to eliminate shadows and make it much easier for you to work.
Brightness is going to be less of an issue for anyone simply wanting mood lighting. This doesn't serve the same practical purposes which is why you'll probably want the lighting to be a little warmer and not as bright.
Of course, you can have the best of both worlds. If you have a light where you can adjust the brightness then it has much more versatility. If this is what you're after then it may be the best idea to look for strip lights where you can change the brightness.
Budget
While they all have different price points, we chose four lights here that all offer exceptional value for money. That being said, it's always worth thinking about how many lights you need and the overall cost when you add them all up.
The Honwell lights, for example, only come in a pack of two. If you needed 10 lights then you're going to need to times that price by 5. This still isn't that expensive but it's a good idea to look at the price per unit rather than the cost for one pack.
If you're on more of a strict budget then the Brilliant Evolution LED Puck Lights would be a great choice as you get a pack of 6 here at a brilliant price. Whichever lights you pick, just make sure that they are fitting in with your budget.
Weight
Weight isn't a huge consideration but it is worth bearing in mind. Strip lights can be quite heavy and therefore may be a little difficult for an elderly person to change the batteries.
If this is a concern, then check the product weight. It may be the best idea to opt for puck lights as these tend to be a little lighter.
Warranty
As with any product, it's always a great idea to have a strong warranty. As mentioned, durability is something you won't need to worry about with these lights. These LED's are going to last for a very long time and will probably never go out for the whole time you have the lights.
That being said, you never know what can go wrong with any product and there may be other factors such as defects in delivery. We looked at four reputable brands here so you can be confident in their build quality.
Many will come with a 1-year limited warranty which is all you're going to need. If they last for that long then there is a good chance that they'll last for many years after that. If you wanted to have that extra peace of mind then look for lights that have a strong warranty.
FAQs
How many lumens do I need for under cabinet lighting?
Lumens are the best measure of brightness that we have. They indicate the amount of visible light that the naked eye can see. For reference, an old-style 40W incandescent bulb produces around 450 lumens of light. They light up a whole room so you won't need anywhere near this level of lumens.
The level of lumens you need depends on what you want the lights for. With ambient mood lighting, you'll only need to have around 50 lumens of light. If you wanted to light to complete tasks then you'll probably want around double that.
What size under cabinet lighting do I need?
It's the best idea to go and check under your cabinets and see what you're working with. Most of them have more than enough space for all of these lights to attach onto. This includes the strip lights but you will want to double-check this just in case.
If you have particularly small cabinets or are worried about space then it may be the best idea to get puck lights. One of the advantages of wireless lights is that you don't have to think about where the outlets are. This gives you more flexibility in where your lights can be installed.
What is the difference between warm white and pure white LED lights?
The difference between these lights comes down to their different color temperatures. Warm white light will have a color temperature of around 3000 kelvins (K) whereas a pure white LED light will be around 6000K.
Warm white has a yellow tint to it which can feel warmer and more ambient. Pure white has no color tint, has more clarity but feels a little colder. Beyond 6000K you'll get into 'cool white' territory and these lights tend to have a slight blue tint to them.
How long do LED under cabinet lights last?
Perhaps the biggest advantage of LED lighting is how long the bulbs last. On average they will last for around 50,000 hours. While that may sound like a large figure, what does it look like in real-life terms?
We thought it was best to use an example where you use your LED lights for 3 hours a day, every day. In this instance, the lights are going to last for an incredible 45 years. Even if you used them for 10 hours a day, they would still last for nearly 14 years.
You're unlikely to use your LED under cabinet lights as much as this and they're effectively going to last for a lifetime.
Where do you put under cabinet lighting?
You have three options of where to place your LED lights as you can put them either at the back, front, or the middle of your cabinet. All three are good options with different advantages and disadvantages.
Back –  This will completely light up your backsplash, which is great if you have pretty tiling, for example. It will, however, give minimal light to the front of your counter which isn't ideal for practical uses. Having at the back is going to be a completely aesthetic choice. 
Front – By putting it at the front, the opposite is going to be true. You'll have minimal backlight illumination and maximum counter coverage. It's going to be ideal for those who want their lights for kitchen tasks. An important factor here is that many cabinets have a decorative rail. If yours does, then it may block some light if placed at the front.
Middle – This is where most people are going to place their lights as you're getting the best of both worlds. It will give you great light coverage over your counter while also illuminating some of the backsplashes. It's a good compromise.
We'd recommend that you place them in the middle. One of the tips and tricks, however, is that you can test it out and see how the light flows over your counter. You can always move them if you're not too happy as the installation is going to be very simple.
What are the best puck lights?
There are many brilliant puck lights available out there but we thought the best was the Brilliant Evolution LED Puck Light. They have a low profile, look great, and work perfectly with the full range of features that you want in a high-quality puck light.
If you wanted to get something a little different, then the Honwell LED Spotlight would be a good alternative. These have a bit more style and the adjustability that comes from its spotlight.
Is soft white or daylight better for the kitchen?
As we mentioned before, there are different types of white when it comes to these LED lights. There isn't a definitive best type of light as it will depend on what you want. For mood lighting, it's better to have softer and warmer lighting.
If you wanted to have the light for more practical uses then it's better to have a clearer light which is more like sunlight. This is better for the likes of cooking preparation. There are some lights out there that allow you to change between different lighting types.
So if you're wondering what is the best color LED for under cabinet lighting, then the answer is it's the one which most suits what you want the lights for you.
What is the best wireless under cabinet lighting?
Any of the four options here could be described as the best in different categories. We chose Brilliant Evolution LED Puck as our top pick as we love puck lights and think these are the best pure puck lights around.
The Szokled Lighting is the best option for those looking for spotlights, the Honwell LED Puck Lights are the best for those looking for spotlights and the Urpower Motion Sensor Lights are perfect for anyone that wants motion sensing.
Due to this, the best lights are going to be the ones that are most suitable for you. It's important to know your needs and get lights to match that.
What is the best type of under cabinet lighting?
Again, there is no definitive answer here as it will depend on what you want your lights for and the type of kitchen you have. Many like puck lights as they are small, discreet, and very easy to install. They generally aren't the brightest but can improve the look of any kitchen.
For those looking for more practical lighting, the strip lights are going to be a great bet. They are generally brighter and better for larger areas. Some people like tape/rope lights but this isn't really going to be an option for those looking for wireless lights.
How do you hide under cabinet lighting wires?
To hide under cabinet lighting wires you may need a series of holes, cable clips, and tape. It can be quite hard to completely hide this wiring and make it look professional.
This is why many people prefer to use wireless lights as these give you a much cleaner look and are a lot easier to install.
Does under cabinet lighting add value?
Under-cabinet lighting is a simple and cost-effective way of adding value to your home. It helps to add depth to your kitchen and can give it much-improved aesthetics. Realtors also say that it can help to give the ceiling more height and make the kitchen look bigger.
These are more excellent reasons to add under cabinet lighting. The lights we've looked at here are highly affordable so the outlay is going to be minimal. If you're looking to sell your home then adding some under cabinet lighting can be a great addition.
Conclusion
You now have all the information that you could ever need to get the best wireless under cabinet lighting. With that information, you can then decide which of the four models we looked at would be the best option for you.
If we had to have a top pick then it would be the Brilliant Evolution LED Puck Light as you get the beautiful lights that are easy to install and have all of the features you need. The Szokled Lighting is another great option if you're looking for puck lights with the additional feature here of them being adjustable.
For those looking for strip lights, you can't go wrong with the Szokled Lighting. They provide a great level of brightness while also being easy to use and giving you great versatility in your lighting options.
Another great strip light option is the Urpower Motion Sensor Light. This is ideal for anyone who likes the idea of having motion-sensing lights and all the other great features that come with it.
All of the four models that we've looked at here have exceptional qualities and could all be called the best under cabinet lights in different categories.
If you still have any doubts then use the buying guide to make a list of all the features you want and get the lights that most closely match. All that's left to do is choose your perfect lights and enjoy all the benefits they bring.