Applying polyurethane is a perfect way to protect your kitchen cabinets while also allowing them to look their best. Using the best polyurethane for kitchen cabinets will give them extra durability, resistance to abrasions and protection from chemical agents.
What is the best polyurethane for kitchen cabinets? That's what we wanted to find out.
We've looked at many key features such as the quality of finish it gives, how durable it is and other important aspects such as value for money and ease of use.
We've spent countless hours doing this research and have completed polyurethane reviews on the top 4 models available today.
Along with this, we've also written a buying guide to give you all the info you need. Let's find the best polyurethane for kitchen cabinets!
Our Pick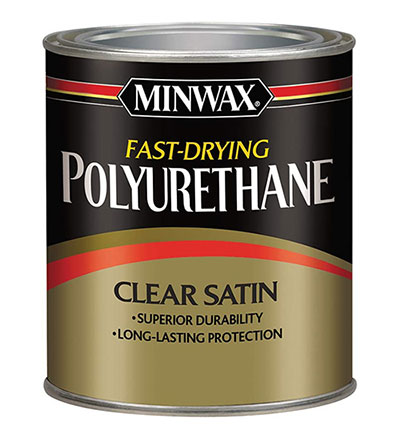 The area that really impressed us with this polyurethane is how durable it is. It gives quite an impressive level of protection and cuts down on how often you'll need to maintain the finish.
This is our top pick as it scored highly in all the key areas. This poly is highly effective at giving any interior wooden surface a look that you want. This makes it excellent for kitchen cabinets as you get that aesthetically pleasing finish polyurethane can provide you.
Along with cabinets, this makes it ideal for many other types of surfaces. Specifically designed to withstand high temperatures and UV damage, it's also a great option for outdoor use.
Used in a well-aired area and applied in a thin layer, it will dry faster than similar oil-based polyurethanes. This is ensured by its light formula, which also makes it easier to use.
It doesn't matter if you just want to give your old furniture a new look, or you are taking on a brand new DIY project with completely unfinished wood. You can use this Minwax polyurethane for your finish either way, after only a minimal sanding with sandpaper.
What we liked about Minwax Finish
It will give you a rich satin finish and transform your furniture from dull to stylish. Highly recommended if you're looking for a slight sheen, without it being too glossy.
Not to mention the long-lasting protection that you can achieve in only two coats. The finish will be extra strong, and you won't see a scratch or dent for years to come.
Luckily it has a little thinner formula, so you won't have an excess build-up. Even if you have to apply more layers for added protection, you'll still end up with good-looking results. Because it's a little more diluted, you will have an easy job applying it with a brush and get a smooth result.
It's great that you can use it even on raw wood, with or without another stain, just with the help of light sanding.
The downsides
Although it's a clear finish, it's still an oil-based poly that will give your wood a yellowish tint, and best to be used on warm-colored furniture or floors.
It only dries fast if the humidity is low enough. If the weather is humid and cold, it will dry slower, and the strong smell will remain longer.
How we chose the best polyurethane for kitchen cabinets
There are many factors that go into choosing the best polyurethane for kitchen cabinets. The three main features we looked at were durability, how good it looks and also how easy it was to use. While these were the most important markers, we also looked at other points.
In terms of durability, polyurethane needed to cope with the high heat and humidity that can be produced in the kitchen. It also needed to have a high scratch resistance as it's common for kitchen cabinets to take a lot of punishment.
The finished look of the polyurethane was also of the utmost importance. You want your kitchen to look its best and these products can help you with that. Everyone has different tastes and therefore, we looked at the best matte, satin, semi-gloss and high-gloss polyurethanes.
Other factors that we took into consideration were the cost and overall value for money. Drying time is also another issue we cared about, as was the application method. We wanted to only choose polyurethanes which ranked highly in all these areas which is why we ended up with four excellent models.
Best polyurethane for kitchen cabinets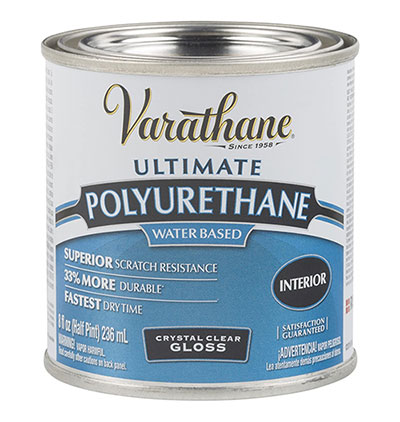 Probably the fastest drying polyurethane on the market. With its light, odorless water-based formula, Varathane is perfect for indoor use. True to its claims, this poly will give you a clear crystal gloss, perfect for classy-looking cabinets or trims.
The clear finish is without a yellow or amber sheen, letting the natural beauty of your wood show. This clearness is certifiably durable, which is also true for the scratch and stain protection it provides.
Without any question, one of the best features of this poly is its base, as it gives you the ability to clean up with water. You can just wipe off any excess with a wet cloth and soak your brushes in clear water. This alone will save your money on cleaning products and brushes, which can be reused, unlike after some oil-based polyurethanes.
Spraying is a good option if you want to avoid too much shine and brush strokes with this poly.
What we liked about Varathane Polyurethane
Super easy and quick to use (even for beginner painters), and the low odor disappears within 30 minutes. Even if you use it on larger surfaces, with a drying time of two hours between layers, you can finish a great deal in just one day.
Perfect choice for kitchen cabinets or marbles, as it will give them ample protection against scratch, mold, and yellowing from the heat.
Depending on the method of application and the surface, you can even change this polys glossiness. Use it with a brush for a more polished look on marbles, or use it as a wipe-on for a satin finish on darker surfaces to avoid showing off fingerprints.
Given its watery base, this polyurethane doesn't have a toxic odor or fumes, making it a great option for frequent use, like sealing small clay products.
The downsides
It has a slightly thinner formula, so you will need at least three coats of it, even if you use a brush or wipe it on.
If you spray it, you might need twice as much. You can't use them over white chalk paint without a protecting stain in between.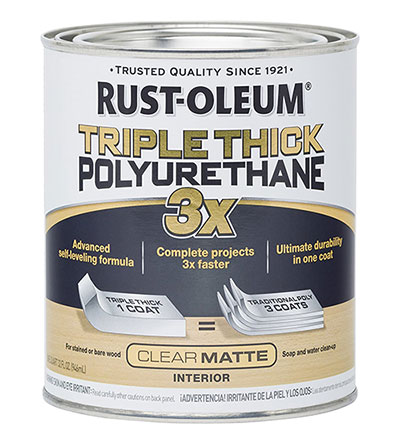 In addition to the more efficient formula, this poly is also cost-effective as it comes in a bigger package than some products in a similar price range.
If you're looking for a subtle matte finish for your indoor furniture, this polyurethane is the right choice for you.
Although it's water-based, even one coat of it will provide more protection than similar products. This is possible because it has a somewhat thicker self-leveling formula, which becomes entirely scratch-proof when dried.
It also means that you can apply it freely with a synthetic bristle brush without leaving any strokes behind.
Similar to the application process, the clean of this product is also easy. Water with a small amount of soap is all you need to remove even the old, dry stains from it.
It might seem a little pricier than other finishes, but the durable one-coat protection most certainly justifies the price. Not only that, but it also dries three times faster than the cheaper ones, cutting down on finishing times for your projects.
What we liked about Rust-Oleum Polyurethane
It works as advertised. One application will give your furniture a solid and rustic but refreshed look. Although this polyurethane appears milky when wet, the dried finish is a true matte, with barely any shine to it, especially applied on raw wood.
Surprisingly, despite the thicker consistency, this polyurethane is easy to apply even with foam rollers on furniture with details, like small chests and cabinets.
This poly is mostly recommended for kitchen and bathroom cabinets, indoor items that need the most protection in the hot and humid atmosphere.
That doesn't mean it can't be a super finish for some wooden patio furniture too. For example, wicker chairs coated in it will be more resilient to the outside weather conditions while looking more natural.
The tough, non-toxic, matte finish is also a good choice for sealing animal cages, where scratch and bite resistance is essential.
The downsides
The thickness gives you more trouble when sanding if you want to add more than one layer for added protection. It also tends to turn yellow on previously painted, light-colored surfaces, particularly the white ones.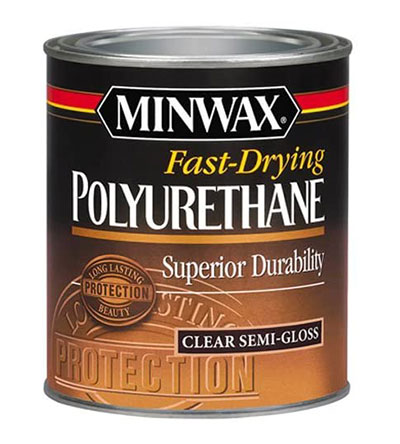 It works very well with various kinds of wood textures, whether they are finished or raw. The semi-gloss finish will leave your projects looking natural while enhancing the innate beauty of the wood.
This is certifiably one of the most durable finishes on the market, suitable for all kinds of woodwork, whether it's used in or outdoors. It is also the most cost-effective one among similar products, leading to many satisfied and returning customers.
Dries to a classy-looking semi-gloss finish and provides long-lasting protection even for previously unfinished wood surfaces. And it works even better on top of wood stains.
The easiest way to apply this poly is with a natural bristle brush, which is also the simplest to wash afterward with mineral oil. Although for more rustic results, you can use sponges or an old rag.
The product itself is not that hard to clean when wet, and it dries a little slower, so you shouldn't have problems wiping off any excess. Mineral spirits are the best for this purpose, as well as thinning and diminishing the odor.
For kitchen and bathroom furniture, apply it in at least three or four uniform coats, leaving ample time to dry between them. This will leave you with a fully water-resistant film without visible imperfections on the wood.
What we liked about Minwax Semi-Gloss Finish
Despite its base, you can apply this poly in thin layers and build it up the way you want it. The cleanup is also more straightforward than with similar products.
For seasoned DIY-ers, it's also worth mentioning that it mixes well with other products, such as mineral thinners and lighteners.
Applied in thin layers, it won't require too much sanding, mostly after the first one. On top of wood stains, you will only have to brush it lightly at the end with sandpaper or steel wool.
Considering this particular polyurethane gives the best value for the money, it can become anyone's favorite finish.
The downsides
Typically for oil-based polyurethanes, it leaves a yellowish undertone, which is, more often than not, unacceptable for lighter surfaces.
The other bad thing about it is the extremely strong odor that will linger for days, as this poly takes a long time to dry, even in one or two coats. This, however, will quickly diminish.
Why you should get the polyurethane for kitchen cabinets
Kitchen cabinets are in a fairly harsh environment where they need to deal with high humidity and the potential for scratches. There are a few different types of sealant and coats that you can get but there are some definite advantages to using polyurethane which make it a great option.
Perhaps the greatest quality of polyurethane is the durability it gives. It still provides a very strong surface that will protect the wood underneath. That protection is going to last for a very long time and can save you plenty of money over time.
While polyurethane has those qualities, it's not the only feature it has. It also gives you a smooth appearance to your cabinets that is aesthetically pleasing. You can choose which type of finish you prefer but they all look great in the right circumstances.
Aside from the durability and finish, polyurethane is also quite easy to apply. Some can be used with more powerful sprayers but you can easily cover your kitchen cabinets with a brush or roller. It cuts down the time you need to complete the job and also makes applying further coats very simple.
Some of the cheaper polyurethanes can crack over time but the four that we've looked at hold up very well over time, so this shouldn't be a problem. If you need to protect your kitchen cabinets then there's no doubt that polyurethane would be an excellent choice.
The good:
Smooth surface
High durability
Easy application
Long-lasting protection
The bad:
Things to consider before buying polyurethane for kitchen cabinets
Polyurethane varnishes are sturdy coatings that are mostly used as finishing coatings to protect both the interior, as well as the exterior of the wooden floors, stairs, and any other surface that is prone to wear and tear due to its location.
Usually, they can be used on a wide variety of wooden surfaces which makes them ideal for most kitchen cabinets.
It is easy to use water-based polyurethane as they contain low VOCs compared to oil-based types, and they are more durable than the standard varnishes.
They are the varnishes of choice for furnish makers, restorers, woodworkers, and joiners. From cabinets to floors, and bar to stairs surfaces, these varnishes can provide excellent finishes with protective qualities in matte gloss or satin.
Here are some of the main factors for you to consider when looking for the best polyurethane for kitchen cabinets.
Scratch resistance
The kitchen cupboards have a lot of activity and thus, scratching becomes an almost inevitable occurrence. For your kitchen cabinets, ensure that the polyurethane sealer is sturdy enough to survive the scratches.
Any finish with a low level of scratch resistance will quickly start to show imperfections. You may be surprised at just how often small scratches can occur in a busy kitchen.
Getting a strong polyurethane will protect against this and avoid the need for constantly applying recoats.
Thickness
The number of coats you need will vary from one product to the next. Some will require just one coat whereas others may need multiple coats. If you wanted to use the minimum amount of effort then look for a one-coat option.
It's often the case that the first coat will act as a sealant and a second coat will then add the sheen which can improve the look of your cabinets. It's sometimes worth putting in that extra effort for a better finish.
Some of the thinner polyurethanes may need three or four coats and you should keep this in mind when looking at your budget.
When looking at a product, it can be a good idea to check the user reviews to see if there is any guidance on the number of coats they used.
Cost
Just like any other quality product, the best varnishes are going to be more expensive. However, if you have a lower budget then they'll still be plenty of options.
If your budget is limited then look for a product that has positive reviews along with it being suitable for all your needs.
Polyurethanes usually range between $10-$30 for a quart (32oz) and this amount of solution can usually cover quite a large area.
When looking at the price you also need to consider the quality of the finish and the number of coats you'll need.
Cabinet surface
Before you make a decision to use polyurethane varnish for resurfacing, you have to ensure that the surface is suitable.
Don't apply polyurethane varnish to the spots which have been scratched, yellowed, blemished, or damaged since this will leave an unnecessary grey color that will become stuck to the surface permanently.
Problems like these can be very hard to remove; as a result, it is vital to ensure that this is correctly done from the beginning. This means preparing your surface and cleaning it beforehand.
There are many polyurethanes that can be used on either treated or untreated wood but this isn't always the case, so you should double-check.
Surface preparation is going to be important as you'll want to ensure the polyurethane adheres as strongly as possible. This usually means sanding the surface beforehand and also between coats to get the strongest possible adhesion and therefore, the best finish.
Finish
Polyurethane products come with a few different types of finishes. This is generally determined by how much light they reflect. You go from the minimal shine of a matte finish, up to satin and then you have semi-gloss then high-gloss finishes.
A matte finish is just one that doesn't have any shine and doesn't reflect much light. It's a more reserved type of paint which you may think is more suitable if you wanted the natural wood grain to stand out.
There isn't much difference here to polyurethane so you should just choose the one that you find most pleasing on the eye. Some kitchens look better with high-gloss shiny cabinets whereas others look better with a matte finish.
Drying time
You want to wait forever between applying coats. Each polyurethane product should state how quickly it should dry. These times can alter slightly based on outside factors such as the room temperature and thickness of the coat.
Most polyurethanes will dry in a few hours. Most of the time it's a good idea to leave a coat to settle overnight before applying the next one. If you want the job completed quickly then look for a fast-drying product.
Some will only take a few hours to dry which means you can apply multiple coats in the same day. It's worth remembering that for the best finish, you'll need to lightly sand between coats which means you need to polyurethane to be completely dry.
Ease of use
It's important for any type of paint, varnish or sealer to be easy to use. There are a few indicators of this with one of them being well it adheres to the cabinet surface. A polyurethane that applies well will cut down on the time it takes and make it easier to get the finish you want.
There are a few other factors too. Non-toxic polyurethanes will safer to use as you won't have to worry about fumes or environmental impact. You also need to think about the application method as brushing and spraying can be easier but this is not always possible.
Durability
Durability is perhaps the most important feature when it comes to polyurethane. It needs to withstand the harsh environment and keep its finish for a long time. This is an area where many polyurethanes simply don't deliver.
You'll often find that with low-quality polyurethanes that they may look good when you initially put them on but they soon begin to fade and crack. It's always going to be worth it to get a highly-rated model to avoid such issues.
Application method
Polyurethane varnish is usually applied using a nylon brush or roller. It is essential to apply just a thin coat and then allow it to dry throughout the night, and lightly sand it before you apply the second coat of the polyurethane varnish.
For the best results, it's good to apply three or four coats but this may be too costly or time-intensive. Often you'll get the results you want after two coats.
It can actually save you time to remove the cabinet doors and apply the polyurethane on a flat surface. This makes application easier and also reduces the chance of drips.
You may be able to use a sprayer to apply the polyurethane but this can comes with drawbacks such as how it's the least accurate method so removing the cabinets is required here.
Also, hand-pumped sprayers may not be powerful enough and therefore a powered sprayer is most likely required.
Base
The choice of whether to use water-based or oil-based polyurethane mostly depends on the project as well as your preferred type. Oil-based polyurethanes are rather easy to apply, and they can be less unpredictable than water-based ones.
Oil-based polyurethanes are also thicker and therefore won't need as many coats. However, oil-based finishes are prone to brush marks and usually take a longer time to dry. This can hold back your project and probably raise the possibility of having dust in your finish, even before it dries.
Water-based polyurethanes typically dry a bit faster, are more self-leveling and they have less odor than oil-based options. However, water-based polyurethane is prone to watermarks, and it can be a little more difficult to apply.
Color is one more thing to consider. Oil-based polyurethane usually adds a warm amber shine to wood, and especially to lighter wood types, like white oak, birch or maple.
Water-based polyurethane is generally more clear or neutral. Water-based polyurethane has a creamy white appearance when it goes on; however, it becomes clear as it dries.
The best way to apply polyurethane to cabinets
Inspection – Whether you are applying a completely new finish or re-varnishing some old cabinets, you will need to inspect your wood before preparation while removing any hinges and handles to avoid staining. It can be tempting to apply the polyurethane on the fixed cabinets but this won't get the best results. The best idea is to remove them and then paint them on a covered bench/table. This will give you a greater chance of an even coat along with less wastage.
Space – Prepare a dust-free environment to prevent dirt from getting into your drying poly. Try to do it with as much sunlight as possible. If indoors, it's best to keep the area well ventilated. Even though water-based polys are easy to use, it's best to keep a constant airflow.
Preparation – Sand smoothes the surface to remove previous paint or dirt, wipe it down, then apply wood grain fillers and primers to cover imperfections such as scratches and holes. Wait until everything is completely dry before getting started.
Application method – If you wanted the quickest possible results then using a paint sprayer would be a great idea. For the best results, a brush would be the best option. A good compromise can be to use a roller on the flat parts of your cabinet and then use a brush for any intricate areas.
Application – Apply one coat as a sealer, let it dry for at least the time stated on the tin, sand it, and then apply at least one more coat as a finish. It's important for it to be fully dried before reapplication
Finishing touches – Examine your cabinets in a clear light, right after applying your finishing coat. You will be able to correct any mistakes you need only before the polyurethane dries. Once it has dried, you can also judge whether or not you think it needs a 3rd coat.
Frequently Asked Questions
Should you use polyurethane on kitchen cabinets?

Polyurethane is a type of varnish commonly used to finish wooden surfaces.  It's made of resin molecules that bond to each other when applied in layers, making the finished product tough and resilient. Poly is usually colorless, provides a great deal of protection against abrasions, dries quickly, and is relatively easy to use.

There are various benefits of using a finish on kitchen cabinets, especially water-based polyurethane. It will protect your cabinets from heat and water damage, as well as any other wear and tear. Your kitchen will be a joy to clean, as stains will stay on top of the poly.

Not to mention that it will look brighter and more pleasing to the eye. Polyurethane finish doesn't require much upkeep, just the opposite, it will help you preserve your cabinets longer and save you money on repairs.
What is better polyurethane or polycrylic?

There are two characteristics of polycrylic making it more favorable over polyurethane – it's less toxic, and it dries quicker. While that's true, the toxicity of water-based polyurethane is very also.

Secondly, polyurethane doesn't take too long to dry either and sometimes you can apply a new coat In just a few hours.
When it comes to kitchen cabinets, you need to consider the color of your wood and the intent of use.

Because of the constant heat and humidity, polyurethane is the best choice in the kitchen. It's far more durable than polycrylic and will preserve your cabinets longer.

Even if you have light-colored cabinets, it's still best to use water-based polyurethane than polycrylic as it gives you a clear finish.
What happens if you don't sand between coats of polyurethane?

Sanding between coats will help you remove any debris that gets into the drying layer of polyurethane. It will also help you apply the next coat. As polyurethane is a bonding agent, the layers need the sanding to bond properly.

Consequently, without sanding, your finish (and your cabinets) won't last as long as it would with proper sanding and bonding.

Sanding after the first layer is one of the most critical steps in achieving a smooth finish. If you don't do an adequate job at first sanding, you will have imperfections, no matter how you sand after the second or third coat. It is also useful to wipe the surface down after each sanding, especially before applying the finishing layer of polyurethane.
What is the best applicator for polyurethane?

The method of application depends mainly on the product you decided to use. If you choose thin polyurethane, your job will be somewhat simpler by using a sprayer. The main disadvantage here is that it's the messiest solution and the one that creates the most wastage.

Using a regular paintbrush will give you the most control and less wastage but it is the slowest solution. Using a roller can be a good compromise between the two.

Due to this, there isn't a clear winner on the best applicator for polyurethane as it'll simply be the one you prefer.
Should cabinets be satin or semi-gloss?

Although satin finishes might look more pleasing to the eye, they are not the best choice for kitchen cabinets if durability is your ultimate goal.

The humidity in the kitchens will wear it down more quickly than other types of finish. Semi-gloss finishes, on the other hand, are more durable, even in these conditions.

They also reflect more light than the less shiner, satin ones. Semi-gloss might show any imperfections present in the wood of your cabinets as well as brush strokes, so you will need to be more careful when sanding and applying polyurethane.

We love satin due to the pleasing finish you get and it still has a good level of durability. The choice is ultimately yours and which finish one you prefer the look of.
How many coats of polyurethane should I use?

Oil-based polyurethane is a lot thicker, and it usually builds up nicely after just two applications. On the other hand, the water-based one needs at least three or four applications as it is runnier.

Considering the use of the kitchen cabinets, the more layers you put on them, the more protected they will be. You can even use three layers of the oil-based one, just make sure to let them dry sufficiently and sand them between applying each coat.

If you apply the water-based one in a very fine, smooth layer, you might not have to grind it before the second layer, that way you will be able to apply the rest faster.

Polyurethane used in a spray form is even thinner than the regular watery ones, and with them, you will need even more coats to achieve sufficient build-up.
How do you keep polyurethane from turning yellow?

Oil-based polyurethane will turn your cabinets a little bit yellow right away and will get worse over time. If you want to avoid yellowing, use high-quality, durable waterborne poly with UV protection instead.

When properly applied, they will protect your kitchen cabinets from naturally turning yellow, as they tend to do from UV exposure.

You can also prevent poly from turning yellow by allowing less sunlight into your kitchen via window sheers or UV films. Also, avoid using wood fillers with yellow or orange tones, as they will turn any polyurethane yellow.

Finally, some types of wood are naturally yellow, which intensifies over time, and you won't be able to change that even with polyurethane.
Conclusion
You should now have a clearer idea of what is the best polyurethane for kitchen cabinets. We've painstakingly looked at four here which lived up to our standards. All of them would do a brilliant job on your kitchen cabinets.
While we appreciated all four, our top pick is the Minwax Fast-Drying Clear Satin. We think this has a brilliant balance between a high-quality finish and durability.
We loved the satin finish but if you wanted a semi-gloss look then the Minwax Fast-Drying Semi-Gloss would be excellent. Both of these are very impressive polyurethanes.
All four of these models have very similar qualities when it comes to quality and durability but have differences in terms of their finish. If you wanted glossy cabinets then the Varathane Ultimate would be ideal. It gives you that shine that perfectly suits some kitchens.
As the complete opposite to that, you get the Rust-Oleum Triple Thick Matte Polyurethane. This would be perfect for any kitchens which would suit a more matter finish. It's still able to offer plenty of protection and allow your cabinets to look great for years to come.
Any of the four that we've looked at could easily be our top pick as we were impressed with them all. Our buying guide has hopefully given you an idea of which is your best polyurethane for kitchen cabinets. All you need to do now is pick your favorite and get the look and protection polyurethane can provide.