Using traditional sandpaper can produce excellent results but it is quite physically intensive. Using the best liquid sander deglosser is an alternate solution that can clear away layers of paint without the same effort being required.
What is the best liquid sander deglosser? We're here to find out and have found the four best products available today. You need to think about its effectiveness while also considering other factors such as toxicity, volume, and versatility.
We've spent a lot of time on our reviews and narrowed it down to the four best liquid sander deglossers available today.
Along with those reviews, we've also developed an in-depth buying guide along with some FAQs to give you all the information you need.
Our Pick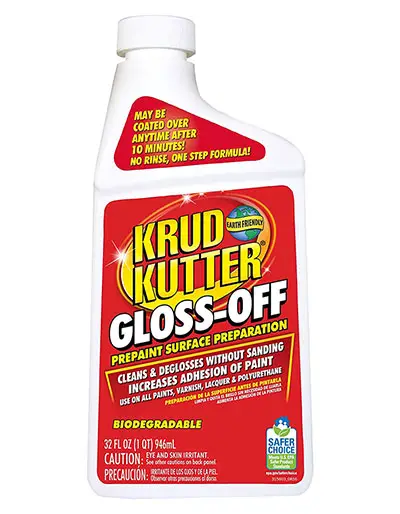 What we liked more than anything is the results. A quick rub of this liquid and that paint is going to start lifting away with no problem at all. It's a one-step formula that will save you hours of hard work when compared to sandpaper.
This was our top pick due to its fantastic versatility with highly effective results. You can remove those layers of paint without having the same level of toxicity as other models. It works very well and we thought it was the best all-around solution.
Krud Kutter is one of the most respected names out there for cleaning products. This deglosser lives up to that name. It's no surprise that it's highly rated by those who have used it for a long time and we were equally impressed with its performance.
This liquid sander comes in a useful size of 32oz and that will give you plenty of coverage. It's also highly affordable which gives it excellent value for money. The application is very easy and you won't need to be too worried about getting burnt.
The liquid doesn't harm the environment with its water-based formula that will wash away easily. It comes ready to use and the concentrated solution will get to work almost instantly, and you'll be able to wipe away that paint.
What we liked about Krud Kutter
Perhaps the best aspect of this liquid sander deglosser is just how easy it is to use. With other types, you'll need to worry about fumes as they are much more toxic. You still have to be careful with this but it's much friendlier.
Due to these qualities, the liquid can be used indoors which adds to its versatility. That versatility also extends to other types of surfaces.
You'll be able to use this solution on not just paint but also the likes of varnish, polyurethane and lacquer.
What we didn't like
While we loved that this has less toxicity and fumes, it's important to note that this is going to irritate your skin unless you use gloves.
You should also ensure that it doesn't have any possible contact with your eyes but this is to be expected with a liquid sander deglosser.
How we chose the best liquid sander deglosser
There are a lot of factors that went into how we chose the best liquid sander deglosser.
First and foremost, it needed to be highly effective at getting rid of the paint. All of these models are brilliant at striping back paint with the minimum of effort.
We also took a close look at what type of paint it was able to remove and how quickly it went to work. It needed to be able to remove even the most stubborn of paint, including latex and oil-based paints. Versatility was also a factor in terms of what else it can remove.
After those considerations, we looked at how toxic it was, how many steps were required and how much solution you get.
We took all of these factors into account and discarded any liquid sander deglosser that didn't meet our high standards.
The best alternatives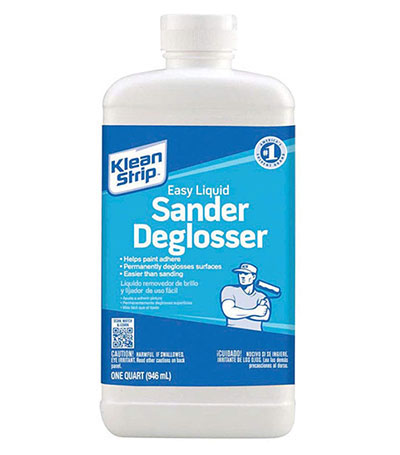 It gets to work quickly and we loved how easy it was to use. You should take the usual precautions when dealing with any chemical solution but it's much safer than other types.
Klean-Strip is another company that has made a highly rated liquid sander deglosser. It has a very powerful formula that can cut through paint, even if it's been there for years with multiple layers applied over each other.
As with the previous deglosser, one of the most impressive aspects here is that it's water-based which has a wide range of advantages. One of those is that it's not flammable so you don't need to be as careful with it when compared to other deglosser.
The other advantages of it being oil-based include it being much better for the environment when you contrast that with oil-based deglossers. Finally, this type of solution is kinder to your skin so fewer safety precautions are going to be required.
The solution will work on polyurethane, stain, lacquer, enamel and varnish as well as paint. Even if you have some deglosser leftover from stripping the paint then you'll always find a use for this due to everything else it can do.
What we liked about Klean-Strip
If you want to quickly prepare surfaces for painting then this could well be the best solution for you.
It still strips back that paint and allows you to immediately put down a primer without needing to even sand at all. Not only is that easier, but you also don't have to worry about all that sanding dust.
The whole process means that you're able to dramatically cut down on the time spent on your projects. You'll also find that this solution goes a long way. You'll be able to degloss a whole kitchen, for example, and still have plenty of leftovers.
Overall, it receives top marks for usability and, most importantly, the finished product.
What we didn't like
While it is easier than sanding, you're still going to need a fair bit of effort with the solution as it does need rubbing in quite aggressively.
While that's true, you don't get the other issues you can get with sanding such as ripped paper and sore hands.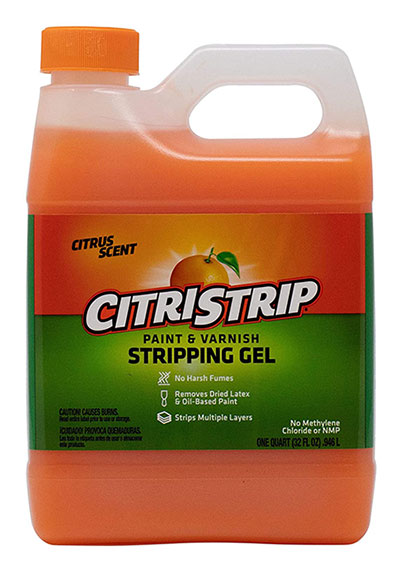 It works perfectly for removing both latex and oil-based paint and can also remove many other types of finish, such as lacquer. It's easy to use and will impressively be able to deal with anything that you throw at it.
If you wanted to strip multiple layers at the same time then this could well be the model that you're looking for. It has exceptional quality and is ideal for those areas where multiple paint layers have built up over the years.
What's unique about this model is that it's a gel and not just a liquid. That thicker density makes it a little easier to apply and it stays active for up to 24 hours. This is what makes it especially good for cleaning up those stubborn spots.
As an added benefit to this deglosser, it doesn't contain and of the extremely harsh chemicals that are commonly associated with paint strippers. You won't have to worry about fumes here and that allows you to use it indoors.
What we liked about Citristrip
Sometimes the paint that you want to remove isn't in the easiest spot. Sometimes you have to reach underneath surfaces or deal with intricate detailing. The gel of this solution makes applying it to these areas very easy.
We praised the versatility of the other two deglossers we've looked at but perhaps this is the best of the lot. It can be used on anything that you need and you don't have to worry too much about the safety aspect as it's quite a friendly solution.
A common aspect of paint strippers is quite a nasty smell. You're not going to have that issue here as it has quite a nice citrus scent to it. It comes in a 32oz tub and that's able to go a long way and represents brilliant value for money.
What we didn't like
Quite a few people don't like what's left behind after you start using this as it leaves a gummy and sticky residue.
It's fairly easy to clean away but can be a little unpleasant. You'll need a stripper but that's not much of an issue.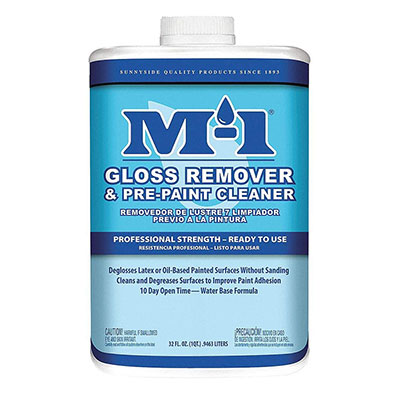 It's ideal for hard to reach areas and will make your life a whole lot easier when compared to sanding.
This may be the last sander deglosser that we looked at but it's easily as good as the rest of them. It works very well with getting rid of old paints. It also works on many other types of surfaces to strip them back to how they originally looked.
It's a deglosser that works particularly quickly and this allows you to complete your projects in the shortest possible time. It's perfect for repainting as the surface it leaves behind makes it ideal for a high level of paint adhesion.
The liquid sander deglosser is water-based which is great for several different reasons. It's easier on the skin and it's also more environmentally friendly. It makes it very easy to use without the usual safety concerns you'd get from a paint stripper.
As with the rest of these deglossers, it comes in a 32oz tub which is very easy to work with and will provide you with more than enough solution for one room. It has a professional level of strength and will get any job done with ease.
What we liked about M-1 Deglosser
This is a formula that comes ready to use so you don't have to worry about complicated steps as you can get started straight away. It's still important to read the instructions as you may need to slightly dilute this deglosser before usage.
One thing we loved was how quickly it got to work. The paint will start coming off very quickly and you'll have finished results in no time at all. Once you've finished, then you'll see that repainting is extremely easy due to the adhesive surface.
In addition to this, you also get the benefits of it being water-based. It all adds up to another great option for those looking for a premium quality deglosser.
What we didn't like
As with all of these models, it can irritate your skin and eyes if you're not careful. It's always important to follow the instructions and take the precautions you need.
While it may not be as harsh as other types of paint stripper, caution is still advised.
How to use a sander deglosser?
There are a few important steps that you need to take to safely use your sander deglosser. Here we take a look at what you need to do.
The first thing that you want to do is to clean the area where you intend to degloss. This will remove any dirt or dust that may be on the surface. Once you've cleaned the surface then you can wipe it down with a cloth to make sure that it's dry.
At this point, it's important to check the manufacturer's instructions. You may need to dilute the solution slightly before use. Some can be used straight away and it depends on how strong you need it to be for the task at hand.
To apply your liquid sander deglosser, it's best to use a lint-free cloth as this will allow you to apply plenty of pressure without leaving any material behind. All you need to do now is dab a bit of solution at the end of the cloth.
You can then rub this on to any surface where you want to remove the paint. The easiest method to do this is with a circular motion. This is the best use of energy and will work to list off that gloss along with the layers of paint underneath it.
At this point, it's a good idea to refer back to the manufacturer's instructions. They will state how long the solution needs to be left on the surface. This is usually around 10-15 minutes but you can choose to leave it on a little longer if you want a more potent finish.
The next step will depend on the effectiveness of the liquid sander and what you intend to remove with it. It may be a case of rubbing off the paint or you may instead want to use a scraper to list as much of it as off as possible.
Once you've finished using the solution then it's best to wipe it off with another dry lint-free cloth. If there is plenty of residues left then you may wish to use water to wipe them away. If you're planning to repaint then ensure that the surface is completely dry before you get started.
Important safety tips
You need to be careful with liquid sander deglosser, even when they are water-based.
They contain toxic chemicals and you don't want the reaction they have with paint to happen to your skin or eyes which is why protection is needed.
Ventilation
This step isn't quite as important with some solutions that don't give off harsh fumes but if you're indoors, you'll still want to keep the windows open to let the clean airflow through.
You can use a mask if you wanted to but this isn't usually required.
As always, it's good to check the instructions to see what they advise. If you're deglossing the likes of furniture then it's a good idea to take them outside so you have the best possible ventilation.
Gloves (and other protection)
We've already spoken about how a mask is may not be required but one piece of equipment that is definitely needed is gloves.
Even the softest of liquid deglossers can burn your skin if they have prolonged contact. Along with this, it's also best to keep all of your skin covered by clothing in case there are splashes.
Another safety feature we'd advise is goggles. Splashes aren't going to be common with liquid deglosser but you can never be too careful.
Getting some in your eyes can be a big problem and therefore you should cover up. If you do get any of the solution on you then wash it off immediately.
Flammability
We haven't looked at any here but there are plenty of paint stripping solutions that are flammable. Even with the gentler solutions, it's best to check that it's not going to be near any open flames, matches or anywhere that sparks can occur.
Storage
It goes without saying but when storing your liquid sander deglosser, ensure that it is high and out of reach of children. It needs to be somewhere that damage won't occur.
Also, store it upright but in case there is any leakage in the cap. Finally, store it away from anywhere that may contain flames and not near any food.
Disposing
If you wanted to get rid of the rest of your liquid sander deglosser then you should do so in the right way. This means not pouring it down the drain as this may leak into the waterways.
Water-based solutions are better for the environment but can still be damaging to wildlife.
Why you should get the liquid sander deglosser
There are many important reasons why getting the best liquid sander deglosser is a good idea. The biggest is simply how easy it is to use.
You're not going to need to use the same level of effort as you would with regular sandpaper. This is especially shown around more difficult to reach areas such as crevices and uneven surfaces.
An example of this ease of use would be seen with something such as a carved table leg. There are many angles to work with here and undulations.
With regular sandpaper, you'd need to reposition your hand constantly to make sure you were getting all the right spots. With a liquid deglosser, you can simply use your cloth.
That ease of use also helps with time-saving. Sanding is quite labor-intensive and if you have a large project, this could mean many hours of work. This is especially true if you have a lot of layers to get rid of.
Liquid sanders, on the other hand, are rapid. They get to work very quickly and produce great results every time. This is perhaps the number one reason why people get liquid sander deglosser.
One thing many people hate about sanding is the level of mess that is left behind. Those dust particles can get everywhere and can be very annoying.
You need to have a good vacuum and this can add further time to the whole process. Liquid sander is much easier to deal with and you don't have any dust at all, you only need to wipe away the solution.
Another benefit to liquid sander deglossers is how good they are for detailed projects. With sandpaper, you run the risk of making off too much material and ruining the detail underneath.
Sandpaper can be too rough whereas liquid deglosser won't take away any of the base material. It's great at leaving grooves and crevices intact.
Finally, there is a risk with using sandpaper on old paints. It can kick toxic led paint into the air which you may then inhale. You don't have to worry about this with liquid sander deglosser as it will simply rub off the paint onto the cloth.
The good:
Saves time
Easy to use
Less cleaning up
Eco friendly
The bad:
Things you should know about liquid sander deglosser
Brand
When looking at getting any product, it makes sense to look for one which has a good brand reputation. With that, you'll get reassurances about its quality and the benefit of a wide range of user reviews to consider to aid in your buying decision.
As with anything you buy, there are good versions and bad versions of the same thing. There are many liquid sander deglossers out there that simply aren't at the level of quality you'd expect. This can usually be found with cheaper, unbranded products.
Obviously, a reputable brand isn't always going to make great products. That's why we've made sure to narrow down our reviews to the very best deglossers out there. These are all highly rated and you can trust them to get the job done.
Toxicity
Any chemical solution that can remove paint will have a certain level of toxicity. Some are a lot worse than others but as time has moved on, companies have found ways of producing a highly effective solvent that isn't too harsh.
This is why it's best to look for a liquid sander that is water-based as it's not going to include any of those traditional toxic chemicals. With it being water-based, you also won't have to worry about the deglosser being flammable.
Even with these water-based models, you'll still need to take the right precautions as they can burn your skin and harm your eyes should it get in there. You're not going to get a liquid deglosser that is completely free from effective chemicals.
It's also good to look for a sander deglosser which is good for the environment. Most of these newer glossers are biodegradable so you don't have to worry too much about their effect on wildlife. This is in stark contrast to other strippers that have harsh oil-based formulas.
Versatility
Along with paint, there are many other types of finish that these deglossers can get rid of and that ability helps to give them a fantastic range of versatility. If you have any solution left over then you're going to find it very useful.
Most of these models can get rid of most types of varnish along with the likes of stain, lacquer and enamel. It's a rapid way of dealing with these types of finishes.
It's important to note that not all types of deglossers have this versatility so it's a good idea to check if you wanted that dual-use.
Quantity
Before you get your liquid sander deglosser, it's a good idea to see just exactly how much you're getting in the container. You don't want to be left short with a small bottle of deglosser and have to wait for the delivery of a new one.
All of the deglossers that we've looked at here come in a 32oz container. That's a very good size as it should allow you to comfortably degloss a whole room. An example of this would be all of the cabinets in your kitchen.
The exact coverage area you have is going to depend on several different factors. If you have multiple layers of paint to deal with then you may need more solution than with a light coat of paint. Other factors include how liberally you apply it and also how thick the solution is.
What it removes
Another good thing to check is exactly what type of paint it removes. Not all paint is the same and they all will react slightly differently to the deglosser you have.
Some products can cope with it all whereas others will struggle with some types.
You should especially look out for if it can remove both latex and oil-based paint. If it's able to then you know you're looking at a high-quality solution.
If you're not sure what type of paint that you have then you can rest assured that all four models we looked at here would do a great job.
Time
One of the biggest reasons to get a liquid sander deglosser is the time it's going to save you when compared to sanding.
With that in mind, you don't want to have a cleaning solution that takes too long to apply and remove the paint.
It's good to note exactly how quickly it will get to work. Most of them will only take around 10-15 minutes. You'll also have the option of leaving the solution to soak into the paint while you do something else and you don't have this option when manually sanding.
Budget
One of the best things about these liquid sander deglossers is just how affordable they are. You'll usually be able to pick up a 32oz container for around $10. Considering how much use you can get from that, it represents brilliant value for money.
Of course, you can pick up sandpaper fairly cheaply but it's good to know that deglosser isn't much more expensive.
It means you get all those additional qualities without breaking the bank. You can also use it liberally without worrying too much about the cost.
Odor
One of the big disadvantages of traditional paint strippers is that they not only let off a lot of fumes but also had a horrible smell. If you were working indoors then this smell could seemingly linger for days afterward.
Most of the options we've looked at here are fairly odor-neutral and you can easily use them inside. The exception to that is the Citristrip Stripping Gel. This actually has a slightly citrus smell to it and is quite pleasant.
Health considerations
Before you get your deglosser, it's a good idea to think about what safety precautions you need to take. With all of them, you'll need to get gloves. These can simply be cheap disposable latex gloves, as long as it's not having direct contact with your hands.
You'll also want to consider investing in a pair of goggles. Splashes are unlikely but you can never too safe. If working with a harsh solution that creates fumes, you'll also need to use a mask but not of the deglossers reviewed here give off harsh fumes.
Customer reviews
As well as expert reviews, it's also a good idea to check out customer reviews and see what people are saying. This can also help to answer any questions you may have.
We thought the four deglossers we reviewed here were exceptional but they are also highly rated, which should give you even more confidence in their quality.
Frequently Asked Questions
What is the liquid sandpaper?

Firstly, we appreciate that the name can be quite confusing. It has absolutely nothing to do with either sand or paper. It gets its confusing name from the simple fact that it's used as a direct replacement for sandpaper.

Liquid sander deglosser is simply a solvent that reacts with the chemicals inside the paint. It turns that paint from a solid essentially back into a liquid that can then be wiped away. When you use enough, you'll eventually get to the bare material underneath but many people used it to simply get that sheen off the existing paint, hence the deglosser term.
What is the best liquid sander?

We think the Krud Kutter Gloss-Off is the best liquid sander available right now. It's extremely easy to work with as it's water-based and ready to use straight away. The results also speak for themselves as this deglosser is going to get the job done easily.

While all of that is true, we could honestly make a case for any of the four options we looked at here being the best. All four are highly-rated and have similar qualities in terms of the results that they provide. You can't go wrong with any of these four options.
Does liquid sander really work?

Liquid sander absolutely works. It's a chemical solution that will react with the surface below and start to eat through the paint.

As with all types of products, there are good and bad deglossers out there on the market.

If you were to get an inferior solution then it's not going to work very well so it's a good idea to get one that is highly rated.
Is liquid deglosser as good as sanding?

Everyone knows how to sand down a surface and we've been doing it for many decades. There is no doubt that it's highly effective. You utilize the friction of the abrasive surface and move it back and forth, taking away material underneath as you go.

You can either sand by hand using sandpaper or you can decide to use an electric sander. Both have their uses. Sanding by hand is very tiring and requires a lot of patience. Electric sanding is effective but only really works on flat surfaces.

While it's used to get similar results, a liquid deglosser is very different from sanding. This is a solvent that is meant to react with the surface below and get rid of it that way. It's able to get rid of layers of paint and makes repainting very easy.

Is liquid sander deglosser as good as sanding then? Both can produce excellent results. You may prefer the finish to liquid sander for one task and manual sanding for another. We'd say there both as useful as each other but with a liquid deglosser, you get the benefits of time-saving.

In most situations, we'd rather have a bottle of liquid deglosser in our hand rather than sandpaper. We love how easy it is to use. You're not going to have a redraw and aching hand at the end of the day as you would with sandpaper.
Does liquid deglosser work on laminate?

Yes, liquid deglosser works very well on laminate and is very effective at leaving you with a good surface to paint on once again. While liquid deglosser works, it can be good to use both.

Your liquid can do most of the hard work and then you can use light grit sandpaper to smooth out any imperfections and give the paint an even better surface to stick to.
Do I have to degloss before painting?

This will largely depend on what type of finish you want to have. You can paint on top of old paint but often this won't look as good as painting on the surface directly and also the paint won't adhere to it as well as it otherwise wood.

If you want the best possible results then it's always the best idea to strip the paint back as much as you can. So in answer to the question, you don't have to degloss but it is advised is you want your surfaces to look as good as they can.
Conclusion
Hopefully, now you're armed with all the information that you need to get the best liquid sander deglosser. We put in a lot of hard work to find four great options here that would all do a brilliant job at stripping back that paint.
If we were forced into picking the best liquid deglosser available today, it would have to be the Krud Kutter Gloss-Off. It gives you fast and effective results while also being easy to use. It was a close call between this and the Klean-Strip deglosser for the best one as both of them are brilliant and represent excellent value for money.
If you're working indoors then the Citristrip Stripping Gel would be a great option as it's quite safe to use without any fumes, while also having a nice scent. Added to that, the gel allows it to work on many types of surfaces.
Another great option is the M-1 Paint Deglosser. This is perfect for those old stubborn paints that have been there for many years. It will give you the perfect surface to paint once again. It's another that gets to work very quickly to save you plenty of time.
We were very impressed with all of the liquid sander deglossers that we've reviewed here. It's important to use our buying guide and FAQs to work out which one is right for you. Once you start using it you'll love the fantastic results and the amount of time it's going to save you.