When you've got a home of your own to take care of, there are two priorities that you probably keep in mind — the aesthetics of the household, and its functionality.
And let's face it — both are equally important. So, when you can have it all, that's the best-case scenario.
For instance, a steel roof is an excellent way to keep a gorgeous home secure. But naked steel is rarely an attractive sight on a piece of beautiful architecture.
Luckily, there are ways to paint it. And seeing as how popular steel roofing is becoming lately, this is becoming an important piece of information for every homeowner.
On top of that, corrugated metal roof coatings aren't just used for stationary homes. Many recreational vehicles (commonly known as RVs) have corrugated metal roofs that require painting — the same goes for a lot of boats.
So, at some point or another — you'll probably need to choose a paint coating for some kind of metal roof.
But how do you paint a corrugated metal roof in practice? As you'll see, it's not a simple matter of taking a random bucket of paint and your nearest brush.
You will need special equipment for this — including the best paint for corrugated metal roofs. Luckily, we're here with a detailed guide on buying this, as well as the process of actual painting!
Our Pick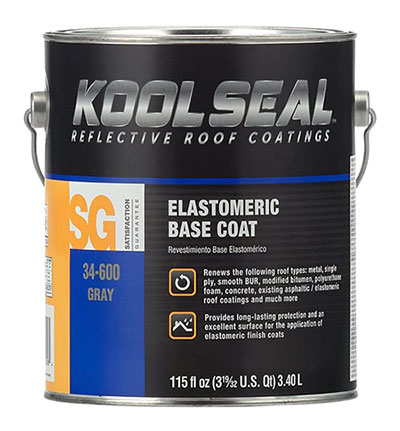 This coating manages to ensure protection from a stunning 90% of incoming UV rays; more than most other paints for corrugated metal roofs can boast.
Our primary choice on this list arrives from one of the top roof coating brands out there — Kool Seal Coatings.
And this is an excellent example that will show you precisely why this manufacturer tends to rank so high among its peers.
What we liked about Kool Seal
One of the primary advantages of this elastomeric coating is that it provides ample protection from the most damaging elements to any rooftop — the sun.
Plus, other types of weather won't be a hassle with this kind of coating. If you want to use it on an RV, you'll find that you've gained the ability to take it anywhere. There's pretty much no kind of weather condition where it won't function admirably.
In other words — this coating is pretty much weatherproof; it can fight against both moisture and bigger water buildups. So, whatever kind of roof you use this on — there will be no damage from water leaks. And the fact that the coating is curable means that it will hold its own when it comes to protection from mildew and fungus.
However, the effectiveness of this product isn't its only boon. In fact, we'd go as far as to say that its best part is how easy it is when it comes to the actual application; there won't be any complication or hassles there, and it's not too hard when it comes to cleaning up either.
The downsides
While this is an almost perfect paint for a corrugated metal roof, we do have to mention its texture; it is somewhat thinner compared to many other paint brands that we've reviewed here.
This isn't necessarily an issue, but it could mean that you'll be dealing with flaking somewhere down the line. So, bear this possibility in mind before making a purchase.
Pros:
Great protection against weather
Easy to apply
Handy UV protection
Cons:
Thinner texture that you may like
How we picked
As you can see, picking the best paint for a corrugated metal roof is not that simple. Unlike some other surfaces, where you're only picking the color that you want — here, it's more important to think about the functional properties of your colored coating.
With that in mind, we'll quickly go over the criteria that we used while selecting our top pick.
First, there's affordability. Your paint for a corrugated metal roof doesn't have to be necessarily too cheap, but it should be something that most people can afford. And even if you have deep enough pockets, there's no reason to give an insane amount of money on this paint.
Apart from that, there's also ease of application. Most coatings of this type have a similar application process — but it can take a wildly varying amount of layers before being functional, and there are various amounts of roof preparation needed for different products.
With that in mind, we've aimed to choose a product that pretty much anyone could use without much hassle. When it comes to the actual efficiency of the paint products — UV protection was a big factor for us as well.
After all, the sun's rays are a constant issue for any metal (or other types) roof, so you need to make sure that you're providing it with enough protection. And some low-quality paint job will crack, fade, and flake after exposure to the sun; all of which you want to avoid.
Of course, we also considered how the paint coating fares against other types of weather conditions, such as rain, snow, hale, etc.
This is particularly important for people who will use this paint on roofs of RVs or boats; if you're going to be facing plenty of mildew and moisture, having water protections is a must.
Now, let's have a look at the best alternatives.
Best paint for corrugated metal roof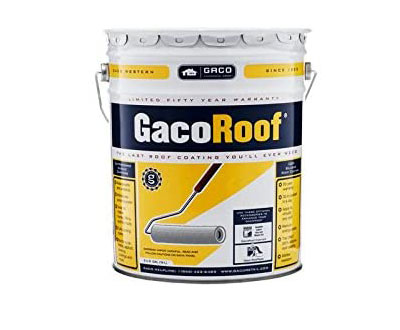 If you think that your roof is prone to constant leaking issues, we can't recommend a coating that would suit you better than this.
While we've already presented you with our top paint for corrugated metal roofs; this does not mean that there aren't plenty of other well-performing products out there.
And this white paint from GacoRoof is deserving of its top spot on our list. That's because it's fully capable of meeting any expectations that you might have.
First of all, it has a great coverage area ranging up to 100 square feet; truly impressive, and taking care of pretty much any roof size. Most corrugated metal roofs will easily be dealt with using only one package of this.
What we liked about GacoRoof
One of its best features is its extensive capability for leak prevention; there's almost no other product on this list that acts as a better water sealant.
Plus, the application is very easy — there's no complex equipment that you need, only a basic nap roller. Just like any good piece of paint coating, it's capable of successfully deflecting a majority of UV rays.
This is important because not only does it avoid any undue damage to your roof — it also helps you with insulation, especially with RVs; there's no chance of your vehicle becoming too hot during the summer with this, despite the fact that you're under a metal roof.
The product's capabilities when it comes to water resistance are also admirable; you won't have any issues with pooling water if you use this as your white coating.
At the end of the day, it's a great no-hassle product. Sure, its features aren't anything unique to write home about, which is why it doesn't take the very top spot on our list. However, the things that it does — it does more than admirably.
We don't believe that you'll have any issues or problems with this — which is pretty much what you want in a product like this anyway.
The downsides
Just like the top pick that we've mentioned here, there seems to be only one type of bad customer experience that people have dealt with consistently; there have been numerous complaints of flaking, which does raise some questions regarding the long-term durability of this paint.
However, we do need to mention that flaking can be the result of an improper application as well — so it's not necessarily something one should blame on the product.
Pros:
Great 100 feet coverage area
Simple for application
Waterproofing
UV protection
Cons: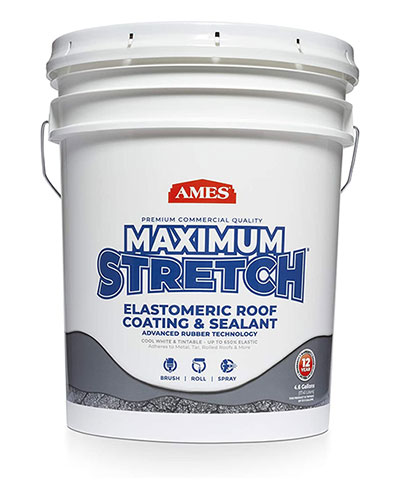 If you're someone who's searching for the best protection against UV rays — we have to mention that Ames MSS5 is more than a good choice.
Once you begin your search for the finest paint for a corrugated metal roof, you may have different requirements; depending on the roof that you're going to use it on, as well as the outdoor weather conditions in your current location.
This is pretty much the best UV protecting paint for corrugated metal roofs, seeing as it reflects them with only a 2% margin for error.
Yes, you've read that correctly — this product's UV protection success rate is 98 percent!
What we liked about Ames MSS5
As you can see, this Ames product is an awesome choice for anyone who's experiencing roofing issues in dry and hot climates.
That goes double for RV owners that are going to travel in such climate conditions as well.Though, you shouldn't think that this is the only thing that this RV has going for it; far from that!
It's got a wide usability range in all kinds of temperatures. To be more specific, it successfully deals with cold weather conditions as well.
You won't have to worry about it remaining effective in colder areas either. The point that Ames wanted to make with this product is versatility — and they've succeeded.
Moving on, the coverage area can truly be compared to the very top products on our list — it can cover a whopping 100 square feet in just one go!
That means that it's more than respectable, allowing you to deal with the entirety of most roofs in one go. Plus, seeing as its chemical composure is eco-friendly, toxic-free materials — you'll be doing your surroundings a favor as well.
The downsides
As we have mentioned, this is one of the best products that we can think of when it comes to dry and arid weather. However, it's worth mentioning that there's one potential issue for people who live in different kinds of climates.
Primarily — the fact that this corrugated metal roof coating has issues when it comes to pooling water. So, if you have an RV or intend to use it in wet places; know this beforehand.
Pros
Amazing 98% reflection of UV rays
Flexible for cold weather as well
No presence of toxic materials
Huge coverage area
Cons:
For the people who have issues with water buildups and subsequent moisture — this is the product that you're looking for.
The fourth product that we'll take a look at is another excellent coating paint for corrugated metal roofs — the Henry Tropi-Cool Roof Coating.
There are plenty of things that make it stand out from the fold, but its greatest strength is the previous product's greatest weakness — the water leaking prevention.
If you're going to use this paint for the coating of an RV roof, you will find that it's the most decent protection you can get in rainy or moisture-ridden weather.
What we liked about Henry Tropi-Cool
When it comes to the many different qualities that this product has, you will find that it pretty much has everything that you'd want out of such a coating product.
First of all, it can give you all of the UV protection that you might want — while this is something that most people buy in tropical areas with more moisture issues than sun damage, it's still something that you want to consider.
Apart from that, it has waterproofing that it's pretty much most famous for. And the coverage area that it has is more than satisfactory — half a gallon is more than enough for you to cover a hundred square feet, which is a standard when it comes to high-quality products of this niche.
Lastly, this is not the most high-end product in terms of pricing, which is a great benefit if you're looking for a budget paint for corrugated metal roofs.
The downsides
When it comes to painting corrugated metal roofs in tropical areas, this is one of the products that will give you the most protection against moisture.
That being said, though — there are some issues that we have to mention here. Namely, the fact that this coating is not that easy to apply.
While that's not that big of an issue for some people — if you're an absolute beginner, that could represent a problem. After all, the affordability of the product does fall somewhat if you need to hire professionals to apply it to the roof.
So, if you're not DIY-savvy; we recommend thinking twice about this coating.
Pros:
Excellent coverage area
Decent UV reflection
Impervious to weather issues
Resistance to water pooling on the roof
Relatively affordable
Cons:
The fact is that this product is completely suited for RV users; meaning that you can't use it successfully on metal roofs that aren't on top of mobile homes, but it also works better on them.
The following paint for corrugated metal roofs is somewhat different from the products that we've reviewed above — if by nothing else, then because it's specifically designed to be used for RV roofs.
What we liked about KST Coatings
Depending on your standpoint, this can be both a disadvantage and a boon.
So, if you do need a metal roof coating for your RV — you won't do much better than the KST Snow Roof Coating, especially in colder areas. Sure, this is quite a specific niche product — but it gives you your money's worth.
Firstly, you're guaranteed to have protection with this product for up to five years; which is an excellent manufacturer guarantee.
Apart from that, it has a lot to offer in terms of RV roof maintenance. Indeed, this KST roof coating also contains a roof cleaning agent and a primer — all in one.
This means that the coating won't take ages to dry; you'll be able to apply it efficiently and quite quickly.
The downsides
The sun reflection properties are decent, but nothing to write home about compared to other entries on this list.
Indeed, we believe that the 85% success rate for UV reflections is the biggest downside of this product.
Tips on Painting Corrugated Metal Roof
As we have mentioned before, having a corrugated metal roof is a huge advantage for your household. You have plenty of benefits — incredible durability, resistance to external weather elements, and general sturdiness.
Plus, all homeowners who have had all kinds of roofs over their heads will tell you that corrugated metal roofs simply last you much longer compared to traditional types of roofing. However — if you want to achieve a desired aesthetic with this kind of roof, you will need to know some specifics of painting it.
The most important thing here is picking the best paint for corrugated metal roofs; which is why the majority of our guide will be focused on that.
As a brief introduction — you need to know that these roofs require the usage of acrylic-based paints; more specifically, those that are graded as ready for exterior usage.
If we're talking about a brand new roof that hasn't gone through years of wear and tear — we also recommend acrylic latex paint.
When To Paint
It's not just about what kind of paint you need to use for corrugated metal roofs; you also need to make sure that you're painting at the right time.
And when it comes to this type of surface and this kind of paint — it's best not to do it in bad weather; it would be nigh impossible.
Instead, we recommend waiting for a clear, hot day to complete the task. If you encounter rain or other types of weather-induced debris — you will only prolong the DIY session and make it more difficult.
TSP Scrubbing
Before you start painting your roof, we recommend doing some prepping first. This mainly entails scrubbing the corrugated roof with a TSP mixture — in other words, trisodium phosphate.
This TSP serves to prepare the rooftop for your painting session; it serves as the best chemical agent for degreasing.
As a result, your paint will be able to adhere itself onto the roof far more efficiently, and it will last you longer as well. Just make sure you wash the TSP mixture off after it's set in with some water.
Know When To Call Professionals
Of course, many people like doing things around the house themselves. And that logic is pretty sound — it's your home, after all, so why should you involve anyone else?
However, in reality — there are plenty of situations where calling professionals is the smartest choice.
For instance — painting your roof isn't necessarily an issue. But if the roof is constructed with an extremely sharp incline; you need to get a team of professionals to take a look and do what needs to be done.
Don't risk your health and wellbeing by trying to paint all of that yourself. These kinds of situations can be quite dangerous for people who have never had professional experience with painting roofs — there's no need to take any risks!
Things to consider before buying the paint
As you might have been able to conclude yourself, there are plenty of different choices that you may have when it comes to the best paint for corrugated metal roofs.
However, you may not have the opportunity to pick one of the precise entries on this list — depending on where you live. Thus, you need to know more specific information on picking the best out of any number of paints; you require the ability to make an informed choice yourself.
There's no need to worry, however — you can easily achieve all of this using our handy buying guide! We'll give you detailed rundowns of all of the different things that you need to consider while buying this type of paint.
Ease of Application
One of the primary things that you need to keep in mind while choosing a paint product for your metal roof is how easy it is to apply.
At the end of the day, this is probably the biggest deciding factor when it comes to buying paint for your application; at least if you're not a professional roofer.
With that in mind, we don't recommend going for tools that, while extremely effective, require too extensive preparations. What you want is a paint that doesn't need more than a paint roller and a squeegee to be successfully applied.
To be completely clear — you shouldn't get a product that's got a complicated application, or you simply won't know how to use it and end up paying for professional services or spending an insane amount of time on the paint job; both of which are extremely undesirable options.
Your Personal Budget
Naturally, regardless of what you're buying — the price of the product is an incredibly important part of your decision-making process. And in that regard, paint for corrugated metal roofs is no different.
So, we recommend deciding on a strict budget right away. Not only will this limit the amount of money you burn through for the paint job — but you'll also be able to eliminate a lot of different paint options right off the bat.
Cure Timeline
One of the things that we haven't talked about much up until now is the cure time of your paint; after all, you want a type of paint that will be able to deal with the curing in a timely manner, instead of taking up days of your free time.
If you're not familiar with the expression, the cure time refers to the time needed for the coating to completely finish its application process and be ready for external weather or the road.
This is something that differs greatly depending on which product you use for painting your roof; which is precisely why we recommend taking a look at the manufacturer's specifications for each product, ensuring you don't get something with too long of a cure time.
Material toxicity
This next part might simply seem like nothing more than pure common sense, but we feel obligated to mention it nonetheless. Namely, you need to make sure that the materials which you use don't have any kind of toxic chemicals in them.
Sure, generally speaking, most paints contain a certain amount of fumes, which is why you should be careful about using them. That being said, there are less toxic and more toxic paints; so think about this before you decide to use any sort of paint for corrugated metal roofs.
You should expect all of the better-quality and more eco-friendly paints to be more expensive – but that's not too much of an issue if you value your health and well-being.
Painting Guide
So, you've started to notice that the paint on your metal roof has started to crack, and you've bought the very best paint for corrugated metal roofs. However, now comes the equally hard part, you need to do everything that you can to paint this roof properly.
This entails both ensuring your own safety and the proper preservation of your roof. Don't worry, though – we'll give you all of the information you need to properly prepare for this task!
Removing previous paint layers
In most cases, unless you're dealing with a completely new roof – there will be some previous paint already present. So, before you apply the new paint coating – you need to get rid of the old one!
With that in mind, take a paint scraper and remove anything that's already loose. If you don't own a paint scraper, we recommend buying one as you're sure to need it at some point.
Alternatively, take a putty knife and you'll be able to do the same thing, just more slowly. Just be careful not to damage any of the actual metal that's beneath the old paint coating.
If you notice any rust patches, you'll want to deal with them before applying any new paint. With that in mind, coming across a rust patch doesn't necessarily mean that you'll be doing a lot of work.
Just take your scraper or putty knife and use them to scrape away any of the rust if it's small enough. On the other hand, roofs with a lot of water damage may be subject to more extensive rusting. In that case, we recommend using a vinegar mixture which is certain to make your rust history.
Next, you are almost ready to begin working on applying the new point. And that means giving your roof an extensive and thorough cleaning. We recommend borrowing or renting a power washer if your household doesn't already contain one.
Not only will a power washer do away with any kind of debris that might prove to be a nuisance – but it will also help remove any remaining paint strips that were more resilient to scraping.
Once you're done washing the roof, and this is crucial – you need to let it dry off completely before applying acrylic paint coatings.
Depending on the square footage of the roof, wait at least 60 minutes before resuming any work on the roof. Though, this could take more or less depending on what the local weather is like.
Applying new layers of paint
Now that you've prepped your roof for the new paint job, you need to start applying the best paint for corrugated metal roofs that you've bought.
The first thing that's important here is choosing a proper time to start – you don't want to do this if there's a chance of the weather suddenly getting worse.
However, if you're thinking that the summertime is the perfect period to paint your metal roof because there's sure to be no rain – think again.
Remember, this is a metal roof – so, it's going to get quite hot in the summer. Consequently, we recommend starting on a clear day in either the fall or the spring.
When you're ready to begin, start by applying one coat of your primer first – do so on the entirety of your roof. You can use a paint roller to spread the primer, and do more detailed work with a brush.
Once this first layer of primer has been applied, you want to wait for a sufficient amount of time for it to dry off completely before doing anything further.
As with the water you've used to wash the roof before, it should take about an hour to dry, but the specific time frame depends on the weather. In addition, different variants of primers also have different drying times.
Finally, you can start applying your actual paint when the primer has dried. If you only have a single set of painting equipment, thoroughly wash the roller and brush that you've used for the primer before using them for the paint. Then, proceed to apply a single paint coating.
When you're done with that, you should already have the hang of the drying process for the roof. As before, wait an hour – or more, if the paint manufacturer has specified so.
After that, you can add as many paint coatings as you think are necessary, or per specific instructions. Still, the bare minimum should be two coatings, including the original one.
This is not only for aesthetic reasons (preventing your color from fading more quickly), but also to provide more protection to your roof.
Picking the right color
So far, we haven't talked much about your choice of colors for the paint job. Generally, there are certain things you have to keep in mind. For instance, depending on where you live, there might be some regulations prescribed by the local homeowners' association.
There's a chance that this association may have certain aesthetic rules regarding the color of your roof, and your house in general.
So, talk to a representative of the association to see if there are any guidelines that you need to follow while choosing the best paint for your corrugated metal roof.
Next, you need to think about the actual aesthetic of the house and how these correspond with your roof.
For instance, you don't want to pick the identical color of your exterior walls for the roof. Instead, try to go with a complementary color that will accentuate the rest of the home.
Safety precautions
When working on something like painting your roof, it's extremely important to take all necessary safety precautions. After all, even in one-story homes; any fall could cause serious injuries.
With this in mind, we recommend doing as much of the work from a ladder rather than climbing onto the roof as you can. Generally, this is preferable to climbing onto the roof in terms of safety.
Also, make sure the ladder is not in the way of any windows or doors – for obvious reasons. Apart from that, you need to keep it away from any exposed power lines.
Once you're on the ladder, you want both of your feet to be firmly held against the ladder's rung. Always place one free hand that doesn't contain any tools on the sides of the ladder for extra stability.
Apart from this, if your roof is situated at a considerable height – you also need to protect yourself from potential falls further. Namely, we're talking about wearing a harness. Your local hardware store should have this sort of safety rope.
Once you obtain it, tie the harness to the rope and then attach one end to a secure, stable thing – a firm part of your house or a nearby tree. Should you lose balance momentarily, this will stop you from falling.
Finally, there's another thing you can do to keep yourself safe – make sure that you're not working alone. Always have a friend or a family member nearby to provide assistance.
That way, even having an accident may not be fatal or particularly dangerous.
Frequently Asked Questions
Now that we've gone over the best paint for corrugated metal roofs, as well as the process of painting itself, we will answer some of the questions on this topic that people have been asking the most.
What kind of paint do you use on corrugated metal?

If you want to make sure that the paint will properly adhere to your roof's surface, the best thing to do would be to use acrylic paint. This is the best kind of coating for clean galvanized metal surfaces.

Though, make sure that you properly prepare the surface for the paint application. Galvanized surfaces tend to produce white rust layers which need to be disposed of before applying acrylic paint.

Can you paint galvanized roofing panels?

If you use acrylic latex paint, you should have no issues with any kind of metal roof panel. Though, we recommend first utilizing a primer specifically made for galvanized metal.
How do you seal corrugated metal roofing?

For this, you will need a caulk gun filled with butyl. Then, start using it to apply the caulk in each place where you find metal panels overlapping.
Conclusion
As you can see, there are many things to consider while you choose the best paint for corrugated metal roofs. However, if you follow our guide – you should have no trouble picking the best coating for your roof!