Your interior probably looks nice and inviting after a couple of coats of paint, but what about the exterior?
Specifically, that nice wooden deck in your backyard. It's old, outdated, and in need of a makeover. All of a sudden, that leftover paint you used for your bedroom and kitchen has a great way of being reused! Except… no. It doesn't.
Better to save that paint for when the kids start practicing their art behind your back, or maybe for when you get a little artistic.
Whatever you do, you'll need to utilize outdoor paint if you want your wooden deck to look good, while doing what outdoor paint does best.
Of course, for the time-savers, we're jumping straight in. If you're sticking around, make sure to hit the deck! We'll be going fast on this first one. 
Our Pick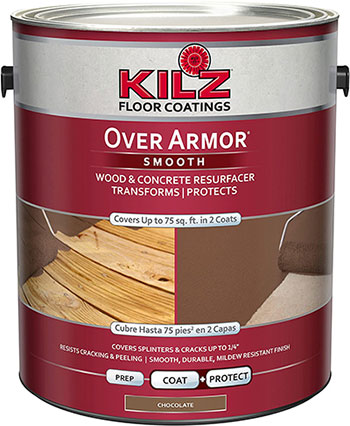 This latex paint utilizes an advanced and durable 100% acrylic resin formula.
As expected, KILZ kills it again with another well-rounded paint. A long-standing powerhouse of the paint industry, KILZ makes sure to cover every corner of your wooden deck just as well as they cover every corner of the paint and primer industry.
For you and me, it makes choosing the right paint a far easier decision.
Not only can it bridge the usual cracks and hide any imperfections, but it's designed specifically for old, weathered wood.
In other words, two coats of this mean any splinters or cracks you hate giving any attention to finally get put to rest.
What's great about this:
KILZ delivers another solid wood (and concrete) paint made for weathered or cracked wood, such as decks, porches, boat docks, and railings. If you happen to have cracked concrete surfaces, this works well in breathing life into those too!
Fills in cracks and conceals splinters up to 1/4th of an inch. Say goodbye to those slight wooden nuisances and gaps that make your wooden deck hard to look at.
Comes in two different styles: smooth, or textured, allowing you to diversify how your wooden deck looks and feels.
What's not:
If you happen to have a wooden driveway, that's pretty awesome. Unfortunately, it also means you shouldn't use this paint, as it's not made for drivable surfaces.
If it's not anymore but was in the past, make sure the surface is clean, dry, and free of any dirt, oil, or grease.
Although this is advertised as paint, the drying time blows interior wall paint out of the water. This needs at least 4-6 hours before recoating and three days for a full cure. Keep a good book nearby.
How We Picked The Best Deck Paint
Weathered wood, when made so purely through exposure to the elements over the years, is prone to having nail holes, cracks, and crevices.
In addition to all of the qualities of durable, high-quality paint, we also took into account the fact that sometimes, older decks can simply look like an intimidating job for a newcomer.
Some of the best qualities of a quality deck paint can include protection from ultraviolet light, water, or grease stains, as well as providing a great overall finish.
With these requirements, we narrowed it down to our top three picks. Here's the next two.
The Best Deck Paint For Old Wood (honourable mentions)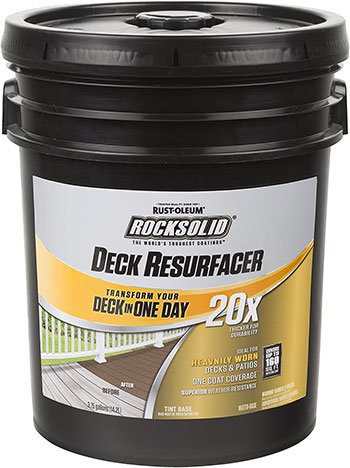 Rust-Oleum goes above and beyond, delivering paint designed to restore and update heavily worn wooden decks and patio surfaces. That monolith in your backyard isn't that big of a deal anymore.
Rust-Oleum has been in the business of creating coatings since 1921, and they went all out when it came to making sure your old wood is protected.
This deck paint was made for the restoration of heavily worn, weathered wood decks, in addition to concrete patios.
This coating has heavy durability, being 20 times thicker than ordinary paint, and can fill cracks up to a 1/4th of an inch deep.
With excellent adhesion, water-resistance, and waterproofing protection, Rust-Oleum offers a hard-to-beat competitor to our top pick.
What's great about this:
This coating is far thicker than regular paint, allowing it to repair any imperfections and cracks for wood decks, as well as concrete patios and composite decks. Say goodbye to those nail holes.
What's not:
This paint is extremely thick, and improper application can mean an unsightly paint job.
Because of this, Rust-Oleum recommends using one RockSolid 20X roller cover for every 8 gallons used.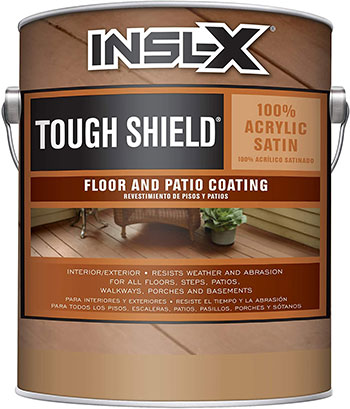 INSL-X Tough Shield does exactly what its name implies, offering a rugged, durable finish that can withstand detergents, oils, greases, and scrubbing.
INSL-X isn't a new face around here, and those of you who have used their brand before will know why.
INSL-X is a part of the Benjamin Moore line of paints, being a long-standing powerhouse in the industry of paint and stain for home interiors and exteriors.
In the case of this product, they offer the same high-quality as the others. INSL-X designed their coating to have good abrasion resistance, deterring spills from any oils, greases, or scrubbing. Their paint also carries water resistance and excellent wearing qualities.
What's great about this:
Carries great water resistance, even being able to resist ponding water. No more worries about having to let your wooden deck drain any leftovers from the rain.
What's not:
If you're looking for a shield to cover your garage floor or general car parking surfaces, steer clear of this one. This paint is designed for light commercial applications, as well as residential floors.
Trying to apply this below 50 degrees Fahrenheit could spell disaster, which is why it's recommended to do so when it's at least 55 or higher.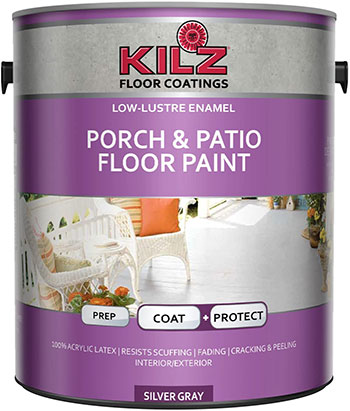 KILZ's porch and patio paint is easy to clean, yet highly durable and resistant to scuffing, fading, cracking, and peeling. It also comes with a mildew-resistant film.
KILZ ends the list with a porch and patio paint that, despite its low price point, still manages to deliver a great product.
Once more, KILZ offers floor paint that can be used on wood decks as well as masonry, trim, and siding. Add in the fact that it's low-luster finish means a smooth and even surface, and you'll understand why KILZ covered the first and final positions of this list.
Perhaps the best thing about this paint is the fact that it dries to touch in just an hour.
That said, recoating still requires the full 4-6 hours. Even so, you'll be pleased with the result, a testament to KILZ's 40-year tenure in the primer and paint industry.
What's great about this:
Low-luster paints have a slightly higher sheen, meaning your paint job will have a greater appearance of depth. In other words, a little shine lasts a long time.
If you've painted over your wood before, this paint can easily go on top of it. Haven't painted and only primed? This works well too!
What's not:
If your wooden deck is heavily weathered, any of the other above options would be an infinitely better choice.
This paint is usable on old wood, though it won't do a great job filling in any cracks or imperfections.
How To Paint A Wooden Deck
Step 1: Clean/Powerwash Your Deck
Remove any furniture, planters, the grill, etc., and break out the backyard broom. Make sure to sweep every part of your surface to get rid of any loose dirt or debris that could affect the quality of your paint job. It would suck if a stray leaf got trapped under a couple of coats of paint.
Even if your wooden deck looks new and immaculate, still consider giving it a nice sweep before starting the job.
If your deck is particularly grimy and inconsolable, power washing it gets the job done just as well.
Step 2: Sand Your Deck Surface (and Clean Again)
Feel free to sand by hand, or use a power sander – we won't judge. The important part is making sure you get rid of any residual chipped paint, stains, and any other residue from the wood.
You may also need wood filler for any imperfections that show up on the bare surface of your wood. Overall, make sure your surface is smooth and flat, and sand in the direction of the grain.
After sanding, yes – clean again! Sweep or power wash as you see fit. The more efficient way to clean your deck would be to get a deck washing product along with a power washer. After it dries, you're ready for the primer.
Step 3: Prime Your Deck
Time to put away the broom and bring out its distant, long-lost cousin – the paint roller. Using the paint roller makes quick and easy work of the long, flat areas of your wooden deck.
That said, make sure to keep a paintbrush nearby for paintwork between the wooden boards and around any posts.
Step 4: Paint Your Deck
Following the above format, focus the paint roller on covering the larger portions of the deck, with the paintbrush being reserved for the smaller areas.
Make sure to use at least two coats of paint to ensure your wooden deck is fully coated, and pay special attention to any labels that specify how long you should wait before recoating.
Purchase Guide
Wooden decks can be an extremely daunting task, especially if you aren't properly prepared or informed. Lucky for you, we have the expertise necessary to carry this ball full court.
For the curious and determined, we went into detail about some common questions people tend to have when it comes to painting wooden decks.
Just imagine our knowledge is the paint, and your brain is the wooden deck. We'll cover it all.
Is it better to paint or stain a deck?
For the most part, this is a matter of preference. However, in general, paint coats the top of the wood, and rather than showing the natural beauty, it covers it up.
On the other hand, staining your wood both penetrates and protects the wood. Additionally, instead of dealing with scraping any peeling paint off, stain wears away gradually over time. This means you only have to deal with occasional re-coating, although it's far less work.
Do I need to prime a wood deck before painting?
As with all painting jobs, you must prime your wood before painting. The main purpose of primer is to enhance the adhesiveness of your paint, which makes it last longer while looking better.
Some primers even block stains from smoke, water, grease, and tannin, which would bleed through otherwise.
The last thing you want is for your nice paint job to still have that nasty grease spill. Above all else, your paint job will have a more uniform finish.
Which is the best exterior primer for old wood?
Oil-based primers work extremely well on both interior and exterior surfaces.
Although shellac-based primers are more durable, give great adhesion and sealing properties, it's less versatile and more to clean afterward. With latex-based primers, you'll easily get bleed through from leftover stains.
Oil-based primers sit squarely between latex and shellac-based primers, being extremely versatile and even applicable to already painted surfaces.
That means if someone else did a poor job before you (maybe that someone was you), you can easily wipe the slate clean.
Best of all is that any paint peeling or cracking is slowed down heavily by oil-primers. That means your paint job will look good even after your backyard dance party.
Do I have to sand my deck before painting?
Yes, you absolutely should! Although you can forgo sanding your wood down when painting similar materials, such as indoor wood paneling or kitchen cabinets, your outdoor wooden deck is a different beast.
Aside from giving your wood deck a smooth and even finish, they often are made of softer wood, making them more prone to splintering in the process of cleaning.
Sanding it down ensures that your surface is smooth, in addition to giving better adhesion.
What grit sandpaper should I use for my deck?
Medium grit sandpaper (100 – 150 grit) is perfect for most unfinished wood surfaces.
With any particularly deep scratches, you'll have to step it up to finer grit sandpaper (180 – 220).
Avoid using coarse sandpaper (40-80) as you may leave deeper scratches on the surface and, if anything, start with the finest possible grit and work your way down to the perfect range.
How much should I sand?
What's probably one of the easiest parts of the job can carry a lot of uncertainty for those who aren't experienced.
The reality is a huge part of knowing when you've sanded enough is learned by, well, sanding. However, there are two methods you can utilize to help you decide if it's time to move on or keep sanding.
The first method is looking at the wood from a low-angle that also reflects light off its surface. A good way to facilitate this is opening a window, or using a lamp or phone light.
Another method involves a combination of wetting the wood, followed by using the previous steps in the first method.
Does outdoor paint protect wood?
Though regular paint and deck paint share similarities in name and application, the individual purposes of the two are what set them apart.
Regular paint, commonly known as house paint, can be used on the exterior of a house as well as the interior. In comparison, deck paint is a special hard-surface paint designed to withstand heavy weathering and foot traffic. In general, it's great for wooden decks, concrete porch, and patio floors.
There are two types of deck paint: latex (water-based), and oil-based paint.
Though oil-based paints once held the top spot, water-based products have slowly taken over. Oil-based products are tough, durable, and offer longevity and protection for your wood, although the cons of using them include a lengthy clean-up, a long time to dry, and the VOCs, or volatile organic compounds. VOCs are solvents that are released into the air as paint dries.
Alternatively, water-based products dry quickly, clean up easily, and can be recoated within 4 hours minimum.
Not to mention, water-based paints high in acrylic offer protection against cracking and peeling, and have virtually no VOCs.
What should I look for in deck paint?
Aside from deciding between oil-based and water-based, it also relies on the quality of the surface you're using it on.
In the case of wooden deck paint, its main feature is the ability to expand and contract with seasonal and general moisture changes.
On top of that, make sure your paint has decent protection from UV exposure, as some paints can suffer from exposure to sunlight.
For the most part, exterior house paint and deck paint have these qualities, in comparison to interior house paint, which does not.
What is the best way to protect a wood deck?
Damage and imperfections may appear unavoidable when factoring in the heavy traffic. However, the best way to protect a wood deck is to take preventative measures when you can.
This means regular maintenance such as sweeping and shoveling, as well as utilizing a grease catcher for any grills. Additionally, avoid trapping any dirt or moisture on the surface, despite any waterproofing measures.
Most importantly, make sure to clean and seal your deck regularly at least every three years, and stay diligent about any repairs that need to be done.
If your wooden deck is new, have it professionally cleaned to ensure any mildew or other impurities that can prevent products from penetrating are gone.
How do you weatherproof wood?
If you want to make sure your wooden deck is as weatherproofed as possible, consider looking into staining it as well.
Though paint offers a colorful "topcoat" of protection from erosion by weather, stain soaks into the wood fibers of your deck, saturating the natural color of the wood.
Though the main application for staining your wooden deck would only be to protect from ultraviolet light, it can weatherproof your deck in other ways.
For one, stained wood has a greater resistance to being further stained or discolored. Since stain soaks into the wood and forms a tight bond, other materials don't soak in as easily, giving greater resistance to water and other liquids.
Some stains also have ingredients that help deter insects, as well as prevent mold and mildew.
How do you waterproof painted wood outdoors?
Though stain has some inherent water resistance, the combination of a stain and sealant takes it to an entirely different level. Stains and sealants are similar, though they vary slightly in how each one does its job.
Stain soaks into the wood and protects it from ultraviolet rays while adding some added pigment, and sealer is a clear finish that can either penetrate the wood or form a clear film on top. Sealers are also designed specifically to lock out moisture and reduce water intrusion.
In the case of your painted exterior wood, the best approach is a stain and sealant combo. Polyurethane sealer is a great choice, as it's oil-base makes for a highly durable, protective coating for painted wood, or even bare wood.
For absolute certainty, look into linseed, Tung, or walnut oil. You can also look into a lone Polyurethane product, of which you can also choose between oil or water-based.
Just keep in mind, oil is durable but hard to clean, while water is less durable but easier to deal with.
What paint is best for outside wood?
For beginners, it's probably best to stick with oil-based paint. Paint generally provides a protective layer from erosion or any moisture, though in the case of which does the best job, oil holds the top spot.
This is because, in comparison to latex or acrylic, oil-based paint is the most durable of the three. Oil-based paints also contain linseed oils, one of the most common oils for waterproofing wood.
Can I paint and stain my deck?
Yes, you actually can! Once you've finished painting, looking into a decent solid stain.
When talking about stains, most are usually referring to transparent stain, the type that soaks into your wood surface. Solid stains play a role similar to paint, sitting on top of the surface of your wood and providing a thin film for protection.
Stain first? Or paint first
You should try to paint first, then stain after the paint dries. The stain does better on top of the paint, forming the top layer to protect the paint.
Additionally, the stain has the potential to disrupt any adhesive properties the paint may have, especially if it's an oil stain.
That said if your surface has been stained in the past, or you happened to stain it first, it's still somewhat possible to paint over it with proper prep work.
Along with degreasing the surface, utilize 150-grit sandpaper to dull the surface, and a deglosser to strip the wood finish. After finishing any necessary repairs, you're good to go.
How long will paint last on a deck?
Despite the amount of work required to paint your deck, it's pretty easy to maintain.
A quality paint job, whether by yourself or a professional, can easily last over ten years before needing repainting. Stains, on the other hand, would need reapplication every few years.
Can you paint an old deck?
Old and weathered wood requires quite a bit of preparation before you can jump into the painting stages, though it's entirely possible if done correctly.
In general, you would need to scrape away any old paint, sand away loose wood fibers, and even apply caulk where needed. Afterward, a quick scrub and wash down would leave your old wood ready for a coat of primer.
What kind of paint do you use on old wood?
As we did with the preparation process, the treatment of weathered wood requires a bit of extra work when it comes to the paint job too.
For weathered wood, the combination of a high-quality oil-based primer and acrylic or latex exterior paint is hard to beat. The porous qualities of the latex paint on top of the protection from the oil-based primer mean your old wood will look youthful without much effort.
Additionally, a second coat provides better protection while making your paint job last longer.
What is the best paint roller to use on old deck wood for?
In general, the manufacturer of the paint you buy will leave a recommendation for the type of paint roller to use.
However, when it comes to rough surfaces like weathered wood, stick to roller sleeves that are 3/4th of an inch or thicker.
Anything thinner than that, mostly 3/8ths to half an inch, is used primarily for lightly textured surfaces, such as interior walls.
Can I paint over old paint on wood?
No, you absolutely cannot and shouldn't. Covering old paint up with new paint would be like mixing sour milk and regular milk. Even with a fresh gallon, the new milk would be spoiled by the sour milk.
In terms of painting, the new paint job will probably look halfway decent and not too bad at first. As time goes on though, your paint job will peel and flake far quicker than had you started from step one.
Sure, painting is a tough job, but imagine trying to take a shortcut and giving yourself more work.
Conclusion
Painting a wooden deck, especially weathered, is far from an easy task, and can easily take up to several weeks to get it right.
Despite that by now, I bet you're probably setting up decorations for the next party you're throwing.
However long it takes, make sure to pat yourself on the back first, and congratulate yourself on a well done wooden deck. Oh, and make sure to send us an invite. We'll bring the drinks.