There's no question about the fact that everyone likes a nice wooden deck. However, as most first-time homeowners usually realize — this is easier said than done.
Just like any other part of your household exterior — your deck will require deliberate and careful maintenance. And make no mistake; there are more things that can have a detrimental effect on your deck than you might imagine at first.
We're talking UV rays, temperature shifts (depending on your local climate) and not to mention — rain.
But don't worry — if you do your best to maintain your deck with the best semi-transparent deck stain, you'll have no trouble keeping your deck looking as fresh as ever.
Or, conversely, if you don't put enough thought and effort into this process — you can expect your porch to look dull and faded after just a short while.
And that's precisely why we want to help you choose the best possible deck stain. If you pick the best product in this category, you will be able to preserve the aesthetic appearance of your deck; while also providing it with decent protection in the case of elemental damage.
However, as you'll see over the course of this guide — not all deck stains are the same when it comes to their level of quality.
That's why you need to learn all about why semi-transparent deck stains are a good choice — and how to pick the right one among them as well.
Our Pick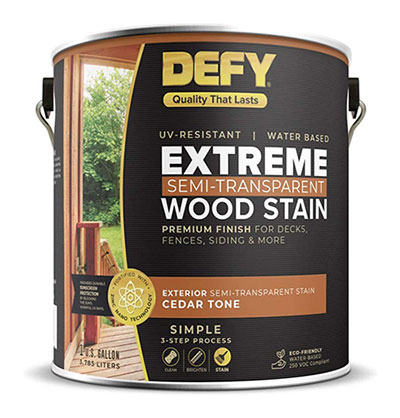 All in all, this DEFY product is more than capable of outlasting most competing products by at least one season — which is why it reigns at the top spot on our list as well.
Before going into any more depth regarding the best semi-transparent deck stain — we're going to show you our pick among these products.
And on the top of our list, you'll find the semi-transparent deck stain from DEFY.
This is an excellent acrylic-based product that provides you with more than enough UV resistance; meaning that you shouldn't expect it to gray out or fade away regardless of how much sun it's exposed to.
What we liked about DEFY Semi-Transparent Stain
There are plenty of reasons why this is the best semi-transparent deck stain on our list. Indeed, the DEFY product is perfect for all kinds of wood surfaces found in your exterior. You can use this deck stain to treat fences, wood sidings, and plenty of other things as well.
When it comes to the different aesthetics of this product that are available — know that you can take your pick between six different colors; all in a semi-transparent hue, of course.
There's Butternut, Driftwood Gray, Redwood, Light Walnut, Cedar Tone, and Natural Pine. Lastly, there's also a clean finish option for those who don't want their wooden surface to be aesthetically affected by this deck stain.
Bear in mind that the discrete pigments found in this product will work great regardless of whether you want to apply them to gray wood that's already somewhat faded or on brand new lumber.
Plenty of customers have reported that applying this coating product is pretty simple. On the other hand, we should note that some people have found the preparation and application tedious; those are mainly DIY beginners.
And another good thing is that you can use all kinds of methods for applying this deck stain — from spraying to rolling and brushing.
Fortunately, cleaning everything up after you're finished with your work is also quite simple. You won't need anything more than a mixture of soap and water to render everything surrounding your wooden surface just as it was before your coating work.
And don't let the fact that this formula is somewhat watery fool you; there will be no issues if you try to apply this coating on vertical surfaces as well. That means that it's perfect for all parts of your deck.
DEFY has done all in its power to make sure that this semi-transparent wood stain is miles ahead of the competition. Mainly, this is evident in the fact that this formula will last you much longer than most other products, even the other top picks on our list.
That's because this deck stain has a high resistance to elemental effects, such as UV light, mildew, or mold. And the aesthetics of the product are astounding as well, seeing as you won't notice the colors fading away for years.
Know that DEFY's deck stain comes in different packages. You can get it in buckets that contain five gallons or a smaller, single-gallon one.
If you're not sure which one you need — keep in mind that a single gallon will get you about a hundred square feet of coverage when it comes to wooden surfaces.
However, this is not a strict measurement — the coverage you get depends on a variety of factors, such as the surface's porosity and the texture of the wood.
What we didn't like
As we've already mentioned, this coating is pretty watery; which isn't an issue for most people, seeing as it's usable on vertical surfaces as well, but some handymen mind.
And we should point out that the formula has very strict prep requirements — mainly, it consists in the fact that you need to apply your second coating precisely 20 minutes after the first one.
Many novice DIY people don't follow instructions clearly and end up with a subpar deck stain.
How we picked the best semi-transparent deck stain
When you're looking for the best semi-transparent deck stain, there are plenty of factors that you need to take into account. And that's something that we've kept in mind while performing our selection as well.
Naturally, the degree of protection that these stains provide against UV rays, mold, and other elemental effects was important.
Also, the level of preparation needed was also important — not to mention the way it influences the aesthetics of your deck.
One of the reasons that we chose to examine semi-transparent deck stains here is precisely the fact that many people don't like their stains having too much of an aesthetic effect.
Apart from that, we also examined the deck stain formulas (whether they were oil or water-based) and things like the deck coverage area.
Best alternatives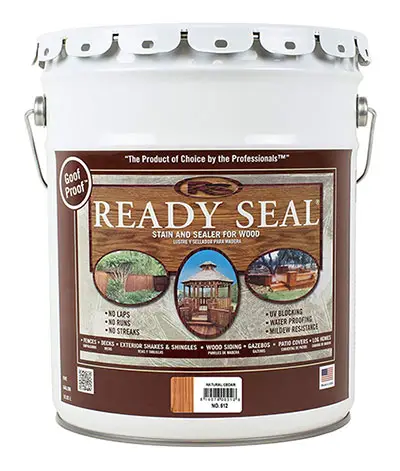 This deck stain can be used for the treatment of absolutely any kind of wood — meaning you don't have to think about other options for long-term deck protection.
Of course, the fact that we've told you our top pick among the semi-transparent deck stain products does not mean that we shouldn't introduce you to a couple of excellent choices that you can find elsewhere.
As we have pointed out before, there's a variety of reasons why you may need or want another type of deck stain; from aesthetic choices to the type of wood that you're treating.
And let's not forget — your budgetary constraints might be another type of issue. That's why we recommend taking a look at Ready Seal 512 — another kind of exterior deck stain that's going to be of excellent use to DIY amateurs and professionals alike.
You'll find that this particular stain is made from a combination of ground pigments, resins, and different oils — resulting in a blend that's thoroughly unique.
What we liked about Ready Seal 512
Aesthetics are a big draw when it comes to this Ready Seal product. There isn't a single type of wood out there that won't benefit from the natural grain and texture of this incredible formula.
And more specifically, you will be pleased to hear that there are eight distinct colors to choose from. On top of that, you may also create a custom variation by mixing the colors; however, remember that this is only something you should attempt if you have experience with this sort of stuff.
Also, only Ready Seal stains can be mixed together — don't try to mix different formulas from other brands.
That being said, there is a lot of value in this to be found for inexperienced DIY people as well. You don't need a wet line kit for this product, for instance.
Though, you will have to sand and thoroughly clean your wooden surface before applying this stain, just like any other. Once you do, however, you will realize that all woods look great with this — premium stuff like cypress and cedar as well.
Still, ease of use would rank as the top advantage of this product. Unlike plenty of other stains and wood seals, you won't have to perform any blending yourself — and the product is pretty much usable across a wide range of humidities and temperatures.
If you're going to use a sprayer, there isn't even any need to thin or dilute this stain. All you need to do is to follow the instructions, and you'll have your excellent new deck in no time at all.
What we didn't like
There's only one issue when it comes to this product — and that's the fact that the final aesthetic that you'll achieve with this won't be readily apparent.
To be more precise, you won't be able to see the true color that you reach with this stain for two weeks after the initial coating.
That means that you won't be able to approach this DIY task with as much forethought as you'd perhaps like.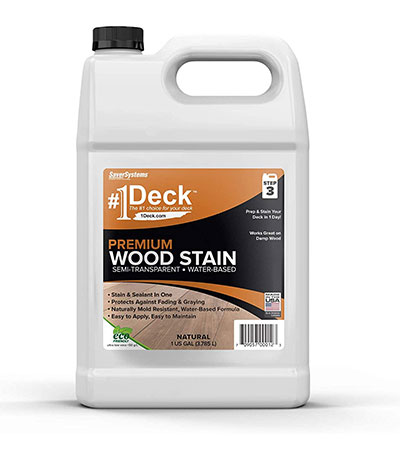 While the formula can be applied to a wide range of softwoods, we should point out that it works its magic most effectively on those that are 3-6 months old.
Our penultimate pick is another extremely versatile and useful product; definitely one of the best semi-transparent deck stain products no matter how you look at it.
The #1 Deck is simultaneously a wood stain and sealer; meaning that you'll have ample protection from both structural and aesthetic deterioration. You won't have to worry about graying, fading, and anything of the sort.
This is another water-based formula, meaning that your deck will become impervious to mildew or mold.
Additionally, you won't be limited in terms of aesthetics either; while the other products on this list offer a bigger variety of shades, this isn't something to sniff at either. There are the natural (no aesthetic changes), walnut, gray, dark walnut, and cedar shades.
There's no problem when you apply it on faded or somewhat weathered lumber; though you can't use it on any wood that's already been stained.
On the other hand — you won't need to sand and dry the surface completely before application; seeing as it's water-based, it will be applicable to somewhat damp surfaces as well.
What we liked about #1 Deck Premium Stain
Apart from the things that we've mentioned above, there are several pros to using the #1 deck wood stain and sealer.
The very fact that it performs both functions at once means that you can easily complete the entire work on your deck over just one day. And the fact that you can do this even if your deck is damp is just another bonus.
There's more than a decent coverage that you can achieve with this product, seeing as it's able to provide you with enough material for 150 square feet.
Though, bear in mind that you will have to perform two coatings before the job is done. And while your deck doesn't have to be dry while you apply this product, you still have to perform some prep. Mainly, the fact that you need to brighten, strip, and clean it before any of the stains can be applied.
Once everything is done and both coatings are applied — it will take about 24 hours to completely dry off and be usable.
Naturally, this is the average time specified by the manufacturer — in reality, it also depends on numerous external factors, such as humidity, air temperatures, and the surface itself. In addition, we have to point out that the container for this deck stain makes application incredibly easy as well.
Also, if you're concerned with environmental preservation or simply the local regulations — know that this is one of the lowest-VOC deck stains that you can find in the market.
And even among other water-based formulas that we've reviewed here, you'll find that it's the most eco-friendly pick by far. There is almost no traceable odor coming from it upon application, and it's incredibly simple in terms of maintenance.
You don't need anything else to clean it except some water and detergent.
What we didn't like
As far as we've noticed, one of the only two issues with this kind of deck stain is that it lasts somewhat shorter than the other picks on our list.
And apart from that, you can't find it easily in stores — though online purchasing is always an option, of course.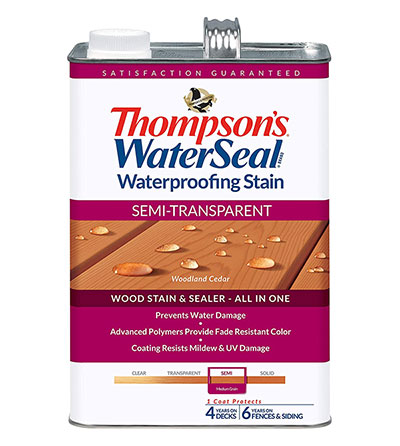 The best part — this is one of the most protective semi-transparent deck stains which you can find, seeing as it'll be great even after you have used it for years on end.
The previous choice on our list wasn't usable with wood surfaces that have already been weathered and suffered any kind of damage.
However, if you're dealing with that sort of situation, don't worry — there are other products for you. And among them, Thompson's WaterSeal may be just the stain and sealant you need!
As you can see, this is a handy product, seeing as it also gives you the option of solving both the sealing and the stain treatment in one swoop.
With that in mind, we also need to point out that the wood stain from Thompson's is quite versatile — firstly, you can use it with pretty much any kind of wooden surface.
But secondly, you also get a substantial warranty with it — 4 years for decks and 6 for any other kind of wooden surfaces. The polymers found inside this formula provide more than adequate resistance against water, UV rays, mold, or general fading.
What we liked about Thompson's WaterSeal
There's a decent amount of pigments for grain enhancement inside, and you can choose from four colors — timber brown, honey gold, autumn brown, and cedar.
Plus, there's a reasonable amount of versatility when it comes to the application process as well — you can use rollers, sprayers, and brushes to apply this coating.
However, while this product is definitely versatile — the last thing you want is to disregard the user instructions which the manufacturer has left. More specifically — you need to mind the requirements for air and surface temperatures before using the product.
If you try to use this stain when it's colder than thirty-two degrees outside — there's a good chance that the water base of this product will freeze and render it unusable.
There is an upside to this formula, however — once you do use it, you won't have to wait for days for it to dry up completely and for your deck to be fully usable.
In fact, one of the main selling points of this particular deck stain is that it dries after only two straight hours!
What we didn't like
As we've mentioned above, while the product is versatile — not following the included instructions can result in all kinds of issues; from dark smears to complete unusability.
And while this product can get you more than decent coverage, you should know that some people have reported that the advertised colors are not what you get in real life precisely, even with completely proper use.
There's often a reddish hue that users do not anticipate.
Things to consider before buying semi-transparent stain
Now that we've taken a look at our top picks for the best semi-transparent deck stain, we're going to explore the world of deck stains in general.
Namely, we'll go through everything you need to know to purchase the proper deck stain, even if it's a product that's not on our list.
VOC Compliance
One of the first things that you need to consider is whether your semi-transparent deck stain has to be within VOC compliance.
This isn't anything too difficult, mind you; it simply means that the manufacturer of the stain has produced this material in accordance with local legal requirements set by different states.
The VOC acronym stands for volatile organic compound. So, if you're going to use a stain, it needs to be a product that doesn't breach municipality, city, or state requirements. In other words, it must be below the threshold of volatile contents that would make it qualify as volatile, and thus unusable.
There are some areas that are big on air pollution reduction; that means additional compliances to keep in mind, as stains release certain VOCs as they dry off into the air.
Local Climate
As we've mentioned before, landscaping jobs in the exterior (such as treating your deck) depends a lot on your local climate. With that in mind, it's important to learn what kind of deck stains work in what kind of climate.
For instance, the same kind of chemical can't be used in near-arctic conditions and tropical heats. And if you have any kind of temperature or meteorological extremes throughout the year, that means being very careful about the type of stain that you'll pick.
Make sure you perform all of the necessary research and take a good look at all of the labels before buying anything. In most cases though, the climate isn't necessarily going to be a deal-breaker.
However, temperatures that reach triple digits or dip beneath Fahrenheit zero are going to be an issue; those require special stains that can sustain such conditions.
Sun Exposure
Your deck is outside; which means that treating it with the best semi-transparent deck stain will also mean considering the sun's exposure.
After all, one of the reasons why you're covering your exterior deck in the first place is to reduce the detrimental effects of the sun; but that doesn't mean that you needn't do additional research in this regard.
Not all deck stains are equally effective at counteracting the UV rays that hit your deck. Those rays are prone to, over the long term, drying the wood in your deck on a cellular level.
After a while, you will simply need to replace the wood found in the deck altogether; which is something you can avoid by picking the best possible deck stains.
Wood Types
When you're thinking about the stain that you'll apply to your deck, there's another important factor — the kind of wood that your deck is made of.
That's crucial in terms of aesthetics; the combination of the wood and the stain will result in a specific color and appearance once you're done treating the deck.
With this in mind, if you're doing this sort of work for the first time — we recommend testing this stain on an excess piece of wood that's identical to your deck, or in a spot that's not easily noticeable.
That way, you'll know if you're satisfied with the final look before everything is said and done.
Old Coatings
In most cases, this isn't the first treatment that your wood has ever received. That's why you need to consider the previous coating that has been applied to your deck as well.
Trust us, you do not want to try going backward on your shading or color spectrum. Suffice it to say that it won't be easy to prepare your solid stain deck for a new opaque or lighter stain; switching between fully transparent and semi-transparent is difficult enough.
So, you need to use a similar stain that has a shade that's as close to the previous one as possible.
Of course, going darker is never a problem — so if you want your deck to go down the shading spectrum, you won't have any issues because the new coating will fit perfectly.
Colors of the stain
As you may have noticed, all of the factors that determine which coating for your deck stain you'll pick fall into one of two distinct categories — the ones that affect the longevity of your deck, and the ones that concern its appearance.
Among the latter, the color of your stain is one of the most crucial ones. With that in mind — it's good to know that you will have plenty of different colors to pick from.
However, once you take VOC compliance, the type of wood, and a particular brand into account — your freedom of choice will be narrowed.
It may not be possible to obtain the precise color which you wanted in the first place; but usually, selecting a color doesn't represent that much of a problem in this day and age. The selection is usually big enough.
Sealers and Stains
We've mentioned that some of the products on our list are both deck sealers and deck stains. But what are these? Basically, these are two interchangeable products — in some situations.
They're definitely similar enough and contain comparable ingredients. However, their main difference is that deck stains (as the name implies) will give your wood a specific color — while sealers are always transparent. As a result, the combo products that we've reviewed above are semi-transparent.
But, both types of products perform a couple of important functions when it comes to wooden decks.
First of all, they repel moisture, mold, and water — allowing you to stop worrying if your deck is going to rot. Also, they provide protection against UV rays, so that your wood doesn't dry too much and become cracked.
Water-Based Deck Stains
Seeing as you've got the basics of the deck stains down, we'll explore some of the different types of this product which you can use to cover your deck.
Most of the products that we've recommended to you are types of water-based wood stains. That's because these have become incredibly popular in the past half-decade.
If we had to point to a reason for that, the two most obvious "culprits" would be the rising awareness on climate change across the country — and the subsequent VOC regulations that have become more stringent on the use of environmentally-harmful materials.
So, the advantages of this type of stain are that it's not difficult to clean up, and it protects effectively against mildew and mold; not to mention the fact that it's friendly towards the environment.
On the other hand, it has some downsides as well. Namely the fact that these rarely penetrate your wooden deck as deeply as most oil-based products.
Plus, the application can be more difficult because they tend to dry far more rapidly — sometimes leading to easier peeling.
Oil-based Deck Stains
For at least three decades, oil-based deck stains have been the main product on the market in this niche. They were produced by all manufacturers for decking equipment.
Generally, these were made from both synthetic and natural oils; including rosewood, linseed, paraffin, and other oils.
The advantage of oil-based decking stains is that they penetrate far deeper into the wood, and thus provide better protection. Also, they're generally easier for application, seeing as they're less constrained by drying time.
Conversely, their curing time is far longer than that of water-based stains. Also, while you're not limited in application by their drying time — they do dry longer as well, all the while emitting stronger odors.
And oil-based products protect against mildew more mildly than water-based ones. Finally, they also provide a darker hue to your wood, sometimes altering its appearance in ways you don't want or can't predict.
Deck Resurfacing Stains
Generally, these products are also referred to as "deck resurfacing paint", simply because they're incredibly thick and have a strong color.
Their point is to mask any gaps found in your wooden deck and deal with big voids or cracks. You should know that these products don't showcase any grain of the wood — and it's more invasive than other products for wood restoration that we've shown above.
While they have several flaws, they hold a couple of advantages as well. First of all, they provide excellent traction, as well as enhanced UV protection. If you want to give your rundown deck a new shine, it's not a bad idea.
However, in practice, we haven't listed any of these products as recommendations, simply because they're far worse than semi-transparent options.
First of all, they're likely to peel after just one season. Plus, if you want to remove these with a stain stripper, you'll find it next to impossible. You'll need to scrape and sand your wood — but in reality, you may simply need to replace it.
Solid Color Stains
Next up, we've got another type of deck stain that's more akin to a paint. Solid color stains also give your wood enough color so that no grain is visible on the surface.
However, bear in mind that, while there are options for both water and oil bases — there's a good chance that one application of this will render the wood unusable with transparent or even semi-transparent stains later on.
While these give you a lot of UV protection, they're also more than likely to peel after the first cold weather strikes.
Also, if you don't like the effect that you've achieved, you're basically stuck with it until you replace the wood in your deck.
Semi-Solid Stains
There are also semi-solid stains, that provide a half-measure when it comes to how much wood grain will be visible after treatments.
You won't find many manufacturers offering this, however. Excellent UV protection is the main advantage here, while the downside is that you won't get a lot of wood grain.
Semi-Transparent Stains
Probably the most versatile option is the type of product we've mostly focused on here — the semi-transparent deck stains.
These have pigments that will highlight all of the grains that your wood already naturally contains; while simultaneously sealing and providing protection to the surface. There are oil and water bases for these products, and they're a decent all-around solution.
You get some UV protection, though not the most you can; but you'll have a natural grain look, and whenever you want to try something else — you can easily recoat and clean this stain whenever you like, so it's nothing permanent.
Though it should be noted that oil-based versions are less environmentally friendly, but perform better.
Transparent Deck Stains
This type of coating will give you the most natural look, seeing as it doesn't really contain any additional pigment.
If you use a transparent decking stain, however, be prepared to recoat often — at most, this kind of deck stain can remain effective for a single season.
Still, while you need to do annual maintenance, it's quite easy to reapply.
Clear Finishes
These are simple sealers that don't alter the appearance of your deck in any way, and they're incredibly easy to use.
However, they're just sealers — so, there's no guarantee that they won't turn grey after one winter, and there's absolutely no UV reflection here.
Frequently Asked Questions
As you can see, the world of deck stains is far more complex than it first appears.
That's why you may have additional questions on this topic, even after our lengthy in-depth guide. Don't worry, though — that's only natural.
And that's why we've included a short FAQ section for you right here! We'll try to answer some of the questions about deck stains that we hear the most often.
What is the difference between transparent and semi-transparent deck stain?

So, after all of this talk about semi-transparent deck stains — what's the difference between these two types of products?

Namely, transparent deck stains contain absolutely no pigment — hence the name "transparent". They're completely see-through, meaning that they don't provide any additional color to your wood.

On the other hand, semi-transparent stains do alter the look of the deck somewhat, but only mildly compared to stronger protective coatings.

It's a trade-off between how much you care about protecting your deck from the elements, and how much you want to preserve its natural look.
Should I use a transparent or semi-transparent deck stain?

Generally, it's not easy to tell you which one you need to use — seeing as there's no unitary correct answer. After all, that's why there's such an extensive market for both kinds of products in the first place.

But, as a general rule of thumb — you need to consider just how extreme the outside conditions in your area are.

If you're dealing with extreme weather and huge temperature amplitudes — we recommend forgoing natural aesthetics for a stronger protective coating that semi-transparent stains provide in comparison.
How to apply semi-transparent stain to a deck?

The application process will depend on the product that you're using — remember, as we've pointed out before, it's incredibly important to follow the manufacturer's advice.

Make sure to read the instructions carefully before applying anything to the deck. Also, in most cases, you will have to sand and clean it first.
Final Thoughts
As you may have seen for yourself, there is a wide variety of choices for deck stains, depending on your particular needs.
If you're still unsure of what you need to get — consider your priorities, and think long and hard about the environmental conditions that your deck will be subjected to.
We hope that you have learned something new about the best semi-transparent deck stain and that you feel more confident about making the purchase. Stay safe and have a good one, folks!