If we had to make analogies between the rooms in your household and the spaces in your exterior — we'd probably say that your deck was something like the living room in your yard.
You can open a bottle of wine and have a nice relaxing evening overlooking your yard — or you can organize a barbecue with a couple of friends and family any time you want!
Seeing as your deck is not just a piece of aesthetic but a part of your exterior that's used quite often — you need to make sure that it's well protected and long-lasting.
After all, there aren't many parts of your home that undergo as much foot traffic while simultaneously being outside. And that's without even mentioning the fact that it's made of wood.
This means that, just like all lumber-based items, it will deteriorate after a while of being exposed to external elements. When it comes to wooden items and areas, wind, snow, rain, and the sun will shorten its lifespan for sure.
And there's really no stopping that — sooner or later, you will have to fix up your deck. But if you perform proper maintenance and due diligence in a timely manner, you can prolong that as much as possible.
For instance, if you apply the best deck sealer for pressure-treated wood — you will find that rot, splinters, cracks, and paint fading will happen at a much slower pace.
There's a certain balance to maintain here; you want your wood to keep its natural look and beauty while also being protected as much as possible.
And as you'll soon see — this is precisely the balance you can strike if you use deck sealers instead of deck stains as your finish of choice.
Let us now delve into the best deck sealers for pressure-treated wood you can find on the market these days. Let's do it!
Our Pick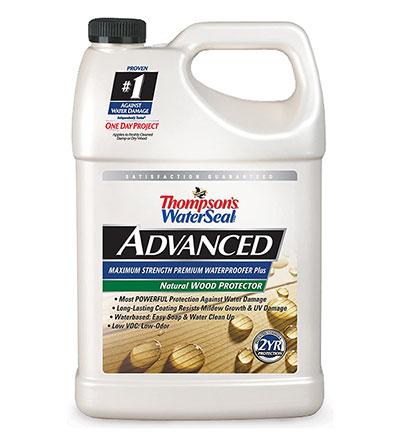 When used as intended — this deck sealer is excellent at preventing the growth of potential mildew, as well as preventing moisture infiltration in general.
Now that we've explained the basics of deck sealers — we'll give you our top choice for the best deck sealer for pressure-treated wood. In our opinion — that would be Thompson's Deck Sealer.
This is truly one of the best products in the deck sealer niche, especially if you're looking to protect your wooden surface from any damage caused by mildew or UV rays.
And yet, you will also be able to allow your deck to retain its natural color. Plus, this product allows you to complete your deck refurbishing in a single day.
Why Thompson's Deck Sealer is our best pick
That's truly one of the best parts about Thompson's Deck Sealer — once you clean and sand your deck floor, you will be able to treat it with the sealer on the very same day. There's no protracted waiting process here, luckily for people who don't have a lot of time to devote to their DIY projects.
Still, you need to bear in mind that this sealer isn't supposed to be used in interior conditions; especially if you're using it on pressure-treated wood.
If you're sure that you have plenty of ventilation to keep the air inside uncontaminated, you may try to use it to seal flooring in cabin rooms — but as it dries off, make sure that all of the windows and doors are opened. Otherwise, the fumes may be dangerous for anyone nearby, including yourself.
If you utilize Thompson's product for your pressure-treated wooden deck — the graying effect that comes with weathering will be severely lessened.
Bearing this in mind, all you have to do is apply a single coat of the Thompson's Deck Sealer. And that's all the protection that your wood will need in a long, long time.
Though, you should remember that, much like deck stains, this deck sealer does contain some pigment; so expect the color of your wood to slightly darken. Though, one of the best aspects of this sealer is that it's not just the best deck sealer for pressure-treated wood.
Besides that, this product may also be used for any kind of wooden furniture (as long as it's outside) and other types of wooden objects — from gazebos and wooden siding to fences. If you use this water-based sealer, cleaning the surfaces afterward will be far, far easier.
As we've already mentioned, you only need to apply one coating of this product. After that, you can count on the wood being protected for a while — if there's not too much elemental damage, in fact, the wood will be protected for a couple of years.
The pressure-treated wood will be completely impervious to any water that falls on its surface — there's no chance of it reaching deeper layers and creating problematic long-term moisture.
And let's not forget that this sealer allows you to finish any project related to wood sealing in a single day; counting the process of preparing the wooden surface and applying the coating — regardless of whether the wood is dry or damp.
We'd also be remiss not to mention the fact that the sealer is quite budget-friendly; another reason why it wins the top spot on our list. Not only is it decently priced, but you won't need to use more than a single coating — ensuring that you get the maximum possible coverage space.
The downsides
We have already mentioned that this sealer is perfect for protecting your wooden surface against all kinds of moisture and its byproducts. However, it does have a couple of downsides.
For one, the finisher can be slippery for sometime after it has initially dried off.
Also, there's a chance that it might leave a trace of yellow hue across your deck if you don't follow the instructions carefully and misapply it.
How we picked the best deck sealer for pressure-treated wood
As you'll see below, we have plenty of other choices when it comes to buying the best deck sealer for pressure-treated wood out there.
However, it's not just enough to know what we think the best products in this niche are — you also need to know all of the factors that we've kept in mind while choosing them.
That way, you'll be able to pick the best out of a range of different products as well; depending on which you have available in your vicinity.
Considering that — know that the most important factors that we've considered here are cost-effectiveness, moisture resistance, durability, and ease of use.
After all, we all want reasonably affordable products — not everyone can afford to spend too much money on their deck sealer. Also, moisture resistance is crucial because rain is one of the most damaging examples of elemental damage; as is the general durability of the finish in various conditions.
Finally, ease of use is an important factor because most people who approach these kinds of DIY projects don't have a lot of experience with wood finishes.
Best deck sealers for pressure-treated wood
One of the main upsides of the ReadySeal deck sealer for pressure-treated wood is the fact that it provides a lot of water resistance, excellent adhesive properties, and more than sufficient waterproofing for your wooden deck.
The next product that we'll take a look at here represents a superb coating for pressure-treated decks.
Much like the first pick on our list, one of its main selling points is the fact that you can prepare your surface for application and finish the entire process in just a single day.
Afterward, the sealer won't require more than a week to dry completely — though it will be semi-functional a day after application.
What we liked about Ready Seal 512
This ReadySeal deck sealer contains extremely powerful wood preservatives that ensure your deck won't rot for a long, long while. It's also a semi-transparent sealer, ensuring that you can use it for more expensive wooden objects, such as decks crafted using cedarwood.
This is a more than welcome addition to any household — the ReadySeal solution is a water-based one, but it can still act as a powerful preservative and pesticide; its toxicity does mean that you will need to clean it off your skin if you fail to use the right protective covering.
Don't worry, though — as long as you use some soap and water right away, you'll be perfectly fine.
If you're worried about rotting — we can't recommend this product enough. Its durable and long-lasting coating will ensure that you don't need to worry about rotting or adverse weather conditions for at least a year.
If there are any small cracks to be found within your wooden surface, this product will easily take care of them. All of the defects in your deck will dissipate under this gloriously smooth finish.
Plus, it's a budget-friendly option — seeing as you can finish the job with just one coating. And the coverage area is a whopping 160 square feet!
It's not just a great chemical treatment for your decks either; plenty of people have used it to make their fence posts more durable and sturdy over time.
This is especially true for any type of pressure-treated lumber that's similar to your deck. You will find that this sealer prevents the encroachment of any insects that bore into wood, including ants.
While this is a water-based product, it's quite thick and consistent, almost to the point of being oil-like — what this means for you is that you'll be able to use a simple brush to perfectly improve the state of your wooden decks and any other exterior surface.
The downsides
As we have mentioned, this is a more toxic solution than your usual water-based sealer. This does increase its effectiveness, but it doesn't have a lot going for it in terms of eco-friendliness.
Thus, you'll need to think about adequate protection while using it. And don't even think of applying the sealer in interior spaces unless you're certain of the quality of ventilation.
The waterproof barrier that Roxil will create is more than enough to take care of any issues in that vein.
When it comes to weatherproofing your decks, sheds, exterior furniture, or any other kind of wooden surface — there aren't a lot of products that will do a better job than Roxil Wood Protection Cream.
This is a silicone-based emulsion that's used for the protection of wooden structures — in this case, pressure-treated wooden decks as well.
You'll find that the formula found within is incredibly unique and extremely useful — it won't take more than one coating with a roller or a brush to provide extreme protection levels to your wooden deck. As we've mentioned, this is primarily a deck sealer for waterproofing and weatherproofing.
What we liked about Roxil Wood Sealer
In the range of weatherproofing products for wooden surfaces, plenty of available choices are liquids applied from a spray can.
However, this type of deck sealer isn't simply to use if there are details to think about — like nearby plant life or other structures. But that's where Roxil Wood's formula comes out on top — you can easily apply it without splashing onto anything else in the vicinity.
This formula allows for utterly measured and precise application. Plus, you'll get far more coverage with it than with most of its other price range peers.
Incredibly enough, just one coat of this product will allow you to stop thinking about protection for your wood for an incredibly long amount of time — ten years, to be precise. When you couple this with the accuracy and quickness of its application, there aren't many downsides to think about.
And just like most people like when they look for deck sealers instead of stains — this is a wood treatment product that won't alter the look and feel of your wood, not even a little bit.
There's no different sheen or a subtle stain that you need to think about — the texture will remain the same as if you never applied Roxil. So, if you want to treat especially expensive wood with a gorgeous aesthetic — this is definitely a product for you.
Also, if you're someone with a softwood deck — you'll be pleased to learn that this product does an excellent job at protecting against all kinds of algae and mold growth.
And that's particularly useful for softwood deck owners because these materials are the most susceptible to moisture-based issues.
But if you have a hardwood deck — don't think that this isn't for you as well. The Roxil Wood Protection cream is more than adept at restoring the beauty of weathered hardwood decks made from lumber like pine.
The downsides
One of the biggest problems with this deck sealer is that it doesn't provide any level of adequate protection when it comes to damage from UV rays.
However, if you add any sort of iron-oxide pigments — you will achieve a desirable effect.
Also, one of the issues about this product is that it doesn't allow for the easiest application.
You need to use a biocidal cleaner for wooden surfaces first, before applying the first coating — and if your surface is especially vulnerable, you'll also have to think about rot treatment before using Roxil as well.
It's environmentally friendly within reason, and it will preserve the natural pressure-treated look of your wood while providing decent protection against mildew and UV damage.
Our final pick on this list is the DEFY wood sealer. This is not the best water-based wood sealer out there — but it's also more than useful enough for the average deck.
This is a surprisingly durable deck sealer that protects your surface with a clear finish. It's designed specifically for pressure-treated wood, though it's less effective on other surfaces.
Still, if you've got a pressure-treated deck, you'll be happy to see that this provides you with more than enough protection from water, fungi, and UV rays.
This is especially true when it comes to fungi, seeing as the zinc particles found inside the sealer prevent them from ever appearing.
The downsides
While this product can be used with weathered decks and wooden objects, according to its manufacturer — it's also less effective with them, which is one of its major cons for sure.
Buyers' Guide
These days, you can find plenty of different products in the deck sealer niche. However, if you want to preserve your decks and other wooden structures adequately — you need to make sure that you're picking the right ones.
First of all, you need to consider what type of wood sealer you're going to use. For instance, we've mostly covered clear sealers here — these are wood sealers that don't contain any pigments, so they don't alter the look of your wooden deck at all. On the other hand, there are also wood toners — they're designed to do pretty much the same thing as the clear sealers, but with added pigmentation that affects your deck's appearance.
Make no mistake, if you're not going to use a clear deck sealer — you need to think long and hard about the advertised color of the sealer, and how it's going to interact with your deck. And let's not forget that this color may appear to be different if you do something wrong while applying it.
Next up, you also need to think about the resilience of the deck sealer for pressure-treated wood that you intend to use. As we've already said — you need to try and find the best possible protection against both moisture and sunlight; or either one, depending on your local climate and weather conditions. As you may assume, someone living in a desert doesn't have to think about moisture protection as much as UV rays.
The type of wood and its current state are also crucial factors. While reviewing different deck sealers, we've already specified that some of the work better with worn-out surfaces, while others are primarily supposed to be used on new wood.
Finally, the method of application is certainly something to consider as well. If you're not someone who dabbles in DIY projects like this often, you may not have the prerequisite equipment for different kinds of deck sealers. In that case, make sure to obtain paintbrushes, rollers, or spray bottles depending on your product of choice.
Things you should consider before buying a deck sealer
Before you buy anything, we recommend that you make sure that a deck sealer is something you need for your wood. In fact, we guarantee that a majority of people don't know the main difference between ordinary paint, deck stains, and sealers.
All of them can be used to protect your deck against any elements — but the way they do it can differ.
Deck sealers generally reside on the surface of the wood — meaning that they create a clear protective coating, through which you can see the original grain of the wood.
Thus, sealers are most often used with woods whose natural aesthetic is important to preserve — we're talking exotic ipe, mahogany, redwood, cedar, etc.
However, it should be noted that, while sealers are great at providing protection against moisture — generally, stains do a better job when it comes to protecting against the sun and UV rays.
And while these aren't as obvious as rain, they can still do a lot of damage to your wood by slowly breaking down its natural fibers; this is what causes the color to fade in the first place. However, as we have already mentioned — applying deck sealer is better for first-time DIY people because it's simpler than applying deck stains.
This is because sealers are mostly see-through and don't affect the texture of the wood beneath. Conversely, when you use paint-like stains, every brushstroke or uneven application will matter greatly.
That's because stains go deep into the fiber of the wood and drastically alter its pigmentation, simultaneously providing protection against any kind of UV rays.
Contrary to sealers, deck stains represent an excellent choice if your deck consists of less expensive and aesthetically pleasing wood; or wood that has been quite weathered by many seasons.
While sealers are mostly clear, stains usually provide a wide array of options when it comes to color, matching pretty much any kind of wooden tone you can think of. It allows you to alter the look and feel of your wooden deck quite a lot.
Finally, there's also good old paint — this kind of surface coating does not necessarily match any kind of wooden tone, as there are all kinds of colors. The natural appearance of the wooden deck will be completely altered, so paint is not a bad choice for damaged wood.
Water and Oil Bases
If you're certain that you're going to use deck sealer as your wooden surface finish, there are still a couple of other things to keep in mind.
For instance — once you start browsing deck sealers, you will find that there are both oil and water-based sealers out there.
However, while both types have their ups and downs — we need to point out that a majority of people opt for water-based deck sealers.
Ease of Use
Generally, oil-based deck sealers are just harder in terms of application. That's mainly because the deck needs to be utterly dry if you want to successfully apply this type of sealer.
Otherwise, you may notice tiny spots and bubbles appearing once it dries off and the moisture begins evaporating. Conversely, water-based deck sealers don't have such issues; you can even apply them if your wooden surface is slightly damp — though not completely soaking wet.
Eco-friendliness
Many people these days are concerned with the environmental friendliness of their DIY projects. That's why it's important to choose a deck sealer that doesn't emit too many volatile organic compounds while it dries — these VOCs can be simultaneously bad for both your environment and your lungs.
And even if you're not too environmentally conscious yourself — remember that plenty of municipalities and city districts have regulations on VOCs that you will have to follow.
Cleanup process
After you're done with the application of your deck sealer, you will also need to clean your tools and various brushes if you want to use them again for other projects.
That's another thing to keep in mind as you choose what deck sealer you'll use — oil-based sealers can be incredibly tough to deal with, while water-based ones are generally easy to clean — you don't need anything more than soap and water.
Drying Process
Keep in mind that the drying time of your sealer is an important factor, depending on how accessible your deck needs to be and how soon you'll need to use it. The drying times can also vary depending on external factors.
For instance, oil-based sealers could require 48 hours to dry even in ideal weather; while water-based ones generally dry in a matter of hours.
Durability
You want to get a deck sealer that will last you for as long as possible after you apply it.
Though, this is another thing that depends on the local climate as well, rather than just on your specific product choices.
Required Preparation
Ease of use doesn't just depend on how many coatings you need to apply, or how much material you need; it's also about how difficult it will be to reseal the deck once the time for that comes after a couple of months.
If you're applying the same type of sealer while resealing as well, you will find that water-based sealers can be more difficult to retouch than oil-based ones.
Expenses
Your expected expenses will also have a major influence on the product that you choose to buy.
That being said, oil-based sealers tend to be more affordable than water-based ones, which can set you back almost twice as much.
UV Protection
One of the biggest problems with protecting wood from weather damage is actually the rays that come from the sun. The UV rays can wreak havoc on all kinds of cells in both living and inanimate objects — and wood is no exception here.
In the case of your deck, you will notice this damage in the form of warping, cracking, and fading.
As we've already mentioned, due to the fact that the wood stains alter the pigment of the wood — they also provide more protection than the average deck sealer when it comes to UV rays.
So, if you intend on using a sealer in an area where the summertime is particularly intense — you will need to find one that gives you more UV shielding.
Still, bear in mind that there's no product that can completely protect your deck from the sun; at most, you can somewhat slow down the pace at which sun damage will occur on your deck.
Coating
Finally, you should also consider how many coatings your deck sealers will take to provide you with the performance that you need.
On average, sealers rarely require more than two coatings — and there are a few products (like our top pick) that can complete your work with just one.
We don't have to explain just how much of a time saver this is, though most one-coat sealers are a bit more expensive.
Porches and Decks
If you've got a porch or a deck, you will find that it's especially susceptible to damage from outside elements. A majority of the wooden elements found in your deck are in a horizontal position.
This is an important fact — because it means that the sun's rays hit them directly much more than horizontal wooden beams. Also, a flat position of your deck's wood means that it will gather and keep moisture much more than it would horizontally.
All of that means that the process of weather damage is more accelerated when it comes to decks and porches.
The cycles of drying and repeated wetting will constantly happen — any small checks will quickly transform into cracks that can endanger the entire structure.
Not to mention the fact that these crevices tend to retain a lot of moisture once they form. And that, in turn, means that insects and other forms of decay are far more present than they otherwise would be.
If you apply any finish that forms a film, it will constantly be under heavy duress and stress — the wood beneath changes in moisture content constantly, thus swelling and shrinking as time goes on. And that's without even taking into account the fact that decks and porches are high foot-traffic areas.
When it comes to decks that are completely exposed to the elements and constant traffic, we should point out that deck sealers are probably the optimal finishing solution — and that's true even for pressure-treated wood.
There are sealing solution formulas specifically manufactured and designed for decks. These do not have the same service life that paint has; however, they're also far simpler to renew.
If your deck is exposed to sun and rain severely, you will want to perform annual renewals; ideally, during springtime. Also, keep in mind that, if you opt for stains instead of sealers, the ones with lighter colors last longer compared to darker ones — at least in high-traffic areas.
Once you start your refinishing process, make sure you first use a bristle brush that's stiff enough to clean your wooden surface thoroughly. Then, you'll be able to reapply your sealant.
This is another reason why stains are a worse option than sealers for pressure-treated wood — they almost always tend to peel off in these situations, and you'll have to do a lot of sanding and scraping before you can do your refinish.
Remember — decks need to bear a lot of foot traffic, and thus stains are simply not as adequate as sealers.
On the other hand, if we're talking about a porch that's got roof protection over it — simple paint can be used as well. Though, we recommend still using a sealer to treat the wood first.
Then, once all of the wood on the floor has dried off, you can put two primers of porch enamel. This will ensure that all of the wear and tear and abrasion doesn't hurt your wooden surface too bad.
In this case, avoiding solid-color stains is a good idea as well, because they have lower resin contents.
Frequently Asked Questions
Now that we've established our top picks for the best deck sealer for pressure-treated wood and explained everything you need to know to make an informed decision while buying — we'll explore some of the most frequently asked questions on this topic!
How to apply the deck sealer?

Generally, you need to clean and sand your wood before you apply any kind of finish to your deck.

After performing those two parts of the job, you also need to way for the wood to dry off as much as possible before applying the first coating of the sealer; though, water-based sealers can be applied while the wood is still somewhat damp.
Should pressure-treated wood be sealed?

Yes, pressure-treated wood can greatly benefit from the right deck sealer — elemental damage is still a significant factor even if you pressure-treat your wood.

Thus, this is something that you don't want to miss out on doing if you want your wood to remain unaffected by external weather factors.
Should you put a sealer over the stain?

Generally, you can use oil-based stains in concordance with water-based sealers — though bear in mind that such combinations will make resealing the wood tougher after a while.
How long should you wait to seal pressure-treated wood?

After your wood has been pressure-treated, you will have to wait some time for it to dry before you can do any further treatments on it — including sealing or staining. This isn't a short process, as the wood may not be ready for treatment for a couple of months.

The exact time period depends on a variety of factors, including the type of wood, local weather patterns, and sun exposure.
Though, generally, it's almost never a good idea to start applying sealer in the first three months after the pressure-treatment.

Anything sooner than that, and the wood may not absorb the sealant properly; thus reducing its capabilities to have protection from external damage.
How often should you seal your deck?

This depends on a variety of factors, but a majority of deck sealers will last you one or two years — after that, you will need to reseal the deck if you want it to remain protected.

And if your sealer has UV protection and waterproofing abilities, resealing twice annually is not a bad idea.
Conclusion
As you can see, even with pressure-treated wood — there are still a lot of things to consider if you want to perfectly protect it against the elements. Don't worry, though — if you follow the instructions left by manufacturers carefully, while also applying some common sense, you won't have issues with using these deck sealers.
With that in mind, all that's left is to pick the right one; which also shouldn't be a problem with the tips that we've provided! We hope that this guide was useful to you and that you have learned something new when it comes to the best deck sealers for pressure-treated wood. Make sure you are staying safe out there and have a good one, folks!