DIY or pro handyman, the choice of finish for your floors is not so easy anymore. In the early days, it was easy – oil-based polyurethane finishing was the only thing you could buy to freshen up the old floors or give a shine to a new project.
In the past few years, however, the companies were quite diligent in developing water-based polyurethanes for floors and other wooden surfaces that would be up to par with the oil-based ones, by longevity and durability.
Now, the choice is not that simple, and the new water-based formulas that are being launched can offer some features we don't often find in classic wooden floor finish products, from less curing time to more eco-friendly formulas.
A water-based polyurethane for floors is a type of protective resin used for giving the finishing touch and final shine and style to your wooden floors.
Since the market is so crowded with different types of products of which it's not easy to choose the right option, we have decided to compile the list of from the best water-based polyurethane for floors, to the few better follow-up options.
After that, we'll try to leave the all-you-need-to-know info about buying and using the finish, with a few more tips and tricks to spice it up.
Our Pick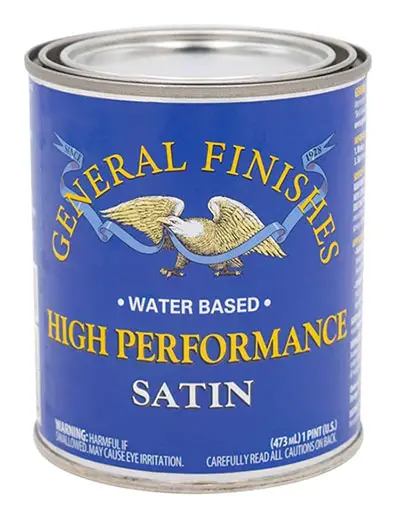 Adding to this the ease of application and surprisingly fast curing, it puts it on the top of our list. General Finishes has been out there as a company for a long time and it earned its reputation through hard work and quality products.
General Finishes High-Performance Water Based Topcoat is, in our opinion, overall the best water-based polyurethane on the market. Its high durability formula makes it versatile and adept even for the toughest jobs, like hardwood floors.
They've decided to broaden their specter of already known and quality oil-based polyurethanes into the area of waterborne finishes and their efforts and research has paid off. Here you've got a quality, durable, and long-lasting product that will give a new shine to your flooring.
What we liked about General Finishes
Three layers: When it comes to many similar products out there, we recommend adding extra layers for better protection.
In the case of General Finishes, the company's recommendation is not to add any more than three layers of the product because they won't improve the durability of the finish. It's needless to say what this means for large areas that won't need an extra fourth or fifth layer.
The four shades: It comes in four shades that give a different amount of amber, sheen, and luster – gloss, semi-gloss, satin, and flat. Also, notice that you can experiment and mix different shades to get to your desired sheen and luster, but this applies to other products out there.
Fast curing: General Finishes' layer takes significantly less time to dry and cure than other products out there, which means less work. The under-layers take about an hour to two to dry in good conditions (which is about 70°F or 21°C on 50% humidity).
This significantly reduces the time for the project to be over. However, bear in mind that the company recommends 21 days until the room is ready to be used in full.
Different stages of drying allow more load, however, to throw a party and move the heavy furniture with less worry will have to wait for a little.
Easy to apply: General Finishes will apply by almost any means – brushes, pads, even sprays. The company did a decent job in making instructions clear and simple so everyone should follow.
There is no need to add any other products to harden the finish, so the product does it all by itself. Its leveling capabilities are high, so there is not much need to worry about leveling it and applying it correctly, the product itself helps that.
What we didn't like
Yellowing on white and similar surfaces: Some users experienced yellowing of the surfaces when using General Finishes. This does not strictly apply to this product alone, it's more of a con for a water-based polyurethane in general.
The reasons for the yellowing and unwanted coloring are often unknown because there can be many causes to that. Anyway, the company honestly recommends the product not be used on bright white paint and similar whitened surfaces.
Not odorless: Again, this is not specifically for General Finishes, but most products out there. Compared to their oil-borne cousins, the amount of odor is insignificant.
That's why they are often characterized as odorless. This doesn't mean they don't have a smell whatsoever, unfortunately.
Even this low odor formula can be repulsive to some of the people out there. The good news is that most of the smell wears off in just a couple of days, and most people won't feel anything after that.
How we picked
Considering the characteristics of both oil-based and water-based polyurethanes, we wanted to avoid looking into the features in which oil-based polyurethanes lead the race by a large margin.
Water-based polyurethanes have their perks and we wanted to pick the products for you where these perks truly shine.
These are – gloss and emphasis of the natural coloring of the wood, ease of appliance, fast curing, and environmentally friendly, odorless formulas.
These are the areas where waterborne finishes win the race, and we've decided to offer you a list of those that do this job the best in our opinion but taking care of the durability. It's the durability that brought the waterborne finishes to the race, and we tried very hard to pick from the most durable ones out there for you.
Not many people out there would opt for a milder polyurethane finish on a surface not used at all, so we had in mind your pets, children, house redecoration habits, and your more enterprising needs like meeting halls, offices, restaurants, etc.
These products, if used correctly, pass the test of strength and stand shoulder to shoulder with their oil-based cousins.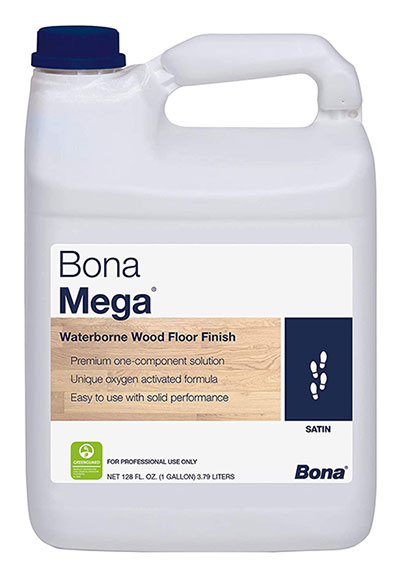 The product needs no previous preparation before you can use it, except shaking (note that the surface still needs sanding). The application is simple via a pad or a synthetic bristle brush.
This is another high-quality product that has proven its worth. Bona Mega Wood Floor Finish is a durable waterborne resin produced specifically for floors.
It brings a pleasant sheen and luster to wooden surfaces and it's a long-lasting finish resistant to scratches and other types of damage.
What we liked about Bona Mega
Heavy-traffic: The durable and long-lasting protection is great for any heavy traffic flooring out there, be it for household or business, like offices and restaurants. This product is often used in public interiors like kindergartens and hospitals for its low-risk and low VOC content.
Fast-drying: Bona Mega oxygen-crosslinking takes about two to three hours to dry between coatings, a little longer than our best choice. Walking can be done after 24 hours.
The time it takes for putting heavy furniture back in its place is a minimum of three days, and you should take more care during this time. It usually takes about seven days for the product to cure so the room can be fully used, which is faster than our first choice.
Ready and easy to use: In the case of this product, no abrasion is necessary between the coats, just waiting enough for the first coat to get to the right thickness (if more than 48 hours, sanding is necessary).
You would still need to comply with the necessary preparations and steps, and if you do it right, you won't regret the purchase.
What we didn't like
As with the other products, yellowing and color leaks might appear if applied on the surface with bright white paint.
Does not comply with some pre-existing oil finishes: Again, this can be said for most if not all waterborne polyurethanes out there, so take extra measures to remove the problematic layers before applying.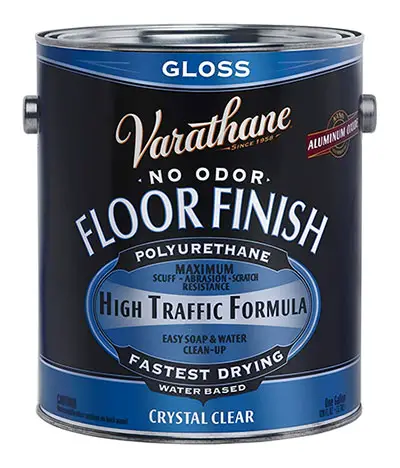 It offers superior durability, abrasion resistance and scuff resistance.
Another great product on the market that is produced as intended for floor finishing, Varathane offers decent protection and ease-of-use with beautiful sheen and luster variants.
This product can truly freshen up the woodwork if worked with correctly.
What we liked about RUST-OLEUM
High abrasion, scuff, and chemical resistance: Varathane formula brings high durability to the finish which allows more traffic without worry that the surface will undertake a lot of damage.
The chemical durability of the product allows less worry about chemical damage that can occur. Varathane is also easily cleaned up by water and soap.
No sanding between coats needed: Just wait an hour and a half or two and apply the next layer. Varathane has good leveling capabilities so even strokes along the grain will do the job.
Very fast drying-to-use time: Like most finishes, it would take about a day (24 hours) so the flooring could be used for light walking or so, but it would only take three days (normal humidity) to normally use the surface.
What we didn't like
Not completely odorless: When working with Varathane, there will, unfortunately, be slight odor present, however, after it dries, the odor is mostly gone. After a few days, it should be gone completely for sure.
It can take more coats to get the desired effect: Depending on the level of protection and the amount of sheen and gloss, you might want to add up to five layers of finish.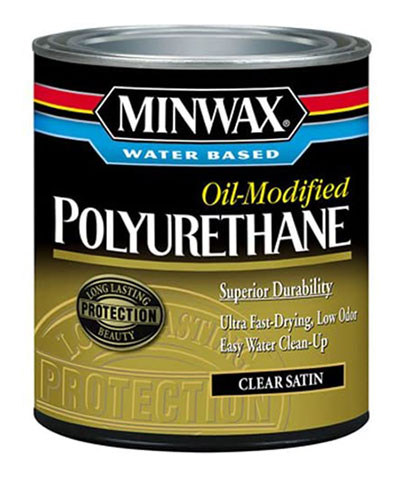 It is clear, ultra fast-drying finish that combines superior durability.
The final product in our review is a kind of a hybrid between a typical water-based polyurethane and an oil-based finish.
Miniwax Oil-Modified finish provides a solid and long-lasting protective seal on the surface, and the oil-modified formula adds to the amount of protection it carries.
The fast curing and ease of appliance make this a solid product for your household.
What we liked about Minwax
Super-Fast curing: It takes again two hours before you can apply the next coat. The first phase of curing comes somewhat quicker though, so beware of drops and streaks, and promptly clean them with water and soap.
Strong and durable: It takes fewer layers to provide the same protection compared to other water-based polyurethanes. It is highly resistant to scratches and scuffing.
What we didn't like
Tricky to work with: Because of its fast drying characteristics, some might find it a little tricky to work with and achieve the desired gloss, because the product requires quick action.
Odor and VOC: Since it's (not really but kind of) a hybrid between water and oil-based finishes, it has a significantly stronger odor than the water-based, but still bearable compared to its oil-borne cousins. The amount of VOC is slightly higher than his 'pureblood' waterborne cousins.
Buying Guide
When buying any kind of wood finish product, it's important to first determine a few things about your floors.
The materials
There is a plethora of different wood species your floor might be made of and not all types of wood accept the finish at the same rate. There's hardwood, like cypress or oak, which is difficult to work on and prepare for the last piece of the puzzle.
Sanding or other types of preparation might be needed both in case of refreshing the old ones or implementing the completely new flooring.
Softer type of wood is on the contrary easier to work with and to prepare, but at the price of longevity and durability. In this case, you'll have to be more careful with the wood and double-check if the products suit it well.
In cases of very tender materials, like laminated floors, we shouldn't be even thinking about adding some of the finishes that are out there, because they might damage the flooring.
Lower layers
There are different ways to treat the wood before adding the finishing touches, like the protective layers that shut the pores within the material to protect it from moisture and other un-pleasantries.
Then there's paint which comes in different forms and it has been known that some water-based polyurethane products don't accept well on certain paint, either in terms of adhesion (a different type of preparation might do the trick here) or for the effect it has on the final product – the color, the sheen, the general luster.
The second thing you could pay attention to is the other layers that are on there if we are talking about renovating floors – if there was a layer of oil-based polyurethane or polyacrylic on the surface (and old floors almost positively always have some of those), you might want to be double as careful, try your best to find out what is on your flooring already, and get a rock-solid answer whether the product you are intending to buy would adhere and fit well with these materials.
Opting for removing the said problematic layers might do the trick, of course, however, keep in mind that on older floors you would have difficulties removing all of it, and the spots where the old layer possibly remained might turn out the way you wouldn't be happy with eventually.
Regardless of the paint, whether or not there is or there isn't some (the natural color of the wood or other means of altering the color of materials, like whitening), it's important to note that even though these water-based polyurethanes proved to be milder and brighter on the luster, color and sheen than the oil-based ones overall, there might be some unwanted side-effects with your white wooden flooring and other items, like the yellowish hue, or some unwanted problems with the sheen.
Odor
This heavily depends on the individual's expectations, tolerance, and the general state of the sense of smell, but we must warn all of you to have reasonable expectations about the 'odorless' in the product's description.
Taught by previous experiences with the oil-based products that sometimes had long curing periods and that emitted some more or less strong odor for a longer period, some companies opt for putting 'odorless' as a feature in their product.
The problem might arise once you open the pack and breathe in the first breath – it actually smells!
Yes, and it would emit some sent for a while, guaranteed; it will wear out eventually, and much quicker than some older or 'oilier' products. The label might be misleading, we agree, but what we need to understand that even this, to some people still repulsive smell, is an improvement.
Traffic
This will be very important to some of you out there, and it can be the single most important question – how much load would your floors need to take? Do you have children? Pets, like dogs (raccoons are cute too)? Do you plan to do the flooring at your home at all, or it's for an office, a restaurant, or other large meeting halls? The getaway cabin? The kitchen or the bedroom?
The truth is that water-based products are just reaching the strength and durability of their oil-based cousins.
Depending on the traffic, the number of chairs that'd drag across them, the wheels, and tiny (or large) paws, footwear, etc. your options might get limited as the amount of any of these (or all) increase. Or, you might consider refreshing your floors more frequently.
How to apply water-based polyurethane to floors
Step 1: Compatibility/testing
To prepare your surface well, you need to do a few necessary precautions.
Testing is not mandatory, but it's highly recommended for the following surfaces: white, pastel, and whitened surfaces because it's been reported that yellowing can occur, and that's not what you want.
It's also important to try and inform yourself what kind of product is already present on the surface. Some products don't comply with the water-based polyurethanes or specific products from this branch.
Oil-based products of different producers can be a problem when applying the water-based polyurethane – they won't adhere well, or there will be unwanted color alterations.
To avoid this, it is recommended to dedicate a secluded or hidden part of the surface and apply the product as a test sample. This way you will notice if the polyurethane will adhere and react the way you wanted it.
WARNING: This does not guarantee that yellowing appears much later. This also happens – after a week or even a couple of weeks, yellowing turns up. Testing will only tell you if something immediately goes wrong.
Have in mind any paint that is present on the wood, for it might not work well with polyurethane. This can be avoided by removing the paint or adding another intermediary product over the paint and then apply the polyurethane over the said varnish/coat.
Step 2: Sanding
The next step (or the first, if you skip the testing) is to adequately prepare the surface. In some cases, sanding is not necessary (completely new stained surface floors, already applied layers that are compatible with polyurethane).
If it's needed, start with lower grate sandpaper (starting from 80-100 for stained floors for example), then for the finishing touch, you'll need higher grit sandpaper (80-120, 120-150, even 220).
You can do it by hand or by a multi-disc and similar appliance. The point is to prepare the surface so that the polyurethane adheres. For this, a fine surface with micropores is needed.
The sanding process of new floors will not last as long as sanding the older ones, especially if there's a matter on the surface that is not compatible with polyurethane (some paints, oil, oil-based coating…) – in this case, thorough cleaning and sanding is needed.
Step 3: Cleaning
The next step is to remove the dust and other contaminants. Start with a vacuum, because there will be a lot of dust. Alternatively, you can use an air compressor.
After that, go over the surface with a tacking cloth to remove as many contaminants as possible. With some products, you can use a simple dampened cloth as well.
Step 4: Applying
NOTE: When opening a container, most of the products appear white, but they lose the whiteness as they cure!
To apply the polyurethane, you have a few options. Most polyurethanes are self-leveling, which makes them easy to apply.
Depending on the product, you can use synthetic bristle brushes, pad applicators, foam brushes, rollers, even sprays, just check what specific way is applicable to the specific product you decide on. To mention here, all the tools can be cleaned with warm water and soap in most cases.
So, when using brushes and rollers, general rules is to not overwork it, don't let it drip too much, work steadily with a decent tempo (not dragging it for too long), make your strokes along the lines of the wood, apply evenly with steady and precise strokes and do not overwork it (go over multiple times).
Plan out an exit route behind you. Do not step over the freshly applied layer, it will damage it. Pay attention to the amount of the specific polyurethane you apply in each layer, do not make it thicker or thinner than recommended, because the finish won't bring the desired results. Polyurethane is easy to apply and spreads itself, and once you let it for drying, it will do the rest of the work.
Of course, after the first layer, there will be bumps. You will need to sand it again once it is ready. Usually two hours after drying (perfect conditions- temperature and humidity), you can test a part of the surface and once it makes a fine powder when you sand it, the second coating process can be started.
Step 5: Another coat
For this, you will need to prepare the new layer, sand out the bumps to even the surface and sand the rest of the surface with fine grating sandpaper (see recommendations on the label for the specific product), remove the powder with vacuum/air compressor, tack it with a cloth.
Apply the next layer as you did with the first/previous one, steady strokes, watch out for drips, spread it evenly, and let it dry again. Wait for another two or three hours to apply the next layer. Repeat until you are ready for the final layer.
Step 6: Final coat
When the second-to-last coat is ready, use a finer sanding grit to bring more shine to the final layer. Remove the bumps, clean the surface from the powder the sanding left behind, and tick it with a cloth (usually dampened, but check with the label).
Usually, the last layer is applied the same as the previous ones, with a difference in waiting for it to dry – usually, the surface is ready for light use (careful walking), and after 3 to 21 days it's completely ready to use (in the mean-time, avoid pets and heavy furniture moving, use protective pads for furniture if possible, etc.)
Frequently Asked Questions
Is water-based polyurethane good for floors?

The formulas created for floors based on water contain much less volatile compounds which means they are much less invasive on the material.
It protects the material from further damage, especially the moisture which can make the wood crack over a few seasons, and pests like termites, that would have a hard time dealing with the resin before they eventually reach the wood.
Not to mention that if there's a scratch, it's a scratch on the resin and not the wood. The resin can be then recoated which does not affect the wood underneath in any way.
How many coats of water-based polyurethane do you need on hardwood floors?

It usually takes three to four coats at a minimum to procure enough protection to the hardwood floor. The amount of coating will depend on the desired tint and luster, and the amount of protection the surface need, but have in mind that the resin will eventually need maintenance and therefore yet another coat.
This can happen in periods of two to five years, depending on the traffic the surface endures. Before applying another layer, sand the surface with high-grit sandpaper (300-400) and thoroughly remove the dust (vacuum/air compressor, tack cloth/dampened cloth).
How long does water-based polyurethane last?

As we previously mentioned, the amount of traffic much more affects the wear-and-tear of the material then the time alone. Depending on the quality and the number of layers, it can last for about two to four years before it needs a retouch in medium-to-heavy-traffic places.
In other instances, where the flooring is not too loaded, it can last for even longer. When the time comes, it's good to add another layer over the old ones. This way, you will prevent completely replacing the whole finish, and prolong its overall life span.
What kind of polyurethane should I use on hardwood floors?

Both water-based and oil-based polyurethane can be used on hardwood floors as a protective layer. It practically depends on your preferences whether to use one or the other.
The oil-based finish gives a harder tint and darker hue to the wood, while the water-based finish gives a more natural color to the tree.

The oil-based finish takes longer to cure, fewer layers to apply, and it's odorless and with more eco-harming components. Water-based finishes take less time to dry, wear less odor, and there are much fewer substances harmful to the environment. They are pricier, however, they ask for more frequent retouch and more coats need to be applied the first time.
How do I store water-based polyurethane products?

What's important to know here is that these products don't have a permanent shelf-time. Over time, the active ingredients turn and the results won't be as fascinating.

Usually, it takes a year or so for a product to start losing its power, so it's best to use it before that time. Naturally, the precise time depends on the product, so consulting the label once again beats general knowledge.

If you have some significant amount of the product left, it's generally best to keep it in the original package. The good preservation starts at the beginning- the opening of the product. Use care not to damage or dent the lids and covers, because they might not fit well, and not be as air-tight.

If the product is in a can, use specific can opening tools and accessories. A good idea is to store these products well-closed upside-down since that would block extra air from reaching the resin.

The last thing is to keep in mind that temperatures above 100°F (38°C) rapidly lose their specifications. Sunlight or any source of strong direct light also affects them. Moisture also damages some of the products in the long run.

For alternative storage solutions, it's best to consult with the manufacturer, because there are options for some of the products, like glass or FIFO bottles, but this does not apply to every product. The point is to avoid the packaging materials that would mix with the active ingredients in the polyurethane.

If the product remains on the shelf for a while, some dry matter could fall to the bottom and form a layer on the surface. Don't worry, this is normal, it just needs a stir to mix the liquid and try parts again evenly.

When using the product, it's good to put it into another container, as much as you need, and keep the rest sealed as soon as possible.

If the product has a strong odor, it's probably turned and shouldn't be used. This can happen if bacteria or other contaminant is introduced that drastically alter the chemistry of the substance, making it unusable. This is why sealing it as tightly as possible is very important.

Finally, pay attention to some products because some of them don't like shaking. Or better, we won't like the bubbles in this product, because it will affect the adhesion during the application, and it will increase the forming of bumps. Let the product settle for a while (sealed) until the bubbles disappear.
Is water-based or oil-based polyurethane better for floors?
They are both rather equally good for floors, but there's also the question of whether are good enough for you.
Application and maintenance
The oil-based ones have a much stronger odor and it takes much more time for it to cure. Waiting between the coats can take as much as five or six hours, and the final layer should be left alone for as much as twelve before the room is ready to be used. Even after curing and in time the floor is ready, the resin will still give out a bad smell.
It eventually disappears of course, but it takes more time. The strength of the smell while applying it on the surface already puts many people off. The oil-based finish usually has more dry parts, which protects the wood, so it usually takes fewer layers to apply than the water-based ones.  Even with fewer layers, the 'thickness' offers more protection, so once you're done with your floors, you won't be needing to maintain them as much.
The water-based finishes, on the other hand, have much less odor that disappears much quicker. The drying time is also significantly reduced, usually about two hours, so several coats can be added in just one day, and you might get the job done by then, depending on how many coats you want to leave.
Now, the coating amount is tricky, because since the waterborne finish is not as 'thick' as the oil-based one, to achieve a reasonable amount of protection, the amount of coats raises from 2-3 to 3-4 for waterborne formulas.
Nevertheless, this still means 4-6 hours wait time compared to 5-10 hours waiting to start applying the final coat. By the next morning, the room is ready for light use (three days until normal use) and with less odor.
The other downside of waterborne formulas is their more demanding maintenance. Since they are still softer (which doesn't have to be completely bad, they flex with the wood more readily for example, which is a good thing), you'll need to apply extra layers from time to time, more often than the oil-based finish.
The look
The oil-based finish brings a more amber-ish tone to the wood which some species quite like. An oil-based finish alters the outlook of the final product, tints it down, and gives a distinctive glow.
The water-based layers keep the natural coloring of the wood more effectively and bring more options for sheen and luster, so it is more customizable. We believe these features make the biggest difference in choosing between the two.
It all comes down to what you want with your material – some wood prefers the color be kept natural, although there are some new experimental interior design solutions.
The price
The price here, we believe, comes two-fold: The price in cash and the eco-price. The traditional oil-based finish is cheaper than its waterborne counterpart, however, it pays the price in terms of ecological impact.
Because of the higher amount of VOC, the production and use of oil-based polyurethanes affect the environment much more than water-based products that contain much less volatile compounds.
Remember that the price of a product is also affected by the amount of production, so the more chance we give the water-based polyurethanes, the more we will support the development of less harmful formulas and lower the production expenses as their production rate rises.
Final Thoughts
Our constant strive for finding and discovering something better and different has even influenced our choices in protective flooring finish. The market is very versatile and more than a few options are available.
Choosing wisely between the products, we should keep in mind that not only the quality, durability, and longevity are on the table, but also the time it takes to do the job, the smell we have to deal with for a while, and eventually the ecological impact our choice might pose.
Water-based polyurethanes seem like a good choice to anyone who wants to keep the natural color of their wood floor with extra sheen and luster, and if they want to make a difference in ecologically responsible decisions. Here, we offered a review of the best water-based polyurethane for floors with a few follow-up options. Happy finishing!