Hammer drills are perfect for getting through tough materials such as brick and concrete. The best corded hammer drill can deliver constantly high toque and along with that hammering action, can get the job done quickly and efficiently.
You may be wondering what is the best corded hammer drill in 2021? Well, that's what we wanted to find out. In order to find the top drill, we looked at a number of key factors such as its power, torque, settings and durability.
We completed an exhaustive amount of research to come up with corded hammer drill reviews on the top 4 models out there today.
So you get exactly what you need, we've also written a buying guide. Let's find the best corded hammer drill for you!
Our Pick
In terms of price and performance, this drill is unmatched. It is within the budget of most users while also delivering excellent quality, making it great value for money.
This is our top pick as we think it is the best corded hammer drill available on the market. It has a powerful 6 amp motor that can help with any DIY project. It functions as a two-in-one device with the hammer/drill mode along it also able to be used as a standard drill.
The hammer mode provides the pulsating motion needed to drill through hard surfaces. The drill mode can be used to drill on soft surfaces, like wood and plastic. There is a button on top of the machine that allows you to choose between the two functions as required.
It is very light in weight at just 5 pounds. It also allows you to choose the speed of your hammer action along with the power. Its maximum speed is around 2800 rpm. It also has a forward and backward function that increases usability.
It also comes with a ten-piece drill set with different sizes available. Those different sizes will allow you to use the same drill for a multitude of projects and on different materials, depending on your needs.
Some bits can be used on glass, wood, plastic, metal, bricks and masonry. Tacklife is also known for its durability, so this drill a drill you can rely on for years to come.
What we liked about TACKLIFE Hammer Drill
It is flexible and easy to handle. While it works very well on tough brick and masonry, it can also be used for those small house repairs.
This dual functionality of the drill gives it that versatility where you won't need to worry about changing tools.
Its handle can rotate completely 360 degrees. It offers you amazing flexibility and you can change its position in any direction and it will work in that angle.
Another great feature is the steel chuck that offers you the strong grip needed to avoid the drill bit slipping and allows for precise control.
The downsides
This machine does heat up pretty quickly and you should be mindful of not overheating it.
It's also worth mentioning while this is perfect for a wide variety of DIY tasks, it's not at a professional standard so constant use of hard surfaces will wear it down fairly quickly.
How we chose the best corded hammer drill
There are many factors that we took into account when considering the best corded hammer drill. One of the main ones was power. There is no point in having a hammer drill if it can't get through harder materials.
Something that's linked in with the power is the torque, which showcased its ability to do tougher jobs. While getting through hard materials is great, we also loved drills that have the versatility to be used in a wide variety of different settings.
After these features, we took usability into account such as the number of speed settings it has, how easy it is to handle and the accessories it comes with.
Finally, we wanted to look at drills that represent excellent value for money.
Best Alternatives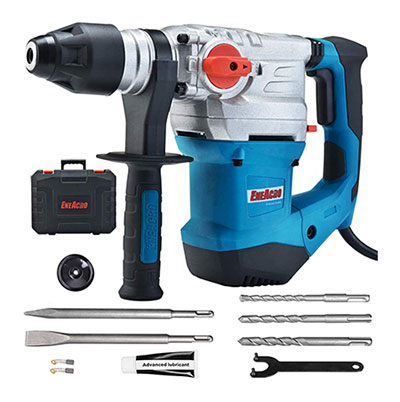 An impressive feature of this product is the Vibrating Damping Technology (VDT). It controls and dampens the vibration of the drill during its usage. It can help decrease injuries during work.
The Eneacro heavy-duty drill is probably the sturdiest and most durable drill available at this price. It is strong enough to drill through concrete and metal with a motor of 13 amp and a speed of 820 rpm.
It is designed for long hours of heavy-duty work like breaking floors, house decorating and punching holes through walls. It has four different functions. It can be used as a hammer, drill, chisel and hammer drill.
It is one of the heavier machines, weighing around 18.5lbs, but it has a lot of extra features that give it prolonged life. It has a dustproof system that protects the motor from debris. It can easily be used in a challenging environment without fear of harming the mechanism.
It also has a cooling feature that allows outside air to move inside the containment to cool the motor. It prevents it from burning out and extends the life of the drill.
What we liked about ENEACRO Hammer Drill
It is a powerful drill and can be used in all areas of the home while also excelling at heavy-duty work projects.
It lasts longer than an ordinary drill and is pretty comfortable to work with. It does not heat up as quickly as other drills.
The soft grip helps reduce fatigue and provides better control. Its 360-degree feature also helps provide extra flexibility allowing workers to reach narrow and tight spaces. Overall, it's a very easy drill to handle, especially for its power.
Its Patented SDS-Plus keyless chuck allows you to change bits between tasks easily without resorting to using extra tools.
They also provide an assortment of accessories with the drills such as a chisel, three drill bits, spanner, grease, dustproof cap, two carbon brushes, auxiliary handle and carry case.
The downsides
Its weight does not make it an easy tool to carry around for everyone. If you are on the frail side, then this tool would be too tiring to work for extended periods.
For those a little stronger, the excellent handle placement helps to mitigate some of that weight.
It is one of the faster drills with a speed of 2,800 RPM. Its bit can be changed very easily by clicking a small button and it provides a ½ inch chuck for larger bits.
This Black+Decker hammer drill is a two-in-one drill that can function either as a hammer drill or as a standard drill. It is one of the lighter drills on the market at around 4lbs. Despite its lightweight, it's a very powerful tool.
Its motor gives a 6.5 amps power and it delivers around 48,000 beats per minute. You can use it to drill through wood, concrete, metal, bricks and masonry.
Another useful feature is the 3-position side handle that allows for comfort and better grip. It helps hold on to the drill firmly while doing your work. It can help avoid injuries allows you to use it for a long time.
What we liked about BLACK+DECKER Hammer Drill
It is a machine that does its job well within an affordable price range. It makes it great for home projects while also being able to cope with larger tasks. Changing the bit is very easy, allowing you to quickly switch between surfaces.
Its lightweight also helps with providing ease of use. You can easily hold this drill for longer periods for your DIY projects or just doing work around the house.
It is especially useful for people are who new to drilling or DIY projects. Its low weight with strong power combination makes it very easy to use and maneuver.
The downsides
The keyless chuck system used on this device makes it easy to switch between bits but it doesn't hold the bit quite as securely as other drills can.
Some users have needed to tighten it with pliers to get the hold they want.
This is a very powerful drill for its size and weight. It is relatively stronger and faster than other drills at a similar price point.
Dewalt Hammer Drill is a lightweight drill weighing around 6lbs. As with all of the drills we've featured, this one can be used with or without the hammer function, giving it more versatility. It has a 10 Amp motor that packs a punch during drilling.
It can easily drill a hole in hard materials. With the high power output and increased durability, it can be used for wood, masonry or even steel drilling. It has two speeds and you can easily switch between them.
You can either use it to have greater drilling speed or greater torque application. This can help speed up your work or ensure you don't get stuck on more difficult surfaces.
Its speed and lightweight make it an ideal tool to use for home projects and even for professional projects.
What we liked about DEWALT Hammer Drill
It can easily do tasks required at home or for DIY projects. Its hammer function is one of the best around, delivering controlled pulses for any task.
It also has a metal housing that protects the motor of the drill. It prevents dust and other materials from going into the machine and gives it stability and durability. You'll most likely be using this drill for many years to come.
Its handle has a soft grip. You can easily hold it for longer periods without the handle digging into your hands. It also has a two-finger trigger which allows you to have greater control of the machine. Compared to many other drills out there, this one is very easy to use.
The downsides
This is slightly more expensive than some of the other drills we've seen but we still think it's a great price.
Some users had some issues about the length and weight of the drill, so it may be worth double-checking that this won't be an issue for you.
Why you should get the corded hammer drill
Having the best-corded drill is highly important for any DIY enthusiast and anyone looking for professional drilling performance. These drills are used for heavy-duty revamps and remodeling as they can be highly effective on tougher materials.
These drills can be used 24/7 since they do not have a restriction on the battery life due to being corded. If you are looking to renovate a huge space with hard walls and will be required to use the drill for a longer period, a corded hammer drill is the drill for you.
A corded hammer drill also allows you to drill through materials such as bricks, stones, hardwood, concrete, and other solid materials.
Moreover, if you need a lot of holes in masonry, it is recommended to get a corded hammer drill as it makes holes fast and with consistency in its torque.
The good:
Higher speed and power
More torque consistency
No limit on battery life
The bad:
Restricted movement/mobility
Things to consider before buying the corded hammer drill
There are specific features that make a corded hammer drill unique compared to the other drills. Mainly, the corded hammer drill is designed for dual action; to hammer and rotate simultaneously.
Therefore, it can go through material faster than a regular drill due to the percussion hammering mechanism.
Below are the key features you should keep in mind when looking to buy the best corded hammer drill for you.
Power
When buying a drill, many decisions are solely based on how much power it has. One of the major benefits of the corded hammer drill is the power it has because it is connected directly with an outlet.
The power of the corded hammer drill, like every other corded drill, is measured in watts and amps. The best minimum watts a drill should start with is around 500-550W and should go up to 1200-1500W. The higher the power the drill has, the easier it will be for you to drill holes through surfaces made of firm material.
There are a few terms that you should be familiar with when looking at the power feature of a drill. You must understand how the terms rated power and output power differ and what they mean.
Rated power is the power that the drill has, while the output power is the power that is delivered when the drill is in operation.
Torque
To understand the importance of torque, you must first know the function torque provides for power tools. Torque is the force that makes an object spin, or rotate. It is measured in Newton-meters (Nm).
The higher the number of newton-meters a drill has, the higher the twisting force that it can deliver. The torque rating may not be an important aspect for someone who wants to drill on materials such as wood but if you need to make holes through hard surfaces such as metal and masonry, the Nm of the drill will matter.
Speed settings
With every material varying in density, it's best to match that with a specific speed setting. For example, drilling through stone would require a different speed setting than drilling through wood.
Therefore, the speed required to drill depends on two main things; the size of the material and the type of material being drilled. When drilling larger bits of material, you need to slow down your speed and take your time for precision and accuracy.
What happens when drilling through a heavy material with extremely high speeds is that it burns down the motor as it is trying to compensate for the high power.
Therefore, the motor comes under strain and eventually won't get the job done effectively. It is important to look for a drill that has the feature of controlling the speed according to your preference and need.
Usually, in a drill, you have some sort of a speed control variable such as a trigger type button that you can pull back to increase the speed.
A good drill even has an adjustable stop system that you can set that prevents the trigger from unconsciously being pulled too far back where the speed increases suddenly.
The speed of most corded hammer drills ranges between 500-3000 RPM (revolutions per minute).
Another reason why a variable speed control on a drill is highly recommended is that it starts the drilling slowly and gradually increases the speed rather than increasing abruptly which could injure the user's wrist.
The variable speed control adapts to the speed needed for the material being drilled such as wood, stone, or metal.
Accessories
Though accessories are not a criterion that your decision should be fully based on, it is always good to see what extra parts your drill comes with.
A common accessory a corded hammer drill comes with is a carry case. It'll make carrying and moving the drill easier as you can put everything inside the case and take it with you.
It also prevents you from losing any smaller pieces that come with the drill. The cases are hard covered which further protects your drill from getting damaged.
Sometimes, a collection of different drill bits is offered while buying a drill. Even though those bits can be very useful for different projects, you still may need to buy some separately that are suited to your task. 
Multi-function options
Having a drill that can perform more than one function is the cherry on top. Especially, when it comes to the corded hammer drill which is already using two different techniques to drill. The concept of the hammer drill is to drill and hammer through the material.
Another option that comes in drills is the reverse drill, which helps to cleanly remove the drill out of the material. There is also the ability to use it without the hammer function which is ideal when you have smaller drilling tasks through softer material.
Screwdriver function is also available in some drills where with a very slow speed (meaning variable speed control is necessary) you can use the drill for the purpose of a screwdriver.
However, for the screwdriver function on a drill to efficiently work, the drill must also have a torque control as sometimes the drill ends up shutting off when a specific torque level is reached.
Handles
The corded hammer drill most commonly has a pistol grip. To have a better grip on the drill when using it, some drills come with a second handle right behind the chuck that the user can hold when drilling.
This handle creates better grip, balance, and comfort for the user when a little jerk is felt when drilling or when in the hammer mode, where there are more vibrations.
Ideally, the position of the second handle can be moved back or forth and even rotate clockwise or anti-clockwise to your preference.
The position of the handle should be aligned in a way where your forearm is in alignment with the drill bit. This allows you to drill with more pressure. 
Chuck
The chuck of the drill determines what drill bit size and type you can use when drilling. A very common size in chucks for drills is around 10mm – 13mm.
10mm is considered a light-duty chuck and can be used when you want to do everyday tasks. On the other hand, the 13 mm-sized chuck is used for heavy-duty tasks.
There are two types of chucks that a drill can have; keyed or keyless. Some drills, mostly the traditional ones, use keys to open and close the jaw of the chuck to remove the drill bits. Whereas, the keyless chucks do not require special keys to replace the drill bits.
Keyless chucks are believed to be better for day-to-day drilling on materials that aren't that hard such as wood, aluminum, and mild steel.
On the other hand, for heavy-duty drilling, keyed chucks are recommended as they provide extra torque on the drill bit when you're afraid that the drill might slip.
It all depends on the power, speed, and material for a proper decision to be made over what type of chuck you'll use. As corded hammer drills offer more power to drill through heavy materials, a keyed chuck might be a better option for you.
Durability
When buying a drill, doing your research is extremely important. It's a good idea to read reviews on multiple corded drills to see what type of issues can occur after long-term use.
For example, some drills end up losing their power over time. Others, however, can keep performing year after year with no issues at all. Therefore, buy a corded drill that has good reviews and is durable for many years.
Vibration control
Drilling through hard materials can lead to intense vibrations and tremors that can cause discomfort. Vibrations can also lower the rate of penetration of the drill as this shows a lack of efficiency.
Most corded drills come with vibration controls in the hammer mechanism that provides the user with more comfort.
Most drills have this mechanism called the activation vibration damper (AVD) system that dulls the effect of the piston moving back and forth and overall reducing the hand on vibration at the back of the drill.
The main function of the AVD system is to manage the vibrations of the drill to make sure that the performance is consistent through constantly changing conditions.
It also prevents possible malfunctions like stick-slip followed by tool failure, damaging the drill bits, and reduced rate of penetration (ROP).
Price and warranty
The cost of a product is always going to play a huge role in your buying decision. We tried to look at a range of different options here from budget models to ones that are a little pricier.
While you don't want to overstretch your budget, ensure you're getting a hammer drill that is good enough for the tasks you have.
Another important factor is the warranty as this should give you some protection against any faults. While a warranty is a good idea, you should check what is exactly being covered. Some are only limited in their scope and won't give you the full coverage.
Frequently Asked Questions
Do you really need a hammer drill?

Hammer drills are used to drill holes through hard surfaces such as concrete, stone, and masonry with ease. These types of drills are mostly used by construction workers and other professionals to install fixtures such as electrical boxes to block and brick walls. 

Hammer drills are also used by homeowners and people who love doing DIY projects to do all kinds of things, such as installing cabinets and shelves on masonry. If you are planning to drill through the surfaces mentioned above, a hammer drill will make your life a lot easier.

You can rely on hammer drills to bore a hole through most materials. They are used to drill holes in concrete floors for wall framing and used to drill holes in the footings for concrete wall forms.  Hammer drills are also used to drill between the brick in the mortar joints. 

A regular drill will require more effort to do the above tasks than a hammer drill. To do these tasks with ease, you will need a hammer drill.
Should I get a hammer drill or a regular drill?

A regular drill is used to drive screwdriver bits, for small drill bits, flap wheels, wire wheels, nut drivers, countersinks, and any other accessory that can fit into it. The drill uses a standard rotary action to make holes.

A hammer drill has the same function as a standard drill with an added "hammering" action. Hammer drills are loud drills that we hear when construction work is taking place in a nearby room or building. 

If you are doing basic drilling in materials such as wood, metal, ceramics, and plastic, you might want to invest in a regular drill. Regular drills are mostly cheaper than hammer drills. This is the ideal choice if you are working in tight and small spaces because regular drills are lighter and smaller than hammer drills.

If you need to drill through harder surfaces such as solid walls, bricks, and concrete, then it is probably best to get a hammer drill. The type of drilling that you need to do will help you determine which drill would be best for you.
What is the difference between rotary hammer and hammer drill?

A rotary hammer is a go-to drill if you are looking to drill large holes. The heavy-duty tool is used for chiseling and drilling through hard materials. Rotary hammers compress air using a piston and create the hammering action by moving the striker.

The blows on a rotary hammer move at a slower rate compared to a hammer drill. This is because the force of impact on a rotary hammer drill is more powerful than a hammer drill.

A stronger force will require less effort from the person handling the drill.

Rotary hammers have a spring-loaded chuck that accommodates the exact size of the bits used. There is no adjustability. Only specific bits can fit the chuck of a rotary hammer. Rotary hammers are suitable for light demolition work. There is only a hammer mode available on a rotary hammer.

A hammer drill uses a specialized clutch system that uses two rigged metal disks that work like gears. The disks spin against one another, causing the ridge to move up and down, which then allows the chuck to go in and out. This results in the drill bit rotating in an up and down movement.

The hammering action is fast and not as deep as a rotary hammer. The bit only travels a small distance, delivering up to 30,000 blows per minute. A hammer drill has two modes of drilling that you can choose from, once you change bits, you can go from drilling in concrete to drilling in wood.

Hammer drills are usually bulkier than your typical drill. They have a standoff handle to help you keep the tool steady. Rotary hammers are suitable to use on big projects such as drilling through rebar or breaking up concrete.

The powerful force that a rotary hammer provides will cost more than a hammer drill. If you are not planning on doing any big projects and you just want a tool suitable for minor home tasks or light carpentry, a hammer drill is your best option.
Are corded drills more powerful?

Corded drills are plugged into an electrical source. Their power comes directly from being connected with an outlet. Corded drills are more powerful than cordless drills because they are directly powered, whereas cordless drills are battery-powered.

Batteries generally do not provide the same power as a direct electrical source. You can get some fantastic and powerful cordless drills but even with them, you don't get the same consistency of power that you can get from a corded drill.
Should I buy a corded or cordless drill?

The difference between a corded drill and a cordless drill is the power and convenience that each tool provides. Corded drills provide a constant source of strong power and the power of corded drills will last the full duration of your project.

Cordless drills operate on battery power, meaning you can run out of power while you are still busy drilling. If you plan and working on projects that will take many hours to complete, you might want to choose a corded drill due to its longevity and reliable power supply.

Corded drills are also lighter compared to cordless drills as the batteries used to power cordless drills add extra weight. While drilling for long hours, you may tire out easily with a heavier drill.

It is best to choose a lighter drill for long hours of drilling.
Corded drills present one major disadvantage. You won't be able to move around as much due to the cordless drill having to be plugged into a power source. The cord limits you from moving freely and is also a tripping hazard.

You also can't use a corded drill anywhere. You would only be able to use sites that have running electricity. If you are planning to do projects where a power supply isn't nearby, you might want to consider using a cordless drill.

It's a common problem when choosing which type to use and there are genuine arguments for either side. Many people love the never-ending power of a corded drill whereas for others, portability is vital. It's good to weigh up the pros and cons of the job you want to complete.
Which is the best hammer drill to buy?

The best hammer drills are the ones that can easily drill through the desired surface. There are many great brands out there and it's good to look for one that has been highly rated and also suitable for your needs.

If we were to recommend just one then it would be the TACKLIFE Corded Hammer Drill. This hammer drill is a great option for people who are on a budget. The affordable hammer drill comes with an accessory pack and a keyed chuck. It has 120 volts of power, with a motor speed of 2,800.

The metal chuck provides an easy fit for bits within the diameter of ½ inches.  The lightweight power tool only weighs 5.5lbs, which makes it an ideal choice for long-term use.
What should I look for when buying a corded drill?

The chuck size of a corded drill is an important factor to consider when buying a corded drill. This determines what type of drill bits you can use with the drill.

Each corded drill also has specific motor power and ensures you're getting a high-powered model if you're drilling through brick or concrete, for example.
Motor speed is another aspect to look out for when choosing which corded drill to buy.

Different corded drills offer two motor speed options, 3000 RPM and 4000 RPM. The faster the speed, the more easily the drill will go through the surface. Our buying guide goes through the key features of a corded hammer drill in more detail.
Are hammer drills worth it?

Hammer drills are worth it if you are doing projects that include drilling into surfaces such as brick, concrete, block, masonry, and any other hard surfaces. Using a regular drill will not work as effectively as a hammer drill.
Conclusion
Hopefully, by now, you have a clear idea of the best corded hammer drill for you. We only wanted to show you the drills we were more impressed by which is why it came down to four great options. We loved them all.
While any of the four would be a great choice, the TACKLIFE Corded Hammer Drill is our top pick. The level of performance you get is phenomenal for the price. It's also made from high-quality materials and has many great features. The BLACK+DECKER Hammer Drill has very similar qualities and is also excellent value.
If you were looking for a heavy-duty hammer drill then the ENEACRO Heavy-Duty Rotary Hammer Drill may be the best bet for you. The 13 amp motor is exceptionally powerful and will easily eat through even the hardest of materials.
The DEWALT Hammer Drill is another one that impressed up. It features a powerful 10 amp motor that easily gets through almost all material. Despite that high level of power, the drill can remain lightweight
There wasn't a lot to choose from between these four models as all of them were fantastic. We developed a buying guide so you can work out which features are more important for your needs. All you need to do now is use that information to find the best corded hammer drill for you.