Removing paint from wood can be a difficult task, especially if there are several coats to get rid of. Manual sanding can take many hours and other methods aren't as effective. That's why you need to get the best sander.
What makes the best sander? There's a lot to think about, starting with the numerous types available. The amount of power is important, so is getting the right speed level.
After that, you can think about additional features such as dust collection, grip and control.
We've spent countless hours trying to find the best sander and have come up with four fantastic options to look at. Along with that, we've also developed a buying guide with some FAQs to give you all the info you need. Let's get started!
Our Pick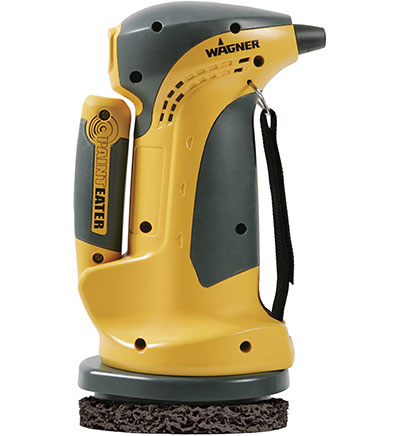 The thing we loved most about this sander was simply how quickly it gets to work. It can easily work its way through the paint and will do so aggressively. It means you won't have to spend countless hours on your painting tasks.
This sander has a very bold name with it being called the 'PaintEater' and we think that it lives up to that billing. It's ideal for a wide range of tasks whether that is removing paint from outside decks, exterior siding or on the internal wooden furniture.
It works with a fiber disc that is highly abrasive and makes light work of even the most demanding of jobs. That's aided by the 2,000 RPM rotation speed that is powered by the powerful 3.2 amp motor which will always give you the level of performance you're looking for.
Despite having that level of power, the sander remains lightweight at 3.5lbs and is easy to handle. That's aided by the multiple grip options as you have a velcro strap for secure hand position. There is also a retractable handle for a high level of stability and a soft-grip top that allows one-handed use.
The dimensions are 10.5" x 9.5" x 5.3" which is fairly compact considering its power. It offers a good balance between power and control to give you excellent results. You'll also be able to use it for a long time without getting tired.
What we liked about Wagner PaintEater
The level of control that you can have over the sander is also brilliant. That's partly due to the multiple handling options you have.
The side handle allows the user to apply the right amount of pressure. These handle options also allow you to feel very safe
It's very comfortable to use which makes it ideal for larger projects.
It will be able to have you a lot of time and you can also rely on the high level of build quality for long-term durability. That's backed by a 1-year warranty should anything go wrong.
What we didn't like
The replacement discs for the sander are quite expensive but this is justified by their high level of efficiency and the time they'll save you.
The body can also get quite hot and may require a little downtime after continued use.
How we chose the best sander
It's important to take many factors into consideration when choosing the best sander for removing paint from wood. Firstly, you want to consider the types of sander that are available and know which one is going to be right for you.
The power and the speed are going to be perhaps the most important factors as you want a sander that is going to get the job done.
On top of this, you can look at features such as speed lock and variable speed control that will help you control it.
Usability is also vital and there are many aspects that go into that such as dust collection, how comfortable it is to grip, the position of switches and how much vibration will go through your hand.
We took all of these features into account when determining the best sander for removing paint from wood.
The best alternatives
It's comfortable to use and there's nothing about it that will cause the likes of hand pain or uncomfortable vibrations. It works perfectly and offers excellent efficiency.
If you were looking for a budget solution then this is going to be perfect. It may be cheaper than many of its rivals but the random orbital sander is still able to give you a high level of performance. It's great for a wide number of jobs, including removing your paint from wood.
The sander is perfectly light and is excellent for one-handed operation. It allows you to have precise control and also sand more delicate areas. Despite the low weight, it's able to give you a high level of stability with its sturdy design.
They work via a 5-inch circular disc which gives you more than enough area to get your jobs done quite quickly. You also have a dust bag included too which will be able to collect most of the debris with the on-going cleaning of the sander to be fairly minimal.
The weight is just 3.16lbs and the dimensions of the sander are 7" x 5" x 6". The plastic body is highly durable and will be able to absorb any shocks and prevent them from rattling through your hand. It's highly portable with a phenomenal level of usability.
What we liked about BLACK+DECKER
The first thing to note here is that the sander is very well designed. The dust bag is also a very useful feature and not something that you see on every sander.
It makes it especially useful for indoor activities where you want to minimize the mess. The pads are very easy to use and are highly effective in removing paint.
A long power cord is a good addition and helps with that usability. It's hard to get past the best thing about this sander is the price as it offers up quite incredible value for money.
You also get a two-year warranty so you can be confident in the build quality.
What we din't like
This isn't the most powerful sander out there so you might need a little more patience than you would with other models.
That's to be expected with the budget price and all the other impressive features you get here more than made up for it.
It's not as noisy as some other models which is a nice added advantage.
Precision is at the heart of this sander as it allows you to get the exact finish you want. That's due to the 6 speeds it can operate at, which can all be operated easily by the wheel situated on the handle. It's easy to use and conveniently placed.
You'll have no issues with the power level here as it can produce 13,000 RPM from the 3A motor. That allows you to get through large tasks fairly quickly. The sandpaper discs have a high level of efficiency and you get 12 in the pack to start you off.
Here we see another model where you get dust collection. This model has a translucent box and therefore it's easy to see when it gets full. It works very well and is able to capture a high proportion of the dust.
The switches are well designed and the sander is comfortable to hold. With a weight of just 3.4lbs, your arm isn't going to get too tired. The dimensions are 10.1" x 6.6" x 4.9" which isn't quite as compact as other models but still isn't too bulky.
What we liked about TackLife
While this is not as cheap as the BLACK+DECKER model, you still get great value for money here, especially considering the power. You're not going to get a better model than this at the power output and with the level of performance it can provide.
As with the other sanders that we've looked at, this is also very light and easy to maneuver. It has impressive suction and will therefore pick up most of the paint dust.
The design of the body is fairly ergonomic and hand ache and vibrations are going to be kept to a minimum. It coming with 12 sanding discs is also a useful addition. On top of that, the sander comes with a solid 1-year warranty.
What we didn't like
The lack of a sidearm or additional handle on the sander can make it a little difficult to handle if you're not directly over the top of it.
Also, while the dust box is a great feature it can get full up quick quickly and require frequent emptying.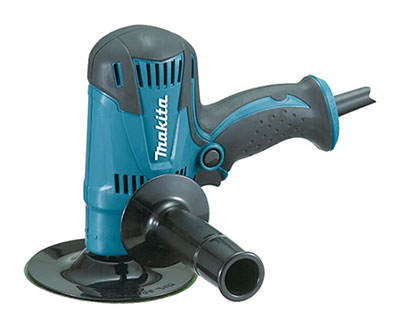 It comes with Makita's notorious build quality. This sander is going to last for a wide number of years, even with repeated repetitive use.
All Makita tools seem to have two things in common. They have exceptional durability and are very powerful. That power is shown here with the incredible 4.2 amp motor and the continuous input rating of 440W.
There's no point having that power if you aren't able to apply the pressure required. The rubber grip handle and the side handle allow you to do that. They will also allow you to apply that power at all angles without ever feeling uncomfortable or unsafe.
There are a few internal features here that give it a smooth operation and improve its durability. One of those is winding slope gears that allow for smooth pivot and also ball and needle bearings. It allows for the most efficient delivery of that impressive power.
As a result of all of these features, it's able to chew through years of paint in no time at all. It also makes it highly versatile and you can use this on a wide range of different projects. Despite all of this, the sander weighs just 2.6lbs.
What we liked about Makita
Often with tools you usually have to sacrifice some weight if you want a powerful tool or sacrifice power if you want a light tool. This is a model that is able to deliver both with a sander that easily gets the job done while being very easy to handle.
You'll love just how quickly it can work as you can sand around a square foot of area in about 20 seconds. It will tear through the work and leave you with a great finish.
Before you know it, you'll be applying the paint needed to finish your project. You'll be able to use it for hours at a time without worrying about it cutting out or overheating.
What we didn't like
This is the most expensive sander that we looked at. Is it worth it? Well if you want those benefits of power and reliability then absolutely.
If you're only going to be completing a small job, however, then maybe it's best to look elsewhere.
Why you should get the sander
There are many reasons why you should get a sander for removing paint from wood. Perhaps the most obvious is that it will get the job done very quickly.
These tools can chew through any paint and dramatically reduce the sanding time when compared to doing it manually.
The best sanders are also easy to handle and allow you to use them safely with confidence. They have many different features and give you plenty of power while remaining fairly light and easy to control, even on the highest speed settings.
You often get plenty of versatility with these tools too. Once you get rid of that paint, you'll be able to use it again for many different projects. We've made sure to only choose models with excellent build quality so you get those benefits of long-term durability.
The good:
High-performance
Quick results
Easy to handle
Excellent usability
The bad:
Types of sander
There is a range of different sanders on the market and it can be hard to know which one to get. Here we take a look at the main types available.
1. Belt sander
This is perhaps the bluntest instrument out there. Belt sanders are great for removing a lot of material very quickly. As the name suggests, these sanders have a belt of paper over their rollers which is highly effective.
They are usually too powerful for removing paint from wood as it's hard to have a good level of control. They can, however, be good for removing paint from a large and flat area, such as a tabletop.
2. Disc sander
These are great for removing paint from wood. They have a disc-shaped sander that can often rotate at very high speeds.
These are great at being able to chew through paint but with a bit more control than you'll find with a belt sander. Power levels here are usually quite high and work perfectly on most wooden surfaces.
3. Random orbital sander
For many people, this is their sander of choice. They are technically a type of disc sander but deserve a category on their own due to the motion of the discs which orbit and rotate.
That motion allows them to sand areas very quickly but does so with a much smoother finish than a belt or standard disc sander. They can usually be used one-handed and can also cope with gently curved surfaces.
4. Detail/Delta/Finishing sander
These sanders have a vibrating head and use sandpaper that is usually either squared or triangle. The type of finish they provide is less important if you are planning to repaint the wood.
If you want to leave a nice finish then one of these sanders is a good idea but they aren't going to be effective enough at removing paint on their own. 
5. Multi-sander
You'll also see sanders that try to be the best of both worlds with the power of a belt sander and the precision of a finishing sander.
These can be good but usually lack the power and size needed for some jobs. They can be useful for smaller projects.
Choosing the right sander
So which one should you choose? Well, we'd discount belt and finishing sanders. A belt sander is too abrasive and hard to control for the majority of times when you'd want to remove paint.
A finishing sander, on the other hand, is the opposite and doesn't have the power level and brute force required for many tasks.
That leaves us with disc sanders and random orbital sanders. We've chosen two of each. Disc sanders are ideal for those that have larger projects where you want to get through the work quickly and efficiently.
Random orbital sanders are ideal for most projects and offer you a higher level of smoothness, control and precision.
Consider these factors
Power
The power level that you need is going to depend on the task you need to complete. If you are removing paint from the side of a house, for example, then you'll need a highly powerful sander as otherwise, it's going to take far too long.
The Wagner PaintEater and the Makita Sander are two great examples here of those ideally suited for larger tasks.
If you are doing less extensive work, such as removing paint from furniture, then it's unlikely that you'd need quite the same level of power.
The BLACK+DECKER Sander, along with the Tacklife model have slightly lower power but are still able to work very well at removing paint from wooden surfaces. These are both random orbit sanders that are going to give you a bit more precision.
Speed
Speed is important but it needs to be delivered with the right level of power. There is no point in the sanding disc being able to move rapidly, only for it to get stuck as soon as it makes contact with the wood.
It needs to have the power to still give you that speed when you're pressing it down into a surface.
It's where many cheaper sanders fail. The speed figures may sound great but in reality, it can't deliver that speed when it really matters. We've made sure to choose four options that can deliver on their promises and keep that rapid rotation throughout.
Once you know you have the power, there are a few crucial factors to think about in terms of speed. Firstly, it is true in general that the faster it goes, the quicker it will get through the work.
There are times though when you might not want the sander to be at full power. This will be when you're looking for a little more control and precision in what you are doing. Slower speeds are also a better idea for when you want a smooth finish.
If you think you'll want that higher level of control then it's good to look for a sander that has a variable speed control. This allows you to go at your own pace and then give it the full power when you need it. We see a great example of this with the TACKLIFE 5-Inch Random Orbit Sander.
Another useful speed feature to have is a speed lock. This will stop you from constantly needing to press the trigger and makes the sander easy to use. This can be ideal for larger projects where you'll be using the sander for extended periods.
Handles and grip
Perhaps an underrated aspect of sanders, along with most tools, is how comfortable they are to hold. With sanders, you need to have a secure grip as otherwise, it can be easy to lose control of it. The types of handles you need will depend on the type and power.
For powerful disc sanders, it's a good idea to have a side handle that you can hold with one hand while your other goes on top of the tool. This allows you to have the ultimate control, even when at full power and using at awkward angles.
The Makita Disc Sander is perhaps the best example of this as you can apply a high level of pressure without worrying about it slipping.
Random orbital sanders often won't have a side handle and are often just used one-handed. This is due to them having a bit less power and being quite light. Even with these options, you need a model that is easy to grip and maneuver.
We think the best way to do this is by having a curved body and domed head that you can see on both the Tacklife and BLACK+DECKER models. This makes it easy to use one-handed but also allows you to use it with both hands if you needed to apply more pressure. 
Whenever buying a tool it's a good idea to consider how you're going to hold it. This is especially important if you're prone to hand ache or have a condition such as arthritis.
Corded or cordless
Corded v cordless is an endless debate that you can have with all tools. Both have their established qualities but which one is better?
While there are many good cordless sanders available, we think corded is the best idea due to a few critical reasons. That's why all four models we've seen here are corded.
The obvious advantage of a cord is power. Having that constant source of electricity not only allows you to not worry about your battery but it will also give you a more powerful tool. You can sand for hours at full speed without thinking about it.
Two of the biggest advantages of cordless are portability and safety. Due to the nature of the work, you'll almost always be sanding close to a power source which makes the portability less of an issue. You also have the option of using an extension cord.
The issue of safety is a valid one as people worry about tripping over or catching the cord. A sander, however, is a relatively low-risk tool, especially compared to a saw or a drill. The worst injury you'd usually get is a bit of a graze.
Due to the usual advantages of cordless tools not being that significant, we think corded is the best way. You're able to get that high level of power without worrying about waiting around to recharge batteries and the lower performance that comes with them.
Dust collection
Dust collection isn't included on all models. Most high-powered sanders won't include one for a couple of key reasons. Firstly, the amount of material scrubbed away by the powerful machine would be vast, and a bag isn't going to be able to collect it all.
Secondly, due to the suction needed, the sander would need to be much heavier and also have a large bag/box that could easily get in the way. Many people prefer it without one, especially when working outdoors where the mess is less of an issue.
Dust collection devices can be found on a few different models though and we've looked at two here. For random orbital sanders especially, they can be a great idea due to the amount of dust they collect.
It makes them ideal for working indoors. They are all different but the two options we've reviewed are excellent at picking up as much dust as possible.
Ease of use
Sanders should be very easy to use but some are better than others. The switches play an important role in that as you want them to be easy to use and close to the handles. This also applies to any other features the sander may have.
Another crucial role in usability is the balance of the sander. If it's particularly heavy in one specific area then it can be hard to use. The head of the sander may not have the right stability or a heavy body may give you too much hand pain.
The amount of vibrations through your hand is also a factor. This was often a problem with sanders as your hands would feel after repeated use. These are problems we've not found with any of the four sanders we've reviewed and they all rank very highly in terms of usability.
Sanding discs
It's good to have a look at what sandpaper is used and how it is attached. You may need to specifically buy the discs that are made for that model. If so, it's a good idea to see how much they cost so you can have an idea about ongoing costs.
You also get models which as the Wagner PaintEater that take a different approach. It uses a spun-fiber disc instead of traditional sandpaper.
You can buy discs fairly cheaply and often they'll work out to be around $1 per disc when buying a set. That cost per unit that's often a lot higher than regular sandpaper discs but you get extra durability that comes with it.
There are various methods of attaching these discs to the sander. The BLACK+DECKER model uses a hook and loop system that works very well. It keeps the disc solidly on the sander but it also makes it easy to remove when required.
Versatility
We've already seen that these sanders are fantastic at removing paint from wood. While that's great, it's also worth considering what else you may be using your sander for. These are tools that you're most likely going to have for a large number of years.
The sanders are brilliant at repurposing all types of wooden furniture. You may wish to repaint or perhaps you want to strip something back to its bare surface. They are also great for making existing surfaces cleaner such as fences and posts.
We've looked at sanders that have a great mix of having a high power level but also being easy to use and control. Once you've finished your task of repainting the wood then it's likely that you'll find many more uses for these tools.
Warranty
The BLACK+DECKER, Makita, Tacklife, and Wagner are all respected brands that make a wide range of different tools. Even though they can be trusted, it doesn't mean that their products don't fail now and again.
It's always good to check if a product has a good warranty. Not only does it protect you should something go wrong but it also gives you confidence that a company has plenty of faith in their product.
The Makita model here is a good example as it has a strong one-year warranty to protect against any defects.
FAQs
What is the best sander for removing paint?

We thought the Wagner Spraytech PaintEater stood up above the rest of the sanders due to its mix of outstanding performance with a high level of usability.

While the Wagner sander is brilliant, we were very impressed with the three other sanders here and all of them could be worthy of being called the best sander.
Can you remove paint with a sander?

A sander is an excellent way of removing paint, especially from wood. It can be much quicker and easier than using a stripper.

It's important to note that you don't need to remove every speck of paint when you want to repaint a surface. All you need to do is create a surface that the new paint will adhere too and a sander is great for that.

Whenever removing paint, it's important to take the right safety steps which includes wearing a face mask to block any dust. This is especially important when removing old paint that may contain toxins such as led.
What is the easiest way to remove paint from wood?

There are three main methods of removing paint and they are by heating it, applying chemicals, or sanding it. With heating it, this can take a lot of time and you have to deal with a lot of fumes. You also have the possibility of charring the wood.

With chemicals, it can be quite messy and is slow. With both of these methods, you'll need to manually strip off the soft paint.
That leaves sanding which for many people is the easiest way to remove paint, especially from wood.

With an electric sander, it's very quick and easy to do when compared to the other options that are more suited to other types of materials.
What sander is best for wood?

Most sanders are made with wood in mind so you usually have a vast choice available to you. The sanders we've reviewed here are especially good for wood and you can't go wrong with any of them.

The best type of sander for wood will depend on what task you're trying to complete which we talked about in detail in the sections above.
What is an electric sander used for?

Electric sanders are versatile tools. As we've already seen, they can excel at getting rid of paint from wood but they can also do a lot more than that.

Many people use sanders to prepare a surface for finishing, whether that is leaving smooth bare wood or applying a protective coating.

They can also be used for safety reasons such as smoothing the edges of planks or any other type of wood to prevent splinters. On top of this, they are ideal for removing any excess material along with stripping and preparing floors.
How do I choose an electric sander?

As we looked at in the key features section, there are many factors that go into choosing an electric sander. Everyone is different so you want to find one that has the right balance for your needs.

It may be that you want a high level of power or perhaps speed control is more important. It's all about assessing your needs and then getting the closest match.
Is an orbital sander good for wood?

An orbital sander is brilliant for most tasks including wood. They offer a great balance between the right level of power and giving you a clean finish.

For more demanding tasks, a belt sander may be the best idea and a finishing sander may be best for smaller tasks. For everything else, an orbital sander works perfectly well.
What does the grit of sandpaper mean?

The grit of sandpaper is a rating of just how abrasive it is. The lower the number, the coarser it will be.

Abrasive sandpaper will remove material faster but also leave a rough finish. Fine sandpaper works much more slowly but gives you a nice smooth finish.
Final Thoughts
We hope you now have all the knowledge you need to choose the best sander for removing paint from wood. All four options here are a little different but what they all have in common is build-quality, performance and they are easy to use.
We chose the Wagner Spraytech PaintEater as our top pick as it's able to get through a lot of work in a short space of time. It's also easy to use with durability that won't let you down. The Makita 5-Inch Disc Sander shares many of these qualities and is probably the best option if you're looking for an immensely powerful sander but one that is still easy to control.
The BLACK+DECKER Random Orbit Sander is ideal for those on a budget who still want a high-performance tool. It's excellent for those small to medium-sized jobs and has some great additional features such as the rapid paper changes and the dust bag.
Another excellent option in the world of random orbit sanders was the TACKLIFE model. Perhaps its greatest quality is the versatility here which is driven by its variable speed control. It works flawlessly and will give you great results time and time again.
We think all four of these sanders are brilliant. It's vital that you know exactly what you need and the types of jobs you're hoping to complete.
Hopefully, you've made a mental note when reading through the buying guide so you're armed with all the right info. All you need to do now is choose your favorite sander and get to work stripping off that paint.