A cedar siding can be a beautiful feature of any building. It has an elegant and classy look which you'll want to preserve for as long as possible.
To protect it from the elements, it's a great idea to use a high-quality stain to lock-in that beauty and preserve the wood.
What is the best exterior stain for cedar siding? That's what we're here to find out.
Choosing the right finish is the first step then after that, you need to consider the coverage area, the climate of where you live and also what color changes you want.
We've spent countless hours researching to give you the best information and have found four fantastic stains which would all do a brilliant job.
We've used that info to develop a buying guide and have answered some FAQs so you'll know exactly what to get. Let's get started!
Our Pick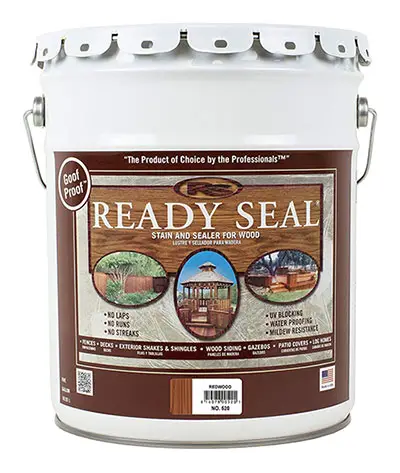 That deep penetration also helps the color to look fantastic, whichever shade you wanted. It all adds up to brilliant value for money as this will keep your cedar siding healthy for a vast number of years.
This was our top pick as it excels in all areas of what makes a high-quality stain. It requires minimal preparation and the results are simply fantastic. It's also easy to work with which makes it the best exterior stain for cedar siding.
The stain is brilliant at magnifying the qualities of your existing cedar. It' semi-transparent and comes in a wide range of different colors that all look fantastic. As well as siding, you can use it on any type of wooden exterior.
It's an oil-based stain that is going to protect your wood from mildew, water and UV rays. A great aspect of this stain is that you're not going to need any primer to use it. Brushing it into the wood is also going to be simple and you won't need to worry about any streaks or blemishes.
It's worth noting that it will take around 14 days for the true color of your siding to show through and therefore patience will be needed. It's well worth the wait as this stain and sealer solution will give you incredible protection while also looking fantastic.
What we liked about Ready Seal 520
What we loved the most about this product what that it's a highly effective 2-in-1 solution that will give you excellent results on your siding. It's a professional level of quality and will greatly prolong the life of your siding.
The application of this stain is very straight-forward which means you'll get the job done very quickly. No priming is required and you don't even need to do any sanding either.
The stain will penetrate deeply into the cedar. There is a lot to love about it which is why we think it is the best exterior stain out there.
What we didn't like
With it being oil-based, the clean-up of the stain maybe a little more difficult and you need to be more careful with it.
It's also 24it suitable for thinning as if you try to do that, it will just diminish the overall protection that you'd receive.
How we chose the best exterior stain for cedar siding
There are many factors that we took into account when looking into the best exterior stain for cedar siding. The most important as simply how much protection it was able to give your siding, and what is protected against such as mildew, water and UV rays.
We also took a close look at the coloring of the stain and how well it applied to the cedar and for transparent stains, we looked at how well it showed the wood underneath. If it didn't have a professional finish then it didn't make our list.
Finally, we also took into consideration all the other features of what makes a great stain. This included whether it was water or oil-based, the coverage area, the capacity of the tub and what other preparation was required, such as a primer or sanding.
Best alternatives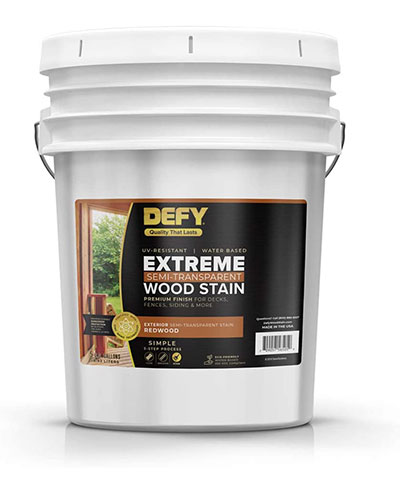 The zinc nanotechnology does a wonderful job of protecting the cedar underneath and works well in all environments.
This could have easily been our top pick and is another great semi-transparent option for you to consider. A big feature of this stain is its zinc non-particle technology which does an extremely good job at blocking out UV rays along with preventing the build-up of mildew.
Those qualities make it especially good for anyone that lives in a hot climate where the sun is constantly beating down on their cedar siding. While that's true, it also performs very well in colder climates and that helps to make this one of the most versatile stains around.
It's a water-based stain so it's going to be a little better for the environment while still having all of the qualities that you need. It's a little thinner than many other types of stain and that means it can easily be applied to your siding with a sprayer.
The stain is easy to reapply which makes maintenance quite simple. You probably won't need to do that too often as it's resistant to fading. There is also a nice range of colors here so you're likely to get exactly what you're looking for.
What we liked about DEFY Exterior Stain
If you're environmentally-minded then this could be the right stain for you. With it being water-based you won't have to worry about it seeping into the ground or splashing onto your plants. If it does, then it'll easily be absorbed with no issues.
The solution also makes it exceptionally easy to use. It only requires soap and water for the cleanup which isn't going to take very long at all. Application is also simple and you have the versatility to do it either by brush, a roller or with a sprayer.
The colors are also brilliant and are going to improve the look of your cedar, whether you wanted a lighter coat for a darker option such as butternut or redwood.
What we didn't like
This stain doesn't quite have the longevity of other stains that are on the market. It gets around that by being easy to maintain.
You can clean the existing stain with soap and water and then apply just a single coat of new stain over the top.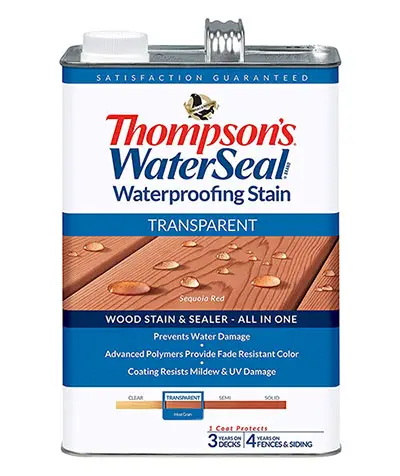 The fact you can apply this on damp wood means it maybe the perfect option for many people.
Do you want to enhance the look of your existing stain? If so then it's a great idea to get a transparent coat that is going to lock in that color and texture. It gives it a fantastic finish while also giving it the long-term protection it needs.
It's a versatile solution that is going to work on any type of outdoor wooden surface. It's great if you wanted to match up your furniture with your siding. There is a wide range of tints available and they will all look great while showing off the grain underneath.
An impressive aspect of this stain is that it will apply well to damp wood. That makes it ideal for those climates where it never seems to be fully dry in the fall and winter months. The application is quite simple and it doesn't take too long to dry.
The results are great and it will give your siding a lovely sheen. It will fully waterproof your sidings and prevent all the problems that can be caused by damp wood, such as mildew. Along with that, it will also give you good protection from UV rays.
What we liked about Thompsons Stain
An impressive feature of this stain that the advanced polymers inside it make it highly adept at resisting fading due to UV rays.
The fact it is waterproof also means that it's going to be very resistant to mildew and mold from growing on your cedar.
In those colder months, trying to get perfectly dry siding can feel nearly impossible. You'll be able to apply this whenever it's required and be confident in the results.
It states that one coat is going to give you 4 years of protection for siding and that's not bad at all. When it comes to applying a new coat, it will be a simple process. It allows you to have perfect cedar sidings for many years to come.
What we didn't like
There can be confusion about what is meant by this stain being transparent as many people understandably think it means that it'll be a clear coat.
Instead, it means that you'll see the grain underneath as it will give a slight color change, depending on what type you get.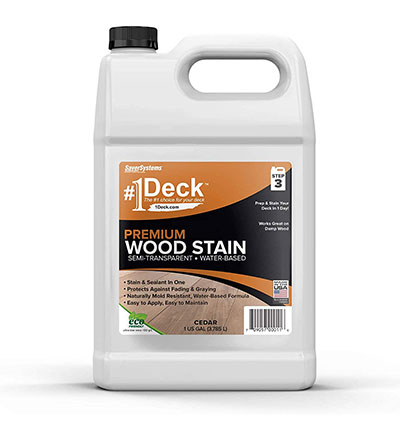 As with all of the models we've looked at here, it gives you a very good level of protection. That's from both UV rays and moisture.
As the name suggests, this is a premium wood stain that would do a brilliant job on your cedar sidings. You can get it in either a 1 gallon or 2.5-gallon tub. Both of them are well priced but the larger bottle will give you great value for money.
The buying options don't stop there as you also get five different color options. There are cedar, dark walnut, driftwood grey, light walnut and natural. All of them look great when you apply very well to sidings for a uniform and streak-free color.
A unique feature of this stain is that it has a remarkably low VOC count which makes it very good for the environment. Clean up is only going to require soap and water, and therefore you don't have to worry about making a mess when you're applying it.
As with the Thompsons stain, you can also use this on dark wood which increased its usability. It will both stain and seal for siding and allow it to look its best for many years to come. It's simple to apply the solution and it's also easy to maintain.
What we liked about #1 Deck Wood Stain
Any product that gives you both sealant and stain at the same time is going to save you a lot of effort and time. This product has fantastic versatility as you can easily use it on your deck along with any wooden furniture you have.
If it does start to fade over time then reapplying a coat will be very quick and you'll quickly have it in perfect condition.
It dries very quickly in only a couple of hours and the ability to use it on damp wood is very useful. The low VOC content is also impressive and you won't lose out on performance. It's good for the environment and will give you an excellent stain finish.
What we didn't like
There aren't any faults to pick with this stain. It is worth noting, however, that it's not suitable for thinning as it would negatively affect its performance.
It's also not going to be suitable for any indoor application.
How to stain exterior cedar siding
The way that you prepare your cedar is going to depend on what age it is. If the cedar is quite old then you need to look for any defects in the wood such as rot and mildew.
If it does, then you'll need to clean these contaminants off with a dedicated solution. You'll also want to check to see if it has a chalky texture or if there is any cedar bleed and these will need to be separately dealt with.
For new cedar, you'll probably want to sand it a little so that you get a better adhesion from the stain. If the cedar is clean-textured then it's not going to need any preparation.
Before staining, you'll want to ensure that there isn't any sawdust left on the wood as this will negatively affect the finish and you may not get an even stain.
Before you start staining, it's a good idea to protect the surrounding areas as much as you can from drips. This is going to be more important if you're using an oil-based stain as it's not going to be as kind to the environment as a water-based stain.
Ideally, you should stain when it's not too hot but when the wood is as dry as possible. It's usually best to do it either early in the morning or the evening when the sun isn't beating down on it. Depending on your climate this isn't always possible and some stains can even be applied on damp wood.
A brush, roller or spray can be used to apply the stain. A brush is probably the best for deep penetration but takes the longest to apply. Using a sprayer won't give the same level of penetration but is a much faster means of application.
Once you've applied it when it will need to dry. Often you won't get the full effect of the stain until up to a couple of weeks afterward. Once you've finished then ensure you do a full clean-up of the area to give it that professional finish.
Why you should get the exterior stain
There are many reasons why getting the best exterior stain for cedar siding is a good idea. Perhaps the most obvious is that it's going to protect the wood and keep it looking its best for years to come.
Without protection, the siding will start to develop issues a lot sooner.
A high-quality stain is also going to allow your cedar siding to look better than ever. You can add the color you want and it will the UV resistant to prevent fading. These stains usually don't last forever but they are usually very easy to reapply.
Applying a stain usually isn't that difficult. Most of them can be applied without a primer or even the minimal of sanding. They can also be applied with a brush or a sprayer to cut down on time. In summary, it makes perfect sense to add a stain to your cedar siding.
The good:
UV resistance
Prevents mold and mildew
Stylish results
Easy to apply
The bad:
Key features of exterior stain for cedar siding
Finish
There are different types of stain that you can get all the way from completely clear to a solid color. It's therefore important to know what you are looking for before you get started.
Do you want to enhance the existing color or get a completely different look? Here we'll take a closer look at these types to see which one would be the best option for you.
Clear: When people think of stain they usually associate it with changing the color a little bit at least. There are, however, clear stains out there which work more or less as sealants. They can give you that extra level of protection whilst retaining the original look of your cedar. It's ideal for those who don't want a color change at all.
Transparent: It's important to check exactly what is being offered with the transparent stain as some of them are clear whereas others will have a slight shade to them. What they do have in common is showing the natural beauty of the grain beneath the wood. It's ideal for those who want the benefits of stain but with a minimal color change.
Translucent: This is a thicker color solution but one where you'll still be able to make out the grain underneath. It's ideal for those who want to significantly change the color of the siding while still showing off the wood below. It generally has a higher level of protection than either a clear or transparent stain.
Solid color: A solid stain option pretty much acts like paint and will completely cover the wood with the grain no longer being visible. This is for anyone that wants a complete change to the natural color of cedar. This gives you the maximum protection but is often the hardest material to work with as it's a little thicker than the other options.
Water or oil-based
You'll see that stains either come as water-based or oil-based but what's the difference and which one should you choose?
Well, the decision is up to you but here we look at the key differences.
Water-based: This type of stain is going to be better for the environment and you don't have to worry about it dripping into your soil or onto your plants. It's also very easy to work with as it's thinner and can therefore be used with a sprayer.
Oil-based: Some people prefer to work with oil-based stains as they are better at penetrating the wood. They can be a little harder to apply with many not suitable for use with a sprayer. They also can be quite harmful to the environment so you need to be more careful.
Coverage area
You don't want to get 90% of the way through staining your sidings only to realize that you've run out of stain. Having a long delay can mean that your stain may not dry evenly which leads to results that are far less than perfect.
The exact amount will vary from one stain to the next but on average, a gallon of stain is going to cover an area of 200-300 square feet. It's best to get a rough idea of the area your sidings cover before you get to work on staining it.
You also need to know how many coats you're going to need. Many stains will only need one coat which can be easier on your budget. If you're changing the color significantly then you may need more than one, and therefore a lot more stain.
Protection
Perhaps the main reason to use stain is to protect the wood underneath. The level of protection you get is going to change due to a few different factors. Most will also act as a sealant and it can be great to have that 2-in-1 solution.
Knowing the climate you're in can also affect your buying decision. If you live in a harsh environment then you may opt for a darker stain as this will wear away more slowly. It can have you from constantly needing to maintain your siding.
As a general rule, darker stains will offer more protection than lighter stains. That's because their increased number of pigments increase UV protection. Some people don't like darker stains and will therefore accept less protection from a lighter one.
Color
The stain is most likely going to change the color of the wood so you need to think of which color is going to be best suited to your needs. Most stains have a color that is meant to reflect another type of wood so you can make your cedar look like redwood, for example.
Cedar can come in a few different shades but is often quite light in color. It can be quite beautiful in just that natural shade and therefore a lot of people like the idea of simply keeping it as it is. Others will look for a different color and there are a lot of different options available.
The Ready Seal stain gives you quite a few different options. Cedar is a fairly light wood but you may even choose to go a little lighter and opt for a golden pine or a light oak that can brighten up those exterior sidings.
You can also go the other way and opt for something much darker and give your sidings a much warmer feel. The likes of mahogany, burnt hickory and dark walnut are all examples of stains that will give your cedar siding a dramatically different appearance.
When looking at solid color and semi-transparent stains, you usually have the opportunity to change the color to something completely unnatural. The Deft stain gives you the option of going for a Driftwood Grey along with its more natural range.
The decision that you make will ultimately be up to you. There are plenty of options out there for you and you'll have an idea of which one is going to be most suited to your cedar siding. All of the four stains we've looked at here have a range of colors.
It's worth noting at if you wanted to have a dramatic change of color then you may need to apply multiple coats and be more patient about the results. This can be more of a factor when moving from dark to light and you should factor this into your buying decision.
Application
You need to know how you're going to get your stain onto your cedar siding.
You generally have three options of either a sprayer, brush or roller. Here we look at the pros and cons of each option.
Sprayer: This is usually the easiest and fastest method of application. It's great for wide areas where you can cover them quickly. They lack accuracy though which is why it's usually a good idea to also sue a brush in the more delicate areas. A sprayer is sometimes not an option for thicker stains which may struggle to get through the nozzle.
Brush: This is going to be the most accurate method and the one that will be best for getting the stain deeper into the wood. Using a brush will also give you precise control over how much stain you use with the minimum of mess. The downside to brushing is that it will take the most time.
Roller: As with the sprayer, this can be a quick and efficient solution and one that can give you a bit more control. It can still be a little messy so you do need to be careful. It's great at giving you an even coat and it can work with all types of stain and is, therefore, a good idea if you're using a thicker solution.
Frequently Asked Questions
Do you have to remove the old stain before re-staining?

This is going to depend on a few different factors such as the condition of the existing stain. If you wanted the best results then it's usually a good idea to remove the old stain before you get started. This is especially important if the old stain is peeling and worn out.

If the old stain is still well adhered to the surface then you may get away with staining over the top of it. If you are getting a new stain then it's good to apply a maintenance coat fairly often as this will prevent you from a much large stripping job in the future.

Whether you need to strip will also depend on whether or not you want to change the color. A semi-transparent stain, for example, isn't going to adhere well to the siding which has previously received a solid stain. If you're making a big change then you'll need to remove the old stain.
Is it better to paint or stain cedar siding?

The first question you need to ask is whether or not you want to see the grain of the wood. If you do, then paint is not going to be an option and you should either opt for either a transparent or semi-transparent stain.

If you are deciding between a solid color stain or paint then there are a few things to consider. The stain is easier to apply than paint and you often only need one coat. It's also easier to maintain as you can apply a new coat with minimal preparation.

Paint can be harder to apply but often gives more protection as it will completely lock out any water and block UV rays. While paint often lasts longer, it requires more of an effort to repaint when it's time to maintain your siding.

There is then no right or wrong answer here. It's about what you'd prefer and many like how easy staining is. Others prefer the finish and greater level of protection that you can get from a high-quality paint.
How often should cedar siding be stained?

The exact answer to this question will depend on what the siding needs to cope with in terms of the weather. If the hot sun is constantly beating down on it then it will need to be stained more frequently than a home which is often in the shade.

There are some key signs to look out for which show when a siding should be stained again. These include water starting to be absorbed into the surface, you see that the wood is damaged in any way and also if the stain appears to be faded.

It's usually between 3-5 years when you'll need to apply another coat of stain. It's a good idea to give it an inspection every year to see how it's holding up.  If you live in a harsh environment then you may need to apply a new cost more frequently.
Is semi-transparent or solid stain better?

There isn't one right answer here as both of them offer different things. A solid stain is going to have more pigments and therefore give you more protection from UV light. It's also better if you wanted to completely cover the grain.

If you wanted to still see the wood grain and have that more traditional look then you're going to want either a transparent or semi-transparent stain. They don't quite have the same level of protection but will still last for a few years and are easy to reapply.
How long does exterior stain last?

The more pigment a stain has, the longer it's going to last. This is the reason that a solid stain would last longer than a clear stain. The longevity of a stain will also depend on its exposure to the weather and other factors.

Stain on a garden bench, for example, isn't going to last for as long as on a siding. That's because it will be in contact with more direct sunlight, have water sitting on it and also there is that fact people will be sitting on it.

Stain on cedar siding probably lasts for around 4 years, on average. On decking and furniture, it's going to be a little less. As we've mentioned, this can depend on a few different factors and therefore regular inspections are a good idea.
How do you prepare old cedar siding for staining?

The first thing you need to do is to inspect the siding to see how much preparation is required. This can start with a visual inspection to see if there is any rot forming or whether there are other contaminants such as mildew or chalking.

One easy test to see if the old stain needs stripping is to use a strong piece of tape. Place it over any part of the siding and then rip it off. If you have any old stain on the tape then it's a good indicator that it's not doing its job and now needs to be replaced.

If there are any contaminants on the wood then these need to be dealt with separately. Mildew requires a strong cleaning solution, chalkiness needs a detergent wash and cedar bleed needs its solution to stop it from being a future problem.

Trying to stain with any of these issues present isn't going to lead to great results. To finally prepare your siding for stain then you'll need to either sand it down or scrape off any problem areas. Another solution is to pressure wash it, which can be a lot quicker.
Cedar siding maintenance tips
Once you have a good stain on your siding, maintenance should be fairly easy. Ideally, you should try and keep moisture away from it which includes not having any plants or branches touching the siding which can be a constant source of moisture and scratch off the surface.
Along with applying a new coat every few years, you should regularly clean your siding to ensure that dust and dirt don't accumulate on it. Pressure washing can be a good idea but you can just use a soap and water solution.
Regular inspections are also recommended. This will show you if there is an issue with any with the wood or if you have any spots where the stain is quickly fading away. You'll also be able to see if there's an issue with the likes of termites or woodpeckers.
Final Thoughts
Hopefully, by now, you have a clear idea of exactly which stain would be the best one for you. The four we have selected have all been carefully chosen for delivering an excellent level of protection while also giving a brilliant finish.
While we loved them all, the Ready Seal 520 Exterior Stain is our top pick as we think this has the best balance of all the qualities. It soaks deeply into the cedar to provide long-lasting protection. The Defy extreme was a close second and had the added benefit of it being water-based. It makes it an ideal solution for anyone looking for something a bit more eco-friendly.
If you wanted to use a transparent stain then they'll be nothing better than the Thompsons WaterSeal stain. It's great at being able to prevent water damage and has an impressive level of protection when compared to other transparent stains.
The #1 Deck Premium stain is also another fantastic option. This is very easy to apply and maintenance is also going to be simple. It offers a good level of protection while having an incredibly low VOC content of less than 50, making it the least toxic option.
Any of these four could have been our top pick as we were very impressed with them all. Our buying guide has hopefully shown you which one is going to be most suited to your needs. All you need to do now is choose your favorite one and enjoy the long-lasting protection it will give you.