Pressure-treated wood is excellent at protecting from insects, rot, and is now used on most exterior decking projects. Using a stain will help to give wood the color you want while also giving it further protection from the elements.
What is the best deck stain for pressure-treated wood?
Well, that's what we wanted to find out. There is plenty to think about such as the type of stain you want, how easy it is to use, and also whether or not it doubles up as a sealer.
We've put a lot of time and effort into finding the best stain out there and have come up with four fantastic options for you to look at.
We've also written a buying guide with some FAQs to give you all the info you need. Let's get started!
Our Pick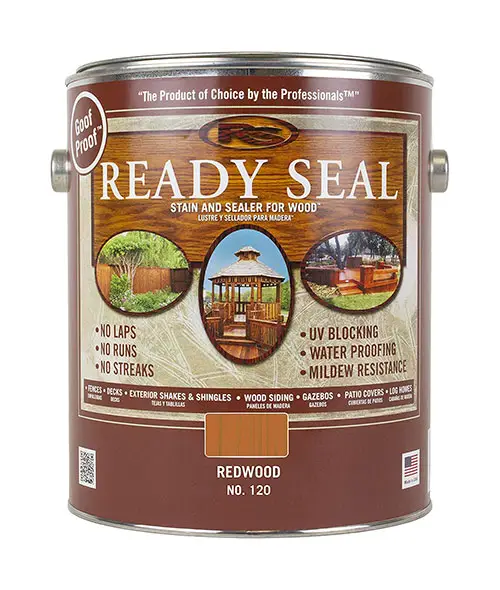 It gives you all of the qualities that you'd want in terms of finish, application and long-lasting protection.
There are many reasons why chose this as our top pick. Perhaps the most important is that it not only works perfectly as a wood stain but also performs brilliantly as a wood sealer. The combination gives you beautiful results along with long-lasting protection.
It's a semi-transparent stain with a professional level of quality far above most other stains out there today. There are some stunning color options available from the lighter tones of oak and pine to the much darker stains of mahogany and walnut.
Another unique feature of this stain is the ease of application. You're not going to need any back brushing and it won't leave any streaks. It can also be applied in a range of different conditions and doesn't need a primer to work.
You can also apply this paint with a wide range of methods either by spraying, rolling or brushing. There are two size options available of either 1 or 5 gallons and both of them are going to give excellent value for money as the ongoing maintenance will be minimal.
What we liked about Ready Seal stain
There is a simple reason we chose this as our top pick and that's because there isn't a better wood stainer out there. It has excellent proof and you don't need to be the most careful of painters to get a brilliant finish.
Even with drips and drops, none of it is going to show. It does that while being very easy to work with and it's not an issue if you get some of it on your skin and clothing.
Ease of use is at the heart of what makes this deck stain fantastic. As we mentioned it's simple to apply but with it also being a sealer, maintenance and reapplication will be able to wait a few years.
The results are brilliant and while quite expensive, we think it's more than worth it.
What we didn't like
It's very difficult to pick any faults with this deck stain. It does take a little longer to dry than some other models so you do have to bear that in mind.
A very small number of users have mentioned not quite getting the color they were hoping for but this seems to be a very rare problem.
How we chose the best deck stain for pressure-treated wood
There are many factors that go into choosing the best deck stain. Firstly you need to know which type you want. You can get a solid color stain but also transparent or semi-transparent stains, depending on your preference and the existing deck.
After that, color is going to be important and most stains have a multitude of options. Ease of application can also play a role in your buying decision as some are better than others with different finishes and drying speeds.
It's sensible to look for a stain that has enough durability to last for many seasons with features such as waterproofing and UV resistance being key. Finally, you can check the size and budget to get a stain that is suitable for you.
The best alternatives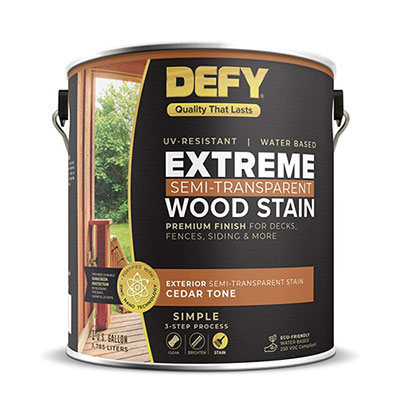 One of the biggest issues for pressure-treated wood is sun damage but this is going to protect against it. That's while staining the wood in a nice range of different colors.
Defy has made an environmentally friendly water-based stain that works very well. The stain is easy to apply and it shouldn't take a long time.
The semi-transparent stain comes in either a 1-gallon or 5-gallon tub depending on your needs. 7 color options are available, including clear if you wanted to maintain the look of your existing timber.
Durability is impressive here with a high level of resistance to fading or darkening. When it does come to reapplying a coat, you won't have to completely strip back the old stain and that speeds up the process and allows you to have beautiful timber for many years to come.
There is no doubt that this is a premium-quality product that could have easily been our top pick. It's ideal for anyone looking for a semi-transparent stain that will give your timber the rich and detailed finish you want while keeping it protected.
What we liked about DEFY wood stain
We initially loved how easy this is to apply. It absorbs and dries very quickly. It cuts down on your staining time and it also means restaining isn't a big job. You can either use a brush or a spray but you'll still want to be careful to ensure a consistent finish.
Semi-transparent and transparent stains often aren't as long-lasting but this holds up very well. That's partly down to their nano-particle technology that works to resist UV rays but will also work to prevent the growth of mold and algae.
Importantly, the stain will enhance the natural beauty of your timer as you'll get the color you want with the grain showing through.
It's highly versatile and you'll be able to use it on the likes of decks, fences, play areas and any other type of surface you can think of.
What we didn't like
We've praised the longevity here and it is good compared to its rivals, but you will have to apply a maintenance coat fairly often.
You should also be careful as any splashes or breaks in staining application can blemish the finish.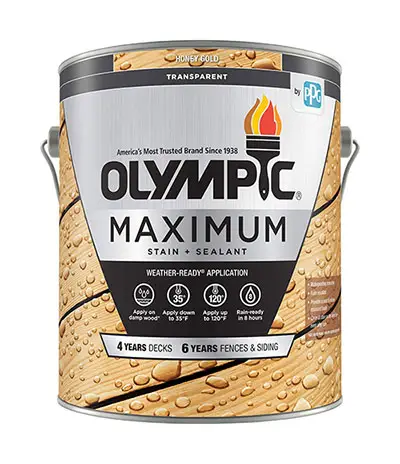 A transparent stain doesn't have the same durability as a solid color stain but this one lasts for an impressive amount of time.
After looking high and wide, we thought this is the best transparent deck stain available today. Olympic is a name you can rely on and if you were looking for transparent, then they also do semi-transparent and solid color stains.
It's another one that doubles up as a sealer to give you that extra level of protection. It's made from acrylic resin and gives you immense durability in all weather. This excellent waterproofing and UV resistance will keep your deck looking fantastic for years to come.
If you're happy with how your pressure-treated wood looks then this is an excellent option. It will allow the wood grain to be completely visible to give it that natural look. It's able to do that while having decent durability and fade protection.
As with the other two options we've looked at, this one also comes in sizes of 1 and 5 gallons. Along with that, you can also get a 1-quart tin which is ideal for finishing off an area or touch-ups. It can be applied on damp wood and will be ready for rain in around 8 hours.
What we liked about Olympic Wood Stain
This stain goes on very well and the application couldn't be simpler. Along with that, the coverage is also fantastic and many people can cover their whole deck with just a gallon. Once you've finished, you'll also find the finish to be nice and consistent.
It will guarantee against water damage on decks for up to 10 years and that stretches to around 25 years on siding and fences.
If you live in a particularly hot or cold climate then this could well be your stain of choice. You can apply it down to 35F or as hot as 120F. The ability to apply it on damp wood is also ideal for anyone who lives in a wetter environment.
What we didn't like
As mentioned, if you're looking for ultimate durability then you're probably best getting solid color paint but this is still much better than most other transparent stains.
Also, some users have noted having a slight yellow tint to their finish which doesn't seem to affect everyone.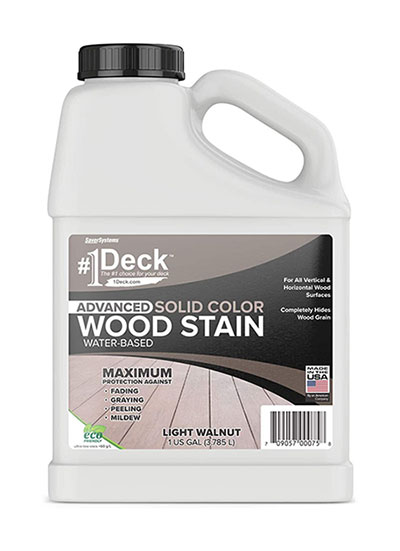 This solid color stain will completely hide the grain underneath which is not only a style that some people prefer but it also gives you the ultimate protection.
We've looked at two semi-transparent stains already along with a transparent one. This is a solid color solution that will completely paint your decking in whichever color you want. There are a few different options available such as dark cocoa or even pure white.
It's the big advantage with these types of stains, along with the great colors they provide.
This stain is fantastic at protecting against fading and greying but will also protect against peeling and mildew. It's excellent for decks but it can also be used on the likes of railing, fences, siding and any types of wooden garden furniture.
The application is fairly simple and you can even use it over the top of existing coloring, as long as it has good adhesion. It comes in a one-gallon tub that is very easy to work with. There isn't a better solid color deck stain for pressure-treated wood.
What we liked about SaverSystems
If you have an awkwardly shaped deck then this stain is going to be very easy to work with. It performs very well on horizontal and vertical surfaces, along with the standard decking. It will be able to do this without any blemishes.
As we mentioned, probably the best quality of this deck stain is the ultimate protection it can give against the elements. Even if you live in an area of extreme weather, it will be able to hold up season after season with no issue.
Another positive is how easy it is to clean and therefore maintenance is going to be minimal. With it being water-based it also comes with additional benefits of it having a low odor, low VOC's and being very easy to work with.
What we didn't like
It's important to remember that it is a stain and not paint.
If you're working with a significant color change (light to dark or dark to light) then you may require multiple coats before you get the results you want. These extra coats can also be an additional expense.
Why you should get the deck stain
There are many great reasons to get a deck stain for your pressure-treated wood. Perhaps the main reason is to have the highest levels of wood protection. Unstained wood simply won't last for as long and will start developing issues much sooner.
Another huge reason to get the best deck wood stain is simply aesthetics. Stain allows you to get the exact color you're looking for. This can either fit in with the rest of your house or you can look for something completely different.
Deck stain is usually simple to apply and it's not a huge task. It will probably require reapplication every few years but that won't be much of an issue. It's simply a great idea for anyone that has any pressure-treated wood that is exposed to the elements.
The good:
Wood protection
Personalized finish
Easy to apply
Beautiful results
The bad:
Consider these factors before buying the stain
Type of finish
There are a few different types of finish that you can get with a stain. You have to know that kind of look you're going for before even looking at what deck stain you should get. Once you put it on, you need to be happy with the final product.
This could be trying to change it to a much darker wood or perhaps just locking in the look of the existing timber color. Here we look at the three main types along with when is the best time to use them.
Transparent – If you love the color of your existing deck then you'd need to get a translucent stain. This won't change the color at all and will clearly show the grain underneath. It's perfect for those who want to enjoy the natural beauty of your wood. The translucent coat will help to boost the durability of the pressure-treated wood and increase its lifespan.
Semi-transparent – If you want to keep the natural look of the wood but also want to change the color then a semi-transparent stain will be what you want. It takes the qualities of a transparent sealant and adds that with some coloring. They will keep the grain showing through while adding a little more protection than with a transparent option.
Solid stain – This acts like paint and will completely cover the pressure-treated wood and you won't be able to see any grain through it. It's ideal for anyone that wants to completely change the color and look of their deck. An advantage of solid stain is that it often gives you a higher level of protection than any other type.
What is the right type for you? Well, that's simply going to be a matter of personal preference. As you've seen here, each one has its own qualities. The right one for you will be about balancing the levels of protection that you get while getting the color you desire.
Color
Unless you wanted to have a transparent stain, you need to think about what color you want. These aren't paints and their colors are usually meant to reflect different types of wood.
This allows you to have a natural finish. This is unless you want a solid stain color which gives you greater flexibility in your color choices.
Pressure-treated wood is often made from either cedar or pine and therefore it has that very light color. You may think that it's the perfect look for you. If so, then simply get that transparent stain but a lot of people want a color change.
If you wanted to take the tones down a little to something a bit darker then a color such as oak would be a good choice. If you have a pine deck then you could opt for a natural cedar which will darken it slightly while still keeping the grain.
Beyond that, you start to get the much darker woods such as mahogany, walnut or pecan. These are fairly expensive woods so it can make your deck look more expensive than it is. You could even choose burnt hickory which is nearly black.
Solid color stains can completely change the color of your deck with a few unnatural colors which as white and grey. This is ideal for people who want a complete change and have no interest in showing the natural grain underneath.
As with the type of stain, there is no right or wrong answer here. It's up to you as to what one you want and there aren't really any advantages or disadvantages to any color type.
One thing to note is if you're planning to go for a dramatic change in colors.
If you're going from extremes, such as from dark to light, then you may need a few more coats than if you were just going for a slight alteration. You should factor this into your buying decision and when determining how much stain you need.
Application
Once you know what type of stain that you want, you need to know how you're going to apply it. There are three main methods available and they are a sprayer, roller or brush.
There are pros and cons to both and the best one may depend on the type of stain you're getting. Here we'll take a look at which one you should get.
Sprayer – Pump-action sprayers can be a very easy method of application. This can be especially good over large decks that would otherwise take hours to cover. The problem with sprayers is that it's not the most accurate method and therefore the results aren't going to be quite as good as you'd get from other methods.
It's hard to get the evenest coats and you'll need a consistent stream of paint, which can be hard to do. Added to this, the stain can be quite light which can make applying it trickier if it's windy. While these problems exist, it remains the quickest method.
Brush – A more traditional method is to use a paintbrush. This is going to be the slowest method of application but also the most precise. It's ideal for thicker stains that aren't going to be suited to going through a sprayer.
Using a brush also allows you to use exactly as much stain as you need and there won't be any wastage. It's also easier to apply on horizontal and vertical areas.
Roller – A roller can be a good compromise as you can get a speed more akin to a sprayer but with a bit more control. You're able to get a lot of stains down on your deck very quickly and due to the nature of a roller, you are able to spread it minimally with minimal blemishes.
It helps to give you an even coat and is ideal for large decking areas. Another advantage of using a roller is that it doesn't matter whether or not you're using thin or thick paint.
The right method for you – There is no definitive way of applying deck stain. If you want the fastest speed, then go for a sprayer. If you wanted precision, then opt for a paintbrush. If you wanted a compromise between the two, then you can go for a roller.
You can also mix up your method types. Many people like the idea of covering the majority of the decking with a roller or a sprayer, and then touching up the more difficult areas with a paintbrush. The choice is up to you but it's a good idea to make a decision before you buy your deck stain.
Size
It's important to get the right size container for your needs. The last thing that you want to do is not get enough deck stain and have to stop halfway through. This would not only be frustrating but it will also lead to poor results, as it may dry in a slightly different shade.
As a general rule, a gallon of deck stain is going to cover an area of approximately 200-300 square feet. The exact amount is going to depend on the thickness of the stain and how you apply it. It's a good idea to get a measurement of your deck so you can get the perfect amount of deck stain.
You also need to appreciate the possibility of needing to do more than one coat. This might be needed if you are using a thinner deck stain or if you're significantly changing the color. If so, then you'd need to get more stain.
Budget
Stain often costs more than the equivalent amount of paint but there is a good reason for that. It's a great investment as it will protect your decking and prevent any issues further down the road. That being said, it's still a good idea to have a budget in mind.
If you wanted a one-gallon tub then you can expect to pay around $50. If you wanted to stretch that to a five-gallon tub then that will drop down to around $30 per gallon. If your deck is going to need around three gallons or more, then it makes sense to get the bigger tub.
It's important to not overstretch your budget but usually, it's a good idea to pay that little extra to get the quality that you want. If you get a cheap stain then there's a good chance that you will either get a bad finish or have to reapply it after only one season.
Ease of application
How much time and effort need do you want to put into your deck? Some require only minimal preparation whereas others need a lot more. If you want a thin coat to take as well as possible then you'll want to give the deck a thorough sanding.
Thicker and darker coats tend to require less preparation and this can be good for those who don't have the time to spend hours perfectly sanding down their deck. You'll also find that oil-based stains will take to bare wood better and water-based stain.
These features can be important too such as drying time. If you live in a wet area then you may not have a large window for your deck to dry. Some stains, however, allow you to apply the stain even when the deck is not perfectly dry.
Protection
A stain has a good level of protection but you may also find that you need to seal the deck. As we've seen here, there are plenty of solutions out there which give you both options in one. If not, you want to get a sealer separately.
When choosing the stain for you, it's also worth considering what kind of environment you live in. Will the sun beating down on the deck all day or are rain showers common? You should get a stain that is a good match for your deck.
For high sunlight areas, you may wish to get a darker stain that will be more resistant to fading. If you live in a wetter area then a sealant would be a great addition. A sealant would also be able to help block the natural growth of the likes of mold and mildew.
FAQs
Can you use deck stain on pressure-treated wood?

There is no issue with using the deck stain on pressure-treated wood. It should adhere nicely and there's no reason that you won't get a great finish. The only thing you need to be mindful of is when you apply the stain, as you need to do so when the wood is dry.

Due to the chemicals and color involved, it may require more than one coat to get the results you want but that's perfectly normal. With the right application, deck stain is perfectly suited to pressure-treated timber.
Should I sand pressure-treated wood before staining?

It's always a good idea to sand wood before applying a stain, sealer or paint. The reason for that is because it will remove any impurities and allow the stain to adhere better to the wood. There are times, however, when sanding isn't as important.

If you're using a thicker stain then it's more likely to stick to any type of surface. An oil-based stain is also very good at adhering to treated wood and less sanding would be required. Some brands are more suited than others with the SaverSystems #1 Deck Wood Deck Paint and Sealer being an example of a brilliant stain for unsanded wood.
What is the longest-lasting deck stain?

There are two key considerations here and they are the quality of the stain and the type you're using. A stain isn't going to last for too long if it's made cheaply. We've made sure to only show you products that have a very high level of durability.

The second aspect to consider is the type. Solid color stains are going to last for longer than any other type. This is due to them naturally being better at blocking out the sun and preventing any water from getting to the wood.

Therefore, the longest-lasting deck stain will be a high-quality solid color deck stain such as the SaverSystems #1 Deck Wood Deck Paint and Sealer. If you wanted to use a different type of stain then just made sure you're getting one that is highly rated.
Is semi-transparent or solid stain better?

The answer to this question will depend on what you are looking for. If you wanted to simply have the ultimate level of protection then a solid stain would be better.

If you wanted good protection while still being able to see the grain, semi-transparent would be best.

It's important to weigh up the pros and cons of each one before you ultimately decide. Each of them could be described in different categories. There is also transparent paint for is you wanted to keep the existing color of the wood.
Is oil or water-based deck stain better?

Both of them have distinct differences and it's good to know what they are so you can make an informed choice.

Oil-based stains are very easy to apply as they will quickly soak into the wood. It also means that you can apply them more quickly than water-based stains, especially as it usually leaves an even finish. Oil-based stains are also very simple to maintain and don't peel.

Water-based stains are much better for the environment and contain fewer VOCs. They also dry very quickly, allowing you to use your deck straight away. Added to these qualities is their resistance to mold, mildew and any other types of organisms.
Is it better to stain or seal a deck?

When you stain a deck, it's going to protect it from UV light and will prevent fading. It also allows you to choose the color of wood that you want. The result of this can not only give you the look you're after but add that with higher durability.

A sealer will simply help to protect the wood from the elements, specifically from water. Thankfully, there's no reason why you can't do both. The Ready Seal Exterior Wood Stain is an example of one that will give you the best of both worlds.
What is the most popular deck stain color?

Many people will want to match up their deck with the color of their house or perhaps the existing furniture in the garden. Probably the most popular natural color is golden cedar which can give it that classical and authentic wooden look.

For more unnatural solid colors, we find that grey and blue tones can be very common. Many also like to opt for white decking. The choice, however, is ultimately yours. You should go for whatever color is going to give you the most joy on your deck.
How soon can I stain pressure-treated wood?

You may be wondering this and also: what happened is I stain pressure-treated wood too soon?

The answer is that you can stain pressure-treated wood straight away as long as it is dry. Some pressure-treated wood will have residual moisture inside which needs to be dried.

If you don't wait for it to dry then you're going to trap the moisture inside. This will accelerate the degradation of the wood so should be avoided. If you put a drop of water on the deck and it gets absorbed straight away, then you'll know it's dry enough.
Should I use a brush or roller to stain my deck?

This depends on how quickly you want to get the job done and what type of finish you want. Rollers are great for thick application and can get the job done very quickly with minimal fuss. As they spread the stain evenly, they are also great for giving you a consistent coat.

Brushes are better if you wanted to have a higher level of precision but they are usually much slower than using a roller. Due to these features, many like to use both of them as they find it gives them the best combination to get the finish they want, at the speed they want.
Do you need to seal a pressure-treated wood deck?

A sealed deck is going to last for much longer than an unsealed deck and it makes sense to apply a few coats. Can I leave my deck untreated?

Well, you can but it's never going to be advised. An untreated deck may only last for around 10 years where a treated deck may last up to 50 years, which is a significant difference. 
Final Thoughts
Now you should be armed with all of the info you need to get the best deck stain for pressure-treated wood. We've made the choice tough for you as the four we've selected are all fantastic but they do have some key differences.
The Ready Seal Exterior Wood Stain is our top pick as we think it stands above the rest in terms of usability, quality and durability. It produces excellent results every time. Another brilliant semi-transparent stain is the DEFY Extreme Semi-Transparent Exterior Wood Stain. It has many same qualities and may be more suited to your needs.
If you were looking for a transparent deck stain then the Olympic Stain Maximum Wood Stain and Sealer would be ideal. It will let the grain show perfectly while giving it plenty of protection. It's also very easy to work with.
Another stain that has exceptional usability is the SaverSystems #1 Deck Wood Deck Paint and Sealer. This is perfect for those wanting a solid color option to completely cover the grain. It offers the highest level of protection and is sure to last for years.
All four of these deck stains are fantastic and it's about choosing the right one for your needs. Hopefully, the buying guide has pointed you in the right direction to find a stain that is ideally suited to your deck.
All that's left to do now is choose your favorite one and give you're the deck protection and color that will last for years to come.