The kitchen is one of the most important rooms of your house. It is the place where families hang out the most. They gather there to eat, to cook, to talk and to make terrific memories.
Because the kitchen is such an important room, you want to paint it using a color you love. But when it comes to color palettes, the possibilities are endless. It can be hard to find one that is perfect for you.
If you are trying to decide on the right color for your kitchen, this article will review your options so you can find a shade that works.
Yellows
Yellows are a great shade for a kitchen. Bright and cheery, the hues can vary to produce looks that run from classic to contemporary. Being a lighter color, yellow will allow for plenty of light so you can see what you are doing.
Here are some yellows that will get your kitchen looking great.
1. Bright Yellow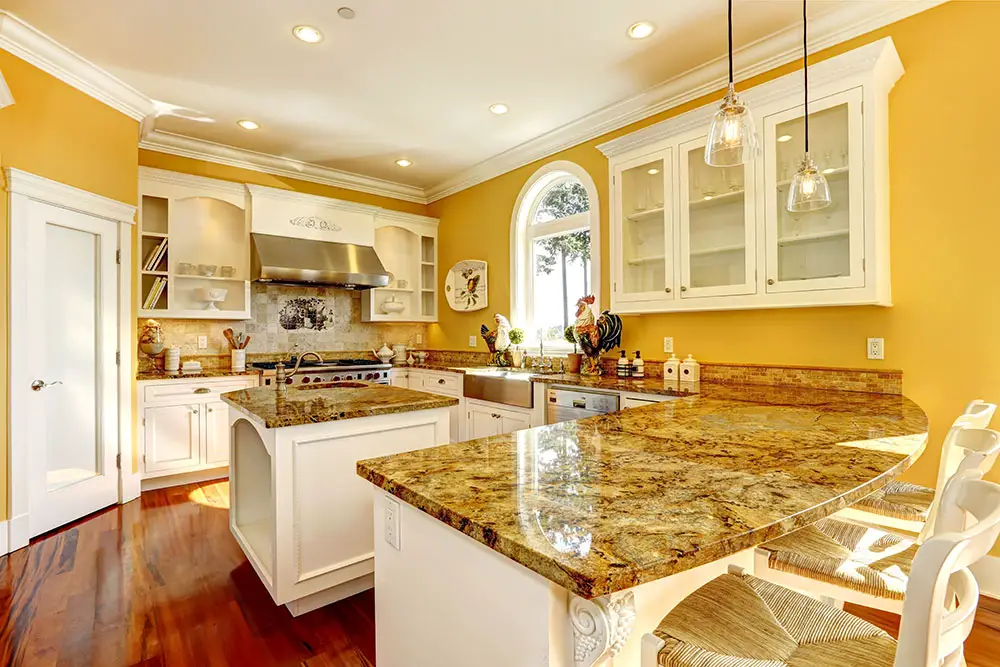 Bright yellows provide a modern look that adds a vibrant appearance to any kitchen. You can paint the entire kitchen this true yellow tone or add it to backsplashes and baseboards to give your room an undeniable splash of color. Go for a high gloss paint to take it to the next level.
2. Yellow-Gold
If you prefer a toned-down look, a yellow-gold will work as a neutral giving your kitchen a softer vibe. Yellow golds go well with vintage appliances and decors. The warmer color will be perfect for painting every wall of your room.
3. Lemon Yellow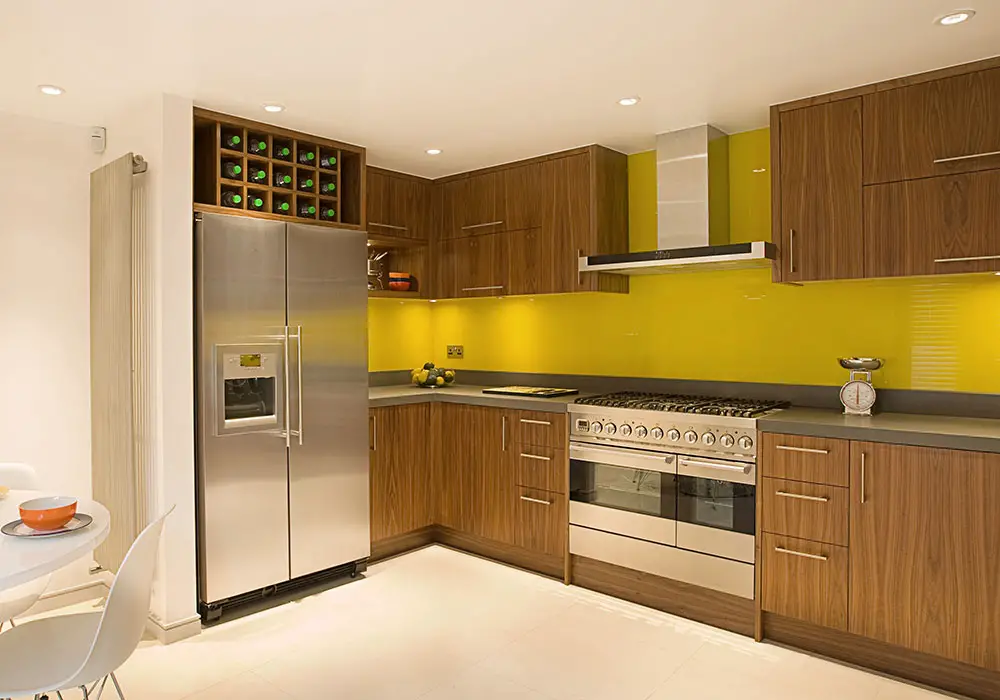 If you are looking for a yellow that is a little mellower but still adds brightness to your kitchen, a lemon yellow is the way to go. Paler than a bright yellow, with a rich and creamy texture, this is a terrific color to paint your walls. It works well with looks that run the gamut for modern to classic.
4. Pale Yellow
Yellows can be so pale they almost look like a creamy white. Yet the distinct hue will add much needed color to the room. These pale yellows will also go well with several types of kitchen decors including country, vintage, rustic and shabby chic. 
5. Amber
Amber is a yellow tone with a good deal of brown added. Therefore, it can be classified as a neutral. As a slightly darker color, it will work well when painted over woodwork. However, a lighter shade can be applied directly to walls. It adds warmth to the room and it is the ideal complement for vintage-inspired looks. 
Blues
Blue is a terrific color for home décor. Symbolizing loyalty, wisdom and intelligence, there are a wide variety of shades can be used to make your kitchen stand out.
If you are going true blue in your interior, here are some options to choose from.
6. Royal Blue
This bright blue shade is perfect for a kitchen that pops. The vibrant color is ideal for eclectic and modern, art deco looks. It is the perfect complement to other jewel tones.
7. Navy Blue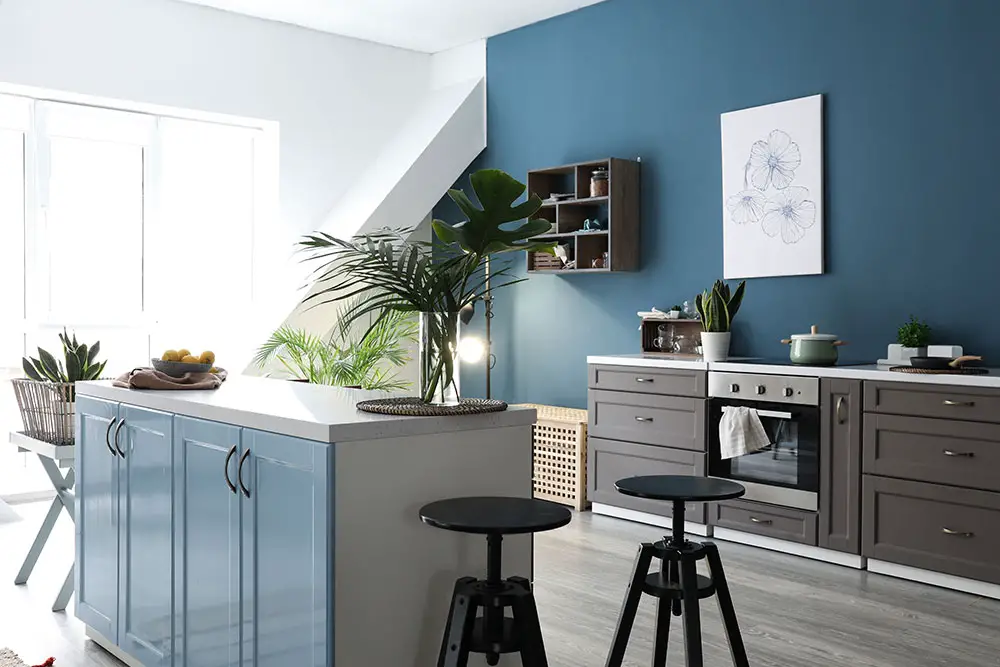 Navy blue has become a popular color in interior design. It is essentially the new black and it works well as a neutral. It is dark and moody and provides a rich look that works well with various decors. Because the color is so dark, you may want to limit it to back splashes, cabinets and paneling.
8. True Blue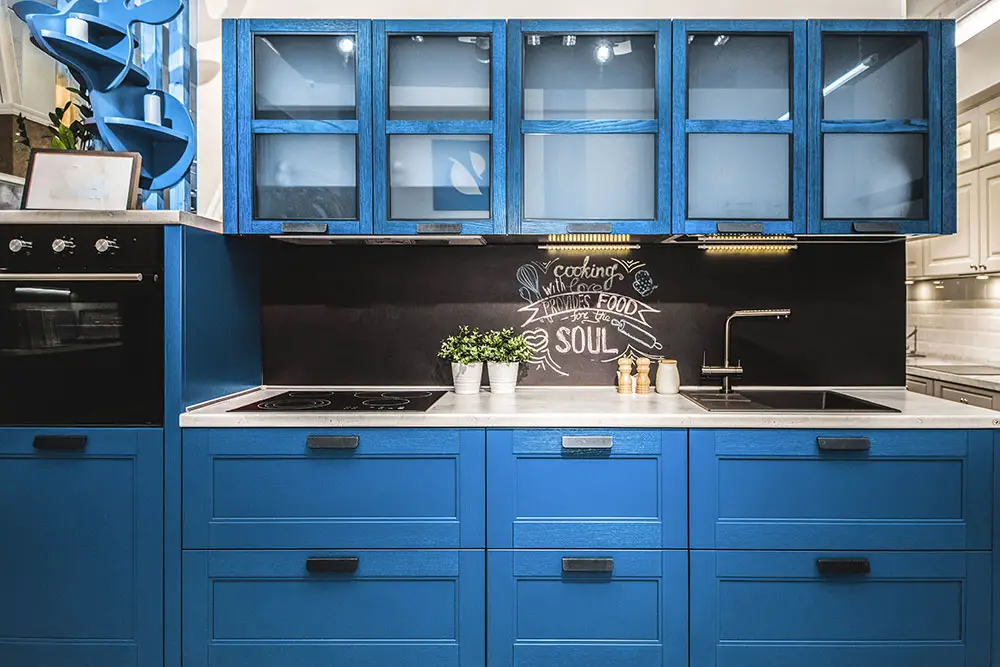 Not too dark, not too light, not too bright, a true blue sits right in the middle as a steadfast color you can count on. As a darker shade, you may not want to paint your entire kitchen blue, but a blue dining set or cabinetry will add vintage charm or take contemporary looks to the next level.
9. Sky Blue
If you want to create a cheery atmosphere in your kitchen, sky blue is the way to go. It is both soft and vibrant at the same time. It is great for beach style kitchens, but it can also work well for looks that range from vintage to modern.
10. Pale Blue
Pale blue is a great way to take white to the next level. This shade is so light, it may appear to be white at first glance, but in reality, it has an unmistakable hue that adds a subtle sense of color to your interiors. The soft look is perfect for vintage-inspired kitchens and can also work well with beach looks, eclectic styles and shabby chic décor.
11. Turquoise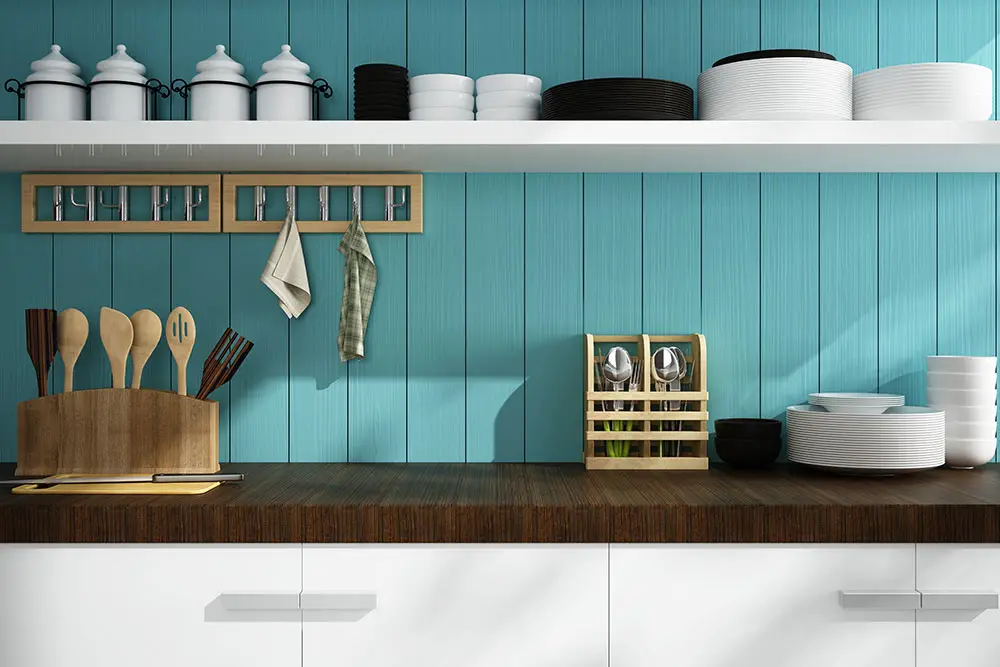 Turquoise provides a vibe that is similar to that of sky blue. It is vibrant but has a distinct softness that keeps it from being overpowering. Integrate it into your kitchen by painting backsplashes and cabinets with this outstanding shade or go for that wow factor by painting your entire kitchen turquoise.
Greens
Green is the color of nature and it symbolizes peace and harmony. Though usually a soothing color, it can also pop to add excitement to your kitchen
With so many green shades to choose from, it can be hard to choose just one. Here are a few that are recommended.
12. True Green
True green colors are typically quite bright and will add an almost alternative look to your kitchen. It will work well in modern and art-deco decors. Because the color tends to be overpowering, you may want to limit it to backsplashes only.
13. Forest Green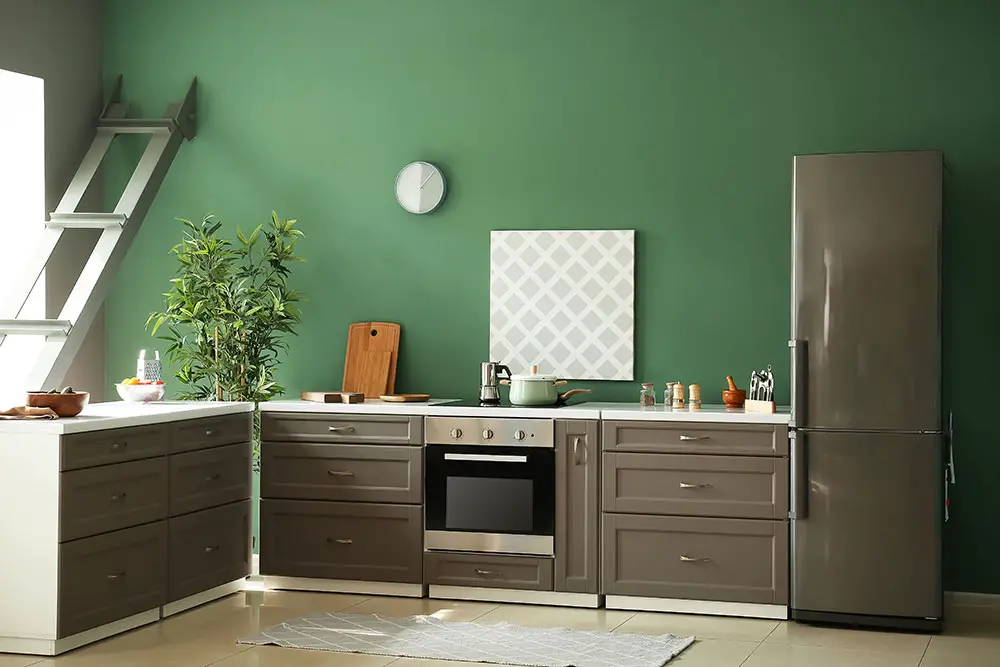 This deeper green color works well as neutral. Dark and emotive, it is a perfect way to give your kitchen a moody vibe. However, it also may make it difficult to see what you are doing. Therefore, you may also want to limit the use of the color to cabinetry and backsplashes.
14. Spring Green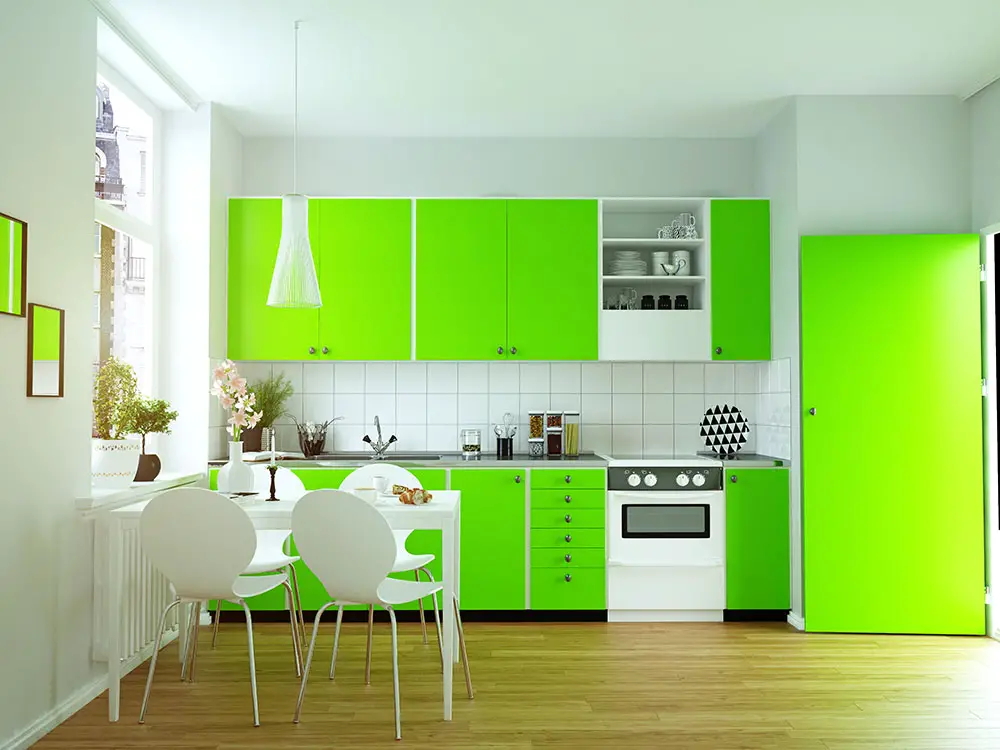 Spring green is a cheery color that will make your kitchen stand out. While some might use it to accent some of the kitchen's fixtures, don't be afraid to use if for walls to give your kitchen a cool and airy look. The color works well with beach kitchens, vintage and eclectic looks and shabby chic décor.
15. Emerald Green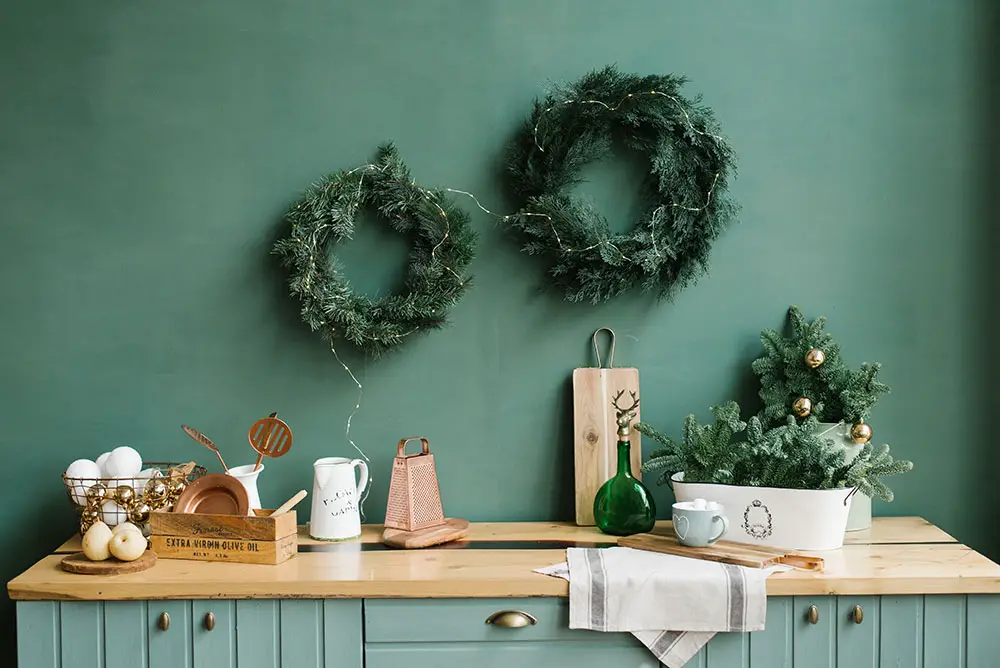 Jewel tones are dominating interior design trends and you really can't go wrong with a vibrant emerald green. A bit darker than true green, this color will work well to accent elements in your kitchen. It can add a wow factor to Asian and Mediterranean inspired design schemes.
16. Khaki Green
If you are going for a neutral but can't quite get down with a plain brown or beige, khaki green may be the perfect alternative. This mixture of green and brown will make a splash on your backsplashes or you can paint your walls khaki green for an allover dramatic look. However, if you go for all over khaki green, be sure to choose a shade that's not so dark that you won't be able to see what you are doing.
17. Mint Green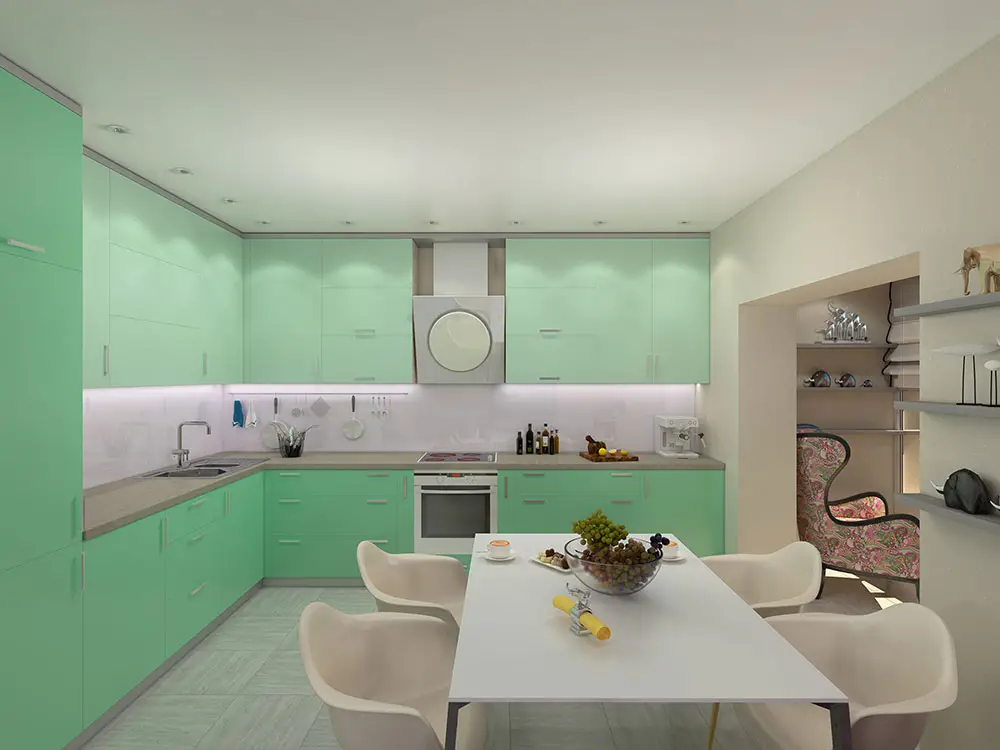 Think of the color mint of ice cream and you will know the exact shade we are talking about when we say mint green. Soft and bright at the same time, this color is perfect for vintage kitchens, shabby chic and rustic looks. While the hue will look terrific on walls, you can also choose to accent certain pieces such as cabinets, pendant lights and kitchen stools. 
Whites
While some feel whites are boring, if you use the right shade, you can get a look that is perfect for kitchens with styles that range from modern to traditional.
Read on to find out about the various shades of white that can get your kitchen looking great.
18. True White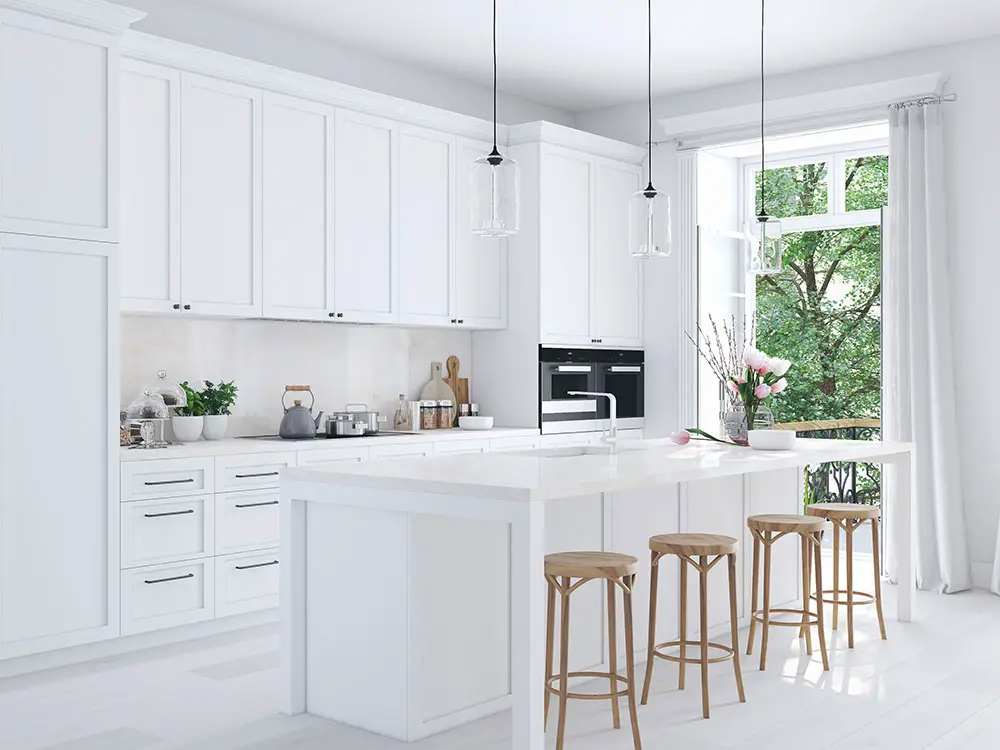 White walls have become synonymous with modern décor and they make a great base when you are thinking of adding black accents and splashes of color. Consider painting your walls white and adding a black kitchenette set, colorful backsplashes and vibrant artwork.
19. Eggshell White
Eggshell has a bit of a richer color making it perfect for vintage inspired and country kitchens. It works well with wood cabinetry and kitchen sets.
20. Creamy White
A rich, luxurious white makes a terrific environment for meals and gatherings. Paint your kitchen all over with a creamy white to add a touch of elegance to shabby chic and traditional looks.
21. Beige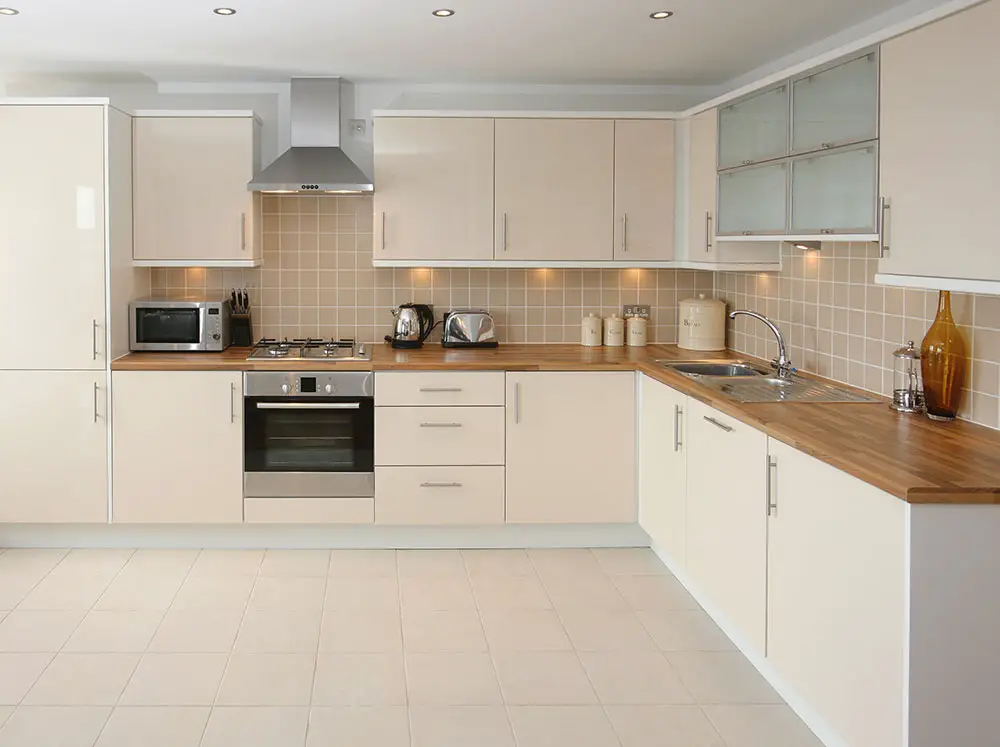 Who says beige has to be boring? Running the fine line between white and brown, the warm undertones will make your kitchen feel more inviting. Although one may think beige will work well with more traditional décor, you may be surprised to find how well it offsets industrial looks.
Browns
As we segueway from beige, brown is an appropriate follow up.
While brown might not seem like an obvious choice for a kitchen, once you explore the various options, it will all begin to make sense.
22. Chocolate Brown
This deep brown color is becoming a trendy choice among interior design experts. It will add a sense of warmth to the kitchen and will work well as an accent wall for craftsmen style kitchens. It can also take rustic and farmhouse looks to the next level.
23. Caramel
Now I'm starting to get hungry! Caramel is a combination of warm brown with orange undertones. It works as a neutral while adding an element of brightness that makes kitchens great for family gatherings. It is ideal for accent walls and cabinetry.
24. Peanut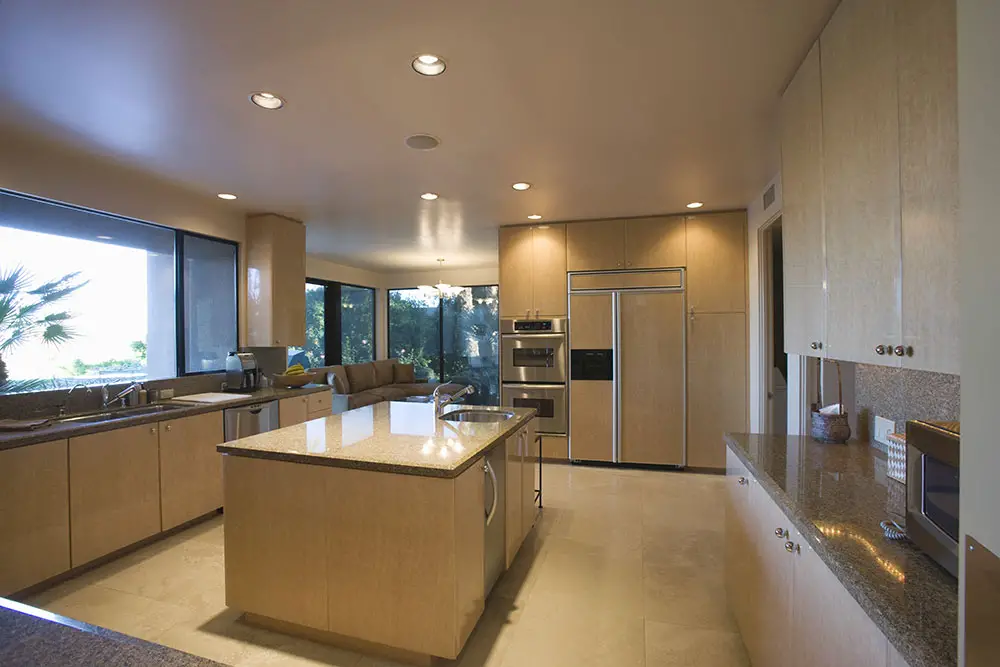 This true, medium brown shade is perfect for cabinetry, accent walls, dining sets and fixtures. It adds a rich warmth that is ideal for décor that ranges from traditional to industrial.
25. Taupe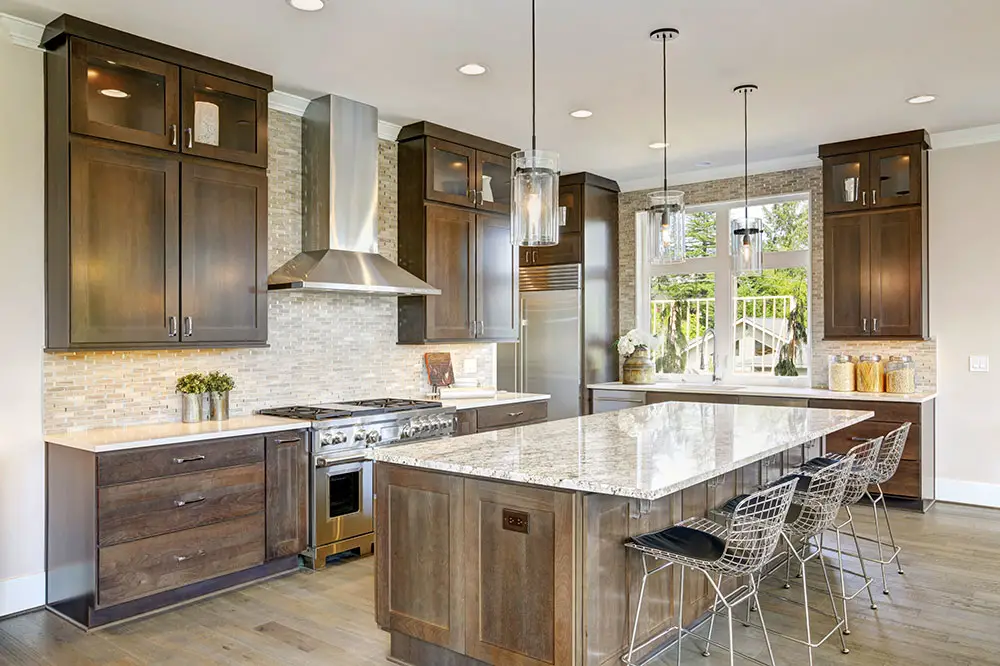 Taupe is a shade up from beige. The added color creates more interest than other neutrals but the light hue keeps things bright and cheery.
26. Cinnamon
If you prefer a brown with strong red undertones, cinnamon is the way to go. The red will add a brightness while the brown will bring the warmth. When combined, the two shades produce a color that can be used minimally for an aesthetic that is perfect for industrial and contemporary décor.
Grays
Gray is another color that is dominating home décor trends.
Working well when blended with a variety of other hues, you may be surprised to find how versatile gray can be.
27. Slate Gray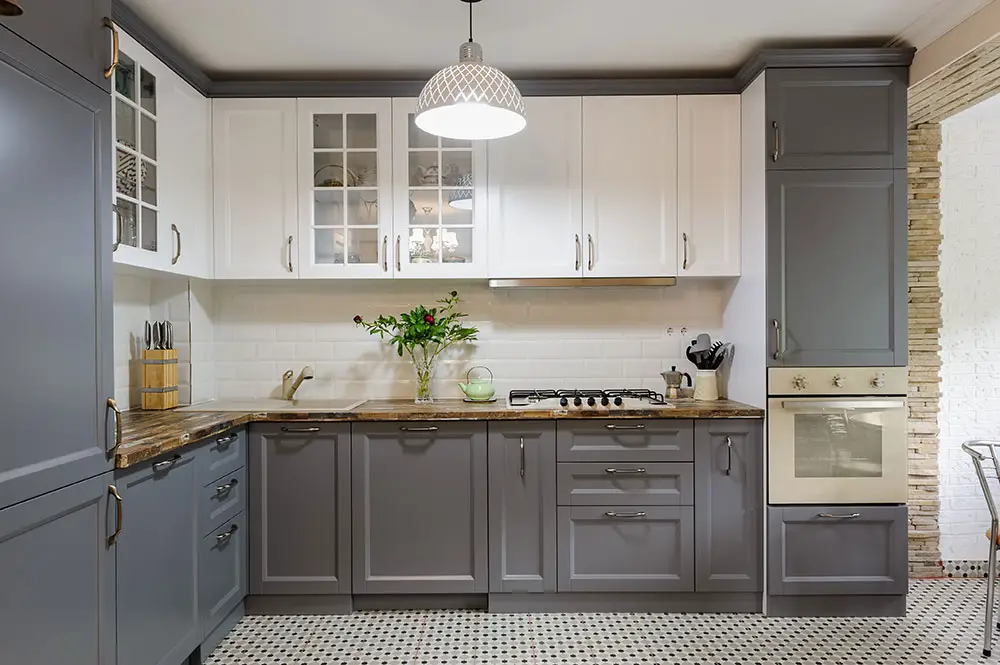 This sort of steely gray produces a dramatic look that will stand out in any interior design scheme. It is recommended for accent walls and cabinetry and is the perfect complement for industrial décor.
28. Blue Gray
Adding a blue tone to gray makes the color pop. It produces a soothing vibe and can be a stand out for kitchen sets, cabinetry and accent walls.
29. Purple Gray
To add even more of a unique element to everyday gray, try a purple gray shade. This color will really pop when added to the fixtures in your kitchen.
30. Light Gray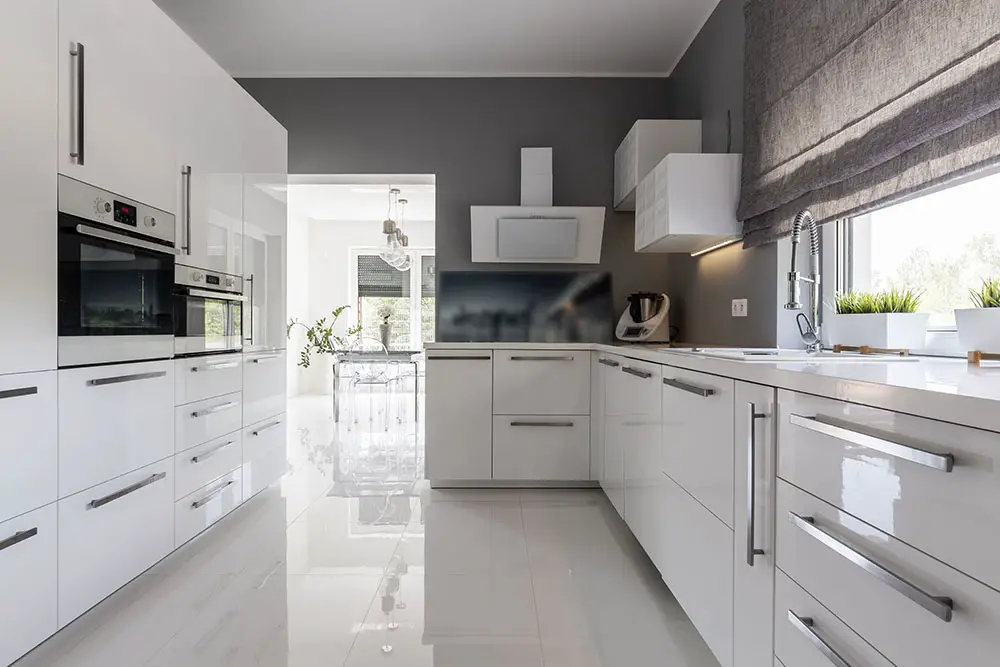 Gray doesn't always have to be heavy and serious. Go for an extremely light gray for an almost off-white effect. Because you are dealing with a lighter shade, you can add it to the entire kitchen without having to worry about making the room too dark or appear too small.
31. Green Gray
Producing an almost pistachio tone, a green and gray color mixture is fun and playful. In lighter tones, it will be perfect for kitchen walls and it is a terrific complement for rustic and traditional looks. Mixing it with other neutrals will produce a warm and welcoming effect.
32. Pewter
While we wouldn't say that a metallic silver is ideal for kitchen paint, fans of the color may find the perfect compromise by painting their kitchens pewter. This gray color has distinct silver elements that provide a great industrial look. While darker shades should be reserved for accenting the room, a lighter shade may be applied directly to walls.
Pinks
Pinks are a great option for interior decorators that want to take it outside the box. Think it's too unusual for a kitchen?
Read on to find out some unexpected ways you can make it work.
33. Coral Pink
The orange undertones in coral will produce somewhat of a neutral vibe that will take an outrageous pink tone down a notch without completely defeating its uniqueness. However, the color will still be quite vibrant. Therefore, you may choose to restrict the paint to certain fixtures and areas of the kitchen. It's perfect for beach and eclectic kitchen decors.
34. Pale Pink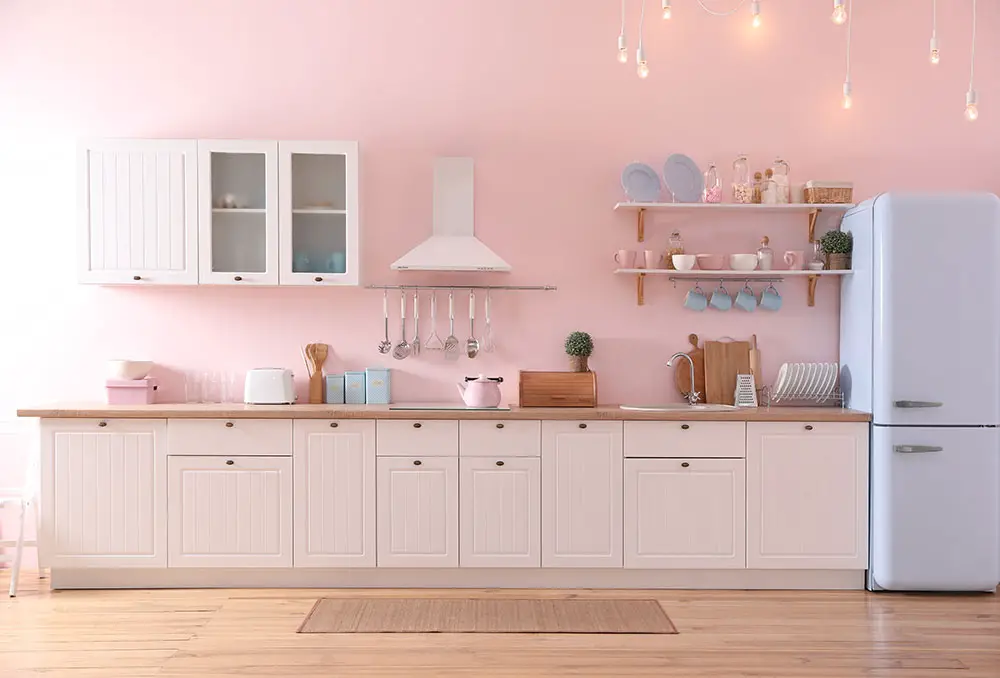 Pale pink is a great option for those who want to add a pop of color to otherwise conservative looks. We're talking about a shade so pale, it almost looks white, but the underlying color will add a sense of cheer that works well with classic kitchens and beach looks.
35. Poppin' Pink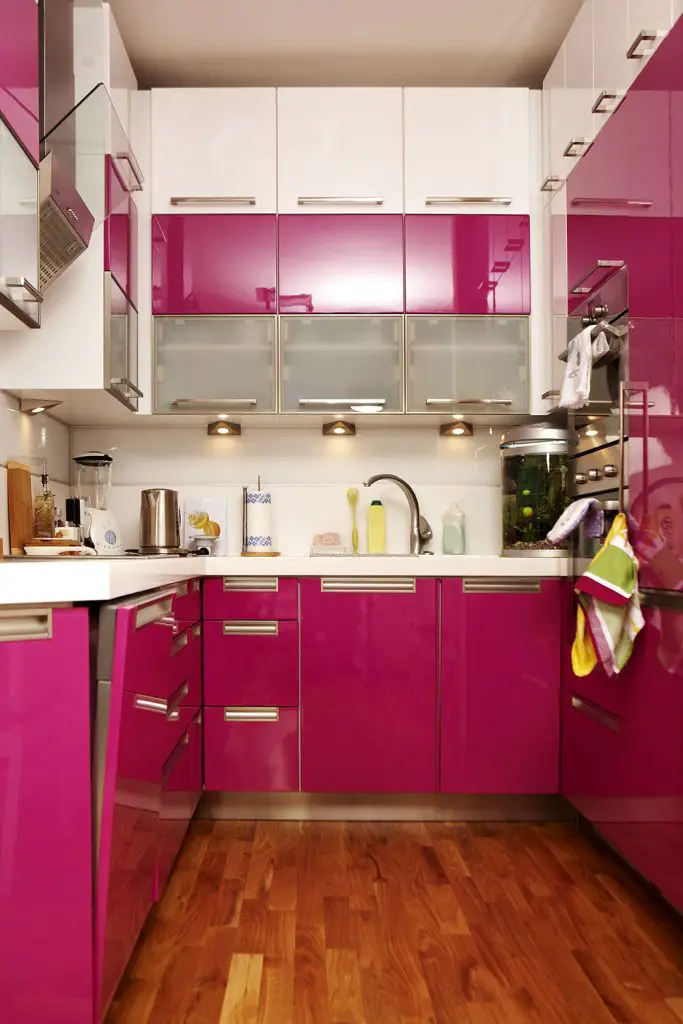 If you really love pink, why not go out with a true bubblegum shade? When used in moderation, it can add a splash of color to kitchen décor. If you'd rather go over the top and do an all pink kitchen, go for it!
36. Rouge
This deep, reddish, purple-pink tone is playful yet it has a toned-down look that makes it suitable for living areas. If the color is light enough, it could make an overall kitchen color, but it's likely it will work best to accent fixtures and wall areas. The romantic color makes it perfect for eclectic and vintage styles and it will pair nicely with floral motifs.
Purples
Purple is a royal color and it will stand out in any room's interior. "A purple kitchen?' you say. 'Absolutely,' we say.
37. Eggplant Purple
Deep eggplant is another color that's trending in home décor. The color is rich, deep and incredibly dark and romantic. To make sure your kitchen remains well lit, limit it to accent walls and backsplashes.
38. Royal Purple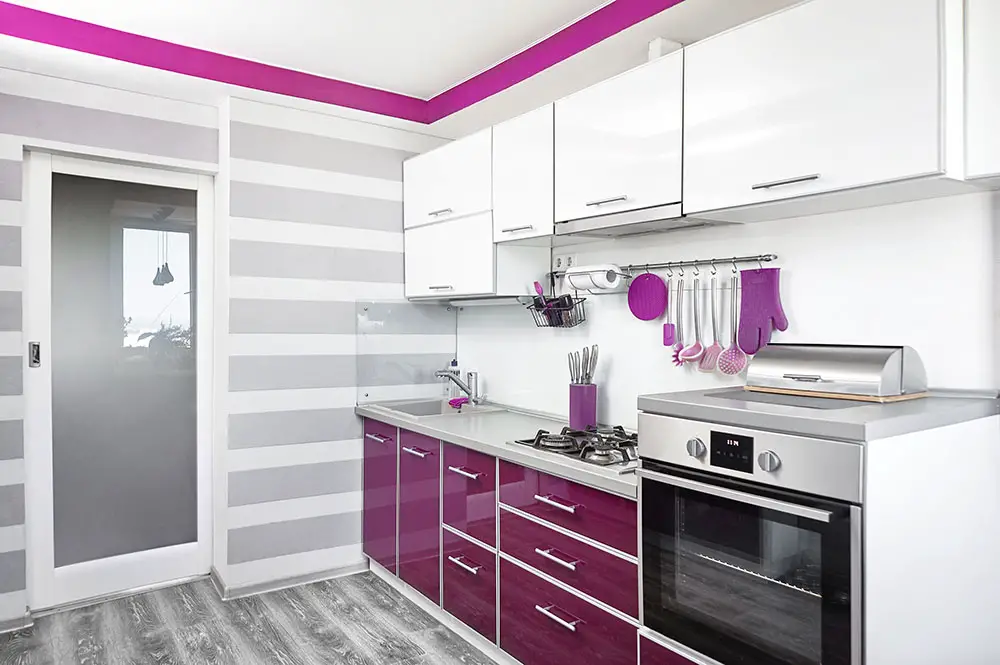 Make your kitchen the perfect place for eating royal meals by painting it with this vibrant shade of purple. Like eggplant, royal purple can also be overpowering and may be best when added as accents only. It makes a terrific eclectic look.
39. Lavender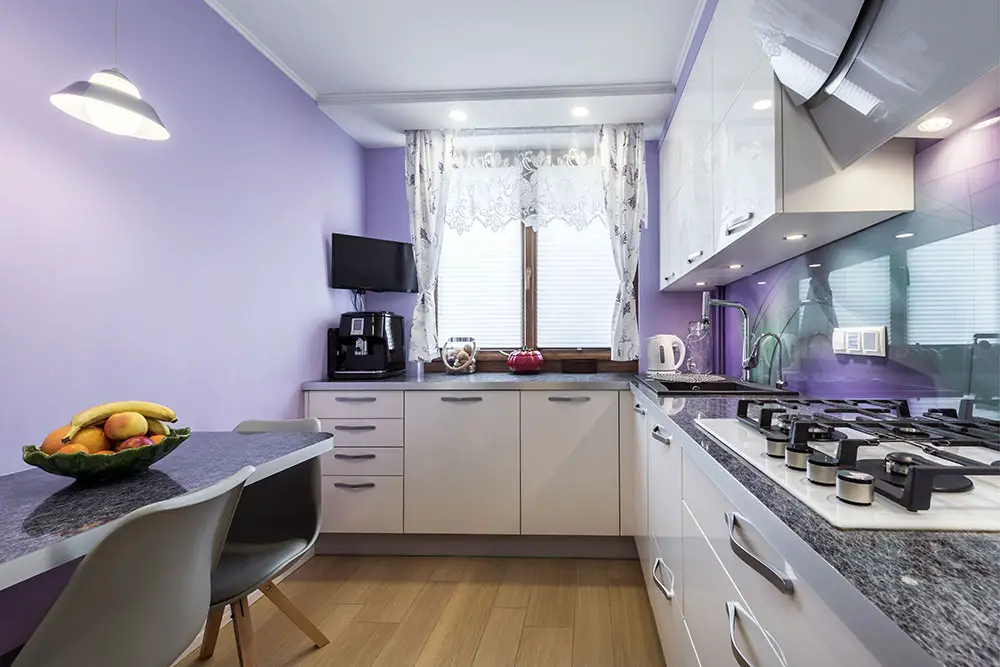 If you love the look of purple but don't want to overpower your kitchen, lavender is ideal. A light enough shade can go all over the walls and it will look great when combined with yellow accents.
40. Pale Lilac
The palest of purples, this color is ideal for those who enjoy the look of white walls but want to bring some color into the mix. Soft and romantic, it is be perfect for vintage-inspired and shabby chic kitchens. It can even be a pleasant surprise when added to minimalist designs.
41. Mauve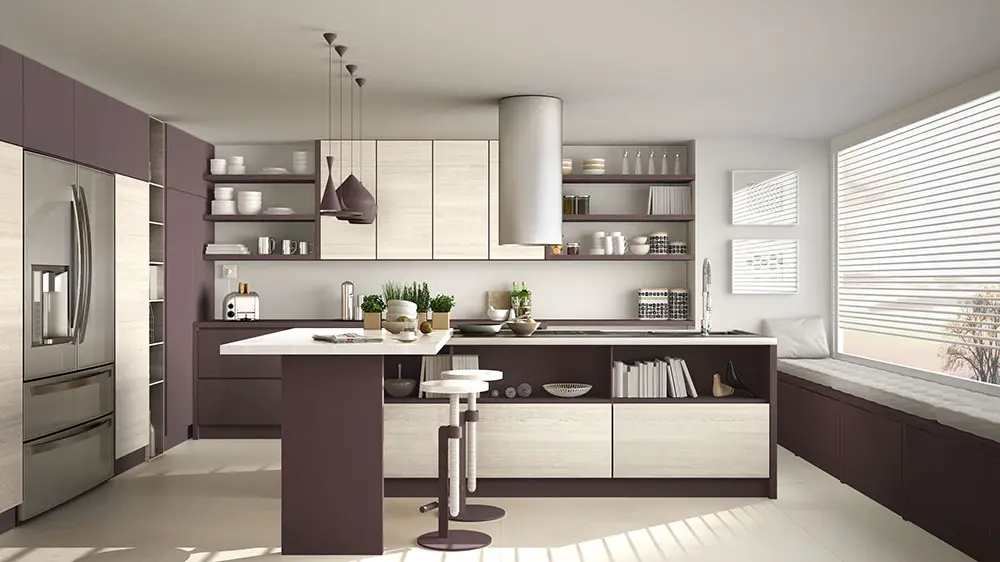 Mauve has a brownish hue that makes it almost double as a neutral…with some added excitement. Its warm tones make it perfect for cabinets, cabinetry trimming and dining sets. It works with looks that range from classic to contemporary and it can be combined with florals and other neutral tones.
Reds
When it comes to interior paint, nothing makes a statement quite like red.
Fiery and passionate, it makes any room stand out. Here are some ways you can work with this hue in your kitchen.
42. Bright Red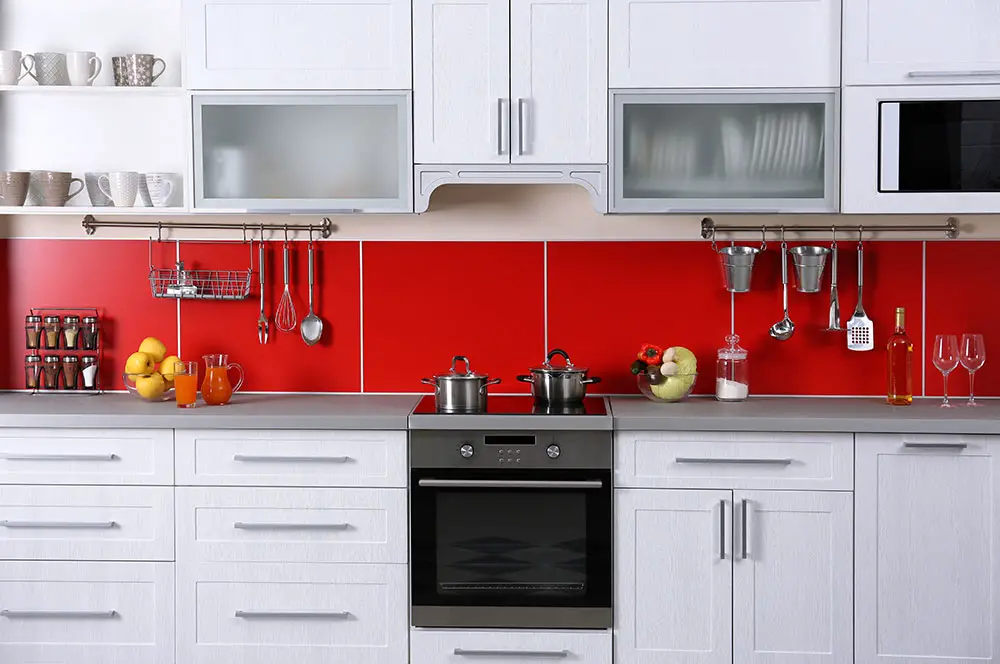 This true apple red may not be ideal for the entire kitchen, but it will work well for kitchen stools, backsplashes and cabinet trim. It is perfect for modern, eclectic and beach kitchen styles.
43. Brick Red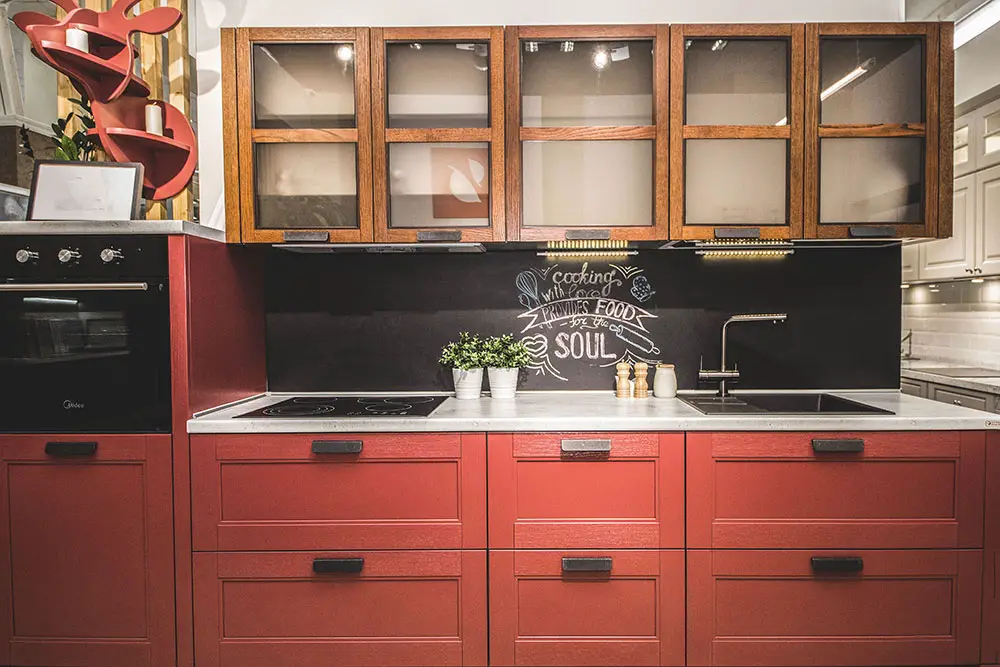 Brick walls are great for industrial kitchens, but installing one is a huge undertaking. Painting an accent wall brick red can help you achieve a similar look. Brick red will also look good on cabinet trim, kitchen furnishings and fixtures.
44. Rose Red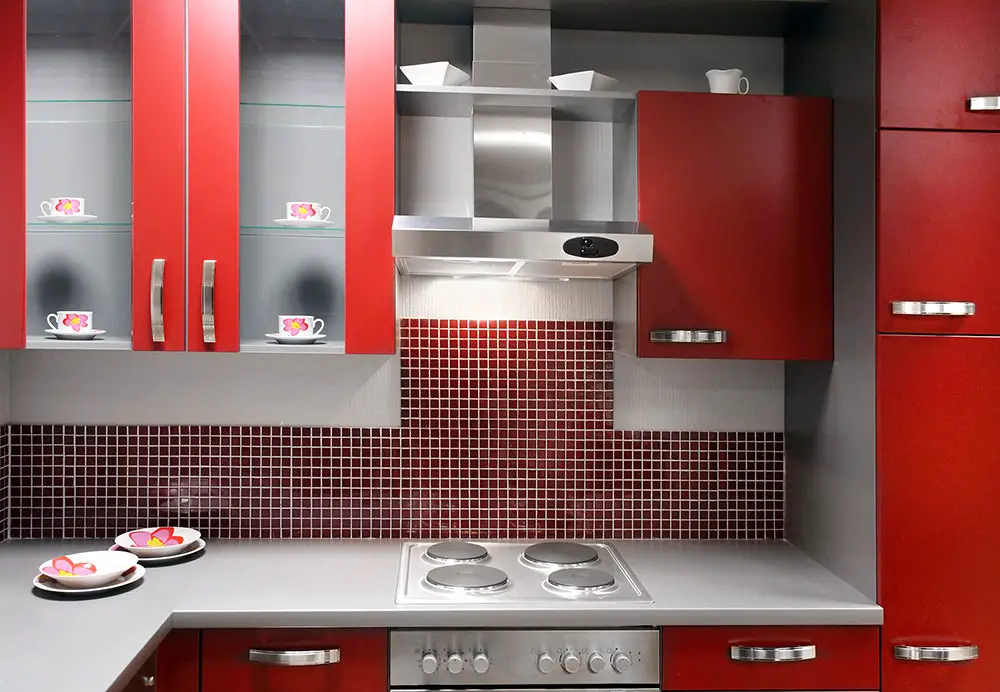 This pink/red mixture is another red tone that will make your kitchen unique. Like the other reds, it should be limited to select fixtures, but it is sure to add an element of fun that makes a terrific eclectic look.
45. Wine Red
A wine red is an almost black red and it will bring intense color to your kitchen, so use it sparingly. It will bring attention to backsplashes and it is an ideal color for dining room sets. Another bonus, it won't show stains easily. It makes the perfect finishing touch for industrial style kitchens.
46. Indian Red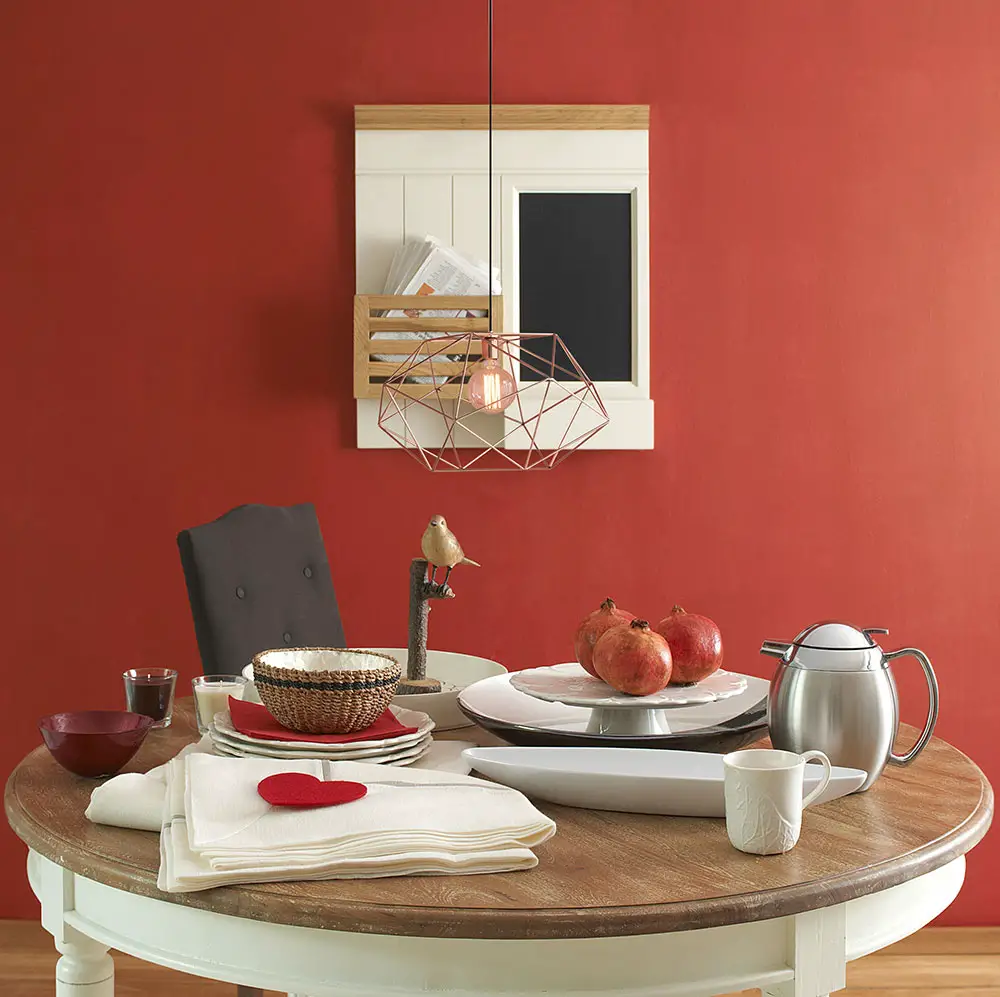 This very pale red works well as a neutral. It has tones of brown but the shade it still quite light and soothing. It goes well with other neutrals like tans and khaki greens. It is perfect for Mediterranean and Asian inspired kitchen decors.
Oranges
Orange is another stand out color. Symbolic of determination and happiness, it's a great way to bring cheer into your kitchen. However, because the color is so strong, the right interior design is essential.
Here are some ways you can incorporate the color into your kitchen space.
47. Burnt Sienna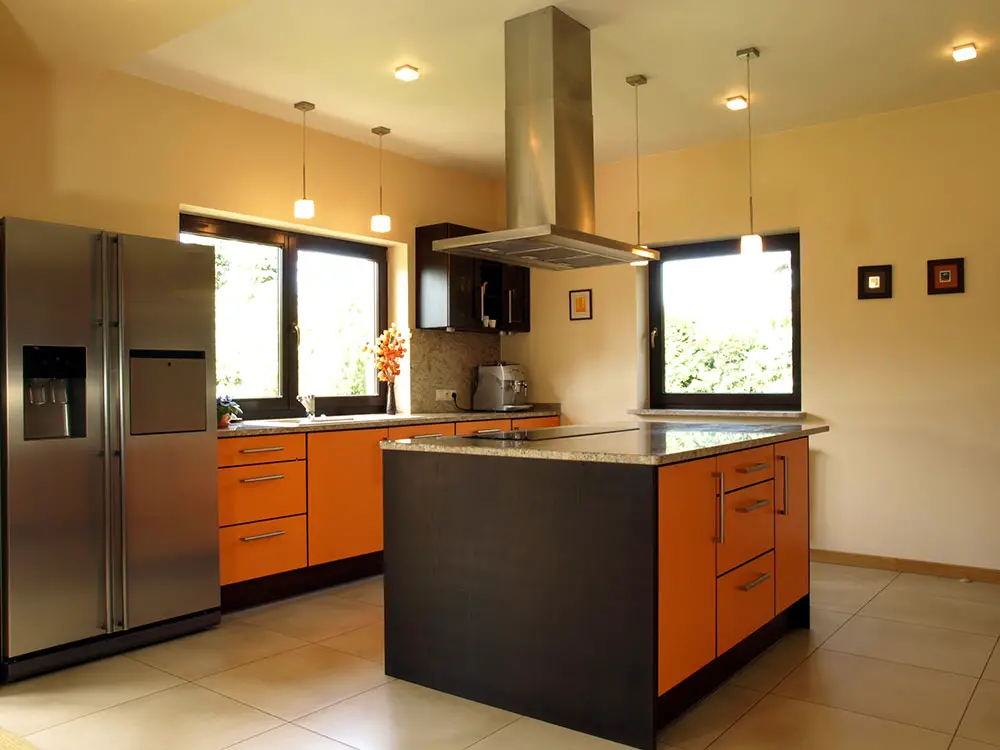 This almost rust color has enough elements of brown that it can work as a vibrant neutral. While we don't recommend it for the entire room, it works well on cabinets, backsplashes and accent walls. A bright accent wall will make for a terrific contemporary look while adding it to woodwork can take rustic décor to the next level.
48. Popsicle Orange
Remember the Creamsicles you ate when you were a child? That same creamy orange color is a favorite for interior design and it can work particularly well in the kitchen area. Think of adding splashes of popsicle orange here and there to get your kitchen looking beachy.
49. Peach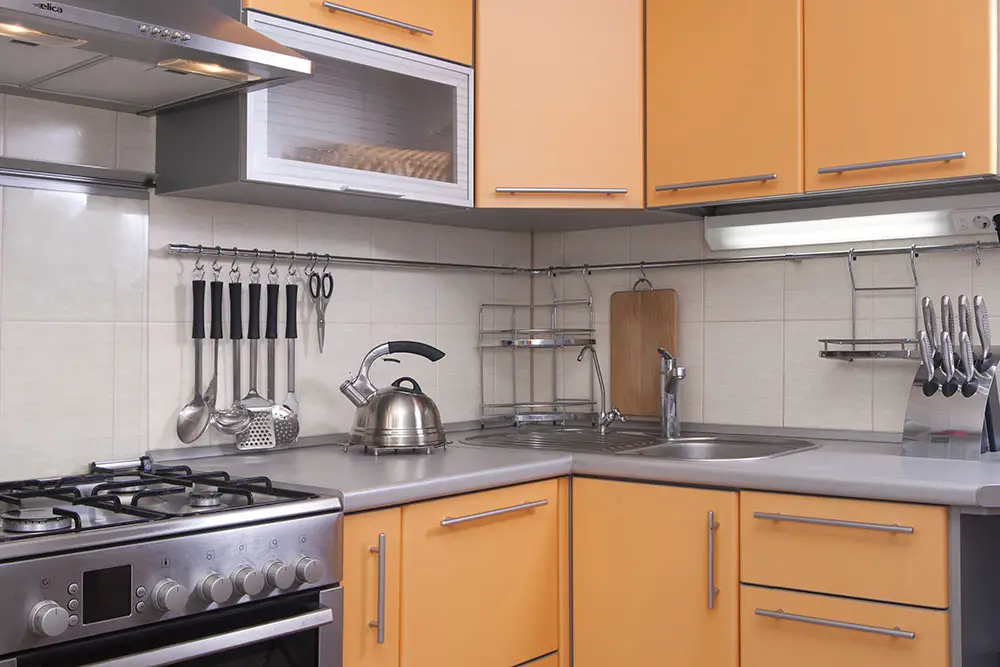 This pale orange is light and vibrant enough to paint all over your walls. Like other shades of orange, it will also be the perfect complement for a beach kitchen while lighter shades work with vintage and traditional designs.
50. Tangerine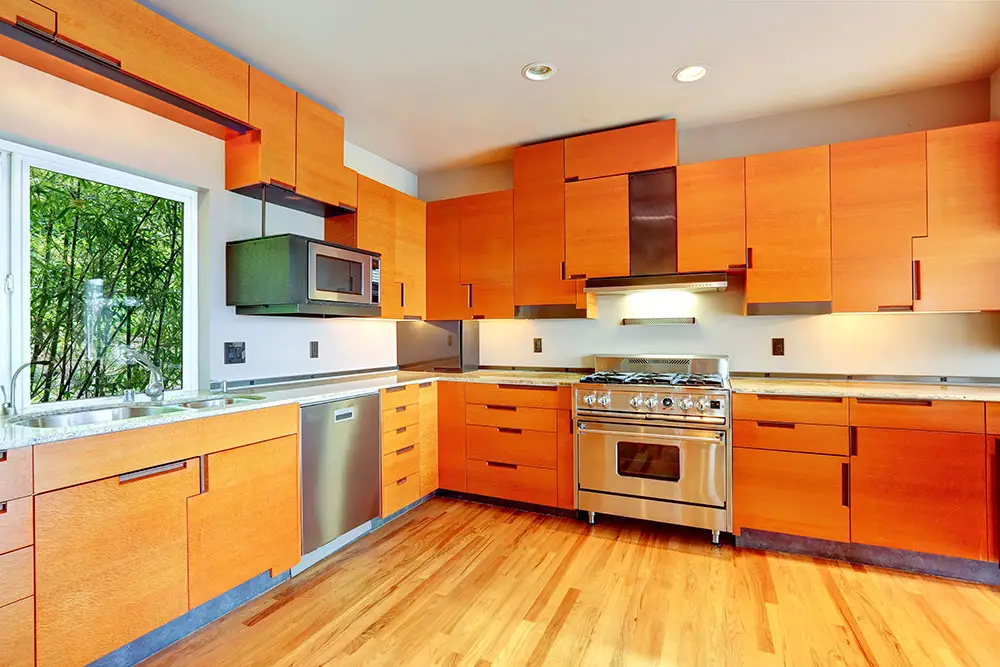 While a true orange may overpower a kitchen, you can take it down a notch by going with a tangerine color. Tangerine may still be loud for an overall kitchen look, but it will add some flavor when used on fixtures and other elements of your décor. It works with modern and classic looks and it pairs well with neutrals.
With the kitchen being such an important gathering place, it's important to get the look you want, and that starts with the right paint.
With so many to choose from, things can get overwhelming, but this article provides you with options that will narrow the playing field. Which colors will you choose?