Using an external air compressor to paint with can be a nuisance. Thankfully you can pick up the best handheld airless paint sprayer which will make your life much easier. They are portable, lightweight and easier to use than their heavier rivals.
What is the best handheld airless paint sprayer? That's what we wanted to find out. You need to figure out what type you want before looking at features such as cup size, weight, power and also what kind of accessories they come with.
We've put in the hours of research so you don't have to! We've found four exceptional models that don't need a separate air supply and would do a fantastic job.
Along with our reviews, we've written a buying guide so all you need to do is read on to find the best handheld airless paint sprayer.
Our Pick
Graco makes many great sprayer tools with this perhaps being the best example. Given its capacity, it's ideal for completing any small to medium-sized jobs either in or outside the home.
This is our top pick as we think it is the best true airless paint sprayer out there today. It's perfect for many reasons, including how the cordless design gives it brilliant usability. You also get the level of build quality you can expect from a Graco tool.
It gives you pressure control and has a range from 500 to 2000 PSI.
It works off a DEWALT XR Lithium-Ion battery which has a very strong runtime and will give you strong painting results without any thinning. You can spray up to a gallon of paint per charge and therefore you can get a lot of work done with minimal downtime.
Another feature of this model is that it's fully repairable so should last a lifetime with the right care. It comes with a good range of accessories including two batteries, four flex liner bags and also a storage bag. It's an excellent package and well worth the money.
Why Graco Ultra Paint Sprayer is our top pick
There are many things to love about this sprayer. The cordless design gives it exceptional portability and allows you to use it anywhere.
That's aided by its ability to be used at any angle so you'll always have a continuous flow of paint.
That's driven by the high-powered battery and you get the convenience of having two batteries included for maximum convenience. That convenience is added to by the sprayer having some great features such as an adjustable spray tip and a screw-on paint cup.
Anyone would be able to use this sprayer and it's easy to use, partly due to it having a smooth triple-piston motor. You can use it at any speed and you also won't have to worry about thinning the paint. It's a brilliant model that most importantly produces excellent results.
The downsides
Perhaps the biggest downside to this sprayer is that it is one of the most expensive models out there.
It's a price worth paying if you want the best in high-quality results and build quality. If it's too expensive for you then one of our other models may be perfect.
How we chose the best handheld airless paint sprayer
There are many factors that you have to take into account when choosing the best handheld airless paint sprayer. There are a few different types available that don't need a dedicated air compressor such as true airless and the common HVLP.
You also need to consider what you are spraying with. All sprayers are going to cope with the likes of stain and sealer but some of them may struggle with thicker paints. When working with various paint types it can be useful to have a variable power control.
Other features can be important too such as the spray patterns it has, the type of nozzle, what accessories it comes with and the size of the paint cup.
Finally, we looked at key specifications such as size and weight. We took all of this into account when choosing the best handheld airless paint sprayer.
Best handheld airless paint sprayer
This model is brilliant at being able to give you consistent results. It has a fantastic nozzle that not only gives you accurate spray patterns but also a high level of durability.
This is another fantastic model and another that doesn't need to use any external air source. It's technically an HVLP model but works in the same way of being truly handheld and exceptionally easy to use in all environments.
It has three spray pattern options of horizontal, vertical or round. Usability is high here and helped by its well-positioned controls.
This includes a regulator on the trigger that will adjust the material flow to the exact level you want. This allows you to use thinner solutions such as stains but also thicker paints.
Along with the sprayer, you get two cups with one being a quart in size and the other being 1.5 quarts. Whether you are working inside or outside, this is going to get the job done. It's easy to get started with while also being easy to clean.
What we liked about Wagner Spraytech
We are very impressed by the versatility of this model as it's going to get any type of job done. You'll find yourself coming back to it repeatedly, whether you are staining your deck outside or using thicker paint inside your home.
It has impressive power and will get any job done quickly and efficiently. That's aided by the adjustable paint patterns it can produce along with the adjustable flow rate. This gives you an excellent level of control to get results that you can be proud of.
Another thing we like about this sprayer is the price. It's very affordable and ideal for those who don't need to complete the biggest jobs. Using it is also very easy as it doesn't take a lot of effort to disassemble and clean it up after use.
The downsides
It's worth noting that the sprayer can be quite heavy to use when fully loaded and may be a struggle for some.
While it can use thicker paints, it does slow down the painting application and therefore it can take a long time to complete large jobs without any thinner.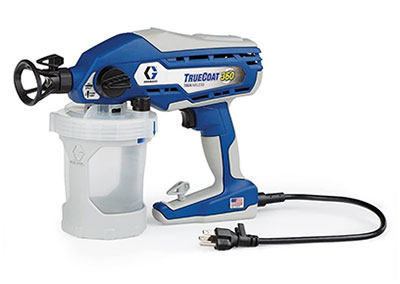 A unique design aspect of this sprayer is that it used bags instead of cups. These make cleaning exceptionally easy as you don't have to constantly clean out your cups. You can instead use a bag that you can reuse or recycle. The bag replacements are also quite cheap to buy.
Graco has also been able to make another true airless model with their 'TrueCoat 360' sprayer which is a corded model. One of its big features is that you can continuously spray your paint as it has a reversible tip if it happens to get clogged.
Along with those features is their 'vacuvalve' technology which allows you to spray the paint in any direction and at any angle. This makes application a lot easier than with cheaper models as you don't have to worry about an inconsistent finish.
The build quality of this model is impressive throughout which is shown by its stainless steel piston pump along with the solid overall construction. It has a material capacity of up to 32oz, weighs 3.5lbs and has a fixed speed of 1500 psi.  
What we liked about Graco TrueCoat 360
We loved the range of innovations on this tool that help to make it very easy to use. Two of these allow it to rank very high in terms of usability with the reversible tip and the liner bags which help to reduce downtime and mean a minimal amount of maintenance is required.
This is also a brilliant sprayer for those who have jobs in hard to reach places. Its ability to spray in any direction allows you to get a consistent finish. This is great for the likes of outdoor furniture where you can't always spray it perfectly in front of you.
Another thing to love about this sprayer is its ability to use any type of paint which helps to give it excellent versatility. Overall it's a very impressive sprayer that gives you high value for money. It'll give you excellent results with a minimum of effort.
The downsides
One feature we would have like to see is variable speed control as it works off a constant pressure of 1500 psi.
That being said, Graco also has the 360DS and the 360VSP in their range which are for larger jobs and have a higher level of speed control.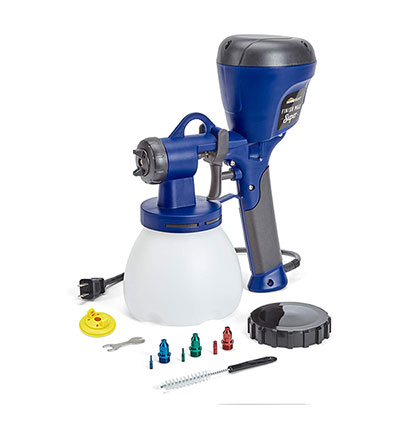 There is plenty of adjustability on offer here with three spray patterns available as you can either paint horizontally, vertically or with a round spray pattern.
HomeRight has also made a paint sprayer that is exceptionally easy to use and produces fantastic results. It's very easy to set up and will allow you to get a professional finish on any of your DIY projects whether that is outdoor fences or an indoor cabinet.
You can also adjust the material flow with the dial situated on the handle.
The adjustments don't stop there as it has three different tips depending on the material you're using and two air caps that can adjust the width. All of this is fed through the 39-ounce container that allows you to get plenty of work done before refilling.
The 450 watts of power here enables you to get any job done and that includes working with the likes of enamels and latex paints. It makes it ideal for larger projects as you can work with any materials and cover a large area with one fill.
What we liked about HomeRight C800971
Along with all of its impressive features, we love that this sprayer is more compact and lightweight than other sprayers that we looked at. It makes it easier to use for long periods with less stress when completing larger projects.
That adjustability we talked about is also very impressive. It means you can complete a wide range of different jobs with ease. This includes working with all types of paints, different surfaces and also at a multitude of different angles.
Usability is also very high with this paint sprayer. The paint cup easily screws on and off, there is a soft-grip handle which makes using it very simple and it is also easy to clean. This is all backed up by a two-year warranty which shows the level of build quality it has.
The downsides
There is a lot to be impressed by with this paint sprayer but the length of the power cord is a little annoying.
It almost certainly means you need to have an extension cord, even if you're quite close to the thing you're spraying.
Why you should get the best handheld airless paint sprayer
There are many great reasons to get a handheld airless paint sprayer. Whatever the job you're trying to do, a paint sprayer will allow you to complete it a lot quicker than if you were using a brush alone. This also saves you from the effort and strain brushing can cause.
With an airless sprayer, you also don't need to worry about the set-up of having a dedicated air compressor. It makes it very easy to use. It makes these sprayers lightweight and portable as you can use them anywhere you need.
You also get an exceptional level of versatility with one of these sprayers. Both of them can be used either indoors or outdoors, on a wide range of different surfaces and also with all paint types. That means you're going to get a lot of use out of them.
The good:
Fast application
Easy to use
Versatile design
Lightweight and portable
The bad:
Things to consider before buying a handheld paint sprayer
Type
There are a few different types of paint sprayers available and it's important to know the differences between them. Here we break them down to the standard sprayer, HVLP and true airless models.
Standard: These are the triggers that are designed to be hooked up to an air compressor. All of the power here is coming from the air compressor here so the sprayer itself is usually quite cheap.
The expense comes from needing the rest of the equipment. These of course aren't going to be handheld but you can get air compressors that are quite portable.
HVLP: When looking at handheld paint sprayers, these are going to be by far the most common type. It stands for high volume, low pressure and will draw air in from the back.
The larger models need an air compressor but the handheld versions don't. We've looked at a couple here as even though they aren't true airless models, they are a great alternative and don't require an external air supply. Handheld airless models are also quite rare.
These models are going to be the best idea for those looking for more precision from their spraying. The lower pressure means you can get a smooth even coverage with less overspray and wastage.
This is great for indoor jobs and the likes of outdoor furniture. The downside to these models is that they lack power for larger jobs.
Airless: Airless paint sprayers are going to be better for doing high-volume jobs where you want to apply a lot of paint quite quickly. A perfect example of where they shine is fencing where you can get the job done a lot quicker than other types.
They also work with a greater range of paints as their extra power allows them to pull through the thickest paints. They can be used indoors but you do need to be more careful with surface preparation as there is going to be more mist and overspray.
Due to that power, there are very few handheld airless paint sprayers. Most of them come with an external motor and a tube that feeds directly into a tub of paint.
This gives you a higher capacity but is a lot less portable. Portable airless sprayers give you all the advantages but do get through paint quite quickly.
Weight
There's no use having a handheld model if you're not going to be able to hold it. The weight of the unit is going to be an important factor. This is a benefit of using an air compressor as the paint sprayer itself is only going to be light.
It's a good idea to pay attention to the weight and double-check whether or not you're going to be comfortable holding it for extended periods.
As they have their own motor, airless models can tend to be a little heavier which makes having a comfortable grip even more important.
The importance of this can depend on the type of jobs you're going to be completing. If you're only doing quick work, then it's going to be less of an issue.
For longer work, you'll want to ensure that you can handle the device and maintain a steady and accurate flow.
Paint Cup
The cup size is also going to play an important factor in the weight of your sprayer. There is an obvious balance here as you want a plentiful supply of paint while not having something that is either too heavy or bulky.
The best cup size for you will depend on which side of that balance you prefer to be. Some like to be as light and maneuverable as possible whereas others hate having to refill their paint cup. There are some companies that give you varying sizes of paint cups so that you can alternate between them.
The great advantages of paint cups are that it makes the device truly handheld as you don't have to worry about anything getting in your way. Moving around is extremely easy and this makes them great for painting in difficult spots.
On larger paint sprayers, we see that they don't have a cup at all. Instead, they'll have a hose that will directly lead into your paint tub.
While this does have the advantages of a constant flow of paint, you do need to worry about the hose constantly being in the paint. You're also restricted by the length of the hose and it also needs to be cleaned every time you use new paint.
When looking at a sprayer with cups, it's good to see if you just get the one cup or you have extras with it. After each paint you use, your cup will need to be cleaned.
It can be useful to have more than one so you can be more flexible with how they are used. As we mentioned, some will also give you different sizes of cups.
Along with this, you'll also want to see if they sell replacements and how much they cost. After a time you may feel that they need to be replaced. There is also the chance of them being cracked or damaged. You don't want to pay a heavy price for new ones.
The Graco TrueCoat 360 Paint Sprayer is unique in that it uses bags instead of cups. This can make clean up very easy. These bags are cheap to buy and therefore you can simply recycle them after you've finished, but they are also reusable.
Spray Patterns
It's good to have a choice of different spray patterns as this can help you achieve the finish that you're looking for in different situations.
These spray patterns are generally either horizontal, vertical or circular and they all have their own use.
Horizontally: This is best when completing tasks where you're going up and down with the paint' such as door frames. The wider pattern allows you to cover a wider area and have more precision when finishing the edges.
Vertically: In the opposite way, vertically is better when you are going side to side motion, for the same reasoning as it's easier once you get to the edges. An example of where this is useful is when painting any rectangular surface, such as walls.
Circular: This is ideal for general use and when you need to be more precise on trickier areas such as moldings. This can give you a greater level of control, especially when you're spraying at lower speeds. Some models may only offer you a circular spray pattern.
Variable Power
Having a variable level of power can be useful for getting the most out of your paint. This allows you to have a greater level of control over how the paint comes out of the sprayer and helps you to minimize wastage and get a better finish.
Lighter solutions such as stains and sealers don't need much power at all. Using too much power with these types will easily lead to overspray and a big wastage. Using lower power will be more cost-effective and lead to more consistent results.
Conversely, thicker paint needs a higher level of power to get through the sprayer efficiently. At low power, they are prone to blockages or the paint simply dripping out. Utilizing a higher level of power can avoid these issues.
This is not a solution that is offered on all devices and most of the time you'll happily use your sprayer on the highest setting. If you wanted a little more versatility and precision, however, then this can be a useful feature. 
Nozzle
Another crucial consideration is the nozzle of the sprayer. This can determine what type of paint you can use as some need different types of nozzles.
For thicker paint, it's best to use a wider nozzle as it lets more material through. For thinner paints and stains, the opposite is true.
This generally isn't an issue when using true airless models. Due to their higher level of pressure, they can force thicker paints through smaller nozzles without worrying about it clogging up. On HVLP sprayers, it becomes more of an issue.
Different models deal with this in different ways. The Wagner Spraytech has an adjustable nozzle that can adapt to different paint types whereas the HomeRight Paint Sprayer gives you a choice of different nozzles depending on the task.
Accessories
Whatever type of product you're buying, it's always nice to have some accessories. Here we take a quick look at what might be included in your package.
Cleaning brushes: Paint spraying can be a messy job but the right cleaning brushes can make it a lot easier.
Tips/Nozzles: These can make using different types of paint much easier.
Straws: Having a spare straw will allow you to switch paints without needing to clean.
Lid: Having a lid for your cup can help to keep your paint as fresh as possible.
Case: A case is always a great idea for safe storage.
Spare cups: Having more than one paint cup can make your life a lot easier and reduce the need for constant cleaning.
Application and Safety Guide
There are three main areas of concern when it comes to using an airless handheld airless paint sprayer and they are fire/explosion, injection and inhalation.
Fire/explosion: The risk of this is minimal but something you need to be aware of. This can happen when you are spraying a flammable fluid with no ventilation. This vapor can ignite with a spark and cause an explosion. This spark may be caused externally or by an ungrounded spray system causing a static shock.
Injection: If your sprayer is powerful enough, it can cause the paint to pierce your skin when fired at it. This can be caused by your body being too close to the tip or by grabbing a leak. This can cause the paint to enter your body which can be toxic.
Inhalation: With those small paint particles, it's possible that you'll inhale tiny droplets of paint. This is always dangerous but can especially be an issue when you have paint that is particularly toxic, noxious or solvent.
Safety precautions
Dealing with these issues is fairly straight-forward and simply requires a little bit of preparation.
Ventilation: Make sure you're only spraying in well-ventilated areas and there should be a flow of air through the room. If necessary, you can use a fan. This will prevent the build-up of flammable vapor but also reduce the chance of inhaling paint.
Fire prevention: You should ensure anything that could cause a spark has either been turned off or removed from the room. It's best to clear away any paint that's not in use, including old cans and rags. To prevent a spark you should only use grounded hoses and tape over any unused switched.
Correct application: To avoid the chance of injection, it's a good idea to have a tip guard such as the ones on the Graco models. This will prevent your skin from getting too close to the tip. You should also use the trigger safety, remove any pressure build-up in the system and always point the nozzle away from you.
Protective equipment: It's always the best idea to use a mask and the right one will depend on the type of paint you're using. For particularly toxic paint, you may need a full respirator. It's also a good idea to wear safety glasses and cover all of your skin in clothing.
Read the manual: It's always important to read the manual as each sprayer is different and it may have its own instructions on how to use it. This will also show you what to do should something go wrong with your sprayer.
FAQs
Is an airless paint sprayer worth it?

The answer to this question will ultimately be up to you, but we think so. Using an airless sprayer is simply the easiest way of applying paint for a small to a medium-sized job. It gives you that fast application that you simply can't get from using a brush alone.

They are also extremely to use and you'll be able to get started in no time at all with your painting. The versatility means you can also use it on a wide range of surfaces where you may have otherwise needed to buy brushes. You get the portable advantages of a brush but all the benefits that come with a sprayer.
Which is better air or airless paint sprayer?

As we covered, the vast majority of handheld air sprayers are HVLP models, which stands for high volume, low pressure. We included two of these models as though they aren't technically airless, handheld models don't need a separate air supply. True airless models, on the other hand, used a piston instead of compressed air.

HVLP models are generally cheaper but will spray at a much lower pressure and at slower speeds. They are better for indoor work and jobs which need more finesse. Airless models have less finesse but a much higher pressure level which makes them better for bigger jobs.

Neither of these handheld models can match the pressure and control that you can get from a dedicated air compressor. A model with an air compressor is best for the largest jobs but you get the added cost and difficulty that comes with the extra equipment required.

The answer to the question then depends on what you're looking for. If you wanted to complete small indoor jobs then an HVLP model may be more suitable. For larger jobs, a true airless model can be better. All of the models we've looked at here, however, are suitable for all types of jobs as they have great versatility.
Do Airless sprayers use more paint?

Generally, airless sprays do use quite a bit of paint and will use more than if you were to use a brush alone. That being said, this can cause them to apply a superior coat to just using a brush and therefore it can give you a better finish.

The exact amount of paint that you use is going to depend on your application method. If you are slower and more deliberate with your paint then you are going to useless. If you want the quickest application then there is going to be more wastage and overspray.
Can I use an airless sprayer indoors?

Most air sprayers can be used either indoors or outdoors, and all of the models that we've looked at here can be used in both areas. This means you can easily use them on a wide range of different surfaces such as on furniture or even door frames and baseboards.

The big thing to appreciate here is that a sprayer isn't as accurate as a brush. Due to this, preparation is going to be vital and you need to ensure all areas you don't want to paint are very well covered. You'll also want to wear a mask along with covering your skin.

If you're working with fine paints at high power then it may take a while for the particles to land. It's worth bearing this in mind as you'll simply need to take extra care when you're working indoors.
What kind of paint do you use on an airless sprayer?

The answer to this question will depend on what type of sprayer you're using. Cheaper and lower-powered models may struggle to cope with thicker substance. They can lack the power to feed the like of latex paints through the tool.

All of the sprayers we've looked at here will do a good job of working with all types of paint. If you are using a thick paint then it's important to check that your sprayer can cope. While a lot of sprayers can cope with thicker paints, it will often require a slower application.
Are airless paint sprayers messy?

When compared with brushing, using an airless paint sprayer is going to be messier. That's because you don't have the same level of precise control as you do with the brush. That being said, the best paint sprayers are going to give you a good level of control.

Most of them are also going to produce a bit of overspray but some do a lot more than others. If you want the ultimate in control then it's good to look for a model that has plenty of adjustabilities and therefore will cause less mess.
Do I need a compressor for a handheld sprayer?

This depends on your definition of handheld. Here we chose four sprayers that just need a power source and nothing else. None of these models need an external air compressor.
Can I paint a fence with a handheld sprayer?

Yes, you can. If it's a large fence then you may need quite a few refills of your paint cup. When painting a large area such as this, it's best to choose an airless model rather than an HVLP sprayer.
So I need to thin my paint when using a sprayer?

On low-powered HVLP sprayers, you may need to thin the paint as otherwise it will clog and come out very slowly. All of the models here will cope with higher viscosity liquids, especially the two Graco models we looked at.
Final Thoughts
Our buying guide has hopefully given you all the information that you need to make an informed choice on the best handheld airless paint sprayer for you. The four we've selected here are all very easy to use while offering a high level of versatility.
We are impressed by all of them but the Graco Ultra is our top pick for a few reasons. It's a true airless model that is able to deliver a very high level of pressure. The build quality is fantastic and you'll love the results it gives you. Also from Graco is the TrueCoat 360, which is perfect if you wanted a cordless version that has many of the same features.
For those that wanted to do detailed indoor work then the Wagner Spraytech would be ideal. It's perfect for those smaller jobs but is still powerful enough to cope with all types of paint types and has excellent versatility.
Another model with impressive versatility is the HomeRight Paint Sprayer. This is extremely easy to use and will get the job done in no time at all. Whether working indoors or outdoors, this is a sprayer that's not going to let you down.
We made sure to only pick four high-quality sprayers that can complete a wide range of tasks. If you have any doubts, then simply think about which sprayer is most suitable for the jobs you want to complete. All that's left to do is choose the best handheld airless paint sprayer for you.