Without a doubt, air conditioning technology changed our world in many ways. It would be hard to imagine how hard it must have been living in Australia during their summer months without these devices, as well as states like Florida, becoming retirement destinations without these wonderful means of combating the scalding heat.
But the utility of air conditioners extends far beyond just pure comfort. With a huge increase in temperature-related heart attacks during summer months, having a pleasantly cool environment to retreat to might make the difference between life and death for those with cardiac issues — to mention just one of the many health problems extreme heat might cause, for both young and old. 
So when those scalding summer months come a-knocking, better start scouting for the best portable air conditioner out there! 
Our Pick
With so many credentials and awards under its belt, it's hard to settle for a top pick other than the Whynter-14S.
Besides being listed under Amazon's Choice, this model also won Good Housekeeping's "Best Overall" award for 2019, as well as scoring the highest in its category on the tests conducted by Consumer Reports. 
It's hard not to fall in love with this unit, especially as it's the snazziest-looking portable AC we've seen!
On more pragmatic matters, it develops a blistering 14,000 Btu, enough to keep the largest spaces cool. And it will do this fast, with a highly efficient dual hose system. It also gets top marks for its ease-of-life features, as it features a patented auto-drain function (manual drain optional) which means you won't have to stress yourself with emptying a tray once every few hours. This is all the better since as a dehumidifier, this will remove more than 100 pints of moisture a day! 
Like all best portable air conditioners out there, it has dehumidifying, cool, and fan functions; three ventilator speeds; fully programmable thermostat; 24-hour timer; and a washable carbon filter. To top it all of, the unit is said to run very silently, despite its substantial power.
What we like about Whynter ARC14S:
A true charmer, one of the better looking portable air conditioners out there.
Won several awards from reputable magazines, including Good Housekeeping and Consumer Reports.    
Extremely powerful at 14,000 Btu, it can be used to keep very large spaces cool
It has a patented auto-drain technology, which spares you the hassle of having to do this operation manually (although an option for this is in place)
It sports all the features you would want from a top-of-the-line portable AC.
What we don't like:
Running at 1250W and 10A, it's not that easy on the electrical installation. However, it won't stress it for long as thanks to all the power at its disposal it will finish most jobs fairly quickly. 
How we made our selection of portable air conditioners
Given the huge offer available on the market, from brands with lots of reputation points to uphold, it could be tough to make up your mind on what is the best portable air conditioner for your needs. 
Luckily, our team of researchers comes to your aid, and scouring the internet, we've managed to settle on 5 of the better products out there. We've made our selection by first identifying the top scorers on online retail sites. Taking the rating received from people who've used them, the total number of reviews (i.e. popularity), and the value for money of each product into account, we've settled for a couple of dozen models that seem to have left a particularly good impression on the public. 
Then we've looked at what the most respected online testers and reviewers had to say about their quality and value for money to finally narrow down our list to a more manageable five, among which we hope you'll find the portable air conditioner that's just right for you.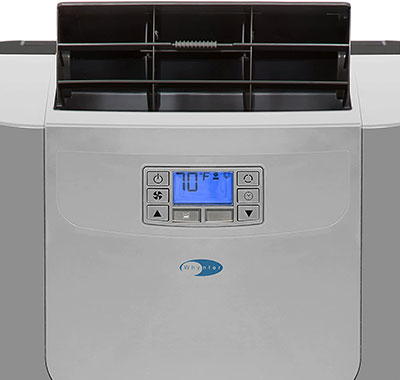 At only 60lb it can easily be carried by car and at its maximum fan setting (out of three available) it can reliably cool 450 square feet of space.
"Trusted, tested, and approved" by the ever-so-reliable people at Good Housekeeping, this 12,000 Btu unit also caught our eye thanks to its many positive consumer reviews. And taking a look at the level of performance it can deliver in an incredibly small package, it's easy to understand this level of popularity. 
It does so remarkably fast, as it uses a dual hose system that can easily be connected to a regular window, with adapters available to be bought separately for sliding doors and other openings. Noise level is likewise surprisingly low, with only 52 dB advertised by the manufacturer and confirmed by satisfied customers. 
Otherwise, it comes with everything you'd expect from a modern machine of its kind: full thermostatic control, 2-way directional air oeuvres, a carbon air filter that can be washed under a hose, a 24-hour programmable timer and an auto-restart function for power outages. Really, it ticks all the boxes and it does so at a surprisingly low cost for a unit of its size.   
What we like:
With only 60 lb. of weight behind it, it's incredibly light for a 12,000 Btu model and it also comes with a hefty set of wheels so you won't have any problem moving the thing around the house.
Highly versatile, it can also be used as a dehumidifier for up to 76 pt./day. It also has an energy-saving "fan" option and 3 fan speeds.
It uses an eco-friendly CFC-free refrigerant, so you won't have to worry about poisoning the environment once the Whynter finally pays the ferryman.
It's as programmable as they get, with a free-adjusting thermostat and an auto-start and stop function that can be set for an interval of up to 24 hours.  
What we don't like:
Like all dual-hose designs, it uses quite a deal of power when it's on, and there's no energy star logo to be seen on the product anywhere. However, since it does its job in a timely manner, it is still "greener" and cheaper to run than most alternatives.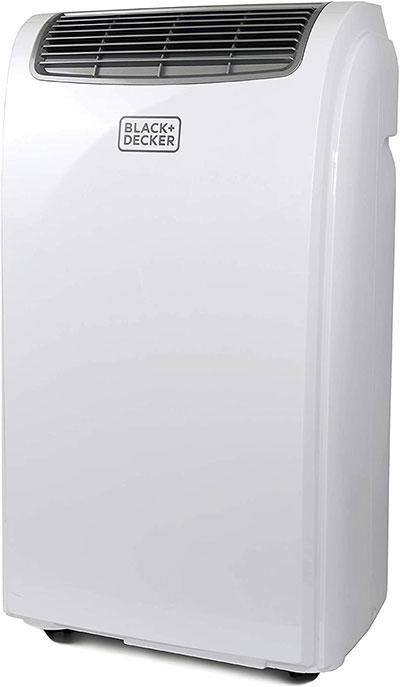 This 8000 Btu air conditioner doesn't stray far from that philosophy and it does it well, as one of Amazon's top sellers in its category, with a star score to match.
Few people who lived long enough on this Earth haven't heard of the ever-so-ubiquitous Black+Decker. What's more to say about them? Their products offer the same features as competing models of the "premium" variety at a bargain price. You shouldn't expect them to work as well as, say, a Bosh, but they are still reliable enough to be top sellers. 
Most of its customers appreciate how easy it is to install, with a sliding panel that can fit almost any window and only one hose to worry about. This also allows for quite a deal of leeway in placing it, at 5 feet of length. 
Other things to impress is the fully adjustable thermostat with a 24-hour timer, a remote control, and a washable filter that only needs scrubbing if pets are involved. Now, this is advertised as a no-drip model, meaning there's no tray or bucket to collect water, but sadly, a lot of dissatisfied owners didn't end up seeing it that way, having to regularly drain the unit by removing one of its panels. 
What we like:
A high degree of function at an affordable price. You might end up with a bargain *in most conditions* if choosing this unit. 
Very easy to install and work with, people find it easy to set up and program, aided by a remote control. 
Although not the lightest unit in its class, this Black+Decker is fairly compact, ideal for a small apartment or dorm room.
Highly programmable, you can set it to stop and start anytime within 24 hours.
What we don't:
A number of customers complain that this unit struggles with dehumidifying places that are especially humid. You might want to stay away from this one if living in Florida.
With only one exhaust hose to brag about, this JHS is almost as impressive as our top scorer.
At only 53 pounds, it's relatively light for a 10,000 Btu-strong unit, meaning it will be easy to move from room to room, as well as set up since its window fitting is adaptable between 9 and 50 inches. 
You shouldn't be too worried that this unit will struggle with large spaces, as a great number of satisfied customers found that it can do a good job with cooling spaces that are actually LARGER than the 300 square feet the manufacturer advertises. Like with the Black+Decker we've looked at, its hose also extends to nearly 5 feet, although it is never recommended for it to be at full length (the machine might struggle and condense might form). 
Speaking of which, this also works great as a dehumidifier, removing up to 7 pints of moisture per day. As a clever piece of design, the water is stored in an internal tank inside the machine, helping keep the compressor cool, extending its lifetime as well as mitigating the differential pressure problem single-hose designs are prone to.   
What we like:
Feature everything you would expect from a top-scoring model: a free adjusting thermostat, 24-hour timer, all adjustable via remote control.
Some users report it can do a good job at cooling spaces larger than advertised. Although we feel the need to note that this is highly dependent on the room's "background" temperature (how much sun it gets, if electronics are present etc.)
Relatively light for a unit of its capacity, it can easily be carried by a healthy adult or rolled around on its wheels. 
It employs a very clever system of water storage, which helps keep the internal workings cool. 
What we don't like:
The same water storage system has been found by certain people to cause problems, with the rubber plug at the bottom sometimes found to leak. This is far from a deal-breaker; any user with a bit of ingenuity should presumably be able to provide an easy fix with an additional O ring or something similar. 
Just freshly off the drawing board, this Vremi portable AC unit hit the market with a bang, earning it a #1 New Release on a certain retail site.
What struck us first about this product is the stylish LED display, which blends seamlessly with the rest of its white casing. Now, this might seem a bit shallow on our part, but since the Vremi offers pretty much the same functionality as any other model in its class, every little bit that acts in its favor might sway some folks. 
We've looked at the 10,000 Btu version, which is advertised for spaces ranging from 200 to 350 square feet. Be warned that you might want to stick close to these figures, as the unit only uses a single hose, and this system is known to offer less leeway in regards to the amount of space they can effectively cool. 
The thing most people found impressive about this product is its low level of noise, even at the maximum fan setting. This was rated by the manufacturer at 51 dB, but for the most part, the Vremi will run more silently than that. It also seems to be particularly good as a dehumidifier, with as much as 117 pints of water removed per day. 
What we like:
A handsome product, with an attractive and informative LED screen.
Highly adjustable outtake which can pivot on both the vertical and horizontal axes.
Many people found it to run very silently, which can make it the ideal choice for those who are particularly bothered by white noise.
Comes with everything you would want from a portable air conditioner: fully adjustable thermostat; 24-hour programming; a fan function.
What we don't like:
The dual washable filters this comes with aren't really all that thin, and particles bigger than, say, dandruff will probably get through. On the plus side, this makes them easier to clean and will lengthen the time between washings.  
Why go for a portable air conditioner? 
Before going into the criteria by which you would select the right portable air conditioner for you we'll delve into why you would choose one in the first place as opposed to, say… going for a window unit. 
One of the advantages of a portable system is its mobility, as the unit can be moved from room to room as required without *too* much hassle. This does wonders in lowering the initial investment cost as you won't have to buy multiple window units for the most circulated areas of the house. 
Second, you won't be limited in their installation by the placing of the windows. Air units work best when they face the center of the room, and in many houses, window openings aren't always near the middle of the wall. Many times when they are, these tend to be the only natural lighting sources.
This brings us to the next point, portable units don't obstruct nearly as much window space (if at all) as frame mounted ones, which means you won't be partially deprived of natural lighting for the sake of keeping the temperature in a room bearable. Furthermore, portable units can be vented through any hole or opening in the wall, although windows for obvious reasons are preferred. 
The best portable air conditioners have relatively long hoses connecting them to the window frame, and there are also extensions available, so adequate placement shouldn't be a concern even for large rooms. 
Performance-wise, portable systems tend to conduct more poorly than the latest, state-of-the-art split ductless air conditioners, but make up for it through cheaper cost, mobility, and ease of installation.  
The performance gap between portable models and the regular "clunky box in the window frame" design is less significant, but still there. The experts at ConsumerReports found that all portable models tested were consistently less effective at cooling down a room than window models that advertised the same Btu. It is important to consider this when sizing up your unit, especially if using a chart specifically focused on window-mounted models. 
The difference is not all that much, but still there, and the fact that mobile units roughly cost a bit more than window mounts of the same power and quality can be seen as an exacerbating factor.   
To boot, you should expect for a portable unit to run a bit noisier than the alternatives, as no mechanical parts face to the outside. However, this can vary significantly depending on manufacturing quality, and here are some pretty silent portable air units out there, if the sound is a major issue.  
How does a portable air conditioner work?
Since any of the parts that make up an air conditioner can break — and subsequently be brought separately — it is important to at least know some basics about the working of these machines for adequate maintenance.
Any form of refrigeration unit does its work by using the property of gasses to quickly absorb heat from their surroundings as they expand. A substance employed in this fashion is called a "refrigerant", and it is selected based on the speed at which it can liquify or move from a low to a high-pressure state. 
The air conditioner will use a compressor to rapidly increase the density and subsequently the temperature of the gas. The next stage of the device is the condenser coils. As the name suggests, this is where the gas is turned into a high-pressure liquid through cooling and expansion in volume which allows it to dissipate. 
The liquid is then sent to the evaporator coils, where its pressure drops rapidly, turning back into a gas. This is basically where the refrigeration "magic" happens, as this process draws in a lot of heat. The air near the evaporator coils is released back into the room through a powerful blower while the gas returns to the compressor for another cycle.  
What to look for when choosing the best portable air conditioner 
An air conditioner unit should first and foremost conform to your particular needs when it comes to power, size, and setting up options. The build quality of the unit may also vary considerably, in direct proportion to its cost, which might run from $200 for a small, unpretentious machine, to well over $1000 for premium models used to cool large rooms. Not to be neglected, many manufacturers offer some special features that, among other things, help you adjust the device more precisely or integrate it in a "smart" home.
Choosing the right amount of power
All experts agree that the first thing to look for when deciding what is the best portable air conditioner for your needs is its power output, which is measured in British thermal units, or Btu. This will be primarily dictated by the amount of space that needs to be ventilated, both in regards to volume as well as surface area since ACs are known to generate at least some draft. 
A unit with low Btu will struggle to cool a large space and might suffer unnecessary wear and tear on its compressor and blower while going overkill is not a good idea either. Although larger than needed ACs cool a room faster, the sudden drop in temperature will leave the air more humid, which might prove very uncomfortable, if not detrimental to your health in the long run. 
By no means set in stone, the sizing requirements recommended by most manufacturers are as follows:
8,000 Btu for 1,600 cubic feet of space; around 200 square feet for your regular 8-foot ceiling home
10,000 Btu for 2,400 cubic feet, which translates to 300 square feet of surface for most American homes
12,000 Btu for 3,200 cubic feet and 400 square feet going by our 8-foot ceiling constant 
13,000 Btu for 3,600 cubic feet of space with a 450 square feet surface
14,000 Btu or above for 4,000 cubic feet and 500 square feet of surface
Needless to say, those figures are far from universal and other factors that might contribute to the temperature of the room, such as access to sunlight or various appliances should also be considered. Regarding these, a variety of home improvement specialists venture to offer some rough figures. 
In heavily shaded the capacity needed can be lowered to about 10%
For well-lit rooms, the opposite applies, with a 10% addition
If more than two people are expected to regularly occupy the room (such as in a small office), look for an increase in power of 600 Btu for each additional person
For units that run in kitchens, it is advisable to increase capacity by at least 4,000 Btu
It is our experience that continuously running electronics, such as computer rigs that need powerful (850-1000W) PSUs make for significant heat sources, and might require an increase in capacity greater even than a fully equipped kitchen 
Size and mobility
An air conditioner wouldn't be deserving of the title portable if not at least somewhat convenient to place and move around. If you intend to use the unit for multiple rooms, you should be highly conscious about its weight and overall size. Finding the right spot for a model with a significant girth in a crowded room, such as a children's bedroom, might require a surprising amount of head-scratching. 
On the weight front, most portable ACs top at around 80 pounds, which shouldn't pose a problem with moving around the house for a regular adult, provided wheels are in place. Oddly enough, there are wheelless models out there, which might be seen as a feature by some, since their absence provides a more stable platform and fewer things to break. 
Even when this isn't the case, folks might prefer carrying the thing around with the aid of a friend as the tiny rollers attached to some models can have a hard time negotiating various obstacles around the house, such as thresholds or even heavy carpets. If this isn't an option, you might want to seriously consider a portable air conditioner that really lives up to its name with a hefty set of wheels. 
Placement is rarely a hurdle
Where the unit will sit in the room will primarily be dictated by the length of its exhaust hose and the placement of the windows. Nearly all manufacturers offer a horizontal bracket as standard for frame placement and ample instructions for how to install portable air conditioners on horizontal windows; which is by far the most common set-up. 
There are also exhaust hose extensions as options (although be warned that using these can null some manufacturer's warranties), as well as adapters for tilting windows, sliding windows, and doors. These are all very easy to work with and can be set in place by someone with a minimum or even utter lack of technical skill in mere minutes. 
For those who want even more, there's, of course, the option of just drilling a hole through a wall and putting in an appropriate fitting. There's a multitude of guides out there on how to vent a portable air conditioner through a wall, so we won't dwell on this aspect beyond warning you that it might not be the best idea for those living in concrete or brick houses. 
There is also the option of connecting the exhaust to a dryer vent, although in the case of most models the diameter of the hose would be too large for the port, so unless you feel confident doing some jerry-rigging, it is advisable to settle on a model with a 4 inch fitting at the end of the hose. Furthermore, this is not to be attempted if the external opening of the dryer vent contains a flap, as the hot air coming from the AC won't offer enough pressure to push it, causing blowback. 
Single hose or dual hose?
There is a noticeable cost difference between the two options, and a bit of knowledge about how each one operates is required when deciding if it is worth going for the more expensive dual hose. 
Both constructions are outfitted with one hose for evacuating moisture and the hot air used to ventilate the machine's internal parts. This will inevitably suck some air out of the room, creating an area of low pressure, to which warmer air from the rest of the house will be drawn through slips and cracks. Forced to struggle with a continuous inrush of warm air, the AC unit will take a longer time to cool its allocated space. To give you an idea, this would be like leaving a door open and expecting a low-capacity unit to cool the room this connects to as well.    
The dual hose system solves this problem by drawing air for self-ventilating from outside the house, through the additional intake connected to the window. It might not seem such a big deal, but this solution can shave off as much as 40% of the time required for the unit to cool a space. This also means less wear and tear on the machine, as it will be expected to work for a shorter time,  and fewer dollars spent on your electricity bill. 
However, single hose systems present their own series of advantages: they're more portable and easier to carry, and overall use less electricity at any given time, being more forgiving to your wiring.      
Efficiency 
According to Energy Star, Americans spend an annual 13% of their energy bill keeping their homes cool. Consequently, a high-quality air condition unit that does a good job at converting Kw/h into Btu will make for a good investment for the environmentally conscious or the responsible penny pincher. 
As a general rule, premium units tend to be more energy-efficient and might cover their initial purchasing costs faster than you would expect, especially if living in a particular warm state, notorious for their high electricity costs. 
In this case, looking for the Energy Star logo in the case of the portable AC might be a top priority, as these use at least 10% less energy to run as an equivalent non-certified product.
Another thing to note in this regard is that most modern AC units are known to be able to operate well under brown-out conditions, meaning you shouldn't be worried if potential energy in your area drops below 120V or 220V (whichever might be the case) regularly. 
How to maintain a portable air conditioner 
Performing regular maintenance on the portable air conditioner so it always stays in tip-top shape is another way to ensure that the machine will run smoothly and efficiently. 
The condenser coils are one of the most sensitive parts of the whole machine, and require checking and cleaning ever so often (you might want to consult the operator's manual for precise figures). 
Due to their function, these parts will be subjected to constant streams of passing air, which translates to dust and corrosive grease accumulating around their fittings. When fittings eventually give due, it is often cheaper to buy a whole new unit than have a new set of coils installed, so make sure to extend the life of the coils by regularly removing any gunk that might accumulate around their sensitive regions.
Of course, only a relatively small amount of the dust and moisture an AC has to deal with ever reaches the coils. They have filters to prevent that; which also handles the arguably more important task of keeping the air in the room fresh. Filter maintenance will have to be conducted at shorter intervals, but is less vital than keeping the coils in good order. 
Some models employ washable filters — which will almost always demand a good deal of scrubbing — or replaceable ones — which will demand finding a hardware store that stocks for your particular model and some monetary investment. The choice in this regard is up to the consumer. 
Mind over moisture
The best portable air conditioners are pretty good at dehumidifying a room, which offers a number of health benefits to the inhabitants. How you get rid of all that water it collects, however, is a whole different matter.  
The cheapest models simply use a bucket to deposit the condensate that should be emptied at various intervals, depending mostly on geography and how damp certain rooms in the owner's house tend to get. 
Emptying the bucket might get too regular of a chore for some people's comfort, and they might be better advised to choose a partial drip air conditioner. This design releases most of the condensate through the hose, and only a small portion of it gets its way into a drip pan that must be emptied at longer intervals. 
For the most common out there, a no-drip air conditioner should do. This is advertised to release all the moisture through the hose, although most models also come with a tray, just in case. This is a very good feature to have in a "no-drip" air conditioner, as many testers found that no model of this sort actually lives up to its name, although most come very close. 
Other features to consider
All the best portable air conditioners out there (and some of the worst ones too) come with a programmable thermostat. Besides easing your life, this also helps the machine save energy, as it stops it from running when its job is no longer needed. More advanced models also include a timer, allowing the user to set up when the unit starts — say, an hour after the owner arrives from work — and when to stop its activity, regardless of what the thermostat says.
Some units come with a remote control, which is as useful as it sounds, and some can be programmed through a smartphone via a downloadable app that shouldn't cost anything extra if the option is available. 
We've mentioned that portable air conditioners also work as dehumidifiers. Well, some manufacturers offer the possibility to purchase more specialized filters for their models that will make them even better at keeping the air in your home dry. 
If you follow the current Department of Defense philosophy of having one single machine that does it all, then you'll be pleased to find out that there are portable air conditioners out there which double as heaters. Don't expect them to do as good a job as a dedicated unit, but hey, you'll have fewer appliances to worry about. 
Needless to say, the controls should be intuitive and easy to use. You might want to familiarize yourself with them in the shop and purchase accordingly. Surprisingly enough, even in this day and age, you can find ACs that are real head-scratchers to program. Also, a thing often overlooked is the buttons. Some models feature buttons that are of different shape and sizes from one another, so the user can tell what s/he is pressing even if visually impaired.   
Most portable AC units can direct their airflow in one way or another. Some have adjustable louvers, some even have oscillating fans that can be programmed to pivot while they are working. 
A good power-saving feature is a fan-only option, that basically turns off the compressor letting the machine work as… well, a regular fan.  
Conclusion
Working both as dehumidifiers, air purifiers, and even heaters, a portable air conditioner is a very nifty thing to have around the house. Nearly all its functions have the added benefit of protecting your health and increasing well being, besides offering sweet cool reprieve during those hot summer months.