There is nothing better than having access to a combination of technology and nature. Let's face it — all of us enjoy staying in the great outdoors and having some respite from the busy day-to-day lives we all lead.
However, that doesn't mean that we want to be completely separated from technology. If we're being honest, we'll realize that we still want to use our smartphones, for instance.
And we're not just talking about the ever-present social media, but about other uses that we might have for our phones.
What if you want to use your phone as a flashlight, but you don't have enough batter for it? Or maybe you'd like to make use of the phone's GPS features to ensure that you're in the right location?
All of this requires the presence of a portable power supply for your camping trip — and that's without even mentioning the myriad other gadgets that have to be charged at an external power source.
Luckily, modern technology has enabled us to dispel the notion of low battery or power outages, even on camping trips. There's no more need to go off the grid when you set out into nature.
And don't think that this is something that goes against nature, or the point of your camping trip altogether.
After all, we all make compromises with the way of nature when it comes to basic comforts — most of us take cots instead of sleeping on the ground, after all. And this is just another way to make your stay in the countryside or the woods more comfortable!
Our Pick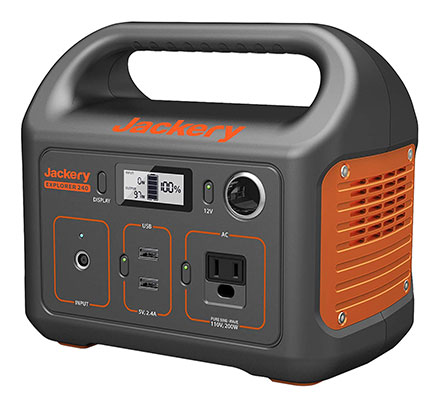 Jackery Explorer is designed for charging mini-cooler, drone, laptops and other outdoor electronics.
When you're picking the best portable power supply for camping trips, you'll find that there are plenty of different options at your disposal.
However, while they're all pretty similar in some respects — you need to make sure that you're dealing with the best possible manufacturers while making your choice. Considering that, we've picked the Jackery Explorer 240 as our ultimate choice among outdoor power sources.
Generally, if you use power stations that are in the range of the Explorer 24, you'll find that they're great portable options for outdoors prepping.
Firstly, the Explorer 240 from Jackery can easily be charged via solar panels; but it can definitely do more than just charge your phone.
What we liked about Jackery Explorer 240
This type of device is fully capable of charging some smaller outdoor appliances that you'd usually use an AC plug for — as an example, a regular mini-fridge can last for 5 hours on one Jackery charge.
As you can see, this isn't a power supply unit powerful enough to power your entire base camp. But, it's portable and handy enough to be used when you set out to explore or hike and you can't take the base power unit with you.
This is one of those practical, no-nonsense devices that represent a cluster of rechargeable 18650 batteries that are connected with some circuitry and a couple of output ports.
Also, it comes with a nifty LED screen which can tell you the current power levels of the device, and it indicates the active output or input slots.
And it weighs just above six pounds, so it's less bulky than most other options on this list; another reason why it sits at the top spot.
One of the best things about the Explorer 240 is the fact that you don't have to unplug devices if you want to stop charging them.
There's a neat set of buttons that allows you to turn all of the power output slots on and off; giving you complete control of what you're powering without fiddling around with cables.
In addition, the outer shell of the Explorer seems pretty durable and sturdy; however, we don't advise dropping it from sizable heights. It seems like it's built to withstand outdoor usage, but it's not in the "rugged" category for sure.
What we didn't like
When it comes to the downsides of using the Jackery Explorer 240, there are a couple of important ones. First of all, you need to keep in mind that this can't be the main power unit for your entire camp.
Second, many users have reported that its optimal operating temperature is from 0 to 40 degrees Celsius; meaning it doesn't cover the entire realistic span of temperatures that you could experience in the outdoors.
How we chose our top pick
Obviously, investing in the best portable power supply for a camping trip is certainly a great idea. But if you don't want to limit yourself to the models that we're going to present here — it's not a bad idea for you to learn how to choose and buy one on your own.
With that in mind, we're going to provide you with a rough guide on the characteristics of portable power units that we take into account.
First of all, you need to keep in mind that there are more than a few options out there if you want to buy a portable power source.
But nevertheless, there are some factors that all of them can be categorized by — and we're going to dissect them all.
Devices and Wattage
The first two characteristics of a portable power unit that we'll look into are also the two most basic ones — the devices which you can power with such a piece of gear, and the wattage that it provides.
Obviously, these two things will have the single biggest impact on your overall power capacity on your camping trips. The number of ports and outlets that any portable power unit can support is also the number of simultaneous devices that it can power.
Of course, more is not always the best possible option in this regard. After all, it depends on the number of electricity-based devices that you're bringing with you.
So, before picking the best portable power supply for a camping trip, make an inventory of everything that you're bringing with you.
Then, think about which of your things require an external power source. Finally, consider how many devices you need to power at the same time. This line of thinking will bring you to your ideal number of device ports for a power bank.
Once that happens, you'll know what kind of device you need. Just keep in mind that if you need a higher wattage and a bigger number of outlets, you'll have to accept higher prices; as the most important features, these are also the two single biggest price driving factors.
Battery Options
Every piece of power supply gear on this list functions as a power storage unit. With that in mind, remember that it's ultimately a gigantic battery that you're dealing with.
Hence, you need to choose what kind of battery you want. Basically, there are only two options — acid and lithium-ion.
You may have heard of lithium-ion batteries already. They're the pricier of the two, but they're simultaneously capable of holding in more power while also being lighter than acid batteries.
Naturally, if you want a power supply unit that's based on lithium-ion engineering, you'll have to pay more than for an acid-based battery.
Recharging
Obviously, even portable power stations don't last forever. Sooner or later, you need to recharge them if you want them to be usable; especially if you've been charging multiple devices on them for a while.
So, when you find that your power supply from the portable power source is running low — you have to start thinking about ways to recharge it. With that in mind, consider which options for recharging your device offers.
This depends on the specifics of your camping trip, and its length; the most common choices here include solar power, car ports, and outlets in walls.
There are devices that can make use of all of these methods, and there are others that only allow one or two. Considering that, make your choice carefully.
For instance, solar power definitely provides you with the most convenience seeing as you don't need absolutely any connection with an external grid.
On the other hand, depending on where you're going — you may not be able to count on enough sun during these days. So, if you're going camping in a potentially rainy area — we recommend finding a model that also has a set of charging ports for your car or a wall outlet.
That way, you'll be able to have power even when it's not sunny outside.
Power Capacity
Next up, we've got power capacity — another important factor when choosing a reliable power source for the outdoors. Basically, the power capacity of your power station will show how much charging time it can offer on the maximum possible number of devices.
A larger power capacity means that it will be able to power your devices for a longer time without requiring a recharge itself. If you're going on a camping trip that might last a while and you don't have secure access to solar power or a wall outlet, this can be a particularly crucial trait.
The last thing you want is to worry about your power running out when you're in the middle of the woods, for instance.
Portability
When you're choosing a portable power station, you can already see how important the "portable" part of it is. Remember, while you can find power sources with wondrous capacity and wattage; they could turn out to be too bulky to be of practical use on a camping trip.
Luckily, these tend to come in all kinds of sizes and shapes; so you can have your pick among them, for sure. As you might assume, the biggest devices most often provide the biggest amount of power.
However, they're also the heaviest — sometimes too heavy for practical outdoors storage, transportation, and ultimately use.
Durability
When you set out to do some camping, there's always the chance that any gear you might bring could sustain damage. It doesn't matter how careful you are — at the end of the day, the great outdoors bring unpredictable conditions.
And let's face it — a portable power supply can be a sizable investment. With that in mind, you want to be certain that it will last you as long as possible.
So, only pick power supply units that are built for use in rugged conditions — that will ensure that they can survive anything unscathed.
The best alternatives
This generator is both efficient and rugged enough to stand its ground in any kind of terrain. Unlike many of its subpar peers, it was precisely designed with camping in mind.
Next up, we're going to take a look at the EcoFlow River. There are a couple of reasons for this. First of all, EcoFlow is a fairly new company; a startup that's made quite a few waves in its industry.
It was founded in 2017, and the creators of the company are former drone developers and engineers. Their idea was pretty simple — coming up with a high-quality source of sustainable, quiet, and clean power for people who enjoy the outdoors.
After a successful crowdfunding campaign, the flagship hardware that they came out with was the EcoFlow River.
What we liked about EcoFlow River
You can forget about all of the fuel-based generators that are both bulky and noisy. If you go with the EcoFlow River, you'll find that you have everything needed in terms of outdoor power.
First of all, it comes with a nice handle that makes it quite simple for transportation. When it comes to charging it, you can use solar power, wall outlets, or ports in your car — it's incredibly versatile.
With this device, you get an astounding 11 different ports for the charging of various devices, AC, DC, USB, and others.
In layman's terms, this means you can use this EcoFlow River to charge pretty much anything that runs on electricity. It doesn't matter if you're bringing an electric guitar or a phone and a drone — this power station can handle them all.
Apart from its power versatility, this device is very durable — an important quality for a piece of camping equipment, after all.
You can use it successfully in all kinds of weather conditions; from scorching heat in the summer to the freezing winter cold. And this isn't just a piece of manufacturer advertising — the Riven truly operates in all kinds of temperatures.
What we didn't like
There is only one particular issue that we can name with the EcoFlow River — the fact that it's definitely not for everyone's pocket.
The hefty price tag means that this isn't a device that every single camper can easily afford. But if you're looking to invest a moderate sum of money into a reliable power source that you'll use for a long time — this is definitely our best choice.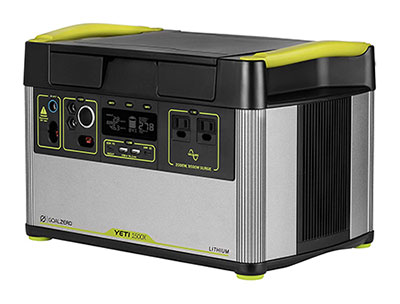 First of all, the 1425 watt-hours that this power supply can give you is more than enough to power multiple devices for more than 24 hours. Plus, you can recharge the Goal Zero Yeti 1400 through a neat solar panel; giving you full independence in terms of location.
Our third pick among all of the portable power supply options out there is the Goal Zero Yeti 1400.
If you're going to opt for a longer outdoors adventure, one thing is certain — you'll need plenty of power and a reliable source of it. And that's precisely what this power station provides you with!
What we liked about Goal Zero Yeti 1400
First of all, know that these devices will give you everything you need to power any kind of device; you can create a neat outdoor home in absolutely any location that you can think of.
As for connectivity, the 1400 model comes with a 12V power pole, a car port, a variety of USB ports, and an AC inverter. That means that you've got more than enough variety for all kinds of devices.
Simultaneously, you'll be able to charge ten different things in all of these different ports. Furthermore, there's also a handy app that lets you monitor individual battery levels and turn the Yeti 1400 on and off remotely.
This power supply is not only easily rechargeable, but it supports WiFi routing options as well. That means you can use it to surf the Internet for various purposes, find the GPS locations of your campsite, search for all kinds of directions, and pretty much do anything you want.
What we didn't like
First of all, we have to point out that Yeti Zero 1400 isn't a perfect device. Just like any other pick on this list, it does have a couple of flaws.
Namely, much akin to our first choice, this device isn't cheap — it's definitely not a basic piece of camping equipment that anyone can afford.
On the other hand, we should also mention that its solar panel charging option is slower than some of the other devices that we've come across.
Still, it's an excellent option for a family camping trip where everyone is looking to charge various devices.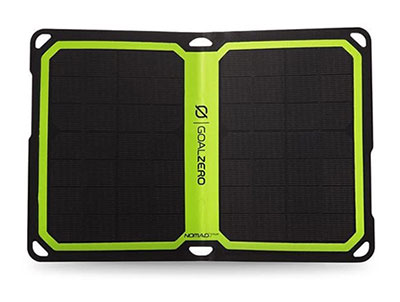 Our fourth choice comes from another premium-level manufacturer of reliable power storage options — Goal Zero. More specifically, we'll take a look at the experience customers have had with their Nomad 7 Plus model.
First of all, know that the Nomad 7 Plus is one of the most portable devices on this list. The entire device consists of a big foldable solar panel that has a couple of USB ports.
So, all you need to do in order to charge a device is to place this panel in a sunny area, pull out its neat kickstand, and voila — it won't take more than two hours to charge the average smartphone.
What we liked about Goal Zero Nomad 7 Plus
Some of the features found on this device definitely warrant its place on a list of the best portable power supply units for a camping trip.
First of all, it has very smart auto-restart features; one that constantly tracks the flow of power as long as the device is operational.
So, if the charging of your device stops for a lack of light or some other weather-related issues; once the sun reappears again, the device will resume charging without you having to do anything yourself.
Apart from that, the Nomad 7 Plus is also resistant to water, so don't worry about rain soaking it and ruining the device. Plus, there's a small pocket vent that prevents it from overheating and serves for general temperature control.
It weighs no more than a dozen ounces, so it can fit in any backpacking package you create.
What we didn't like
Bear in mind that this isn't a storage unit, but it is a portable source of power for camping trips.
So, what does this mean?
This solar panel doesn't have a battery of its own which can be charged for later; it offers no options for power storage. In other words, it acts as a power outlet that uses solar energy — you can only use it to directly power USB devices.
And that brings us to the second issue — this can only be used to power other devices via USB ports, which makes it more difficult to power heftier equipment like laptops or portable fridges. It's pretty much intended to be used as a phone and paraphernalia charger.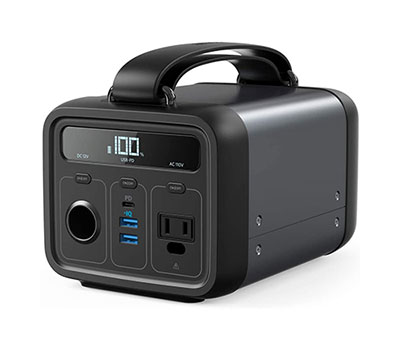 A single charge of this Anker model can power your laptop an astounding 15 times, and it can charge an average phone almost 40 times.
For our final choice on this list, we turn to one of the world's most renowned manufacturers of power storage products — Anker.
And while they're more expensive than some people would like, one thing is certain: the Anker Powerhouse model is certainly the most simultaneously quiet and efficient option among portable power sources.
Firstly, it has a variety of power outlets that let you power all kinds of devices — there are USB ports, an AC port, and a 12V socket for your car.
What this means is that you can pretty much power any kind of device — from a mini-fridge to a TV.
What we liked about Anker Powerhouse
In practice, you will feel like you never left your household at all. And it can recharge quicker than most of its peers — you will find that about 10 hours in a wall outlet are enough for this power source to recharge completely.
And best of all — while you may imagine that this is some kind of huge monstrosity, considering its power capacity; it's actually quite portable.
It doesn't weigh more than ten pounds. And its size is pretty much comparable to a big toaster.
What we didn't like
Apart from the fact that it's not always widely available for ordering, we should also mention that this portable power supply option can be quite expensive.
Let's cover a few basic questions everyone should be acquainted with. Dig in!
What does the portable power supply represent?
Before we take a look at what the best portable power supply for camping trips is, we'll have to answer a more basic question — what is this power supply anyway?
To put it simply, this is a power supply that lets you remain plugged in with all of your devices while you go on any kind of outdoor adventure. All of your devices that function via battery power will have the ability to stay charged whenever you like.
You can find all kinds of power options, from battery packs, entire generators, wind power, solar power, etc — the one that you'll choose to use depends on your outdoor conditions and location, as well as other specifics pertaining to your trip.
These days, portable power supplies contain built-in inverters allowing you to charge any kind of AC-based device on them. Plus, these portable power sources can be charged as well, using solar energy or something like your car battery.
But the point is — they allow you to remain comfortable with all of the electricity-based gadgets and devices that you'd use at home. This includes microwaves, smartphones, electric fans, heaters, and even televisions.
Benefits of Using Portable Power Sources
If you're going to invest in the best portable power supply for your camping trip, you should know why this is such a good idea and if you need them at all.
Generally, solar kits and battery packs are lightweight — don't imagine that you'll be lugging around anything heavy that adds to your already sizable list of camping equipment.
The primary advantage of these portable devices is the fact that you don't have to rely on any kind of established power grid to draw electricity to your devices. Instead, you can be certain that your camping trips will be fully powered by your own electricity.
It doesn't matter where you're going — even the most remote locations that campers enjoy visiting will be fully compatible with these portable power sources. All sorts of travelers make use of this in order to avoid losing some basic home comforts.
Not to mention the fact that you can power all kinds of devices using this gear. For instance, if you've got a camping lantern — it can be recharged using a portable power supply.
The same goes for battery-powered flashlights. And all of this is important to have if you're truly going out into the wild.
Remote Work
These days, more and more people are working remotely. Technology has allowed us to leave the confines of the office and still be superb at our jobs.
And this isn't just because of the coronavirus situation; this trend has become more and more pronounced since the Internet became widely and wirelessly available, allowing people to distance themselves from the traditional office environment.
In today's world, you don't even have to go on vacation in order to go camping. If you don't mind getting some work done in the wilderness; you can basically just take your laptop, a power supply, and any other electronic equipment that you need with you.
Voila — you've got your very own office surrounded by the great outdoors! Your camping trip can last as long as you want it to without any limitations related to your professional life and career.
Emergencies
You should bear in mind that, while a portable power supply is an excellent addition to any piece of camping gear; that's far from the only use you can get from such devices.
If you live in a rural area, power outages are something you may have come to terms with already.
But if you had a backup power supply that's independent of the wider grid — you'd have a stopgap solution for every situation in which the power would go out. This is particularly true for areas with frequent rainstorms and nasty weather conditions.
Portable Power Supply Buying Guide
We've already talked about some of the things that you should consider while buying the best portable power supply for camping trips.
However, we'll discuss the process of choosing and using this sort of device in more detail below!
Other Features
Apart from the main features of portable power supplies that we've covered so far, there's something else you need to think about — additional features.
When you've got a couple of similar power units in the same price range, your choice will come down to the details. We're talking about the smaller features, like LED light power indicators and additional cords.
Think about if any of these features are important to you. After making the required considerations, determine your choice among similar models.
Warranty and Support
When you choose any kind of product, one thing is certain — you want something that won't break down after repeated use. Obviously, you want to get the most bang for your buck.
However, if we're being realistic — even the best possible product may run into issues that you can't expect. Even the most expensive power banks can develop operational problems if you're not using them in the right way, or if they've got a manufacturing issue from the get-go.
With that in mind, make sure that you're choosing products from a manufacturer that's ready to provide you with ample support if you have any problems.
Ideally, you want a warranty that gives you the certainty of a replacement or at least a partial refund if you're having issues with a product.
That's why you want to purchase only from the most reputable manufacturers, like those that we've listed here. Most of them tend to offer time-limited refund guarantees or a warranty period that lasts for about a year.
Pricetag
Finally, there's one thing that we've mentioned in individual reviews but we haven't quite tackled by itself — the price of your product. Portable power generators are one of those consumer goods the price of which can vary wildly.
The simplest power banks for mobile phones can cost less than a hundred bucks — while full-blown power stations can go for more than $1,000.
So, what does this mean for you? When faced with such a variety of prices and features, you need to make sure that you know precisely what you're looking for before you part with your hard-earned money.
Think of all the important features, consider how much you're willing to pay for them, and prioritize. Sooner or later, you'll find something that fits you perfectly!
Choosing a model
With all of the above in mind, how do you actually pick a model? Among all of the other considerations, we recommend getting a charge pack that's at least powerful enough to handle your smallest devices.
That means portable lighting, your phones, and perhaps most importantly for hot weather — electrical portable tent fans. The latter will ensure that you're always cool while in the tent. If you're in an RV, you may need a bigger power source for your electric heater.
Now, the size of the power cells and batteries within your power source will determine just how far away you can go off-grid. If you're taking one of the bigger portable units with you, there's practically no telling how remote of a location you can visit.
However, that's precisely why you need to plan your trip and your choice of a power model simultaneously; one will inform the other as you choose where you want to go and what to take with you.
Also, it's not all just about where you're going — perhaps even more importantly, you need to determine how long you'll be staying in the outdoors.
With that in mind, take a look at the milliamp-hours of your portable power unit. While this isn't a metric that every layman understands, manufacturers often display these values converted into more understandable measurements; like 10 smartphone charges.
Besides this, you need to think about how much you intend to move around between different locations. If you're going to switch camping sites or remote areas a lot, bringing along a lot of hefty gear may not be feasible.
Especially if your portable power unit works on exchangeable batteries; these can be quite heavy, especially if they're acid-based. So, if you want a lot of charge capacity in different remote areas, opting for a more expensive lithium-ion model is a good idea for sure.
Or, alternatively — pick a solar panel that you find the most usable and just power your devices directly. Though, this isn't that practical if you're bringing along a lot of different electricity-based gear.
Speaking of which, just what kind of equipment and devices do you want to power with these units out in the wild?
And once you determine that — how many of them have to be charged simultaneously?
These are all questions that will inform your choice of a portable power supply for camping trips.
Frequently Asked Questions
Now that we've explained everything you need to know regarding your portable power supply for a camping trip — we'll try to answer the most frequently asked questions that all consumers have regarding this topic!
How to use a portable power supply unit?

First and foremost, you need to be certain that your power supply has enough, well, power. That means checking if you've recently recharged it enough.

After that, find the appropriate cables for all of the devices that you wish to charge using your power unit. In the end, all that's left is plugging them in.
Is having more power always better?

As we've already discussed in short above — no, not always. Sure, having a lot of power capacity is always neat.

But remember that you have different priorities while camping in the outdoors — one of which is portability. And the weight and bulk of a portable storage unit are in direct correspondence with its power capacity.

So, if you don't have enough room in your car or RV and you don't want a hefty power supply unit — bear in mind that you'll be able to power fewer devices simultaneously. Still, that could be more than enough for you.
Is there any use for portable generators at home?

You should know that portable power units are safe for domestic use; meaning you don't have to be outdoors if you want to safely turn them on. These devices don't emit gases or any toxins, so you can freely make use of them in your home as well.

And while you may not have the need for these devices in your home all the time, you may require backup power in the case of a power outage or malfunction. In that case, backup battery-based portable generators are always a good idea, even when you're not planning to go camping.
How long does a portable power supply station last?

The lifespan of a specific model of portable power supply stations can vary wildly.

However, if we had to guess a certain average, we'd go with a maximum of three years if you're frequently using one; even if the best manufacturers produced them.
Portable Power Supply And Similar Alternatives
We've already spoken at length about the advantages of portable power supply units — but are there any viable alternatives to this method of powering your devices in the wilderness?
As you might know already, there are always gas-powered alternatives. However, if you think long and hard — you'll realize that battery-based rechargeable power units are the smartest possible choice.
On the one hand, gas-powered generators don't need nearly as much time to get going — you simply need to provide them with fuel; conversely, electricity-based power supply units need to be recharged for hours on end.
But they have a couple of crucial advantages; first, they don't pollute the environment, which is more important today than ever before. As you might assume, gasoline-powered generators are much bigger pollutants than a solar-based generator.
Plus, you don't have to provide these with any fuel — you just have to find a wall outlet to recharge them after repeated use or install solar panels that can get the job done in the wilderness.
And we do have to mention the fact that gas-powered generators are simply far less safe than battery-powered ones, for obvious reasons.
Final Thoughts
As you can see, there are plenty of choices that you can make regarding the best portable power supply for camping trips. You simply have to think long and hard before picking a single unit, seeing as there are more than a few considerations to make regarding your trip.
If you want your investment to be worth your while, some deliberation will be needed!
We hope that this article was useful to you and that you have managed to learn something new when it comes to top portable power supplies to take to your camping trips.
Make sure that you are staying safe in these times we are going through and have a good one, folks!