If you've ever done any woodworking or exterior decoration, you're bound to have heard about cedar. This is one of the best natural wooden materials — used by many people for all kinds of exterior decorations.
And it's not just used for construction either — all kinds of fixtures are manufactured with cedar, such as decks and siding. Apart from that, plenty of outdoor furniture is created from cedar; primarily because, unlike many other kinds of wood, it has some natural properties that make the formation of microbes like fungus less likely.
This is a strong and durable kind of wood — bound to bring both strength and aesthetic appeal to the exterior of any building you can think of. Its warm and natural tone is bound to add to the look of your garden.
If you think about using outdoor cedar furniture, you'll find that it fits into all types of climates and surroundings; it's got an all-around quality character that can easily be adapted into many different aesthetics.
However, that being said — as with most other types of outdoor wooden furniture, you don't want to leave it without a protective finish outside. This can cause the natural color of the cedar to fade away; furthermore, it also becomes more likely to rot after exposure to dampness and humidity.
One of the smaller downsides of cedar furniture is that it's more expensive than other commonly used types of wood. With that in mind, you don't want to make compromises regarding its integrity.
What you need to do is to pick the best finish for outdoor cedar furniture; that way, investing in cedar furniture will be a great idea because it's bound to last you a long time.
Considering this, we're going to present you with some of the finest finishes for this type of furniture out there on the market — and a guide on choosing one yourself and applying it.
Our Pick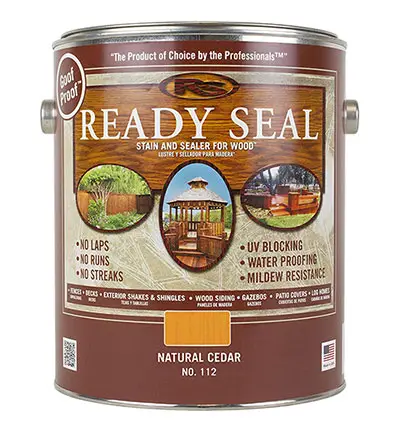 The Ready Seal 112 product is more than prepared to provide all of the shielding you need from both rot and mildew; while also retaining the natural beauty of your cedar furniture.
Once you start your search for the best finish for outdoor cedar furniture, you're bound to run into this product; which is why we've placed it first on our list!
If you want to give ample protection to the gorgeous natural cedar furniture surrounding a log forest getaway; this is definitely the choice for you!
What we liked about Ready Seal 112
First of all, we'll mention that one of the biggest upsides to the Ready Seal stain is that it's incredibly simple to apply; something that's important for most people who haven't delved into the world of woodworking DIY too deeply.
In other words — you won't need any kind of primer to apply this finish. You can simply dip your brush into the can and start your application.
That being said, we do have to mention that the manufacturers have pointed out you shouldn't apply it on surfaces that have recently been painted or stained; that makes the product far less effective, seeing as it can't penetrate deep enough into the wood to provide enough protection.
You can use a variety of products to apply this Ready Seal finish; from rollers and sprayers to good old fashioned applicator brushes.
One of the other great things about this is that most users report not having any streaks or drips with the finish; eliminating the need for arduous back-brushing.
Also, if you're going to apply it via a sprayer; there's no need to dilute or thin your finish. All you need to do is to clean the furniture surface before applying.
It's also worth noting that this finish can easily be applied in a variety of different temperatures and climates. Also, you don't have to do a wet on wet application — the product will completely blend itself in with the previous coating on your wood.
Bear in mind that the finish will appear much darker on the first coating than it is later on — after two weeks, you will begin to see the permanent hue that it will retain.
Seeing as you're going to use this for outdoor cedar furniture, you're not likely to think about the square footage of one can.
However, you may want to use the same finish for your siding or deck later on; so you should know that one gallon can get you up to 150 square feet; an impressive trait.
Just remember that you need to apply at least two coats for the maximum protective effect, and wait at least an hour in between coats.
As for the drying time, the manufacturer states that it can dry between two or three days — though this does depend on a variety of factors, such as the climate conditions of the locale, the porosity of the surface, and the nearby humidity.
Also, the fact that cleaning your tools after the work is done is not difficult is a plus; all you need are some mineral spirits.
The downsides
Some of the users of this product reported that choosing the reddish hue of the finish did not produce the exact look that was advertised online; however, they also mentioned that they compromised on this seeing as the durability of the finish has proven to be exceptional.
How we picked the best finish
One of the best things about cedar furniture is that it's incredibly durable, it's resistant to insects, and it's got a wonderful rustic aesthetic.
While picking the best finish for outdoor cedar furniture does depend on your personal preferences quite a lot; it's worth knowing what we kept in mind as we selected our top pick.
Considering that, you should know that we thought about weather resistance, general durability, and ease of application when we selected our premier choice on this list; as well as the other ones beneath.
First of all, cedar is popular because it retains its stability in all kinds of weather conditions. However, if you want your cedar furniture to last you a while — you need to think about applying a finish that can provide you with the best possible protection in all kinds of weather conditions. That's something that we kept in mind.
Furthermore, you want the cedar to last you for ages — we're talking about decades — if you maintain it properly. Considering that, we thought about the durability of the finish as we selected our favorites.
After all, you don't want to be reapplying the finish every couple of months; you need something that's going to last you for at least a year.
Finally, we also made sure only to select the cedar finishes that are not too difficult to apply for beginners. We are fully aware of the fact that most people aren't that savvy with DIY — even if they do want to get into it, hassle-inducing cedar finishes are not the way to start. So, we hope that our picks are simple enough for you to use.
Now let's have a look at the best alternatives.
Best finish for outdoor cedar furniture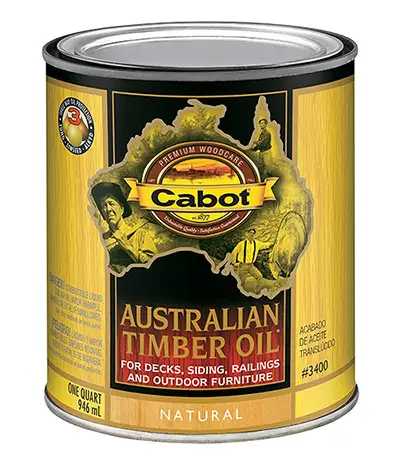 It can stop the furniture from appearing discolored via its UV shielding properties.
Next up, we've got another great natural wood finish — the Cabot Australian Timber Oil.
This is one of the best oil finishes out there when it comes to deeply penetrating the wood and protecting it; both from within and from without.
What we liked about Cabot Australian Timber Oil
One of the greatest aspects of the Cabot oil finish for timber is that it has a wonderful formula for preventing any appearance of rot and mildew; it's guaranteed to provide enough nourishment for your cedar furniture from within.
Just like with every other finish on this list — you will also need to make sure that the surface of the furniture is completely clean before applying the first coating. There should be no surface mildew, dirt or fibers to be found.
If you have sandpaper, you can also sand the surface; alternatively, use a small bristle brush to clean it. Bear in mind that the best moisture content for this product is below 15%. If you don't achieve such conditions, the surface of the cedar furniture will have to be in dry weather for at least five days.
If you find that one container of this product is not enough — you will be happy to know that mixing different containers of the same product will still provide you with a completely uniform result.
You also don't need to apply more than one coat of the oil, seeing as it's thick enough; making it one of the easiest products on our entire list!
When it comes to humidity and temperature, if you live in a reasonably hot but arid area — you won't need more than 48 hours for the drying process to be complete.
Also, a single gallon of this product can get you a long way — if the surface is not sanded, you'll be able to cover up to 350 square feet. As you might assume, this is more than enough for all of your outdoor cedar furniture.
The downsides
One of the main downsides of this product is that it does not always provide a uniform look based on the manufacturer's advertisement; that's because the result often depends on the porosity and the color of the wood beneath.
With that in mind, we recommend testing the finish on a small piece of wood first, before covering the entirety of your expensive cedar furniture with it.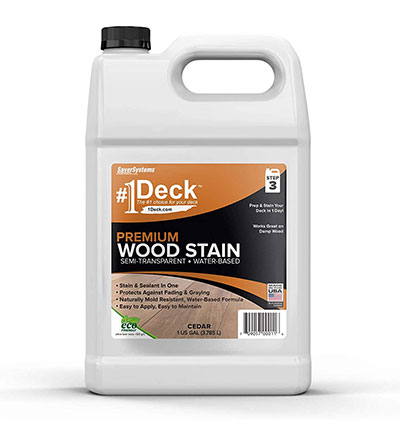 This finish manages to have the dual purpose of both providing color to your cedar wood and protecting it from any rot and mildew that stems from moisture.
Our final pick on this list is a great product that acts as both a sealer and a stain for any cedar furniture you may have in your yard or on your patio. Furthermore, you can also easily use it for fixtures, sidings, fences, etc.
What we liked about 1# Deck Cedar Finish
You have a range of choices when it comes to the available aesthetics — there are five different colors of the finish, all of which enhance the original look of your furniture with a distinct matte appearance.
One of its main upsides is that it prevents any discoloration from happening to your furniture, by providing ample protection from any kind of UV rays coming from the sun. This also prolongs the lifespan of the furniture, as the wood that it's made of is less prone to cracking.
It's quite an efficient finish in terms of application, seeing as you can also apply it on damp wood; something that other finishes that we've reviewed here can't boast with.
This cuts down on the time you need to finish the DIY project; primarily because it's already a water-based finish, which is why damp is not an issue.
Still, keeping that in mind — the cedar surface can't be soaking wet, and it does need to be reasonably clean. Make sure that there's no dirt or debris before applying this.
And when the time for the application comes along, we recommend using polyester or premium-quality nylon brush. If you've got a roller or a sprayer — those will do great as well.
The downsides
While the two coats that are needed and the half-hour waiting time between them are nothing to be ashamed of; people have reported significant dripping and the need for back-brushing with this product.
So, we recommend using it on vertical parts of the furniture first, and only then moving onto the horizontal parts where you can "comb over" the drips.
Things to consider before buying furniture finish
As you may have noticed from the list of products that we've shown above — there are plenty of options when it comes to buying the best finish for outdoor cedar furniture. And among them, the first one is completely free — and that's buying nothing.
Generally, cedar is considered to be one of the most resilient types of wood out there. We've already mentioned that it has some inherent properties which permit it a higher level of resistance against insects, decay, and rot. Because of this, many people choose to not apply any finish to their cedar furniture at all.
Cedar can achieve this by containing oils that preserve it naturally, just like a deep-penetrating finish wood. These natural oils kill fungi that would otherwise lead the wood to rot.
Plus, these oils are what provide the cedar with its incredibly aromatic smell. This aroma is precisely why so many people choose not to treat it, as any finish would interfere with the smell.
That being said — we have to point out that while cedar does last a long time compared to other wood; not applying a finish to it is just inviting faster decay.
Such a decision could be made in dry climates that don't encourage damp-related issues in the first place; also, if you're going to keep it on a patio or a covered deck, it's going to last longer. Still — choosing the best finish for outdoor cedar furniture is a far wiser decision.
Wood Preservatives and Sealers
If you are going to apply a finish to your wood, the first and simplest solution (apart from not applying anything) is going with a wood sealer.
This is also the least costly option on the list — wood sealers are generally great water repellents; their main purpose is to reduce the amount of water that the wood will absorb when it comes into contact with it. As the name says — sealers will "seal" most of the pores of the wood.
Oils
The next type of finish which you may acquire is oil. Now, using oils on outdoor cedar furniture is something of a divisive topic among exterior enthusiasts.
Some people simply like having a better level of protection than wood sealers can provide. Plus, while the oil does give a shinier and darker look to the furniture; it still doesn't alter it too much from the original appearance.
In fact, it's worth mentioning that linseed oil was one of the very first finishes that were ever used for the protection of outdoor furniture.
However, it has since been made outdated by contemporary oil formulas which are specifically manufactured to preserve furniture, and are thus far more effective.
Much akin to sealers, you can expect a single application of furniture oil finishes to last you between a year or two; generally, applying them once each year is advisable.
The biggest downside of this type of finish is that the oil tends to attract dust particles from your garden; giving the furniture a bit of a run-down appearance over time.
Stains
When it comes to stains for exterior wood, there are generally two types of finishes here — solid color and semi-transparent stains.
Now, both of these are available in a huge variety of colors; which, of course, means that they will alter the appearance of your cedar furniture in a larger way than the finishes that we've described above.
However, that also means that you can expect some of the available products to be perfectly suitable to your decor style.
Stains generally don't require much preparation, at least if you've got quality cedar furniture; if it has already been sanded, you probably won't even need a primer — all you will need to do is to ensure that the furniture's surface is completely clean.
Semi-transparent stains are better for outdoor cedar furniture — mainly because the solid ones are not really a good fit for sanded and smooth wooden furniture pieces. Solid color stains almost always form a surface film; one which doesn't mesh well with sanded wood.
Also, semi-transparent stains on outdoor furniture have a great surface life; if you buy the right ones, you can see them lasting you for up to three whole years!
Paint
FInally, the last option that you have for protecting your outdoor cedar furniture is paint. When it comes to adverse weather effects, paint finishes are the best option to shield your wood from rot and dampness.
However — paints are also completely opaque, meaning that there will be no trace of the natural look of your wood. If that's something you can live with, it's worth remembering that paints basically come in every imaginable color; making them the most versatile finish in terms of aesthetics.
Plus, if there's a very specific decor that you want your furniture to match — it's an obvious choice.
Just make sure that your furniture is not too dated or weathered before you apply paint. Also, you need to check if it's properly sanded; we find that, for outdoor cedar furniture, high-quality latex paints for the exterior are probably the most durable and flexible option.
If you apply this paint properly, it can last you up to a decade — just make sure that you repaint it every so often to preserve the color.
How to finish outdoor cedar furniture
When it comes to finishing cedar wood and furniture that's going to be outdoors; you will find that sealing and finishing them is not difficult. The application process is pretty similar regardless of what finish you intend to use; though, you should keep in mind that oils will provide a more protective finish.
On the other hand, urethane and varnish give a more natural look — so it all depends on what your priorities are.
That being said — the first thing you need to do in the finishing process is to use a clean rag to wipe down your cedar furniture. If it's already been outside, there may be dust or other particle debris that could compromise the integrity of your finish. With that in mind, we recommend carefully wiping it first.
After this, you should take another look at the surface of the cedar furniture. You may find that it's somewhat rough at certain points. If that is the case, or if it has already been previously stained; use fine-grit sandpaper and sand it along the grain of the surface.
Once you've done this, make sure to wipe the surface with a sponge or rag once more to get rid of the sanding dust that you've created.
Now you're almost prepped to do the actual finish. All you need to do is to put your piece of cedar furniture onto a cloth or a couple of newspapers outside or in your garage. This is to avoid permanently staining the surface below.
Also, we don't recommend working indoors because there will be fumes coming from the furniture once you're done. Still, if you do have to perform this indoors — make sure the room is well ventilated. Don't be afraid to use fans while also opening all possible windows.
You are now ready to begin applying the first coat. Take a brush and dip it completely into your finish of choice. Apply the first coating as evenly as possible, and then leave it to soak in. This should take at least half an hour.
Make sure to coat every single part of the wood on all sides — except for the legs. Their bottom needs to remain uncoated or else it will stick to the surface below.
There is no need to use any particular brush — though we do recommend going with a thick, wide brush that's used for finish application. This will allow you to apply the biggest possible amount of your finish within single strokes.
When the first coat has been applied, you want to use a lint-free piece of cloth to carefully rub the finish into the wood, while going along the grain. Then, use a clean rag to carefully wipe off any excess material.
Take all of the rags that you've used to wipe the furniture with the finish and spread them out on dry newspapers outside. Also, let your cedar furniture dry for an entire night. And there's no need to throw the rags away or wad them up — that's a potential fire hazard if your cedar finish was oil-based.
Once you're sure that the furniture is dry, you can use ultrafine sandpaper to carefully sand it. Again, go along the wood grain. Take another clean rag and wipe off all of the dust from the sanding.
Then, take another dip-full of your finish with a brush and apply the second coating. Allow the finish to set in for half an hour, and wipe off any remainders that are in excess. Repeat that process once more.
Again, spread out all of the used rags and allow the furniture to dry over the course of the night. You may want to apply an additional coating with the same procedure, of course allowing your wood to dry for a night before doing anything further.
After that final layer, the wood will probably be smooth enough that you don't need to perform any more sanding. If you think that's not the case, you can sand out some of the rough spots.
When you're done with everything, take the brush that you used for coating and let it soak in some mineral spirits. Then, use a rag to wipe it once it's clean. Now you can also start getting rid of the oiled rags.
First, soak them in water and put them in a zip tie plastic bag. Then, if you're not already familiar with them — take a look at the local regulations on the disposal of potentially flammable waste. You may be able to just put them along with your household trash, but there may be a different procedure.
For this, you will need:
Clean rags
Sanding sponge or fine-grit sandpaper
Newspapers for protecting the surface below
Fine paintbrush or wide fine-bristle brush
Ziplock plastic bags
Mineral spirits
Additional Tips
Furthermore, we recommend that you maintain this frequently; it should be sufficient to reapply the finish every year. Also, remember that the bottom of the legs on your cedar furniture have not been protected — exposing the fibers of the wood to potential external elements.
If this outdoor furniture is placed directly onto the ground, there's a chance that the exposure to humidity and water will cause the bottom of the wood to rot. You can prevent this by putting rubber or plastic leg caps on the unprotected bottom of the wooden legs.
Frequently Asked Questions
Should you seal cedar furniture?

Cedar is one of the longest-lasting woods out there. However, while it does have a certain degree of natural protection; you should still remember that it's not completely impervious to humidity, disease, and insects.

With that in mind, a protective layer that you get from a wooden finish is precisely what you need to make it last many times as long as it naturally would. The furnishing's lifespan will be majorly increased if you apply a layer of protective coating.
Can cedar be left untreated?

Cedar will last longer than other types of wood even if it's not treated with the best finish for outdoor cedar furniture. However, there are many crucial benefits to applying a finish on cedar furniture.

For one, using a clear finish on the furniture will highlight the glow of the wood that it has naturally; enhancing its aesthetic without altering the original look, revealing your woodwork in all of its amazing beauty.

Also, if you leave the cedar furniture untreated; know that its natural color will slowly start fading away after a while. This is primarily due to the fact that it does not have any protection against the sun's ultraviolet rays. These can slowly chip away at the original color and fade it out of existence. If you want your outdoor cedar furniture to have all of its amazing lusters for a long while; we recommend using at least a clear coat.

There are also other dangers that untreated cedar furniture is exposed to outside; mainly, we're talking about termites and potential humidity and mildew. If you allow these to sink in, you will have a hard time restoring the furniture to its original condition; it will soon begin to rot beyond repair. And you can easily prevent this by using the best finish for outdoor cedar furniture!

Plus, it's not all about the humidity in the air either. If you don't treat your wood, it will absorb all of the water that it's exposed to outside. This includes everything from natural rain to you accidentally spilling a drink on the furniture; whatever it is, the untreated wood tends to absorb it — resulting in damage and rot down the line.
How do you keep cedar looking natural?

While cedar furniture is known for its insulative properties and its amazing durability — one of the reasons people like outdoor cedar furniture is beautiful to look at.

Thus, each wood grain is imbued with a unique and stunning look; that's something you want to preserve. And as we've mentioned, untreated wood will start to fade after just a season or two.

So, how do you protect it? Our recommendation is to start doing this as soon as you install the furniture outside. This will slow down the natural fading and breakdown process that all materials go through. Plus, as you can see — there are plenty of choices available to those looking for the best finish for outdoor cedar furniture.

For instance, you can easily find the right shade and color you want among the myriad stain choices that are available to you. From solid wood stains that completely alter the look of the furniture to fully transparent finishes — the list is long and varied.

For those who like the way that their cedar furniture looked when it was first assembled, transparent stains will do the best job at preserving that look while also protecting the wood.

On the other hand, there's a middle ground that you can find with solid-transparent and semi-transparent finishes — these let you alter the color of the furniture slightly while still allowing the grain of the wood to shine through. Finally, there are solid finishes that don't show the grain at all.
How long will untreated cedar last outside?

This depends on a variety of things — along with the type of furniture that we're talking about. For instance, many people make fences out of cedar. If these aren't treated, they can last for at least 15 years.

On the other hand, treating the fence will double the lifespan of the fence, barring further needed repairs. As you probably know already, cedar is famous for outlasting most other types of wood.

However, practical furniture made of cedar will last you less than fences because it's subjected to far more wear and tear. So, if we're talking about a table or a bench — know that treating these with a protective finish is far more important if you want the items to last you a while. And you do — particularly because cedar is a more expensive wood than pine or oak.

Still, treated or untreated — cedar is definitely a great choice. Particularly because it has natural oils that provide further protection from insect damage or rotting; making it one of the more durable and strong options on the market.

Plus, it can withstand harsh weather much better — you will experience far less warping or shrinking with this type of wood regardless of the outdoor conditions.

It's not a type of wood that requires heavy maintenance; but if you go through the minimal hassle of applying a protective coating, you can make sure that it lasts you even longer.

That way, the risk of any potential damage will be minimized. Plus, the original color of your wooden furniture can be preserved more easily with cedar than with other woods.

Though, while untreated cedar still lasts you a solid while — its color will diminish fairly quickly, defaulting to a not-fun gray over time. When it comes to dampness and humidity, this is another aspect where cedar trumps most other types of wood.

And if you provide the wood with additional protection via a water-resistant finish, you can make sure that it lasts you even longer in damp conditions.
How do you seal cedar without changing color?

Providing your wood with a protective finish is possible even if you don't want to change the look of the wood. The only thing that you need to do is to use a water-based polyurethane finish. And if you want an alternative to that, don't worry; there are other products that you can use. For instance — an acrylic lacquer.

If you're wondering which of these to use, it all comes down to personal preferences. In terms of protecting your cedar furniture without altering its color, both of them have pretty much the same effectiveness.

With that in mind, it's up to you to make the choice. But whatever one you go with — remember, you need a water-based finish.

These finishes don't contain any color of their own, thus not altering the original color of your cedar furniture. Conversely, you also need to avoid oil-based finishes if this is your goal.

They will create a far shinier surface on your cedar furniture than you want — while you may think that this is not a bad thing, it will stray a long way from the original look of your wooden surface.

On the other hand, if you want this kind of aesthetic — there are oil-based sealers that don't contain a lot of pigment, providing something close to the original color; but shinier. If your goal is to make the cedar furniture more noticeable — this can be what you're after.
Can I use polyurethane on Cedar?

Cedar wood, along with other types of fine wood, is compatible with polyurethane protective coatings. These are a great way to keep oil, dust, dirt, and other debris from damaging or dulling the surface of your cedar furniture.

If you're going to apply polyurethane to a piece of cedar furniture that's not brand new, we recommend scrubbing it with a combination of fine cloth and hot water first. Then, let it completely dry off before you start coating it with polyurethane.

Should you fail to do this initial cleaning before the first coating — chances are that the wood will become ingrained with imperfections such as oils and dirt.
Conclusion
As you can see, even though cedar furniture is incredibly durable and resilient on its own; choosing the best finish for outdoor cedar furniture is definitely the way to go.
Doing so allows you to extend the service life of your furniture multiple times — without it fading away to a grayish color that not many people enjoy in their gardens or patios.
Of course, picking a specific finish will depend on your precise location, as well as the aesthetic choices which you want to make for your exterior. But armed with the information that we've provided here, we're sure that you're capable of picking the very best product!
We hope that you have enjoyed our guide and found your best finish for ourdoor cedar furniture. Stay safe and have a good one, guys!