Over time, your kitchen cabinets can get filthy as they gradually get coated in cooking grease and dirt. This can cause them to become sticky and very hard to clean. This presents a big problem if you're looking to decorate, which is why you need to find the best degreaser for kitchen cabinets before painting.
They will need to be able to cut through those years of grease and leave you with a surface that is primed for painting. You'll need to think about how effective they are, the area they cover, how they are applied and many other factors.
To help you out we've found the 4 best degreasers available today. We've completed in-depth reviews on each of them while also developing a buying guide to give you all the info you need. Soon you'll know the best kitchen cabinet degreaser. Let's get started!
Our Pick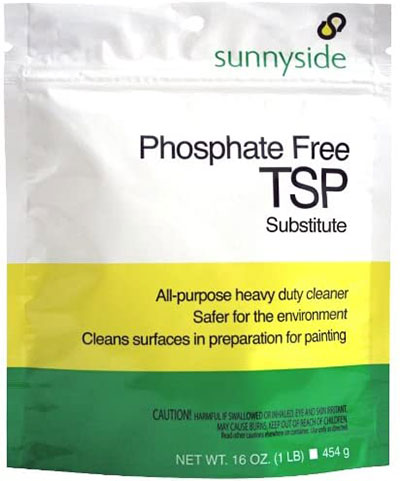 The value for money here is also fantastic; especially considering it comes in a small packet that would usually be more expensive.
TSP stands for trisodium phosphate and has long been known as a powerful cleaning agent. The problem is that it's not particularly healthy for the environment. This cleaner from Sunnyside has all the advantages of TSP but without those downsides.
This cleaner comes in a small 1lb bag that has a brilliant price. That 1lb of solution is going to go a long way and should be more than enough to clean the cabinets in almost all kitchens. You can adjust the solution strength to your needs depending on how greasy your cupboards are.
Some states prohibit the sale of phosphate cleaners but you won't need to worry about that here. It can be used on a wide variety of different materials and leaves a surface that is perfect to be painted on in no time at all.
It's also notable how easy this degreaser is to use but you will need somewhere to mix it along with a way of applying it. If you have some leftover then you'll also find it able to clean a lot more than cabinets and you may well end up buying it again for a completely different reason.
What we like:
The most important thing for any of these products is that they work well. The results you'll get from the Sunnyside Phosphate Free TSP Substitute All Purpose Cleaner are fantastic. Even if you have years of built-up grease, this will be able to cope with it.
What we also loved about this cleaner is how safe it was. It's going to be kind to the environment while also not being dangerous to work with. You can use as much or as little as you want and all you'll need is a bucket and a strong sponge or brush.
It allows you to get exactly however much powder you need. This is the perfect solution for many people for the problem of greasy cabinets.
What we don't:
There is very little to dislike about this degreaser. Some users have noted that the smell can be a little strong. It also mentions 'TSP' in the title description and some may glance at that and think it includes the substance when in fact it's saying that it is free from it.
How we chose the best degreaser
There are many factors that we took into account when looking for the best degreaser. The first one we looked at was simply the performance. All of these four degreasers cut through that grime very well and are great at leaving you with a good painting surface.
Following that, the amount of area they cover and value for money were also important. These products worked in different ways but they had to be fairly easy to apply, whether that was a simple spray bottle or the ability to make a solution.
Finally, we looked for some other features like its versatility and what else it can be used for. Safety is always important and we also had a look at whether or not it was good for the environment. We took all of these factors into account to ensure we only showed you the best degreasers available today.
Best degreaser for kitchen cabinets before painting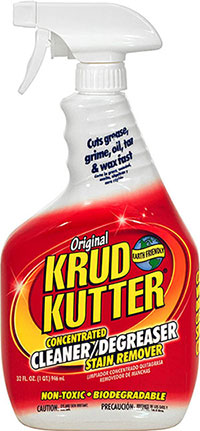 An impressive aspect of this cleaner is just how powerful it is when compared to other spray bottles.
This is probably going to be the simplest method of degreaser application. All you need is a few sprays of the bottle and you'll be able to get to work in getting rid of that grease. It also means you're only ever using exactly as much as you need.
There is very good value for money here. You're able to get two 32oz bottles in one packet. It will be more than enough to clean your kitchen cabinets while also cleaning anything else you can think of. Along with grease, it's also great at tackling grime, wax, tar and oil.
It will be able to get to work straight away and cut through grease where other spray cleaners simply can't while not having to mix up a solution.
There is plenty of versatility that can be found here. That's due to it being colorfast, safe to fabrics and not leaving any residue behind. It also has anti-corrosive agents so you won't have to worry about it ruining hinges or anything else.
What we like:
One of the most notable aspects of this cleaner is just how safe it is to use. The solution is both non-toxic and biodegradable. That's partly due to it being water-based and it has to added benefit of not giving off much of an odor.
You won't have to worry about getting it on your hands and it's not going to be as harsh as some other cleaning solutions. It's able to give you all of these benefits while still being a powerful cleaner and easily cutting through the grease on most cabinets.
The cleaner can be used on anything you need it to and you'll love how effective it is. You also don't have to worry about getting the right concentration of solution or making the right amount. It's very easy to use and you'll have no complaints.
What we don't:
If you think about exactly how much solution you're getting, this isn't going to be as cost effective as using a powered solution. Some users have also noted some delivery issues with leaking bottles but this seems to be a rare issue.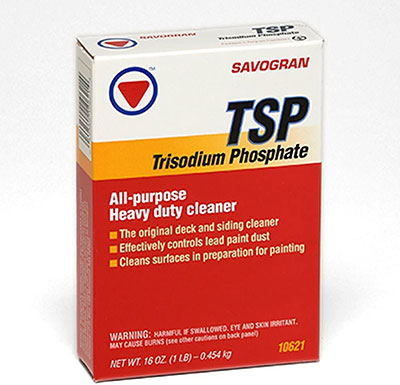 While not as cheap as some other solutions, this cleaner also represents brilliant value for money.
We mentioned TSP before and this is a cleaning solution that contains it. It's a heavy-duty cleaner that will do a brilliant job at cutting through any grease. All you need to do is dissolve it in hot water and then you can use a brush or sponge to apply it.
You can decide how strong it needs to be but this can be extremely powerful at higher concentrations. It's best to use this solution with gloves to avoid it burning your hands. If you do get it on your skin, then you'll be fine after a simple rinse off.
It can be used on a wide range of different surfaces including floors and outside areas so once you've done your cabinets, you'll still find plenty of uses for it. It's non corrosive so you won't have to worry about ruining any metal.
Due to the level of power it has, it's important that you read the instructions before use. That way you're not going to make any mistakes or have a solution that is far too strong or weak. When used the right way, it's a very good degreaser.
What we like:
The obvious thing to note with this degreaser is that it's extremely strong. You'll have no issues here with getting the results you need. In fact, some would say that it's too strong for the simple job of degreasing kitchen cabinets but you can always dilute it to your needs.
It's a cleaner with a high level of versatility and you can use it for preparing paint surfaces throughout the home if you need to.
This is a product that would happily be used by professionals it is that good. It will quickly leave you with a surface that is going to be suitable for the application of paint. For those who don't mind using TSP, this could well be the best degreaser for you.
What we don't:
This is a cleaner that contains TSP and you'll have to check that it's not been banned in your state. Even if it hasn't, you may worry about the environmental impact which will discuss in more detail below. It's also worth noting how strong this solution can be and that it may burn your hands if you're not careful.
What we liked the most was just how easy it was to use. You only need a small amount and once you mix it with hot water, you're ready to go.
Our final degreaser is another that comes in a concentrated solution. The difference this time is that the solution is a liquid instead of a powder. The formula goes a long way too as it states you can make 32 gallons of solution from the one bottle
As with all of these concentrates, you can always amend the formula to suit your needs. If it's not cutting through the grease on your cabinets then you can always make it stronger. You'll most likely find that you won't get close to using the full bottle.
It's a good thing that the concentrated cleaning solution goes a long way as this isn't the cheapest product on the market. It still represents good value for money if you use it in the right way and you won't regret buying it.
It also gets to work very quickly and you'll start seeing results as soon as you apply it. In no time at all, you'll have surfaces that are ready to be painted on. As with all of the products on this list, you can't question the performance and it works very well.
What we like:
One of the most impressive features here was the versatility. It's a perfect option for those who have other cleaning needs on top of their cabinets. It works well on cleaning dishes, woodwork, equipment, tools and can even be used to clean clothes.
Once you start applying it, you'll see that grease quickly lift off and see the cabinet surface as it's meant to be.
After you've finished with your kitchen cabinets, this cleaner isn't going to sit in the bottom of a cupboard unused as you'll keep going back to it. It's a high-quality product that isn't going to let you down in your quest for perfectly painted cabinets.
What we don't:
As we touched on earlier, this isn't the cheapest option on the list. It's worth remembering that it's a concentrated solution so you'll be getting a lot more than just 32oz of cleaner. Some users have also had issues with the packaging but we saw nothing wrong with it.
Why you should get a degreaser for kitchen cabinets
There are many important reasons why you should choose one of these cleaners. Firstly, painting over grease is a no go. The paint will not stick properly to it also the grease can soak through the paint so you'll need something to take that grease off.
These products get to work very quickly and take a minimal amount of effort. They are also usually easy to use as all you'll need is a brush or a sponge. You'll see the brilliant results in no time at all and you'll be able to start painting before you know it.
Some of these solutions are strong enough to sting your skin, so you do have to be careful. Another appealing aspect of these degreasers is their versatility. Along with kitchen cabinets, they can clean a wide variety of different surfaces.
The good:
Fast process
Easy to use
Highly effective
Versatility
The bad:
Key features of a degreasers
Type
The first thing you need to think about is what type of cleaner you want. We've looked at three types here and they are a concentrated powder, a concentrated liquid and a pre-mixed spray. The concentrated solutions are often used as you're able to choose the level of strength that you need.
A concentrated solution can also be easy to store as you don't have to worry about where to keep a large volume of liquid. While pre-mixed solutions can be the easiest to use, you often aren't getting the same value for money as you would do with a concentrated solution.
We've found that a lot of pre-mixed spray bottles don't have the strength required to cut through stubborn grease. The Krud Kutte, however, is an exception to that and works very well to produce the required results.
Phosphate (TSP)
If you're thinking of getting a cleaner that contains phosphate then it's good to know exactly why it has been banned in a few states and the impact it causes.
Phosphate isn't very toxic and instead causes something called eutrophication, which is where a body of water will have excessive algae growth.
This effectively chokes up the water as the large amount of algae will reduce the oxygen levels in the water and also block any sunlight from getting to it. This can result in the death of all the aquatic species in the body of water.
Due to this reason, the amount of phosphates that get into the water systems need to be controlled. Some states believe they can deal with this whereas others have banned it.
With this information, you can now work out whether or not it would be the right solution for you. Some products, such as the Sunnyside All Purpose Cleaner work very well as a TSP replacement.
Area
Before tackling the problem of greasy cabinets, you need to know that your degreaser is going to be enough to cover the area. It would be very frustrating to get halfway through cleaning only to find out that you don't have enough solution left.
The concentrated degreasers that we've looked at here are able to go a long way and you'll probably find out that you have plenty left over after you've finished. Thankfully most of these degreasers can be used for other types of cleaning so it won't go to waste.
The cleaners that come out of a spray bottle aren't going to have the same level of longevity and aren't going to cover the same area. That being said, your kitchen cabinets won't cover a huge area and therefore should be enough to get the job done.
Ease of application
Kitchen cabinets can be quite difficult to clean as you don't have the opportunity to soak them in a cleaning solution. That means any cleaner you use needs to get to work straight away and cut through the grease.
Perhaps the easiest method is to use a spray bottle as you can apply it with one hand and wipe with the other. You don't need anything else to apply the solution. Many people like to use this method when it comes to regular cleaning.
Using a concentrated solution usually means mixing it into a container and then applying it from there. This can make it a little harder to use as you have to find a container. Many people like to use an empty spray bottle that they can repurpose for their solution.
Versatility       
All of the four cleaners that we've looked at here are going to do an excellent job at cleaning kitchen cabinets in preparation for painting. Along with that, they have an impressive level of versatility for other settings too.
Along with kitchen cabinets, these cleaners can also help to prepare any other type of surface for cleaning. For paint to take properly, any surface needs to be cleaned and free from any dirt or grime. The degreaser can help you with that.
It's not just painting preparation where they can help. There are many other places where grease can accumulate such as with equipment, cooking dishes and tools. You could even degrease automotive parts or parts from machinery.
Some degreasers can also be used on clothing, which shows their versatility. Before using your degreaser, it's always a good idea to check that it's not going to damage the surface you're cleaning. Some of these cleaners are very strong and may need to be diluted.
Speed of use
With cabinets being a near-vertical surface, you don't have the benefit of allowing a cleaning solution to soak into the grease. With other cleaners, you can leave them for a certain amount of time and then go back to them later.
When cleaning grease off cabinets, you need a solution to get to work straight away. This is why cheaper cleaners aren't going to be up to the job. A big advantage of the four degreasers here is that they start working immediately and they make cleaning as easy as possible.
Safety
Concentrated solutions can be very strong which is great for working as a degreaser but it can cause some issues with safety. If you're not careful they can irritate your skin and cause other issues that can be easily avoided.
Before applying them, it's important to read the instructions closely and see exactly how they should be used. On some of the stronger solutions, it may be the best idea to wear gloves and other protective equipment to ensure that you're doing everything safely.
How do you prep wood cabinets for painting?
The first step is to determine how much work needs to be done. If there is a lot of work required then it may be the best step to remove the cabinet doors. This will make your life easier as you won't constantly be reaching upwards.
The first step to take it to use your degreaser. You want to keep going until you're confident that you've lifted off all of that dirt and you have the bare surface underneath. If you have any crevices in your cabinet then it may be best to use a small brush to ensure you're getting all the grease.
Once you're back down to how the cabinet should be, you can then get to work sanding the surface. This will allow your paint to stick to the surface of the cabinet and give it a much better finish. A medium-coarse paper would be the best tool and you want to make sure that all areas are covered.
After you've sanded down the surface, there is likely to be a lot of dust. Go over all your cabinet surfaces with a vacuum cleaner with a brush attachment. Once you have all the loose debris off the cabinet then you can get to work with painting it.
On old cabinets, it can also be a good idea to use a primer as a base for your desired paint to attach too. This can not only leave you with a better overall finish but can help to cover any existing imperfections too.
Things you should know
What is the best way to clean kitchen cabinets before painting?
You have to find a way of removing the grease and even cabinets that look quite clean can have a thin layer on them.
Using water will simply push the grease around and do very little to lift it off. This is why you need a degreaser to do the job for you as this will be by far the easiest way.
A degreaser will cut through it and allow you to easily lift off stubborn grease. Once it does, then it's easy to clear the cabinets of hard grease. Once you've finished, you can then wait for it to be fully dry before you start painting.
How do you get old hard grease off cabinets?
Some may just prefer to use hot soap and water. While this can work, it usually requires much more effort than a specialized solution and grease that has been there for years can be extremely hard to remove.
You need a strong solution that will cut through the grease and allow you to lift it off.
Can I use degreaser on kitchen cabinets?
It's always a good idea to check the instructions and not all cabinets are made from the same material, with some having a plastic coating, for example.
Some degreasers may also remove paint if they are strong enough. If you are preparing the surface for painting, however, this is not going to be an issue. For regular cleaning, it's a good idea to use a solution that isn't quite as strong.
Does vinegar cut grease?
Vinegar is an acid that can eat through some surfaces and isn't the most effective solution. It's best to be avoided as it doesn't actually cut grease.
It can make cleaning grease easier as it can soften it but other cleaners are going to be much better for those kitchen cabinets.
How do you protect grease from kitchen cabinets?
It's inevitable that some grease will get onto your kitchen cabinets but the biggest things that can help is a powerful exhaust fan as this will suck up most of the grease particles.
On top of that, it's a good idea to regularly clean your surfaces rather than waiting for it to build up.
Why are my white cabinets turning yellow?
There are two main culprits for the yellowing of white cabinets. The first is exposure to direct sunlight as this can ruin their color over time.
The second is the buildup of grease. Due to this, it's best to keep them away from the sun and do regular cleaning.
Can you paint over greasy kitchen cabinets?
You can try but the results are going to be terrible. In order to get a good finish, paint needs to stick to the surface that it's being applied to.
Grease, therefore, makes a terrible surface for painting. Along with grease, you also want to get rid of any dirt or stains. If you start painting over a greasy surface then you'll soon regret it.
Conclusion
By now you should hopefully know what the best degreaser for kitchen cabinets before painting is. All four cleaners that we've looked at here have exceptional qualities and you can't go wrong with any of them.
The Sunnyside TSP All Purpose Cleaner was our top pick as we thought it had the best mix of qualities. It was able to produce excellent results while being easy to apply, excellent value for money, and safe to use. Another powerful solution that works as well as the TSP All Purpose Heavy Duty Cleaner which is ideal for those that don't mind using TSP.
Those two products are concentrated powders but if you wanted a concentrated liquid instead, the Stanley Original Degreaser would be ideal. A small amount of liquid goes a long way here and does a very effective job time and time again.
If ease of use was the most important factor, then you should look at the Krud Kutter Trigger Spray Degreaser. It's a simple spray but one that has a huge amount of cleaning power behind it while also excelling in versatility.
Any of these four degreasers are going to do a fantastic job. It's important to choose the one that is most suited to your needs and what you want to clean. If you have any doubts then it's a good idea to read over our buying guide once again. All that's left to do is choose your degreaser and you'll soon be painting those kitchen cabinets in no time at all.