Air fryers give you a great way to make crispy, tasty meals for your entire family — without using a ton of oil in the process!
They utilize convection cooking techniques to build up heat via hot air, and they don't need tons of hot oil that basic fryers do. 
However, there are plenty of fryers out there, and you don't want to get the wrong one. They can vary quite a lot when it comes to cooking capacities and size.
And if you want to get the best air fryer for a family of 4, you want a model that simultaneously provides the right capacity and the right cooking quality.
The big-capacity fryers allow you to easily cook a meal that's good enough for four people at once, feeding the whole family in one go; or maybe entertaining a bigger party. 
If you're not sure how to make the right choice, we'll give you a rundown of some of the best fryers available on the market today — as well as a buyer's guide that allows you to quickly choose a good product on your own as well. 
Our Pick
Forget about cooking in the oven or soggy chicken nuggets and mozzarella sticks; you'll be able to get everything you need out of this easy-to-use product. And it's not only healthier — it's faster as well!
We'll start off our list with the very best fryer that you can find – the Ninja AF161 Max XL.
It's a product that doesn't make any compromises, and it gives you more than enough capacity to create a lot of portions of your meal.
What we liked about Ninja AF161
Apart from the generous capacity of this air fryer, you should also know that it has a Max Crisp function — allowing you to achieve everything you could with an oven but just much faster.
Plus, when compared to the standard AF101 model from the same company, it's only about $40 more expensive; making it pretty much a no-brainer. 
Of course, you wouldn't want to pay this kind of money if you're not looking for a large-capacity model and you don't have a family of four; but if you need to cook for more people, it's a god-send.
You can make crispy and yet low-fat snacks, fries, and even roasted meat; all without having to stand around a steamy, hot oven. 
We should also point out that the larger size is far from the only thing that the Max XL version of this series has to offer. The newly added Max Crisp setting means your air fryer can reach a satisfying temperature of 240 degrees Celsius — bringing more than enough crunch to any frozen food. 
Studies show that this particular air fryer can cook the same food 50% more quickly than an oven — especially when it comes to meat like sausages and fish fingers.
And the particular high-temperature settings put it a notch above all of its rivals. 
And there's also a handy dehydrate option to make your veg snacks, dried fruit, or even jerky! Plus, you get a great ceramic-coated plate for making extra crispy stuff. 
Of course, all of these added settings would mean nothing if the Air Fryer Max XL was difficult to use. As you can see from its top spot on our list, that's not the case. All of the controls are very intuitive and easy to understand. 
You get a control panel with all of the presets named and clearly marked, a pair of up and down buttons you use for altering temperature and time settings — and a big, easy-to-read digital display showing the current settings and status of the device. 
As we've mentioned above, all of the added functions are great. This can pretty much fully replace your oven or other air fryers, seeing as it comes with a "bake" option for desserts.
And we've already discussed the "dehydrate" setting that's a slow cook at about 60 degrees Celsius. 
When it comes to the design, we have to point out that it's not a huge departure from the regular model from the same manufacturer; it's just bigger, and it comes with an extra button, but that's about it. 
Both models have a ceramic coating, so cleaning is not an issue at all, and all parts can be placed in the dishwasher. 
Plenty of air fryer enthusiasts will be glad to hear about this device that can perform all of their cooking with almost no oil; especially when they need a bigger device for the whole family.
Whether you need another portion for dinner, you want a quick bite before heading out, or you need to quickly make something for a couple of hungry kids — this air fryer will do the trick. 
It has a great large-capacity cooking basket to go with its Max Crisp setting for ultimate usefulness. You can make breakfast for the entire family in one go, or a pound of crispy french fries! 
You should also know that the Max Crisp setting represents more than a temperature boost. It will also give your cooking a super-speedy airflow, making it easy to thaw food and make it cooked and crispy in a matter of minutes. 
You can take a bunch of frozen chicken nuggets and they'll be cooked in less than ten minutes — without having to previously defrost them! 
And the regular Air Fry setting isn't slouchy either; it takes just a single tablespoon of oil and a little over 20 minutes to bring a bag of french fries to a golden and crispy state. And all of that without using even a fraction of the oil you'd need if you were making them in the oven! 
Sure, they won't taste exactly the same as they do when drenched in oil; but they still taste great and they're way healthier!
And there's another feature we haven't talked much about up until now — the Reheat setting that you can use to quickly warm up any leftovers you've got in your fridge. 
There's also a Roast function for meat like chicken, which takes just 25 minutes to completely cook!
Take a bunch of chicken wings, season them as you like, and just toss them in the air fryer; they'll be ready to serve in less than half an hour. 
The downsides
Now, we come to the only big downside of this air fryer — and that's the fact that it's so big! If space is an issue for you, you'll probably be better off with a smaller model.
Of course, this also means you'll have to parcel out your meals for the entire family, but some kind of trade-off needs to be made! 
How we chose the best air fryer for family of 4
As we've said in the beginning, picking the best air fryer for the family of four out of so many offered models is not easy. And seeing as everyone likes cooking different things, it can be difficult to recommend one model for everyone. 
That being said, there are some objective circumstances that determine whether an air fryer is a great product or not — and we tend to focus on those while choosing our top pick, and those below.
For instance, we looked at the quart capacity of the fryer, which determines how much food it can hold at any given time. 
This is an important feature if you want to feed your entire family in one go, for obvious reasons. Furthermore, the maximum and minimum temperatures were one of the key aspects, showing how much versatility you have while preparing different kinds of food. 
It was also important to us that the top air fryer would process all of the food evenly and quickly, removing the need for any tampering with the food once the cooking process begins.
Naturally, price was also a factor to consider — it's essential for any appliance to be cost-effective, and air fryers are no different. 
While the number of preset programs showed how easy to use the fryers were, it wasn't the main reason why we chose our first pick.
In fact, the second-placed GoWise model had more different cooking presets; but that's not as important when you can easily set the temperature and timing to your needed levels. 
Finally, and this is something many people don't consider — we looked at how easy these fryers were in terms of cleaning.
It's never fun to have to spend an hour cleaning up after you've finished cooking, and our top choice was a no-brainer in that regard. 
Best Alternatives
One of the most interesting functionalities found in this particular GoWise model is the built-in dehydrator. Features like these are staples of the higher-end air fryers and they show that the manufacturers truly invested time and energy into building all the best functions into their products. 
Our next pick is one of the most modern air fryers you can find on the market — with plenty of useful features and only a couple of downsides that prevent it from reaching that top spot.
The GoWISE GW22956 contains eight different preset functions, allowing you to cook a wide range of meals. 
What we liked about GoWISE GW22956
The temperature range on these is a little lower than on our first pick — it goes from 90 to 170 Fahrenheit on the lowest preset, though you can set the timer for as long as you'd like; theoretically, it can be set to 24 hours for an excellent slow-cooked meal.
Now, the 7-quart capacity of this air fryer means you can pretty much make as many servings as you want for your entire family without breaking a sweat — and without spending double the time to cook the meal and half the family waiting. 
This ability to cook a lot of your food at once is further elevated by the appearance of three racks you can stack onto each other; this also means you can make more than one dish simultaneously.
As a result, an entire multi-course meal for the whole family can be prepared in a single air fryer. 
And let's face it — saving time is not the only thing you want to do when cooking with an air fryer. It's equally important to you for these meals to be healthy; which is why you'll be pleased to learn that the Air Fryer doesn't require any more oil than the other top picks on our list. 
Furthermore, we've already mentioned its eight cooking options:
Keep warm
Reheat
Bake
Grill
Dehydrate
Broil
Roast
Air Fry
If this seems overwhelming, don't worry; it's all pretty much standard fare, with an easy to use touchscreen menu and a large display panel showing all the current and available settings.
When you take all of the different presets into account, you'll find that the temperature goes up to a sizzling 400 degrees Fahrenheit. 
Temperature increases are handled across five separate increments, ensuring that your food won't be seared and burned.
The design of the air fryer leaves little to be desired — it's sleek, it's modern, and you also get the choice of three different colors: red, copper, and black. 
Every unit comes with a smartphone app and a physical air fryer book, containing over a hundred recipes between them! 
However, it's easy to consider all of these things pure bells and whistles. At the end of the day, the large capacity is what draws in people the most; providing you with the ability to prepare food for a sizable family or a large group of people as quickly as possible. 
And speaking of quickness — the fryer is capable of heating up quite fast, and you won't need to wait more than 10 minutes for it to be cook-ready; contrary to the almost half an hour a traditional oven would need to reach the same temperature. 
Among all of the presets that we've mentioned above, there's one star that steals the show — the extremely convenient function for reheating food.
We have to note that this reheating option is present in other models we've reviewed here as well, but it hasn't been designed quite as good as with this one.
You can easily and quickly reheat anything without making it dry and less tasty — which is a difficult balance to maintain. Also, while you can manually tinker around the timer and temperature settings as much as you like, the default presets pretty much require you to just choose what kind of cooking you want to do.
If you live in a cramped household, you'll also be happy to hear that this appliance is very quiet, so it won't bother anyone living with you as you cook.
Apart from being well-designed and easy to operate, it also looks stylish and modern enough to be suitable for any kitchen. 
The downsides
Of course, the fact that this isn't our first pick is probably telling you that it's not quite perfect. And that's true — this GoWise air fryer does have a couple of issues that you'll need to consent with.
First of all, it doesn't come with a removable basket like many of the other models here. 
That makes serving a bit of a bigger hassle compared to the other models. Plus, the grates are quite exhausting to clean because you can't remove the basket — so you'll need to put some elbow grease into its maintenance.
With all of this in mind, though — we still recommend the GW22956 air fryer. It's a tad more affordable than our top pick, and it's also got a lot of power capacity and room to create a wide range of meals at once.
Plus, it's easy to operate for just about anyone — as long as you don't mind putting more effort into cleaning it, the fryer will serve you just fine.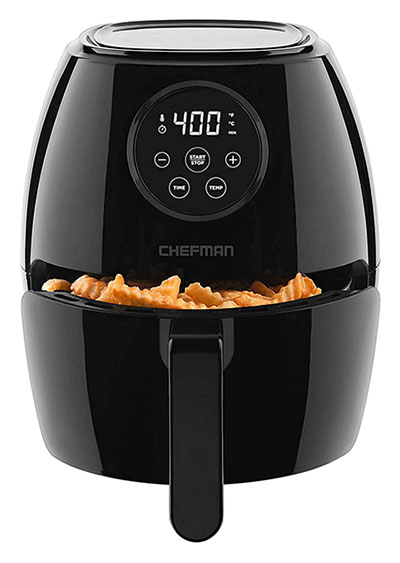 Once you make the trade-off for the smaller Chefman model, you'll be stunned to learn that it uses 98% less oil than the average traditional fryer to make the same meal. Compared to the 90% less that most other air fryer models can boast with, this is an improvement in meal healthiness.
Our next pick on this list is known for its extreme cost-effectiveness — the Chefman TurboFry 3.7.
Now, it's a bit on the small side, seeing as its capacity is just below 4 quarts — but it's surprisingly roomy, and most families will be able to make use of it. 
What we liked about Chefman TurboFry
One of the best parts about this air fryer is that it's extremely easy to use; you can pretty much teach anyone to handle it within minutes, regardless of their previous tech savviness.
Also, while its size isn't anything to write home about — it makes up for it by being more functional and healthy than most others on our list. 
It's also got a great adjustable temperature range of between 200 and 400 degrees Fahrenheit, allowing you to air fry and kind of meal to crispy perfection. Anything from frozen pizzas to vegetables — it'll be done in minutes. 
The smaller size of the Chefman TurboFry also results in a more compact design; this is one air fryer where you don't have to worry about it taking up all of your countertop space.
And it's also got a gorgeous glossy black finish, interesting round design, and a basket that can hold 40% more stuff than other air fryers of its size. 
The Chefman air fryer also comes with an intuitive and easy-to-use digital display, allowing you to set the timer to anything up to 60 minutes — and this will be more than enough for your cooking.
The downsides
The most obvious downside of this particular air fryer is its lack of a large basket — some families may require a slightly larger model.
On the other hand, it's got another small issue that you should know about — it's not exactly easy to clean. 
The tray that gathers the grease build up from the food is pretty small, so you'll need to empty it out every time you use it. That can get tedious after a while. 
You won't have to think about the number of chicken breasts you can fit in here, or zucchini strips and fries — the 6-quart capacity of this particular air fryer means you can fit all of it inside nicely.
One of the first things that are noticeable about the Instant Pot Vortex air fryer is that it comes with some serious cooking power.
And that results in crisper food than you'd get with most other models; though the end result is a bit greasier. Still, if food crispiness is your biggest priority, this is one of the better air fryers on the list. 
What we liked about Instant Pot Vortex
As you'd expect from any decent air fryer for a family of four, it's got a pretty big and roomy basket. In fact, it's got enough room for an entire pound of chicken meat; most other air fryers can only handle half of that at once. 
Also, we should point out that it's got a great user interface — extremely user friendly and easy to get used to at once. There are only four pre-programmed settings: reheat, roast, bake, and air fry.
However, you might not find yourself needing much more than that. And the center dial also allows you to manually set the temperature and time in 5-degree instances, so you can make any necessary adjustments yourself. 
Finally, there's another great aspect of this fryer — it's a dollar shy of $100, so you won't have to worry about your budget when you set out to buy this one. 
The downsides
Unfortunately, as we've mentioned in the beginning: this isn't the healthiest of options out there, seeing as it requires a bit more oil than the other ones.
Things to consider before buying an air fryer
While we've provided you with some excellent choices when it comes to the best air fryer for a family of 4 — there are still many different models out there.
And in many cases, the available brands and models differ from market to market; so you may need to choose from an entirely different set of fryers compared to the ones we've reviewed. 
With that in mind, we'll take a look at some of the key features that you should consider while buying an air fryer for your family.
Space
It doesn't matter what kind of appliance you're buying — you're going to need to put it somewhere. With that in mind, your available kitchen space becomes an important factor in choosing an air fryer as well. 
Sure, you want something that will be able to cook a meal for your entire family in one batch — but you also need the fryer to fit into your kitchen neatly.
Before you go out to browse for an air fryer, or before you order something online, you want to make sure that you've got enough space for the model you want.
Or, vice versa, measure the space you've got available and then try to find something that fits within those margins. There are plenty of fryers that are taller and more narrow, and conversely, those that are wider and more stocky.
It's all about whether you can sacrifice more horizontal or vertical space — but you'll have to place it somewhere. 
Size
This is pretty intertwined with the matter of free space, because you simultaneously need to find something that fits within your kitchen — but also something that has enough capacity to feed your entire family. 
While conserving space is important, the last thing you want is to get a fryer that's too small and realize that only when it's too late to return it. Do the smart thing and consider its size and capacity beforehand! 
If you're not sure if your average family meal fits within a specific fryer model, don't be afraid to take your time and find more information on it online.
You can probably find experiences and examples of other people using the model to make similar meals. And if there aren't many positive (or any) online reviews, chances are that you're dealing with a no-name brand.
Cost
Obviously, the cost is a major factor when you're buying pretty much anything. Still, that doesn't mean you should try and go for the cheapest possible option.
Sure, air fryers are rarely too much of a luxury item — you can find decent ones in the $150 – $450 range. 
However, anything cheaper than that isn't worth your time. Completely no-name brands are like that for a reason — they tend to break down after a shorter while, or they simply don't function as advertised to begin with.
The last thing you want is to spend your time and money on a fryer that you'll have to replace soon enough. 
And if you can't afford one of the better ones that we've reviewed here, we recommend waiting for Prime Day or Black Friday discounts rather than buying an air fryer you won't be satisfied with. 
Type
While we haven't talked about this before, there are a couple of different types of air fryers — depending on their features and the kind of cooking they perform. You have probably noticed that we've mostly reviewed "basket-style" fryers here.
That's because they represent the most popular choice among the currently available air fryers, and they give your family the healthiest meals.
On the other hand, you can also find multi-cookers — these are fryers that both pressure cook and air fry your food. The only problem with them is that these functions can't be used at once, so you're dealing with two distinct cookers in one device — and you don't need them. 
Finally, there are also "toster style" ovens that cook on the air fryer principle. But while these toaster ovens have racks and a door, they're quite large and not practical even for families of four.
You could bake a cake inside, but you'd need a huge amount of space to store the toaster oven all the time — and they tend to cost a lot more too.
At the end of the day, basket-style air fryers are our premier choice. 
Weight and Wattage
There are two more physical aspects of your potential air fryer that are worth considering — weight and wattage. Of course, weight is not that important if you intend to constantly keep the air fryer in one place. 
However, if you're going to move it around your kitchen and keep it in an off-the-counter storage space when you're not using it, you probably don't want something that weighs 20 pounds.
Also, note the wattage of the fryer — that will determine its power consumption. Consequently, lower-wattage air fryers also need more time to cook things. 
Customer Service
While most of the stuff we've talked about in this guide relate to the features and physical aspects of the air fryer itself — you should also consider what kind of advantages the manufacturer or reseller offers after you buy the device.
In general, it's reasonable to expect at least a one year warranty when it comes to air fryers. There are some manufacturer programs that give you longer warranties if you register the device within a specific time period. 
Apart from this, it's also nice to buy from someone who has a decent customer service. Sure, this isn't likely something you'll think about too much when you're making a purchase, but you may have issues down the line or simply want to ask a question — and a responsive customer relations department will help with that. 
Frequently Asked Questions
What size air fryer do I need for a family of 4?
If you need to serve meals to a family of 4, we recommend getting what's considered a large fryer — while an extra large might be overkill, your household has outgrown the medium ones. 

So, go with 4-quart capacity at the very least — that will allow you to cook all of the meals for everyone at once. While some people believe that 5 quarts are necessary here, we think that most families can make do with a minimum of 4.

Also, make sure that the air fryer has at least 1,700 watts of power — anything below that will take way too much time to cook even basic meals. 
Is a 5 quart air fryer big enough for a family of 4?
For a family of four, a 5-quart air fryer should be more than enough.

Of course, families and cooking habits vary, so you may find yourself looking for a larger fryer as well. Don't worry, if 5 quart models aren't enough for you, there are always extra large fryers. 

These are intended for the biggest groups of people and social gatherings, however they can also be useful for the average family that just likes to cook a lot and doesn't want to waste any time. 

Generally, these fryers range between 6 and an astounding 16 quarts — though the latter size is almost certainly overkill and it's mostly used in commercial places like restaurants. 
Which is better: a basket or oven air fryer?
While we've mostly focused on basket-style air fryers here, it's important to note that there are plenty of great oven models out there as well. However, the air fryer baskets have a couple of notable advantages that we consider particularly important for family meals.

First of all, they're quite easy to use. You don't need any background knowledge, you just plug them in and they're good to go.

Also, basket models can be used by individual family members when they're just making a smaller meal for themselves. And all of the parts in a good basket air fryer tend to be dishwasher-safe. 

On the other hand, an oven fryer is a better choice for more "serious" cooks. If you're someone who enjoys making pastries, pancakes, cookies, and similar treats, an oven frier will be much better.

It's got a drip tray and you don't need to line it with parchment paper. Also, its shape ensures you can check on your food more easily during the baking process; though things generally take more time to be cooked with an oven-based air fryer. 
How do I choose the right size air fryer?
One of the best things about choosing an air fryer model for yourself is the fact that you can pick the right size.
And apart from the size of your family, this will also depend on the kind of meals you cook.

Obviously, if you want to cook an entire turkey or chicken on a regular basis, you will need a larger air fryer; the bigger cooking chambers will give you the ability to process and bake larger amounts of food at once.

And they're often more versatile in terms of the features they offer as well, so you'd do well to check them out.

Of course, if you're not living with your family, you aren't likely to need more than the smallest air fryer which accommodates a single-person meal.

While these aren't as practical in terms of big meals, they're quite compact and don't take up a lot of space or spend much electricity. 
Which is better: digital or manual air fryer?
Before digital technology became widespread and popular with consumer devices, not all fryers had "digital" features. This largely refers to the digital touchscreen and/or LED display.

Now, it's important to note that both manual and digital air fryers function the same in terms of cooking the food.

However, their main difference is in their ease of use. Digital fryers have a control panel that allows you to use one of the pre-programmed cooking functions, like "preheat" or "bake". All of these amount to just specific time and temperature combinations.

On the other hand, manual air fryers don't have any preset options, and they sometimes lack a screen as well; all they have is a dial or buttons that you can use to set the time and temperature manually. 

Considering that, we recommend going with a digital fryer; you don't want to consider what kind of settings you need for every single meal you prepare. 
Is Air Fryer good for health?
According to most accounts, air fryers are better for your health than any other kind of frying — especially the classic frying in oil.
In fact, air frying will cut down the amount of calories in your fried food by a stunning 70 percent! 

This kind of cooking also reduces some of the other harmful aspects of oil frying. When you fry starchy food like potatoes, the chemical reaction that creates your great taste also creates some harmful chemicals like acrylamide — which increases your risk of developing cancer. 

Air frying reduces the acrylamide levels in fried food by 90 percent! However, there are a couple of downsides to this — air frying is also known to reduce the omega-3 fatty acids found in fried fish.

And these aren't harmful fats — they're great for your good cholesterol levels and they lower your blood pressure, protecting your heart in the long run. 
Wrapping Up
As you can see, there are plenty of great meals you can prepare for your family using an air fryer; all you need to do is to pick the right one. We hope that our guide will help you do that more easily!