If you're a media junkie, you might want a way to convert a TV into a multimedia online streaming platform; especially if you have an older TV that doesn't do you much good anymore.
In that situation, getting a Chromecast is definitely the best possible solution.
These days, it's quite easy to get a Chromecast from a variety of online vendors. Plus, these devices are incredibly cheap and very simple to install.
If your TV has a free HDMI port, it won't take more than a couple of minutes. And you'll be able to stream any kind of content from a huge number of sources; that includes Netflix, Hulu, YouTube, Google Play, etc.
However, you should know that Google has created more than the basic Chromecast when it comes to streaming. There's also its younger cousin which many people don't even know about, but it's equally interesting; the Chromecast Audio technology.
So, the basic Chromecast enables the streaming of television and video content.
On the other hand, the Chromecast Audio technology aims to enable the same kind of streaming capability but for podcasts, music, and other audio content. If you've got a speaker system that needs a streaming hub, finding the right device can be quite difficult.
You need to search for the proper connector or cable that lets you plug your streaming devices into a home speaker system; more often than not, the whole process is a huge pain.
There's even the case of having to resort to a manual for some of the devices if you want to know how to connect them. The whole thing is infuriating and has turned away many people that want to make their own home audio systems compatible with streaming.
However, that's precisely what Google Chromecast Audio is for. It is there to help you alleviate any such difficulties.
For instance, you can easily use it to stream audio content from any kind of Mac or PC, as well as Android and iOS devices. And it's not just for streaming music that's found on those devices' storage drives; you can use it to stream audio from sources and apps such as Spotify.
This is a niche market that Chromecast Audio is beautifully filling out. However, even though its installation is laughably simple — you may come to realize that the speakers that you have don't quite do it justice.
With that in mind, we're going to show you some of the best speakers for Chromecast Audio available on the market right now!
Our Pick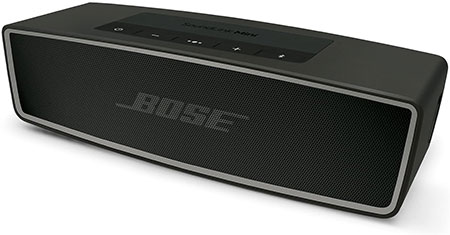 If you use this speaker with your Chromecast Audio, you'll basically feel like you're using headphones; that's the level of quality and the number of details that it can muster out of any soundtrack.
When it comes to hardware, Bose is a premium-level manufacturer for sure; there's simply no doubt about that. They've created plenty of intriguing products in the past, and the SoundLink Mini II is certainly not an exception.
In fact, it's hands-down the winner even among the top best speakers for Chromecast Audio.
Sure, it's a bit old compared to some of the models out there days — but it still has its place on the throne because of its supreme sound quality.
One of the reasons why this speaker is at the top is the fact that it can provide you with a clear, crisp sound quality even when you raise the volume significantly.
Plus, it is also excellent at providing you with lower frequencies and bass without jeopardizing the balance of the overall sound. The middle frequency sounds on this speaker also feel quite natural, and rightfully put vocals as the primary priority.
And that's the best part — if you're listening to music, every single tiny sound will be reproduced faithfully with this speaker; from the singer snapping their fingers to someone coughing in the background of a live track. Sure, these might seem like a bunch of unimportant details; but the overall experience is great.
What We Liked
While the general quality of this speaker is something we can easily attest to, there are more specific aspects of it that pretty much blew us away.
First of all, the design is pretty great. Heavy aluminum was used to construct the outer shell of this speaker, meaning that it's exceptionally durable compared to the competition. And yet, it manages to be one of the lighter units that we've reviewed here.
Furthermore, this speaker makes use of modern technology even if it's not a brand new model; for instance, you can use voice commands to control it with an astounding degree of precision. On top of that, the speaker also has an amazing battery life of some ten hours.
You'll also get a speakerphone that's built into it for voice commands and potential phone calls. These are all things that make it a worthy contender for any 2020 speaker system out there.
What We Didn't Like
On the other hand, there are definitely a few drawbacks with this device, just like with any other; after all, there's no such thing as perfection.
For instance, one of the bigger nuisances that we'd mention about this product is that its power cord is simply too short. So, if you want to charge it in some harder-to-reach places, you may find the process somewhat troublesome.
How we chose the best speakers for Chromecast Audio
Before moving onto the other three picks on our list of the best speakers for Chromecast Audio, we'll tell you a bit about how we've chosen the best products from a wide range of options.
Build
Speakers are something that you don't realistically buy every other day. That means that you want them to last you a long while; a year or two at the very least.
With that in mind, one of the most important aspects of a speaker system to take into consideration is the quality of its construction.
If you're wondering what precisely that entails; first of all, we're talking about the speaker's outer shell. This part of the device is usually made out of metal or plastic.
Obviously, the metal (generally aluminum) products are far less prone to damage than speakers whose system is made out of plastic.
Also, regardless of what these speakers are made of, you definitely want them to have some additional coverage. Most manufacturers use silicone or some kind of rubber to cover the outer shell and protect it from impact damage or scratching.
Apart from that, there's also the interior build. Naturally, this includes the actual hardware that produces your sound. Most specifically, this means your speakers' cones.
The quality of the sound and the device's durability will largely depend on the material used to manufacture these cones. There are various things used for this — glass, fiber polymers, polypropylene, paper, etc.
Now, if the materials in question are flimsy — the sound waves that move quickly out of the device will bend the cones after a short while.
As a result, the produced sound simply won't be as sharp and clear like it originally is. As you might assume, we recommend investing in speakers whose cones are made out of tougher materials.
Impedance
We're going to get a bit into the technicalities with this one — but impedance is also a somewhat important aspect of your speakers.
This is a technical term for the electricity levels needed for electricity-based devices to function optimally.
With this in mind, know that you should take care of any amplifiers or devices that you want to connect with your speakers to be at the same impedance.
Sensitivity
Of course, seeing as we're talking about audio output devices — sound sensitivity is a pretty big deal here. To be more specific, this is the ability of a speaker device to produce a certain decibel height.
Higher sound sensitivity means that you'll perceive a bigger change in volume after you turn it up or down.
In other words — more sound sensitivity means the ability to reach higher volumes without losing much in terms of sound quality.
Wattage
The general power of your device will be represented by its wattage. When you take a look at the wattage of any speaker, you will find that there are two numbers — the minimum and maximum ones for the operation of your device.
Now, the wattage that you'll need depends on what you want to use this device for. If you're getting one of the best speakers for Chromecast Audio to create a small sound system for listening to podcasts, for instance; 50W will prove to be enough.
Conversely, for someone who is looking to use Chromecast Audio as part of a sprawling home multimedia system, something higher will probably be in order; like 150W.
The wattage of your speaker system directly correlates to the decibel levels that the device can reach. So, the wattage will impact the sound clarity and maximum volume of your device.
Frequency Response
The penultimate metric that you need to keep in mind here is the frequency response; this shows how powerful your speaker is when it comes to tone production.
The value of frequency response contains two numbers; the first one shows the lowest possible tone produced by the bass and the speaker, while the other one shows the highest ones. Really, this isn't a single value as much as it is a range.
Connectivity
Finally, we looked at how versatile a device is when it comes to its connections. Obviously, if you're going to get the most bang for your buck with this, you're going to want to buy a speaker that has as much variance in connectivity as possible.
In other words, you want multiple options for hooking these speakers up to other devices. That means 3.5mm sound jacks, HDMI ports, optical cables, Bluetooth, WiFi, etc.

If you want a speaker whose sound will absolutely engulf everyone; this is the device for you.
Next up, we've got the runner-up on our list of the best speakers for Chromecast Audio — the Polk Audio Magnifi. As you'll soon see, there are plenty of reasons why this is an excellent speaker for your Chromecast device.
The wattage of the device is a pleasing 150W, meaning that you can use it for a more comprehensive home sound system that completely fills a moderate-sized room.
Of course, one of the most important aspects of a speaker for this purpose is the quality and reach of its audio.
As you'll be pleased to learn, the Polk Audio MagniFi produces a sound that can easily spread throughout your room; reaching people clearly regardless of where they're sitting.
Secondly, the sound quality is definitely up there with the other top contenders. And as high as your volume goes, the sound remains clear and sharp.
The other aspects of the MagniFi's technical design are excellent as well, for sure. First of all, you'll find a variety of DSP settings, as well as Dolby Digital encoding.
The speaker easily allows you to switch between settings with amazing ease; indeed, the response time for commands is definitely everything that you'd want it to be.
As we've mentioned above, it's important to note that the speaker has all the ports that you'd want; allowing you to connect via HDMI, USB, and 3.5mm jacks. Plus, handy LED lights show you which of these ports are being used as a sound source at any given time.
What We Liked
While this is the "Pros" section of our review, we do have to mention one thing — the sound quality of this device is not comparable to larger surround systems, even though it's great in its niche.
Remember, the MagniFi is a soundbar; meaning that you can't expect the level of quality that comes with dedicated speakers. Still, this speaker actually manages to do it! You'll find that this small cabinet punches far above its weight.
Most of the other soundbars that we've tried out sounded far more contained when we used Chromecast Audio to stream content to them.
Many of the more demanding tracks simply lacked the bass and drama of the original recording. However, the MagniFi showed that it's above the rest of the pack.
What We Didn't Like
One of the few issues with the way MagniFi works is that its vocals are simply not as natural-sounding as they might be.
And while the bass is loud enough, we feel like its quality could bear some improvement.
Every single track or tune you play on the Riva device will feel as organic and natural as it is on its original recording.
One of the reasons why we haven't put the Riva Festival on the top of the list isn't its quality, but the somewhat too steep of a price.
Indeed, if the price for this luxurious speaker wasn't that high, we would have probably featured it in a better spot on our list. Still, we have to point out that this is definitely a high-quality speaker for your Chromecast Audio setup.
It's definitely not the most portable one on this list, with a little over fourteen pounds. Still, that weight isn't for nothing, seeing as the build quality of this speaker is simply not surpassed. The radiator, drivers, and amplifiers are within two extremely high-quality cases.
To be more precise, the two cases are the exterior and interior ones. The exterior case has no connection with the inner mechanisms; it's manufactured using plastic, but the inner case was made using extremely sturdy wood. As a result, this product is quite durable.
Moving on, we can conclude that the Riva Festival is a proper powerhouse; its 200W represents the highest wattage on this list by far.
And this wattage is used by a mighty amplifier, three woofers, and four radiators; resulting in consistent sound quality regardless of what volume you put it on. Also, this sound spreads evenly throughout your room.
What We Liked
As we've mentioned, the sound quality definitely isn't bad. In fact, the Riva Festival can easily boast some of the highest audio resolutions on this list; up to 192kHZ, something you don't see in every speaker.
Indeed, each sound channel is masterfully controlled. You will equally feel the smoothness and warmth of the lows and the breezy lightness of the highs.
The high sound sensitivity of this device ensures enduring quality across all levels.
The variety of connections available on the Riva Festival are definitely among its perks; you can connect to it using Bluetooth and Wifi, but also DLNA, Spotify Connect, and AirPlay. All among those streaming services support direct sound reproduction over this speaker.
What We Didn't Like
When it comes to the downsides of the Riva Festival, we'll have to reiterate on some of the points that we've made before.
While no-one can say that the speaker doesn't justify a high price tag, this may simply be too much for many people to bear; at least for investment into speakers for Chromecast Audio. Also, the speaker is simply too weighty to support decent portability.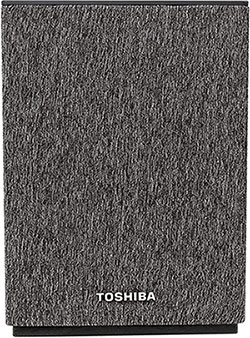 The high-resolution audio support of the TY-GC1000 is something that we all appreciate; particularly in a budget speaker.
As we've just said while talking about the Riva Festival speaker; not everyone can afford to spend a small fortune on even the best speakers for Chromecast Audio.
With that in mind, our final pick on this list is going to be the best speaker you can get for a modest sum of money. So, without further ado, we'll introduce our budget choice — the Toshiba TY-GC1000!
First of all, it's important to note that this speaker lets you gain access to some truly incredible features; nothing revolutionary, but definitely not a level of quality you expect out of a low price tag.
Most of the stuff you can achieve with this would set you back a larger amount of money with different brands. However, Toshiba manages to bring us quality budget gear once more.
For instance, the connectivity of this device is decent compared to its peers; you can use an AUX jack to connect to it, as well as Bluetooth and WiFi.
Most people opt for the latter two as the wireless options, but if you need more stability it's nice to have an AUX jack.
What We Liked
Some of the design aspects of the Toshiba speaker are certainly among its selling points.
For example, you can easily access all of the controls which are found at the top part of this device. Also, there's a dedicated button used for Bluetooth, making pairing quite easy.
The audio quality of the device doesn't leave a lot to be desired. The bass-reflex technology which comes built into the speaker ensures an exceptional level of quality for the bass.
Some of the other Toshiba devices come with subpar packaging; however, that's not the case here. This speaker has a layer of textured fabric over an otherwise unremarkable plastic box, providing it with a bit of protection as well.
What We Didn't Like
There are a couple of disadvantages to note when it comes to this speaker.
Mainly, while it manages to impress with its bass technology; its high tones aren't really on the same level of quality, lacking some of the vibrancy that we'd expect. There's also no equalizer, meaning that you can't exactly fine-tune the sound on your own.
Before you even start researching speaker features, evaluate the room where you'll place the speakers. A variety of factors in a room can affect the type of speakers you'll want to choose.
Best Speakers for Chromecast Audio – Buying Guide
While we've showcased some of the top choices for speakers in our opinion; there are still plenty of other models compatible with Chromecast Audio.
That means that you might want to do some browsing on your own.
But the question is — what do you need to know about buying this type of hardware by yourself?
We've talked about some of the technical aspects of the speakers above. And right now, we're going to delve into the practicalities of buying speakers for this purpose, as well as the different types of speakers that are out there.
Customize Your Setup
The first thing that you need to realize about speaker configurations is — there is no one configuration that's universally good.
Instead, you need to see what kind of audio you want to listen to, as well as the environment that you'll be listening in.
For instance — if you want to use Chromecast Audio to stream high-quality music, you might want to think about a stereo pairing of left and right speakers.
On the other hand, if you're going to stream podcasts — it's all about finding the speakers that emphasize vocals the most. These will allow you to hear all of the monologues or interviews the most clearly.
What Are Your Surroundings Like?
As we've talked about just now — it's not all about buying the most expensive set of speakers out there. You also need to take a look at the room where they'll be situated most often.
Remember — the surrounding area around your speakers will have an immense effect on the quality of sound that you can expect. Wooden floors and windows tend to reverberate sound quite a lot.
This means that a lot of the audio might get canceled out or distorted.
On the other hand, soft surfaces such as carpeting and drapes naturally absorb sound; while all of the other irregular objects diffuse sound and make it spread out more around the room.
Getting some portable speakers is usually a good idea if you've got concerns of this sort; these allow you to enjoy your sound in practically any part of your home.
However, you also need to remember that these speakers are generally less powerful, so there definitely is a trade-off. On the plus side though, plenty of them operate on a battery that you can recharge, eliminating the need for a nearby outlet.
Trusting Your Gut
When you start trying out different audio settings, there's only one person that you should listen to — and that's yourself.
Have you ever had that situation where someone changes audio settings in your car and you don't seem to realize why?
That's because everyone's ears are accustomed to sound a little differently.
And the same thing happens when you start working on a speaker setup for Chromecast Audio and your home.
Depending on the type of audio that you listen to most often, try to understand precisely what you like about it. Do you like heavier bass or smoother sound? All of that is worth thinking about.
Wireless and Portable Models
We've already talked about how useful portable speakers can be. However, we're going to describe them in more detail here. If you don't mind some less volume power, portable speakers can definitely turn out to be your one stop shop for music in your household.
Seeing as Chromecast Audio is equally portable, they definitely make a nice package. Plus, such speakers are usually quite lightweight, allowing you to bring them wherever you go.
Here's a little pro tip: if you're thinking about taking one of these to a pool party come summertime, make sure to buy a model that's resistant to water. The same goes for any outdoor event and even places like camping.
The convenience and flexibility of portable speakers are usually coupled with great connectivity with WiFi, AirPlay, or Bluetooth. That's why they make up the majority of devices on our list of the best speakers for Chromecast Audio.
Some of the more expensive models of these speakers can even be paired with another identical model for a stereo sound experience.
Soundbars
Now, some of the products that we've reviewed here are actually speakers in the form of soundbars.
These are generally supposed to be used with a television, in order to amplify and improve on the sound that would otherwise come from TV speakers. If you want to hear some truly cinema-level sound quality, this can be a great addition to any home theater.
However, the reason we're mentioning them here is that most of the newer models of soundbars can also be connected to a Chromecast Audio, allowing you to harness their power in smaller rooms to their fullest potential.
If you find the bass quality of soundbars lacking (as they often do), there's always the option to hook them up with a subwoofer and receive a better bass.
The final type of speakers we'll mention are sound bases; we haven't included an example here, but they can definitely be used with Chromecast Audio too. Usually, they fit under TVs while working according to the same principles as soundbars.
Conclusion
In conclusion, there are plenty of different aspects to take into account while purchasing speakers for your Chromecast Audio. First of all, there's always the question of what you can realistically afford; depending on your budget, you need to work hard to stay within your price range.
Furthermore, you need to think about what kind of speaker you want based on its technical prowess; we've described some of the aspects you need to know here while talking about how we've selected our top pick.
Finally, you need to mind your surroundings and choose a speaker that's appropriate for your household. We hope you found this guide useful and that you have learned something new about the best speakers for Chromecast Audio. Make sure to stay safe and have a good one, folks!