Being a homeowner or a business owner is pretty great — but it also entails a lot of responsibility.
Having something important that you can truly call your own also means that you're mainly in charge of protecting it — which is why having the peace of mind that comes with an advanced security system is of major importance.
And if you've ever had a smashed windscreen or you've found that something from your backyard is missing — you'll want to invest in your security a bit more.
Even if you don't have anything of value outside, once perpetrators get cocky they might even try to break in; which is why you want to have all of the right deterrence through a practical security system.
But what scares potential burglars the most?
In our experience, it's the possibility of being caught. And that's why you should invest in the best outdoor wireless camera system with DVR; allowing you to record and notice any concerning occurrences or even crimes, while also preventing some of them.
These days, outdoor cameras with DVR offer all kinds of advanced features, from motion-activated recording to email alerts. You'll find all kinds of configurations, some of which are bound to be what you need for your own needs.
Naturally, the problem here is that buying the best outdoor wireless security camera system with DVR is not that easy; there are plenty of technical aspects of this purchase to think about, and not everyone knows how to deal with that stuff easily.
Luckily, we've got an in-depth guide that's going to provide you with all of the information you need to choose the best possible wireless security camera, so read on!
Our Pick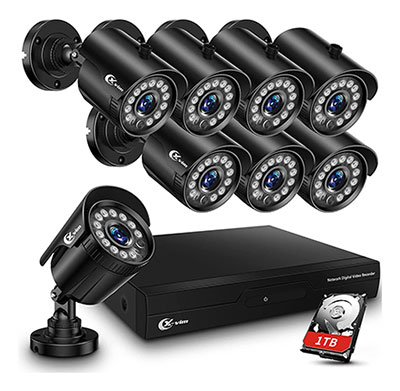 There are no two ways about this — XVIM is one of the all-time greats when it comes to outdoor camera security. This manufacturer has been known for its convenience and versatility for a while, and this particular eight-channel system is one of the best ones on the market; you won't find any blind spots in your outdoor vicinity with it.
When you're looking for the best outdoor security camera system with DVR, one of the biggest factors on your mind is trustworthiness.
After all, if this system is going to be the lynchpin of your home or business security — you need to make sure that you're dealing with trustworthy equipment. And with that in mind, we're going to start off with XVIM as our top pick!
What we liked about XVIM
The manufacturing quality is also something that we were particularly fond of, considering the fact that the metal housing of these cameras has an IP66 weatherproof certificate; meaning you won't have to worry about snow, sunlight, dust, and rain damaging your cameras. They're perfectly safe from all the elements!
Of course, if you want to deter potential perpetrators, you need the ability to see their identity with a reasonable degree of clarity on your camera.
With this in mind, you'll probably be happy to learn that this 2-megapixel video sensor will provide you with surprisingly sharp images with an incredible level of detail; up to a hundred feet, you won't notice any blurriness on the camera!
And it's not just about images either; the XVIM is more than capable of recording Full HD, 1080p footage ensuring sharp playbacks.
The DVR supports HD-TVI, CVBS, CVI, and AHD cameras, allowing you all the security and flexibility you need with your camera system.
Naturally, while a good resolution is important, you should also remember one of the key qualities in the best outdoor wireless security camera systems with DVR — and that's storage capacity!
The last thing you want is not having enough storage for easy recording, and thus having to manually backup the video data constantly.
However, there's no reason to worry about that with the mighty XVIM — here, you get a DVR with a stunning 1TB hard drive! This is more than sufficient for quite a lot of recording, meaning it'll be a long time before you have to think about backing up recordings yourself.
Plus, the video playback features are easier to access than ever before, with the handy XVIM Pro platform. With it, you can use pretty much any of your devices to access video playback features from your camera system — such as your phone, PC, or HD TV.
Finally, you'll be more than pleased with the LED lighting that comes with the system; allowing you to have clean and well-lit recordings up to 85 feet.
Plus, the infrared LED won't make it difficult to get a good night's sleep as it's not visible to the human eye; however, it will be ample lighting for the camera to capture any potential perpetrators on your premises.
And the fact that you can get instant notifications of any motion detection straight to your email address means that you'll always be up to date with what's happening!
The downsides
The only real issue that we can think of when it comes to the XVIM is that it doesn't support audio recording; meaning you won't be able to hear what some of your perpetrators were talking about, or what kind of noise they were making.
However, from a privacy standpoint, this is understandable as it would amount to having microphones in your home all the time.
How we chose the best outdoor wireless security camera system with DVR
As you'll see from the other wireless security systems that we've reviewed below, there's a certain set of features that you come to expect from a proper product in this niche.
However, while we'll explore the things you need to keep in mind regarding this product in our buyer's guide; you're probably wondering why XVIM rose above all of the other contenders for the specific number one spot on our list.
And the reason for that is quite simple — cost-effectiveness. Quite simply, XVIM had all of the stuff that you expect from such a system, while also maintaining an acceptable price.
In other words, you won't have to break the bank to get this product compared to others with a similar set of features; but you're not making any compromises in terms of quality, because it is one of the best out there.
Best alternatives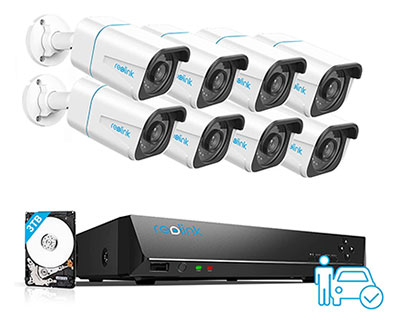 With this Reolink camera, you get an 87-degree recording angle with the camera's 4mm lens — meaning that there's no place in your immediate vicinity that you won't be able to record.
Next up, we've got another one of the best outdoor wireless security camera systems with DVR — the Reolink system.
If you want a range of exceptional features that are all focused on providing you with high-quality imagery and maximum security; this is also a great choice.
What we liked about Reolink
If you're going to activate this security system during the night, you will find that the infrared LED lighting gives the Reolink cameras all of the light they need, regardless of foggy weather or the levels of humidity.
You'll still be able to get decent video quality and level of detail up to a hundred feet of the cameras.
The Reolink cameras are 4K Ultra HD, and thus give you one of the best possible image clarities we've found on this list.
However, if your Internet connection and storage space aren't suitable for this, you'll find that you can scale the video quality back to the usual 1080p HD.
Still, regardless of the chosen level, images and videos are crisp enough, and they don't have the distortion that comes with some digital zoom features in certain security cameras.
Just like most of the excellent cameras on our list, the Reolink camera system comes with an incredibly sturdy IP66-grade metal encasement — completely unfazed by any outdoor weather conditions that you might throw at it.
This camera functions in even the toughest climates, with snow, raindrops, or extensive sunlight being unable to damage it.
You're probably wondering about the storage space that you get with this camera — considering the fact that its default recording is at a 4K resolution, it would need a hefty hard drive to function without much fuss.
Luckily, this camera system's DVR comes with a huge 3TB drive, capable of storing a lot of around-the-clock recording. And if you find that you want even more space without having to back up and delete recordings, you can also buy and install an additional hard drive of up to 4TB — for a total of seven terabytes!
Plus, the connection of this system is entirely lag-free, thanks to its plug-and-play system. You only need one Ethernet cable for data transmission and power supply, so there's no complex wiring to worry about.
And you get the Reolink app that comes with the device for free; allowing you to always be alert of any changes in your immediate environment or access the cameras remotely in a matter of seconds.
The downsides
While the system is quite easy to install, many people have reported issues with the Reolink tech support — while the camera rarely has any issues, their support system is not as responsive as most would like.
Also, the 4K resolution and the huge hard drive mean that you'll have to pay a heftier price than you would for the XVIM system; but that's just unavoidable with this kind of hardware.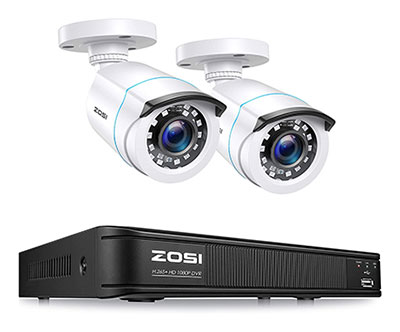 The Zosi app provides the instant notifications and email alerts that we've come to expect from any kind of modern wireless security system; though, the smart motion detectors in the Zosi system are some of the best we've seen on the market.
While the Zosi system does not have the best possible camera resolutions in the world, it has a number of features that set it apart from its competitors — and as you'll see below, its sensors are no joke at all!
What we liked about Zosi
The outdoor cameras that come with the Zosi system record at 1080p; not the greatest resolution we've seen on this list, but not anything less than what you need.
Regardless of who comes near your home, you'll be able to see their physical and facial features with a reasonable degree of clarity. Plus, these videos don't take up a lot of space, and you can view them on any kind of monitor, phone, or tablet.
And when we say that Zosi doesn't need a lot of storage space, we do mean it — the system uses an excellent video encoding technology (H.265+) which results in the best possible compression ratios; severely clamping down on your storage needs.
This kind of compression goes a long way towards increasing the cost-effectiveness of your system. Also, you'll find that the cameras of the Zosi system are devoid of any kind of grainy imagery; even during the night, you can enjoy a clear picture of up to 65 feet in low-light conditions.
The viewing angle of a single Zosi camera is 90 degrees, meaning that even the most hard-to-reach places in your home's vicinity will be easily captured on the footage.
Plus, the level of versatility in this security system's software is truly astounding; you've got client software for both Windows, Mac, and Linux; along with support for iOS and Android mobile devices. Indeed, remote access has never been easier!
Also, the IP66 weatherproof rating means you don't have to worry about any outside conditions mucking up your camera; there's complete protection from water, cold, heat, and dust.
The downsides
While the manufacturer touts its excellent night-time motion detectors, we do have to notice that the video compression that they use does not provide the best night-time imagery that we've seen; though you can still make out any movement with a reasonable degree of clarity, identification leaves a lot to be desired.
We have to point out that one of the most impressive things about this camera is its incredible level of performance in low-light conditions; when it comes to this kind of price range, it's a level of performance above its competitors. The 3.6mm LED cameras with infrared lighting give you all of the nightly image clarity you could hope for.
Up next on our list, we've got the great Heimvision; one of the most flexible and wide-ranging options on our list. Take a look at our impressions of this high-performing wireless security camera below!
What we liked about Heimvision
You can forget about cheap blurry cameras that make it practically impossible to identify anyone trespassing on your property — the Heimvision system includes a 1080p Full HD camera that the 21st century home and office security needs.
Plus, it has got the H.265+ compression encoding that we've already praised — meaning you won't have to worry about storage space and bandwidth requirements as much when you set up your system.
Plus, the viewing angle is astounding, and it's the main selling point of the Heimvision system — you get a camera with a stunning 360 turning angle, meaning you can set it up to cover as big of an area as you want to.
Now, if you're someone who lives in harsh weather or particularly icy conditions — we have to point out that the IP66 weatherproof certification means you'll have nothing to worry about with this security camera system.
You can be certain that the system will withstand anything from below 4 to 122 degrees Fahrenheit. And the extensively durable metal housing of the cameras provides them with ample protection from dust or other debris.
When it comes to the connectivity of the devices and their software, you'll have no concerns either — you can easily connect the VMS software with your Heimvision hardware in a matter of minutes. Soon enough, you'll be able to monitor the entirety of your property whenever you want.
Also, we should note that one of the best things about this camera is that it's not overzealous; you can easily minimize any false alerts that small animals and slight movements might cause; you don't want to get an email or a push notification every time a squirrel comes to your property, after all.
The downsides
As with some of the best video cameras on this list, unfortunately — there's no support for any kind of audio recording or two-way communication; meaning you can't rely on this system to support you with any kind of sound from your premises.
Still, this doesn't have to be that much of a deal-breaker, depending on your personal needs.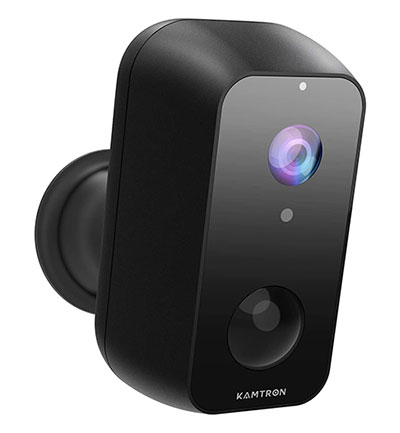 There's an incredibly intelligent motion detection system built into the Kamtron camera; it combines a movement sensor and a temperature sensor to ensure that you can detect any kind of human and organic movement up to 30 feet from the camera.
Next up, we've got something a bit different compared to your average outdoor wireless security camera with a DVR system — the Kamtron.
And the reason why this is a different product compared to other entries on our list lies within its flexibility; unlike many of the other cameras you can find here, the Kamtron can be used both indoors and outdoors!
What we liked about Kamtron
The most advantage of the Kamtron is its ability to be used indoors. Of course, that does come with some trade-offs on other sides.
Firstly, no, the resolution isn't anything worse than with other security cameras that we've reviewed — you get a 1080p Full HD picture.
However, the night-time shots aren't as great as you'd like, seeing as they're completely monochrome and somewhat grainy.
Still, the camera does have two infrared LED lights built-in, so low-light conditions aren't a problem in terms of blurriness.
Also, the camera setup is some of the easiest ones we've ever seen — with a combination of adhesive pads and a magnetic base that's sticky and incredibly simple to use.
The manufacturer wasn't slouching when it came to materials either; this camera was made with industrial-grade metal materials and plastics, and it has a great IP65 rating when it comes to weatherproofing as well.
Indeed, the camera is able to withstand amazingly low and high-temperature levels, and rainy days won't be an issue either.
Apart from the ability to use it indoors, one of the best things about the camera is an incredibly well-developed audio function. There's two-way audio built-in throughout the system, with speakers and microphones.
It enables you to do everything from talking to your delivery person to scaring away potential intruders — all from any kind of remote distance, using your phone!
The downsides
While this camera is one of the more versatile ones we've had the pleasure of trying out — unfortunately, it comes with a couple of setbacks that could be deal-breakers for some people.
First of all, the storage you get isn't great; you can use a 128GB SD card, or the company's cloud storage (which you have to pay for).
And while this camera doesn't have a particularly high resolution, that still means you'll have to worry about storage practically on a weekly basis.
Also, while its sensors and night vision are great — you can very much see that this is a camera that was built for both indoor and outdoor use and ends up being good at everything but stellar at neither.
The distance of its sensors and night vision footage is far from great, at about 30 feet when the industry standard is between 50 and 80.
Still, if you're thinking about versatility more than security — this is a great product!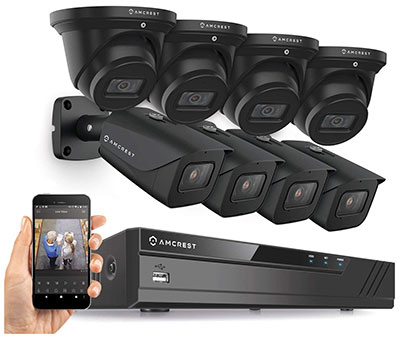 This is a high-end security camera, considering the immense distance that it covers without losing out on quality. For instance, the dome cameras cover more than 160 feet, while the bullet cameras cover 130 feet.
Our final choice on this list is an Amcrest security camera; one of the most renowned manufacturers of great security cameras.
And their 8-channel 4K DVR edition does not detract from that impression.
What we liked about Amcrest
With this package, you get four 4K cameras, both bullet and dome varieties — allowing for maximum coverage of your home and its surroundings.
The cameras also work at 110 degrees rotation, allowing you to use a combination of them to cover the entirety of your household exterior.
Furthermore, we believe you'll be delighted with the great picture quality that comes from these cameras; each one of them is equipped with stunning 8-megapixel sensors, allowing you to stream crystal-clear 4K footage around the clock.
There is no grainy imagery or muddy conditions; each second captured on the Amcrest cameras is utterly clear.
Also, there's no lag or latency, thanks to the incredible closed-circuit camera design. You get real-time footage of your outdoors whenever you want it, even during the dark.
The DVR that comes with the cameras provides you with immense recording capabilities, considering the fact that it supports a hard disk of up to 10 terabytes.
There are also all of the alerts you expect from this kind of high-end camera; its motion detection technology ensures that you get alerted to any kind of suspicious movements around your premises.
And if you're near a busy street that your camera points towards, you can even customize the zones of motion — allowing you to disregard false alarms instantly.
Unlike most of the 4K cameras we've reviewed here, this one also supports one-way audio — meaning you can communicate at least partially to anyone found on your premises.
Also, the Amcrest app was well-designed — there's no need to sit in front of a computer to check your security footage, as the DVR is connected to iOS and Android devices as well if you want it to be.
Things to consider before buying the wireless security camera system
There are plenty of ways in which security camera systems are useful; burglars tend to be wary of trying to infiltrate homes with higher security, so such cameras work as both deterrent and recovery tools.
Plus, there are other benefits to these cameras besides helping you police your premises. For instance, you can keep an eye on your pets or your children no matter where you are!
But what should you keep in mind while choosing one of these cameras?
Sure, you might have seen the models that we've chosen above; but what if they're not available in your given area, or you simply want to choose from a bunch of others?
Don't worry — we'll give you an in-depth buyer's guide as well, allowing you to apply that knowledge to any kind of set of security products.
So, first of all — you should know that there's never been a better time to get a surveillance security system. From 2013 onwards, these products have received significant upgrades in terms of processing power, memory, and quality of recording videos.
Most of the currently available outdoor security cameras provide footage at around 30 frames per second, giving you all of the knowledge you need about unfolding events.
Weatherproof Rating
One of the biggest details that people miss when talking about outdoor security cameras is their weatherproof rating.
Indeed, you'll find that a lot of low-grade manufacturers of security equipment will boast that they've got great resolutions and a lot of storage space in their systems; leaving you wondering why their prices are so insanely cheap.
The answer is simple — their equipment just doesn't last long in outdoor conditions. And this is a huge issue, considering the fact that these are primarily outdoor cameras.
If they are prone to corrosion or if dust catches on the sensors, they're practically useless.
With that in mind, when you're picking your outdoor wireless cameras, you need to make sure that they've got an adequate weatherproof rating — like IP67, IP66, and IP65. This means that they're protected from rain, snow, sun, and dust.
NVR and DVR
As you start choosing from a variety of security cameras, you need to make sure that you know what's the difference between a Network Video Recorder (NVR) and a Digital Video Recorder (DVR).
Both of these aspects of a camera are there to provide you with video recording abilities; after all, that's something that your security cameras would be useless without.
There's not much point to a camera security system if it doesn't record and store video — but there are differences between DVR and NVR.
While both of these systems record video data, DVR processes data received directly from security cameras, while NVR stores and catalogs videos that are streamed via IP cameras.
To put it in simpler terms, DVR stores and encodes video signals, while NVR stores videos that have already been encoded. NVR works with network cameras, meaning it can be accessed through any kind of connected device.
Conversely, DVR is a much lower-cost alternative, seeing as it uses a coaxial cable to transmit video data and it doesn't use as much bandwidth.
While both of these represent reliable solutions, DVR is a much less complex solution, and it won't take up nearly as much storage space as NVR would. That's one of the main reasons why we've focused on DVR cameras in this guide as well.
Video Quality and Resolution
While you can't expect a security camera to have the resolution or video quality of your latest iPhone — there's also a lower end to the video quality that you don't want to go below.
If your outdoor camera has a fuzzy or grainy image, it will be pretty much useless when it comes to identifying anyone who's trespassing on your property.
With that in mind, you need to think about the quality and the resolution of your camera's video output. Having a lot of megapixels means that you will have a better resolution even if your security camera is making wide-angle shots.
Also, 720p HD (usually 1 megapixel) camera is the bare minimum that makes investing in a camera system worthwhile in the first place. These provide reasonably clear and sharp images, while 1080p videos are even more detailed.
At the end of the day, you've also got 4K cameras; but these are a rarely used commodity, seeing as they require a huge WiFi connection and insane amounts of storage for the videos.
Different kinds of sensors
When you've got a wireless security camera system, it's not enough to just have an excellent video camera. You also want as many other sensors as you can get; giving you a complete "picture" of what's happening in your immediate surroundings.
For instance, high-quality audio sensors can be of immense help; you can use them to combat noise pollution, detect any kind of aggressive behavior, and allow you to mount a quick response to any immediate threats.
And if you've got two-way audio, you'll also be able to communicate with anyone who enters your property.
Of course, there aren't just audio sensors at your disposal. You've also got motion detection sensors for targeted areas, allowing you to quickly spot anyone who's moving around your yard or near your home.
Ideally, all of these sensors are linked to a proprietary application for your smartphone and computer, allowing you to immediately see what your security system has detected.
This kind of interconnected approach is a must when it comes to modern security systems; you don't want a sluggish system that doesn't give you the ability to respond to any changes in your environment right away.
Storage Size
As we've mentioned before, storage is something many people fail to consider when selecting a security camera system.
And yet, it's essential if you want to ensure that you've got all the necessary storage space for your videos; otherwise, you won't be able to keep what you've recorded for more than a day or two.
When you're considering what kind of storage space you need, you should think about the camera that your security system has.
For instance, a 1MP camera will need 38GB of free space to record footage for 24 hours. Now, not everyone keeps their security system on 24/7 — but you still need to consider this stuff.
With that kind of camera, a 1TB hard drive will give you around a month of footage; after which you'll need to back it all up or just delete it outright.
Budgeting
Naturally, while having all of the necessary security features that we've described above is important; you also need to make sure that the system you want fits within your budget.
There are plenty of high-quality camera systems out there, but they're just prohibitively expensive; that's one of the reasons why we've chosen XVIM as our favorite pick among all the others.
It has all the quality and features you need from this kind of camera, but it isn't expensive enough to make its purchase a huge investment.
Of course, it's not the cheapest out there either — but that's unavoidable because more advanced features will always warrant a higher price.
When it comes to budgeting for a security camera system, it's always a good idea to consider the size of the surveillance area that you're covering, along with the number of different cameras that you want your system to have.
Frequently Asked Questions
Which is better: NVR or DVR?
When you decide to buy the best outdoor wireless security camera system, you'll have to decide whether you want a system with NVR or DVR recording.

And this is important, seeing as the video quality, installation difficulty, and cost will all depend on this.

Generally, we have to point out that the biggest difference between these two recording systems is the cabling and cameras that they use.

Network video recorders often function without any wires whatsoever, while DVRs use cables to transmit their analog camera footage.

Generally, we'd recommend DVR systems as they cost far less, though they often require professional help with installation. But if you're hell-bent on an IP camera, you can also consider some other NVR models too.
Can I connect a wireless camera to my DVR?
Yes, this is absolutely feasible. You just need to use a wireless bridge to connect your camera to the DVR; you configure the bridge to be connected to the local WiFi router, and then you can forward the connection to the wireless security camera.

All you need to do is to make sure that the proper port forwarding settings have been already prepared on your router.

These wireless bridges successfully stop you from spending money needlessly and going through all of the hassles of running additional wireworks through your walls.

All you need is a Cat5e cable and a properly configured router, and you'll connect a wireless camera to your DVR in no time!
Do you need a DVR for wireless security cameras?
When it comes to the best outdoor wireless security camera system, you should know that it doesn't depend on the existence of DVR for its basic functioning.

The camera can stream footage to your computer or phone without a DVR, and it can still send you alerts for current issues.

That being said, almost no one uses wireless security cameras without DVRs because the DVR is what records the footage, allowing you to review it later. If you don't have one, every single second of streamed footage will be instantly lost!
Conclusion
There are a couple of different features that you have to consider while buying the best outdoor wireless security camera with DVR — but we hope that our guide has helped you choose the very best one!