Whether you're looking to beautify your garden or give some security to your home, find what are the best outdoor solar lights here.
If you're looking to add some lighting to your yard without increasing the electricity bill, then you've come to the right place.
We've looked through some of the best outdoor solar lights and tested a selection of the better ones, so you won't have to churn through hundreds of Amazon reviews for the right product.
Good solar-powered lights should be bright, preferably with a light intensity adjustment function, and last throughout the night. Stylish looks won't hurt either but we put function over form, with things like waterproofing and ease of installation prioritized over aesthetics.
How we picked the best outdoor solar lights
Our team spent hours on end churning through all the products available on retail sites in the outdoor solar lights category.
Based on marks received and customer response we settled for the 30 most popular ones for a closer look, which meant consulting all the trusted review sites out there.
At the end of this second round of arduous research, we came up with 6 "finalists", covered in the list below.
You can jump past the list for some info on the criteria we used to make our selection, but we'll tell you right off the bat that value for money was among the factors we considered.
You shouldn't expect for an affordable solar light to last you as long as the best solar landscape lights and wherever we could, we looked for info on the product's expected life span (some of the newer ones haven't yet been put through their paces by neither costumer nor reviewer).
Our Pick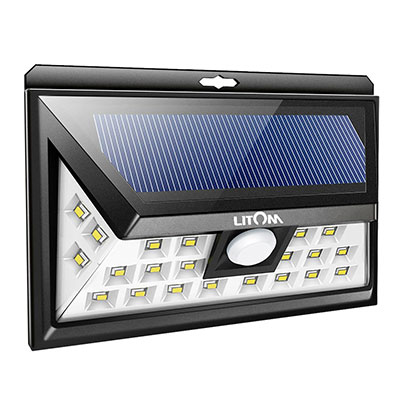 The best outdoor solar light
This Amazon top seller made as good an impression on us as on the many people who bought it.
A security solar light with an impressive 270 degrees lighting angle, the LITOM Original comes with some bonus features to ensure that your yard, patio, or garage are well flooded in light whenever its motion sensor picks something up.
It has three light intensities, so you don't risk upsetting any neighbors, and the 20 seconds of lighting is prolonged every time a movement is detected. Naturally, the LITOM Original can also be set to be on throughout the night.
The unit is weather-resistant and seems to have a sturdy construction, covered in ABS and PP material. The battery is usually the first thing to fail, even on the best outdoor solar lights, but the one powering the LITOM Original received nothing but praise from its many costumers.
From your (admittedly low) financial investment you won't get much more than just one unit in the package.
There are no bolts, screws, or any other device to help you set the LITOM on the wall. The light can be hung like a painting through the small perforation at the top, but it might require some skill to get a solid fix.
---
Best solar lights
With fully adjustable heads, solar panels and a maximum of 200 lumens being put out by each unit, these URPOWER spotlights offer quite a deal of versatility.
To boot, you can set them up either directly on the ground or fix them to a wall. Long time users seem to be pleased by the capacity of the 2200 mAh batteries, although you will need to run the unit in dim mode to last through the whole of a long winter's night.
Recharge time is advertised at 4 to 5 hours in ideal conditions, and satisfied customers, as well as our reviewers, found the manufacturer's claim to hold up.
Some users found these to be a little too flimsy, so placing them near the children's favorite playing spots might not be the best idea.
However, they somewhat make up for this inconvenience at an affordable price. Also, the "warm white" LED tone offered by URPOWER shines too close to yellow for most tastes.
These bronze garden lights from Enchanted Spaces are a great choice for offering your yard a bit of atmosphere during summer nights.
Key features:
Low maintenance
Good for decorative purpose
All-metallic structure
People like them for their aesthetics, sturdiness, and low maintenance, as they use common rechargeable AA batteries so you don't have to always rely on a sunny day to have them working throughout the night.
The single lumen provided by the LED won't have neighbors complaining about light pollution, and it's just enough to fit their decorative purpose.
An all-metallic structure, including the spike, will hold well to physical abuse, although no one should expect it to handle torrential downpours.
Judging by customer reviews, water seems to be indeed the bane of this product, with many breaking down even under light rains.
However, this is more than offset by the excellent customer services and warrantee offered by Enchanted Spaces, which drew particularly high praise from users.
If lighting intensity is paramount when choosing your path lights, then few other solar charged models can fulfill that need better than the SKU1 from DBF.
Their solar panels are also a little bit bigger than what might be found on other similar products, so the 2200 mAh battery will receive enough charge during those short winter days to run for up to ten hours at the low light intensity.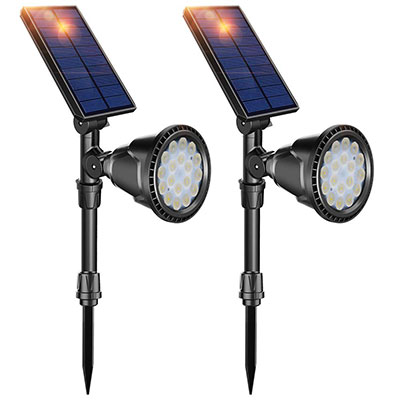 Sporting no less than 18 super-bright SMT LED Clips per unit, these can put out an impressive 600 lumens at the highest intensity setting.
To catch every last bit of sunlight, panels are also highly adjustable, fully rotating and tilting at 180 degrees, while the lamp head will allow 90 degrees adjustment on the vertical.
While people who've tried them had only good things to say about their performance, there are indications that SKU1s might be a little bit lacking in toughness.
Some users found the plastic body to hold up less-than-stellar under wet weather, but the high overall marks this product received on all popular retail sites would suggest the problem is limited to faulty individual units.
These 15-lumen garden lights drew a lot of praise for their simplicity, attractive design, and outstanding ruggedness. In fact, several customers reported that these still worked well after being subjected to torrential downpours or buried for hours under a foot of snow.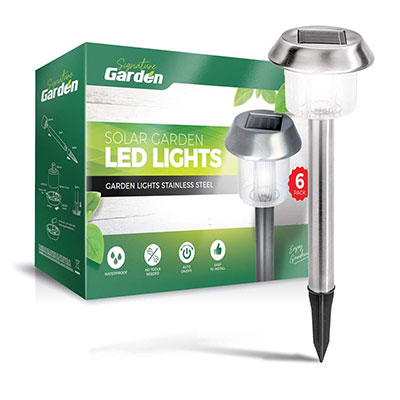 Made out of ABS plastic, their simple shape doesn't allow for any weak spots, so you can be confident in letting children or pets run around them.
As a testament to the confidence Signature Garden places in their product, they offer a 100% lifetime replacement guarantee.
To boot, the SGSS6 provides for a great value with six of them to a pack.
The light intensity on these is noticeably less potent than what the 15 lumens specified by the manufacturer would suggest. However, if this is a problem or not falls mainly to personal taste, as their primary purpose is to beautify a garden at night.
An all-around strong product, this security solar light comes with many aces up its sleeve: The solar panel is sensitive enough to charge three AA batteries for a whole night even under the less-than-ideal circumstance, such as a downcast sky or poor placement.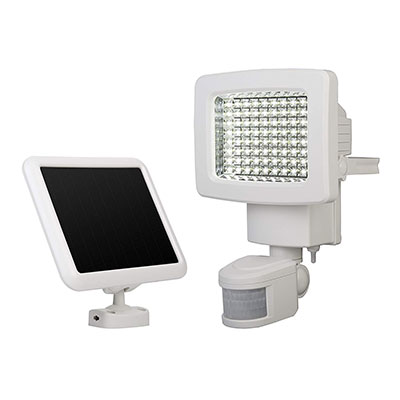 It houses a whopping 80 LED lights under the ABS frame, which lets it produce a maximum light intensity of 900 lumens.
Highly programmable, it features adjustments for how long the light can be kept on as well as detection range; so it won't get triggered as often by prowling pets. At 13 feet, the cable it comes with is long enough to keep from inconveniencing any users, but it's not all perfect with the Sunforce.
With some misleading directions in the instruction manual, this Sunforce won't prove the easiest device to set up. Most people, with a normal degree of technical proficiency, should be able to have it working in under an hour.
---
Main aspects to consider when choosing outdoor solar lights
Solar lights are relatively simple devices that use a photovoltaic cell to charge a battery throughout the day, which light-emitting diodes at night.
Some offer the option to be turned on and off at the user's discretion, but most light up by themselves when dusk sets in. As such, there aren't all that many things to be mindful of when picking one.
Essentially, all solar lights are meant to illuminate residential outside spaces but can be broken up into a number of categories based on functionality.
The type of solar light
Decorative solar lights, also known as garden lights, are primarily chosen for aesthetic reasons, like highlighting flower beds or providing a pleasant atmosphere during summer parties. A dim, warm glow is sometimes preferred for these purposes.
On the opposite side of the spectrum, there are the security solar lights, which are meant to warn the owner of potential intruders.
Naturally, the brighter these are, the better, and some of them can offer similar illumination to outlet connected devices. Many security lights come with a motion sensor which allows them to only turn on when something gets nearby. This is a great way to save on battery life, although the best ones can carry enough charge to potentially function throughout the night.
Functionality-wise, path lights stand somewhere between the two above. As the name suggests, their purpose is to illuminate pathways, hence these are a little brighter than purely aesthetic models. This doesn't mean, however, that they can't add a little beauty to your yard, with many models featuring attractive pattern designs used to project interesting light effects.
Path lights are also meant to function year-round, whilst most garden lights are only to be used during summer months. Consequently, waterproofing is a must when shopping for one of these.
How long are they going to last
Battery charge is also something to consider, especially if you're looking for a more powerful unit. This is measured in ampere-hour, which tells you how much energy the battery can discharge until it gets depleted.
The golden standard for security solar lights is 5000 mAh, and everything lower than this is best avoided. Some people even opt to replace the 2200 mAh batteries usually found in path lights with longer-lasting ones to avoid the hassle of constant battery changes.
What are they made of
Solar lights can be made from a variety of metals and plastics, with the former a usual choice when sturdiness is an issue.
An important thing to mention is that sometimes the ground can have a highly corrosive effect on poorer quality plastics. That's why it's important to check on the reputation of the manufacturer before deciding on a model with a plastic spike.
What type of cells they're using
The quality of the photovoltaic cell can be ascertained on a case-by-case basis by consulting reviews, but as a general rule, solar panels made in China should be avoided.
The country is notorious for using environmentally unsound manufacturing methods, and it would be ironic to contribute to further pollution while at the same time aiding the environment by employing solar power.
There are models where the panel is placed on top of the lamp, while others use a separate element that generally stands near ground level. The latter option usually makes for faster charge times, which in turn allows for higher light intensity.
However, a bigger panel is at higher risk of getting damaged, and the cables connecting the set-up can make themselves into tripping hazards if not set properly. Those with small children might want to steer clear of separate panel solar lights.
So, which lights are actually the best?
The best outdoor solar lights will always be those that closest fit your needs, but there are some things to look for when deciding between similar models. Hopefully, we covered everything in our guide and helped you make the right decision.
And this wraps it up, ladies and gents. Which one of the models we suggested would you opt for and why? Do you know even better solar lights? Let us know your thoughts, by sharing a few words in the comments section below!