Many people see mowing the lawn as quite a chore and if you're pushing a lawn mower around for long periods, it can become very tiring. The best self-propelled lawn mower will make your life a lot easier by moving forward through its own power. 
Only a few lawn mowers have this great feature and you want to make sure you're getting the right one for you. That's why we've developed this guide to give you all the information you need.
We've completed extensive reviews on the best self-propelled lawn mowers and come up with four brilliant models, including our top pick. By the time we get to the end of this guide, you'll have all the information you need to see if a self-propelled lawn mower is right for you. 
Our Pick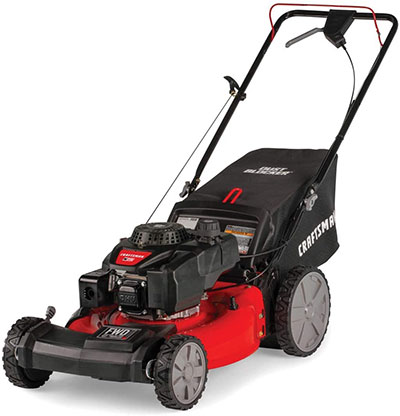 The overall best self-propelled lawn mower
In terms of power, the mower is going to be able to get through a lot of work with the 159cc engine it features. Along with that power level, it also has recoil and auto choke. It enables the start-up to be as quick and pain-free.
There are many reasons why the Craftsman M215 is our top tick. In terms of the self-propelled side of the mower, it's very easy to use. One of the problems with many self-propelled models is that you feel stuck with the one speed it has. Instead, the Craftsman has a variable speed control that makes it a lot more manageable.
There are three separate discharge points for this mower as you can either discard the cuttings to the side, out to the rear bag but also you can decide to mulch too. It allows you to have a few different options, depending on your needs.
The rear tires are quite large at 11 inches with the front ones being a little smaller at 8 inches. There are some other interesting features here too. The mower is front-wheel drive and you can also adjust the cutting weight with the dual lever.
What we like about Craftsman M215
There is a lot to love about this lawn mower and one of those you're going to notice straight away. It's simple to assemble and you'll be able to get cutting in no time at all. That's also helped by the lawn mower being remarkably easy to start for a gas model.
One of the primary reasons you'd want a self-propelled lawn mower is that it's going to be easy to move. The variable speed is important to that but also you have front-wheel drive which means you can tip it up and swivel easy. Those large back wheels allow it to easily travel over rough terrain.
The number of great features on this lawn mower help to set it apart. The deck is easily adjustable up to six positions, it has three removal method and you can add that to the exceptionally high build quality. We loved it and we're fairly certain you will too.
What could be better
There's not a lot of faults that we can see with this lawn mower. It can miss a little bit of grass but not much.
Also, some users have reported some minor issues on delivery but this is seemingly a very rare issue. Overall, it's an excellent lawn mower.
How we chose the best self-propelled lawn mower
A self-propelled lawn mower needs to do a lot more than simply go forward through its own power. It needs to excel in all of the other areas which make any lawn mower great. We made sure all of these models tick of these boxes.
Naturally, the self-propelled aspect of these lawn mowers is the one that got our main focus. We wanted to see how easy they were to control, how fast they move and if they had variable speed control. The best self-propelled mowers make it feel as though you're simply going for a walk.
After that we checked other areas such as the quality of the grass box, if it can mulch, the cutting height and how it was powered. We found that some lawn mowers just weren't good enough.
Four lawn mowers passed our strict criteria and along with our top pick, here are three other lawn mowers we thought were brilliant.  
The best self-propelled lawn mowers
The Craftsman was a brilliant gas-powered mower but if you're looking for something electric, this is going to be a great choice. One feature it has is a battery port, allowing you to quickly change over your battery if you run out of power.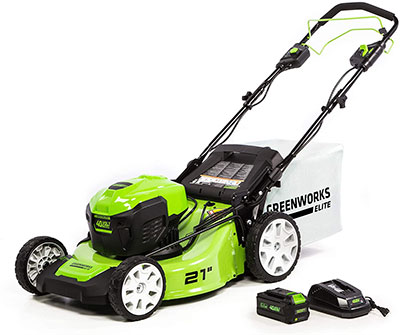 The best electric self-propelled mower
Some electric models have a bit of an issue with power but this model still provides you with plenty of torque and cutting ability.
It features a fairly wide 21" deck to limit the number of passes you're going to need over your lawn. It works quickly too and therefore it's good for larger gardens. That is dependent on the battery power you have, which is always the downside with these types of mower. 
An electric mower, however, has the advantage of being extremely quiet which you may love if you have sensitive neighbors.
The lawn mower is rear-wheel drive and your clippings can either be discharged to the side, in the rear bag or into mulch. There are plenty of features here that are going to make your life easier which helps to make it an impressive electric model.
What we like about Greenworks mower
What we love here are all the aspects that make a cordless lawn mower is to use. It's extremely lightweight and therefore simple to move around your garden. With the self-propelled assist, it makes it feel like a walk in the park. 
There are also no cords to be found here which makes starting the lawn mower very easy as all you need to do is press the start button. Once you've finished, the lawn mower is going to fold up quickly for easy storage.
The impressive part of this lawn mower is that it doesn't have many of the drawbacks we see from other corded models. The power is impressive, the results are great and it's very easy to use. 
What could be better
The battery life on these models is quite good but you still have that drawback of potentially running out of power. If you have a large garden then you may have to wait to charge up, which is frustrating. Also if you're looking to mulch your grass then you'll find the results here quite average. 
Snapper has also been able to make a high-quality lawn mower which is far superior to many of its rivals. Is it better than the Greenworks model?
Well, we found it very hard to separate them but there are a few differences which may be important to you.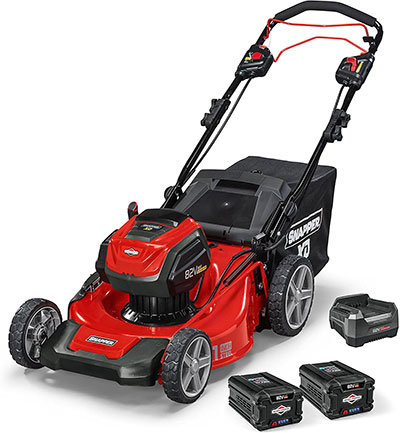 Best cordless self-propelled lawn mower
It has a brushless motor that gives it a very high level of efficiency and helps to extend that battery life and also keep it quiet.
The Lithium-Ion battery has a runtime of up to 45 with two batteries given in the kit. Also, the charger that comes with it can charge them very quickly. It means you have very little downtime, even if the charge does run out.
The deck of the lawn mower is 21 inches which is a good size and has the 3-in-1 functionality which we love to see with the ability to side discharge, sent it into the bag at the back or mulch it. The lawn mower does all three very well.
There is a sensor in the lawn mower that will be able to detect the demands of the grass cutting and adjust the power accordingly. It has a push-button start, seven different levels of cut adjustment and also large 10-inch wheels.
What we like about Snapper XD
If you have an uneven or hilly garden then this lawn mower is going to make your life a lot easier. The self-propelled motor makes it very easy to follow and it's going to be at the right speed given the easily accessible variable control lever.
With the rapid charging, you can also charge one while using the other which means that you don't have to have any downtime. 
The self-adjustment of the mower is impressive and there is also a battery indicator to show you when you'll need to swap. A lot of cordless models tail off in power as the battery runs down but we were impressed here that there was no drop-off.
What could be better
One area where the lawn mower can struggle a little is when the grass is quite long. As it has that adjustable power, the battery can drain very quickly if it needs to work hard.
Also, the blades don't cope very well with any type of debris on the lawn and therefore make sure it's clean before using it.
PowerSmart has the most powerful lawn mower on this list with its 196cc engine. It's able to give you immense results despite being fairly compact. It's also quite light when compared to many other gas-powered models with similar performance.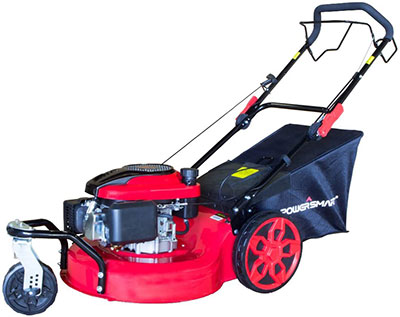 Easy to handle
The power of this lawn mower is immense and it'll be able to make light work of any garden.
It comes with a 20-inch mowing deck which is made from steel. It doesn't give you the very highest levels of cutting width but it's still reasonably sized. It starts via a pull cord but you'll find this to be very simple to operate.
Again, here we see that 3-in-1 functionality which includes being able to mulch the grass. In order to get that perfect cutting height, there are 8 different positions that you have available which can give you a high level of control.
We suspected that the build quality here was excellent and after consulting with people who have used it for a long time, it's clear that this model has long-term durability. It's a lawn mower that you're going to be using for years to come. 
What we like about PowerSmart DB8620
A unique feature of the self-propelled lawn mower is that is has a single wheel on the front. This helps to make it a lot more nimble and is ideal if you need to get around trees or other such objects. The adjustable handrail also allows you to have more control as you can ensure it's the perfect height for you. 
It can also deal very well with long grass. Mulching is highly effective but the other methods of clipping disposal are also going to be highly effective. 
Quality is very high here in a few different respects. The lawn mower is easy to assemble and once you have it ready to go, it's going to start first time every time. For a gas-powered model, it's extremely easy to use and you'll have no problems with it. 
What could be better
While the front wheel can make it very nimble, it can become loose which would present a huge problem if it dropped off. Perhaps the biggest problem, however, it that there is only one speed level which could be a little slow or fast for some, depending on your needs.
Why should you opt for a self-propelled lawn mower?
There is a clear reason why getting a self-propelled lawn mower is going to be a good idea. For those who find it difficult to push around a regular lawn mower, this is going to make your life easier.
This could be especially important for the elderly, those with mobility issues and also anyone who struggles with back pain. That being said, these lawn mowers are quite simply brilliant for anyone who finds using regular lawn mowers quite tough.
Your garden may also be quite a challenge. This can especially be true when you have either a sloped or an uneven garden. As an additional benefit, due to the lawn mower moving at a steady speed, you're more likely to get an even and consistent cut. 
The good:
Easy to use
Less back strain
Ideal or sloped gardens
Even cut
The bad:
How does a self-propelled lawn mower work?
A self-propelled lawn mower work via a drive wheel system where the motor will allow whichever wheels are controlled to move forward on their own accord.
In the same way that the blades will start spinning, the wheels will start moving and you can usually control the speed of the movement. 
This drive system is usually operated by either a squeeze bar or a bail and as soon as that pressure is released, the drive wheel will disengage and the wheels stop moving forward. Most lawn mowers don't have this feature as it requires extra engineering and cost. 
Things to consider before buying a self-propelled lawn mower
Noise
One of the considerations of a lawn mower is how noisy it is going to be. In this respect, an electric model is going to be a lot quieter than a gas-powered model. You have to work about whether this is going to be important to you or not.
For example, if you live in a detached house and are only ever going to be mowing your lawn on the weekend then this isn't going to be an issue as the sound of a lawn mower is to be expected on a weekday afternoon.
If you live in a densely populated area and want to be considerate to your neighbors then it's going to be more of an issue.
As a general rule, the more power a lawn mower has, the louder it is going to be. If you want to reduce the amount of sound you're going to make, then look for a gas-powered model. 
Weight
One of the great aspects of a self-propelled lawn mower is that weight is going to be much less of an issue. That's because you don't have to worry about pushing the lawn mower as it will be self-propelled. That being said, there are also other considerations such as portability and storage.
With the drive wheel that they have, there is going to be a little more engineering that is going to go into these lawn mowers. When it comes to getting it out and storing your mower, you still want it to be light as possible.
In this respect, an electric lawn mower is going to be a little lighter as it doesn't have the engine of a gas-powered model.
The two gas-powered models that we have looked at here both are made from high-quality materials that help to keep that weight down. 
Speed
Most self-propelled lawn mowers are set to one speed which is usually a standard walking pace. For the vast majority of people, this will be perfect and a good pace in which to walk around the garden. For those who are more active or those who have mobility issues, this may be an issue.
Having a variable speed control on your lawn mower will allow you to have a greater level of control but these models are also a little more expensive. It's a good idea to ask yourself if you need to have those extra features.
We've looked at a mix of models here to give you a greater choice. Having a variable speed control can make your life a lot easier. If a lawn mower does have this function then you want to ensure the lever is easy to control and the motor cuts off if you let go. 
Maintenance
There are a few maintenance tips when it comes to using a lawn mower and this is especially important when we're looking at a gas-powered model. 
Gas-powered
Fuel and oil – It's always important to use fuel and oil which is recommended by your manufacturer. If you don't then it may cause issues with compatibility. You want to regularly check up on the oil to ensure that it's not running low.
Checking the underside – Ii you need to check the underside of the mower then you need to do so by tipping it up from the front. Laying it on its side can cause fuel and oil to contaminate other areas of your lawn mower. 
Spark plugs and filters – While being two very different types of components, you want to make sure they are both clean and free from dirt/grime. If you have a paper filter then this will need to be intermittently replaced.
Draining the tank – After the end of each mowing season, you'll want to drain the tank of any excess fuel. A lot of people don't realize that fuel will degrade over time and after three months, can start to damage your tank. Make sure to drain it.
All self-propelled mowers
Drive belt – It's a good idea to lift up the drive belt cover and see if there is any debris trapped in there. Sometimes you'll have grass cuttings or a general buildup of grime. It's important to check this now and again to clean it if required.
Bolts/Nuts/Screws/Wheels – Over time various parts of your lawn mower are going to become loose which can cause great damage if a wheel comes off or a blade doesn't spin tightly. It's a good idea to give your mower a routine inspection to make sure everything is tight.
Underside cleaning – After a while, the underside of your lawn mower is going to become clogged and full of compacted grass clippings. This can eat away at the metal and could permanent damage. It's a good idea to give it a basic clean after use while also regularly giving it a deeper clean.
Blades – Even though it's only cutting through the grass, after a while your blades are going to become dull. You can learn how to sharpen these yourself or you may just decide to get replacements.
Fuel/Battery consumption
You want to know exactly how long you're going to be able to use your lawn mower before the power runs out. Most of these lawn mowers are going to be perfect for small to medium-sized gardens.
With gas-powered models, most of them have fuel tanks that are going to be able to complete a wide number of runs. If you have a larger garden then it makes sense to get a lawn mower which will have a larger fuel tank than other options. It's also worth noting that the most powerful your mower, the more fuel it is likely to consume.
Electric models usually won't have the same level of longevity as some of their gas-powered rivals. It's a good idea to have at least two batteries as you'll then be able to swap them out if one runs out of juice.
Being able to run for around 45 minutes on a single charge is very good. It's worth noting that the higher the demands of the mower, the more energy it is going to use up.
Cut height options
There are various reasons why you'd want to cut your grass to different levels. You may want it to be more lush or perhaps you'd want to keep it as short as possible if you were planning on doing sports, for example. 
Plenty of lawn mowers out there will only have one default height option but this isn't going to give you a lot of control. Here we've seen lawn mowers than can give you up to eight different cutting levels which is a fantastic range.
Again, you'll want to work out whether or not this is going to be a feature you need. If you only care about giving your lawn an occasion trim, then you're not going to really care about having a huge number of cut height options. 
Size and cutting width
Each lawn mower is going to have its own size of deck with around 21" being common. Many people like having a bigger deck as this will mean that they don't have to make quite as many passes while mowing their lawn and therefore they can get the job done quicker. 
There is a clear disadvantage of having a large deck. It makes the whole lawn mower a lot bigger and therefore heavier. This makes it harder to move and store. Added to this, a bigger mower needs to have a higher level of power consumption.
This is why most self-propelled lawn mowers will strike a balance between. This is why that figure of around 21" is common as you're rarely going to need much more than that.
Storage
Before buying a lawn mower, it's a good idea to think about exactly where you're going to put it. You need to have the storage space available.
If you're thinking about hanging it up then you'll have to get an electric model as gas-powered models will need to be kept flat.
It's always a good idea to check the dimensions first. That being said, some of these lawn mowers can fold up which makes storage a lot easier. It's all about getting a lawn mower that is going to match your needs.
Budget
It's easy to say that you should be looking for a certain feature but it could be that your budget is going to be quite tight.
If you want to have a good quality self-propelled lawn mower then you should be expecting to spend around $300 at least.
If you're happy to spend more than that then there are more premium models out there. What's important is that you get a lawn mower that is going to match your needs. Sometimes it's worth spending that little bit extra to be able to get the model you want.
FAQs
What is the best self-propelled lawn mower?
There isn't one mower that is going to be the perfect solution for everyone. It's important that you look at what your needs are and then get a lawn mower that has features to match exactly what you need. There are also other key aspects to think about too, such as your budget.
That being said, we do think that the Craftsman M215 has a brilliant mix of qualities. It has the level of features and control that you want to see while also being incredible value for money.
How to adjust speed on self-propelled lawn mower?
Firstly, if you are worried about a self-propelled lawn mower not being at your desired speed then you should be looking at getting a model that has a variable speed control. That way you're going to be able to find the perfect solution for you.  
If you don't have variable speed control then most people are going to be stuck with just the one speed. It can be possible to change this but it involves some technical know-how and a good appreciation of the different parts of a lawn mower.
You want to give it a try then here are a few rough steps:
Most self-propelled mowers will have a bracket that connects the operating and traction cables to the handle. You first want to loosen this bracket and this will be done by a knob, screw or bolt.
Once you have access to the cables, you either want to move them half an inch away from the engine to increase traction or the same distance forward if you wanted it to decrease.
It's unlikely that you're going to get the perfect speed first time and therefore you want to give it a careful test before making adjustments. Eventually, you'll get a perfect balance. 
How to fix self-propelled lawn mower cable?
If you break your lawn mower cable then it's going to be the best idea to contact the manufacturer and order a new part from them. You can try to make a cable yourself but this will be time-intensive and the results aren't going to be as good.
Once you have the new cable then it's going to be quite easy to attach to your lawn mower.
This will differ from one model to the next but it often a simple step of attaching it to your bracket and pull bar. If you have any difficulties then contact the manufacturer, consult the manual or take it to a repair center.
How to fix self-propelled lawn mower?
Three main issues can be the cause of your lawn mower not working. It's likely either an issue with the drive belt, transmission or cable.
It's obvious if the cable has snapped and you simply need to refer to our previous section to fix that.
The drive belt usually runs from above the blades in the center to the grass box at the back. You can check if this is connected by safely looking underneath the mower. This is a fairly simple repair and you just need to order a new part.
If there is an issue with the transmission then this is going to be a more serious and technical issue and will most likely need an expert repair.
Before this, it's a good idea to give your mower a thorough inspection to make sure it's not something less serious such as a twig caught in the spring.
How to turn a self-propelled lawn mower into a push mower?
If you don't like how your self-propelled lawn mower is performing then you may want to totally stop its functionality. If so, the best way to do it will be to remove the drive belt.
How to access this will change from one model to the next but it should be fairly simple to slip off.
If your lawn mower if not functioning as it should be then we'd recommend that you fix the issue rather than removing the drive belt.
While you can push these types of mower, they are generally a little heavier than regular push mowers and therefore can be harder to move. 
How to start a self-propelled lawn mower?
If you're wondering how to start a Lawn Boy self-propelled mower or any other type of mower then it should be quite straight forward. A gas-powered model will require you to take a few key steps.
Prime the carburetor – Many lawn mowers will have a prime button that will force gasoline into the lines. This will need to be pressed around 3/4 times but it's worth noting that not all mowers will have this button.
Open the throttle – You will usually have a throttle lever which you need to put into the mid or high position. This is required as otherwise, the mower won't keep running once you've started it.
Pull the starter cord – the next step is to pull the starter cord. As a safety feature, you'll often have a lever next to the handle which needs to be held tight, otherwise, the engine will cut out. The cord needs to be cut firmly and quickly with no slack in the line when you pull it. You may need to do this a few times before it starts.
If you have an electric model then it's unlikely that you're going to need to take any of these steps as you'll have a battery-powered motor. A lot of electric models will simply have a push button to give you the response that you need. 
How to adjust self-propelled lawn mower?
If you're wondering how to adjust belt on self-propelled lawn mower then you'll be pleased to know that it's going to be quite easy.
It's only natural that a drive belt is going to become loose over time which can affect performance. If it is worn then rather than adjusting it, you may be better simply replacing it.
If it's the drive cable then there is a good chance that this is can just be adjusted, rather than replaced. To do this you first need to switch off the unit and then unplug the wire of the spark plug. 
You then need to spin the turnbuckle which will be situated below the drive housing. This should be able to increase your drive speed. You will be able to constantly adjust this until you find the perfect speed for you.
If you're wondering how to adjust Honda or Husqvarna lawn mower then the steps are going to be essentially the same. It's all about adjusting the cable until you get the results that you want. 
Beyond this, there could be a list of technical reasons why you're not getting the performance that you want. Unless you're a competent engineer, it's going to be the best idea to contact an authorized service center to diagnose and fix the issue. 
Our Verdict
Hopefully, by now, you have all the information that you need on how to get the best self-propelled lawn mower. They can be the perfect way to mow your own with the minimum of effort. 
For a balance of budget, quality and control, we found the Craftsman M215 to be the best self-propelled lawn mower available. 
If you were looking to have a little more power the PowerSmart DB8620 would be the perfect solution with its impressive performance and immense quality. 
If instead, you wanted to have an electric model, the Snapper XD 82V MAX and Greenworks M-210 are going to be perfect for your needs.
Whichever of these four lawn mowers you pick, you're going to love the results. If you have any doubts then simply refer back to this buying guide. Once you have your new machine, you'll find that mowing the lawn is now easier than ever.