Depending on who you ask, mowing the lawn is either a relaxing excuse to get some fresh air or an annoying chore that should better be left to the younger population of the neighborhood with nothing more productive to do. 
Regardless, if you care even a bit about zoning laws (and let's face it, most of us do), those lawns will need to be made presentable.
There are few more comfortable, low-effort, and fast ways towards this goal than riding on a decked lawnmower. Heck, the best riding lawn mowers, with back support, sports car-worthy turn ratios and a smooth operation can even add a bit of fun to trimming grass.
Our Pick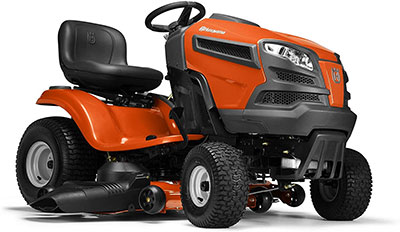 The best riding lawn mower
With their new YTH18542 Husqvarna is certainly on to a winner. This 18,5 Hp lawn tractor manages to tick all the boxes in performance and functionality, sporting every useful feature you could think of.
It is powered by the ever-reliable Briggs and Stratton V2, widely hailed as one of the best riding mower engines out there. It also has a hydrostatic transmission that is pedal-operated so the driver won't risk losing control when shifting gears.
For better traction on wet grass and steep inclines, it has a rear differential, as well as anti-scalp wheels to protect the lawn from damage. 
For a machine of its size, it really spins on a dime with an impressive 16-inch turn radius while a reverse operating system can be activated at the flip of a switch for going backward.
The adjustable high rest seat is said to be very comfortable, ideal for supporting your back during long hours spent on larger landscaping projects. And with a 42-inch cutting deck, this machine could be said to be on the large side, useful for both contractors and residential use. 
What we like about Husqvarna
Highly maneuverable, with a 16-inch turn radius and a rear differential that helps it keep traction on slippery or uneven ground.  
Very sturdy design, with cast iron axles and 13 gauge steel used for the body. 
An advanced hydrostatic transmission that is operated through a gas pedal so the driver can keep both hands on the wheel at any given time
It has a very reliable V2 Briggs & Stratton engine, widely considered one of the best motors of its sort by experts.
The adjustable seat is said to be very comfortable, well suited for hours and hours of landscaping work.
What could be better
Finding anything wrong with this Husqvarna can be a tough job, as it seems to be loved by users and professional reviewers alike. The only thing about it that might upset some people is a rather steep purchasing price. 
How we chose the best riding lawn mowers
Our selection process started by looking for the best-rated products on retail sites, considering both the number of reviews each one received, as well as the grade satisfied customers gave them.
We've then settled for around two dozen of the best scores for some closer scrutiny from our experts, who consulted dozens of owner assessments and the most reliable blogs and dedicated review sites available on the internet to further narrow down the list to just five. 
Since most models out there seem to be tailored for specific needs, we've paid close attention to the advantages and disadvantages that each set-up might offer, and we hope that our guide below will offer a clear idea as to the type of mower best suited for your green space.
We also looked into the peculiarities of certain lawnmower brands, at who are the manufacturers who will offer consistent quality for a pretty penny, and what less reliable brands (an image that isn't always warranted) might have hit upon a "diamond in the rough" for an affordable cost. 
Best riding lawn mowers
With an impressive 54 inches cutting radius and a 26 Hp Kohler 7000 Series engine this zero-turn, Husqvarna is guaranteed to finish any job in blistering time.
This, of course, includes mowing and mulching, as it has proper fittings for a bag attachment and the blade is adjustable for small clippings.
In addition to this, it features the Husqvarna air induction mowing technology, which is considered to improve the quality of the lawn and help the blade deliver a cleaner cut. It does this by drawing air from the top and bottom, lifting the grass in a vertical position so it is perpendicular to the cutter. 
An additional innovative feature is a not-yet-patented park brake system that automatically activates and deactivates in response to the movement of the steering levers. The Z254 might be bristling with high technology, but this doesn't mean it's in any way fragile, quite the opposite.
People who tested it were pleasantly surprised by how sturdy it is, with its reinforced steel body. Just as well, because with a top speed of 6.5 MPH any accident might involve quite a deal of force. However, it seems to share the same faults with any other member of its class, with many operators reporting poor performance on inclines.
What we like about Husqvarna Z254
A reliable and powerful engine. Kohler might not be as famous as Briggs and Stratton but it is out there among the better brands. 
It features a series of innovative technologies. Has the same air circulation system as the Husqvarna YTH18542 for significantly improved cutting performance. 
While operating the levers might require some getting used to Husqvarna comes to the users' aid with an ergonomic instrument panel which places all controls at the operator's fingertips.
The high speed, high cut width, and excellent zero-turn maneuverability make this model exceptionally fast to get the job done.
What could be better
Like any other riding mower with this type of construction, the wheels tend to slide on steep inclines, so it's not really suitable for hilly terrain. 
With a 382 cc, 12 Hp engine it is relatively powerful for its size and can reach 4.25 MPH forward speed in top gear.
For those with around an acre of lawn this rear-engine model should do the job nicely. It has a six-speed transmission meaning it is easy to adapt to the uneven or wet ground. The 30-inch cutting blade allows for the same versatility and can be adjusted to five height positions.
Reviewers consider this model to be fairly durable, with a 14-gauge cutting deck, but what impressed people most is its compact size. Slightly bigger than a sizable walk behind mower, it can be easily stored in a tool shed or garage. It is also said to be fairly comfy, with an adjustable seat and soft-grip 13-inch steering wheel.   
What we like about Troy-Bilt
Dependable and affordable, this might be just the ticket for medium-sized 1-acre lawns. 
A little faster than competing models thanks to a 12 Hp Auto-choke OHV engine.
It has an interesting little feature called "manual power take-off" which engages the blade as the engine starts.
With an 18-inch turn, the radius is quite maneuverable for its class. Additionally, it offers a lot of options for height adjustment making itself quite versatile. 
Although you won't spend as much time on it as with bigger models, the seat and steering wheel are said to be quite comfortable.
What could be better
Its small size works both for and against it. While it won't get in the way when stored in a tool shed or garage, 30 inches of cutting width is very much on the small size for riding mowers.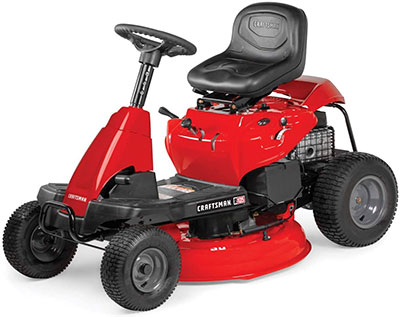 Craftsman advertises a 16-inch turn radius, which makes it a bit more maneuverable than similar models we've looked at.
This little back engine mower is more or less the Troy-Bilt's brother from another mother, with similar looks, options, and performance.
However, one can find some differences if looking close enough, like the fact that the cutting deck is only adjustable for five positions, from 1.75 inches to 3.75 inches, instead of six. This doesn't make it significantly less versatile compared to similar models, especially as it also comes with a hook for attaching a trailer or aerator. 
You shouldn't be expecting to haul too much cargo, though, as its 382 cc gas engine might be powerful enough to mow a lawn, but not much else. It also lacks the patented start option of the Troy-Bilt, but it shares the same compact size, ideal for storing in a shed when not operating on mid-sized lawns. 
At only 343 pounds, it will even be easy to push around when the engine is off, although there won't be much need for that, as people who've bought it find it very dependable and rarely to break down.
What we like about Craftsman R105
Small and nimble, this little mower is somewhat easier to handle than its competition, making it a smart choice for those who have a large number of obstacles in their yard.
At only 64 x 34 x 26 inches it can be stored pretty much anywhere, including most closets. 
A five-position adjustable cutting deck and a hook for attachments make this model quite versatile. 
What could be better
Like with the Troy-Bilt we covered, 30-inch cutting width isn't really something to write home about. 
If the premium Husqvarna we've looked at really isn't agreeing with your wallet then this Poulan Pro can offer similar functionality to folks on a budget.
"Hard to beat for the price" seems to be the phrase most closely associated with this model, but it shouldn't be understood that the Poulan is in any way flimsy or cheap. 
Quite the contrary, people find it to be sturdy and dependable, with the manufacturer putting enough faith in their product to offer a 10-year warranty for the deck part. It's powered by a single-cylinder Briggs and Stratton engine so it might not be as smooth as a V2 model, but more than makes up for it by offering a high degree of adjustability for the seat, driver's wheel and floating deck. 
What we like about Poulan Pro PP155H42
It has a highly adjustable floating deck that works very well for level clipping in uneven terrain or near obstacles. 
It has a hydrostatic transmission allowing for a smooth ride. 
A ten-year warranty on the deck is considered the main selling point by many users.
What could be better
While the adjustable floating deck is a good thing to have, this riding mower misses some of the features of its competitors. 
Although it's not the highest spec model out there, it got great reviews for its maneuverability and performance, which should be expected for a mower of this type.
Our budget choice for a zero-turn mower is the Poulan Pro P46ZX. It is powered by a 22 Hp V 2 from Briggs and Stratton, and with so much power coupled with a 46-inch reinforced deck you should expect to finish any job in half the time, it would take with a tractor mower. 
As with other Poulan Pro models, this also comes with a 10-year warranty for the deck, although some users complained that this might not be the most reliable product out there. However, it won't have to function for as many hours as a comparable tractor and it also sports a hydrostatic transmission to boot.
What we like about Poulan Pro P46ZX
A good zero-turn mower for the price. It has good maneuverability, good speed, and performs as expected.
It sports some very nice features, like a V twin engine and hydrostatic transmission, offering plenty of power and a smooth ride.
With a high, adjustable back sit, most users found this mower to be comfortable, offering few issues during prolonged use.
What could be better
Some customers accused reliability issues, mainly with the transmission belt that seems to have a tendency to snap out of place.   
When do you need a riding lawn mower?
Riding lawn mowers can get pretty pricey compared to the alternatives, both in regards to the initial purchasing costs, maintenance and, operations, for the obvious reason that there is a bigger motor and transmission to worry about. 
The experts at Consumer Reports consider that for less than ½ yards of the yard without significant denivelation, a much cheaper and fuel economy push model would suffice, assuming the operator's own physical condition permits using such a design. 
An important caveat, though, is that ride on models will always allow you to finish the same job faster — not to mention less tired, so these might be worth considering just for the sake of freeing some of your time on the weekends.
Things to be aware of when choosing the best riding lawn mower
Like with anything else, there is no one-size-fits-all best mower out there, with each model trading performance in one area to be better suited in others. It's already a truism that the discerning customer shouldn't just go for the highest spec product he or she can afford, but to always have a clear picture of the function a particular model is expected to deliver for his or her particular needs.  
Types of riding lawn mowers
Rear-engine lawn mowers
The rear-engine riding mowers are the smallest and usually most affordable of the bunch. Despite the fact that the powerplant is distributed right under the driver's chair, their low cylindric capacity coupled with modern solutions for mitigating vibration gives these machines a very smooth ride. 
Their narrow wheelbase and overall short length make it easy to negotiate small obstacles such as rocks, trees, and fences, significantly cutting from the time you'll spend mowing the grass. However, their low speed and power make rear-engine mowers impractical for plots bigger than 3/4ths of an acre, and if significant inclines are present, you might want to look towards the "beefier" end of the spectrum or go for a lawn tractor. 

Another big plus favoring this construction type is its ease of storage. After all, if you don't own a landscaping business, the rear-engine mower will spend most of its time in a shed or a garage. And if you do, you're better off deciding on a different design anyway. 
Tractor lawn mowers
Lawnmowers and tractors excel in power and versatility and can be seen as small size versions of their agricultural counterparts. An engine placed at the front of the driver allows for higher cylindric capacity and, just like their bigger cousins plowing the fields, most of them have ports for trailers and other attachments like small plows and seeders, making them perfect for tending small gardens if the blade is removed. 
No matter the incline, garden tractors work like a charm on 1 to 3 acres of lawn or small organic vegetable gardens. Even commercial farmers who feel reluctant to maneuver a 3-tonne Johny Deer around their home plot will find a good use for these.  
Due to their great road posture, traction, and consistent speed, tractor lawn mowers are considered to be the best choice for achieving an even, well-manicured lawn, no matter the terrain conditions. 
Zero-turn radius lawn mowers
Compared to other devices in their class, garden tractors don't get top marks for handling, however. That honor goes to the zero-turn radius mowers (ZTR), whose front wheel can usually turn in a full arch, much like you see in a supermarket trolley. This basically negates the radius of the turning circle, meaning no pesky patch of grass would be left uncut to require a second go from another angle. 
These are also (usually) the fastest and "sportiest" of all riding lawn mowers, allowing you to navigate around all obstacles with ease and powerful enough to negotiate rough patches of grass. On the downside, the ZTR's strong-point of high maneuverability can easily turn into a weakness when dealing with highly uneven terrain conditions. 
The rear wheels are doing both the traction and steering in most ZTRs, so although the weight of the engine and driver will keep them firmly contacting the ground, encountering significant dimples in the riding surface could make one of the wheels lose traction, at which point the machine will be hard to control.
Gentle slopes, as you would find on a golfing course, shouldn't present much of a problem, even for an inexperienced driver, but some professional testers still found sideswipes to be a significant issue on more uneven terrains.
Engine power and capacity 
The engine's power, measured in either horsepower (hp) and Watts, let's you know how well the mower will work at high speeds, how easy it will handle rough patches, and, together with torque, its ability to maintain a good degree of acceleration and constant speed over uneven terrain. 
Although the aforementioned torque plays a bigger part in this, the number of horses under a garden tractor's hood also determines how well the machine will behave when pulling attachments like disks and plows.
Another worth mentioning is that the engine also powers the mower's blade, so more power will translate into a faster spinning rotation for neatly cut grass and higher torque will work better at slicing through areas thick with weeds.
An engine's power output is closely related to its displacement, which is a measure of the space available inside the cylinder for combustion. Like in a car, this is expressed in cubic centimeters (cc), or for some European models, in liters (a liter is equivalent to 1000cc). Cylindric capacity roughly correlates with power output but this is not always the case. 
A "small" engine delivering a relatively high amount of Hp is a mark of efficiency and technical excellence. For example, BMW garnered great praise from automotive enthusiasts when they managed to get 100 hp per liter from their 2001 aspirated M3 engine, an engineering feat never achieved outside the realm of the competitive sports car design.
Naturally, you shouldn't expect anything of the like from your mower, but the hp per cc ratio might still be worth paying some attention to when discerning between models. 
How much power do I need?  
This is naturally determined by the geography of the plot. For a little bit over 0,5 acres with gentle inclines, a 190 cc rear engine mower should prove more than adequate, while an area 10 times that, which also features significant bumps, would be best serviced by a heavy-duty 700 cc garden tractor. On relatively flat surfaces of the same size, a zero turn mower will generally do a faster job, especially if there are many obstacles to negotiate. 
Of course, there is also your time to consider. A high spec rear engine clocks in at a top speed of 5 mph and it's maneuverable enough to put that speed to good use. From a large tractor, you could expect to get a maximum of 8 mph, although this sort of speed won't really come in handy on residential projects.
If there's some golf course or public park to mow, contractors might appreciate the blistering 13 mph that the best Zero Turn riding mowers can achieve. Naturally, each design covers a wide range of sizes and cylindric capacities, often overlapping.  
Another important thing to consider is that greater power often comes at the expense of higher fuel consumption. Filling up the mower won't necessarily break your bank but these devices aren't placed under the same environmental regulations as automobiles, meaning they aren't outfitted with the same filters that keep the worst exhaust gasses out of the atmosphere.
According to the EPA, a riding lawn mower releases more noxious gasses than a car by orders of magnitude. So if you're environmentally conscious, or just don't like unnecessary wastage, consider choosing a mower just big enough for your needs. 
Torque and why it's important
Those familiar with how a car's engine works already know that torque — measured in foot-pounds (ft-lb) — is an indicator of how well the vehicle will be able to negotiate steep inclines and carry heavy loads. For example, the first generation Humvee, despite "only" sporting some 190hp, was capable of exceptional off-road performance because of its impressive torque. 
In the case of riding mowers, torque is doubly important, as the engine is also used to power the blade. A higher ft-lb value will mean that the machine will be better able to handle tall or thick grass. 
Engine type
Traditionally, riding mowers used 2-stroke motors which gave a good amount of power relative to their size. However, these very fuel-inefficient designs have been all but fazed out lately in favor of the "cleaner" 4-stroke variety. 
Four-stroke riding lawn motors come in either one cylinder or V2 configurations. The one-cylinder has an obvious advantage in simplicity, as there are fewer parts to break down. This might be a curse in disguise, however, since it tends to vibrate quite a lot compared to the alternative, putting a high amount of stress on internal parts, the nuts and bolts holding it together, not to mention the rider. 
In a well-designed V2, the two moving cylinders cancel each other out, making for a smoother ride and longer lifespan. Most experts agree that all other things being equal, the V2 makes for the better option.  
A little bit about the carburetor
All gas-operated mowers will use a carburetor to provide adequate fuel and air mixture for the engine to work. This will require regular maintenance, which depending on the quality of fuel you put in and how tight the gaskets fit, might amount to anything from a by-yearly check-up to yearly cleanings. 
There are good guides out there detailing the steps of how to clean a carburetor on a riding lawn mower, but the signs to look out for if this part is faulty should be known to any responsible operator.
The clearest sign of a dirty carburetor is when the engine turns over and cranks but just won't start. This is because gunk might be clogging the air-fuel passageway to the engine. 
The engine is said to "run lean" when it sneezes or makes popping sounds. This is usually because there is too much air in the carburater, meaning above the 12:1 or 15:1 normal ratio. Improper fuel delivery might be at fault and that pathway should be the first to check. 
You can tell if the opposite problem occurs and the engine is "running rich" by the unusual amount of thick black smoke coming off the exhaust. This is wasting you a lot of fuel by it not burning properly due to a lack of oxygen. 
Flooding is one of the most serious issues that can happen to a carburater and can damage a lot of the engine. This happens when dirt and debris in the fuel bowl cause fuel to overflow back into the carburetor, out of the bowl vents, potentially getting the spark plugs wet, on top of upsetting the fuel-to-air ratio. 
Fuel capacity 
Residential operators with 0,5-2 acres to mow at any given time might as well completely ignore how much the gas tank on their machine can hold since there will always be a fuel canister just a few steps away in a garage or shed. 
Landscapers and other contractors might, however, want to pay close attention to the maximum "loitering time" of their ride, lest they are fond of walking back and forth to their truck from the middle of a golf course or public lawn. 
Sizing it up
A powerful engine might be a premier consideration if steep inclines are an issue, but when this isn't the case, most experts agree that the size of the cutting should dictate a buyer's choice. After all, that spinning or slicing piece of steel is what gets the grass-cutting job done.
Without any further ado, blade sizes for a given acreage are as follows:
For a 3/4ths of an acre to an acre lawn, a 30-inch to a 42-inch blade is usually recommended. 
Between one and two acres would be adequately serviced by a 42 to 52 inch of cutting width.
For 2 to 3 acres a 50 to 54 inches swath is generally recommended 
For 3 to 5 acres a blade that slices in a 54 to 62 inches arch should do the job in a reasonable amount of time.
For lawns in excess of 6 acres, you should look for a blade larger than 60 inches.
An important thing that the testers at the ever-reliable consumerreports.org found out regarding cutting ability is that tractors are consistently offering better results, with a far more even spread and less shredding of the grass.
So if your zoning laws are particularly draconic, or if you want to go for a house of the year award with a lawn that looks like Miyamoto Musashi himself cut it with a high-carbon steel Odachi, then the lawn tractor is the way to go.
Of course, if dodging obstacles like trees or ponds is a higher priority, then a zero turn mower might serve you better, as long as you pay close mind to keep that blade sharp.
Grass clippings 
Nearly all of the best riding lawn mowers out there offer the option of attaching a bag for grass clipping containment. So either if you want to use those, as mulching, as natural fertilizer after decomposition, or simply dumpster filler (NOTE: some regions might not allow citizens to throw grass clippings in the dumpster), lawn mower manufacturers should have you covered.
However, some systems are "more equal" than others in this regard. While a rear-engine mower will have you collecting that grass in a nickel-priced container, the equivalent attachments for a garden tractor are known to cost a pretty penny. Zero-turn mowers stand somewhere in between. 
Continuing with the subject of grass clippings, the height you will want to leave those weeds at is also up to you. All modern mowers allow for either three position, five position, or free adjustment of the blade's travel on the vertical axis. 
The transmission 
Like most all motor vehicles, riding mowers come with a gearbox to get that engine power to the wheels at just enough spins of the drive shaft per minute. There are two options that should be familiar to any motorist in this regard; and one that is somewhat particular to machinery of this sort. 
A manually-operated gearbox might seem attractive to those who want a greater measure of control, or just want to impress neighbours with their mad gear-changing skills. But unlike with most cars, a manual gearbox won't offer any other discernible benefit (such as better acceleration on short distances and a better ability to negotiate inclines.) 
Quite the contrary, a manual shift on a mower is generally considered to be slower and waste you *more* time than an automatic would. This is because ride-on mowers operate at such slow speeds that the inertia which car drivers rely on when shifting gears just isn't there to keep it driving fast when the cogs aren't connecting.  
To conclude, when it comes to the best riding lawn mowers, American is the way to go. Just like most of us wouldn't pay heed to the stick-driving habits of Europeans and East-Asians when it comes to cars, so we should in matters of lawn-care equipment.
There are also manual gearboxes that don't require clutching, similar to the sequential ones you find in some sports cars, but even these don't allow for the same level of dynamic performance as what is considered the optimum solution for delivering power to a mower's wheels out there: the hydrostatic transmission. 
This system uses a hydraulic pump, driven by a hydraulic motor, and the operator's input is translated via a swashplate to a series of small pistons driving the hydraulic fluid to the traction wheel's axle. This minimizes the number of steel moving parts required to adjust the transfer of torque to the axel and has the added benefit of allowing for continuous, linear adjustment, as opposed to the preset positions that the steel cogs in a regular gearbox limit it to. 
We hope our readers at least gathered some basics from the 30-minutes worth of work it took us to wrap our heads around how a hydrostatic transmission function and to put it in the neat paragraph above. 
Regardless, what an operator should know about this nifty piece of engineering is that it allows for a very smooth ride and excellent wheel-response. Those horses the engine produces will seem a lot mightier if brought to the road by a hydrostatic transmission instead of a regular one. 
On the minus side, hydrostatics aren't considered to be as reliable as their more gear-rich counterparts, and there aren't as many mechanics familiar with how to fix these in the event of them breaking down. 
Other features to consider
Automotive technology has come a long way, and many of these advances also apply to ride-on mowers. 
As a safety feature, most models now come with a blade brake control that stops the blade upon the operator releasing a switch on the handlebar. Some manufacturers go even further, by installing a kill switch which shuts the motor down entirely. 
To prevent loose objects from flying around and potentially hitting someone, most newer models have a foot shield installed at the rear. Tipping over is an ever-present risk, especially with high riding tractors, but manufacturers are mitigating this hazard with a number of safety features.
There's a function that automatically shuts down the engine past a certain angle and, some models might feature roll bars to prevent the rider from being crushed. 
Comfort is not ignored either. An adjustable seat with high back support should be a must for those who spend a lot of time on the mower. Cruise control, stereos, and even cup holders are some other available options.
Conclusion
Riding lawn mowers have sure come a long way and there are options out there to satisfy almost any demand.
Whether you go for a small and slick back engine buggy, a versatile tractor, or a sporty zero-turn design, a modern mower should perform to the highest expectations.