There are plenty of people who love using cast iron cookware. After all, cast iron pans can provide your food with a very unique flavor; while also being one of the most long-lasting kinds of cookware that you use.
However — as soon as you start cooking with these cast iron pans and your spatulas; you will realize that this kind of cookware doesn't play well with every spatula out there.
From smashed food to insufficiently sturdy spatulas — there are plenty of problems that you may encounter if you don't use the right ones with cast iron.
Considering this, we've decided to give you a nice overview of the best spatulas for cast iron! We will provide you with all of the stuff you need to know in order to make an informed decision while buying.
From our top picks among available spatulas to a buying guide and answers to frequently asked questions — we've got them all right here, so read on!
Why should you carefully pick the best spatula for cast iron?
There are plenty of advantages to a cast iron skillet; however, it won't be long before you realize that this type of pan requires some additional attention compared to ceramic or aluminum pans. Among other things, you'll want to buy a spatula that's specifically well-performing with this kind of item.
Apart from thinking about things like consistent pre-seasoning and pan maintenance — you also need to use the proper spatula that will give you the best possible performance in concert with your cast iron pan.
A fitting spatula for this kind of pan will allow you to spend less time on the pre-seasoning of your cookware and give more attention to the actual process of cooking; resulting in a far more finely prepared meal. 
Our Pick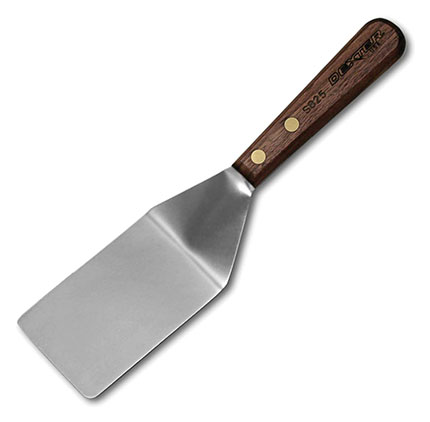 The walnut handle means that you get a spatula with extremely sturdy hardwood; this is the same kind of material like oak or hickory. In other words, it will be great in humid and wet areas — which is why it's an ideal choice for a kitchen.
To start our selection of the best spatulas for cast iron, we'll begin with our very top pick — the HIC Harold Import steel spatula.
With so many utensil designers trying to look futuristic and new age — this represents a step in the other direction.
We're talking about a basic, no-nonsense spatula with a walnut handle and high-quality stainless steel.
What we liked about HIC Stainless Steel Spatula
These days, plenty of people use the word "spatula" to describe all kinds of kitchen utensils. However, you'll find that this HIC Harold model has a distinct turner model, mainly manufactured for the turning of fish fillets and pancakes. The shape of the spatula is quite flat and broad, allowing you to handle any kind of food with maximum ease.
And when it comes to using the spatula with a cast iron, you'll find that it's excellent for scraping any kind of food remains after you're done with the preparation and the meal.
Generally, the fact that the spatula is made out of stainless steel is an extremely good sign. This is one of the favorite materials in most kitchens for good reason; it won't rust quickly, and it's extremely durable.
Sure, you should still take care not to constantly leave this in your kitchen sink — but it isn't prone to rusting on its own.
The downsides
While this is probably the highest-quality spatula for cast iron pans, we do have to mention that it has one design flaw — you can't use it in a dishwasher, meaning that it's not going to be the easiest thing in the world for cleaning.
While you will have to wash it manually, you'll still be able to scrape any food off it with ease, seeing as it was made from stainless steel.
How we picked the best spatula for cast iron
When it comes to selecting the very finest spatula for cast iron — we have quite a few models to recommend. Still, you're probably wondering; how did we single out our choice above from all of the others?
Well, while judging the spatulas in a bit more detail, there were a series of factors that carefully took into account. We'll explore them below — but mainly, we're talking about the material, shape, edges, and general flexibility.
Material
First and foremost, if you want to pick the best spatula for cast iron — your main priority should be the material that the spatula was manufactured with.
There are plenty of materials that don't work as well with cast iron as you'd want them to. Considering this, you probably want to go with the very best.
Mainly, we'd recommend going with stainless steel; hardened, if you can find such a spatula. This will allow you to have the sturdiest possible spatula when it comes to scraping any food remains. You can also try to go with unhardened steel; it will work well, but only for a short while.
The problem is that this material is softer than the surface of your cast iron pan. As a result, you can't do much scraping without doing damage to the spatula. It won't last you more than a couple of months at most, especially if you want to make any extended use.
Finally, the third option you have is a plastic spatula. For us, this is a no-go, seeing as an iron skillet is a great heat conductor, and can get pretty hot while you cook.
As a result, the plastic may start chafing and melting, leaving tiny bits of plastic in your food which you want to avoid.
This is one of the main reasons why we've chosen the Harold Import HIC spatula as our number one pick — not only is the spatula itself made out of hardy stainless steel, but the handle is also made out of an incredibly tough wooden material.
Shape
The shape of the spatula is your other most important factor to keep in mind — and one that we've paid a lot of attention to. Out there in the market, you'll find plenty of spatulas with all kinds of shapes; designed for doing different stuff with your food.
However, if you want the most versatile option that gives you the widest range of motion — a square spatula is the way to go, at least in our opinion. And as you can see, our top choice of a HIC model is in line with that.
Edges
The third factor that we considered is, admittedly, something that almost all of the spatulas on our list share. However, it was still an important deciding factor in comparison with the wider range of cheaper models out there.
If you want to have the easiest time sliding your spatula under the food — like when you need to flip a pancake or an omelet — you need to make sure that your spatula has a beveled shape with somewhat sharpened edges.
Apart from letting you easily perform sliding movements, you will also be able to use these edges to chop some of your food if necessary.
Flexibility
Finally, we thought about how flexible this top spatula was in general. As we've already mentioned in short, if you don't want to buy an entire set of spatulas; you want to get one that's the easiest to handle in all kinds of situations.
A flexible spatula is especially important for delicate food — like pancakes, fish, or eggs.
Now, let's have a look at the best alternatives.
Best spatula for cast iron
It has beveled edges – an important feature to have with a spatula that's meant for usage in a cast iron pan; landing this set easily second on our list.
Next up on our list, we've got another great spatula. And if you're looking for even more diversity and functionality — this is an entire set!
You'll find that this is an extremely useful set to have, as it includes pretty much anything you need in your kitchen.
There's a scraper, a turner for harder foods like hamburgers, a spatula for grilling, and a smaller cooking turner for softer food.
What we liked about Anmarko Stainless Steel Spatula
Sure, this is a diverse offering; but the question is, can this Anmarko spatula set provide enough quality for you to make no compromises while buying it?
Well, you'll find that this is mostly the case. All of the spatulas that are found in the set were manufactured from stainless steel — and even the smaller ones are thick 1/25 inch.
Plus, the two main spatulas have beveled edges — meaning that you can use them for sliding regardless of how thick they are.
Naturally, no high-quality spatula is complete without a truly useful handle. That's why you'll be pleased to know that all of the spatulas in this set have perfectly ergonomic handles; letting you handle your food easier than ever before.
The handles all have neat holes, allowing you to keep them on storage hooks or just hang them anywhere on your wall. This isn't the main feature, but it's something useful — if you're going to use an entire set of spatulas instead of a single one, it's nice not having them take up too much storage space in your kitchen area.
And the fact that you get a separate scraper is all kinds of useful; firstly, you don't have to scratch your actual spatulas and get them even dirtier; while still being able to quickly clean your iron skillet after a greasy meal.
All in all, this is a versatile offering that's a great idea for any kind of adventurous cook out there.
The downsides
There are two main downsides that come with this product; firstly, the fact that not everyone is a fan of using an entire spatula set.
If you're dealing with a cramped kitchen, or you simply want one versatile tool, this isn't the ideal offering for you.
The second issue that we've noticed people complaining about is a technical one.
In an effort to make their products as flexible as possible, the manufacturers seem to have made the handles of the spatulas a bit too bendable; meaning that you can't handle heavier amounts of food on this with any certainty.
Generally, this is one of the best options you can have if you're not looking to spend a fortune on your kitchen utensils.
Our following pick is another great spatula; this time around, a solo outing rather than a whole set. However, like we've mentioned just now — this is something that many people prefer.
So, without further ado — we're going to introduce you to the Sabatier Wide Turner. You can already surmise its main advantages from the name, but we'll get into them in more detail nonetheless.
What we liked about Sabatier Triple Rivet Turner
First and foremost, you won't find many options on this list that are better for turning. This is due to the fact that this Sabatier model has a spatula head that's specifically designed to enable you to flip and pick up both small and large kinds of food. Also, it's got an excellent supportive handle!
Sure, this isn't the highest quality item you can find on any kind of list; but it's good enough to be quite cost-effective when you account for its low price as well.
This particular spatula has two general characteristics that make it one of the best choices for cast iron skillets. Firstly, it's got the eponymous wide head; meaning you can use it to handle food in even the biggest cast iron pans.
And secondly — the spatula itself was made out of stainless steel. Sure, it's not hardened; but at this price point, it doesn't need to be in order to be worth your while.
Plus, the handle itself is of a higher quality than you'd expect for this kind of money; you'll find that it's extremely lightweight, and yet surprisingly durable.
That's because it was manufactured out of a cutting-edge plastic polymer that's completely heat-resistant! So, unlike with other spatulas, you won't have to worry about your handle being damaged after continued use, or of any plastic particles reaching your food.
The downsides
Now, we have to note that this spatula is not only one of the best ones for cast iron pans; conversely, you should avoid using it with any other pans that aren't cast iron.
The reason for that is pretty simple; the spatula has some incredibly sharp edges that are intended for the scraping of any remaining food once the meal is prepared.
However, these edges are a bit too sharp for the non-stick coatings on other commercial cooking pans; only the coarse surface of an iron cast pan will be able to sustain this easily.
Also, while the handles on this model are quite well-manufactured — they're also somewhat short, which could be an issue when you're trying to handle the contents of an extremely heated cooking pan.
You'll find that the spatula is well-suited for all kinds of elegant and simple gestures, despite its bigger weight compared to the other models that we've reviewed above.
Next up, we've got an incredibly sleek spatula made out of stainless steel — the OXO Good Grips model.
This is a spatula with an interesting design, and we'll tell you all about what makes it special below!
What we liked about OXO Good Grips Stainless Steel Spatula
The main thing that the designers of this product set out to achieve was to create a heftier spatula that's also not too difficult to handle; this is something that they've managed to achieve with ease.
However, the added weight is precisely what makes it sturdier and more powerful; there is nothing that you won't be able to handle with this utensil, regardless of the volume or weight of the food in your pan.
Plus, when we said that the design was sleek, that was no empty platitude. You will find that from the handle to the tip of this spatula, its look is pretty unitary and solid.
And speaking of the handle — it's also got a non-slip grip which will make handling it a breeze, regardless of how greasy your hands get in the process of preparing more demanding meals.
Unlike the previous choice on our list, this particular spatula is also quite long, meaning that you won't have an issue with handling hot food from a safe distance.
Plus, just like any other high-quality spatula, it comes with suitably beveled edges and a sturdy head that can scrape off anything.
The downsides
You may have guessed the biggest downside of this spatula right from the get-go — and that's how big it is. Its sturdiness and length don't come without a downside, and in this case, it's the fact that it may be a bit too heavy for some people to use comfortably.
However, on the bright side — that's precisely the reason we've recommended it as a great pairing with cast iron cooking pans.
In most cases, people who use such cast iron pans are more than used to handling weighty kitchen items; those pans tend to be the heaviest kinds you can buy.
They come with neat ergonomic handles from wood, with hanging holes and a decent level of versatility.
We'll finish off this list with another decent spatula set from Anmarko.
And if you're wondering how this one is any different from the previous set that we've talked about here; you should know that this is not a four-piece spatula set, but the smaller version of the same one.
What we liked about Anmarko Teppanyaki Spatula Set
Basically, if you've seen what the previous Anmarko set can offer, you'll find that this Teppanyaki two-piece set offers pretty much the same kind of functionality — but in a smaller package.
In this set, you'll find a single griddle spatula and a turner. As you might have assumed, both items have been crafted from decent stainless steel, though not as hardened as we'd like.
The two spatulas in this set try to make up for the fact that there aren't two additional specialized pieces, and they mostly get away with it too.
The smaller piece of the two is perfectly capable of helping your chop and scrape food, while the bigger and softer one will do wonders with pancakes and omeletes.
Both of them have decently sharp edges, ensuring that they're nice choices when it comes to cast iron pans.
The downsides
Firstly, you can't wash these two spatulas in a dishwasher — even though they aren't that large to begin with. This is something of an issue, though we do have to mention that this set is the cheapest offering on our list.
That means that you shouldn't expect the level of quality that some of the other sets and individual spatulas on this list have.
Things to consider before buying a spatula
Now that we've taken a look at all of the different models of the best spatulas for cast iron pans; we'll give you a more in-depth look at what you should keep in mind while you're making your own choice.
After all, there's no reason why you shouldn't take a look at some of the many other models that are available online; we've only given you a taste of our top picks here.
That being said, here are some of the features and deliberations that you should think about while choosing one out of any given set of spatulas!
Handle Quality
As we've already discussed, spatulas are kitchen utensils that can be manufactured in a wide variety of materials. However, unlike forks or knives, with spatulas, you have to think about the materials of their handle a lot more.
When it comes to other utensils, you generally don't have to use them to touch the food while it's at its hottest. On the other hand, spatula handles need to be sturdy enough to sustain any kind of heat.
In this case, your options are choosing between wood, metal, and plastic. The ones that you'll pick depend on what kind of cooking you do in general.
Sure, most people will tell you that cast iron pans require the sturdiest materials; but that depends on the heat that you'll apply to both the spatula and the pan. If you're going to crank up the heat more often, both wood and metal should be decent choices.
Just bear in mind that you won't be able to clean spatulas with wooden handles in a dishwasher. And also, if you touch the metal handles with your bare hands; you might get burned if the meal is particularly hot.
On the other hand, plastic handles are more convenient in the short term, as the heat doesn't spread as easily through them, and you can clean most of them in your dishwasher.
However, there's also the fact that plastic can melt more easily at higher temperatures, so you're putting your health in danger in the long run.
Singles or spatula sets?
As you've been able to see above, we've recommended a number of different options when it comes to the kinds of spatulas that you can buy; this includes both spatula sets and individual utensils. So, which one should you go with?
Indeed, this is a pretty basic decision to make, so you should make it right away. This will allow you to narrow down your browsing by about half.
As for the question itself, you'll find that the answer depends on your personal preferences — but also, on the amount of free space that you have available in your kitchen.
Generally, someone who doesn't have a lot of free kitchen space can't afford to clutter the area up with a dozen different spatulas; though it's always worth having at least one backup.
With that in mind, we recommend buying another spare if you're buying singles; There's no need for this if you're buying a whole set.
The specific type of stainless steel
When you start browsing for the best spatula for cast iron, you will find that there are more than a few buzzwords that different sellers use to promote their items.
One of these is "brushed steel" among stainless steel spatulas. So, what exactly is this, and do you need it?
This term simply refers to another layer of polish that certain spatulas have. And it's called "brushed" because the manufacturing process included a huge amount of friction against a bristle brush and application of chromium after that.
The basic advantage that this kind of stainless steel has over the other kinds is that it doesn't rust as easily. So, it all depends on how carefully you intend on taking care of your steel spatula.
And if you see that the sellers are marking up the price way too high based solely on this feature; you can freely pass on it and find a more cost-effective option.
Additional thoughts about spatulas
When we're talking about cast iron pans as cookware, there are plenty of reasons why picking a specific spatula for it is of huge importance.
First of all, even though cast iron pans can last you a very long time — you need to be aware of the fact that they're more fiddly than most other types of cooking pans.
Firstly, if you don't clean and dry them properly, they're more prone to corrosion. Also, it's not advisable to wash them with too much soap — they need to constantly have a small layer of seasoning in order to remain functional.
As you can see, we haven't recommended almost any plastic spatulas for this type of pan. Our choice was such because the spatulas made out of metal and even wood are sturdier when it comes to being used for scraping, as well as flipping bulkier meals.
And seeing as how slower these pans cool off compared to other kidneys of industrial non-stick pans; you don't want to risk interactions with plastic spatulas.
Now, you need to know that your usage of a spatula with a cast iron pot will be an experience that improves over time. In the beginning, cast iron pans tend to be quite bumpy and rough; almost like something from the Middle Ages, and not at all like a product that comes off an assembly line.
However, as time goes on and you continue using it for cooking and use a spatula to scrape things off afterward; you will find that the surface becomes less and less coarse over the years. When you put enough time into cooking with this type of pan, it will become smoother!
Of course, the spatulas that you use for these pans can also be used with other pans with different backgrounds; though they're not always as effective.
As you might assume, the heavier spatulas on our list don't go well with lighter pans — which is pretty much every other pan except for cast iron ones.
Necessary Precautions
There are certain precautions that you should keep in mind when it comes to your spatulas for cast iron pans. First of all, you should know the situations in which it's not suitable to use these spatulas for other purposes.
We don't recommend freely using metal spatulas if you switch to a Teflon or other type of non-stick pan; the metal spatulas have sharp, coarse edges that can't do much damage to cast iron, but they'll make short work of any other coating they encounter.
Finally, you also need to ensure that you clean your cast iron pans in the most proper way possible. And if you're wondering what this has to do with your spatula — in reality, the spatulas that you use with cast iron pans are essential for the cleaning process as well.
Namely, because of the fact that true cast iron pans have an incredibly porous surface. That means that you need to use the bare minimum of water and soap because the latter will easily enter the structure of the pan and contaminate it.
Hence, it's generally advisable to scrape as much of the food as you can from the pan using your spatula, and then wash off the remains.
Naturally, you wouldn't do this with a ceramic pan that's far more sensitive — which is why spatulas are so important for this kind of pan.
Frequently Asked Questions
What kind of spatula do you use for cast iron?

As we've mentioned before, pretty much every kind of spatula will be usable with a cast iron pan — in the bare minimum sense of that word.

However, there are certain spatulas that are more effective — and certain spatulas that are also safer. For instance, as we've already said, you probably want to avoid the plastic spatulas, as the plastic shavings can melt away into your food.

Plus, they're not as good as scraping as the metal ones — so we recommend going with those.
Can I use a steel spatula on cast iron?

Many people don't realize what kind of spatula is perfect for their cast iron pans. And while we've already said that metal spatulas are a good direction to go in general; we'll also confirm that using steel spatulas for the cast iron pans is also advisable.

Indeed, we'll go as far as to say that these kinds of spatulas are also your best bet in terms of sturdiness.

They will do the best job of helping you operate a cast iron pot without harming the pre-seasoning that you leave on it — so it's a great option if you care for the longevity of your cast iron pot.
What material spatula is best and safest?

Now, the question is — considering all of the different materials that you have out there; which one is the all-around best option when it comes to spatulas for cast iron pots?

We'd have to say that there's a reason why stainless steel is such a favorite option in terms of manufacturing for metal spatulas.
This material is quite lightweight, sturdy, and incredibly durable — meaning that it has all the characteristics that play well with cast iron pans.

Plus, it's not too heavy, allowing you for easy maneuvering — and it has the unique ability to be strong enough to interact with cast iron without necessarily harming it during the scraping process.
Is stainless steel toxic?

Naturally, you don't just want to use any kind of utensils and cookware in your kitchen. Instead of not being careful, you need to ensure that each new material that you introduce is thoroughly vetter and completely safe to use around food.

And considering that — you will find that stainless steel is safe — at least if you use it as the material of which your spatulas are made of.

Conversely, stainless steel pans and similar cookware may pose a certain low level of danger if you scratch them severely. Indeed, some deep scratches on such pans can allow chromium and nickel from the metal to find their way into your food.

However, these are still quite small trace amounts — and the above-mentioned elements aren't toxic either, so there's no real danger to speak of here. It's only a mild source of concern if you're dealing with some specific kind of allergy that you're aware of.

Can you leave food in cast iron overnight?

Unfortunately for people who don't like to think too much about their food when they're done cooking; leaving your food in a cast iron pan overnight is not a good idea.

Now, as long as the food is processed, not too perishable, and refrigerated — there won't be any issues with the food itself.

However, you'll find that this sort of practice severely diminishes the effectiveness and preservation of your actual cooking pan. As you might have realized by now, cast iron is not a material that's as treated as some other industrial polymers for cookware.

Consequently, you have to work harder to preserve it. For instance, after you season and dry it; you don't want to allow any moisture to gather as it can damage the pan.

And that's especially true for moisture from leftover food, because it may be acidic and eat away at the seasoning. Lastly, there's a slight metallic flavor that the food might develop if it's in the pan for too long.
Can you use dish soap on cast iron?

There's no getting around the fact that soap is not your friend if you're using a cast iron pan. The reason for that is simple — the main point of soap is to remove the oily properties of leftover food.

Unfortunately, this also means that it will destroy the thin seasoning that owners of cast iron pans have to apply to their cookware. And that's essential because it's precisely what allows an iron pan to have non-stick properties.
Wrapping Up
As you can see, the choice of the best spatula for cast iron is far more important than for some other cookware materials. When it comes to iron cookware, durable metal spatulas are absolutely essential to the process of preserving and maintaining them.
Thus, if you want your investment in a cast iron pan to be made good — you also need to ensure that you pick the best possible spatula to go hand in hand with it as well.
On the other hand, many of these spatulas only work well with cast iron pans; meaning that we're very much talking about a package deal.