There are plenty of kitchen utensils and utilities that you need to truly support creative and tasty cooking. Naturally, a cooking pan is pretty much a basic thing to have in your household.
However, choosing the right one among all of the options available to you is more important than you think. The reason for this is simple — if you don't pick the proper pan, you may be risking your health.
Teflon pans are a good example of that. Did you know that pans with Teflon coating were quite harmful for your health?
And let's face it — if you've got a cooking pan with Teflon, that's something harmful which you use every single day.
Considering that, it can be quite important to pick a non-stick pan that also doesn't have any Teflon.
It doesn't matter whether pans are stick or non-stick for your health; however, the latter is simply far easier to use and clean.
Plus, you can additionally find pans that are both non-stick, Teflon-free, and dishwasher-friendly; considerably cutting down on the time that you need to spend on hand-washing.
Sure, such pans may be a bit more expensive — but they're worth the money. Plus, you can find such pans in all imaginable colors. This is something that you want in your kitchen, seeing as bright colors are proven to improve your mood as you cook.
But therein lies the problem — you want a non-stick high-quality pan that has all of these positive qualities — but without burning through your budget.
Don't worry, however — we will help you select the best non-stick pan without Teflon with ease. Soon enough, you'll have everything you need for a fun and healthy cooking experience!
Why should you stay away from Teflon?
Before we explore the wonderful world of non-stick pans without Teflon — you should probably learn about what Teflon is, and why you should avoid it.
Many people believe that Teflon is the name of a chemical or a specific toxic substance. In reality, however — it's the name of a brand that produces a specific chemical coating for pans.
There are plenty of different surfaces where polytetrafluoroethylene (the full name of the actual chemical) is used to coat plenty of different surfaces of cookware objects. The point of their usage is to stop food from sticking onto the bottom of the pans.
And the way that this material achieves that is by repelling any water found in the food, thus achieving the minimal possible friction that's needed for effortless cooking. Plus, all of this makes washing an breeze afterward; which is something all of us can appreciate.
However, the issue with Teflon pans is that they're simply not safe. Sure, the PTFE chemical found within is still declared safe for usage at regular temperatures. But the real trouble starts once you allow the temperature to go higher; which is pretty inevitable when we're talking about cooking pans.
Once you reach a certain temperature, this Teflon chemical begins to break down — and it starts releasing some harmful chemicals. These are airborne chemicals, and seeing as you're inhaling them as you cook — they can cause breathing issues and chest congestion in the long run.
As you might assume, this is especially harmful to those who have frail respiratory systems. That makes Teflon pans a danger that you'd do well to stay away from.
Luckily, these days you can find plenty of non-stick pans that weren't manufactured with a Teflon coating; allowing you to enjoy all of the benefits of a Teflon pan with none of the dangers.
Our Pick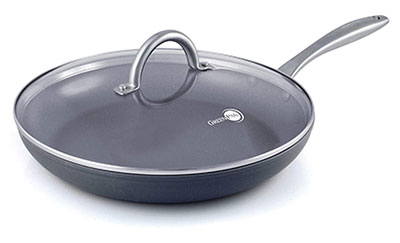 The coating that it does have is strong, allowing you to sustain all kinds of cooking styles. That means that you can sear, bake, fry, or roast any kind of ingredient that comes to mind — at any kind of temperature without fearing for your health or safety.
There are plenty of reasons why you might want to get a sturdy pan that's capable of sustaining higher temperatures. For instance, chicken and fish require pretty temperatures in order to be cooked properly.
So, if you cook such things on a regular basis — you will find that the GreenPan Lima Frypan is probably your top choice; it certainly is ours.
What we liked about GreenPan Lima
One of the biggest pros of this frying pan is the fact that it isn't harmful, regardless of the temperatures at which you use it. It's also got twelve inches in diameter — meaning that it's big enough for most types of cooking.
Plus, the pan was made with thermolon ceramic, meaning that it won't stick just like a Teflon pan wouldn't. But on the other hand, it doesn't any kind of cadmium, lead, PTFE, or anything else that might result in users' endangered health.
Plenty of users have reported that the ceramic coat did not flake or crack at high temperatures.
There's also a neat glass lid, which comes with a handle that lets you carefully monitor the process of cooking without opening it up. And the handle itself is quite durable, seeing as it was made out of stainless steel.
This means that you will be able to turn and toss around all of the ingredients inside with ease; the grip is quite comfortable and ergonomic, and the pan itself is incredibly lightweight overall.
Finally, once you cook your food — the pan can be hand-washed quite easily, you won't have to scrub or apply too much dishwasher liquid. A small amount of it will be enough, coupled with running water — any kind of grease or smell will be dealt with easily.
You can also choose between two different colors — gray and bronze. And the pricing is quite budget-friendly, allowing you to acquire it without thinking too much about the money.
The downsides
As you might expect from the best pick on our list, this cooking pan doesn't come with a lot of downsides.
However, there is one that we'd be remiss not mentioning — this is a handwash-only pan, meaning that you won't be able to clean it with a dishwasher. However, that's not too much of a problem, seeing as it's quite easy to clean manually as well.
How we picked the best non-stick pan without Teflon
If you can't buy our top pick among the best non-stick pans without Teflon, or you simply want to see some other options as well; we will provide you with some of the other excellent pans that we've reviewed below.
However, before that — you probably may want to know why and how we chose the above-mentioned pan as our top pick. Because of this, we'll give you a quick rundown of the factors that we considered while making our choice.
In short, those were the effectiveness of the non-stick coating, heat distribution, materials, ease of use, and longevity.
Effectiveness of the coating
Naturally, one of the biggest draws of these pans is their non-stick coating — the last thing you want is not being able to flip a pancake, make your eggs properly, or even worse — having to go through a tedious process every time you want to clean it.
Plus, the proper non-stick coatings allow you to cook while using less butter and oil — which is healthier for you.
Heat distribution
Next up, we've got the question of how the pan reacts to heat. As you can imagine, this is one of the most important factors that determine which cooking pan is worth your time.
If you've got the chance to test out a pan at someone else's house before buying the same model; we've got a simple method that you can use to see how it performs.
Just pour a couple of tablespoons of tap water into the pan and turn on the heat. After that, you should measure how much time the pan would need for the water to begin boiling. If you see that the pan is particularly slow, you probably want to steer clear of it and go with another model.
Apart from that, it's also important to note if the heat manages to be evenly distributed across the entire pan. That's important for omelets or making the perfect crepes and pancakes.
If you see that there are areas where the food is darker or lighter than the rest, you've got hot or cold spots — stopping you from making the perfect meal.
The coating materials
As you've seen in our introductory description of Teflon, there are plenty of different non-stick coatings that pans can be manufactured with.
However, you should take care to pick the ones that don't release any substances which are potentially harmful to your health.
Thus, we can differentiate between two distinct types of non-stick pans — non-ceramic and ceramic. Now, ceramic pans are generally the most bio-friendly ones.
On the other hand, non-ceramic pans can contain PTFE more often, though you can certainly find some that don't.
Ease of use
Naturally, you also want to be certain that you won't be having any difficulties with the pan. And sure, while that does mean that you want it to be non-sticky so that it's simpler to use; it should also be simple in terms of cleaning.
Ideally, you want a pan that's washable in a dishwasher; though if the dimensions or materials prohibit that, you should at least be able to clean it quickly by hand.
Also, is it heavy to hold with just one hand when you've got food inside?
That could make tossing ingredients potentially difficult, though that also depends on the dimensions of the pan.
Furthermore, you want the pan to be reasonably large but not too much — otherwise, storing it will be another difficulty, especially with longer handles.
Longevity
Finally, when you buy pretty much anything — you want to be certain that it will last you for the longest possible time.
And in the case of non-stick pans; you also want to have a reasonable degree of certainty that it will last you long enough to warrant your investment.
If you hear of the non-stick coating quickly degrading after a short while, you want to avoid such models.
Now, let's have a look at the best alternatives.
Best Non-Stick Pan Without Teflon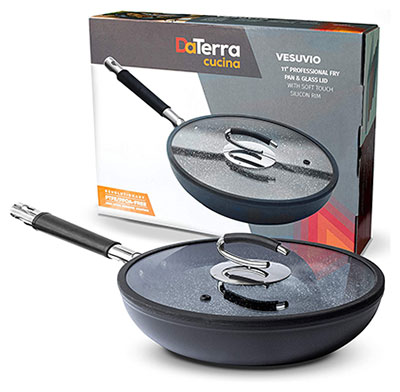 This cooking pan is notable for its high-quality non-stick coating. In fact, the coating was designed with four different layers, providing you the biggest possible protection and majorly enriching how your food tasted once you use it for cooking.
Now that we've taken a look at our top pick among non-stick cooking pans without Teflon, as well as the factors that we took into account while choosing it — we'll move onto the other choices on our list. More specifically — onto the DaTerra Cucina non-stick pan.
If you're cooking for yourself or your family, your major priority is that everyone in your home eats the healthiest possible food; that's why you need a pan without Teflon in the first place. And that's something that you can achieve with this cooking pan.
However, besides that, you will also find that this DaTerra model is free of any other potentially harmful chemicals. As a result, you don't have to fear respiratory issues from the cooking fumes.
What we liked about DaTerra Cucina Nonstick Pan
First of all, there's the bottom base that's almost 4mm thick and manufactured with sandblasted aluminum. This material ensures that your pan has the best possible conductivity — in turn, allowing you to easily heat it without waiting ages.
Plus, the heat distribution is excellent. Another great thing regarding this pan with a flat base is the fact that you can easily use it with any kind of stove; it was designed for maximum compatibility.
That means that you can just as quickly use it with a stove with a glass top, an electric one, or the older propane ones. You can rest easy knowing that none of them will damage or scratch the pan from the bottom.
Also, you should know that this pan comes with a silicon-edge lid; it's there to reduce lid wobbling in case you're using the pan to boil something at a high temperature.
As you can imagine, this silicone layer is amazing at creating an airtight environment inside; providing you with the richest and best possible food texture. Plus, the glass lid does contain a small hole, allowing some air to pass and not build up too much pressure in the pan itself.
Finally, the lid handle and the side handle all have a heat-resistant coating; meaning you can easily use them to maneuver the cooking pan at all times without worrying about getting burned due to the higher temperatures.
This pot is also dishwasher-friendly, meaning you won't have to worry about cleaning it either. And it weighs just 2 pounds!
The downsides
Naturally, the fact that this isn't our top pick means that it does have some downsides. And in this case, these downsides don't have anything to do with the functioning of the pan itself. Rather, the issue is in the price of the pan.
It's not a pan that's the most affordable option here; though, if you have enough money to warrant a purchase, you'll find that it's well worth your investment!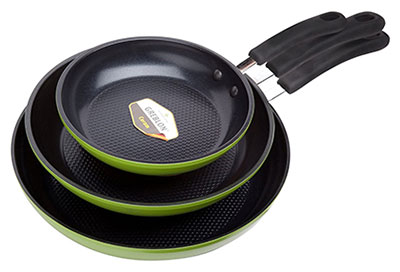 Not only is the surface of these pans completely devoid of any Teflon — it also contains none of the lesser-known, but still dangerous chemicals such as NEP or NMP. When you use any of these three pans, you'll be completely certain that you're dealing with the safest possible option for your meals.
Now, the next choice on our list is for people who have a bigger household. In many cases, if you're making a particularly complex meal, or you simply cook for a lot of people — you need more than one pan to finish the job.
In the case that you need more cookware — you don't want to buy single pieces of these items, as that will simply cost too much.
Instead, you can find sets with multiple pieces in different sizes, such as with this Ozeri one. This is an excellent set with three different pans, basically containing everything you need to complete even the most demanding meal.
What we liked about Ozeri Green Earth Frying Pan
One of the best things that Ozeri pans are known for, apart from that gorgeous aesthetic, is the fact that they're quite healthy and durable.
The individual pieces in this set come in different sizes — however, their common feature is the fact that none of them contain Teflon or anything other that you wouldn't want interacting with your food.
Unlike many of the other products that we've reviewed here, the surface of this pan is not completely flat. Instead, we're talking about a surface with a honeycomb-esque texture.
This ensures that the heat is distributed with even more evenness, for the most balanced meal you can think of.
You'll also find that the dual ceramic coating is of sufficiently high quality; as well as the rest of the construction that was made from die-cast aluminum. The handle also contains a heat-resistant silicone, allowing you to cook without thinking about burning yourself.
Though, probably the best thing about this set is the fact that it's quite affordable for its level of quality; the entire set won't set you back more than a hundred bucks.
The downsides
Unfortunately, this set of non-stick pans without Teflon also has one major downside — their support for higher temperatures is not as good as with the other entries on this list, meaning that it will degrade quicker with prolonged use at fry-level temperatures.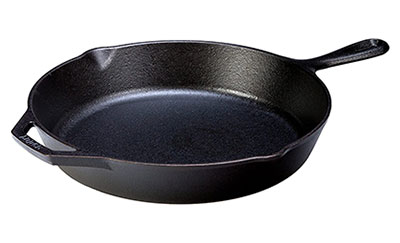 This material is one of the best ones when it comes to healthy cooking pans that also give you a reasonably long-lasting performance. In fact, this kind of pan outperforms both aluminum and ordinary ceramic pans.
Realistically speaking, this list would hardly be complete if we didn't include an iron skillet — and one from Lodge at that! As you may have already heard, these are incredibly versatile skillets that pretty much every kitchen should contain.
You can use it in all kinds of situations without worrying about its state or the quality of your cooking; from a campfire to an ordinary stove.
What we liked about Lodge L10SK3CN Skillet
As we've just mentioned, one of the largest advantages of this iron skillet is its ability to perform equally well at any kind of cooking surface.
It will still provide a sufficient level of cooking quality. The reason why it's so versatile and durable is the fact that it was manufactured using high-quality cast iron.
And many people also say that they simply prefer the taste that they get from the iron pan. You'll find that certain types of meat get that husky natural taste when cooked in this sort of pan — mainly chicken breast and beef.
Also, this is quite a portable pan; meaning that you don't have to worry about the ease of use — you can take it anywhere!
This is also one of those pans that arrive already pre-seasoned, so you'll be able to use it right after you unbox it. There's pretty much no healthier kind of pan that money can buy because it wasn't seasoned using any kind of synthetic chemicals.
Instead, the pan was manufactured with a pre-seasoning of completely natural vegetable oil; so you don't have to worry about the quality of its non-stick feature either.
Pretty much any kind of cooking will be great with this iron skillet — frying, broiling, and sauteing aren't issues with this. The cast iron provides a sufficient level of heat retention and distribution, so there's nothing stopping you from making the meal of your life.
The pan is 2 inches deep and has a diameter of 12 inches, also coupled with a perfect ergonomic design that will make it one of the most portable options on our list.
The downsides
While using a cast iron pan is a great experience, you need to be prepared for a couple of downsides that come with that. Mainly the fact that these pans are not too big, so they can fit anywhere; but they're quite heavy, so lifting them isn't for everyone.
Also, you'll probably want to leave a layer of some kind of vegetable oil after you wash it, to maintain the pre-seasoning.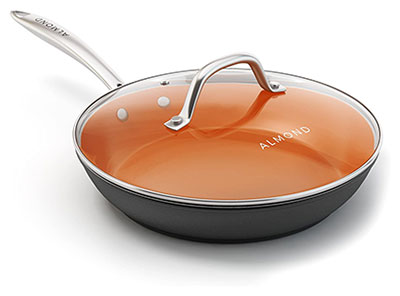 There are more than a few benefits of using a copper-coated pan; most of which will make your food tastier and healthier.
The final choice that we'll review here is a classic ceramic frying pan coated with copper.
This kind of surface allows it to be devoid of Teflon, while also managing to provide you with the non-stick function that's essential for a modern frying pan.
What we liked about Almond Nonstick Pan
irst of all, copper is one of the best heat conductors in the world — meaning that this kind of pan will allow you to heat up a pan as quickly as you would if it was ceramic.
As you might imagine, this is also good news in terms of heat retention; you won't need to use much energy to keep it heated up for a long time.
Also, one of its best features is the fact that it's oven-safe, as long as you use it in temperatures not higher than 420 degrees.
The lid of the pan was manufactured with tempered glass, providing even more freshness and heat retention once you're done with the actual meal preparation. All you need to do in terms of cleaning is to quickly rinse it — and it will be ready for a dishwasher!
The downsides
Apart from the fact that most of the other cooking pans on our list provide a better degree of performance across the board, we should also note that this pan's glass lid could use some better manufacturing. That being said, this is one of the more affordable options on our list.
Things to consider before buying a non-stick pan
When it comes to picking the best possible non-stick pan without Teflon, there are more than a few things to keep in mind.
Because of this, we'll provide you with a handy buyers' guide that will give you all of the information you need to make an informed choice when it comes to purchases like these.
Intended Use
One of the first factors that you need to consider while buying a cooking pan is — where do you need to use it?
Depending on the kind of heat source that you'll use for the cooking, you may need to buy different kinds of pans.
For instance, you'll need a different pan if you're going to use it on a grill, compared to one for a simple stovetop. So, consider the cooking surface that you're dealing with first.
For instance, an induction surface means that you might want to choose the aluminum cooking pans — they provide the best possible heat retention in such cases.
Conversely, if you need a pan that's going to perform admirably in a wide range of conditions — a skillet made out of cast iron is your best bet. Also, you can find ceramic cookware which performs well in varied conditions, though it's still best-suited for electric and gas stoves.
Manufacturing material
By now, you've probably seen a wide variety of build materials that we've outlined above. In most cases, this is either cast iron, steel, or aluminum.
But this is just the material that the body of the cooking pan was made of. Apart from that, you also need to think about the coating that comes with it.
For instance, a ceramic coating is almost always something with more longevity than an aluminum coating; however, ceramic pans also tend to shatter more easily if you drop them accidentally.
Conversely, aluminum is more durable and heats up pretty quickly — but it also tends to lose the non-stick properties in a shorter amount of time.
Finally, cast iron is a great choice if you want something that's not breakable and retains its properties basically indefinitely; however, these are the heaviest pans on the market, and you may need to allow them some more time to heat up.
Pan size
Naturally, apart from the nature of the pan itself — you also need to consider a couple of practicalities that will influence its usefulness to you on a daily basis.
For instance, the actual size of the pan is important, because it will influence how many people you can serve in one cooking spree. If you live alone, an average-sized pan will be enough.
But for a family, you probably need to look into the bigger models on our list. And make no mistake, this is quite important — because it lets you avoid cooking multiple batches just to have one meal.
If you don't mind cooking with multiple pans at once, you can also look into some of the sets of cooking pans — we've highlighted a good one among our reviews above.
Weight
Depending on your disposition and how much effort you're prepared to put into your cooking — you should also consider the weight of your non-stick pan without Teflon.
As we've already mentioned, the cast iron pans are the heaviest type of pan by far. Conversely, ceramic ones are medium-heavy — while aluminum pans stand at the lightest of the bunch.
So, if you regularly cook meals that require a lot of tossing and turning — we recommend using an aluminum pan or at least having one in your kitchen for such situations. Trust us, tossing ingredients in a cast iron pan requires more than a steady hand.
The Aesthetics
Finally, if you're someone who likes everything having a neat appearance — the aesthetics of your cookware is important as well.
So, when it comes to the look of the pans — ceramic probably wins out, because these pans simply allow you the widest possible choice when it comes to color options; giving you the freedom to perfectly match up the pans with the interior of your kitchen.
Frequently Asked Questions
Now that we've gone over all of the stuff you need to know while buying the best non-stick pan without Teflon, as well as our top picks — we'll provide you with answers to some of the most frequently asked questions on this topic.
Is Teflon still dangerous?

Many people worry about the health hazards involved with the use of non-stick pans with Teflon coatings. On the one hand, you want to use a pan that has the best non-stick quality — but you also want to be completely safe during your cooking.

If that's the case — then we recommend staying away from Teflon-coated pans.

As we've already mentioned, these pans aren't the best option because, while they do have sufficient non-stick qualities, their coating also tends to break down over time.

And yes, this is true for every kind of pan besides cast iron; but ceramic and aluminum coatings don't pose a health hazard, while the breakdown of Teflon does. As you inhale the Teflon chips which peel off over time, you may develop respiratory issues.
What is the best alternative to Teflon?

Luckily, there are plenty of alternatives to Teflon. As we've already talked about — ceramic non-stick pans are one of your safest options. Plus, this kind of material doesn't scratch as easily, allowing you to use it for the longest possible time.

Even if you use them with the highest stovetop heat levels, you still won't experience issues. Just make sure that you buy ceramic pans from manufacturers that are positively lead-free.

Also, there is stainless steel as well – your most low-tech and cost-effective option. Now, you should know that these pans have the lowest non-stick properties of all — but you can still clean them up pretty easily with a reasonable degree of effort.

And you can also use a scouring pad and not think about scratching it like you would with Teflon!

Finally, there's also cast iron — the highest-quality pan out there, but also the bulkiest one. You do need to put in a lot of effort into using this kind of pan, though it is easier to clean than you might think.
Should I throw out my Teflon pans?

Considering the fact that we've talked about how dangerous a Teflon pan can be if you use it after it degrades; the question is, should you just throw out the pans that you already have and they're made of Teflon?

Well, that depends on a number of factors. You need to think about whether these pans are already scratched. Take a good, long look at the surface of the pan and see if you can spot any irregularities.

If not, then you can reasonably continue to use the pan until you get a new one; unless you're prepared to give money for a higher-quality pan right away. That being said, as soon as you notice these pans becoming scratched — you need to replace them immediately.
Is it safe to use a scratched Teflon pan?

Unfortunately, once you notice that you're using a scratched Teflon pan — you also need to remember that you're putting yourself at risk of inhaling dangerous toxic chemicals. Of course, when it's solid and in one piece, Teflon is a pretty inert chemical; a mint-condition Teflon pan is as safe to use as any other.

Unfortunately, the dangers start once it degrades — every single cooking session means releasing dangerous gases into your nearest vicinity.

This is even more true if you're cooking at a higher level of temperature. Which, let's face it — all of us tend to do from time to time.

Considering this, you should think twice before you use a Teflon pan that's already been scratched. And if you throw one out, know that these things, unfortunately, can't be recycled — so they're all kinds of trouble for the environment as well.
What is the healthiest material for pots and pans?

If you truly want to use the best possible material for your cooking pans, you should know that your ideal option is using cast iron.

Yes, you'll have to get used to using a much heavier pan than before. But on the other hand, not only will you be certain that you're eating the healthiest possible meals; you also get to buy a pan that's practically a lifetime investment.

Indeed, iron does not degrade easily, and such a pan can last you decades. You only need to make sure that the pre-seasoning of the pan is maintained through the years, and you'll be just fine.
Is ceramic coating better than Teflon?

If you're not a fan of iron cast pans but you still want to avoid Teflon, your next best bet is a ceramic pan. These pans give you pretty much every positive kind of feature you can think of.

Their heat conduction is always admirable, some of them are even oven-friendly — but only up to a point.

Also, when coupled with the right kind of silicone handle, they can be the easiest ones to use out of all the different pans. All you need to do is to make sure that you don't let it fall and break!
Wrapping Up
Finally, as you can see — there are plenty of non-stick cooking pans that you can use without resorting to Teflon. And now you've got everything you need to make a truly informed choice!