If you're a homeowner, you probably know that there's no bigger joy and achievement than a tidy, beautiful garden. However, tending to your yard is not always simple — the more you get into the details, the more you'll realize that this is practically a part-time job.
Not to worry, though; with the right tools, you can easily take care of every aspect of your gardening.
For instance — if you've got a beautiful hedge, there's no reason to let it become too bushy or whither away. Instead, getting the best electric hedge trimmer will go a long way towards having that perfect picturesque yard that you see on TV; with instantaneous cutting impact, the sharpest hedge lines, and absolutely no hassle.
But once you get into the process of buying an electric hedge trimmer — you'll notice that they are quite abundant. There are so many brands to choose from, and so many different options when it comes to specific models.
Don't despair, you won't have to make that choice on your own. We're here to provide you with the most detailed buying guide and list of the best electric hedge trimmers; we'll make sure that you're aware of the best models that you can buy online!
Our Pick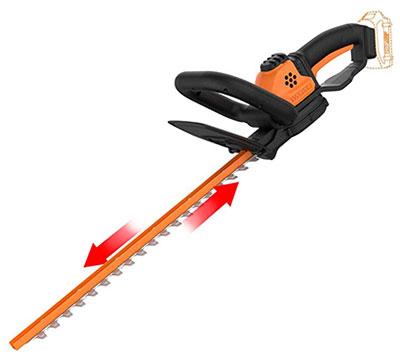 It has dual action blades that move both forwards and backwards simultaneously as you cut. The result? An amazingly clean-cut coupled with almost no sensible vibration.
The top pick on our list is the WORX WG261.9 Cordless Trimmer.
And make no mistake — though there are plenty of excellent choices that we'll show you here, this is by far the best one. And the reasons for that are quite abundant!
What we liked about WORX WG261
First of all, the best thing about this nifty trimmer from Worx is the length of its cutting blade. It's got 22 inches to boast with meaning that you won't have any trouble trimming hedges of absolutely any height.
If you want some privacy in your yard, but you don't want tall hedges that aren't aligned perfectly — this is the product for you. Plus, at heights where every single inch of blade length counts — you'll find that this is a trimmer that's both easy to maneuver and quite powerful.
At the same time, this also makes the Worx trimmer one of the safer products on this list.
Apart from the low vibration, the fact that it's not heavy also adds a lot to its comfort appeal. Weighing around five pounds, you won't even notice that you're carrying it around as you work. Plus, that means that anyone from your household can use it without getting too tired.
Okay, now that we've gone over the fact that it's easy to use — what about its actual cutting power?
You'll find that it doesn't disappoint in that regard either. The device is more than capable of dealing with branches that are thick about ¾ inch — and you won't have to do multiple passes to achieve that either.
This feature will absorb the vibrations, making the product far more convenient, as well as easier to use. Seeing as we're talking about a cordless trimmer, that's an astounding cut capacity.
The handle of the trimmer is D-shaped; allowing you to retain maximum agility and comfort while you cut with the blade; especially if you need to deal with sides and tops of shrubs, requiring you to position and angle the blade in different ways.
Plus, the grip itself is easygoing enough not to make your hands sore from the gripping. Seeing that we are talking about a cordless device, you will never have to worry about getting caught up in the cord or doubling back. You will be granted additional freedom of movement, and we love it!
Now, we should also mention that this trimmer has further advantages if you couple it with other garden tools produced by WORX.
For instance, most of them use the same 20V batteries; so, if you also use their leaf blowers or drills, you'll find that this is a handy feature.
Essentially, you will be able to utilize the batteries from your existing PowerShare tools, allowing you to extend the collection without having to pay for additional charges or batteries.
The downsides
One of the many reasons we've chosen this particular product is that it doesn't have many downsides. Sure, it does require some slight assembly; but then again, what garden tool doesn't?
You only need to put the front handle and the safety guard together — the entire process doesn't take you more than a couple of minutes.
Beyond that, the only improvement that we'd like to see is in the product's battery. Sure, it lasts a long while and the charging isn't too slow — but the lack of a battery level indicator is not ideal.
Without it, you don't know how much juice you've got left; making overcharging or drained batteries a real issue.
How we chose the best electric hedge trimmer
As you'll see from our buyers' guide below — there are more than a couple of things to keep in mind while buying any sort of gardening tool; best electric hedge trimmers included. However, when it comes to choosing the top pick among all others, we had a specific set of criteria in mind.
Namely, we chose it based on its battery life, cutting power, blade length, comfort, and affordability. As you'll see once you get into the other choices that we offer to you below, the abovementioned WORX model isn't the best in any of these categories — however, it's an all-around winner, because it's good enough in each one.
And that's precisely what you want when you're buying your hedge trimmer; something that has no discernible downsides, and performs amicably across the board.
Of course, this doesn't mean that there aren't other electric hedge trimmers that you might prefer more, for one reason or another. And keeping that in mind, we're going to recommend more choices right here!
Now, let's have a look at the best alternatives.
Best electric hedge trimmers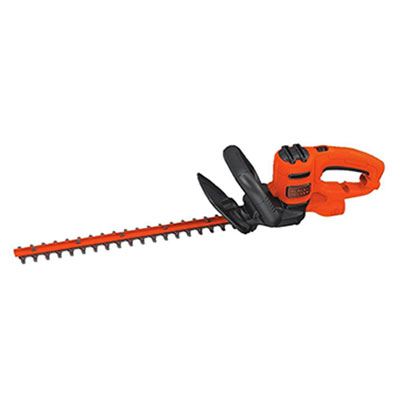 It's almost the cheapest one on this list. Conversely, this doesn't necessarily mean that it won't give you all of the features that you need!
Our second pick among the best electric hedge trimmers is a device that comes from one of the best manufacturers of all kinds of power tools — Black+Decker.
The BEHT200 is definitely one of the best choices that you can make in this niche; particularly if you're going for a more budget-friendly option.
What we liked about Black + Decker BEHT200
First of all, you should know that this isn't the only hedge trimmer from Black+Decker; this is just the top one that we've chosen. And the reason for that is simple — for all of the quality that it gives you, it's laughably inexpensive.
The trimmer chugs along thanks to a 3.5amp motor; providing you with reliable performance. That being said, it cuts a little less thickness than our top pick from WORX; one of the reasons why it's second, but also far less expensive as well.
With this device, you'll be able to go through brush branches with a thickness of ⅝ inch. While you can attempt to go at thicker branches, we don't recommend doing so.
Seeing as the blade is 18 inches long, there are longer options on this list; so, if you have extremely deep shrubs or hedges with more impressive tallness, you should think about another option from our list.
The construction of this device decreases the overall vibration that is produced, making the product easier to wield and use. We found this particularly useful for users with less strength and experience in this field.
However, if all of this sounds like downsides — they're not. This trimmer has its purpose and it's a crowd-pleaser. For instance, it weighs a little over 4.5 pounds.
As a result, you won't require a particularly muscular disposition to comfortably utilize it. We also like how the manufacturer has included the cord retention feature to prevent the users from accidentally unplugging the device.
Speaking of which, the comfort aspect is further improved by the fact that the product contains an excellent wrap-around handle; with it, you can maneuver the device easily while you hold it and cut your bushes.
The edge of the blade is also produced out of dual-action steel; reducing the number of vibrations that you feel to the bare minimum. This fella is light, portable, and affordable. Good stuff!
The downsides
The maneuverability of the product is a bit lessened by the fact that this is a corded model; meaning that you need to plug it into an electrical outlet before turning it on. And you constantly have to think about the cord.
On the other hand — the cord is a very noticeable orange color, so you won't have to think twice about stepping on it or tripping over. Plus, the device has a retention loop mechanism for your cord; allowing you to use it without worrying about unplugging the thing if you pull too hard.
Also, the fact that you need to worry about the cord is more than made up by the fact that you don't need to think about your battery power. You can use it as long as you want — you just have to keep it plugged in.
The only other minor issue that we have with this device is its user manual; one of the least useful ones we've seen. It has more than enough cautionary notes; which is completely fine because it's the right thing to do with power tools such as these and also legally mandated. However, it doesn't have enough detailed information regarding maintenance and parts.
Still, we're talking about a decent trimmer that won't set you back a whole lot of money; something most people are after at the end of the day.
When the price-quality ratio is taken into consideration, we can safely say that this fella delivers a good band for the buck considering the listed price tag.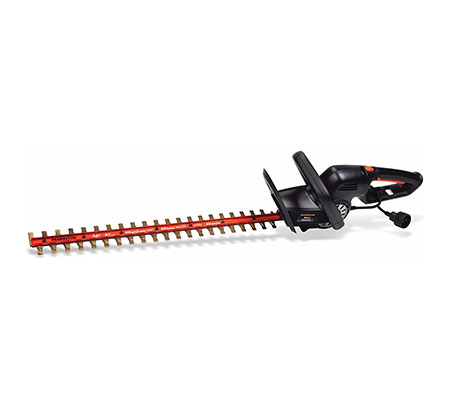 If your garden is particularly bushy and tall — this is pretty much the farthest-reaching electric trimmer that you can buy. Any branches that aren't thicker than ¾ inch will easily be dealt with.
Next up, we've got a Remington model that ups the ante when it comes to power capabilities — especially compared to our previous Black and Decker pick.
Without further ado, we present to you — the Remington RM5124TH Electric Hedge Trimmer!
What we liked about Remington RM5124TH
It's important to note that this model has quite a powerful motor right away. In fact, it can boast with 5 amps; while it isn't on the cheap side compared to plenty of other choices on our list, we can still safely say that it's worth it.
We'd even go as far as to say that it's priced quite competitively, considering its excellent specs.
Unlike the other steel blades which we've reviewed so far — the Remington model has blades that have a unique titanium coating.
As a result, they're simultaneously stronger than their peers, while also achieving a better level of vibration reduction. They are very strong and offer extended durability when compared to other products in similar categories.
The blades also achieve an amazingly clean cut; allowing you to preserve the health of your hedges for a long time. Remember — bruised or crushed stems can easily be overtaken by disease; making hedge trimming an important and constant task.
Moving back to the Remington trimmer, though — we should also point out that the blade is 24 inches long; making it officially the longest one on our list; compared to the Black and Decker, it's significantly bigger, though the other blades that we've reviewed are generally 22 inches, so it's not that big of a difference in general.
This allows you to cut even those tricky large branches with ease, like a hot knife through butter.
Also, in an ingenious design move — the blades of this trimmer have a swivel angle of 180 degrees. What this means is that you'll be able to handle hedge and brush angles with bigger ease compared to most other trimmers out there.
It doesn't matter if you want to keep your hedge corners neat or perform topiary trimming; you'll be able to do it without difficulties with the Remington trimmer.
Apart from that, you should also know that the blade's handle is superbly designed as well. The grip is cushioned enough to allow you maximum comfort while using the trimmer.
Plus, you won't have to worry about any hedge debris hurting you because of the wrap-around nature of the design. The weight is light, the performance is top-level, the durability is very high and the price is fair. Good stuff!
The downsides
On the other hand, we do need to mention a couple of downsides that this product has; making it not exactly the top choice on our list. For one, the safety switches are not the best that we've seen on a hedge trimmer.
Their design means that they're somewhat awkward for left-handed people to disengage. Also, if you need to raise the trimmer above the height of your waist — you won't be as comfortable as you want. If you're dealing with tall hedges — this will be a necessity.
This is also a trimmer with a cord — which wouldn't be a problem in and of itself, but the cord holder for this device could do with some improvements.
If you're going to plug this trimmer into your mains, you won't have issues; however, it doesn't fit perfectly if you want to use it with an extension cable. That's not a major irritant by any means; still, it's an issue that the design team should have thought of.
So, all things considered — while this isn't a perfect trimmer; it's a powerful one, with a bunch of excellent features that are sure to be a customer draw. If you can get past some of the smaller wiggles that need to be sorted out; we certainly recommend this model.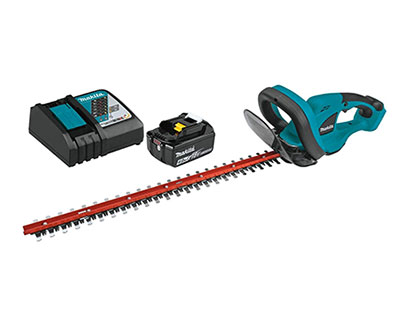 You only need to keep it plugged in for 40 minutes to be ready to use it. This means that you don't have to plan out your trimming more than an hour in advance; one of the biggest nuisances of cordless trimmers.
For people that are ready to truly invest money into the best electric hedge trimmer; we recommend taking a look at the Makita XHU02M1 Cordless Hedge Trimmer.
It has plenty of upsides that warrant its inclusion on any list of the best electric hedge trimmers.
What we liked about Makita XHU02M1
First of all, the lithium-ion battery used in this hedge trimmer is more than capable of lasting you a while. Plus, it can be charged incredibly quickly. In fact, the battery goes from 0 to 100% in less than an hour!
The fact that this battery is of a substantial size also means that you can use it for quite a while before it becomes completely drained. In fact, it's capable of running for an incredible two hours.
This is quite a single charge that you have at your disposal; even with larger yards, you will rarely spend an entire two hours only on trimming hedges. Though, we do have to mention that the battery drains more quickly if you use it on higher power settings.
Still, the general power supply of the Makita XHU02M1 was designed with incredible care and precision. For instance — you don't have to worry about overheating or overloading the tool; as soon as something like that is about to happen, this cordless hedge trimmer will shut down automatically.
With that in mind, even though this is a pricey device; you know that it will serve you for a very long time. As we've mentioned just now, the same is true when it comes to battery temperature; the tool constantly monitors this metric, shutting down if it comes anywhere near overheating.
The manufacturer has also included a battery level warning system that stops the engine from operating and turns on a warning light indicating that a fresh charge is needed. Speaking of which, note that a battery charger is sold separately.
When it comes to the blade itself, you'll find that it's also of sufficiently high quality. Plus, it's 22 inches — more than enough for most kinds of hedges. Also, it's easily replaceable — which is great, seeing as this makes the trimmer one of the long-lasting tools you can buy for your garden.
There's also another neat feature that this hedge trimmer has to boast with; especially compared to the other models that compete with it. We're talking about the amount of sound that this trimmer makes.
According to the manufacturer, it's about 25% quieter than the other cordless models; a great thing if you don't want to disturb the other members of the household or your loved ones. Overall, this device comes from a renowned manufacturer and delivers quality, stable performance.
The downsides
Okay, naturally — there are a couple of downsides as well. For instance, this hedge trimmer is quite hefty. Seeing as it's a little under 12 pounds, you will need to have the considerable physical strength in order to use it successfully and efficiently.
On the other hand, the trimmer isn't powerful enough to warrant its massive weight; so this is for people who have the strength to wield bigger power tools; also, it has a comparably hefty price tag as well.
That being said, if you have the strength and the deep pockets needed to obtain and handle this hedge trimmer; it's one of the best ones that you can buy.
As noted, a battery charger is not included in the price and will require a separate purchase. As expected, despite the price being fair, spending more money on additional gadgets is not something we can list as a good thing.
Things to consider before buying a hedge trimmer
So, now you're aware of the fact that there are more than a few different products out there that are worthy of the best electric hedge trimmer title.
However, precisely because of so many varied options; you may not know which model suits you the best. Fear not, though; we have a buying guide for that very reason right here.
We will cover all the crucial aspects you should know concisely and cover all the key points. Let's dive right into the buying guide!
Electric or Gas?
Up until now, we've shown you all of the best electric hedge trimmer models that you can currently order online. However, we should point out that not all hedge trimmers are electric.
Apart from those, there are also gas hedge trimmers. And there are reasons to prefer either of these, though we'd still opt for the electric option.
At the end of the day, it all depends on the amount of power that you actually require out of your trimming tools. Gas-powered trimmers are generally tougher tools; while they require gas and oil in order to run, they also provide a higher degree of power compared to the electric models.
Still, all of that power does not come without its downsides. Mainly, we're talking about weight; generally, gas trimmers tend to weigh over 10 pounds.
Not only does that make them less comfortable to use, but you also need to exert an extraordinary amount of strength to use them for tall shrubbery and hedges.
Conversely, the electric hedge trimmers that we've reviewed are a tad weaker in terms of power compared to the gas ones. However, they're more consumer-friendly; at least for the average suburban home.
This is the type of trimmer that's incredibly light — almost everyone would have no problem wielding one of these. That being said, there are other ups and downs related to almost all electric trimmers — we've talked about most of them while presenting our reviews.
Generally, the corded models which are almost always cheaper than cordless ones give you more reliability due to their power source; but they're also far less mobile because of their need for an electrical outlet.
On the other handed, the trimmers that run on battery power allow you complete freedom of movement; but you need to think about the power supply constantly.
Cut Thickness
If you're still keen on buying the best electric hedge trimmer, we can freely move onto the next factor that you should keep in mind.
As you've gone through our reviews, you may have noticed that we've stated the thickness of the branches that each trimmer can handle. And that's because this is definitely one of the most important things that you need to consider while choosing the best product in this category.
The last thing you want is to buy an electric hedge trimmer that isn't capable of handling the kind of bush thickness you're up against; you'll soon experience it getting stuck, or even worse — broken.
On the other hand, if you've got weak shrubbery to deal with; there's no reason to all guns blazing if all you need is a small hedge trimmer that you won't have to spend as much money on.
Cord or no cord?
The next thing that you need to consider while buying the best electric hedge trimmer is your opinion on cords. Once you've got that down, you'll be able to immediately eliminate around half of all of the models on the market; significantly narrowing your choice. Naturally, that's precisely the reason why it's not simple to decide whether you want to go cordless or not.
Before making this choice, you need to think about how and when you're going to use this hedge trimmer. Basically, if you're going to need to use it often, but without prior planning and preparation; corded trimmers are generally the best momentary choice.
If you go with a cordless model, you will need to think about how full the battery is at all times. And as we've mentioned while reviewing the different models above — there are excellent trimmers out there, albeit without a battery power indicator.
So, you can use it to do amazing garden work — but you won't be able to know how much juice there's left beyond a vague guess.
Some of the trimmers out there have options for fast charging — but that still means having to wait at least 40 minutes or an hour.
So, corded trimmers give you the ability to do work on your hedges whenever you want — but that doesn't mean that it's necessarily the best choice either.
While you can use corded trimmers right away and they constantly have power, there's another side to that coin; they also constantly require power. In other words — you'll have to keep them plugged in at all times.
This is where the practicalities and logistics of your yard also play a huge role. Think about how far your hedges are from the nearest power outlet or source. Also — do you even have power sources outside? If not, you will also have to get a long extension cord for the trimmer.
As you can see — hedges or bushes that are a long distance away from the nearest power outlet don't make a corded trimmer the most practical choice. Plus, regardless of where your hedges are; remember that there are other problems with corded trimmers.
For one — you constantly need to keep the cord in mind, in order not to cut it. However, this is a bigger problem when it comes to corded lawnmowers; hedge trimmers are generally held high enough to make cutting the cord a rarely occurring issue.
Plus, there are safety features that will prevent you from being shocked if that sort of problem does happen; but you'd still be left with a device that you now have to repair.
Ultimately, you need to think about the length of time for which you intend on trimming. If we're talking about plentiful hedgerows; those that go around the entirety of your garden fences — you will need to spend a decent amount of time cutting them.
If you decide to go with a corded model, make sure to get an extension cord of the appropriate length. If not, then think about the time you will need to cut due to the battery life of a cordless trimmer.
Of course, cordless models do have one other advantage that we haven't talked about yet — if you want to invest a bit more money, you can always get a spare battery that you can charge separately and use once the main one runs out!
Blade Length
Apart from the cut capacity and the power supply of your hedge trimmer — you will also need to think about the length of your blade.
This factor will have a huge impact on the ease of use of your device; of course, depending on the hedges which you intend to cut. As you may have realized yourself — the trimmers that we've showcased here tend to range between 24 inches at most and 18 inches at the least.
Of course, both long and short blades have their uses and downsides; otherwise, they wouldn't exist at all. On the one hand, trimmers with shorter blades make for easy cutting; they're generally lighter, and the weight is positioned better as well.
As a result, they're incredibly simple to control. If you're dealing with lower hedges or small shrubbery, you'll have no issues with using these either. Plus — they tend to be on the more affordable side.
However, the single worst thing you can do is to buy a short trimmer and find out that it can't reach all parts of your huge hedges.
If you try to use the shorter blades on deep or tall hedges; not only will they be less effective, but you also stand the chance of damaging them as well. Trust us — choosing your blade length according to the hedge specifications is incredibly important.
In this situation, a couple of inches up or down can make all the difference in the world between an easy trimming job and tidy hedges — and an absolute chore and a half-decent job.
Consider the weight
While we're on the subject of the physical specifications of your hedge trimmer — remember that this can be incredibly demanding work.
Particularly if you're going to be doing it constantly! And if you'll be trimming hedges that go above your waistline — all of this goes double!
What does all of that mean? Well, when you're picking the best electric hedge trimmer — you also need to make sure that it's not too heavy either. Naturally, there is no universally heavy or light trimmer; you need to adjust your choice to your own physical and muscular capabilities.
As you've seen, there are many varied weights when it comes to these trimmers. There are models that we've showcased which weigh a little under five pounds; conversely, there are also those that weigh over ten. You just need to keep one thing in mind — this trimmer needs to be something that you can comfortably pick up and use.
Also, while you're thinking about the weight of your potential hedge trimmer — remember to take the weight of the battery in the cordless models into account.
So, while you check the specs of each individual model — remember to see if they include the weight of the battery or not.
Safety
Lastly, we'd like to take a moment to focus on safety concerns within your electric hedge trimmer. If not handled well, these trimmers could be a potential hazard — which is why most of them have some kind of safety switch.
The point of these is to require you to use both of your hands to fire up the trimmer; thus avoiding any usage that's not intentional.
However, you also want to make sure that the configuration of this safety switch does not make everyday use too awkward; which is a real issue with some of the budget models.
Frequently Asked Questions
How thick a branch can a hedge trimmer cut?

There are plenty of different thicknesses that different kinds of trimmers can deal with. In general, however — even the biggest trimmers don't go bigger than 33mm.

Anything past that would bring severe risks of damaging your trimmer's blade.
Are electric hedge trimmers any good?

When it comes to general household use, electric hedge trimmers are often quite enough for your needs.
Which is better corded or cordless hedge trimmer?

This depends on the kind of cutting that you need to perform — you can see all about the pros and cons in our buyer's guide section.
Should I buy a cordless hedge trimmer?

If you don't have a large yard where the length of the cutting sessions will be a concern — this is probably the most efficient type of trimmer to buy.
Conclusion
As you can see, there are plenty of different electric hedge trimmers that you can buy; all you need to do is to focus on what your yard requires and what your physique suits the best!
We hope that this guide has taught you something new and that you feel more confident about finding and purchasing your best electric hedge trimmer. Make sure you are staying safe and have a good one, guys!