When you begin thinking about any sort of training, finding the time and energy for doing it properly is important. However, so is having the right equipment.
And in the case of jumping rope, having the best shoes for jumping rope is absolutely an essential part of that sort of training.
The shoes that you'll be wearing certainly have quite an impact on your experience with jumping rope. If you have the wrong pair of shoes, you won't find it as easy to maintain your proper jumping rhythm; and in worse cases, it can lead to potential injuries such as shin splints.
Indeed, shoes have a major role to play in any sort of exercise and training — a proper pair of training shoes performs a variety of important functions, like:
Protection from injury during your exercise
Acting as decent shock absorbers at the moment when your feet hit the ground
Maintain a level of comfort for your feet while you work out
Our Pick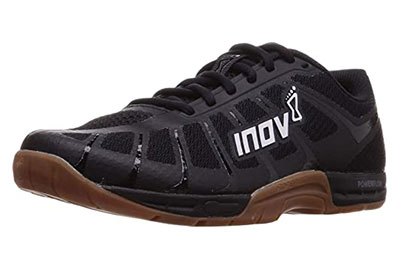 Inov-8 F-Lite 235 V2 Cross-Training Shoe
The 235 F-Lites have Meta-Flex groove found in the outsole's forefoot. This allows you to maintain a natural feet movement throughout all of your workouts; especially useful when you're doing something more difficult and you want to push your limits.
When it comes to finding the best shoes for jumping rope, you're probably looking for something flexible and lightweight — which is exactly what you get from this model designed by Inov-8.
The company is known for their sports footwear, and the F-Lite series prove to be no bad exception to their lineup of great products.
What we liked about Inov-8 F-Lite 235 V2
One of the best things about these shoes is that they were designed to fully complement the motions that are natural to the human body and its biomechanics.
The shoes feature a durable rubber sole that's capable of providing decent cushioning — which is important for jumping rope, considering the fact that you'll constantly be jumping up and down.
In fact, you'll find that the energy that you generate with your motions is better utilized during jumps.
That's all due to the AdapterFit technology that is proprietary to the F-Lites — meaning that you have a variable fit of the shoe, providing maximum comfort to any kind of foot type.
If you've got wide feet, the F-Lites fully cradle and envelop your foot as you perform any medial or lateral movements. On the other hand, the toe box is certainly roomy enough for proper splaying of toes, making the shoes pretty much ideal for any kind of jumping action.
Apart from that, you'll also probably be happy to learn about Precision Form — another precise fit that's tighter and designed to allow minimal movement inside the shoe. As you might assume, this fit is better for people with narrower forefeet.
And if you're wondering how hard the shoe is for wearing, you'll find that it feels incredibly similar to being barefoot — the shoes are truly incredibly light.
That's because the essential purpose of the F-Lites was to provide you with ultimate speed, mobility, and flexibility — all while maintaining a grounded look and feel.
The groove serves as a flex-point found at the shoe's bottom — one look at the design is enough for you to realize why it's an excellent choice for jumpers.
While we're talking about the forefoot — the F-Lite model also comes with a rubber outsole, clearly inspired by the kind of gear you'd find for rock-climbing.
And it's designed to firmly plant you to the ground when you want that, allowing you maximum stability.
The shoe isn't bad from an aesthetics standpoint as well — the two different fits come with a wide variety of color combinations — from yellow, blue, and green to red and blue.
If you're someone who doesn't like splashy, catchy shoes — then this model certainly isn't for you, as it will catch everyone's attention easily.
The downsides
We do have to mention that this shoe boasts a pretty great design, mainly made to accentuate a smooth foot-to-ground transition.
If you're looking for the best shoes for jumping rope, this is pretty much the perfect candidate — save for one issue with the size.
Namely, the fact that they are about a half-size larger than you'd expect, so we recommend ordering a half-size smaller than you normally wear if you're ordering online without trying them out.
How we chose the best shoes for jumping rope
Of course, while the F-Lite that we've shown above is our top pick — there are other great shoes that fit the bill just fine. And if you want to know what kind of criteria we used while we picked the best shoes for jumping rope — we'll tell you right away!
Above everything else, it's important for you to pick a jump rope shoe that's the most comfortable fit for your particular foot.
You're looking for stability, ankle support, arch support, sufficient midsole cushioning, a lack of deep grooves, and of course — something that isn't hugely expensive.
Sure, if you've got the money, you could splurge on shoes for jumping rope; but that's not something most people would like to do, so the price is also an important factor.
And don't worry — if the F-Lites aren't your ideal choice or you just want to hear about other options, we'll outline some of those below as well!
Now, let's have a look at the alternatives.
Best shoes for jumping rope
Reebok Nano 8.0 Trainers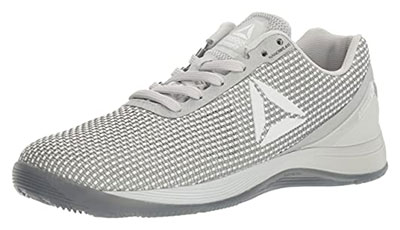 With Reebok Nano 8.0, even after excessive use, you can expect a great performance and ample cushioning in the shoe which remains intact. The rubber outsole is manufactured with high abrasion in mind, meaning you'll be able to do as many jumps as you want without ever feeling a thing.
Next up, we've got a pair of shoes for jumping rope that is not bad either — though their cost-effectiveness is somewhat smaller due to their higher price.
But if you're willing to invest a bit more — the Reebok Nano 8.0 are pretty much the finest trainers you'll find in their price range.
What we liked about Reebok Nano 8.0 Trainers
The Nano 8.0 model has two different models depending on the upper that you want — there are both textile and fabric options.
But no matter which one you choose, you'll still be getting a pair of shoes that are extremely breathable, which is incredibly important for jump rope shoes.
Of course, the two different materials are there as options for people that prefer one or the other, or they have some allergies as a concern.
Still, whichever material you choose, you'll get a shoe manufactured with high-quality nano-weave engineering; meaning that you won't be losing out on any breathability or fit quality by picking one over the other.
Both models of this shoe line have rubber soles — which is something you'd pretty much expect from any shoe intended to be used for jumping rope, or any kind of jumping.
Since the very inception of the Nano series, they've always had a certain level of performance and quality — but the eight Rebook series in this line truly takes things a step further.
With this excellent pair of shoes, you get a molded sock liner and a brand new heel construct for added durability.
Furthermore, the forefoot groove enables as much flexibility as you want — especially if you have prolonged jumping in mind.
The designers of this shoe fully realized that there are plenty of small nuisances which can detract from your stamina after a long period of jumping — and they've decided to take care of all of them.
As you might imagine, the low-cut design of the shoe is there to ensure there are no restrictions to the lower leg or the ankle — allowing you to have an adequate level of power and precision within your jumps.
The downsides
Unfortunately, the excellent design of the Nano 8.0 means that it's not a shoe that everyone can afford.
Reebok is certainly a reputable brand with plenty of high-quality products behind it — and the price of this model certainly reflects that.
Of course, this is something of a downside for the average consumer — but anyone willing to put down a couple of hundreds of bucks for a great shoe will be more than satisfied.
Nike Metcon 4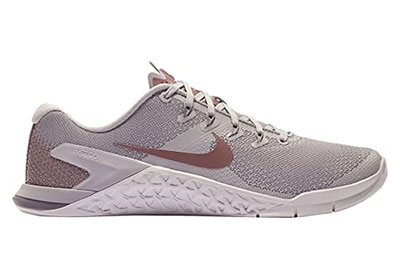 The fourth iteration of this model has truly lived up to the quality one expects from the Nike brand; the sturdy flywire cable is combined with excellent laces to keep the shoes as tightly locked onto your feet as you need them for precision jumping.
Anyone buying a Nike shoe is, at least partially, doing it for brand recognition and value. However, the Metcon 3 has a lot to offer to anyone looking for the best shoes for jumping rope.
In fact, the Metcon series is even more durable than that — for years now, it has been the main competitor to Reebok's sturdier shoe lines that have extensively been used in CrossFit competitions; in fact, the Reebok-sponsored organizations have famously banned this line of shoes.
What we liked about Nike Metcon 4
However, all of this has changed with the latest Metcon 4. The shoe has pretty much fixed any complaints people (and organizations) had with the previous model.
On the other hand, you never feel like the shoes are a burden thanks to the foam cushioning making them as lightweight as you'd ever want — truly a sight for sore eyes of anyone looking for a shoe capable of withstanding high impacts.
The base of the shoe is built with a particularly stable platform — offering a flat heel that's supposed to keep you firmly planted on the ground.
And it seems Nike has succeeded in that aim — they've created a shoe that's great for jump training, running, and lifting! The sole is comfortable and durable enough, providing a stable base for your whole foot.
Of course, Nike wouldn't be a household name in the shoe market if they didn't achieve a great aesthetic with every single piece as well.
And that's why you're probably not surprised by the fact that these shoes are presented with a phenomenal colorway; an entire palette of different color combinations are ready at your disposal.
Indeed, the many different colors to choose from — even though the overall design is somewhat more traditional than what you might be used to.
The downsides
Just like the first pick on our list, this shoe might be somewhat small compared to what you're used to — at least in terms of the shoe size that you expect.
Thus, we recommend getting a size that's about a half bigger than your general one.
Vibram V Trail Runner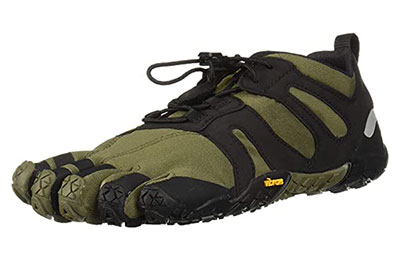 With the 3D molding technology, you've got a shoe that provides more than enough protection, particularly when it comes to the ball of the foot. And that means that it retains all of the durability and flexibility you need for jumping rope — an exercise where you constantly apply tremendous force to your feet, over and over again.
Next up, we've got a pair of shoes that was designed with flexibility in mind — the Vibram V Trail Runner.
The upper was designed with a blend of Spandex and Polyester, ensuring that the top part of your foot remains adequately nimble and flexible — instead of being trapped by a thick or bulky design.
What we liked about Vibram Men's V Trail Runner
Apart from being great for jumping rope, this is a bona fide running shoe — as you might assume from the name.
It's the latest version of the Vibram top-notch running shoes line, containing a 3D molding technology that was used for the design of the sturdy rubber sole.
The outsole of this trail running shoe was made to be multi-directional — meaning that it gives you a sturdy grip no matter how your foot lands, or in which direction.
Every second that you have your feet to the ground, you will feel like you're practically glued down until you desire to jump.
When it comes to the aesthetics of the shoe, that's great as well — considering you get a couple of different shades, like blue, light grey, dark grey, and black.
And while it's not the most revolutionary design, it pretty much gets your job done when it comes to footwear for jumping.
Like many other sports shoes, it aims to remind of the shape of an actual human foot — compared to the rounded designs of more mainstream sneakers and shoes.
Of course, while this is nothing new, it still gives us some more flexibility when we land on our feet — it's also great for stretching.
The downsides
First of all, we do have to point out that this shoe is a bit too pricey for its brand and level of quality — while we may be willing to pay a hefty sum for a high-quality Nike shoe or a premium-level off-brand model, this shoe sits somewhere in between while also commanding a similar price.
On the other hand, the fact that the design is nothing to write home about is not great either — but if you make these couple of compromises this can truly be a great shoe for jumping rope.
New Balance Mx608v4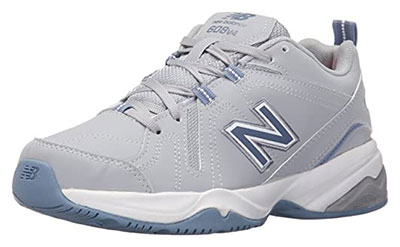 The design of these New Balance shoes may seem a bit bulky and heavy, but don't let the aesthetics fool you — this is very much a lightweight and flexible shoe, with a decent balance of durability, support, and cushioning.
Our final pick of the draft is a model from the ultimate "dad shoe" brand — the New Balance Mx608v4.
And yes, the name is a bit of a mouthful — but if you're looking for a decent quality shoe that you don't have to pay a fortune for, you won't do much better than this New Balance model.
What we liked about New Balance Men's Mx608v4
This pair of shoes provides two things that all of us need while we look for the best shoes for jumping rope — and that's a healthy combination of comfort and support.
That much is evident from the simple, yet efficient design that doesn't leave a lot hanging — there's the upper made from breathable leather, a rubber sole, and closure that works on laces.
We have to mention that the lining of these shoes is excellent, and results in a thoroughly breathable and comfortable experience — the same goes for the EVA footbed, a great addition for anyone who's feeling like jumping rope is too hard on their feet.
The downsides
That being said, the shoe does have some flaws — namely the design, which does not scream "running shoe", or even "sports shoe" right off the bat.
It's something that might clash with your overall style and cause you to look elsewhere — however, if you can make a compromise with this, you'll find yourself in the possession of a wonderful and affordable shoe for jumping rope.
Things to consider before buying the shoes for jumping rope
Picking the best possible shoes for jumping rope is not as easy as you might have thought — you realize that much until now.
But if you want all of the benefits and the ease-of-use that jumping rope usually has, you will need to pick the best possible pair of jumping shoes.
Considering this, there are a couple of things that you need to keep in mind.
First of all, a proper shoe for this sort of exercise is springy — you need a sole that's flexible enough for the shoe to mimic your natural movements as you jump. That's important because it lowers any chances of actually hurting yourself.
On top of that, as with any other shoes — these need to be comfortable. That means having enough cushioning and no cramped toes, blistering, or other abrasions after prolonged use and a lot of jumping.
Furthermore, they need to be wide — letting your feet be completely flat when you need to jump more frequently.
It's also important for the design to be protective — you don't want to experience any injuries from the constant jumping and hitting off the ground, so the design of the shoe needs to accommodate you with enough structure and support.
Furthermore, you want your shoe to be breathable — meaning that it lets heat get out and escape your foot, keeping it as cool as possible.
Of course, breathability must not come at the expense of durability — if you pay a hefty sum for the shoe, you expect it to fare reasonably well against time.
The final consideration you may have is the aesthetic appeal of the shoe — even when you're working out, you want to have a shoe that lets you look as stylish as possible.
Of course, this doesn't necessarily affect the rhythm of your jumps — but it is a nice boon.
Sole Flexibility
If you do your rope jumping properly, your feet won't have any issues and they'll move quite naturally.
Of course, that's only if you've got the best possible shoes for jumping rope with you; otherwise, it's quite easy for your feet to seem constrained.
That's something you want to avoid — and the way to do that is to get a shoe with a flexible sole. Ideally, the sole bounces and flexes without being distorted.
Shock Absorption
When you jump and you're on your way down, you've got a combination of your own body mass and gravity pulling you towards the ground — usually with an impressive force.
And while some of that force is dissipated into the ground, a lot of it hits your feet. That's why you need to have as much shock absorption as possible in order to prevent any injuries to your feet — particularly if you're going to keep jumping all the time.
Luckily, most of the athletic shoe manufacturers that create running shoes today create their own anti-shock mechanisms through a combination of air cushioning, elastic materials, and gels.
And having a shoe that uses a combination of all of this will significantly reduce your long-term fatigue, allowing you to work out longer.
Support and Stability
Naturally, if you're going to be jumping rope all of the time, you need to be sure that your landing and take-off are both equally stable.
Otherwise, you risk your foot twisting and your ankle being sprained. If you have a shoe that provides enough support and reinforcement, your foot will be fine — as long as there's enough protection from potentially uneven surfaces.
You need plenty of arch support because your arch is pretty much the natural system for shock absorption in your body.
Unfortunately, around a third of the world's population suffer from fallen arches or flat feet — so chances are pretty good that you'll need some support here.
And even if your foot is perfectly fine as-is, you will need some support to ensure that your foot is as comfortable as possible while jumping. The insole design must be made to ensure that you have decent arch support.
The same goes for your heel — if your heel is properly designed, you won't have any issues keeping your foot in the most natural possible alignment.
Plus, this will ensure that there's no sideways slipping — your foot will constantly be on its natural trajectory as you jump.
Finally, you will need proper ankle support too — this is what allows maximum freedom of movement and mobility to your shoes.
Among other things, this means that your shoes for jumping need to be completely snug against the foot — laces and other tightening mechanisms will ensure that.
Over time, this is something your own body will help with as well — seeing as your foot muscles will become stronger and stronger over time as your strength improves.
Outer Sole
The outer sole of the shoe is the part where the foot first hits the ground, and it has a couple of different roles.
First of all, it needs to be durable — if you have a rugged sole, it will provide less and less shock absorption over time. That's one of the reasons why people buy new shoes.
Secondly, it needs to give you enough traction and grip — that's a necessity if you want to cleanly land and take off all of the time, without any risk of slipping. The sole pattern will impact your stability, particularly if you're jumping outdoors.
Speaking of which — outdoors conditions require strong soles, because you might otherwise hurt yourself on uneven terrain or sharp stones.
Finally, the soles have to be waterproof, for obvious reasons — your foot getting damp won't exactly improve your jumping abilities.
Generally, the materials in the sole are the crucial feature here. Most commonly, rubber is used to manufacture soles in jumping shoes — however, not all rubber is made equal. It all depends on the kind of surface and exercise you want to perform.
When it comes to jumping, crepe rubber will yield you more durability, while gum-rubber will give you more flexibility and a better bounce.
Most of the major manufacturers have their proprietary technology when it comes to sole design — they'll often tout having specifically created materials that lessen the shock and increase traction.
For this reason, some of the shoe models include a tiny heel elevation — giving you even more shock absorption in your heels, where you need it the most.
However, while that's great for running — when it comes to jumping rope, you want to be certain that this elevation is as small as humanly possible.
Otherwise, you have an added risk of the elevated soles getting caught in the rope — plus, wider heels provide a more stable base for people who constantly happen to twist their ankles.
Width is important
Generally, as we've said just now — heel width is crucial for stability. Though, the width of your shoes, in general, is important.
When it comes to jumping rope, you want to have enough toe space for the foot to land flat upon landing. This will let you jump safer and higher.
Breathability matters
Over the course of our reviews, you may have noticed that we've talked a lot about the kind of materials that the upper of the shoes are made of.
This is because any shoes made for exercise need to have more than enough ventilation panels and holes in order to promote airflow — but without compromising the integrity of the shoe.
This balance becomes even more important if you're going to jump rope outside.
Durability
When designers seek to create the perfect running or jumping shoe, there are a couple of compromises that they need to make.
And the chief among these is the need to simultaneously provide flexibility and durability — subpar brands tend to go too much in one direction and end up making either flimsy or rigid shoes.
For instance, hard rubber will last longer, but soft rubber provides better performance. On the other hand, the mesh is the best choice for ventilation, but it's the most flimsy upper material — while synthetic leather is vice versa.
Pretty much every material decision means sacrificing one "value" for the other.
Shoe Weight
Once you prepare to jump, you're basically using all of your energy and muscles to propel your total mass upwards. And while we generally don't consider this — heavier shoes mean that it will be tougher to perform the jump.
On the other hand, you will be far safer and more stable as you land, so we generally recommend that people who have only begun jumping rope might want to consider a heavier shoe.
Consider socks as well
As we near the end of this buying guide, we'll take a look at the most important shoe accessories that you'll need to consider — your socks.
Yes, a majority of people will laugh now — but if you want to have the best jumping performance, or any kind of athletic performance; you'll need to make sure that you're working with the best possible socks.
First of all, the socks need to have proper ventilation — meaning that they're able to wick sweat and allow it to go outside your feet because the worst thing you can experience is your feet being continuously drenched in sweat.
On that note, you should also make sure that you've got antimicrobial socks — polyester or wool are able to provide sufficient odor control and reduce the risk of infections or generally smelly feet.
Generally, you want to pay a little extra for true athletic socks that are both comfortable and multifunctional.
Frequently Asked Questions
What is the best surface to jump rope on?
There are plenty of different surfaces that you can jump rope on — and as you may have already assumed, some are better than others.

If you ask anyone who dabbles in this sort of exercise, you'll find that concrete is the best possible surface.

Firstly, it gives you a solid base from which you can push yourself off — while simultaneously the rough texture gives enough abrasion to prevent any kind of slipping.

If you're interested in having the best possible performance, you'll find that concrete gives you the ability to rebound the fastest. That being said, concrete is not ideal in terms of shock absorption.

When you land, the risk of shin splints is greater — asphalt is a bit better in this regard, though it's still not soft on your joints.
Should I jump barefoot?
As you may have noticed, we've mentioned how some of the best shoes for jumping rope provide you with an experience similar to that of being barefoot.

Logically, you're probably wondering — should you try jumping barefoot?

The answer is yes — but only if you have the best possible jumping surface, meaning relatively springy and with minimal shock absorption.

Otherwise, your hips, knees, and ankles might suffer over time. While the initial sensation is great, over time it's better to get a decent pair of jumping shoes.

Once you have those, you'll be able to jump rope pretty much wherever you want — from a concrete path near your house to a gym or even your backyard.

You'll have all of the protection that you need, along with the support required for proper body alignment.
What shoes should I wear to jump rope?
If you're thinking about the kind of shoes that you need to buy for jumping rope, we generally recommend that they have a couple of characteristics: flexible, wide, and flat soles.

Everything else can be compromised, but this is incredibly important because it will let you lift and flatten your feet as you jump without any potential injuries.

Generally, these jumping shoes need to allow you to replicate a natural jumping motion — but repeated in quick succession hundreds of times. And that's something you couldn't do without proper foot support.
Is it better to jump rope barefoot or with shoes?
As we've mentioned above, while you can jump barefoot a bit to strengthen your foot muscles — this is something that's only supposed to be done in a limited capacity.

Otherwise, you have the risk of injury, so the answer is — barefoot jumping builds more strength, but it's only worth it in quick bursts while jumping with shoes provides slower progress but more safety.
Are training shoes good for jumping rope?
If you're not familiar with the different kinds of athletic shoes out there, you might not realize which shoes are the best for you.

For instance — many people don't know that training and running shoes are not the same thing. They may sound similar and look similar, but they have some crucial differences — and those become especially important for jumping rope.

First, running shoes are manufactured for heel-to-toe movement. In practice, this means that higher heel drops that happen with running shoes are the result of more cushioning and support. Generally, these are the shoes you take on runs and tracks.

On the other hand, training shoes are better for multidirectional movement — particularly side-to-side movement. Training shoes have flatter soles, allowing you to be more stable when you move in a variety of ways — essentially, these are shoes for the gym.

Ideally, you want your shoes for jumping rope to be something in between — with the heel support of running shoes but the flat soles of training shoes.

That's why the specific models that we've outlined above are your best bet — however, if you can find that kind of combination of features elsewhere, you'll know what you're looking for.
How long should I jump rope for cardio?
The fact that you're even buying shoes for jumping rope probably means that you're aware of the incredible effectiveness of this workout in the sense of cardio.

There are studies that point out that 30 minutes of jogging provide you with the same benefits that you'd get from 10 minutes of jumping rope — making it the most time-effective way to do some healthy cardio.
Wrapping Up
There's no doubt about the fact that jumping rope is one of the best ways to work out efficiently and quickly.
That being said, doing it without the proper equipment would be a big mistake — making the purchase of the best shoes for jumping rope an absolute priority!