Unfortunately, flat feet are a pretty common condition — representing something plenty of people suffer from. More specifically, this entails having feet arches that are nonexistent or quite low; essentially resulting in your foot being completely flat while you stand on the ground.
And if you're not sure how important these arches are, seeing as you haven't thought about them — any podiatrist will tell you that they're essential because they allow your body weight to be evenly distributed across your feet and legs.
If you do have flat feet, you may also overpronate while walking — that means that your feet roll inwards as you walk. Now, this is not something that you should take lightly; seeing as overpronation and flat feet often mean that you experience chronic foot pain.
On the other hand, you also become fatigued more easily as you stand or walk. That's due to the fact that your feet don't allow for proper weight distribution.
As we've already said, this is a condition that plenty of people have issues with. And that's precisely why a lot of companies have created shoe models that can help with such a condition.
Luckily, flat feet issues aren't unsolvable; you can remedy the main issues that they cause if you find shoes which give you the best arch support in addition to your feet.
Considering that, we've taken the liberty of finding and recommending the best walking shoes for flat feet and overpronation.
Seeing as there are so many different models around, that's not such an easy choice to make. Luckily, we can make it simpler with this handy guide!
Our Pick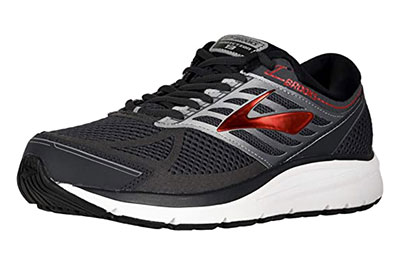 The arch support that this shoe provides certainly goes a long way towards correcting overpronation during your walks. Consequently, all of the weight in your body will be distributed evenly, giving you all of the support that you need.
There are plenty of different things to consider as you choose the best walking shoes for flat feet and overpronation — and that's why we're going to start off with our top pick right now: the Addiction Walker 13.
We're talking about one of the best Brooks walking shoes on the market; a winner in terms of construction quality, design, and comfort.
And when you got all of that together in a single pair of shoes, you can see why this is at the very top of our list.
What we liked about Brooks Addiction Walker 13
One of the things you'll realize right away is the fact that the Addiction Walker 13 makes good on its name; a couple of days in these extremely comfortable shoes will be more than enough to get you walking all of the time.
That being said, though — what do these shoes actually do for your flat feet?
For one, Brooks shoes have their own PDRB technology — which is a shorthand for the shoes' extended diagonal rollbar, that acts as a great support system for your upper body. Basically, the PDRB was designed to strategically help your arches if you have feet overpronation.
As a result, your entire body is kept on its natural path of motion as you walk; stopping you from slouching or having unnatural movements.
And even more interestingly, this is far from the only way that these Brooks walking shoes ensure maximum comfort. The cushioning in the shoes is also extremely high-quality; allowing your shoe to perfectly adapt to any kind of stride, speed, or weight.
This is important for providing your body with protection by reducing the level of impact that your joints suffer from. What this leaves you with is a shoe that you can wear for the entire day and not experience any discomfort!
When it comes to the outsole, you'll find that it has the proper slip resistance certification, giving you all of the traction you need for a high-quality experience.
Furthermore, the upper sole was manufactured with extremely well-made full-grain leather; meaning that it's both comfortable and durable. Lastly, you'll probably be pleased to know that there are both women's and men's versions of the shoe.
The downsides
There aren't many things to dislike about this shoe model — which is primarily why we consider it to be the best choice among walking shoes for flat feet and overpronation.
The only issue is that size range may not be perfect for everyone; the biggest shoe size on this model may be too small for some people, but provided that you can find the right fit this is one of the best walking shoes you can find!
How we picked
When it comes to choosing the best walking shoes for flat feet and overpronation, it's worth taking enough time to make the best possible pick.
However, you may be wondering how we separated our top pick from the rest; even though all of the shoes on our list here are of a more than decent quality.
We've taken a couple of different factors into account here: such as toe box flexibility, arch support, cushioning, and design.
Toe box flexibility
If you're suffering from flat feet, having walking shoes with an outer sole that's firm enough is one of the primary factors that you're thinking about.
However — you mustn't forget to think about the flexibility offered to your toes as well.
Arch support
Overpronation is a major issue for people — which is why having the right amount of arch support is pretty much the main feature you expect in your walking shoes; otherwise, you'll just feel constant discomfort, as you would with your other shoes.
In fact, this is the main thing that separates regular shoes from anatomic walking shoes. Considering this, having a pair of shoes with a lifted middle area for maximum arch support is pretty much the most important thing.
This will help you relieve a lot of the pressure that flat feet cause on your joints.
Great design
Naturally, these days we've got more choices than ever before when it comes to great shoe design. Considering this, even if you're choosing shoes primarily based on their orthopedic qualities; you still want to have a pair of shoes with an interesting design.
On the other hand, it's worth mentioning that design isn't all about the aesthetic qualities of your shoes. You also need to make sure that the shoes have all of the necessary ventilation that will stop your feet from sweating profusely; you need a breathable design.
As a result, you will always be certain of your feet having the necessary airflow for proper functioning; upper-side vents are a great design choice in this regard. That not only ensures comfort due to a lack of sweating, but it also prevents bacterial buildup which can be detrimental to your feet in the long run.
Cushioning
One of the first things that you need to check out regarding your shoes is whether they've got proper cushioning in the inner sole. If you don't have that, you'll only be getting a pair of shoes that make your overpronation-caused pain worse or the same.
Uncushioned soles result in constant sores, so you need to ensure that you're not making your pain any worse by wearing the wrong shoes.
We recommend finding shoes with cushioning made out of rubber or even better — memory foam. This produces an incredibly comfortable and lightweight feeling while you walk.
Remember, having flat feet means that you need more stability, support, and comfort than you would otherwise.
Best alternatives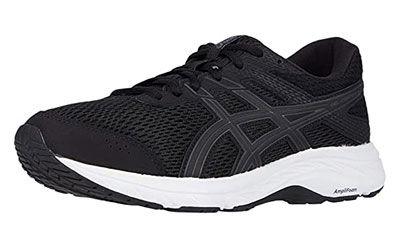 There's an Ortholite sockliner designed to provide all of the breathability you need to fight against excessive moisture; along with the rearfoot cushioning that provides optimal comfort throughout the entire shoe.
The first thing you'll notice about the Asics Gel-Contend 6 is that they give you a great run for your money; quite literally, seeing as these are shoes that are as great for running as they are for walking.
And apart from that, the Gel-Contend 6 model is great because of the value that you get for an affordable price — which is why it's our best value shoe on this list!
What we liked about Asics Gel-Contend 6
As we've already mentioned, the cost-effectiveness of this shoe is truly astounding. But let's face it, that is probably not your biggest priority when it comes to the best walking shoes for flat feet and overpronation.
Conversely, you're looking for the biggest pain relief and the most comfortable shoe — which is why this pair is almost at the top of our list.
Sure, we're technically talking about running shoes with this model; but you'll find that they're just as great when it comes to walking as well. The midsole area was produced with Amplifoam cushioning technology, which was a groundbreaking Asics material that provides simultaneous softness and durability.
In the end, this results in better adaptability, flexibility, and a larger degree of comfort. This is a shoe that fits well within anyone's natural stride.
As you can see, this is a fantastic shoe for people with overpronation and flat feet issues. You will have all of the comfort you need for commuting, walking, and running.
Plus, the level of comfort is only heightened by the heel collar, which is silkier and softer than you're probably used to. The upper sole made of mesh provides an even better level of breathability, ensuring maximum airflow.
The downsides
While this shoe was excellently designed for the best level of comfort you'd want, as we've mentioned in the beginning; it's not the most expensive shoe on the market by far.
And though you won't notice this in the level of comfort or the usability in the shoe; you will notice its cheapness when it comes to longevity.
This is a shoe that will serve you fantastically for as long as it lasts, but you may notice it fraying and being damaged more easily than some of the more high-end models.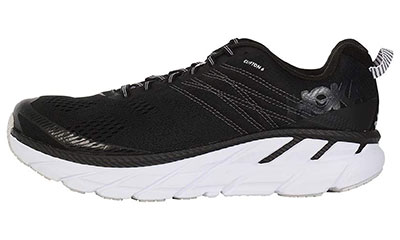 The rubber placement in the shoe is strategic enough to ensure the most ergonomic geometry and the most durable design for the show; with plenty of smoothness in your stride and maximum stability.
Next up, we've got another shoe brand that's known for its superior level of comfort and flat feet relief — Hoka One One.
And among all of the shoes that we've reviewed on this list, we could probably conclude that this one has the most cushioning for flat feet that you could find; though it's not the best shoe overall.
What we liked about Hoka One One Men's Clifton 6 Running Shoes
The midsole was created with the cushioning and stability that has become something Hoke One One is known for; providing a TPU heel frame that brings all of the additional support that you need from your shoes; while also having an upper sole made from full-grain leather.
If you want to get the most comfort possible, you'll find this to be a more than desirable shoe thanks to its plush cushioning.
It doesn't matter if you're running and looking for the most durable shoes, or you're just always on your feet while you're working; this will still be a more than desirable pair of shoes.
The downsides
As you might have noticed, we haven't spelled out much negatives regarding this shoe. And in terms of design and durability, there aren't any.
But we do have to note that these shoes are not in the budget-friendly range for everyone; which means you'll have to pay a pretty penny to make sure you've got all of the comfort that you need with these!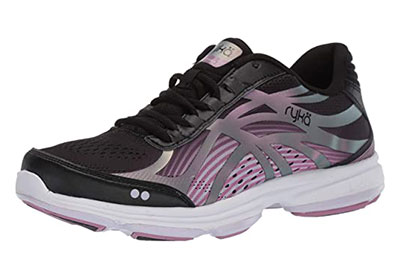 This Devotion Plus 3 model is certainly an iterative improvement of the excellent Devotion 2; providing a new level of comfort and support, coupled with a more colorful and stylish design.
Ever since Ryka was founded — over three decades ago — it has been an athletic footwear manufacturer with a very specific focus: it creates shoes for women.
And as you will see after trying this shoe on, it's proven it's worth to female customers over the years. This Devotion Plus 3 model also benefits from this unique focus which has resulted in the best possible shoes for women.
Still, the shoe maintains everything that's been great about the Devotion Plus series from the beginning — which is excellent support for flat feet and overpronation.
What we liked about Ryka Women's Devotion Plus 3 Oxford
The lace-up front of the shoe is combined with the upper that was made from a breathable mesh laid over flex gear. And let's not forget that, unlike most unisex shoes — the insole of the Devotion Plus 3 was made with incredible anatomic precision for women.
This also means that the level of arch and heel support is more than satisfactory.
There are all kinds of design features here that are meant to provide all of the impact protection and shock absorption that you need; such as the Re-Zorb platform and a lightweight EVA midsole.
The 8-piece rubber sole was perfectly designed with stability and durability in mind. Considering all of this, if you're a woman looking for a supportive and yet stylish and durable shoe; you won't need to look much farther than this!
The downsides
There aren't many things that someone could complain about when it comes to this line of women's shoes; however, while the design is pretty much on-point when it comes to arch support, some people have noted that the level of comfort that the shoe provides could be heightened with some more cushioning.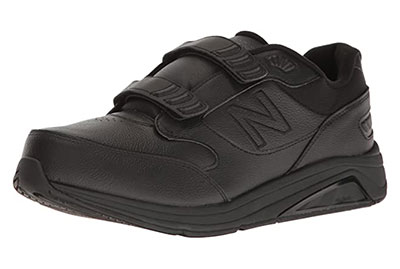 The Strike Path technology that New Balance has developed is great at providing the best stability levels you can expect from this type of shoe, as well as excellent overpronation correction.
Now that we've taken a look at one of the best shoes made specifically for women — it would only make sense to see what the best model for men is as well!
And when it comes to the best walking shoes for flat feet and overpronation, one of the best male shoes is the New Balance 928V.
This is one of the bigger name brands on our list — and this particular shoe shows why!
What we liked about New Balance 928V3
One of the most notable fun facts about these shoes is that Steve Jobs used to wear them as a regular part of his daily apparel; which is high praise, considering the man's taste in excellent products.
And we can see what he appreciated with this New Balance shoe, seeing as it offers industry-leading motion control and comfort features.
You'll also experience a more than decent level of cushioning, especially in the midfoot area; this makes the New Balance sneaker one of the more comfortable walking shoes that's been developed for men.
There was a particular focus on making the shoe wearable throughout the entire day; which is why it was also manufactured with a seamless liner and an odor-resistant treatment. And this means that the shoe is suitable for pretty much any external conditions.
Furthermore, the rubber outsole and the mesh upper are just more indicators of the level of comfort that this shoe provides — as well as the durability and manufacturing quality that most buyers have praised so far.
The downsides
Seeing as there's an equally high-quality version of this shoe for women as well, the only real qualm we have regarding its quality is the fact that it's not as affordable as everyone would like; but then again, quality does come at the cost of affordability in most cases.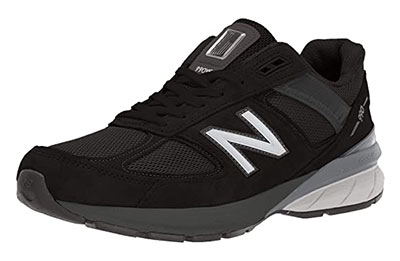 Anyone with flat feet will appreciate the ENCAP technology which was used in the production of the midsole; ensuring the maximum support and durability you can expect in this price range.
There are plenty of people whose flat feet result in quite a large width in their imprint.
As a consequence, finding shoes that are both a perfect fit and contain much-needed stability and support can be difficult.
And that's precisely what makes the 990V5 New Balance shoes such a great selection!
What we liked about New Balance 990V5
This shoe model is just another testament to the huge level of quality and experience that goes into the average New Balance sneakers. They've been manufactured for over 70 years; which means that they have more than enough information on what works and what doesn't.
And their shoe selection provides a wide range of choices for any kind of size, style — or in the case of flat feet, width.
And this shoe does a lot to honor the heritage of New Balance — while also managing to provide something of an improvement in design and appearance.
The upper was created with a combination of mesh and pigskin, while the outsole was made with an incredibly thick brown rubber; both of which allow you to use this single pair of shoes for a long time without noticing any real wear and tear.
On the other hand, its EVA core combined with an ENCAP ring creates a shoe model that's deservedly renowned for a combination of sturdiness and comfort that you can't find at this level anywhere else.
Plus, this shoe does come in all sizes; with 6 different widths that are there to make sure that anyone can easily select a pair that they're happy with and represent a great match for their feet.
The downsides
Of course, you can't expect the design of a New Balance shoe to be anything more than Dad-esque; after all, we're talking about the manufacturer of the quintessential dad sneaker.
However, you may not be ready to pay the high price that this sneaker has for such an ordinary-looking style. But, at the end of the day, this shoe more than makes up for a simple look with its incredible level of quality.
Walking shoes for flat feet and overpronation: buyer's guide
As you can clearly see from our in-depth reviews above, there is a lot more to designing, and indeed, buying the best shoes for flat feet and overpronation than most people would think.
That's why it's important to be methodical when it comes to choosing the model from our list that suits you the best.
But the question is — what if you want to make your pick from a different set of shoe models?
What if you're looking for something that's not on our list?
Don't worry — we'll give you all of the knowledge you need to make an informed choice when it comes to walking shoes for flat feet!
Sole Sturdiness
We've already mentioned that high-quality soles are essential for a good walking shoe. That's important even if you don't have problems with flat feet. And if you do, that's even more crucial.
Remember, the sole needs to be utterly inflexible and firm in your shoe's heel area; giving you just the right amount of balance and stability.
Furthermore, the midsole area needs to be great enough to provide the shoe with a superb level of versatility, allowing you the option of using the shoe in all kinds of environments.
Great Toe Box
There's nothing that can wreck the comfort of a shoe more than a narrow toe box; it's one of the biggest indicators that you need to try a bigger size of the shoe or a different model.
Remember, the front part of your chosen shoe for walking must contain enough space to provide you with a natural feeling.
You'll know that you've got the best possible shoe if it doesn't bend your toes while you're walking in them. On the other hand, if the toe box in the front is a bit too roomy — the rest of the shoe might be too big as well, making your foot flail around inside and reducing its orthopedic effectiveness.
Heel Support
One of the worst things that can happen due to uncomfortable shoes is your ankle twisting and bending.
And there's only one way to properly prevent that: ensuring that the heel of the shoe provides ample support even under the pressure stemming from the weight of your body.
If your shoe puts your ankle in the right position with the heels — you will have no trouble walking around for as long as you want without experiencing ankle or back pain.
Proper materials
This is something that's as true for your shoe as it is for any other kind of item or piece of clothes that you buy: you want these products to be manufactured from high-quality materials.
And that's something that the best design in the world can't make up for; if you find that the materials are lacking, the shoes simply won't last you a long while.
Plus, there's an additional thing to worry about when it comes to the quality of the materials you use in your shoes. You also want the shoes to be breathable, in order to eliminate any possibilities of excess moisture.
Considering this, GoreTex materials are some of the best options out there — along with full-grain leather that contains breathable perforations.
Arch Support
We've already discussed arch support at great length, but it's still worth mentioning once more; seeing as it's pretty much the primary point of buying the best walking shoes for flat feet and overpronation.
Remember, you also need to consider which shoes you'll buy based on your feet arches; a flat foot arch structure might mean that you have no arch at all, or that it's severely small — you will be buying different shoe models depending on the specific situation.
Outer Sole
Naturally, as you already know if you're flat-footed — this condition requires you to provide your feet with all of the additional stability and care that they need to alleviate any soreness.
And in that regard, it's quite important to have the proper outer sole. More specifically, a stiff outer sole is of great assistance when it comes to stability.
That's particularly true if you're going to stay in this pair of shoes for a while; or perform a more intense activity, such as running. Providing the best combination of sturdiness and comfort is the very best thing you can do in this regard.
So, an outer sole that isn't slippery is going to help with that quite a lot. In terms of pain relief and pressure distribution, this is a huge boon.
Upper Materials
Another important part of the shoe is the upper — if you have a durable upper, your entire shoe is guaranteed to last you much longer. Indeed, in terms of the longevity of the shoes, this is probably the most crucial individual part.
Make sure that you've got a high-quality synthetic mesh in the upper, or leather and suede; plenty of higher-quality shoes tend to use a combination of some of these to increase the sturdiness.
Plus, having an upper made from different materials will ensure that your shoe has an interesting aesthetic as well; a factor that's just as important as its comfort and stability for a lot of people.
Footbed and lining
Remember, moisture is going to be your great enemy when it comes to buying the right pair of shoes; considering this, we recommend finding shoes that give you more than enough ventilation to prevent moisture buildups.
Apart from this, you also want to be certain that the footbed and the inner lining of the shoe is designed to keep your feet as cool as possible on the inside.
Indeed, lower temperatures inside the shoe mean that you won't have to deal with as much perspiration — eliminating the possibility of nasty smells within the shoe as well, and lowering the chances of bad bacteria developing around your feet.
Frequently Asked Questions
What shoes do podiatrists recommend for flat feet and Overpronation?
People with fallen arches on their feet know just how troublesome this condition can be; luckily, as you can see from above, there are plenty of shoe models and brands that help with this.

And if you're not sure where to begin looking beyond our reviews, you could also just ask your podiatrist to give you some examples that he approves of.

A majority of podiatrists would recommend a shoe that has some sort of arch support; such as insoles or orthotics. Pretty much any kind of accessory that engages your arch is definitely going to help with flat feet.
How do you tell if you Overpronate or Underpronate?

If you haven't consulted physicians regarding your flat feet, you may not be familiar with the notion of "pronation" at all. Basically, this word indicates the behavior of your foot from  heel to toe while you run or walk.

With that in mind, we differentiate between three distinct kinds of pronation: neutral — which is normal — under, and over. And the category that you fall into depends on the shape and arches of your feet. So, how can you tell where you belong, and what kind of footwear you need?

You will need to take a look at your foot impression. If the impression of the foot resembles the entire sole, then you probably suffer from overpronation. In other words, your foot's arch is far too inward, resulting in pain and potential injuries due to a lack of shock absorption.

Conversely, an underpronator has an opposite disorder, but one that results in an equal risk of injuries, especially during running sessions; any strong impact with the ground can be dangerous in this case.
Do you really need stability shoes?
It's interesting to note that stability shoes are mostly utilized by endurance runners; often enough, their muscles simply aren't equipped with the strength necessary to give their stride enough stability on a regular basis, resulting in easy injuries.

In this case, they combine shoes designed for stability with exercises to increase feet muscle strength.

However, if you're an overpronator, muscle strength is not the issue; no matter how strong your feet get, they still roll inward due to your flat feet condition.

That means that stability shoes are necessary if you want to avoid any long-term issues or alleviate any pain that you might already have experienced.
What kind of shoes help with Overpronation?
It's quite important for overpronators to find adequate running shoes. At first, most people who don't realize just how big of an issue they're dealing with tend to go with neutral shoes.

However, research indicates that this may be okay for a novice runner or someone who doesn't do a lot of walking; an overpronator who wants to get their fair share of exercising simply has to get the best shoes for their condition.

The best way to gauge your level of overpronation is to have someone make a video of your foot movement; alternatively, you can also perform a visual inspection of any footwear that you've been using for a while, and consult visual guides that compare this with the level of pronation.

If you have a mild level of overpronation, you will probably be fine with a pair of stability shoes. Alternatively, severe overpronation probably demands that you use proper motion control shoes.

Remember, overpronation results in uneven impact distribution throughout the entirety of your foot once it hits the ground; over time, plantar fasciitis or shin splints are a real possibility if you don't take the time to pick the proper shoes.
What are flat feet?
In order to choose the best walking shoes for flat feet, you should probably become more familiar with this condition to begin with.

Basically, flat feet happen when your feet arches are flattened or too low. As a result, the whole foot soles will touch the ground as you stand or walk.

Right off the bat, it's very important to note that this condition is quite common; around a third of the world's population just doesn't develop an arch in both feet or in at least one.

Plus, arches can also lower themselves after years and a lot of wear and tear. Quite simply, ankle tendons that support these can stretch or weaken as time goes on.
What issues can be caused by flat feet?
Flat feet do not necessarily cause issues for many people — at least not visibly, or immediately. However, some symptoms are bound to appear over time.

And a lot of people that suffer from flat feet tend to possess a lot of different symptoms — naturally, based on how severe their ailment is. Most commonly, people suffer from pain in one of their feet while they stand.
Conclusion
As you may have noticed, selecting the best walking shoes for flat feet and overpronation can certainly feel like a chore.
And if you don't have any pain or aching from your flat feet now — you may not be inclined to spend time and money on remedying this at the moment. But bear in mind that leaving this untreated will only result in further issues later in your life.
Also, once you do decide to buy walking shoes that are specifically designed for such feet; remember to find something with the right balance between rigid sturdiness and comfort, because both of these are of equal importance at the end of the day!