Walking on concrete can be very tough for your feet. The hard surface will give you aches and pains very quickly and it can cause issues with joint pain too.
For those living in urban areas or for those who are on their feet all day at work, walking on concrete can be unavoidable.
To make it as comfortable as possible, you need a great pair of shoes. This begs the question of what are the best shoes for walking on concrete?
That's what we wanted to find out. We looked closely at all of the features that make a great shoe for concrete.
We've completed exhaustive research to come up with four models that we think are perfect for the task.
To help you choose which the best one for you is, we've also completed a buying guide with some FAQs. Let's find the perfect pair of shoes for you!
Our Pick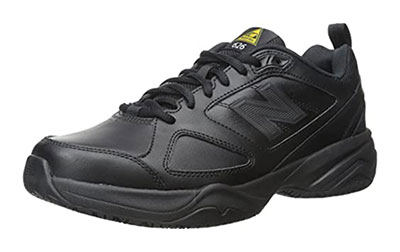 New Balance Slip Resistant 626 V2 Industrial Shoe
The rubber sole and the ABZORB Crash Pad over it are perfect cushioning to keep you comfortable if you work hours on end on your feet.
The upper part of these New Balance shoes is made of durable leather, with a solid-looking design that can even work in a professional environment.
Their design can also fit into any sportswear outfit giving you comfort and providing enough resistance while walking on a hard surface such as concrete.
Another excellent quality of these shoes is the slip-resistant sole, which can keep you safe and give you enough grip on every hard surface possible.
The soles are tested by the manufacturer for water and oil-resistance and made sure they won't leave any marks either. For added stability, these shoes also have an internal shank to support your ankles during prolonged hours on your feet.
What we liked about New Balance 626 V2
If you have a profession like a server or a mail carrier, these New Balance shoes could be an excellent option for you. No matter how long you have to be on your feet, if you wear these shoes, you won't be in pain at the end of your workday.
Thanks to the padding and the arch support, your feet can feel comfortable all the time. Rainy days and spilled drinks won't be a problem for you either, as these shoes are proven to be slip-resistant and waterproof.
They serve great as an athletic shoe option as well, particularly if you only have a chance to walk or exercise on a concrete surface. As the laces are made of a non-slippery material, you won't have to worry about them getting loose at any time.
Considering they are in the mid-price range, these New Balance shoes definitely provide the best value for your money. Their benefits have been confirmed by numerous satisfied customers.
Many of them reported that as they begin to wear these shoes, they could reduce prior pain or other existing problems concerning their feet.
The downsides
This model runs narrower compared to other models of the same manufacturer. You will have to size up when purchasing these, or they can be quite uncomfortable.
They also wear a little quicker if they are in frequent contact with water due to the leather uppers.
How we chose the best shoes for walking on concrete
As concrete is an extremely tough surface that doesn't provide any cushioning to your feet or ankles, a walking shoe needs to compensate for that. Further than that, you will need to consider the purpose of the shoes to be able to find the right option.
For example, if your work involves long hours of walking and standing, you will need to have the best arch and ankle support possible. If you only walk a couple of minutes daily as an exercise and don't have any foot problems, less support will be fine.
Fortunately, many shoes can provide great comfort on concrete. We have chosen some of the best ones available on the market. These come with different characteristics, so you can choose the one that best suits your needs.
Best shoes for walking on concrete
Skechers Gowalk 5
Maximum support and cushioning for your feet is provided by the air-cooled Goga Mat, which bounces back quickly, similarly to a quality yoga mat. Plus, the insoles also keep the moisture away when your feet are sweating.
The Skechers Gowalk sneakers have adjustable lacing that goes all the way down to the front of the shoe for a more comfortable fit. The upper part of these shoes is made of a durable and machine-washable athletic mesh that's soft despite being synthetic.
These sporty-looking shoes are perfect for walking or doing any type of workout on a concrete surface, as they provide sufficient support for your feet and ankles.
Not only that, but the comfort combined with the specially designed rubber soles also make them adequate for wearing during long hours of work.
An added part to the soles makes them extremely resistant to any slippery floor, making them an excellent option as a work shoe. Their versatility is remarkable as you'll be able to use them in many different settings.
What we liked about Skechers Gowalk 5
If you wore shoes with memory foam before and liked them, you will like these Sketchers Gowalk shoes even more. Their insole is the perfect mix of bouncy and squishy while giving you stable support.
Unlike memory foam, this mat retracts instantly, keeping up with you with every step.
You will feel like you were standing or walking on a latex foam yoga mat, even though you are making your way on a hard concrete floor. You may feel so comfortable in them that you forget to take them off when you get home!
Whether you are wearing your Sketcher Gowalk shoes to run errands, walk the dog, or during a full day at work, your feet won't feel sore and you will have more energy at the end of the day. They perform perfectly even at a gym with any type of moving, lifting, pushing or pulling.
And you don't have to worry about their maintenance either. If you need to clean them, just throw the shoes into the washing machine, wash them at a low temperature and then let them air dry.
We also loved the lower price of these shoes too which shows that they are brilliant value for money.
The downsides
There are a few things to note with these shoes, one of them being the lack of protection from water.
If you're ever going to be outside then your feet will get very quickly if it's raining. Also, they aren't really suitable for those with wide feet.
ASICS Gel-Venture 6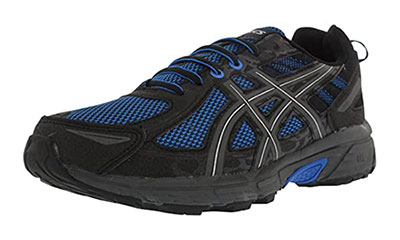 There are parts of high abrasion rubber placed on critical areas of the outer sole. This means that these ASICS Gel shoes are not only super comfortable for walking, but they will last longer.
Because of their specific outer sole made out of high-abrasion rubber, these ASICS Gel shoes are designed to be worn on every type of terrain possible.
Besides being made of high-quality rubber, the sole also has reversed lugs that provide uphill and downhill traction. Stability and traction are also very high here.
The sock liner is removable and washable, which is very convenient if you need to change it to a custom-made one for orthopedic reasons.
The shoes have neutral pronation, which means that the outer side of your heel will hit the ground at an increased angle with little or no normal pronation.
This will put pressure on the outside of the foot and make your lower leg absorb the shock from the impact easier.
What we liked about ASICS Gel-Venture 6
These ASICS Gel shoes have just the right amount of cushion without being bulky, which means they could be a fantastic choice if you have neutral to high arches.
They have the perfect amount of cushioning to make them super comfortable for walking on concrete, running, and training as well. Plus, there is a covering tab at your big toe to protect the shoe from wearing out in the front.
Even if you are a competitive runner, they could work for training quite nicely, as well as on race day. Their endurance has been proven through training for and running marathons.
You won't even have to worry about breaking them in, as they will be comfortable from the moment you first put them on until you are finished wearing them.
The shoes are water-resistant, and the rubber sole isn't affected by the weather either. You can walk and run in these shoes whether it's hot outside or it's snowing.
A little bit of water won't get through the top, but the air will, and it will allow your feet to breathe. For their price, the quality of these ASICS Gel shoes is unmatched.
The downsides
The shoe lacing starts a little lower down than usual and this causes them to have a lower level of ankle support than with other shoes.
This is only really an issue of you're making turns when running so, therefore, isn't going to cause an issue when walking on concrete.
Under Armour Charged Assert 8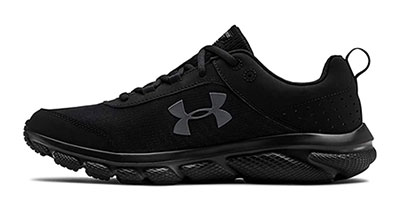 They not only look good but are comfortable to wear, especially for walking and exercise. Whether it's for daily wear while walking on concrete or for doing workouts at the gym used on a mat, they will give your feet enough compensation for hard surfaces.
These Under Armour shoes are the perfect choice for a run or a walk on a hard concrete surface, where you need adequate flexibility and cushioning. This is achieved by two main characteristics of these Under Armour shoes.
One is the insole padding that's made with compression and provides the perfect amount of cushioning and the second one is the charged cushioning on the outside of the midsole that absorbs the energy and then bounces back, making these shoes highly flexible.
Additionally, the solid synthetic rubber outsole covers the high impact zones for higher durability of these Under Armour shoes.
The front part is made from a mixture of textile and a synthetic mesh fabric that provides excellent breathability. This is also aided by a specially designed sock liner that absorbs moisture but not heats.
The multi-colored design of the mesh makes these shoes not only comfortable but stylish. A high-quality leather overlay is placed on the edges of the front material. This locks in mid-foot, providing more stability.
What we liked about Under Armour Assert 8
These Under Armour shoes are available in a wide range of sizing and always fit true to size. This is a great advantage over similar models that may not offer exact sizing.
The sole has patterned groves that provide a solid grip on every surface unless it's solid ice. Plus it's far easier to clean, which is perfect because most colors have white soles.
The shoes are suitable for neutral pronation. This means that if you have flat feet, they will give you good support. And you will be able to correct your lack of arching, diminishing any discomfort or pain you have experienced before wearing these shoes.
The lightweight shoes will additionally help with that, so you will be more comfortable walking on concrete.
The downsides
There seems to be a lack of cushioning at the back part around the ankle, and this area is quite large even if you get the shoes in the right size and width.
This can lead to a painful and blistering experience if you are not wearing the right socks.
Why you should get the shoes for walking on concrete
Walking or even standing on concrete for an extended period can harm your feet and your joints in your legs. If you walk in inadequate footwear, you can hurt your foot right away, developing blisters and arch pain.
This can later develop into inflammation of the tendons and muscles. If you don't take care of it in time by starting to wear supportive shoes, you can even suffer from permanent nerve damage for a lifetime. And if you have a prior injury or very flat feet, all this will develop sooner rather than later.
Shoes for walking on concrete are specifically designed to support your feet. Moreover, they can even reduce inflammation caused by previously worn inadequate shoes.
Although usually advertised as running shoes, shoes with a supportive midsole and arch support are even better when you have to alternate between walking and standing on a hard surface.
The good:
Provide adequate support for your feet and arches
Often have a slip-resistant sole with a good grip
Correct bad arching and improving overall posture
Help with past injuries and prevent future ones
Less pain
The bad:
Comfortable shoes are usually thicker and not always breathable
Things to consider before buying the shoes
Comfort and fit
If you want any shoes to fit you comfortably before buying need to consider a couple of things. The first of these things will be the shape of your feet.
Every individual has differently shaped feet, independently of the size. The shoe size is determined by the length of your feet, and the width of your feet indicates if you need a wide model or a regular one.
These models have higher toe boxes, which can prevent injuring your toes and damaging your shoes. Remember, your shoes should conform to the shape of your feet, never the other way around.
Fortunately, many walking shoe manufacturers offer wide variants as well in their sizing chart. These will help you avoid painful problems and injuries.
When buying shoes in a store, make sure you try them with the socks you'll wear when using them. You should also do the shopping after a long day of walking when your feet are most stretched out.
When buying the shoes online, measure your feet yourself every time before getting a new pair, as feet size can change gradually.
Always try on both shoes to check the fit, and if you don't have at least a half-inch between your longest toe and the end of the shoe, you will need a larger size.
Walk in the shoes, as they should feel comfortable right away. Pay special attention to their width and their fit at your ankles. They shouldn't slip as you walk, but you don't want them chafing your ankle either.
Durability
No matter how good the quality of the material they are made of, sooner or later, all shoes will show signs of wear and tear.
Eventually, your feet will start feeling uncomfortable in them, which will indicate that you will need to replace worn-out shoes to prevent injury.
If you see that either the inner or the outer sole is damaged, then get a new pair. Even if they still feel comfortable and don't look too worn, you might not get enough support or shock absorption from them.
For optimum support, shoes should be changed after 300 to 400 miles of running or walking in them.
Unfortunately, if you want to have good quality shoes that will last you for a fair amount of time, you will need to invest a little more into them.
But you don't have to pay enormous amounts to get comfort and endurance either. You can find good-quality running and walking shoes in the middle price range category.
Higher-quality shoes are typically made with more high-grade quality materials, plus you will have to pay for the craftsmanship. And they are usually worth the price, as they will likely last much longer than shoes made with cheaper materials.
If you want to make sure that you get durable walking shoes for their price, check the list of the materials used. This is easy to do online, but you can also ask the salesperson if you are buying in a store.
Here, you can even touch and smell the shoes. If they smell like glue, they probably weren't constructed too well, and they won't be as durable.
Arch system
As you walk, your whole weight is supported by your feet. Fortunately, the weight is evenly distributed by flexible arches made from your bones, muscles, and ligaments. These arches are the ones that help you adapt to various surfaces as you walk.
Since your arching is playing such a significant role, your shoes need to accommodate your arch type. And this is particularly true when walking on concrete, as this is the toughest surface for your feet to adapt to, and you will have to rely heavily on your shoes.
To get optimal arch support, you will need to know if you have neutral, low, or high arched feet. Feet with neutral arches aren't overly arched nor flat. This would be the healthiest type of feet, but it's also the least common one.
If you have neutral arched feet, you should opt for shoes with firm mid-soles. A straight to semi-curved sole will give you a moderate amount of stability, which is the amount you need.
Low arches or flat feet may contribute to muscle stress and joint problems, so it's important to correct the arching if possible. If you have significantly flat feet, you will need a walking shoe with straight outer soles but supportive insoles to stabilize your feet.
High arches can also cause excessive strain on joints and muscles. Your feet can't absorb or distribute the shock because they don't touch the ground properly.
You should look for shoes with curved soles and cushioning at the arch to help with shock absorption.
Shock absorbency
Why is shock absorption so vital in your walking shoes? With each step, your feet need to absorb your weight multiplied by the kinetic energy your walk creates. To dissipate all this energy, you will need shoes capable of absorbing and distributing them with their cushioning.
For optimal shock absorbency, you will need to get shoes that were specifically designed for walking. Those usually have memory foam, latex mat, or EVA cushioning.
All these materials can divert the force of the impact from your heel and send it upwards to your lower body effectively. Shoes with EVA mid-soles are the thickest, and they absorb the best, although they are usually also costlier.
If you will use your shoes more for training and less for walking, get a pair with moderate padding. This will give you more flexibility and less strain on your ligaments. Or, if it's within your budget, get to different pairs for each activity.
For running, it's highly recommended to have shoes with extremely thin midsoles, as these will be lighter and more resilient. They will also help divert the energy from the impact into your forward momentum, preventing muscle fatigue.
Midsole
The midsole of your shoe is located between the outer sole and the inner sole. Its synthetic, foam-like material is designed to provide cushioning and shock absorption. The most commonly used materials are EVA (ethylene vinyl acetate) or some sort of polyurethane.
EVA is molded by the compression of two types of plastic which makes it more flexible and comfortable. Polyurethane is a type of material that behaves like rubber and is used in midsoles.
It's firmer, heavier, and also less flexible. A midsole might consist of two or more different materials, making it dual or multi-density.
Additionally, sometimes manufacturers add special elements to the midsoles to get extra support. For example, a thermal plastic unit is often used to support the midsole and help with the overpronation or a medial post made out of plastic is placed on the inside to reduce overpronation.
There might be added cushioning at the heel and forefoot to absorb shock and resist compression.
The composition of the midsole will not only affect your comfort level but the durability of your shoes too. Which in turn will reflect on their price.
Although for walking more flexibility is recommended, you will need to choose according to your needs and budget.
Ankle support
Whether you walk long distances for exercise or your work involves a lot of walking and standing for long hours, you might experience soreness or pain in your feet.
Besides the comfortable arching, your footwear will need to have the right ankle support to relieve or prevent foot pains during and after activities, particularly if you need to do them on concrete.
Adequate arch support can not only help reduce the pressure on your ankles, but it can make your shoes far more comfortable.
There are plenty of options available for the right ankle support, so everyone can find the shoes that suit their taste, purpose and meet all other requirements.
If you had severe pain after wearing your previous shoes, your ankles might be more sensitive when trying new shoes. In this case, you should probably opt for hiking shoes, as as they feature more protection of feet and ankles than other types of regular shoes.
Many of these have a heel collar that cushions the ankle and ensures a proper fit. For added protection, you can get shoes that lock around the heel and protect your Achilles tendon.
If your ankles currently aren't sensitive, but you want to prevent future pain, try wearing high-rise shoes with molded ankle parts and more cushioning.
Breathability
This is a significant factor in a walking shoe if you need to walk or stand for long hours in a hot climate. You will need to choose footwear that features a quality mesh upper part that absorbs moisture, lets through the air, and is preferably washable.
The shoes also need to have as little padding as possible, be lightweight and low rise for more ventilation. Consequently, if you want breathable shoes, you will probably have to sacrifice some of the support, especially at your ankles.
For more ankle support, try wearing higher rise shoes with more breathable or cooling socks.
Although a breathable mesh dries quickly, it often absorbs the water as quickly as well. You will be less likely to find a shoe that's breathable and waterproof at the same time.
Eventually, you get slightly water-resistant shoes and improve them with moisture repelling spray.
Stability
Stability is less vital for walking shoes than running shoes, but it's still not a negligible factor. If you love power walking or your work involves faster walking, you should definitely consider getting footwear with higher stability.
Support features in some walking shoes may help fix some alignment issues in your arching. For example, if you have overpronating feet, your feet roll inward when walking. Stable shoes will be able to control your motion and correct this.
Hiking shoes also offer a fair amount of stability, although they don't correct the overpronation. Instead of that, they have a wider base and an internal shank which makes them more stable.
Shoes with rockered soles have their toe and heel upward, giving you a slight rolling motion, smoothing out your stride. However, the bend should be too much as this reduces the stability.
You can test if a shoe has the minimum level of needed stability. Hold the shoe in one hand and bend the toe upward with the other.
If the shoe bends at the ball of the foot, not at a random point, it's probably stable enough. Or if you grab the shoe at its heel and toe, then twist it, and it resists, it's a steady shoe.
Grip
Want or need to go out in all types of weather? There is nothing worse than getting inside a building with water on your shoes and slipping on the tiles.
To avoid this, you need a pair of walking shoes with a good grip on their sole.
Well-spaced, multi-directional deep lugs will make any footwear suitable for walking in wet conditions. Some of them can have their whole sole submerged in freezing water and still be safe afterward. The downside of these shoes will be their bulkiness and less than a stylish design.
Also, some types of soles are just harder to break in during cold weather. Even if they have good lugs, the rubber will still be hard, and you will have less grip.
Try to get walking shoes with a softer rubber sole and lugs if you need one with enough grip.
Style
The style you opt for should depend on how and where you will wear the shoes. And this doesn't only mean whether the footwear works well with your outfit or not.
The recommended shoe style for walking on concrete is lightweight and with enough cushioning to eliminate the impact as your foot hits the ground.
Rubber outer soles are also preferred since they have grooves that move with your feet to increase flexibility and are more durable.
Different styles could be chosen for a different environment too. For example, if you need more ventilation, slip-on shoes with mesh front are more comfortable to wear. They are also more practical, although they offer less support.
High-rise walking shoes, on the other hand, have more stability and support. But are only suitable for colder conditions and tend to wear your feet out because of their bulkiness.
Frequently Asked Questions
What are the best shoes for walking on concrete all day?

The best shoes for walking only on concrete all day are those offering enough midsole and insole padding to absorb all the impact from your feet hitting the ground.

For this, cushioning on the footing should be enough if it's made of good quality foam or polyurethane.

If you have to alternate walking with standing and bending your feet, you will also need good ankle support. Look for shoes with flexible cushioning at your heels and your ankles.

In any case, everyone's feet are different, so you will probably have to find out by yourself which shoes will be the best for you for walking on concrete.
Is walking on concrete bad for your feet?

Yes, and not only for your feet. Walking on hard concrete floors for long periods can lead to everything from bunions and ingrown toenails to shin splints, lumbar strain, and Achilles tendonitis.

It may begin with a little soreness in your foot then develop into an inflammation that spreads along the inner edge of your legs all the way up to your lower back.

In the end, all your muscles will feel stiff, plus you will have less energy for your daily activities. Not to mention the stress all this can cause you.
How do you keep your feet from hurting when standing on concrete?

The first thing you need to do is buy good quality walking shoes with adequate arch support. But even wearing those can make your feet hurt if you stand in one position for an extended period.

Try shifting front one foot to the other or making a few steps from time to time. Stretching your foot can also help with painful arches.

You should also pay attention to your socks, as a tight one with holes can cause moisture to build up, leading to inflammation and blistering.

And if nothing helps, get an orthotic insert to prevent pain injury by distributing the abnormal stress.
What can I put on my feet to stop them from hurting?

Icing your painful feet or putting them into a foot bath for at least 30 minutes after you get out of shoes is a viable immediate solution.

However, for a more permanent one, you can try topical medication with cooling and pain-numbing effects.

If you are not wearing adequate shoes during the day, at least you can help your feet during the night by putting them into a temporary splint.

These will keep your feet in a locked position overnight so you don't sleep with your feet pointing, which can only worsen foot pain.
Do compression socks help with foot pain?

When combined with other remedies, compression socks do help reduce pain caused by plantar fasciitis. They put pressure on the soles of your feet, improving blood flow, reducing swelling and inflammation.

They could be a great solution if you wear them with supportive shoes during long hours of walking or standing.

Many people found compression socks helpful for relieving the pain caused by walking on a concrete floor. However, you should only wear them during the day and never overnight as they reduce the blood flow to your feet.

And remember to choose the right size, as a tight sock can do more harm than good.

Final Thoughts
Hopefully, by now you know which pair is going to be your best shoes for walking on concrete. We've put in many hours of research to come up with four options that we think tick all the right boxes on what makes a brilliant hard floor shoe.
All four were great but we particularly loved the New Balance Slip Resistant 626 V2 Industrial Shoe. It's brilliant for any work environment when you're on your feet all day and has a professional look that is suitable for many workplaces. A shoe that is similar even though it's a little more casual is the Under Armour Charged Assert 8, which is highly versatile.
If you're walking on hard indoor floors all day then there's nothing better than the Skechers Gowalk 5. It offers incredible comfort even though it doesn't have much weather protection. It also gives plenty of grip and control.
For those looking for something a little more casual and fun than the ASICS Gel-Venture 6 would be perfect. It's available in a wide range of different colorways so you can get exactly what you want. It's also ideal for wearing for many hours at a time.
All of these four shoes are perfect for walking on concrete. Our buying guide has hopefully given you all the information you need to decide which one is best for you. All that you need to do now is grab yourself a pair and enjoy all-day comfort on those concrete floors.