At some point or another, most of us are forced to stand on our two feet for an entire day.
For some people, it's just something that happens on occasion; while for others, it's an everyday part of their jobs. And regardless of the group that you belong to, one thing is clear — standing around all day can be pretty exhausting.
That goes double if you have ill-fitting footwear; shoes that may otherwise be great, but were simply not meant to be worn around all day.
As a consequence, you may experience a wide variety of issues, especially if you frequently need to stand around all day — from joint pain and shin splints to blisters.
In the long run, standing all day without the appropriate shoes can mean major problems, like lower-limb muscle fatigue and back pains that just won't go away.
However, you can avoid all of that — getting the best shoes for standing all day will provide you with enough ankle and foot support to avoid any long-term damage to your body.
And there are plenty of great shoes out there — we'll recommend some of the ones we liked.
Best Overall
Dansko Professional Clogs
Their meticulous manufacturing has ensured immense durability; people use a single pair for years without noticing any wear and tear. And most importantly, they ensure that your feet won't hurt after you've been standing all day for work.
The first pick on our list of the best shoes for standing all day is the Dansko Professional Clogs.
If you've ever needed a comfortable pair of shoes for work, you know clogs will do the job; many nurses and medical staff wear them. And this pair certainly does the trick! 
What we liked about Dansko Professional Clogs
These Dansko clogs provide incredible arch support, and they come in high-quality leather.
And their orthopedic nature is further confirmed by approval given to the manufacturers by the American Podiatric Medical Association. 
Once you take a look at the toe box, you'll be glad to see that it's roomy enough; meaning that you won't feel cramped up after wearing these clogs for a while.
Furthermore, the platform is elevated — but still comfy, enabling prolonged use. 
Finally, there's an antimicrobial lining built into the clogs to prevent the build up of microbes after wearing these for a while. As a result, you'll be able to have them on your feet all day without having to worry about any odors. 
Plenty of users have reported that these are pretty much the only shoes that they need for work. They provide a much more comfortable experience compared to any expensive tennis shoes that you could buy. 
The downsides
While this is our top pick and it doesn't have many downsides, we have to point out that clogs are not a good choice if you're doing any work outside, or your work involves going to different locations in your car or on foot; it's more something that you'd wear specifically in your workplace, and then put on another pair of shoes once you go out.
Also, make sure that you order a pair that's one size larger than your usual size.
Plenty of people have reported that their regular shoe size was smaller than they're used to with this model. 
How we chose
We'll provide dozens of different models of shoes for standing all day for you to pick through. That being said, the number of different shoe manufacturers and stores out there is infinite.
And with that in mind, we're going to provide you with some great tips on choosing the best possible models yourself, regardless of where you're buying your shoes.
After you take a look at our extensive review list, you can check out our buyer's guide below. And when it comes to why we chose the clogs above as our top pick, the reason is pretty simple: they were the most comfortable.
At the end of the day, that's what's most important in the best shoes for standing all day. And besides that, you also want to consider other factors that go into a great pair of shoes.
First of all, you want shoes that can protect your feet from any sort of injury or damage.
And that means a slip-resistant sole — also, ideally, you want some memory foam if you're not wearing clogs, along with a rubber outsole.
Coupled with some heel cushioning and a soft footbed, these will ensure that you have plenty of arch support for the right stance over the long term.
Furthermore, the shoes should have a breathable lining to prevent sweating. 
Naturally, some of these aspects depend on your personal needs — depending on your type of work or exercise, you may need a shoe that doubles as walking or running shoe.
Also, make sure that you check out the specifics of different brands; many of them use different technologies and designs to achieve different levels of protection. 
At the end of the day, you need to carefully think about the kind of protection you want from your shoes — and if you've had any foot injuries in the past, look for models that provide extra protection and support for that part of your leg.
Just make sure that the shoes are comfortable and cushioned, and you won't go much wrong.
Best shoes for standing all day
Naturalizer Marianne Loafers
The design has an incredible dual-dense contoured footbed; meaning you'd struggle to find better support for your heels and arches. 
As we've just said, when you're looking for the best shoes for standing all day, what you want is comfort. And nothing says comfort like a great pair of loafers.
With that in mind, we'll take a look at the Naturalizer Marianne Loafer model! 
What we liked about Naturalizer Marianne Loafers
One of the best parts about these specific loafers is their versatility — contrary to the size issues that plagued our top choice, these loafers come with three different options in terms of width; so you can choose the ones that suit your needs and shoe shape specifically.
But regardless of the width you choose, you can still be sure that Naturalizer has come up with a pair of truly comfortable shoes; specifically designed for people whose work requires them to spend all day on their feet.
And best of all, it comes with a cooling lining; meaning your feet will stay dry regardless of how long you wear the loafers. People that work all day on their feet but want to maintain a business casual look will appreciate the slick look of this pair of shoes.
And they're incredibly supportive and well-cushioned; not to mention trendy! 
Best of all, you can choose the specific material of the upper you want — there's leather, fabric, corduroy, velvet, and suede. 
The downsides
The only issue that we've found with these shoes is that they're a bit more rigid than some people would like.
While this isn't much of a problem when it comes to walking around, plenty of people who stand during the day also need to kneel and squat to perform specific actions.
With that in mind, you might find these loafers a bit troublesome at first — but once you break them in, they'll do just fine in that regard as well! 
Brooks Ghost 13 Sneakers
One of the best things about Brooks is their consistency — they give you equally great performance results even after long use. 
For our next pick, we'll go in a somewhat different direction — with a pair of great Brooks Ghost 13 Sneakers.
When you're standing around or walking all day long, you're going to feel like you've run a marathon — and having the shoes for that is a good idea.
With that in mind, taking a look at some of the most cost-effective and well-made running shoes is what we're up to next.
What we liked about Brooks Ghost 13
When you hear people describing these shoes, you'll find that they resort to terms you'd be used to hearing in conversations about great cars.
They provide you with a smooth ride, and they're quite plush. And it's no wonder, considering the amount of supportive cushioning you get with this comfy model; along with an amazingly secure fit that's created to minimize any stress that comes with prolonged standing or walking.
People that have to work outside tend to favor models like these — if you need to stand on concrete surfaces for hours before the end of your shift, you'll experience less pain in your feet and back with this kind of shoe.
The downsides
While the Brooks shoe provides ample comfort, their models usually have a distinct style as well.
And that's the only downside with this particular model — many women noted that the female model pretty much missed the mark when it comes to design trends in the running shoe industry. 
They pretty much look like the average dad shoe, and the colors aren't very stylish.
However, if that's not too much of a concern for you and you want a pair of shoes that's immensely practical; these will serve you just fine! 
New Balance 608v5 Sneakers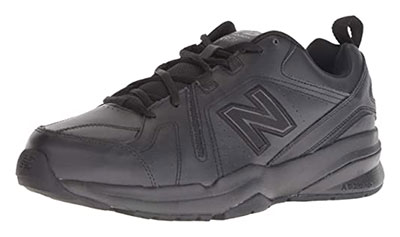 These sneakers won't just keep you standing on your two feet all day long — they'll also help you feel good while doing it.
We can't mention dad shoes without looking at models from the king of dad shoes — New Balance.
But jokes aside — their 608 v5 is one of the all-time classics when it comes to men's shoes for standing all day, running, or pretty much any physically-intensive activity.
What we liked about New Balance 608v5
Sometimes, going with a classic is the best option you can have. And that's why these awesome kicks courtesy of New Balance are just what the doctor ordered — quite literally.
Most podiatrists agree that this shoe provides more than enough cushioning for the least possible stress while walking or standing. Plus, they come with comfortable foam near your ankle, which pairs nicely with its flexible outsole. 
Plus, the leather upper that these models have is completely stain-resistant, so you won't have to worry about them looking as crisp as ever once you break them in. 
There are people that have worn nothing but different New Balance models for a quarter of a century — and many of them are nurses, construction workers, and other employees that work physically demanding jobs.
Paired with some compression socks, the 608 series stays true to that form and provides you with the ultimate solution for long hours. 
The downsides
Some people have pointed out that the shoe is a bit too flat for people who already suffer from flat feet; some more arch support would be nice straight out of the box.
Furthermore, the sole is not ideally manufactured, and it's easy to rip apart if you trip up; though it should last you a long time otherwise. 
Skechers Sure Track Trickel Shoes
The midsole was also expertly manufactured, using shock-absorbing materials that will leave you feeling like you're walking on a cloud regardless of where you are and what you're doing.
Skechers is a brand that's favored among all kinds of service workers — they provide ultimate durability and comfort for long hours of work.
And that's precisely why we're putting their Sure Track Trickel model on our list of the best shoes for standing all day! 
What we liked about Skechers Sure Track Trickel
So, why is Skechers such a beloved brand among hard workers? For starters, their shoes prepare you for any kind of terrain and situation.
They come with rubber non-slip bottoms, meaning you can work on all kinds of surfaces without worrying about whether you'll slip and fall.
Also, the bottoms are water-resistant, letting you comfortably deal with any spillage or any kind of weather during your work day. 
For all of these reasons, people are quick to call the model one of the most supportive shoes for standing around all day — it's like walking around and getting a massage at the same time, thanks to the memory foam padding that sits in the toe box for extra comfort.  
It doesn't matter whether you're working at home, outside, or somewhere else — with these shoes, you won't have to deal with pain and discomfort after a couple of hours of standing around. 
The low-cut Skechers design and its relaxed fit ensure that any shape or type of foot can be accommodated with this model.
They've also got an ordinary, but sturdy lace-up closure providing you with a custom grip of the shoes — found above an upper made of supple leather. 
There's a padding on the collar and tongue of the shoes, showing once more that Skechers is determined to make every single detail about support and protection of their users.
And the ventilated lining isn't half-bad either — giving you a breathable shoe that doesn't leave you feeling sweaty. 
There's a small tab found at the heel, designed to let you easily pull them off after a hard day of work — it's such small details that count the most. 
The downsides
While the manufacturer worked hard to include as many quality-of-life improvements in this shoe as they could — there are some downsides to the design.
The specific memory foam used in these shoes doesn't provide enough arch support for people who stand on hard concrete flooring — making the shoe a bad choice in that specific situation. 
Nurse Mates Dove Slip-On
Finally, the slip-ons won't be easily stained thanks to a finish that's designed to repel stains — and we all know how messy things can get in a hospital. No fluid will penetrate this finish. 
We've already mentioned that there are certain professions whose jobs require more hard work and standing than others — and nurses are chief on that list.
That's why we've tried to include as many great shoes for standing all day that nurses tend to use — and Nurse Mates Dove Slip-On is certainly a good choice there!
We've already mentioned that there are certain professions whose jobs require more hard work and standing than others — and nurses are chief on that list.
That's why we've tried to include as many great shoes for standing all day that nurses tend to use — and Nurse Mates Dove Slip-On is certainly a good choice there!
What we liked about Nurse Mates Dove
As you can tell from the name of this line, it was specifically designed for nurses and their work environment.
First, the rubber soles are lighter than with most other models here; preventing the shoe from slipping on generally slick hospital floors.
On the other hand, stability is increased with the sides of the shoe that contain thin steel shanks. 
Some nurses do work that involves standing through surgeries that can last for a dozen hours — and that requires shoe models that provide relief to your feet and back.
Plus, the fact that any stains can be easily wiped away without leaving behind any trace of them is great. 
Also, many nurses have pointed out that the thick leather upper found on these shoes prevents accidental injuries from any tools that may fall on your feet and slice thinner shoes — so these provide protection in more ways than one! 
The downsides
The best thing about these shoes is also arguably their biggest flaw — they were specifically designed for nurses and a hospital work environment.
Considering that, they won't be as great in other work conditions that require more generic footwear, or something specific to those environments. 
Nike Revolution 5 Sneakers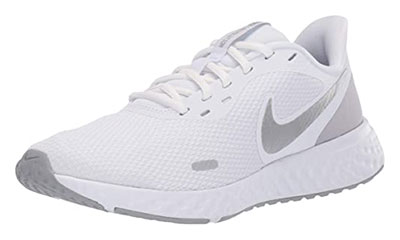 Its main attraction is the cushioning made out of a soft foam; combined with an upper made from breathable mesh that makes this one of the best shoes for prolonged use.
Speaking of generic sneakers that can be used in multiple workplaces with varying conditions — you can't go wrong with the Nike Revolution 5 Sneakers! 
What we liked about Nike Revolution 5
If you're looking for a shoe that's got some style and pizzazz while also providing you with all the stamina you need for standing around all day — this Nike model will definitely do the trick. 
The lining is also breathable, and the rubber outsole is flexible enough while still providing plenty of traction. Plus, you'll find that this is a versatile shoe in terms of aesthetics as well; you can choose between a dozen of gorgeous designs!
There's no personal style that can't be accommodated with this pair of shoes. 
And most important of all — it eliminates any foot pain that you might have from long walks or standing around all day at your job.
While some shoes cause blisters and pain when you stand in them for 8 or more hours, these provide all the comfort and ankle support you need to get through the day. 
With it, you get everything you'd expect from a classic Nike running shoe — it's got a rubber outsole, a soft foam midsole, some plush padding, a complex but lightweight knit, and premium-quality fabric.
The downsides
There aren't any downsides to this shoe that are visible in every pair out there.
There was a defect that some users noticed and that caused the shoes to make a clicking noise once they're used for a while, but that's not something that's everyone's general experience.
Hoka One Bondi 7 Sneakers
If you're looking for a comfy pair of shoes that are also superbly designed — you won't have to search much longer!
Hoka's Bondi 7 model is one of the quirkiest shoes for standing all day — with its look borrowing from the crazy colors usually found in running shoes.
However, if you want a single pair of shoes that you'll be able to wear for work and running — these are pretty great! 
What we liked about Hoka One Bondi 7
As we've just mentioned, this is an incredibly versatile set of shoes. Sure, it's more expensive than the average pair we'd recommend, but you can use them for different things that you'd otherwise have to get other shoes for. 
They're equally great for a quick trip to the grocery store and a full-day shift. And the incredibly soft EVA midsoles are more than supportive enough; especially for people suffering from under or overpronation. 
It's another pair frequently used by healthcare workers, seeing as they don't allow your feet to become tired after standing for more than eight hours. 
The downsides
As you might have noticed, the price tag on these shoes isn't as acceptable as you'd expect from a non-mainstream brand; meaning you'll have to trust that they get the job done and stay cost-effective.
As far as we can see, that's definitely the case — but many people could be reluctant to pay $150 bucks for working shoes. 
Calzuro Classic Clogs With Holes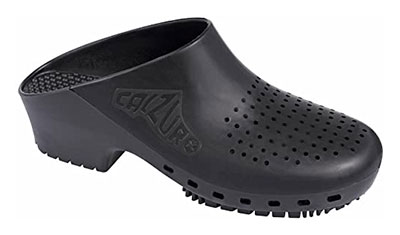 They've got a slip-resistance sole, so any slippage will be easy to deal with without worrying about whether you'll sustain any injuries from falling.
Clogs are incredibly practical shoes for standing all day — and they don't tire out your feet as much as some other kinds of shoes.
And that's these Calzuro clogs are a favorite among both physicians, laboratory workers, and cheesemakers — with more than a good reason. 
Also, there's an anti-static material in the outsole, and a classic yet fashionable silhouette — ensuring that you can look cool even with a pair of clogs.
Finally, the fact that they've got a slightly raised heel to accommodate foot fatigue is a godsend for busy nurses — along with the fact that they're incredibly easy to clean; you just wipe away any stains with a simple wet tissue and they'll be gone without a trace. 
There are people who do round-the-clock shifts without feeling pain with these shoes.
If your profession gets gross from time to time, your shoes don't have to reflect that! Some water and a wipe will be more than enough.
The downsides
The only trouble with these clogs is the same trouble with any other clogs out there — they're just not an acceptable solution in every work environment.
And while doctors, nurses, or people working at home or in labs might appreciate them — that's just not something you can wear in every workplace.
This lack of versatility can be an issue for many people, so this is a great, albeit quite specific purchase.
Sanita Professional Oil Clogs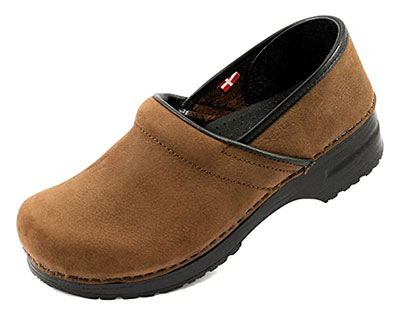 These clogs are recommended by APMSA due to their excellent arch support, which is important for nurses and physicians with flat feet.
While talking about different models of clogs on this list, we may have mentioned how one of their biggest deficiencies is their looks; they're just not as classy as other shoes. Well, this is something that the Sanita Professional Oil Clogs want to solve!
What we liked about Sanita Professional Oil Clogs
One of the first things you'll notice about these clogs is their looks — in fact, they barely resemble clogs, to begin with. Their classy leather frame makes them look more like traditional shoes.
And while they may still not fit into every environment, they do a better job of that compared to traditional clogs. 
Many people that don't work in the healthcare profession choose them as their work footwear, seeing as they provide a unique blend of style and comfort that most shoes just can't match. 
The downsides
The thick soles that these shoes have were designed for people who need additional stability. However, depending on the specifics of your feet, these may be too inflexible — causing pain in the knees and feet.
Still, this is something that most people don't experience, so the clogs will only be unusable for a small number of people. 
Crocs Bistro Batali Edition
If you're a worker that doesn't concern themselves with aesthetics but simply wants a durable shoe that they can rely on — these will fit you nicely!
Our penultimate choice is a great pair of low-profile Crocs — designed to blend into pretty much any background and workplace environment.
The manufacturers of these crocs have made sure to check every single box when it comes to great shoes for standing all day — they've got thick toe caps for added protection, a decently contoured footbed, and a material that's incredibly easy to clean.
For people who work in jobs where comfort or griminess is an issue, these crocs solve it handily. 
Things to consider before buying the shoes for standing all day
When you're choosing the best shoes for standing all day, you need to think about a host of different factors to pick the right pair. And we'll get into all of them right here! 
Light construction
If you're going to spend a lot of time on your feet, the last thing you want is to have a heavy pair of shoes. While they do need to provide you with enough stability, they should also be lightweight enough to make standing and moving around easy.
If you're standing all day in shoes that aren't light enough, you'll find that the fatigue quickly adds up to a grueling sensation. 
Durability
On the other hand, you don't want shoes that are so lightweight that they fall apart; you need something that's simultaneously not heavy and dependable.
If they wear out easily, you'll just have to get a new pair a few months or even weeks down the line — and that's something no one wants to go through. 
Arch and Heel Support
It doesn't matter what specific job you do and where you are — if you're going to spend a ton of time on your feet, you're going to need some great arch support.
If you're standing for a long time, you're exerting all of your weight upon the ligaments and tendons in your legs.
Over a prolonged period, this will result in weakened arches and issues with your bone structure. However, preventing this is not impossible.
You can find shoes with great arch support and completely avoid and alleviate any pain. This will give you some long-term comfort and ensure that your legs stay as healthy as possible.
If you're someone with flat feet, this is especially important for you; a great degree of arch support will ensure that there's no chronic back pain to deal with. 
Padding and Cushioning
Of course, comfort is the primary factor when buying any pair of shoes — and the same is true when you're looking for shoes that enable you to stand for a long time.
In that case, comfort is an essential feature — and it's ensured by the presence of proper padding and cushioning within your shoes.
If the insides are properly padded, your feet will have a resting surface that alleviates discomfort even during prolonged standing. 
Breathability
If you're walking and standing around all day, your foot will be quite active — and that can also mean a lot of heat and perspiration inside your shoes.
With that in mind, you want a pair that provides breathability and proper ventilation. With the right air circulation, you will have a conducive environment for healthy and dry feet.
Not only will they stay cool, but they'll also be rid of any moisture stemming from water vapor. 
Remember — allowing sweat to build up is not just disgusting, it's also unhealthy for your feet and can lead to difficult fungus infections. 
Frequently Asked Questions
What are the most comfortable shoes to stand in all day?
If you take a look at our list, you'll find that we've noticed the best all-around range of features in the Dansko Clogs from the beginning of our article.

Most people who stand around all day will appreciate them for their comfort and durability — that's why plenty of staff in the medical profession resort to them. 

They've got pretty much everything you want, from excellent arch support to premium-quality leather. And the fact that American Podiatric Medical Association recommends them is only an added plus. 
What is the best sneaker for standing all day?

While some of the Nike and other famous brands have provided excellent options in terms of sneakers — the Brooks Ghost 13 Sneakers are definitely our choice when it comes to walking and standing for long periods of time throughout the day.

Plus, people who buy sneakers for work generally want to use them for other things as well — and this is a great athletic pair of shoes too. 

Most people appreciate the plushness and cushioning that these sneakers provide, making them an excellent and comfortable choice.
What brand of shoes lasts the longest?
While there are many brands that provide specific durable models, we have to point out that New Balance makes some of the most long-lasting shoes out there.

Their 574 series has been known to last for years — and that's also why that's their most iconic pair.

Plenty of healthcare professionals used to wear them during long hospital shifts, but they're an excellent choice for any other kind of long-lasting work as well.

While they may not be the most stylish shoe, they've got two things going for them — they're comfortable, and they'll last you a long time. 
What shoe brands do podiatrists recommend?
If you don't pick the right pair of shoes for your needs, you'll have nothing but pain and blisters to show for it after a long day's work.

Luckily, you don't need to spend any time guessing what the proper brands are. Podiatrists have spent a long time checking out different models and manufacturers, and there are some brands that they prefer more than others. 

For instance, plenty of podiatrists recommend Brooks sneakers for both indoor and outdoor activities that last a long time. While the brand is primarily a manufacturer of running shoes, they're durable and comfy enough for work as well. 
Why do my feet hurt after standing all day?
As we've talked about before, it's imperative to choose the right pair of shoes for a prolonged day of standing and walking at work.

Remember, this is a physically-intensive activity, even if it doesn't seem like it at first. Picking shoes with enough padding and arch support can make all the difference between pain and relaxation.

Besides that, you should note that muscles can still become painful and stiff while you walk or stand for the entire day.

If you can, find some time to relax and stretch while you're still at work — lengthening your tightened muscles will prevent pain from lingering afterward.

Doing a couple of calf raises will pump the blood that's pooled into your feet elsewhere.
How do you stop your feet from hurting when standing all day?
Even if you do everything right, there can still be some pain after you're done with work. In that case, you should apply certain remedies that will ensure that you have less pain tomorrow.

For instance, icing your feet is an unpleasant, but excellent remedy; if you're not someone with vascular problems, a bucket of ice and water will do the trick in fighting inflammation and swelling. 

Every minute of standing or walking is a micro-injury that your feet need time to heal — and using some ice after a long day of work is a great way to help quicken the process. 

Apart from that, massaging your feet is also a great idea. Use a small tennis ball and gently roll it across the surface of your foot.
This will stretch any foot muscles that have tightened throughout the day. Finally, elevating your feet is the easiest and most comfortable remedy. 
Wrapping Up
As you can see, choosing the best shoes for standing all day means considering a variety of factors.
And these are crucial for making sure that your feet don't suffer any long-term damage from standing around all day. You want to keep your feet healthy while you can, so pick a shoe that can help with that!