Most people love coffee but sometimes it can take too long to get your perfect cup. Other coffee makers give you a full carafe and you end up pouring half of it away.
Getting the best single serve coffee maker can make your life a lot easier.
There are a lot of different single serve coffee makers out there with some using pods and others using fresher coffee.
Here we've found four top models that are all a little different and we've given them extensive reviews while also developing an in-depth buying guide.
We aim to give you all the information you need to find the best single serve coffee maker for you. By the time you get to the end, you'll have all the information required to make the right choice. Let's get started!
Our Pick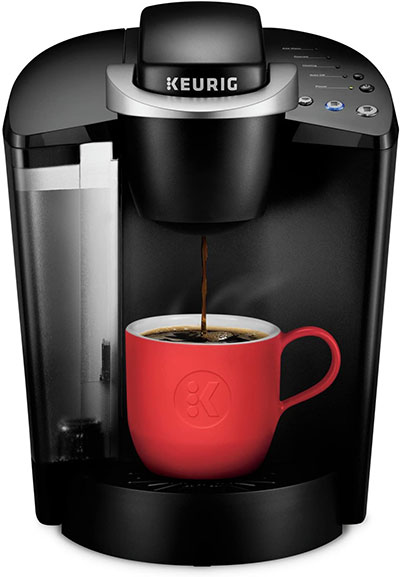 It gives you everything that you can expect with a Keurig model. It's a high-quality machine that makes great coffee.
Keurig is one of the most respected brands in the industry and you can see why with makers such as this. It is a single serve coffee maker k-cup which are very easy to source pods and a lot more affordable than other options. They are also available in either 6, 8 or 10-ounce sizes.
Due to the size and capacity it has available, it is also perhaps the best single serve coffee maker for office. It has a large 48-ounce reservoir which will allow you to get at least 6 cups of coffee before you need to refill. It's also able to dispense those cups very quickly.
That water reservoir is easily removable too for easy refills. Along with that level of usability, the coffee maker has simple button controls. Just pop in your pod, select the size of the coffee that you want and then wait for less than a minute for your cup.
As well as great coffee there are also a few great features. It can easily descale itself and also it will automatically shut off if it has been idle for two hours.
What we like:
If you like having different types of hot drinks then you'll fall in love with this machine. As well as being able to make all different types of coffee you can also use the machine to make the likes of hot chocolate or tea.
Added to that wide selection, it's also able to serve multiple people very quickly. It makes it ideal for large households or any workplace. You have the benefits of a multi-cup coffee maker while having the simplicity of a sing serve coffee maker.
One thing that you instantly notice with this coffee maker is the lack of mess. You have no grounds to deal with and no spillage. All you'll be left with is brilliant coffee that you'll love time and time again. It is an exceptional single serve coffee maker and one we highly recommend.
What we don't:
There's not much at all to dislike about this coffee maker. A digital screen would be a welcome addition but it's very simple to use anyway. It's also worth noting that it may be a little bigger than you'd expect so it's best to double-check you'll have the space for it.
How we chose the best single serve coffee maker
While a single serve coffee maker needs to be able to make great coffee, there are also plenty more boxes that it needs to tick. If it's not easy to use and clean then after a few months it will simply be gathering dust while tucked away in a cupboard. Many people have simply given up on their coffee maker.
Other areas are important but if it wasn't able to make great coffee then it was immediately struck off our list. As soon as we knew it could make an exceptional drink, we then looked at other areas such as maintenance, usability and additional features.
Not everyone has hundreds of dollars to spend on a coffee maker and we therefore also wanted to look across a variety of budgets. The result is four models which are all quite different but all excellent quality. Hopefully, there is something here for everyone.
The best single serve coffee maker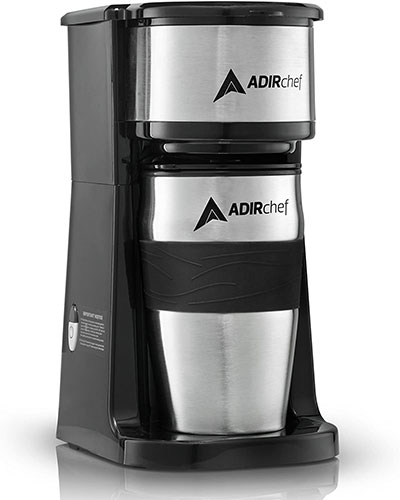 An impressive feature of this coffee maker is that is has a permanent filter which makes using it a lot easier and prevents the waste associated with paper filters.
If you wanted to find the best single serve coffee maker without pods then this is a quick and simple solution. It's a single serve drip coffee maker which is going to be the perfect solution for those who want to grab a quick cup.
It's a part of the overall usability of this coffee maker which is impressively high.
Where this coffee maker excels is how perfect it is for those with a busy life. It comes with a travel mug for those who like to have a drink on the go and the whole unit is small and lightweight, allowing you to take it with you wherever you need to go.
While the portability is great, it can also be used at home for a nice relaxing cup. Despite being on the budget end of the scale, the build quality is high with durable plastic used. It's an ideal model for those who want something a little quicker and easier to use than a regular coffee maker.
What we like:
Despite being on the budget end of the scale this maker is still able to produce great coffee. It's compatible with any ground coffee and a great alternative to those who don't want to constantly have to buy coffee pods.
As well as being cheap to buy, it also makes it cheap to operate long-term. It makes a strong cup of coffee and the travel mug that it comes with is well-insulated to keep that mug warm for a long time. Its convenience makes it such an epic product.
Despite not having a large reservoir as we see with other models, it's able to brew very quickly. Another fast part is cleaning. It leaves a minimum amount of mess which lets you use it time and time again without frustration.
What we don't:
While the build quality is high for plastic, it still doesn't have the elite construction of more expensive models. It's also probably not the best idea for those who don't want to use the travel mug but if it suits your needs, this coffee maker is perfect.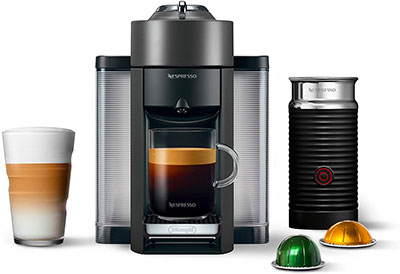 An impressive aspect of this coffee maker is the number of coffee types that you are going to make.
Nespresso has long been a big name for single serve coffee makers and this is an excellent model from De'Longhi. It is a single serve coffee maker with frother that is going to make brilliant coffee time and time again.
They come in sizes from 1.35 ounces up to 14 ounces. It's been designed for use with Nespresso Vertuo capsules and there is a lot of variety.
What helps to separate Nespresso capsules from many other models is the sheer quality of the coffee. It's also to adapt to each pod to give you tailored coffee. You get all of this at the touch of a button and will have your cup in no time at all.
With a 54-ounce tank, you can get a lot of coffee which is helped by a quick heat-up time. It makes it good for multiple users. It's that simplicity and quality that has helped to make Nespresso so popular among coffee lovers.
What we like:
We loved the undoubted quality of Nespresso coffee in a De'Longhi machine. You get delicious coffee time and time again. You get that quality in a machine that is easy to use. It all adds up to a brilliant coffee experience.
We also loved the design of the coffee maker and found it to be simple and elegant. It also doesn't take up much space either. Added to that style is a coffee maker that is also easy to clean with the amount of maintenance being minimal.
It takes many different sizes of coffee pods to get the perfect coffee whatever mood you're in. We also found the coffee maker to be a lot quieter than many other models out there.
Finally, you'll enjoy the huge capacity meaning you don't have to constantly fill up the tank.
What we don't:
There is always one obvious downside to any coffee maker that uses Nespresso capsules and that is the expense. The pods are costlier than other types which means a higher continual cost. Many people are happy to pay that due to the sheer quality they have.
Sboly has the flexibility to swap between K-cups and ground coffee.
Sboly is another company that has made a coffee maker that is compatible with K-cup pods. It's able to work very quickly and you'll have coffee that is ready to drink in 3 minutes. There is also a water adjustment feature that allows you to control how much coffee you want.
It also passed our number one test in being able to make brilliant coffee. It's able to do that in a compact maker that takes up minimal space on a countertop. It's also made with quality materials to give it long-term durability.
The standout feature of this model is that not only can it take coffee pods but it can also be used with ground coffee. It's very simple to switch between the two and allows you to have more versatility in your coffee options.
Cleaning can be a nuisance for many coffee makers. This makes it as easy as possible with an auto-cleaning function that will flush through the system. It also has an automatic turn off to save you wasting energy after you've made your cup.
What we like:
A surprising aspect of this single serve coffee maker is just how compact it is for the level of functionality it has. Part of this is due to the lack of a reservoir but this does mean that you get fresh water every time with your cup.
Perhaps the aspect we most loved about this coffee maker was the flexibility to swap between K-cups and ground coffee. It works by having separate inserts into the machine and therefore you don't have to worry about cross-contamination, you can just swap them over.
We loved how quickly it made a great brew. It's not quite as quick as other options as it has to boil the water but it's still rapid. Cleaning is also simple as you can simply lift the K-cup holder or filter basket out of the machine and give it a rinse.
What we don't:
You could say that this coffee maker is actually too small as it can slip on a countertop due to its lower weight. Filling up the water tank isn't quite as easy as with other models and you can cause a little mess if you're not careful. Those are only minor issues on an otherwise brilliant model.
What is single serve coffee maker?
If you look up a coffee maker then you'll find that most search results come up with a large machine that has a large carafe. These coffee makers will often be able to make a large number of cups of coffee in one go.
A single serve coffee maker instead will give you one cup and one cup only.
If you want to have multiple cups then you will have to start the machine again. The best single serve coffee machines brew very quickly which makes getting multiple cups fairly easy.
Why you should get a single serve coffee maker
What people love about single serve coffee makers is the lack of waste as you only get the exact amount of coffee you want.
With many other types of coffee makers, a full carafe is filled up. This can mean that a lot of it ends up being thrown away.
The negative aspect of a single serve is that if you wanted multiple cups, it does take a lot longer.
You also have a limited number of options if you have a pod machine. What you do get, however, is a consistent and fresh cup time and time again.
The vast majority of single serve coffee makers are also very simple to use and that can definitely be said of the four options that we have looked at here. You can get brilliant coffee almost instantly with a minimal amount of clean up required. 
The good:
No waste
Consistent taste
Simple to use
Fresh coffee every time
The bad:
More time for multiple cups
Limited options with pods
How does a single serve coffee maker work?
These machines almost all work through a fairly simple system.
You'll put the water into the tank which will then be pulled up through the system to the heating element. This is then either passed straight into the filter basket for drip coffee or into a needle for pod coffee.
The needle increases the pressure which goes into the pod to release the coffee inside.
A lot of them will then have a filter to prevent any grounds from getting into your cup. The coffee will then pour into your cup and you're left with perfect coffee.
Key features of a single serve coffee maker
Drink options
One of the first things you need to think about is what type of drinks you want available.
Some coffee makers are only able to make a limited number of drinks whereas others have a much greater range. A lot of people don't want to be limited to just a few types of coffee.
A great aspect of K-cups is that you can have a lot more than just coffee. You can have a hot chocolate as well as tea. This is along with many different types of coffee.
It's a similar range to Nespresso which is why they have gained a huge amount of popularity.
Many people think that you won't be able to take tea or coffee in a drip filter coffee maker but you can if you wish. This means that you can have more options than just using ground coffee but you'll want to ensure that it's fully cleaned first.
We've looked at four options here that can support a wide range of drinks. Before you choose your coffee maker to double-check it'll be able to make all the drinks that you want.
Build quality
Not all coffee makers are built the same and they can vary quite dramatically in terms of how much they cost. Constantly high temperatures are required and also they have to deal with a lot of pressure. If you don't get a highly rated model then you risk it breaking after a few uses.
We only looked at single serve coffee makers that have a high level of build quality and can cope with the demands.
The AdirChef Grab N' Go Personal Coffee Maker is the lowest quality coffee maker that we looked at with its plastic surroundings but the actual quality of its construction remains high.
Build quality is also a lot more than just the materials used. Having a well-made coffee maker will also mean that you will get consistently good results time and time again.
Pod or filter coffee
When you're looking into getting a single serve coffee maker you have to think about whether you want to use ground coffee or pod/capsule coffee. The differences between them can be quite vast but they can both make great coffee.
The biggest benefit of pod coffee is the convenience of it. You simply put the pod in the machine, let it make the coffee and throw it away once it's done. While it may not seem as though you're getting real coffee, they are now able to make great tasting drinks.
One thing they do lack is variety. With filter coffee, you can have any coffee beans in the world. You can either choose from a wide selection of ground coffee or you can source your own coffee beans and use your own grinder.
The results for both of them can be very good. Filter coffee is seen as the more traditional method but there's no getting away from the convenience of pod coffee. A lot of it comes down to personal preference and there is no clear winner.
If you want to have the best of both words then the Sboly Single Serve Coffee Maker would be a great bet as it's able to use both with a basket for both a pod and ground coffee.
Water capacity
Each coffee maker is going to have a different level of water capacity. This will dictate how much coffee you can make before refilling it.
If you're in a busy environment such as an office then it's a good idea to get a coffee maker that has quite a high capacity.
If you're at home then this is going to be less important. If you're looking for a highly compact model then it's probably going to be the best idea to get a coffee maker that is only able to make a single cup before refilling it.
It's worth noting that the water capacity can have a large impact on the size and weight of the coffee maker. While having a large water capacity may be seen as preferable, it's worth noting the disadvantages that come with it.
Size
Before buying any type of product you want to know where you're going to be putting it. It's a good idea to plan ahead and check the specifications of any coffee maker that you are getting, as some are a lot bigger than others.
If you wanted to have the ultimate in portability then the
AdirChef Grab N' Go Personal Coffee Maker would be a great option as this is highly compact. It's great for those who are on the go and would easily fit into any travel case.
If you had a permanent spot in which to place your coffee maker then you could get something that is a lot bigger. All of the models that we have looked at here are fairly compact but you still want to check that it's going to fit.
As we mentioned earlier, a lot of this can come down to the water capacity. If you have a large reservoir then it's going to take up a lot more space. You may want to sacrifice having that extra water capacity if it means having a solution that is a little smaller.
Usability
Whatever coffee maker you get, it needs to be easy to use. A lot of these coffee makers will involve simply putting in your coffee pod, pressing one button and waiting for it to pour coffee into your favorite cup.
There are coffee makers out there which make it look as though you need a degree to use it.
If it's too complicated then there is a good chance you'll give up on the coffee maker altogether. A lot of people make the mistake of not thinking too much about usability before they buy a product.
Features
As well as knowing what key features are important, it's also good to look for those additional features that are going to help take your coffee maker that extra bit special.
Here we look at some of those that can be featured.
Auto shut off – Most of the time you'll make your coffee and just leave with your cup. If you do this without turning off the machine then you could end up wasting a lot of energy. Having an auto shut off feature is going to cut down on those energy bills.
Auto-cleaning – Cleaning can be one of the most annoying aspects of owning a coffee machine. There are some out there which are brilliant at being able to clean themselves. They will flush water through their system and leave it clean and hygienic.
2-in-1 – Trying to decide between using pods/capsules or ground coffee can be tough. Having a coffee maker that can do both stops you from needing to make that tough decision. If you have your heart set on a specific type then this won't be an issue.
Removable drip tray – However careful you are, you're going to get coffee and water in the drip tray. Having a removable tray allows you to simply throw it down the sink rather than trying to dry it using a cloth or tipping the whole machine.
Removable water reservoir – On bigger models, water reservoirs can be quite big and it can take numerous trips back and forth to the faucet to fill it up. Removing it not only makes it easier to fill up but also easier to clean.
Free coffee – It's always nice to have some free perks whenever you buy a product. If you're getting a coffee maker then it's a good idea to see if they are going to give you any coffee to get you started. With pod machines, this can be a good way to introduce you to a variety of coffee.
Fits a travel mug – Are you the type that likes to grab a morning cup of coffee and then head straight out of the door then it's a good idea to get a single serve coffee maker that fits a travel mug. The AdirChef Grab N' Go Personal Coffee Maker is specifically made for one.
Colors – Coffee machines seem to have a traditional color of black and silver. It's generally a sleek design but many people like to have something a little different. The De'Longhi machine is a good example of one that comes in a nice array of color options.
Brand
There are many well-known brand names in the world of coffee and we have seen two here with Keurig and Nespresso.
That being said, we've also looked at a few other coffee makers which aren't as famous as here we've just focused on quality.
Getting a brand name product can often give you confidence that you're getting a quality machine. That's not always the case which is why it's a good idea to look beyond the name.
The four coffee makers that we've reviewed were done on merit. If you are buying a coffee maker, make sure it has good reviews before anything else.
Cleaning
If you were to ask people why they stopped using their coffee machine, many of them would say it was because cleaning it every time became tiresome.
Having to clean out a filter basket constantly is annoying when you have mushed up grounds in there.
Pod capsules are incredibly easy to clean as they have a minimal amount of mess. With a filter coffee machine, you want to have a filter basket that is simple to clean. It's also a good idea to avoid areas where dirt and grime can build up.
As we touched on before, some coffee machines have an automated cleaning process that can be very useful. Another aspect that can make your life easier if it has removable parts such as the filter basket, water reservoir and drip tray.
Which is better: Keurig vs Nespresso?
The bottom line is: both are brilliant.
They have gained an impressive reputation because of the quality they can give, which means you can't really go wrong with either of them.
That being said, here we look at some key differences.
Pods  – When it comes to the capsules, Nespresso has a better level of build quality with its aluminum pods that can be easily recycled. Where Keurig excels is in their variety as they have a wider range but their pods aren't as good for the environment.
Price – In terms of price, there is only going to be one winner and that is Keurig. That being said, Nespresso capsules are usually hosted on excellent machines and you can always be assured of great quality for your money.
Brew quality – Both types can make brilliant coffee and the difference between them often comes down to personal taste. Nespresso is going to be a better option if you love espresso but if you also like to dabble in hot chocolate and tea then Keurig would be better.
Are single-serve coffee makers worth it?
If you aren't a coffee expert then you may well wonder what type of coffee maker you should get.
It can get a little confusing at times. If you wanted to get a single serve coffee maker then you're not going to be disappointed.
Whether you are using a pod or ground coffee, you're able to get great results. They are reasonably priced and are well-known for their convenience.
Many people swear by their single serve coffee makers and if you get a highly rated model, they will be well worth the money.
Is Nespresso the best single serve coffee maker?
There are many people out there who would immediately say yes. There are also others who love their Nespresso machine but have never tried a different type.
As we've already talked about, for pod coffee Keurig (and others) are great competitors with some preferring K-cups.
Others think that single serve coffee simply means pod machines but that's far from the truth. You can also use ground coffee in many coffee makers and this can get you fresher coffee and also a greater variety.
While Nespresso has undoubted quality, it has many close competitors for the best single serve coffee maker.
Is Keurig better than drip coffee?
A Keurig model certainly has advantages over a drip coffee maker with one of them being it's more convenient to use.
The same can be said of any other type of pod machine, including Nespresso which is why it's preferred by many users.
If you speak to a coffee aficionado then they'll always say that a drip coffee machine is better.
If you want to have premium quality and the freshest coffee then it's hard to say anything other than a drip coffee maker being better. That being said, Keurig can still make great coffee.
What is the best single serve coffee maker?
This is always a difficult question to answer as it depends on what you mean by the 'best'.
If you want the highest quality coffee then you'd need to grind your own beans and use a drip coffee maker. In that respect, the Sboly Single Serve Coffee Maker has the potential to make the tastiest coffee.
But other features can come into what makes the 'best' single serve coffee maker. We've looked at four models here that could all make a case as being the greatest. The best model for you is the one that matches your circumstances.
Do coffee pods fit all machines?
Absolutely not and many people have made this expensive mistake.
This is especially confusing as not all Nespresso pods fit all Nespresso machines. They have their Original line and their Vertuo line which both take different capsules that aren't compatible.
K-cups are very popular as they are able to fit a wider range of machines and not just Keurig models. They are cheaper too.
Before you buy your coffee maker it's a good idea to double-check which pods fit into the machine to avoid making mistakes.
Is capsule coffee real coffee?
This is a question that could start a thousand arguments in coffee shops.
One thing to notes is that the capsules that we've referred to in this guide use ground coffee inside them. In light of that, you can rank your ways of taking coffee in this manner:
1. Freshly ground coffee
2. Pre-ground coffee
3. Capsules
4. Instant coffee
Are capsules real coffee? Well yes, they are and anyone who says otherwise is simply being pretentious.
Are they the best way of having the greatest tasting coffee ever? No, but then again, no-one is pretending that they are.
There is no doubt that capsule coffee can deliver excellent coffee which can taste far better than instant coffee. Also, making great coffee from the coffee grind can take time and a capsule coffee is a lot better than a poorly made fresh coffee.
While coffee experts may turn their nose up at it, coffee capsule allows people to enjoy real coffee from the comfort of their home with maximum convenience.
Conclusion
By now you should have a great idea of what your best single serve coffee maker is. They are the perfect solution for those who want to be able to grab one cup with minimal waste.
There are few reasons why the Keurig K-Classic Coffee Maker was deemed our top pick. It is very easy to use, looks great and most importantly, it makes great coffee.
While it may be our top pick, that title could have easily gone to the Nespresso by De'Longhi Coffee and Espresso Machine, which has many of the same qualities.
If you're looking for something quick and easy instead then the AdirChef Grab N' Go Personal Coffee Maker would be a great bet. It's incredible value for money and great at being able to make that one great cup.
The Sboly Single Serve Coffee Maker Brewer is the best of both worlds as it's able to combine both pod and ground coffee. Its versatility helps to make it stand out as one of the best single serve coffee makers out there.
All the models we looked at here are incredible quality and represent great value for money. This guide should give you all the information you need to choose which one is right for you. Once you've chosen your perfect model then you'll be able to get the perfect single cup time and time again.