While other stove cooktops are becoming more popular, some still prefer to cook on a traditional gas stove. Mainly because the gas burners provide instant changes in the heat setting, giving you more control.
Gas stoves are often more durable than any other type of stove, and they can be cost-effective. They come in very handy in a power outage.
But what are the best pots and pans for gas stoves? Well, that's what we wanted to find out. It's important to get a set that has good conductivity, is well-built and has the right coating.
There are plenty of other considerations too such as how many are in a set, the material they are, and the style.
We've taken all of that into consideration to come up with the top 4 models available today. We've also written a buying guide to give you all the information you need. Let's get started!
Our Pick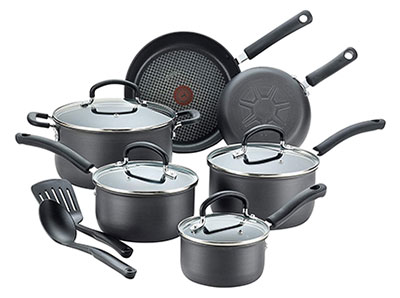 The inside metal has a strong protective layer, making it corrosion and scratch-resistant. It's suitable for almost any stovetop and can be washed in a dishwasher, making cleanup a breeze.
Made from hard-anodized aluminum, this set retains heat at a perfect level, thanks to T-fal's heat mastery system. One of the most vital parts of this system is the patented Thermo spot indicator, which can be found in the middle of the pans, surrounded by rings.
Both the spot and the rings turn solid red to show when pans are perfectly preheated and ready for use. This helps to ensure your food cooks evenly.
From the inside, the aluminum is reinforced with a lead, cadmium, and PFOA-free nonstick interior, making this set perfect for everyday use.
The handles have a silicone coating, making them not only comfortable but safe too because they will always stay cool to the touch.
An additional brilliant feature is the vented tempered glass lids that allow visibility while trapping enough moisture inside for perfect results at every meal you cook.
What we liked about T-fal Ultimate 12 Piece Cookware Set
If you are looking for versatile cookware, you will love this set. Among other pieces, it includes three different size saucepans, plus a large covered Dutch oven.
Whether you are heating a can of soup or preparing a full course meal, this set can handle all your cooking needs.
It's the perfect set for daily use, especially on a gas stove, as it has a pretty fast response time when the heat is being adjusted. All pieces preheat evenly and retain the heat well enough.
If seasoned, nothing sticks to the bottom, even if you burn your food. You will just have to wipe the pans down with a sponge lightly and they will be clean.
The hard-anodized aluminum material makes this cookware durable yet incredibly lightweight, ideal for pots and even better for frying pans. The aluminum makes them resistant to scratches and blemishes, while the copper bottom will ensure they will never rust.
The downsides
For this set to be fully nonstick, you will need to season them with oil before use and use them after at medium heat setting or lower.
Otherwise, the nonstick coating will get discolored and burned. The cooper part at the bottom also tends to discolor. The set also isn't suitable for metal utensils or heavier scrubbing.
How we picked
The gas burner's flame tends to damage your cookware both from the inside and the outside. For this reason, the main thing that you would need to concern yourself is the material of your pots and pans. It has to flame-resistant from both sides, so a cheap nonstick coating is out of the question.
You should also avoid the pans with a colorful exterior, as they get discolored and burned too quickly. Opt for a black or dark gray one instead with a stainless steel bottom.
After this, we also looked at their overall durability, performance and other features such as the comfort of the handles and the ease of use.
The best pots and pans for gas stoves are undoubtedly the ones that are made of durable, resistant materials that react well to the heat source.
For example, pans made of a combination of stainless steel and copper are great heat conductors while offering a more even distribution of heat to cook your food perfectly.
After browsing the market carefully, we have chosen to highlight some of the best pots and pans suitable for gas stoves, so you can find the perfect ones for you.
Best pots and pans for gas stove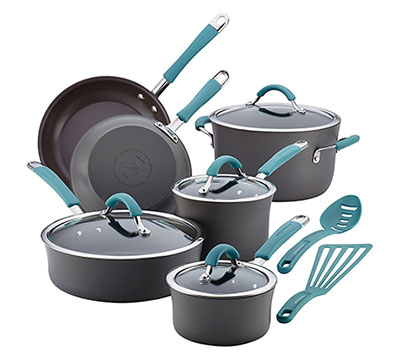 Although lightweight, the set's material is twice as hard as stainless steel and capable of withstanding very high temperatures, making them perfect for gas stoves.
Are you looking for a cookware set that even comes with complimentary utensils?
If yes, this Rachael Ray set is the perfect choice for you. The hard-anodized aluminum body provides fast and even heating while ensuring its durability.
The long-lasting, PFOA-free nonstick coating is dishwasher safe and offers super easy cleanup. This is also true for the reinforced glass lids that have wide stainless steel rims. They seal in heat and moisture, but it doesn't dry onto them or leave marks, as it often happens with glass lids.
The handles are made of stainless steel and are covered in silicone, making them comfortable and safe to use while hot. They are also dual riveted to ensure their durability and capability to handle high weights.
What we liked about Rachael Ray Cucina Pots and Pans
These pots and pans are not only attractive, but they work brilliantly. The heat seems to spread evenly throughout them, and the nonstick coating truly lives up to its name, saving you from using a lot of unnecessary oil.
You also won't have to worry about any chemical release as they heat up. They also wash up very nicely, and they are even durable enough to be washed in the dishwasher.
If you are a beginner in the kitchen, this is the perfect set for you, as it has every element you need for basic cooking techniques. Because it's made of aluminum instead of steel, it's lightweight you will find yourself reaching for this set every day.
The silicone handle that stays cool is also a nice touch and is quite helpful when you are learning your way around the kitchen.
The downsides
Unlike the heavier handles, the pots themselves are almost too lightweight and too slick at the bottom. As a result of that, the dishes keep tipping and sliding over any type of stove, whether it's glass or gas.
You will have to be very careful when handling this cookware to avoid any accidents.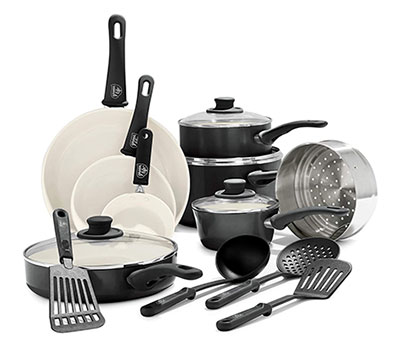 The nonstick ceramic coating is super slick, making the food slide off from them. Plus, the pan's whole inner surfaces are smoother, without bumps from screws for the food to get caught. They do provide an excellent value to their prize.
This cookware set includes pans and pots of various sizes. All of which have an inside, easy-to-clean ceramic nonstick coating that's free of toxic materials such as lead, cadmium, PFOA, and PFAS.
You'll get an effortless nonstick performance with the added benefit of preparing your food in a much healthier way. That coating is partly made from sand and 60% less CO2 is used in its production. Most importantly, however, it performs very well.
The GreenLife pans themselves are made of recycled aluminum, which also makes them a great environmentally friendly product. As does the fact that they are made durable with a reinforced base, so you will produce less waste.
The reinforced base also helps with even heat distribution to cook your food to your satisfaction and it won't warp or wobble over time.
The handles on this set are made of Bakelite which always stays cool to the touch and is easy to grip independently of the heat setting or stove type you use.
Plus, the glass lid won't fog up, and you will be able to check your foods cooking progress constantly.
What we liked about GreenLife Soft Grip Pots and Pans Set
These pots and pans have flat bottoms, which makes them perfect to use on gas stoves. Plus, they also warm up much faster than similar products, and once they are warm, they will cook your food quickly.
This eliminates the need for cooking on high heat, saving you lots of money for energy consumption. With this GreenLife set, you will never have to worry about undercooked food.
These GreenLife pots and pans are easy to fit in every kitchen, not only because they are highly functional. They come in lots of different colors too, which are quite durable even if you use them daily on a gas stove.
The downsides
Although the set comes with complimentary utensils, they are far lower quality than the pots and pans themselves and can't be used for too long.
The set isn't suitable to use at the highest temperatures as this will wear away the ceramic coating fairly quickly.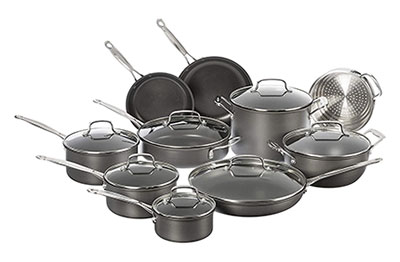 The premium nonstick cooking surface is reinforced with titanium to ensure you won't need any kind of oil, perfect for healthier low-fat cooking options.
Made with a hard-anodized exterior that's even tougher than stainless steel, this set promises you extra durability and professional performance.
This structure also provides a more even heat distribution, without any heat concentration, essential on any stove.
And it's easy to clean with just a wipe of a sponge and a little bit of detergent. What's more, the pans in the set also have handy measurement markings on their interior.
This Cuisinart set includes multiple cookware pieces that can be useful in everyday cooking situations, plus additional items for special occasions.
And all of them have stainless steel riveted handles that stay cool on the stovetop. They also provide a safe and solid grip without using a mitten or towel.
Their lids are made of tempered glass that allows you to monitor food as it cooks and fit tight to seal in moisture and nutrients for more flavorful results. Moreover, the tapered rims of the lids eliminate drips while pouring.
What we liked about Cuisinart Chef's Classic
These Cuisinart pots and pans look very nice and are relatively heavy, plus, seem to conduct heat well. All this makes them perfect for gas stoves where you need more even heat distribution from cookware. Despite their weight, they have an ergonomic design and are easy to use.
The set includes various different-sized pans, so you can easily find the one that fits your every cooking needs. Customers found the size of the Dutch oven is especially ideal.
Not to mention the fact that it doesn't need as much time to heat up as similar products. Another great piece in this set is the steamer that's possible to use in pots of various sizes, even outside this set.
After a cooling period, the interior is super easy to clean by hand, using only a soft sponge, even if you burn something slightly in them.
All the pots and pans cook evenly, without hot spots, which often happens if you are using a gas stove. And you will hardly need to use any oil anymore, so you can cook healthier meals.
The downsides
Unfortunately, the lower price of this set reflects on the quality of the nonstick interior finish. You will notice scratches on it after a while so it's a good idea to use good quality silicone utensils with them.
Another thing to mention is that all the lids get too hot, quickly. They are also hard to clean, and if you boil over something in them.
Why you should get pots and pans for gas stove
Choosing the appropriate pots and pans for a gas stove is crucial for many reasons. The first and most important of those reasons is durability. Unlike other stovetops, gas burners are extremely demanding toward your cookware because of their flames.
Low-quality pans can't withstand the temperature of the gas burners and often get discolored and burned. This means you will need to replace them quite often unless you buy a good quality one.  
The second reason you need to get the best cookware is to conserve your health and safety. Low-quality cookware can be dangerous, and not only because it can cause burns and injury due to breaking.
If you buy pots or pans with nonstick coating, you will need to ensure they don't contain any toxic materials. These can be released during cooking, and their fumes can penetrate your food.
A good quality coating doesn't have anything harmful in it, neither can it be scratched easily, so it can't get into your body. 
Yet another reason to opt for the best pots and pans is saving money and energy. Of course, by saving energy while cooking in a dish with good conductivity, you also save on your monthly bills, so it all comes down to monetary savings.
Buying the best quality pots and pans you can afford could be a good investment because they will last for many years to come.
The good:
Quality cookware can save you a lot of energy
It's better for the environment and your health
You can cook healthier foods with less oil
They are easier to clean by hand or in the dishwasher
They will last far longer than cheaper options
The bad:
The best cookware often comes at a higher price
It's hard to find a dish that has all the perfect qualities
Things to consider before buying the pots and pans
Material
Aluminum: Pans and pots made from aluminum are perfect for beginners because they are lightweight and easy to handle. Aluminum heats up quickly and helps to conduct heat more evenly throughout the pan.
However, as aluminum tends to react with food, it's not exactly a healthy option. Its best used in combination with other materials that can seal its harmful effect.
Stainless steel: Stainless steel cookware is a popular choice due to its supreme heat conduction, although it does take time to heat up. The good thing about stainless steel cookware is that it doesn't react with food.
Moreover, it's a worthy investment as it's a highly resistant and durable material. The bad thing is that it requires proper maintenance to be nonstick or even low stick. It's often combined with aluminum to achieve the best results in cookware.
Nonstick: Nonstick pans come with a coating that's often made from synthetic materials, such as Teflon, to prevent the food from sticking. It does require less oil while cooking, plus you can easily wash them, either by hand or in the dishwasher.
However, they often contain harmful materials that can be released into your food. Pots and pans with ceramic coating can also be nonstick, and they aren't full of chemicals, so they are a better option.
Cast Iron: Cast Iron pots and pans are the most durable option. Besides, they have an excellent heat retention capability, so you can cook even after turn off the heat, saving energy.
However, they often require special maintenance, such as not washing them with soap or in the dishwasher or not leaving them wet.
Additionally, you will have to season them constantly as they aren't nonstick at all. And while it might be convenient to let them cool off slowly, you will have to wait the same amount of time to heat up too.
Copper: Although copper cookware is less frequently used, it has the strongest heat conductivity. It is also lightweight, but similarly to the aluminum cookware, copper may also emit harmful chemicals in high heat.
This problem is often solved by lining copper dishes with stainless steel that seals them off and is far more durable. Because, despite it being rust-resistant, copper is a lot softer, so it's often warped, and it wears down a lot quicker than steel.
Conductivity
From stainless steel cookware to ceramic pots and pans, there are dishes made of many different materials. Each of those has a very different coefficient of conductivity.
Good quality cookware could provide an even distribution of heat and cook your food quickly without hot spots. This is usually achieved in the best way with cookware made from multiple materials of different thicknesses.
Of course, dished made from more than one quality material will cost more.
If you want good conductivity at a lower price, you will have to sacrifice other features. For example, copper cookware is the best heat conductor, but it also requires the most maintenance. And while it's in a lower price category, it also lasts a shorter amount of time than others.
On the opposite end is a cast-iron skillet that can last for generations, and it spreads the heat pretty evenly. But by the time it heats up, your meal could be half-cooked with a different pan.
So, if you don't want to spend more time cooking than necessary, and if conductivity is your principal focus, you should opt for aluminum or cast aluminum cookware. These will conduct the heat in an even way and won't take too long to heat up.
How many in a set?
If you are buying cookware set as a gift, the more different pieces it includes, the better, especially if it's an occasion like a wedding or housewarming.
If you are buying a set of dishes for yourself, you will need to think about what you will use. Cookware sets often include similar pots or pans in two different sizes, but you might need only one.
Of course, this set might come with other items that could be useful, but to get those, you can end up with unnecessary pieces. Similarly to when you are shopping for groceries, make a list of pots and pans you might use and browse the sets accordingly.
As a note of caution, cookware assortments are always counted by the number of pieces sold, and this number includes lids. That means that in a 10-piece set, you will probably only get 5 or 6 pots and pans with 4 or 5 covers.
When it comes to buying cookware sets, you need to consider the usage of each item included. While cookware sets might seem like a good deal, if there are items you won't use at all, buying the whole thing may not be cheaper than buying the pieces you will use individually.
Coating
According to their coating, pots and pans can be classified as:
Non-coated ones – Some materials have natural nonstick abilities, such as ceramic, stainless steel, and cast iron. These are often left without any special coating and can only be used with oil or butter as a seasoning but are excellent in withstanding higher temperatures.
Coated ones – These can be either pure aluminum or stainless steel coated with a fine film of low stick or nonstick material both from the outside and the inside. Some of these are only suitable for medium temperatures or lower, depending on their finish.
Cladded ones – Cladding is the blend of two materials, with or without a final coat. These are the most recommended ones as they usually have better properties than the materials had separately. And if they happen to have a nonstick feature as well, even better.
Size
The size of your pots and pans could matter for a couple of reasons. The main one being the number of people you are cooking for.
So, if you are going to cook for a family or a large number of people, you will need cookware that is large enough to accommodate the whole dish at once.
This is the most practical solution, and it depends on the recipe as well.
But if you can cook it in one large dish, why would you do it in batches?
Larger cookware will save you a lot of money and energy.
Speaking of saving energy, you should never use smaller pots or pans on larger burners because this dissipates too much unnecessary heat.
If you are cooking for two or three people, use smaller pots and pans on the smallest burner possible, using well-fitting lids.
Handles
When choosing pots and pans, their handles are often overlooked, although they are essential parts of any cookware. Most cookware comes with built-in handles, but the quality of the joining is significant.
If it's not wielded strongly enough to the cookware, the handle can break off under the weight, especially if it's a bigger pot. 
The handles should also have a good grip, so you can hold them for longer if necessary, independently of the weight. Plus, they will need to conduct heat well so that they can withstand high temperatures.
At the same time, they need to stay cool or, in the worst case, slightly warm to the touch. This can be tricky if you are using a gas stove, as the flames heat the cookware very quickly. Silicone-coated handles usually perform well even at the highest temperatures.
Lids
It's recommended to buy pots that already have their own lids, as these should fit them perfectly. And if they are of good quality, they usually do.
You can always buy covers separately too, but you will have to make sure they fit tightly into the pan. The tighter the fit, the more moisture they will hold in, keeping your food soft and shortening your cooking and cleanup time.
The second thing you need to check is if they are clear or not. Clear glass lids make it possible for you to see your food while cooking. However, with clear glass lids, you should look for higher quality, as cheap ones often crack.
A tempered glass lid with a small hole to alleviate the pressure is ideal for gas stoves where you might use higher temperatures.
The final thing you need to check on the lids is their handle. Ideally, it's coated with a heat-resistant material, so it doesn't burn your hand when lifting it.
Make sure to check the manufacturer's instructions about the temperature the lids can handle.
Ease of cleaning
Cleaning the dishes is hardly anyone's favorite chore, so you need to make sure your cookware is as easy to clean as possible. Make sure to get pots and pans with a smooth cleaning surface.
This is especially important for the interior, where food might get stuck on screws and the lids. It can be very annoying when boiling over something and trying to clean a glass covering from the stains.
For best cleaning results, you should get cookware with nonstick interior coating or something that's easy to clean even after food gets burnt or stuck, such as stainless steel.
Just make sure the protective finish is non-toxic and durable, or you can expose yourself to some dangerous health risk.
When it comes to cleaning cookware, it's recommended to stick to the manufacturer's instructions. This can elongate the lifespan of your product and often affects the warranty.
If you want to wash your pots and pans in your dishwasher, you should opt for one that's dishwasher safe. It has to be of a durable material, which also means it will cost more.
Design
While this might be a less important feature than functionality, it can also be a deciding factor when you buy your next cooking set.
Why?
First of all, if you don't particularly like to cook, you would want to do it even less with an ugly kitchen set that doesn't fit the rest of your kitchen.
Plus, nicer-looking dishes are often made of higher quality materials and are far easier to maintain. They have a fine finish and fewer nooks and crannies where the food can get stuck.
When you are buying cookware for gas stoves, you will also have to think about the flames. As it often causes discoloration even of better quality dishes, you should probably opt for a darker-colored pot or pan, so the damage will be less visible.
You could probably find even lighter colored ones with a special flame-resistant enamel, but be prepared to pay a lot more for them.
Warranty
Whether you are buying a cookware set for yourself or as a gift, you expect its lifetime to be measured in years, not months. For this reason, the warranty offered by a manufacturer is quite important.
Indeed, the price of a product often goes up with the length of the warranty period. But then again, so does the quality.
Before buying a cookware set, you should always check its warranty period. The longer the warranty lasts, the more confident manufacturers are about their products.
This way, you can be confident in the cookware's durability and exchange it more seamlessly if needed. And don't forget to make sure the warranty covers the whole product or at least the functional parts of it.
Frequently Asked Questions
What pots and pans does Gordon Ramsay recommend?

As a professional chef, Gordon Ramsay recommends buying high-quality, durable cookware with nonstick features. From the pans, he usually uses nonstick coated ones which use little oil.

They also have to be dishwasher-safe and oven safe, and free of PFOA to protect the environment. If they have a thick base, they will be perfect for browning, braising, searing, and deglazing.

He also recommends using saucepans with perfect fitting lids to hold moisture and larger pots with a reinforced heat-resistant grip handle to help in lifting.

If you find pots that are the right size, they can have a versatile function, from preparing sauces and soups to pasta and even puddings.
Can you use nonstick pans on a gas stove?

It depends on the heat setting you use. Although low or nonstick pans and nonstick coated cast-iron, aluminum, and copper-core pans provide even heating, they do not fare well on high heat.

The protective coating gets burned quickly, and the functionality of your pan gets lost. But as long as you stick to using your burner on a medium or lower setting, you can use nonstick pans safely.

This way, you will save energy on cooking and cleaning and cook healthier, as nonstick pans require little to no oil.
Is ceramic cookware good for gas stoves?

Ceramic cookware is excellent for gas stoves because ceramic pots and pans can withstand much higher temperatures, even the highest of a gas stove.

Although from all the cookware that's advertised as ceramic, only some are is 100% ceramic. Most of them only have a ceramic coating and lack the non-reactive, metal-free factor.

Ceramic cookware is also preferred by chefs as it has a nonstick or low stick property, which makes it more durable. Not to mention the scratch and stain-resistant features, so it takes only wiping them with a wet sponge and a little soap to clean them after cooking.
Can cast-iron pots be used on gas stoves?

Yes. Not only can cast iron pots be used on gas stoves, but they are one of the most suitable ones for this type of stove.

They have the capabilities for slow and even heating that works best over a low flame and at the same time can withstand high temperatures as well.

No matter how high the fire hits the pots, cast iron pots cook the food evenly without burning it or drying it out.

However, unless you buy enameled cast-iron cookware, you'll have to use a layer of oil to create a nonstick coating pretty much every time you use the pots.
What kind of pots and pans do professional chefs use?

When it comes to pans, professional chefs usually use either copper, cast iron, or carbon steel. It all depends on the purpose of the pan. For example, copper heats up the quickest, so it's excellent for line cooking, while carbon steel is a low stick and easier to clean.

For pots, the pros choose either stainless steel brazier pots or ceramic coated saucepans. The first ones are popular because they come in larger capacities. On the other hand, the second ones are more lightweight and naturally low stick.

But in any case, professional chefs recommend steering away from synthetic nonstick materials, such as Teflon, because of their high toxic fume release.
What is the healthiest cookware to use?

The healthiest cookware of all times is undoubtedly the ceramic one. The best quality ceramic cookware is made of 100% clay which is a natural, non-toxic material.

It has some natural nonstick properties and does not emit potentially harmful fumes. This makes it not only the healthiest option for you but also the environment.

Plus, good quality, natural materials are always more durable than synthetic ones.

If you are looking for cookware that has more nonstick properties, try stainless steel. These also don't have a harmful coating and are durable as well.
Conclusion
So, which of all these sets is the best cookware set for gas stoves?
The answer to that question is going to depend on your personal preference and needs. Maybe you need one that comes with utensils, or you like the convenience of placing your cookware in a dishwasher. But in any case, you will need a robust set that can withstand the high temperature and pressure of the gas.
All of these pots and pans were brilliant but our favorite had to be the T-fal Ultimate 12 Piece Cookware Set. It has the perfect mix of qualities as the set is easy to use but also highly durable. The Cuisinart Chef's Classic 17 Piece Set has many similar qualities and is another brilliant option.
If you wanted to have something a little more stylish then we'd recommend the Rachael Ray Cucina Pots and Pans. It's available as either a 12 or 14 piece and performs as well as it looks. There are a few color options available so you can get the perfect match for your kitchen.
If you're environmentally conscious then you may want to get the GreenLife Soft Grip Pots and Pans Set. They are made from recycled aluminum and use 60% less CO2 emissions in their construction. Crucially, they also have an exceptional range of qualities.
We were very impressed by all four of the sets we looked at here. While they all have quality in common, there are differences between them and you need to think about which features are most important to you. Once you do, you can enjoy cooking in your perfect new set.