No matter how careful you are with moisture in your home, mold can happen. As it builds up it can become dangerous, along with being ugly to look at. This is why you need the best mold killing primer to prevent it from being a problem.
What is the best mold killing primer? That's what we wanted to know. We looked at a range of different models to determine how effective they were. Along with the mold performance we looked at how easy it was to apply, the finish and many other factors.
We spent hours on this research so you don't have to. In the end, we found four exceptional models which were all impressive in their own way. We completed in-depth reviews on each of them and have written a buying guide to give you all the info you need. Let's get started!
Our Pick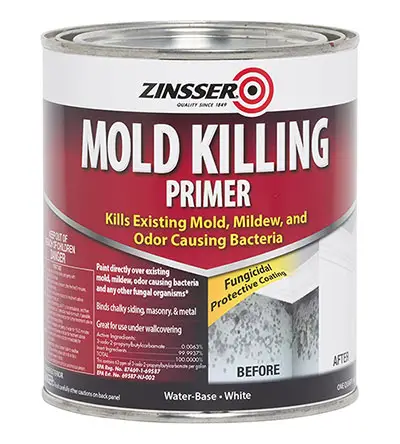 It not only kills mold but it will also get rid of mildew, moss, fungi and bacteria. It's a highly versatile white paint and this model comes in a one-quart tin that is very well priced. You'll love never needing to worry about mold ever again.
This made our top pick as it's simply the best mold killing primer out there. It has been specifically made to be painted over existing mold spots. Once you put this primer down, you won't have to worry about any old spots of mold coming through your paint.
That versatility is shown by this paint being suitable for a wide range of different surfaces. It can also be used either indoors or outdoors so you'll always have use for it. It will also bind to chalky sidings, masonry and metal.
It's very easy to work with. One tin of this paint will cover an area of use to 160 square feet. It will also only take 30 minutes to dry and you can apply another coat within an hour. It's highly effective and will produce the exact results that you're looking for.
What we liked about Rust-Oleum
There is no doubt that the best feature of this primer is just how effective it is. It's perfect for any environment where mold is likely. If you're constantly fighting against mold then this is going to make your life a lot easier.
That's helped by its wide level of compatibility. You can use this on any type of surface due to its strong adhesion. Whether you need it for indoors or outdoors, this is going to work very well and allow you to provide a great finish over the top.
You can use any type of topcoat with it and you won't have to worry about any blistering or peeling issues in the future. It will also resist stains and doesn't have much of an odor. It's a fantastic primer that ticks all the boxes in terms of what you're looking for,
The downsides
In terms of performance, this primer can't be disputed. There are a few things to be aware of, however. There have been some delivery problems where people have received primer that has dried up. Thankfully this appears to be a very rare issue.
How we chose the best mold killing primer
There are many factors we measured in choosing the best mold killing primer. Above all else, our number one consideration was how it performed in preventing the growth of mold. We only chose primers that achieved exceptional results.
We also looked at what types of surfaces it adhered to and whether it was more suitable for inside or outside works. How easy it was to apply was also another important factor, as was the amount of surface area it was able to cover.
After that, there were other key specifications to consider such as the type of primer it was, the size of the tin and the color available. Finally, we also appreciated that your budget is going to play an important factor. We took all of this into account when working out the best mold killing primer.
Now let's have a look at the best alternatives.
Best mold killing primers
It's another water-based primer that does an excellent job at protecting against the growth of mold and mildew.
For those looking for a primer in high-moisture environments, this is going to be perfect. It works very well in kitchens and bathrooms where the high humidity not only promotes the growth of mold but can also ruin paint over time.
It's also highly adept at blocking out medium to heavy stains so will ensure that your surfaces are always looking their best.
The adhesion of this primer is excellent and it gives a great base for whichever top coat you want to use. More benefits from this primer include it having a minimal level of odor and a low VOC content. It makes it very easy to work with and environmentally friendly.
It's easy to brush on and a gallon of the primer will cover between 300-400 square feet. This is a one-gallon tub so you'll be able to get a lot of work done with it. It's another great option, especially for those who need a primer in wet environments.
What we liked about KILZ
The biggest feature of this primer is the fantastic ability to work in wet environments. While you'd still be able to use it outside of these areas, its ability to protect against mold in kitchens and bathrooms is exceptional and will give you peace of mind.
There are plenty of other great features of this primer. It has a very high level of ability to block household stains while also being easy to work with. Application is going to be simple and you'll soon have a perfect undercoat.
Importantly, the finish you get is going to be smooth and level. This allows your topcoat to look as good as possible. This model also dries fairly quickly and has a very low VOC content. It's another impressive option and could have easily been our top pick.
The downsides
While this works perfectly for bathrooms and kitchens, it is quite limited in its use. It's not ideal for exterior use so you'll want to ensure that you don't get too much. If you only need it for those indoor surfaces, however, then it's going to be perfect.
Now let's have a look at the best alternatives.
The ability to seal in the primer is fantastic which makes it suitable for areas that other primers would struggle with.
For those looking for an excellent primer that would be perfect for any type of surface, this would be a brilliant option. It's an acrylic primer that will adhere very well to any difficult areas and give you an excellent base for a consistent top coat.
An impressive feature of this primer is that it also works as a sealant. It makes it very good on porous surfaces and you'll never need to worry about water stains getting through. The primer also has a water base that makes it very easy to work with and gives it low toxicity.
This primer is excellent at cutting down preparation work. You'll need a minimal number of coats once it has been put down, you don't have to worry about getting a separate sealant and also you don't need to worry about previous stains or the type of paint that was previously on the surface.
You can buy it in either a 1 gallon or 1-quart tin which gives you more versatility and allows you to get exactly as much as you need. It dries fairly quickly and one gallon of the paint would be able to cover anywhere between 300-400 square feet.
What we liked about INSL-X
There are many things to like about this primer. Firstly, application is very simple and you'll be able to get a full coat in no time at all. This is aided by you being able to apply it with a roller if needed but you can also use any brush you want.
Its range of use is excellent as you'll be able to apply it on a wide range of different surfaces either indoor or outdoor. That versatility means you'll never need to worry about wasted primer and that is helped by the two size options.
Along with all of these qualities, the primer also has a high level of durability so you won't need to worry about repainting for many years.
The downsides
While the application may be simple, when you can apply it is a little restrictive. For the best results, you'll need the temperature to be between 50F and 90F. That won't be a problem for most people but could be an issue in summer or winter.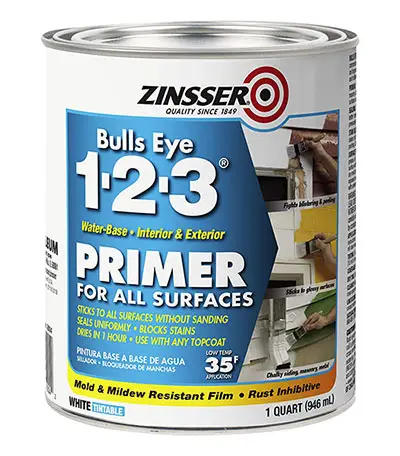 It's a latex primer but one that is water-based. This gives you the best of both worlds as you get the performance of oil-based but with a much friendlier primer.
Our final primer is another excellent option from Rust-Oleum. Unlike the other models we looked at, this one is suitable for both indoors and outdoors. It comes in a tin of either a 31.5oz or quart tin to ensure you're only getting exactly what you need.
It bonds excellently to surfaces that other primers often struggle with. Once it does, it gives you an excellent base for a topcoat. The end result will be high-quality painted surfaces where you'll never need to worry about the development of mold.
Not much preparation will be required with this primer as it will stick to any type of surface without the need to sand it. Once applied, you're going to get a uniform finish that will also be highly resistant to any stains showing through the paint.
You'll be able to use it anywhere while also being able to put any type of topcoat over it.
What we liked about Rust-Oleum Zinsser
As with all the primers on this list, this has a very good anti-mold performance. It will provide a uniform film that will block any build-up of mold and mildew. Added to that, it's also going to block any stains from coming through as well.
Surface preparation for painting can be a painstaking and boring task. With this primer, you'll be able to avoid all of that and jump straight into painting. It will adhere to almost any surface and once you apply the topcoat, you can get a stylish surface in no time at all.
Another unique aspect of this primer is that it's ideal for darker top coats, which isn't always the case with other primers. As with all the primers here, it's also easy to work with and the application isn't going to take very long at all.
The downsides
We noticed that the packaging for this primer wasn't the best. Quite a few users have received damaged tins, which is frustrating. Also, the primer is fairly thin which means the coverage area isn't the best as you may need more than one coat.
Why you should get the mold killing primer
There are many reasons why you should get the best mold killing primer. The most obvious one is that it's going to give you great protection against mold. You won't have to worry about the constant re-growth that you can get with standard primers.
Due to their performance, they will also be able to hugely cut down on your preparation time and allow you to get the job done much easier. You won't need to spend hours of scrubbing and sanding to ensure the surface is in perfect condition.
The adhesion on these primers is also exceptional and that allows the topcoat to look fantastic. It will continue to look good as well as these primers also work to block stains. They can be a little more expensive than regular primers but many will see it as money well spent.
The good:
Future protection
Cuts preparation time
Prevents stains
High-quality adhesion
The bad:
More expensive than standard primers
Things to consider before buying the mold killing primer
Surface compatibility
Different surfaces all have different demands and you need a primer that is suited to whatever surface you need to paint over. The Kilz Kitchen and Bath primer is a good example of one that excels in specific surroundings as it has been made for those humid indoor environments.
The Insl-X model, on the other hand, can be used both indoors and outdoors. Not only that but it also doubles up as a sealant which makes it ideal for painting onto porous surfaces. Due to this, the primer can be used on wood and drywall along with the likes of galvanized metal and cement.
The most important thing to note is that not all primers are going to be ideal for all types of surfaces. It's a good idea to make a note of the type of surface you'll be painting over and then get a primer to match that. Once you do, you know that you'll have no problems with adhesion.
Application
It's important to know how you plan on applying your paint. There are three main types of methods and they are a sprayer, roller and a brush. The brush is going to be the most common form of paint application but it's also the one that takes the most time.
You should be able to use all types of primer with a roller. This can dramatically cut down on the amount of time your painting for. It also makes painting multiple coats a lot easier. This can be a difficult option if you're trying to paint in tight spaces. You may also find that using a roller can be difficult when using particularly thin paints.
Another option is using a paint sprayer. This can be the quickest solution of them all but it does have its downsides. It's the most inaccurate of the three solutions and the one where you'll have the most waste. It also doesn't work very well with thicker paints unless you have a powered sprayer.
If you want to use either a sprayer or a roller then you should check to see that your primer is going to be compatible with it. If they are then it can help to make your life a little easier. The other option is to simply use the tried and trusted brush.
Surface area
Before getting to work, you should have a rough idea of what surface area you need to cover. High-quality primer can be fairly expensive so you don't want to end up with a lot more than you need as that's going to be a waste.
Likewise, you don't want to stop halfway through a job as you've run out on primer. The surface area is fairly easy to work out. You can multiply the length and width of all the surfaces you need to paint and then add them together.
This is only accurate on square and rectangular surfaces but you can use a rough estimate for other shaped surfaces as it doesn't need to be deadly accurate.
Most primers should be able to cover between 300-400 square feet per gallon. With this figure in mind, you can work out how much you're going to need. If a gallon is a little too much then look for a primer that is sold in quarts.
It's also important to know if you'll need one or two coats on your surface. If you have a particularly challenging surface then you may need to double up on your paint. The surface area stated in the product description will be how much it can cover with one coat.
Drying time
If you wanted to get the job done quickly then you'll want a primer that has a short drying time.
One of the benefits of water-based primer is that it dries much quicker than oil-based paints with some being dry in just 30 minutes.
The actual drying time will alter from one product to the next, so it's good to check this if you wanted something particularly quick. For a lot of people, this won't be much of an issue as they'll be willing to wait for a long time between coats.
Preparation
Different primers are going to require different levels of preparation. For some, you'll need to sand down a surface and make sure that it doesn't have any imperfections. For others,  you can pretty much apply the primer with any type of surface condition.
Even though all of the primers we've looked at here are great at tackling mold, it's always going to be a good idea to try and remove some mold beforehand.
Unless your primer specifically says that you can apply it over the top of the mold, it's best to try and remove as much as you can.
Base
Primer paint generally has a base of oil or water. The difference between the two has long been debated with many saying that oil-based paints provide a better and smoother finish. They are also more durable and therefore suited to high-traffic areas.
While oil-based primers may have been better in the past, it isn't really the case now due to the advancement of water-based primers. They now have those same qualities while having the additional benefits of a water base.
Water-based primer is a lot easier to work with, easier to clean and doesn't have the same VOC content which means it's healthier for you and the environment. Oil-based primers are also very slow to dry which is why we prefer to use the alternative.
Application and Safety Guide
Before applying your mold killing primer, it's important to think about your safety. You still want to clean off as much mold as you can and this involves coming into close contact with mold spores. Prolonged exposure to mold can cause a wide range of health issues that you'll want to avoid.
If you're dealing with a huge amount of mold then you may need a respirator but a face mask would be good enough in most situations. While working near mold spots, it's also important to try and keep the area well ventilated at all times.
There are quite a few cleaning options to try and remove mold from your walls but using a one part bleach and three parts water solution is usually seen as the best. Using bleach also increases the importance of wearing the appropriate face-covering along with putting on rubber gloves.
How much mold you need to remove will depend on the type of primer you have. Some of them can be applied over the top of the mold. Even if they can be, you'll still want to give your walls a wipe down to ensure the most serious spots are leveled off.
If you didn't want to use bleach, then there are other solutions that you can use such as ammonia, borax and hydrogen peroxide. If you wanted a solution that is friendly to use then white vinegar would also be an effective solution.
Once you have safely removed as much mold as you can then you'll want to wait for the wall to dry. Keeping the room ventilated will help to cut down any drying time. Applying the paint before it has fully dried can cause adhesion issues along with having a bad finish.
When it's dry, you can then apply your primer of choice. If you choose a water-based primer such as the ones we've looked at here then you'll find it easy to apply. Unless you're using a sprayer, you also won't need a respirator any more.
Once you've applied the first coat then you'll need to look at whether or not you'll need a second coat. We cover this in more detail in the FAQ section. Once you're all done then you'll finally be able to put on that topcoat.
Frequently Asked Questions
Does mold killing primer really work?

All of the primers that we've looked at here are highly effective in preventing the growth of mold. While that is true, you shouldn't expect miracles from any primer. This is why it's best to apply a mold killing solution before you start to paint.

Not all mold killing primers are the same which is why it's important to know exactly what you're getting. If you get a cheap solution then it's probably not going to be the most effective at preventing the growth of mold.

We've chosen four here that have been proven to work in a multitude of different environments. It's important to get the one that most closely matches your needs. If you do, then you'll find that your mold killing primer works great.
How many coats of primer should I use?

The answer to this question is going to depend on a few different factors. This includes the material of the wall, the color of the paint and the type of primer that you use. On some surfaces you'll only need to apply one coat, on others you may need a couple.

It's best to assess it after your first coat of primer dries. You'll usually only need one coat if you're painting over a previously painted wall. If you're painting over plaster or unfinished drywall then you may need a couple of coats.

The need for primer can largely depend on how much of the paint is going to be absorbed into the surface. This will help to prevent any bleeding into the paint and also any stains. You can use your own judgment on this and see how well the primer has been applied.

The results of a good primer can make all the difference for a topcoat. If you have a well-primed surface then you may only need one layer of topcoat. If you're in doubt then it's probably going to be a good idea to add another primer coat.
Does vinegar kill black mold?

Vinegar is known to kill around 80% of mold species and can be a highly effective treatment against black mold. It's a great option for those looking for a cleaner that is non-toxic and safe to use. White vinegar can even be used in food preparation areas.

To use it, you can mix in equal parts of water and vinegar. If you have an old spray bottle then this will make your life even easier. You'll be able to use any white vinegar so you can simply buy the cheapest one available at your local supermarket.

If you're using a high-quality primer then you won't have to worry too much about scrubbing away the entire mold. As long as you wipe it down with your vinegar solution then the primer will do the rest. Vinegar is great at getting rid of black mold.
Which primer is better Kilz or Zinsser?

We only looked at four options here with one of them being a Kilz primer and two of them being Rust-Oleum Zinsser primers. We were extremely impressed with the performance of both of them. If you choose primers from either company, then you can't go wrong.

What we would say is that Zinsser does seem to have a wider range of primers that have been specifically made to be resistant to mold. This is why we selected two of them as Kilz has plenty of great primers but many of them aren't mold resistant.

So which one makes the better primers? In general, we'd call it a draw as both of them make excellent primers that do a great job. Our top pick, however, is a Zinsser primer as we thought they made the best mold-killing option of any company.
Can I paint over mold killing primer?

All of these primers have been made to give you an effective surface on which to paint over. They will prevent the growth of mold and allow you to apply your topcoat. Sometimes you'll need to apply a certain top coat for a certain type of primer so it's good to double-check that.

It's always important to follow instructions as you also may need more than one coat of primer. The topcoat you use may also be dependent on how bad the mold is in your area. It may be that you'll also want to apply a mold-resistant top coat.
What do professionals use to kill mold?

When professionals remove mold they will generally do so with a contractor grade cleaning solution that has been specifically made to tackle mold. Many of these products are available online but they are fairly expensive which does add extra cost to your painting process.

For small jobs, there is a range of household products which can do a great job as we've already mentioned. Professionals can be a good choice for a particularly bad outbreak of mold but in most circumstances, you can easily do the work yourself.
Will mold killing primer solve my mold issues?

While mold killing primer can do a great job at preventing the appearance of mold, it's a good idea to consider whether or not there is going to be some deeper issues.

Mold can be caused by excess moisture seeping into the walls and may be a sign of a problem that can't just be solved with some paint. If you feel there may be a bigger issue then get an expert to check it out.
What causes mold?

Mold will start to grow on dead organic material which will then start to produce mold spores. Like a plant shedding its pollen, these mold spores are then carried away and can enter your home through an open door or window along with vents and air conditioning systems. These spores may also be carried into a home on clothing or pets.

These mold spores are incredibly small and on their own won't cause an issue for humans. In order to thrive, they need to feed off organic material, have access to oxygen and it needs water.
Oxygen is unavoidable but what about the other two?

Well, organic matter for mold means pretty much any material that contains carbon atoms. This can include oil, wood and paper along with obvious other sources such as leftover food.

Importantly, however, paint also contains these organic atoms.
It can be hard to avoid moisture too, especially in high-humidity areas such as in the bathroom or kitchen. If those mold spores that we talked about land on a spot where it has all of these ingredients, then it will start to multiply.
How harmful is mold?

It's not as harmful as many people think. Small outbreaks of mold aren't likely to cause any issues and you could easily live with them without any issues at all. This doesn't stop many people from finding mold to be understandably ugly and a horrible sight in your home.

While small spots usually aren't a cause for concern, larger spots of mold can be an issue. They can lead to wheezing, itchy eyes/skin along with a stuffy nose. It can also trigger asthma symptoms and large-scale exposure can lead to fever and shortness of breath in healthy people.

There have been links to it causing some neurological symptoms such as memory loss but they are unproven at this point. While household mold is unlikely to cause long-term health issues, it's not something you want in your home.
How do I prevent mold growth?

Once you've got rid of mold in your home then you don't want it to come back. While mold killing primer can play a big role in that, there is plenty that you can do to prevent mold build up in other areas.

Perhaps the biggest step you can take is to keep humidity levels low in your home. It can be a good idea to keep a window open when taking a shower or use an extractor fan. The same can be said for when you're cooking in the kitchen. If your home naturally has high humidity then you may want to invest in a dehumidifier.

Keeping a flow of fresh air throughout your home can also be a good idea. This helps to dry out any wet spots before mold has a chance to build up. That natural ventilation will keep your house feeling fresh and allow excess moisture vapor to escape from your home.

If you get strong reoccurring mold growth it may be a sign that there is a bigger problem. Check for any leaks from your pipes along with any checking any cracks. If you take these steps then the chances of a mold build-up will be greatly reduced.
Conclusion
Here we've tried to give you all of the information you'd possibly need to make the right call on the best mold killing primer for you. You can't go wrong with any of the four we've selected as they are all high-quality and able to deliver excellent results.
While we liked all of them, the Rust-Oleum Mold Killing Primer is our top pick. We think it is the most effective solution against those nasty mold spots. It's also easy to work with and will allow you to have some fantastic painting results. Another primer from them is the Rust-Oleum Zinsser 1-2-3 Primer which is perfect on a wide range of different surfaces.
If you need a primer for particularly wet environments then the KILZ Kitchen & Bath Latex Primer would be a fantastic choice. It excels in high humidity and these areas where mold is likely. It will also help to block out any stains to leave you with a smooth and consistent finish.
For those who need a primer for both indoors and outdoors, the INSL-X Aqua Lock Primer would be a great solution. The application is fantastic and you don't need to worry about your topcoat here. It works very well and the versatility is incredible.
We were very strict in terms of what made our list which is why we've ended up with just four brilliant models. They are all a little different so it's a good idea to get the one that is most suitable for your task. All that you need to do now is choose the best mold killing primer for you.