The kitchen is often said to be the soul of a home. Well, this might not be true in each and every instance, but the modern kitchen still has to fulfill its utilitarian function while providing a pleasant environment for you and your guests. 
Decorating a kitchen to one's liking demands a bit more effort than other areas of the house. Special provisions need to be taken to allow for storage space, cooking, and eating spaces, as well as the many appliances that make these activities possible.  
Unless you're an interior design freak, you won't be very keen to re-decorate your kitchen every ten or so years because of "dated" past choices. To help you avoid just that, we've taken a wide look at the latest kitchen design trends and picked the ones experts believe will stand the test of time. 
Overall style directions
Parsing through a score of the most popular design sites and magazines made one point stand out for us: modern kitchen design is headed towards a more colorful, homely, traditional look and  the sleek, streamlined style of the late 90s and early 2000s is definitely out.
Farmhouse and classic is being recommended in places other than Country Living, while their more modern, simpler equivalents seem to be aimed at offering the same "feel". This is most often done by breaking the monotony of the all-white kitchen with splashes of color, texture, objects on open shelf display, and neatly designed kitchenware. 
We have a feeling that this warmth and homeliness, together with a hint of harking back to the good old days, are here to last. To paraphrase Nassim Nicholas Taleb, "just place the phrase <grandma said> before any statement to know if it will stand the test of time. And no grandma ever said a kitchen should look like a stainless steel corporate office.   
1. Pop art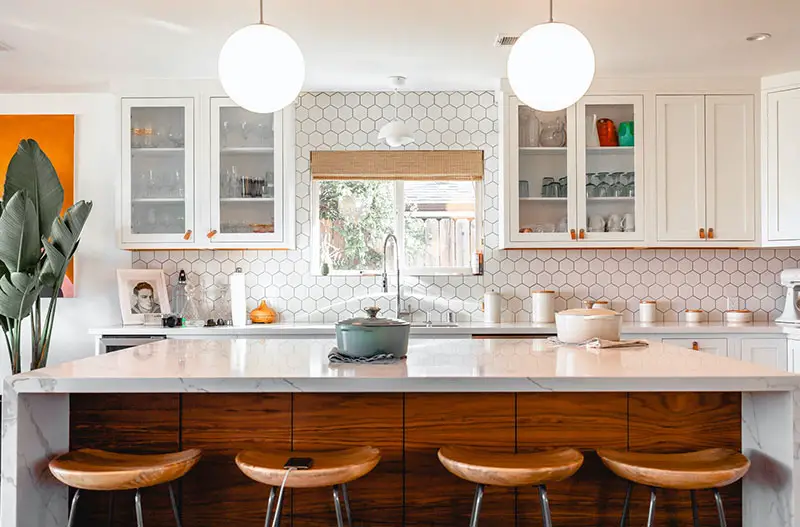 Pop art didn't die with Andy Warhol and his factory friends. It has always been popular since, and likely will continue to be so in the future. Lively and free, but also unpretentious and somewhat restrained, there aren't many things threatening to upset future eyes in a pop-art arrangement. 
So for years to come, you can get away with using high contrasts, a multitude of colors, and none of the visual elements matching! It will give a homey, lived-in quality to your kitchen and at the same time look modern. The first effect you can achieve with a rustic style, but both of these at once is unique to pop!
2. Bright, cool spaces
To give a clean, orderly look to your kitchen, consider ordering volumes and color in a symmetrical fashion. 
A fusion between whites and a cool color can work wonders in this regard. Light purple or blue applied on large surfaces will always look elegant among mostly white furniture. 
Keep the pallet sparse, with only one or two other colors used for touches on fixtures and hardware. 
3. Softening it up
The mass of appliances, cupboards, and shelves that adorn a modern kitchen gives a striking impression of straight lines. All this orderliness might be attractive to some, but for a truly warm, homey feel, shapes closer to nature must enter the picture. 
Allowing round dishware and containers to be seen thanks to an open shelves layout, as well as screen doors for your larder or pantry, are good first steps. 
Many small appliances, like toasters, water filters, wine decanters, etc. will have fluid shapes. Give them a place in the sun! 
The same goes for fridges and stoves that hark back to the 50s with a rounded, friendly design. (Opting for actual vintage items from that era is never a good idea, but many manufacturers combine retro looks with modern technology..) 
Round chairs and tables can also serve you well, and putting an accent on the fluid shapes of brassy fixtures will prove well worth it. 
Last but not least, use your own knick-knacks and decorations to alleviate the somber feel of straight lines! 
4. Dark floors for bright kitchens
Bright kitchens give a feeling of cleanliness and warmth, and will probably stay popular for years to come. 
But if light colors are too predominant on walls and cabinetry, the kitchen can run the risk of becoming nauseating. 
You don't necessarily need to vary your furniture color to counteract this, a dark floor will often be enough. Either choosing a dark stain for hardwood, dark tile, or even linoleum, will make the room feel cozier without ruining the "clean & orderly" factor!
5. Statement tile
Subway tile might be a timeless, evergreen choice for the kitchen floor, but it's not all that impressive. Rugs can be used for a dash of personality, but don't expect them to look pristine for long if the kitchen sees heavy traffic. 
Decorative tile provides the perfect solution, both in regards to style and practicality. It's way easier to clean than a carpet, won't need replacing anytime soon, and there are enough patterns available to meet every taste. 
6. Concealed range hoods
As far as kitchen hardware goes, range hoods aren't the prettiest out there. And with the stainless steel look no longer fashionable, there's little reason to keep these on display. 
They can be hidden under matching wood boards, or decorative wooden panels for a rustic kitchen look, or simple white panels (even plastic) if you're going for something sleeker. 
This is also a great way to give your appliances and various kitchen accessories some spotlight. 
 7. Neo-Traditionalism
It's no secret that vintage is making a comeback. Rustic, farmhouse and even a dash of Victorian will give your kitchen a timeless quality. However, mixing it with a bit of modernity here and there can improve the overall look. 
Vintage cabinetry and light fixtures can be associated with clean slab counters and backsplashes for a visual aesthetic that is traditional and modern at the same time. 
An important rule to follow is to keep it all discrete, otherwise, the contrast might be too jarring. For example, richly ornamented bronze hardware doesn't really go with plain white wood furniture. 
8. Wooden cabinets don't need to be monochrome
You don't need to limit yourself to just a handful of elements for some tonal variety. Using rows of cabinets in different colors can better articulate an interior space. 
Darker tones are often preferred for floor-resting furniture, while lighter ones will increase the feeling of openness when used for walls and upper cabinets. 
You can match the lower strata with the roof, range hoods, or light fixtures to add some rhythm. 
9. Give some personality to your pantry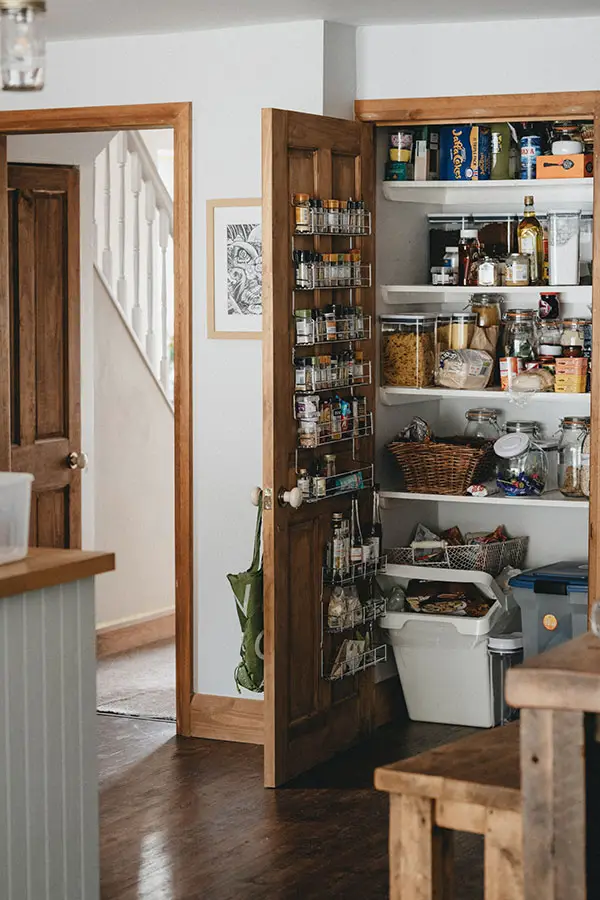 Your dry goods storage space needn't be a dark eyesore. Shelves bearing rustic motifs work well in adding some liveliness to your pantry, especially if you opted for a farmhouse kitchen look. 
Try placing your items in vintage wooden or metal containers in order to complete the effect. Besides the aesthetic appeal, these will also make it easier for you to find what you need when you need it. 
Bright colors, in conjunction with an equally bright light source, will work well to give this space a warm and pleasant feel. 
An ornate screen door will draw attention towards your lively pantry, while also handsome in its own right. 
10. If an open kitchen is your thing, use lighting to segregate the areas
For some, an open floor plan offers enough benefits to keep itself trendy for years to come: leaving space is maximized; constrictive and often boring walls are no longer a problem; it allows for an airy atmosphere while still crowded enough to avoid looking cold, etc. etc.
A distinction between the various regions of the open floor plan still needs to be drawn, however, and lighting is one of the best ways to do this. 
In a living-room + kitchen plan, you might consider maximizing the natural lighting for the main room while keeping the kitchen in the background dependent on electric lighting, lighted only at the times you'll need it. 
11. Color can also make a difference for an open floor plan
A good way to maximize the above effect is by making use of warm, subdued hues for the color pallet of your kitchen, contrasting with bright tones in the living room.  
Another workable option would be to employ rich texture and color for the living room while keeping the kitchen looking as neat as possible. The classic all-white or white and stainless steel kitchens work well here, as long as you take enough care not to make the contrast jarring. 
12. The great room concept is on its way out
If you're thinking about breaking some walls for an open floor plan — don't! According to many experts, the great room concept isn't here to last, and most people today opt to have separate rooms for distinct activities. 
The corporate cousin of the open floor plan — the modern-day panopticon that is the open office — is already highly unpopular with a majority of workers. 
It seems that people enjoy their privacy and separation of spaces more than having other coworkers/family members constantly within eyesight and earshot. We shouldn't be surprised at this revelation, considering that for the past couple thousand years we've been sectioning our living spaces whenever we could afford it.
One is left to wonder what other ideas that have been pushed for the last decades are equally ill-conceived. Maybe those that can't stand on their own merits? Those that elicit a hysterical overreaction from the establishment powers whenever anyone even questions them?
13. Statement Backsplashes
The current move is towards lively decorated backsplashes which act as a focal point into their own right. These generally contrast nicely with white kitchens and, depending on the design, can even complement a farmhouse ensemble. 
Needless to say, there is a panoply of options for backsplash patterns to choose from, but most experts seem to recommend restrained patterns and colors, as these tend to hold the best over time. 
The backsplash is also a good way to soften up the straight line dominance of most kitchens. Orient yourself towards fluid or polygonal (no squares) patterns if you think your kitchen looks too "boxy". 
Overview of materials
Deciding on the materials for your kitchen always involved keeping both the practical and aesthetic aspects in mind, but this balance moved a hint towards the former in recent years. 
The fact that marble is gradually replaced with more utilitarian, stain-resistant material for countertops is one of the prime reasons to make this claim. 
There is also the fact that eco-friendly materials like reclaimed wood are fastly growing in popularity while hiding the natural texture of wooden cabinetry under layers of paint seems to be a thing of the past. 
Stainless steel for anything else than appliances is long gone, dead, and buried, while wood is universally acknowledged to be making a comeback. 
14. Handmade kitchen tiles
You shouldn't limit your tiling options to marble or quartz. Handmade kitchen tiles fashioned out of a variety of materials like cement and brick can be used to add color and texture to the kitchen. 
You can go for lively colors for a pop-art note, or keep it discrete with light blues, beiges, and colored greys. 
15. Quartz – more attractive than ever
Thanks to recent technical innovations, engineered quartz came to rival Carrara marble in the looks department. To boot, it is also cheaper than its more luxurious cousin and less prone to suffer under the action of environmental agents. 
It doesn't stain from acidic substances as marble does, so red wine drinkers should consider quartz for their countertops. 
16. Strongly veined marble
This material choice is really making a come-back in 2020 and there's little indication it will soon go the opposite direction. The deep contrast in the marble pattern offers some texture to an all-white kitchen, contrasted with blank walls and cupboards which provide clean areas for the eye to rest. 
Usually associated with an elegant, minimalist setting, this design option leaves little room for kitsch. 
17. Add some rustic charm with reclaimed wood
Custom cabinets made out of rough-hewn reclaimed wood can be used to add a note of old-timey charm to any kitchen! To complete the log cabin feel, you can associate these with natural stone and open shelves. 
Equally important, reclaimed wood is a "green" material, so you will be doing your bit for the environment in the process. 
Big prefab companies are starting to take interest in recycled materials lately; and alongside reclaimed wood, some offer bamboo or even plastic as options. 
18. Wallpaper is making a comeback
Wallpaper hasn't been all that popular in the last… century or so. This is partly because flowery patterns are seldom in fashion; partly due to the permanency of wallpaper which makes many people shy away from committing. 
However, newer peel-and-stick wallpapers are as easy to remove as fridge stickers, so you can return your walls to a classic look without much effort. 
Currently, graphic designs that mimic the look of tile seem to be "in", but you can go for vegetal motifs for a homey, "grandma's kitchen" feel. 
19. Use a variety of metals
Design elements matching too closely can give the space a cold, sterile, feel. This includes metal fixtures. If you don't want your kitchen to look like it belongs in a restaurant or hotel, consider mixing your metals!
Experts recommend nickel for nobs, some cool brass and matte white for faucets, and something contrasting with the two for the lighting fixtures. 
If money allows, try to avoid having the kitchen sink match the faucet. White marble is a classic when it comes to kitchen sink material. 
20. Copper kitchenware
In a trend popularized by Martha Stweart, copper pots and pans are employed to offer touches of color to a mostly white palette. 
Needless to say, this works best with an open shelves layout, and some care must be taken that other appliances won't conflict with the dashes of copper. 
Also be warned that copper can oxidize easier than most other materials out there, and will require polishing more often. 
21. Butcher block is gaining in popularity
This hardwood assembly is both stylish and practical. It barely requires any maintenance outside of the occasional polishing and holds very well to any sort of damage. 
It is generally used to break the sterility of an all-white kitchen, but can just as easily resonate with natural wood grain countertops. 
Usually made out of hard maple, teak, birch, and walnut, there's a large palette of hues and textures to choose from.
22. Ash is more popular than ever
As the coldness of the stainless-steel kitchen gives way to more friendly-looking designs, natural ash grain is experiencing a revival. 
Both warm and elegant, this lightly-textured wood works well for cabinetry, countertops, open shelves, and the kitchen island. 
It can be used to accent a bright kitchen, or in contrast with dark marble, for a dramatic effect. A number of designers find it makes a good pairing with the cool hues of artificial stone. 
To boot, it's also one of the least expensive woods out there.
23. State of the art countertop materials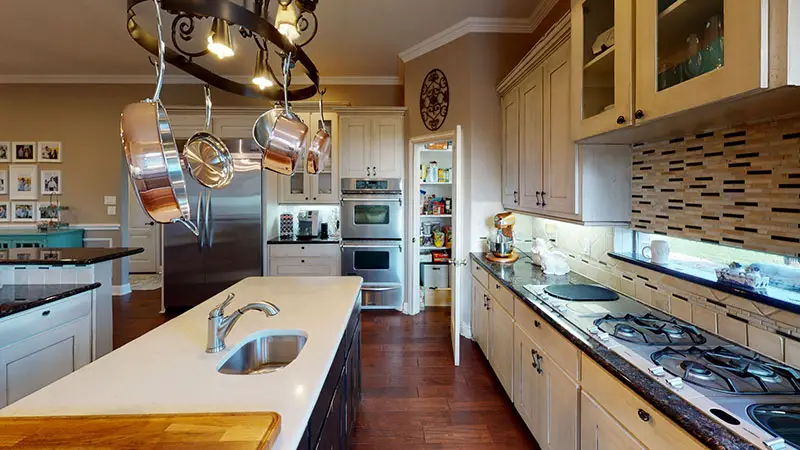 Stain-free countertop materials are more popular than ever, and this trend doesn't show any signs of abating. Wood and quarts work very well in this regard, but their textures might not fit with everyone's design choices. 
The latest discovery in the realm of kitchen countertop material is nano-glass. Practical as well as handsome, its smooth, shiny surface fits perfectly within a slick setting. If you want to preserve the note of discrete elegance of a modernist kitchen, this material makes for a good choice. 
All the better, glass is notoriously easy to clean. 
24. Brick backsplashes
Both vintage and warm, brick is one of the materials best suited for today's general design trends. It is best mixed with Victorian elements or a pop style, but with the proper tweeking, you can make it work with pretty much anything. 
Dark orange brick might be too imposing on a restrained white kitchen, but White-washing some of the bricks will make it blend better. Making the whole surface lighter is also an option, as long as there are some contrasting colors around. 
Color and texture 
Modern-day kitchen designs tend to allow free use of color, so it would be easier to tell you what NOT to do in this regard. In short, don't use striking colors. 
Otherwise, dashes of any color can be provided by any large object, such as an above-the-sink cabinet or a pantry door, to break the monotony of the all-white kitchen look. The same goes for texture.  
Soft contrast is ever-popular, and you can apply it freely, while contrasting lights and darks should be handled with care. 
A rule of thumb in this regard (that anybody who took an art class in primary school should know) is to never allow an equilibrium between light and dark. That will leave your kitchen looking like a checkerboard. 
Natural wood and stone textures seem to be on the incline, while something of an opposite statement can be made for the "dark kitchen" look. Among all the near hundred or so expert opinions we've parsed through, we only found one designer recommending to go for all-dark hues, and he was advising a UK audience. 
25. Green is best
Go for sustainable materials whenever possible, if only as a means to stay with the times. Reclaimed wood is nice, and so is recycled plastic, metal, and fast-growing bamboo (why cut decades-old trees when this stuff grows fast enough to be used as a torture device, eh?)
The color green itself seems to gain in popularity, especially the dark arsenic hue which was all the rage back in Victorian times. Consider it for cabinetry, larders, pantry doors and other furniture of the like. 
26. Aqua hues as dominant colors
Colors reminiscent of the ocean have been popular during the 50s and 60s but people moved on to a warmer and more restrained pallet in the following decades. Well, not anymore. It seems that turquoise and light green are trending again. 
Since these are somewhat less striking than decidedly cold or warm hues, you can use them as the dominant colors in a space without making it look tiresome. Even better, whites will pop up by contrast, making appliances look all the nicer. 
27. Pecky cypress finish
A type of reclaimed wood, pecky cypress has a grainy texture due to long burrows and cavities. It can be used for cabinetry, kitchen islands, and even dressing up appliances when you want a uniformed look. 
This trend might not last forever, as pecky cypress has quite a striking appearance, reminiscent of hard-veined marble. However, it works well with either minimalist or farmhouse kitchens, thus allowing for quite a range of possibilities.  
28. Colored greys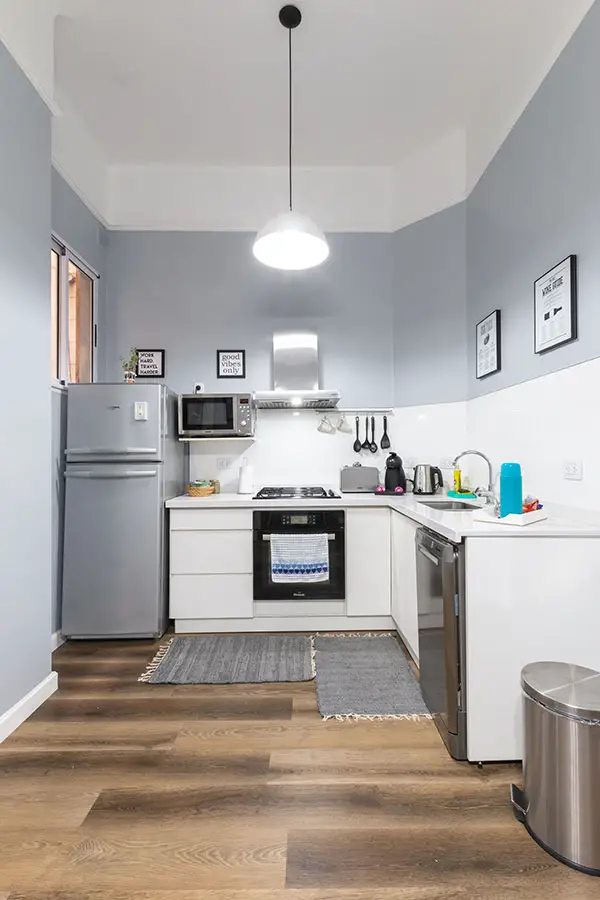 Of equal timeless quality as the all-white ensemble, colored grays can give a note of unassuming elegance to a space. 
Because of its warmth and subdued simplicity, grey-colored beige (or "greige") was always a favorite with interior designers over the past decades. 
However, grey-colored blues, purples, and greens shouldn't be neglected. These can be used to add a note of elegant distinction and cleanliness to a space. 
29. Sprinkles of color
Color isn't for everyone, but fans of lively living spaces should rejoice to find that colorful accents are on their way in. 
You can use basically any object around a kitchen to create a homely, detail-rich and warm space. Countertops, shelves, pots, cans, and appliances — you name it — can either match or contrast with each other in a rich symphony of color. 
Just watch out the tones you use aren't too striking and there's enough flat space for the eye to rest on. 
30. Hints of color can preserve the clean feel of an all-white kitchen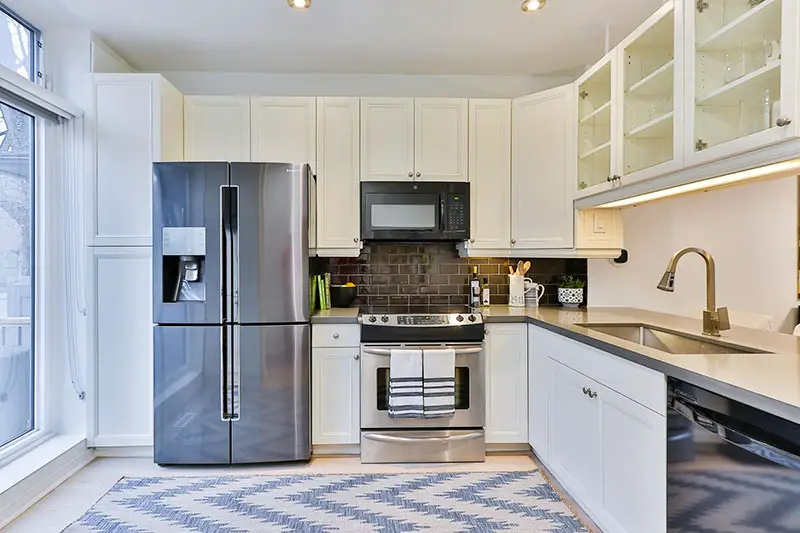 The all-white kitchen will likely stay evergreen (heh..) for years to come. Still, some of us will appreciate a dash of color, if only to accentuate the squeaky clean impression all those white walls and cabinets give. 
For this, you can use bright pastel colors on one or more attention-grabbing elements. This can be a kitchen island, a table, countertops, chairs, or a cabinet above the sink. Like with furniture that adds texture, you should take care not to let these elements look petty in your composition. 
It is a good idea to consult a classical painter or graphic artist for the best advice on how to balance your design. In a pinch, an interior decorator will do.  
31. Texture can serve the same function as color
If you're not keen on using color but still want to add some variety to your kitchen, consider playing around with textures, whites, and natural wood tones to obtain the same effect. 
You can use beadboard, shiplap, brass, strap hinges, latches, marble, various wood essences, together with colored gray paint to give your kitchen a lively, but at the same time restrained look. 
Expressing through texture is considered to be an all-around safer bet than doing so with pure colors if a timeless look is what you're after. 
32. Add some warmth with natural wood tones
The ever-popular white painted wood is always a good choice because it gives a restrained, calm feel to a space. 
It can get monotonous, however, and the best way to complement it while preserving the same general impression is by adding touches of grainy, natural wood. 
This can be used on a countertop, kitchen table, or cabinet — just make sure that it catches the eye and contrasts well with the white kitchen. 
The biggest mistake you can do with this choice is to have the natural grain wood piece be too unassuming. This will negate its value as an aesthetic counterpoint and make it seem petty or foreign to the whole composition.  
Furniture, appliances, and miscellanea
You don't really need an internet guide to tell you that the appliances and various furniture pieces which inhabit a kitchen will make their own aesthetic statement. So design choices should account for how these items look.
Luckily, present tastes seem to allow a good deal of freedom when matching appliances with the rest of the kitchen. A stainless steel oven and dishwasher are not at all uncommon in an otherwise anachronistic kitchen arrangement. Quite the contrary, the sleek appliance may serve to highlight the old-timey charm of the cabinets passed down from grandma.  
Vintage or retro also look to be popular choices when it comes to items in and around the kitchen. Retro to the 1950s, with its big and friendly kitchenware design, and retro to the 1890s and 1920s, with their unassuming yet ornate simplicity.  
We've seen lime green refrigerators and gold-trimmed kitchen ovens being recommended by the best designers out there.  
33. Kitchen larders
We can't begin to stress how practical larders can prove, especially if you lack the convenience of a pantry. 
These can accommodate most of the things we usually store in a separate space outside the kitchen — like canned goods, dry vegetables, and some utensils — and do so closer to our working area. 
With most of the kitchen items neatly organized in a single place, everything will be easier to find, and the furniture itself adds a certain rustic charm to the room. 
34. Plate racks
No old school middle American kitchen will be complete without its wooden plate racks. For a vintage look, opt for vintage plate racks to display your dishware. These can be placed on either countertops or walls to save space. 
The right plate rack will often make it unnecessary for you to wipe the dishes after washing, although you should make sure that the material doesn't corrode or rot from all the moisture. 
35. Hiding kitchen appliances 
It is often hard to find appliances that go well with the look of your kitchen. Don't worry though, you don't need to choose ovens and dishwashers based primarily on aesthetics.
More and more people opt for using fronts to hide these potential eyesores out of sight, leaving the kitchen furniture to make a statement! 
As always, the material of choice for the fronts is wood, and most experts recommend that this should match the cabinets.
36. Open shelves
If your nice kitchenware deserves a spotlight, then open shelves are the way to go! The lovable mess of dishware, utensils, family heirlooms, and knickknacks on display will give the kitchen a warm, homey feel. 
Furthermore, everything you need will be easily accessible without the need to open a cabinet door and you will be able to find most items just by glancing around the room. Looking through half-dozen cabinets for missing cookware is always annoying, and open shelves are the best way to avoid that.  
On the downside, your items will catch more dust, requiring cleaning more often. 
37. Use the sink to make an impression
The kitchen sink is often overlooked as a design element, but many experts find that it can be used to make an otherwise bland room really pop. 
Since it doesn't really have to match with any furniture, you can use the sink to give a discordant, surprising note to your kitchen. 
For example, a strongly veined marble sink will add some coolness and sophistication to a farmhouse kitchen, while an enameled white unit, space for the eye to rest in a colorful pop-art arrangement. 
Take care when playing around with this design choice though, as unfortunate decisions can easily reach the realm of tackiness!
38. Watch the ceiling 
Don't be afraid to give the ceiling its own personality. You can do this through texture and material (by adding some wooden boards, for example), by painting it in an attention-grabbing color, or both. 
The ceiling doesn't really need to match any other design element, and you could heighten its uniqueness with an interesting-looking light fixture as a cherry on the cake.  
39. Make your range hood shine
There are options to dress up the range hood into a centerpiece in its own right. Copper or bronze sheathing, straps and rivets placed in a patternate fashion can give this otherwise unimpressive appliance some style.
This is a particularly attractive solution for open shelves kitchens, where a lack of upper cabinets will inevitably make the hood stand out. 
40. Black appliances look more discrete
Large appliances can come to dominate the space in small, or even medium-sized kitchens, making the room seem even more constricted. 
The clothing fashion dictum that black "slenders" holds true for stoves and refrigerators as well. A black or dark grey appliance will look less domineering in a small space. 
Boxy items will seem even less imposing when various buttons, dails, decorative rims and handles, etc. will act as ornaments. You can also consider adding your own flare to an otherwise monolithic fridge door.